Google and other search engines are one of the most used and most effective digital marketing tools. Not only because everybody uses them, but also because people only go there with a real interest in whatever they're searching for. As a local business in Armagh, how can you use search engine optimisation to your interest? Partnering up with a local SEO agency is rewarding because it is effective and budget friendly. This article will tackle SEO as a concept and how 'Local SEO' in specific can grow your business. You'll also see for yourself how an SEO agency can help you achieve that.
Are You Looking for 'SEO Armagh'?
ProfileTree – Expert SEO Specialists with a Local Flavour Serving Businesses in Armagh, County Armagh, Northern Ireland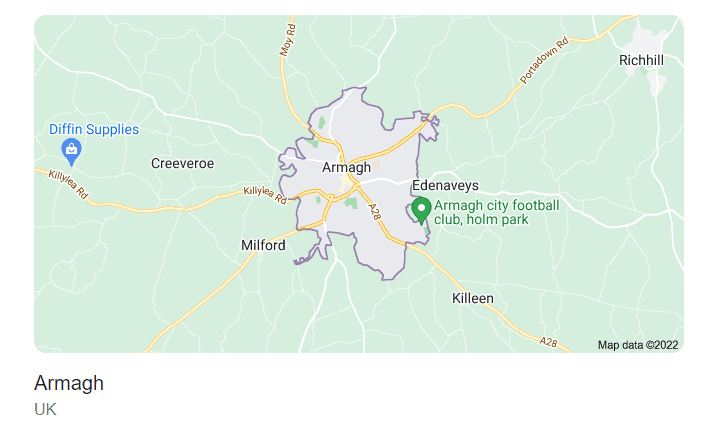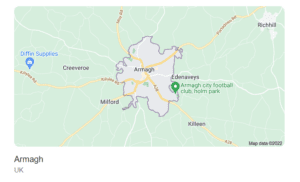 We are a self-made, family run agency based in Belfast and Monaghan. We've established ourselves in the Northern Irish market since 2010. We've grown the team, collected awards, and helped local and international businesses with their SEO performance. We've also helped hundreds of small and medium sized businesses with free SEO training through programmes funded by Belfast and Lisburn City Councils over the course of three years. Investing in SEO for your business in Armagh means making sure your new SEO partnership is built on proven methods. We're SEO specialists AND a leading content marketing agency, meaning we can help that you're not just seen but that the right traffic for you works hard for your business.
SEO Armagh: What Is Local SEO and How Does It Help Your Business
Local search is when someone searches for businesses, products, services, or any additional information relevant to one specific location. They could be searching for "Christmas markets near me" to find an upcoming event in their city or "best painting service in [Armagh]" to find a painting service nearby. In other words, local SEO is very specific to location, and you can see how the search results look different if you remove the location off the keyword.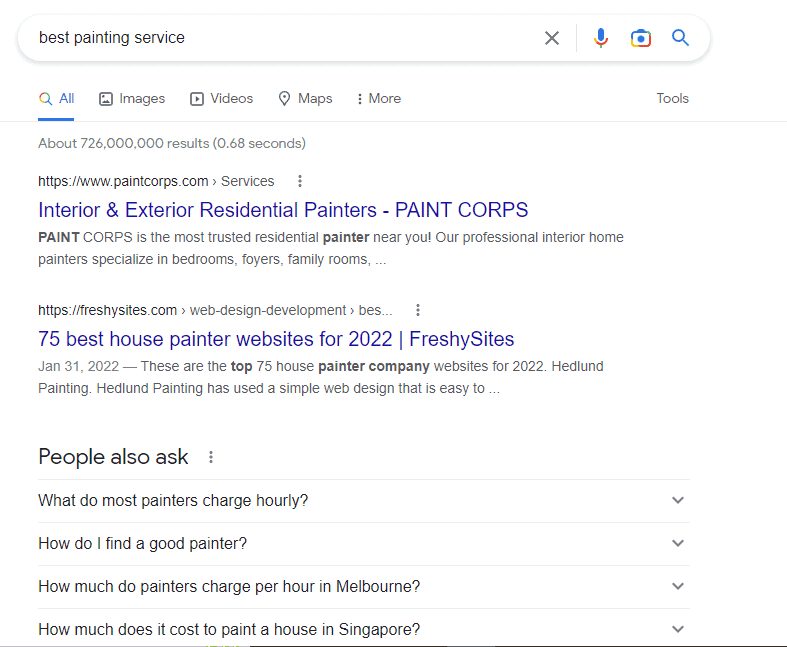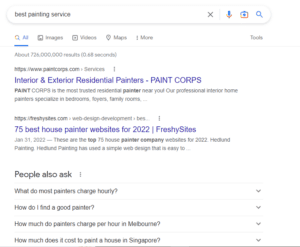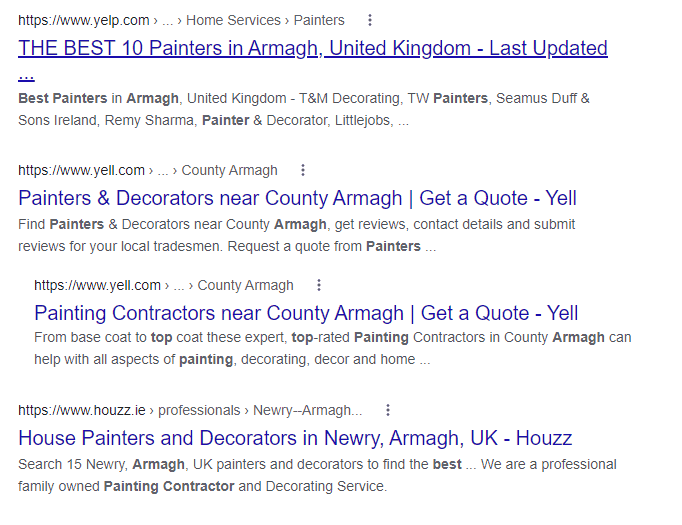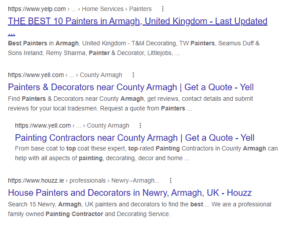 SEO Armagh: Local Search Results
Google categorises local search results into three sections – sponsored, snack pack and organic. Sponsored results appear clearly at the top of search results pages with the "Ad" or "Sponsored" label, these are paid Google AdWords.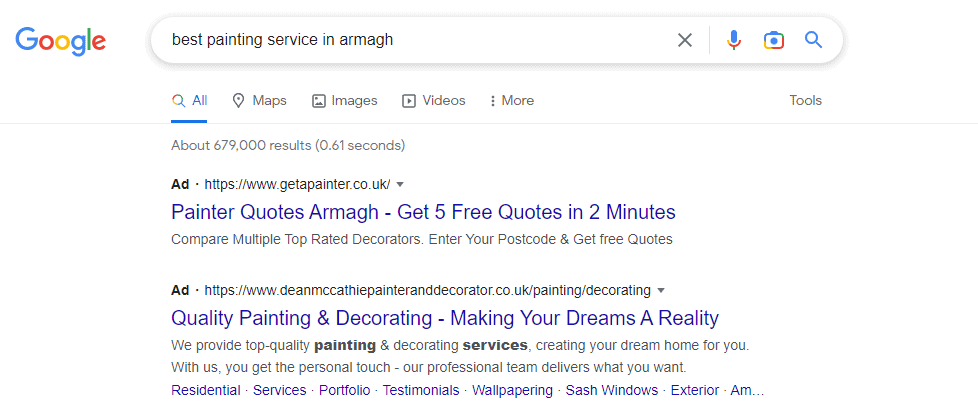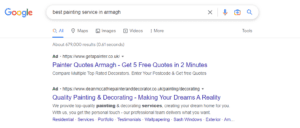 The Google snack pack (also known as the Google maps 3 pack, the local 3 pack, or the Google snack page) is the way that Google displays three top local business results that have a Google Business Profile listing to querying users. The snack pack shows up more prominently than organic local search results, which means there's a better chance of visibility if you get featured in the snack pack. If there're no sponsored results, the snack pack shows up at the top.


SEO Armagh: How Local SEO Helps Your Business
This is a huge opportunity for a local business to sit at the top of the search results without paying for it. The goal of your local SEO strategy should be to rank on the first page of organic local searches as well as in your local snack pack. This ensures optimum visibility and improves your chances of attracting targeted traffic.
SEO Armagh: Why Is Local SEO Important For The Business
Optimising your website and online visibility to attract local users is super important. It brings more foot traffic to your physical location. It attracts more targeted traffic which has a higher chance of conversion. It also enhances your credibility and trust because the locals know their place well. They can easily reach you and you can easily turn those new customers into loyal customers if they're happy with the service.
SEO Armagh Strategy: How to Optimise for the Best Local SEO Results
SEO Armagh Strategy #1: Take Ownership of Your Google My Business Listing
Googly My Business is like registering your business on Google directory with all your contact information. It comes naturally that this is the most essential part of optimising for local SEO. If your business is not registers on Google, how will Google recommend your business? Your business listing is created for free. On your side, optimising it is easy – all you need to do is add as many accurate information as possible. That includes your name, business phone number, website, email, address and location on the map, services or keywords that describe the nature of your business.
SEO Armagh Strategy #2: Optimise Your Google My Business Profile
Once your listing is live, Google will verify the information usually through a phone call or via postcard. After your business is verified, the best thing to do is to upload photos or videos of your business. This could be photos of the inside your brick-and-mortar store, the office, or even the products you sell. It is advisable to also add your business hours, additional categories or keywords related to your offerings, as well as additional phone numbers or social media pages. Once you've done that, treat your GMB as your profile on Google. The more active you are, adding fresh content and sharing business updates, the better.
SEO Armagh Strategy #3: Mobile Optimisation
This is not only for your local SEO results. Your SEO strategy is heavily impacted by your website's responsiveness to mobile devices. Mobile is king now. More than 60% of all online search is done through mobile. With local SEO, a study shows that 82% Of mobile shoppers doing 'Near Me' searches. That's why your website should be optimised for mobile. Create a mobile-friendly website so mobile visitors have no trouble navigating it or finding the information they need. Don't forget to add click-to-call buttons on your site and on your GMB listing.
SEO Armagh Strategy #4: Customer Reviews
This is an underestimated SEO weapon. It works particularly well for local SEO, though. Reviews can really make or break a business in the digital marketing world. Firstly, people trust people. So, when regular people write something about your brand, good or bad, your audience will believe it more than whatever you claim about yourself. Encourage more people to review your business on any platform, whether it's Google, social media, Yelp, or any similar platform. They all affect your SEO, because Google expects businesses to have reviews and it considers them when featuring you on the snack pack. So, in addition to your website and your GMB listing, it'll also collect reviews from consumer directories and social media.
SEO Armagh Strategy #5: Watch and Respond to Reviews Closely
Social listening tools come in handy to be able to track what people say about your brand. People close by your target location will write more detailed reviews about your brand. For instance, you might have noticed multiple people complaining about the waiting time at your clinic or the lack of seating at your salon. First, you need to respond publicly to the user who left the review, especially if it is a negative one. Apologise and promise that you will be working to solve that problem and provide a better experience. Once you do, you can then optimise your GMB SEO by sharing updates about your new seating arrangement or the new process to ensure a shorter waiting time.
SEO Armagh Strategy #6: Local Link Building
So just like with regular SEO, local SEO also requires link building to boost your SEO performance and domain authority. However, the linking domains should be more relevant to your target location. In other words, the same rules of backlinking apply, but you should be targeting links from websites within your target location. Authority websites in your region, such as .edu websites, .gov websites, trade associations, or the Chamber of Commerce will have a great impact on your local SEO. Additionally, partnerships, scholarships, guest posting, etc. could be excellent ways to gain valuable backlinks from local sites.
SEO Armagh Strategy #7: Consistency of Contact Info Across All Digital Channels
Once again, Google scans your information across all digital channels. That's why your name, address, and phone number should be the same. If any of the platforms have an old address or a phone number that no longer works, make sure you update that. That includes social platforms like Facebook, Bing, Yelp, or any digital platform. Of course, with more attention to high authority directories than others.
SEO Armagh: How Can an SEO Agency Help Your Business
Like you, we're a local business in NI (although we're proud to say we have clients across Ireland and the world). But we always LOVE hearing feedback from our local customers about how developing their SEO with us, and using our online solutions, had worked from their point of view. This includes their tips for other local companies. You'll find a selection of their advice below.
SEO Armagh: What ProfileTree Clients Say
SEO Armagh: Choose Carefully
The best SEO company for your business? This will be the company who cannot just show the best results from past work BUT who can show they treat your company as a 'whole business', with an interconnected marketing and business strategy and online presence, rather than just 'doing SEO for a website'. Our team of brand strategists, content marketers, web developers, and SEO experts approach your SEO strategy holistically. We consider every aspect affecting your traffic growth.
SEO Armagh: Think Like a Customer:
Simply 'getting more traffic' isn't enough. If you were that potential customer, what would you need to see information-wise to make you want to click AND what would you need to see to make you interact with the business? This will rarely be a 'buy now' but more of a 'let's keep in touch'. Our brand strategists and web designers ensure the navigation on your website comes naturally and the calls to action guide your visitors and gets them to the sales funnel without being pushy or 'too salesy'. We focus on creating a smooth customer journey.
SEO Armagh: Think Beyond Your Website:
Your customers won't stop at your website, and neither should you. Guiding them through your social media, mailing list, events and more gives them a way to move towards a sale in their own time and with multiple opportunities. ProfileTree will help you see, and shape, your customer's journey from 'maybe' to 'yes please'…the pinnacle of SEO and digital marketing. Extra support such as email marketing pop-ups on the website or automated emails that send reminders to customers of what they left in the cart are also part of the overall digital experience affecting your SEO.
SEO Armagh: Find Customers
Or rather…put your 'shopfront' right in view potential buyers who are already searching for your services. We'll help you identify the search terms showing the right intent, the right audience and the right quality of potential traffic for your business. Investing in a business website and not thinking SEO is the same as opening a city centre shop with no signage or advertising. The internet is your traffic, SEO is your method to bring buyers through your door.
SEO Armagh: Convert Customers
Of course, traffic isn't enough! That right traffic for your company needs to see content geared towards their needs. And in a way allowing them to engage and stay engaged with your business too. In fact, we've built our own company on using great content to find, engage and convert the right audience. We'll show you how! AND we'll even show you live results from the techniques we use.
SEO Armagh: Keep Your Customers
Where will your new traffic be directed? If they don't find the information they need, they're gone. If they find a hard sell without enough to mull things over, they're done. Want them to stay instead? That's where ProfileTree comes in. Keeping potential buyers engaged with your site, and better yet part of a crafted customer journey build for conversions, is the key to a great 'big picture' online presence.
SEO Armagh: Change With Your Customers
An SEO secret? When you have your online world just right, over time you'll start to lose your grip as your customers change devices and even methods of searching (such as voice search and more). Staying ahead of this means driving the earlier adopter traffic to your business while your competitors are left behind. We LOVE helping our customers to make the most of this! A local SEO agency handling your SEO strategy is a way to prepare yourself for the future and stay ahead of the curve.
SEO Armagh: How Much Is SEO Services
Working with so many different businesses over the years taught us to deal with different budgets and requirements. We tailor all our packages according to your needs and it doesn't matter whether the budget you have is big or small – we work with KPIs. In other words, you set the budget, we tailor a package optimised for your requirements and within the limits of your spending. We have packages starting from 500£ per month covering keyword analysis, content creation, image curation, and SEO optimisation.
SEO Armagh: Ready to Book a Free SEO Audit?
Fill the form and send us your questions, we will be happy to answer all of them. Please do let us know if your business is registered in Armagh. Alternatively, you can book a chat with one of our team members to audit your SEO performance and find out how we can help you grow your website traffic organically in Armagh, County Armagh.
More Services: Social Media Marketing Armagh, Content Marketing Armagh, Digital Training Armagh, Web Design Armagh