Investing money in an SEO company is a big decision. Therefore, it is important to ensure the company you hire offers quality SEO services for your money. This concept is true whether you are hiring a single SEO freelancer or a larger agency.
In order to make sure that you are getting the best value from your SEO service provider, here is a list of questions to ask before you sign on the dotted line.
Quality SEO services are basically all about offer return on investment. The goal of any good SEO professional is to bring in more revenue in organic traffic than their services cost.
How do they Approach Search Engine Optimisation?
A good short- and long-term strategy is the backbone of any SEO improvement. Before you make any decision on a new SEO company, it is crucial to investigate how they plan to improve your company's visibility in the search engines.
"How" is the step-by-step plan to make a change in your SEO. If a company cannot give you that answer, then you need to keep looking.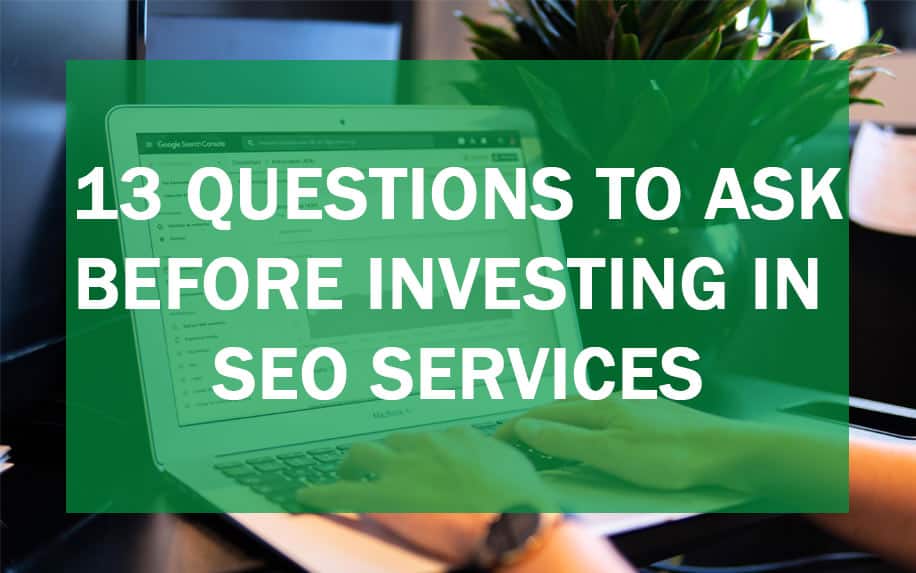 Before they do the research into your specific company's currentSEO strategy and results, they cannot give you detailed specifics of which keywords they will use or which related sites they will consider linking to, however they should have a process for finding out how to make changes.
A successful SEO keeps abreast of any changes in the requirements for search engines and which methods are currently most successful.
What are the Communication Channels?
In business just as in life, making assumptions can leave you open to problems. Therefore, it is critical to discover how your SEO will keep you informed of progress and results on a regular basis.
Since you are the one directing the company, you should know what is happening to improve your SEO and how you can keep your staff informed for future content releases.
A trustworthy SEO company will track all changes made to your website and other content in order to create reports with metrics that measure results.
Do they Offer Social Proof?
As you interview potential SEOs, ask for profiles of some of their customers with the results of their SEO work. The best examples are over a long term since high-quality SEO services are successful long term.
An established company that has only short-term clients is one to skip. Good SEO companies can show steady growth for their clients on a year-to-year basis. While internet changes can affect SEO, in the long term success should be evident.
How Up-to-Date is the SEO Company's Knowledge?
Any smart SEO professional stays up-to-date on any Google requirements and algorithm updates in order to provide the optimal service to their clients. Even a small SEO freelancer knows that staying in Google's good graces is a key ingredient to improving your company's SEO rankings.
Companies who do not follow Google's best practices will be "dinged" or punished by Google eventually. Even if the SEO techniques used are not "black hat," if your website is behind in updating to recent changes per Google, you can find your content in Google limbo.
Google can ban or demote your content. A complete ban is the worst case scenario but a demotion is not much better. If your site is moved from page one to page 10, your traffic will significantly diminish.
Most searchers do not have the patience to move beyond the first few pages.
What are their Preferred SEO Tools?
Every SEO company uses tools to research and implement SEO changes. These tools include reporting, link-building, technical and research tools.
Tools to avoid are automatic posting or commenting tools such as SENuke, Xrumer or Bookmarking Demon. If any of these tools are discussed, this SEO company should be avoided at all costs.
Automatic link-building is considered completely black hat by Google and will get you penalized.
Is their Work Guaranteed?
SEO is not the type of work that can be guaranteed. Since SEOs do not have access to magic wands, they cannot guarantee that they can render your company the #1 spot for any specific keyword.
Some of the work that SEOs do involves a bit of luck or chance.
It is similar to being in the right place at the right time. Since the internet reflects changes in the world including changes in idiom or common word usage, no SEO can guarantee that a specific keyword will become the one that takes you to the top of the search engine page.
What they can guarantee is that they will provide you with a group of keywords that research shows have the best likelihood of reaching the top of their respective results pages.
However, always keep in mind that time continues to flow and research is completed in a specific time range. You can only capture the top keywords during that time rage.
Other issues with guarantees are the whims of Google. Since algorithms can change at any time and no one but Google knows what those algorithms are, a change can nudge you from your current spot in the results.
How is Success Reported on?
A good SEO will explain how often they will report on their work and what their reports will show. If an expert reports their work to you in industry jargon, that will not help you understand what they have accomplished.
Instead, they should be able to explain their work in standard business language so that any business person can gain a basic understanding. They can show you sample reports to offer a basic concept of what they will report to you. This conversation will offer you clear expectations.
How are Payments and Fees Handled?
Like hiring any contractor, hiring an SEO company requires understanding your fiscal investment. Fees should be clearly described so that you can make budget decisions. A MOZ survey of SEO companies showed that the majority of them use project-based fees.
You can also pay by-the-hour which is generally preferred by freelancers. However, some companies offer credit terms and payments that are made monthly or quarterly depending on your contract.
Typical project fees range from GBP 800 to 6000. Some companies also require a retainer to reserve a priority on their time.
Is SEO Integrated with Other Marketing Channels?
Since online marketing methods tend to overlap, you should discuss how your SEO company will coordinate with other online marketing efforts such as inbound marketing and other digital marketing methods. These methods include:
Content marketing,
PPC,
Email marketing,
Social media marketing,
Mobile marketing.
Due to the overlap in these online marketing methods, some online marketing companies handle all of them instead of just SEO.
What Happens if You want to Terminate your Contract?
In order to protect your company, it is important to understand clearly what will happen when and if you choose to terminate your contract. Because SEOs need time to implement their changes, they will generally require you to commit to a contract of at least a few months.
However, if circumstances arise and you need to terminate the contract, you should know if there are any early termination fees.
How do they Deal with SEO Penalties?
Unfortunately, Google penalties can occur, especially if your SEO has not been updated in a while. If you are currently under penalty or you are worried that you may receive a penalty, it is wise to discuss the SEO's experience with penalised companies.
With the onset of manual and automatic penalties over the last few years, SEO's can systematically improve your SEO with a goal to remove the penalty. In the meantime, they can improve your current SEO situation.
Discover how much experience your SEO has with this situation.
How will Algorithm Updates Impact your Service?
Google has regular updates which all SEO companies should be familiar with. A list of Google updates can be found on Search Engine Land. When interviewing SEOs, ask questions about the latest updates to determine their familiarity.
You can confirm their knowledge by reading MOZ's information on Google updates. The main purpose for this discussion is to weed out inexperienced SEOs.
How Should an SEO Agency Define Success?
Your definition of success may not match that of the SEO company you are considering hiring.
Therefore, it is helpful to discuss what success consists of according to them. A good SEO will be able to discuss the metrics that determine success and provide examples with sample charts and graphs.
While ultimate goals may not be achieved immediately, you can discuss short- and long-term goals and evidence of success according to the metrics. Two terms to watch for are conversions and return on investment (ROI) which will only be offered by the best SEOs.
It is important to note that SEO is a long-term investment and does not happen overnight. However, you will see incremental success with a high-quality SEO company or SEO freelancer.
WordPress SEO with Yoast: The Ultimate Guide
Must-Have Digital Tools: The DEFINITIVE GUIDE