Attracting web traffic is harder than ever. Once upon a time you could stuff keywords onto a page, and that was basically all it took to rank. A combination of higher competition and more sophisticated search algorithms has changed things.
If you want to gain organic traffic in 2020, you need a seriously good SEO strategy.
This is crucial for businesses of all sizes. Ultimately, SEO is all about acquiring new customers. Obviously, the goal of this is then to generate additional revenue. Despite this, a shocking number of businesses leave this up to chance.
Of course, this is a big problem. To help get around this, we've compiled a five step process that just about anyone could follow to achieve SEO success.
But first, let's start with the basics.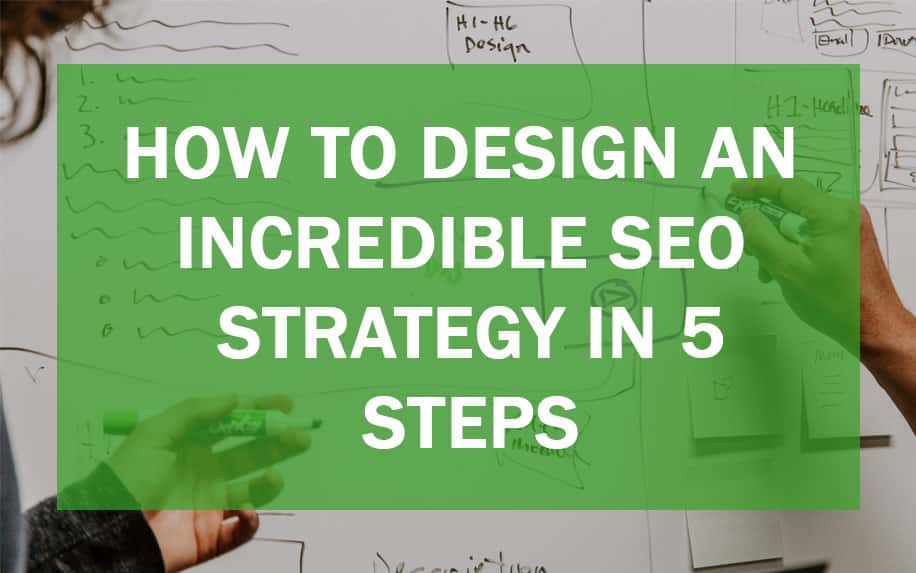 What is SEO?
Search engine optimisation (SEO) is a series of steps that can be taken to rank a web page higher on the search engine results page (SERP). 
Keywords and keyword phrases are selected based on the target market demographics, the industry sector, the location of the company, the type of product or service offered, and what the competition is doing.
The coveted positions on the SERP are the top three places on the first page of the search. Those top three positions account for 46% to 59% of the click-throughs from the SERP to go on to the website link found by the search engine. 
Having a search result appear on the second web page of the search rarely generates any traffic. The click-through rate (CTR) for any listing on the second page is .0001% or less. 
This means one click per thousand views and that average only happens if the keywords have more than 10,000 results each month.
The goal of keyword optimisation and SEO is to get the search results to be in the top three positions on the SERP.
With that in mind, here's how you can design a killer SEO strategy in 5 steps.
1. Performance Audit
When creating an SEO strategy, the first step is to decide where things stand presently. To do this, it's necessary to audit your site for SEO factors. You can either pay someone else to do this, or use a dedicated tool to conduct an SEO audit.
In either case, you're looking for three main things. Let's take a look at each.
Technical Issues
In terms of SEO, how your site actually functions is the first thing you need to consider. To understand why, think about what search engines' end goal is. They basically want to provide users with the right information as smoothly as possible.
As an extreme example, if your site doesn't load at all, the algorithm will realise you can't provide this.
More often, the problem is with load speed. Google realises that people are basically lazy. The longer users have to wait to access your content, the less well it will rank.
Crawlability Issues
Next up is crawlability.
Crawlability is a term used to describe the process of a search engine examining your site. The easier it is for the crawlers to find a piece of information, the more likely they are to display it to users.
This comprises things like how your site is structured, how you link between different pages, and the quality of your sitemap.
Onpage Issues
Finally, you should audit your existing site content for onpage issues. These fall into two broad categories:
Content-level issues – Including readability, word counts, and keyword usages.
Metadata issues – Including titles, meta descriptions, headings and image alt attributes.
We'll look at how to create each of these a little later.
For now, it's important to understand on principle. As with the rest of your site audit, the idea here is to create a strong foundation on which to build new SEO-focused content. 
With any luck, your audit will provide you with a list of relatively cheap and easy actions to take. These will improve your SEO greatly, as well as ensuring that your future SEO strategy reaches its full potential.
In that vein, the second step in your strategy should be rectifying relevant technical issues.
2. Technical Actions
Now, the words 'technical actions' may well make some of you a little nervous. Never fear. Most SEO-related technical changes are actually pretty simple. Where things do get a bit more complicated, they should still be easy to get a pro to fix without breaking the bank.
Briefly, here are the kinds of things you're likely to need to change.
Links, Redirects and Status Codes
These are the most common technical SEO problems. They're also the easiest to get your head around. The first thing to check is that each page on your site has at least 3-4 internal links pointing to and from it.
It's also important to understand what's known as the link status. There are a lot of these, but for SEO you only really need to understand four broad categories:
200 codes – These normally mean that everything is okay with the link,
300 codes – These indicate a redirection, meaning that the URL of the target page has changed. Most often this is either a 301 (permanent) redirect, or a 302 (temporary) redirect. 301s are fine, as long as they aren't overused. Instead of using a 302 redirect, you should change the target URL to the new page address.
400 codes – These usually mean that the page you're trying to link to doesn't exist anymore, or that the browser can't find it. If your audit finds internal links with a 400 status, either replace the link with the correct URL, or with a new address.
500 codes – These indicate that something has gone wrong with your server. You may need to increase capacity, or consult a professional to identify a fix.
With the exception of some 500 errors, these are all easily fixed by anyone who knows how to add edit content on your site.
Load Speeds
Load speeds affect SEO in two different ways:
Directly, by slowing down the search engine indexing process,
Indirectly, by giving a poor user experience, and impacting important SEO-related UX metrics like time-on-page and exit rates.
In either case, the solution is to ensure your site loads as quickly as possible. Actions you can take include:
Using compressed/minimised CSS/PHP files,
Ensuring high levels of server-side performance,
Choosing the right compression for images and other media.
Load speeds can be measured using Google's free Page Speed tool:
Depending on your level of tech savviness, you may be totally comfortable doing this  yourself, or you may need to hire a developer to help you out.
Security
Security is more important for SEO than ever before. Google and other big web companies are aware that users are increasingly concerned with protecting their data. As such, insecure sites rarely rank well on SERPs.
Luckily, there are a handful of accepted security standards which you can adhere to.
For example, using the HTTPS protocol instead of the older and less secure HTTP is vital if you're serious about attracting organic traffic.
Even where HTTP sites rank, most browsers will warn uses that they are insecure, causing a large proportion of users not to click through
You should also ensure that your SSL certificate is fully up to date at all times.
Site Maps
Finally, your sitemap is an easy way to boost your search engine rankings. This is basically a document which outlines how your site is structured. You can then submit this to Google using Search Console.
This means that the crawlers don't have to figure out the structure of your site for themselves.
However, it's important to ensure that your sitemap is up to date.
Where there is a mismatch between your sitemap and the actual structure of your site, this confuses the crawlers, causing them not to rank your content.
3. Keyword Research
By now, you should have your house in order. It's time to move onto the next step of your SEO strategy. That is, it's time to think about what new content you're going to create. Remember, SEO is all about matching your content with search engine queries.
These queries are called keywords.
What is Keyword Research?
Any content you create should be based on one or two primary keywords, and a number of secondary keywords. These are often variations on your primary targets, or related words and phrases.
Keyword research is the process of figuring out what keywords people use in your niche.
You can begin this process by brainstorming the kinds of problems your ideal customers are most likely to encounter. These are then used as the basis of your search for the best keywords relating to those topics.
How do You Choose Keywords?
There are any number of keyword research tools out there. All of them tell you two essential pieces of information:
Search volume – The number of people searching for a keyword in a given month,
Keyword difficulty – A measure of how likely you are to rank successfully.
Once you've identified a list of keywords with the right combination of high search volume and low difficulty, the last step is to figure out their search intent. This is what a user wants to achieve when they perform a search.
These are the four types of search intent:
Navigational – searches for a specific website,
Transactional – searches to make a purchase,
Commercial research – research about a product, 
Informational – searches for a piece of information.
You can figure out the search intent of a keyword by simply looking at what is already ranking.
Best Keyword Research Tools
The most widely used keyword research tool is Google Keyword Planner. This is free to use, and allows you to generate keyword ideas based on both topics and competitors.
There are also countless premium keyword research tools, which give you a variety of additional features, such as more specific data on search volumes, and rich text SERP elements.
4. Content Creation for SEO
After all of that, it's time to put pen to paper. However, before we get started, it's important to reiterate the role of content marketing in your SEO strategy, because a lot of people have completely the wrong idea.
There's this pervasive myth that content marketing is simply a way to stuff keywords onto your site. This couldn't be more wrong. In fact, keyword stuffing has a better chance of getting your site blacklisted.
Instead, content marketing is about creating valuable information resources.
Remember, the search engine's job is to hook users up with the information they're looking for. As such, your job is to create the most interesting, engaging and valuable content on the topic at hand.
Here are a few ways you can achieve this.
Content Standards for SEO
Luckily, there's a whole lot of data out there on what kind of content performs best. For example, blog posts perform best when they're between 1,000-2,000 words. This is enough to provide insights, without boring the reader to tears.
Additionally, if you've ever tried to write for a successful site, you'll know they generally have a whole host of other content-level SEO standards. There are all sorts of variations on these best practices.
Still, here's a broad SEO checklist which you can follow while creating marketing content:
Readability – This is a measure of how easy your content is to read. The most common readability standard is the Flesch Reading Ease Score. You should aim for your content to score at least 60-70 out of 100. It's easy to achieve this using simple language and 2-3 line paragraphs.
Keyword placement – The most common rule of thumb for keyword density is 1-2%, but this is a target more than an absolute rule. Essentially, if you have a two word primary keyword, you should aim to use it every 200-300 words, and in at least 1-2 subheadings.
Keyword variations – These days, SEO is all to do with topic clusters. This means that it's vital to use semantic variations of your primary target throughout each piece of content.
Metadata
Beyond the content itself, your next onpage SEO priority is metadata. Once again, there is a lot to take into account here, but these are your main priorities:
Titles – This is the title of the article as it appears on SERPs. It should accurately describe the content in 50-70 characters, including the primary keyword.
Meta descriptions – The meta descriptions should enticingly describe the topic of the article in around 150 characters.
H1/2/3 – The H1 is the title of the article, as it appears on the page. It should contain focus keywords without being an exact match of the title. H2 and H3 tags are subheadings, which should contain a mixture of primary and secondary keywords.
Alt text – Alt text is used to describe images, where these can not be displayed. Each image should have a unique alt tag, containing either a primary or secondary keyword.
5. Ongoing Optimisation
Finally, once you've completed your new content creation, there are just a few more steps to ensure it performs as well as possible. Let's look at two of the most important ongoing efforts you can make in your SEO strategy.
Build Domain Authority
Domain authority (DA) is basically a measure of how authoritative your site is within your niche. It's also one of the most important SEO ranking factors. However, it's difficult to utilise until after you have a good foundation of decent content on your own site.
This is because building domain authority requires you to get new backlinks from other sites.
This can happen naturally, or as the result of a link building campaign.
Measure the Success of your SEO Strategy
It's also critical to constantly measure and reevaluate your SEO strategy. Your goal is to learn from what worked and what didn't. That way you can create constant improvements.
It should also be noted that once you've completed the early stages of your SEO plan, you'll still need to revisit these in future. For instance, new technical problems can emerge. You'll also want to find a constant stream of quality keywords to target.
In fact, the only way to remain at the top of the SERPs is to constantly up your SEO game
How to Create an SEO Strategy
Creating an SEO strategy that maximises customer exposure to your business or product is key. Being able to define your topic area is important. Think about what you are selling, what is your expertise? 
From there, you can argue your brand's purpose and why you are the ideal business for the consumer's needs. Defining your audience is an important part of your SEO strategy as well.
Knowing who you are selling to helps optimise your keywords and create reachable targets. Analyse the habits of your current customers and who your competitor appears to be targeting. 
Recognise the benefits of what you are selling. This helps you streamline your services for the customers who will avail of them.