SEO Agency
Hiring an SEO agency is one of the best decisions you can make for your business. But with so much conflicting information out there, choosing the right SEO agency can be tricky. At ProfileTree, we are SEO experts who deliver incredible results quickly for our clients.

Our track record of delivering improved traffic is unrivalled. Reach out to our seo experts and have a free seo audit complete for your website, let us explain the quick wins and how we can help improve your SEO.
What is SEO?
The truth is most people don't really understand what SEO is. Even people who claim to be specialists often only have a vague understanding of SEO. This makes it hard for businesses to know they're getting value for money. SEO stands for search engine optimisation.
This means employing a number of marketing, web design, and PR strategies to grow the amount of traffic your website receives from search engines, such as Google. Essentially, search engines do two things:
Determining the topic of your page,
Deciding which pages under this topic will offer users the most value and the best experience.
The core of SEO is implementing strategies which influence Google's decision-making in your site's favour.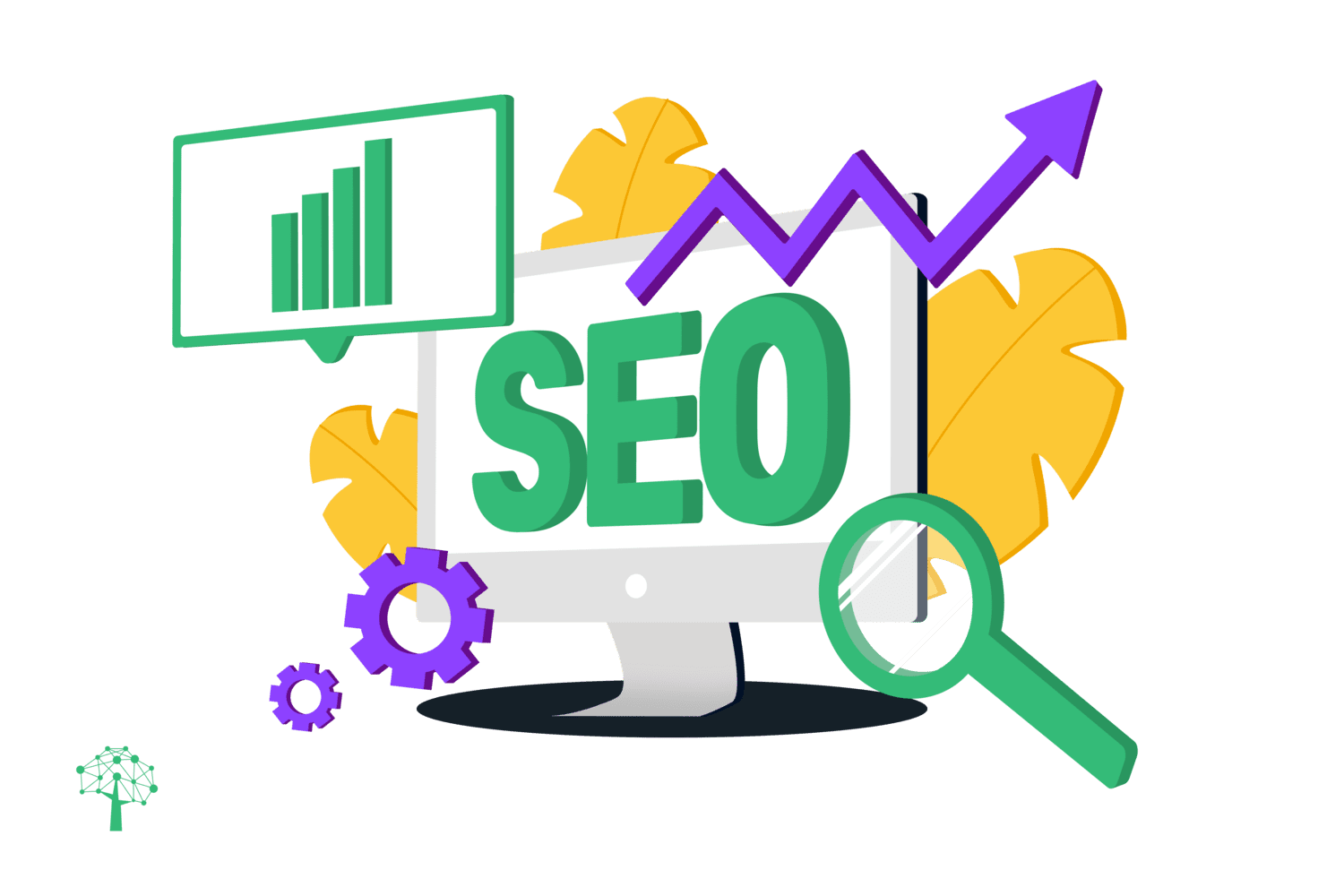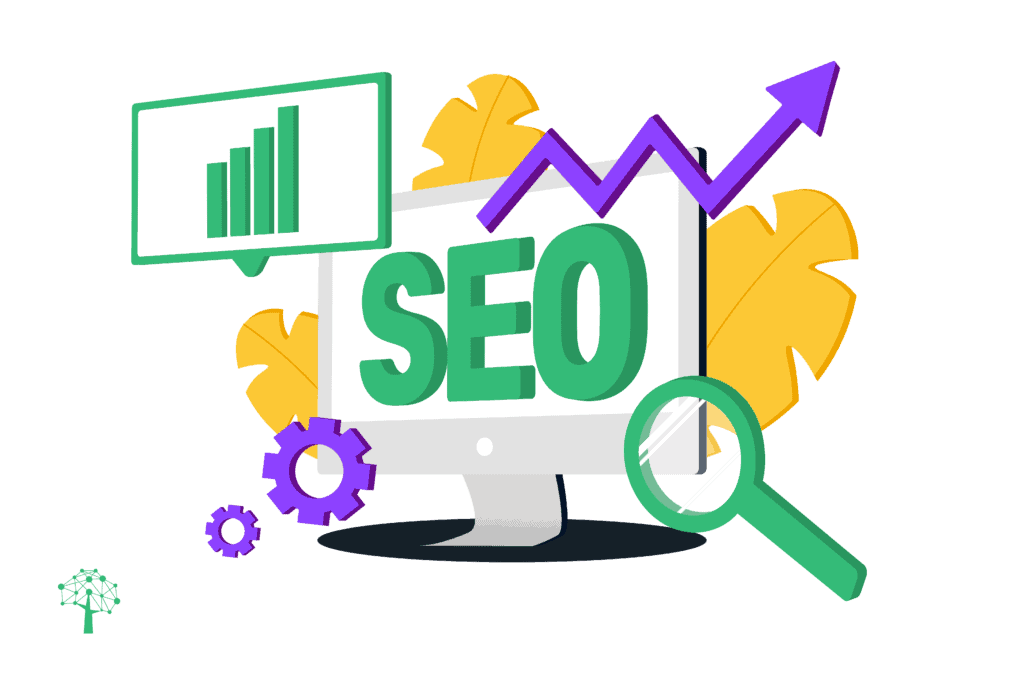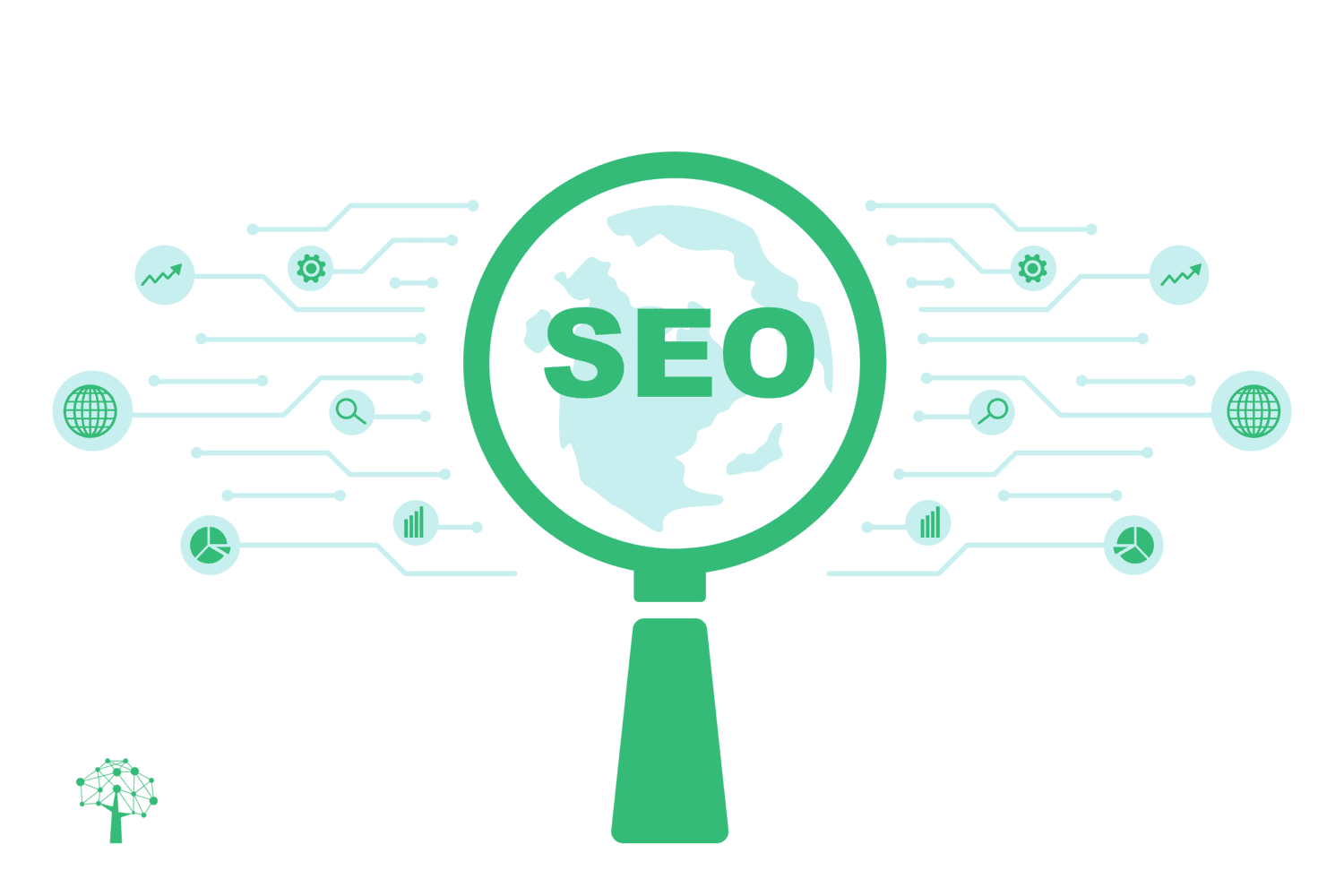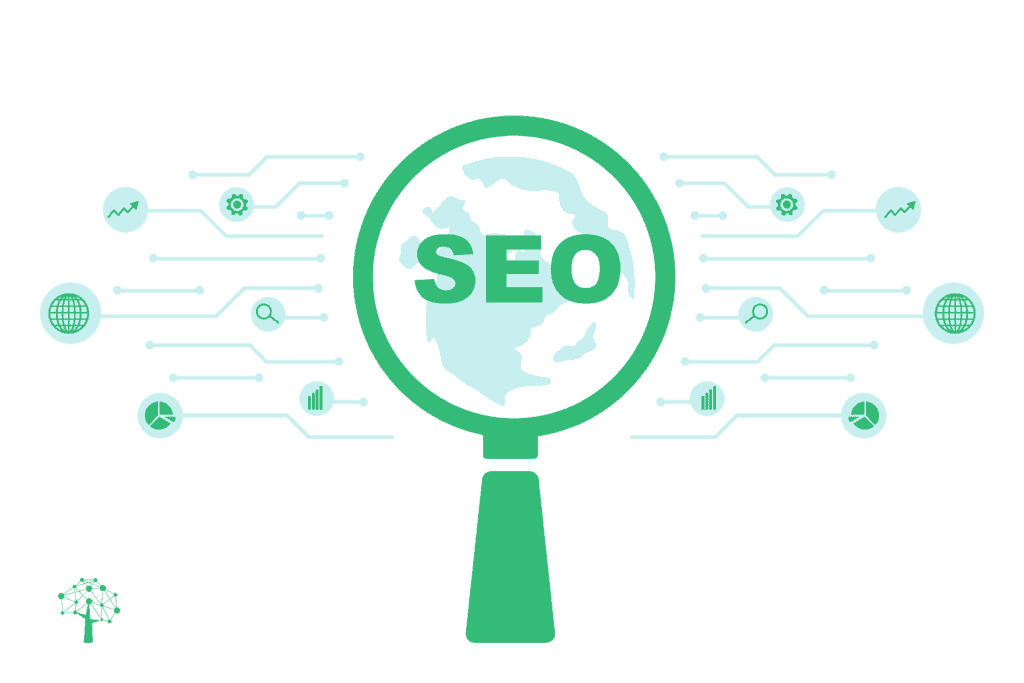 At ProfileTree, we offer expert SEO agency services comprising:
SEO strategy,
SEO audits,
Technical SEO,
Content marketing,
On-page SEO,
Off-page SEO,
Link Building,
YouTube SEO,
Performance optimisation,
SEO training,
Performance tracking,
SEO Consultancy.
Not only do we offer the highest quality SEO services in Northern Ireland. We like to take each and every SEO project as an educational opportunity. The more your team understands how search engines rank your content, the better positioned you will be to build this knowledge into all future activity.
Why Do I Need an SEO Agency?
SEO is, without a doubt, the most important traffic source for any website. Appearing in search engines allows your business to be found by potential customers who are not yet aware of your brand.
Furthermore, SEO is really the only traffic source that once you've made an initial investment, your traffic will continue to grow over time. This makes it a much larger priority than the likes of paid search, email marketing, or social media traffic.
SEO should also be your priority channel until your site reaches profitability. As the cost of acquiring users is much lower with SEO, it is the best way to gain sufficient traffic to maximise CRO before scaling your users with paid acquisition sources.
Hiring a SEO Agency FAQs
Search Engine Optimisation is a strategic and organic approach to enhancing your digital presence, but what will an SEO agency do and why should you hire one to help you climb the ranks of search engine results? Check out the answers to the questions.
Should I hire an agency for SEO?
Hiring an SEO agency is a fantastic way to climb up the ranks of search engine results. An SEO agency will provide you with content that is rankable, which is a great investment as you can then use it as a basis for creating your own content further down the line. They will also help you identify areas of your business that could be improved with SEO marketing.
What will an SEO agency do?
An SEO agency will begin by evaluating your current SEO performance, i.e.) current ranking keywords, average traffic, top-ranking pages, etc. They will then create an SEO strategy through blogs, web pages, video content, etc, to improve your business's ranking on search engine results. The ultimate goal is to put your business in front of the audiences that matter.
Our SEO Agency Services
At ProfileTree, we take a holistic view of SEO. We don't just give clients an automatically generated report or a contextless spreadsheet filled with keywords. Instead, we begin each SEO project by getting under the skin of your business. That is, we strive to understand the exact kinds of users which your website should target. We can then recommend and implement a number of steps and strategies to target these audiences.
Our Team of SEO Experts
At ProfileTree, our team are some of the leading SEO experts in the UK and Ireland. Our expertise in technical SEO, content marketing, on-page optimisation and link building is unrivalled by other local agencies.
With decades of combined experience in delivering SEO services, our team has the unique skills and knowledge needed to grow organic traffic for all kinds of businesses. Of course, SEO is constantly changing.
More than any other marketing channel, businesses depend on the whims of Google's algorithm. Many local SEO agencies use strategies and techniques which are five or even ten years out of date.
Our team of passionate SEO professionals stays up to date with Google algorithm changes, using only the most up-to-date knowledge and techniques to effectively grow your business's organic traffic.
Our SEO experts are based around Northern Ireland, as well as the rest of the UK and the island of Ireland. We offer tailored SEO packages for all kinds of companies, including cross-border and international businesses.
Our SEO agency team has extensive experience in delivering projects in a range of industries, including:
Travel & tourism,
Hospitality,
Healthcare,
Small business,
Car dealership,
Law firms,
Tech,
Consumer goods,
Health & Fitness,
Recruitment,
Letting agents,
Hotels.
Our team understands that every business has different resources and a unique target audience.
Contact ProfileTree today to begin growing your business with Northern Ireland's leading SEO agency.
SEO Audits
We offer the most comprehensive audits of any SEO agency in Northern Ireland. An SEO audit is a snapshot of what's helping your site to reach users and what pain points are undermining this.
This comprises strategy, content and technical SEO.
Our audit process gives a full overview of your site's current SEO performance, with a view to identifying the core ways it should be improved. Every website faces unique SEO challenges and opportunities.
Where some SEO agencies simply provide automatically generated reports of every SEO issue on your site, we take the time to guide you through how each technical SEO error affects your site and which actions to prioritise for the best effect.
We also offer a full SEO audit of client websites from a content point of view. This involves assessing the content which is currently providing the most value in terms of keyword visibility and identifying the largest opportunities for growth.
One of our top SEO consultants will help deliver real results through organic search. Do ask for access to our SEO case studies so you can see the proven SEO improvements our SEO company has delivered to date.
SEO Strategy
ProfileTree are experts at SEO strategy. Our passionate team of SEO experts will create a roadmap for long term and sustainable growth, as well as expedient opportunities for increasing your traffic.
We put our clients' goals at the heart of every SEO strategy. No matter your timelines, target customers, or conversion goals, our team of strategists will create the perfect plan for gaining the maximum traffic on your site.
We've had massive success with six month, twelve month and longer term SEO strategies for clients in a range of different industries. We're also experts at identifying shorter term growth opportunities.
We also offer a range of services for implementing SEO strategies, including content writing, technical SEO actions, or training, mentoring and upskilling.
Keyword Research and Strategy
Keyword research is at the core of any SEO strategy, but it is widely misunderstood. Keywords are queries which users search for on Google. However, the key to effective SEO is knowing which kinds of keywords different pages on your site should target. You can't just cram in any old keywords and hope for the best. It's important to be strategic.
Our team of SEO experts qualify all keywords across:
Search volume,
Search intent,
Competition.
That is, the number of people searching for a keyword, what users are trying to achieve, and how many other sites are targeting the same keyword. This allows us to maximise the impact of all SEO efforts.
Many SEO agencies simply provide their clients with a list of keywords, which are often effectively plucked out of thin air. ProfileTree gives you a page by page breakdown of which keywords to target to receive the most organic traffic on your site.
Our SEO Impact
Sometimes SEO can feel like spinning plates. Many SEO agencies make bold claims which bare little resemblance to reality. Clients are then left feeling ripped off, and rightly so. The truth is, it's hard to predict traffic growth before you know what you're dealing with.
Your organic traffic growth depends on a number of factors, including:
Your industry
Your resources
Your current standings
Your technical SEO
How your website is built
Your target audience
The timeframe of your project
Your commitment to SEO
Unlike other marketing channels, SEO is a long-term process. While quick interventions are possible, these are an added benefit of SEO work. The real goal is long-term, sustainable traffic growth. In most cases, you'll see strong increases in traffic, keyword visibility and revenue over a period of months, not days.
We take a tailored approach to each SEO client, helping to set ambitious yet realistic traffic goals. Ultimately, our goal is to get maximum value out of every page on your website, creating the largest possible traffic volume for your business. Contact ProfileTree today to find out more about how we can help you to grow your business through strategic SEO.
Technical SEO Agency
Technical SEO is a broad term. Essentially, this means anything to do with how your website is built which has an impact on SEO. Naturally, this include a wide variety of factors, including:
Security,
Performance,
Sitemaps,
Crawlability,
Structural issues,
Mobile friendliness,
Metadata,
Accessibility,
Reliability,
Coding elements.
Any other issues which impact how users interact with your site will also have a knock on impact on your SEO.
As an experienced technical SEO agency, with an in-house web development team, we are uniquely positioned in Northern Ireland to identify and resolve any and all technical issues which might impact traffic.
We also offer technical SEO mentoring and upskilling, giving your team the skills they need to monitor and improve your site's technical SEO on an ongoing basis.
On-Page SEO and Content Marketing
As the name suggests, on-page SEO is all about the content on your website. SEO content writing is a highly specialised discipline. Plenty of people claim to know what they're talking about.
At ProfileTree, we let our results speak for themselves.
We've helped countless businesses across the UK and Ireland to supercharge their traffic figures, through on-page SEO and content marketing campaigns, including full optimisation of:
Service pages,
Home pages,
Product descriptions,
Blog articles,
Case studies,
About Us pages,
Information pages,
Product categories.
The first step to on-page optimisation is proper keyword research and placement. However, keywords only help Google to understand what your page is about. Simply using the right keywords won't make your content rank.
Instead, Google will always prioritise the pages which give users the most value. Depending on your industry, this might mean providing the best information, entertainment, or solving users problems.
The key is to write SEO content for people, not algorithms. Nowadays, the only way to outdo your competitors with on-page SEO is to have better, longer, more entertaining, or more useful content. At ProfileTree, we have a dedicated team of content experts, who write web copy which drives revenue.
Contact our team today to find out more about how our on-page SEO and content marketing services deliver profitable results.
Link Building and Off-Page SEO
Google's ranking decisions are based around showing the best information to users. One of the factors it uses here is how credible and authoritative your site is, through a metric known as Domain Authority.
The more authoritative your site is, the easier it will be to rank for different keywords. Off-page SEO and link building are used to improve your site's Domain Authority.
ProfileTree are experts at link building, employing a variety of strategies, including guest posting, directory posting, content syndication, and influencer outreach. We have a proven track record of securing backlinks from high authority domains in a range of industries.
Unlike other SEO agencies, we have a totally organic and ethical approach to securing backlinks, while other agencies simply buy links and charge a marked up price, as well as putting you at risk of manual penalties from Google. Contact our team today to discuss our off-page SEO and link building packages.
Growth Hacking and SEO
Growth hacking is where SEO, CRO and creative thinking meet, to help your traffic and online sales skyrocket. At ProfileTree, we have extensive experience of helping online businesses to grow rapidly.
From identifying untapped audiences, to turning your ecommerce store into a conversion machine, our SEO agency staff are growth hacking experts. Selling products and services online is a science. Our marketing team utilises analytical thinking, experimentation, and concrete data to decide the most expedient opportunities for growing your business online.
SEO Training, Consulting and Mentorship
For small businesses, SEO can be a minefield. SEO is different from most other kinds of marketing, in that it can be difficult to learn by yourself. However, it is probably the most important marketing skill for any business to learn.
We offer a range of SEO training services, as a cost effective way to help businesses grow their organic traffic.
Whether you want to generally improve the SEO knowledge within your team, or to learn specific strategies, techniques and best practices, our expert SEO agency staff are on hand to explain everything in plain and simple language.
We offer tailored SEO training in:
Content writing,
On-page optimisation,
SEO strategy,
Technical SEO,
Local SEO,
Off-page SEO,
Link building,
Keyword research,
Video SEO,
Google Analytics,
Google Search Console,
Other SEO tools.
Our goal is to give your team the functional knowledge they need to meet your business goals. Whether this is dominating your industry, or simply maintaining your website without causing harm, ProfileTree are your guides through the world of SEO.
We also offer a full range of SEO consulting and mentoring services, fully tailored towards your specific resources, goals and target audiences. Your ProfileTree SEO consultant will be on hand to answer any questions, work with you to develop the most effective SEO strategy, and offer training and upskilling throughout its implementation.
This is a popular and cost-effective way for businesses with limited resources to take ownership of their SEO, and grow their organic traffic.
SEM, SEO and PPC Agency
SEO is closely tied to Search Engine Marketing (SEM) and Pay Per Click (PPC). Essentially, these are all strategies for maximising the visibility of your site in search engines. The key difference is that SEM and PPC involve paying to target certain users. Some businesses rely entirely on one or other channels. However, it's important to take a holistic approach.
Organic and paid search each have a role to play. Of course, we'd all like to rank number one for every relevant keyword in our own industry. In reality, this is rarely possible. PPC helps you to maintain visibility for search terms you're unable to rank for.
As such, it's critical that your SEO and PPC strategies are closely aligned, to maximise your return on investment. ProfileTree is an experienced SEO and PPC agency, using both channels in a holistic and complementary manner. Contact ProfileTree today to find out more about our search engine marketing packages.
SEO for Ecommerce
Choosing the right SEO agency is the difference between an ecommerce site succeeding or failing. It's almost impossible to run a successful ecommerce store without effective SEO. Without SEO, you'll struggle to find new customers. SEO for ecommerce presents unique challenges.
Every individual product and category page should deliver organic traffic on an effective ecommerce site. The larger the site, the trickier this is, as there is more potential for technical SEO errors, and a greater volume of content to optimise.
Ecommerce keywords also tend to be incredibly competitive. Ecommerce sites primarily target transactional keywords, where users clearly want to make a purchase. This makes them valuable, so more brands will target the same keywords.
As such, a large part of SEO for ecommerce is maximising your site's competitiveness, through strategies like link building, as well as maintaining your site's technical SEO to the highest possible standard.
SEO for B2B Brands
B2B businesses need a somewhat different SEO strategy, compared to consumer brands. This is because B2B customers require a very different marketing approach more generally. One key difference is that very few B2B customers make a purchase on their first site visit.
In this way, SEO is less a sales channel, than a lead generation strategy. This changes the kinds of keywords which B2B brands can target. The focus shifts to identifying keywords which indicate that the user has a problem which your company can solve, through its products or services.
Rather than a selling opportunity, SEO for B2B brands is typically a funnel entry point. This means that B2B SEO must work alongside a strong lead generation strategy. For example, you may use lead magnets to capture B2B leads in your marketing email list.
B2B SEO is also heavily focused around thought leadership and content marketing. This both helps you to attract new leads, and helps to build a sense of authority and credibility for your brand. Speak to ProfileTree today to find out more about our dedicated B2B business SEO packages.
Northern Ireland's Local SEO Agency
Local SEO is a specialised discipline in its own right. This means maximising your visibility for users who are looking for products and services in their local area. In fact, for the majority of small businesses, local SEO is the most valuable marketing channel.
Local SEO involves the same core principles as general SEO, with content and technical factors still playing a key role. However, local SEO involves some additional, unique ranking factors.
As a specialist local SEO agency, we have extensive experience of using a wide variety of tools and techniques to grow your website's traffic, including Google My Business, NAP Citations, local link building, localised SEO landing pages and local hosting options. We're also leading experts in providing local SEO services to businesses with multiple locations, as well as cross-border companies on the island of Ireland.
WordPress SEO Agency
We're Northern Ireland's leading WordPress SEO agency. Our content writers and SEO experts work alongside our dedicated team of WordPress designers and developers. Your WordPress site will rank best on search engines when it's fast, secure and reliable.
Over half of websites are built around the WordPress platform. This offers a wide range of flexibility in features, with a vast number of plug-ins available. However, this can present challenges for maintaining SEO, by influencing your site's speed and security.
At ProfileTree, we don't just ensure that the content on your WordPress site is fully SEO optimised. We also conduct fully and thorough design and technical SEO audits, to ensure that your site is as effective as possible.
YouTube SEO Agency
YouTube is the world's second most popular search engine, after Google. Put simply, if you have a video marketing strategy, you need a video SEO strategy. This is crucial, both for reaching new customers, and maximizing the ROI of your video marketing.
YouTube SEO means using hard data to determine the most appropriate video tags and metadata to use on YouTube, in order to maximise the visibility of your video content on the platform itself.
Embedded plays are also an effective way to boost your YouTube SEO. Better still, adding embedded video to your site's content will improve key SEO factors, such as average time on page, creating clear mutual benefit across the two channels.
What to Expect From an SEO Agency
Working with an SEO agency can be a tricky experience for many businesses. Often, this can mean parting with your hard earned cash, without really understanding what you're getting in return. This is never a good situation to find yourself in.
Instead, it's crucial to choose an SEO agency which sets clear expectations and deliverables. SEO is too unpredictable to make precise predictions, but you should still have a goal to work towards.
It's also worth keeping in mind that your SEO situation is constantly changing, so you want to pick an agency with a track record for honest dealing, and who won't try and take credit for random spikes in your traffic.
Reputable SEO agencies will measure and report their success across three key metrics:
Keyword visibility,
Organic traffic,
Revenue.
A balanced view of all of these things is the only way to measure the success of any SEO project. At ProfileTree, we relate our work to all key areas, ensuring that you have a full overview of our success.
What to Look for in an SEO Agency
A lot of people claim to understand SEO, but few of them actually get results. When you're choosing an SEO agency, you're really looking for two things:
Trustworthiness,
A track record of driving results.
SEO is unique in the digital marketing world, with the sheer amount of bad advice out there, and novices claiming to be experts. At ProfileTree, we're Northern Ireland's most experienced and effective SEO agency. We've helped all kinds of companies, from local businesses, to international brands, to skyrocket their online traffic, and grow their business.
We take a holistic approach to all SEO projects, comprising strategy, content, technical SEO, link building, and training and mentoring. SEO is an ongoing process.
The key is to choose an agency which can spot opportunities for your business to grow.
How to Choose an SEO Agency
There are plenty of SEO agencies out there doing great work, but there are just as many which genuinely don't know what they're talking about. So how do you know you're getting value for money?
The key is backing an agency with a track record of delivering strong results in terms of traffic, keyword visibility and revenue. Anyone can tell you they'll double your traffic. It's another thing entirely to actually do it. At ProfileTree, we've built a loyal customer base for our SEO agency through honest dealing, client education, and delivering lasting results for businesses.
Northern Ireland's Leading SEO Agency
At ProfileTree, we are Northern Ireland's most trusted SEO agency. Our team of experienced content writers, web developers and marketing professionals offer unrivalled expertise, creativity and attention to detail. We work with organisations of all sizes across the UK, Ireland and beyond because of our unique combination of skills, experience and affordability.
When you choose ProfileTree as your SEO agency, you'll get a genuine business partner. We act as an extension of your in-house team to deliver the highest quality SEO results and grow your business.

Search Engine Optimisation is one of the services we at ProfileTree provide. It's part of our range of website services that include:
Website Design
Website Development
Website Hosting and Management
Search Engine Optimisation
SEO stands for Search Engine Optimisation and is the process of trying to improve your website's appearance and position on search engine results. This marketing tactic uses keywords and curated content in order to target the right audience and appeal to Google's algorithms.
Below, we'll answer some of the FAQs surrounding SEO and explain why you should embed it as standard practice within your website's content.
Is SEO Important?
Think of googling a question, how often do you go beyond page 3? The first few pages of search engine results attract the most attention and user traffic. There is much competition in the online market as competitors battle it out to achieve higher positions on search engine results.
When you search for something on Google, the first 1-3 results are usually ads, which are paid-for advertising businesses purchase in order to increase traffic to their websites. The results that appear below the ads are organic results, meaning Google has chosen their site to appear in response to search engine users' queries.
Search Engine Optimisation is a process of curating online content that answers questions, provides resources and explains information about your business clearly, so that Google knows your website can respond to related queries.
SEO specialists use a variety of SEO tools and google algorithms so that they can create quality SEO content. Search Engine Optimisation is a lot about algorithms and trends, luckily, that's something we at ProfileTree are experts in!
What is SEO ranking?
Ranking refers to the position your website appears in search engine results. For example, if you owned a hairdressing salon based in London and someone searched 'Hairdresser London' on Google, you would want your business' website to appear, ideally, on the first page of results. The higher your business website appears on search results, the increased levels of traffic your website will receive, which in turn equals profits.
Why you should use SEO
More than likely, your target audience does not have a personal bond with your brand. They aren't interested in hearing about your products/services because you want to tell them about it; they are only interested in your products/services if it's going to assist them and make their lives easier or more enhanced. SEO should be a standardised practice that's embedded within website content, it has many benefits, some of which include:
Making your website a resource of information.
Increase your website's visibility.
Encouraging users to revisit.
Becoming an expert opinion within your industry.
Creating trust and credibility with your brand.
Highlighting brand awareness.
Updates stakeholders on trends within your business' industry.
Increased online presence.
Competitive edge in the online market.
Increase in traffic and subsequent sales.
Search Engine Optimization allows you to research the kinds of questions your target audience is asking and answer them by creating content that your expert in. Valuable and useful content for your audiences is attractive to Google's algorithms and increases your position in search engine results.
What are the SEO tools?
Various tools exist that allow SEO content creators to research related keywords and phrases. They usually exist as add-ons to google search result pages, and they provide strong suggestions of headings/subheadings that you can embed into your SEO content. Some examples of these add-ons include:
Keywords Everywhere
Keywords everywhere is a great SEO add-on that provides rich data for related keywords and phrases. It provides:
Relatable keywords
People also searched for
Long-tail keywords
Each of these suggestions can be exported into excel files and they also detail the on-page difficulty, off-page difficult and SEO difficulty.
Keywords Surfer
Keywords surfer is another SEO add-on to google search result pages. It provides a long list of related keywords and also details their similarity and volume. What's different about this add-on is that they also offer a free AI-generated article using all of these keywords, which can make a sound starting point for beginners that want to create quality SEO content.
SemRush
In addition to analysing your website's SEO performance, SemRush can also provide detailed reports regarding keywords associated with your business industry. It can detail global and regional search volumes for keywords, highlight their difficulty and suggest more niche keywords and phrases that may be better suited to your business' content.
Some other tools that can help manage SEO performance include open-source coding programmes like Python and content scheduling programmes like Linktree. Check out these articles that explain their impact on SEO performance.
What are the SEO Google trends?
SEO specialists stay up-to-date with Google algorithms and their SEO trends. Google works tirelessly to provide more accurate, responsive and quality information for its users. That's why Google is the most popular search engine in the world. At ProfileTree, we continuously monitor Google algorithm updates so that we can provide the best quality of SEO content. Below is a list of articles that provide information on the updates of Google's SEO algorithms:
Four tips for writing quality SEO content
In order to start creating quality SEO content we recommend these seven tips:
1. Get used to SEO tools
In order to create quality and engaging content, you need to gain an insight into your target audience's questions, queries, interests and even controversial issues that pertain to your business.
Use Google result pages and add-on SEO tools to research keywords and long phrases that relate to your business' industry, product or service. This will allow you to provide quality content that is being sought by your target audience.
For example, you own a bathroom design company and want to create quality SEO content that will attract traffic and improve your website's SEO performance. Start by googling 'Bathroom' to gain a general sense of search engine queries. The auto-fill on search engine results provides you with a starting point for creating content; in this list, you could provide content that answers the following topics:
Bathroom cleaning tips
Bathroom design tips
Bathroom suites
Different Bathroom designs
Bathroom accessories
Bathroom tiles
Engaging in this process regularly is going to make it easier to create current content that users will be searching for. Remember to also check out the Google FAQ suggestions that appear about halfway down search result pages.
Don't be intimidated by SEO add-ons. Try using tools like Keywords Everywhere, SemRush, and Keyword Surfer, for ideas for content that relate to your business' expertise. You may not understand the other data insights like search volumes and on-page difficulty, but they can still provide you with a bank of useful terms and phrases to incorporate into your content.
Controversial issues should also be addressed e.g.) if you are a car manufacturing company, you could create content that addresses how your business is contributing to reducing its environmental impact. This kind of content is sought in hot topics and positions your brand as an informative voice.
2. Figure out how your industry expertise can help people with their search engine queries.
Now that you know what people are looking for, you can start by creating content that will be useful for them in their search engine queries. This could be in a variety of formats, from text, images and video; some examples of strong SEO content that you could create include:
How-to instructions
E.g.) A hardware store showing how to use a drill on different materials, how to change the drill bits and how to put up a shelf. They may sell the product of the drill, but now they also provide useful information that will assist in the rest of the customer's purchase journey.
This would answer potential customer questions like how to drill on wood, how to change a drill bit etc…
Ideas and inspiration
The content you create could also inspire customers on the possibilities they could have with your product or service. Examples of this kind of content may include:
E.g.) A decoration company or interior designer showing their 'before and after' projects. SEO keywords could be embedded throughout the portfolio, and it provides inspiration for potential customers who are considering a similar design.
Whatever the content that you create, it's important that you show your industry expertise in a way that is informative, useful and appealing to your target audience.
SEO content can be tailored to suit a wide range of industries; some examples of how you can alter SEO content to be industry specific include:
Whilst it may seem like a daunting task to write SEO content, at ProfileTree, we offer courses where you can learn SEO practices and embed it as a standard practice in your brand's content. Get in touch today to book a session.
3. Create a range of content in a variety of formats
The SEO content you create and publish should be illustrated in a wide range of formats; it provides a competitive edge, increases engagement and increases the time spent on business websites. All of which contribute positively to Google algorithms. Some of the different formats you may want to consider creating content in include:
Video
Podcasts
Audio descriptions
Infographics
Images
Blog pieces
Articles
Interactive formats – quizzes etc.
A variety of different formats will offer a competitive edge, e.g.) in video format – this is a more demanding resource of time and energy to create content in this format; as such, there is less competition from other businesses in the video results that search engines provide, which increases the likelihood of your business appearing higher in search engine results.
4. Write content as if you don't know anything about what it is that you provide.
This may sound counterproductive to the advice we have been suggesting of highlighting your industry expertise. You should still highlight your industry expertise but do so in a tone that is explanatory, useful and non-judgemental.
The content you create should be able to explain processes, give advice or provide information in layman's terms. It's easy to get caught up in industry lingo and refer to these terms casually, but remember someone who is taking to Google to search their query; they probably know little about what it is that you provide. Try to put yourself in the mind of someone who knows little about your industry; this will help you provide accessible and useful content.
How to measure my website's SEO impact?
There are many online websites that can analyse your website's performance regarding its SEO impact. Some of the sites include:
SEM Rush
SE Ranking
WebCEO
SpyFu
These is just a few of the many SEO analysing sites available, most offer initial free insights into SEO performance, but usually, they encourage upgraded subscriptions in order to gain deeper insights. Some of the SEO performance indicators that these sites provides include:
Domain page rankings.
Subpage rankings.
Video rankings.
Blog rankings.
Increase/decrease of their website's position on search engine results.
List of existing keywords the website is ranking for.
List of useful relatable keywords they could embed.
Before you search for SEO auditing websites, make sure to check out this article on what you should look out for.
SEO services
An SEO agency will provide you with a range of SEO services in order to better the position of your website on Google search results. A higher position on search engine results leads to increased traffic and increased sales. At ProfileTree, we are experts in SEO Services; some of the services our agency provides include:
Research
Our SEO specialists undertake the research phase of SEO content. Sifting through Google suggestions, Google FAQs, SEO add-ons like Keywords Everywhere and Keywords Surfer and SEO analysing sites like SemRush. They determine the most suitable keywords and phrases and consider data insights like search volume and difficulty.
Through this extensive research, our SEO specialist will compile a list of keywords and phrases that could be incorporated into your SEO content. Keywords and phrases will become headings and subheadings and contribute towards providing content that is both useful and sought after by your target audience.
Tailored SEO Content
An SEO specialist will also be able to create tailored content that suits a wide range of industries, queries, formats and interests. Read this article on how you can create tailored SEO content for events.
Up-to-date SEO trends
At ProfileTree, we routinely stay up to date with Google's SEO algorithms so that we can provide high-quality SEO content. We also stay current with local SEO trends and believe in a proactive approach to understanding these ever-changing trends.
SEO audits
At ProfileTree, we also offer SEO audits to learn how your website is performing in relation to search engine results. We can track your website's position in relation to SEO content, and we inform Google when we have updated the content so that they perform another SEO audit.
SEO Courses
At ProfileTree, we take pride in providing small and large businesses with the knowledge to create quality SEO content. We believe in empowering businesses to stay competitive in the online market long after we have given them a boost. Our sessions are usually conducted online, and we tailor SEO content courses to suit your business. Get in touch today to book an SEO audit or training session.