For a budding entrepreneur, blogging can be both fun and profitable. Through blogging, business owners can share valuable information consumers want or need about their niche, as well as set their firm up as experts in their field. The business has established itself in the market by creating an exceptional blog with relevant business content that's interesting and useful to their target audience.
Content plays a major role in establishing a successful and profitable company blog. By selecting the right blog topics and producing outstanding content, business owners can help their company reach its peak. Company blogs can distinguish a business. A blog's success hinges on creating interesting and informative content that will appeal to prospective readers.
How to Select a Relevant Topic for Your Blog
1. Identify Target Audience 
Pinpointing your target audience makes it easier to select relevant blog topics as you'll have a clearer picture of who you're writing for. Not everyone will be interested in your company's services or products, regardless of how great they may be.
By narrowing your market, you can gear your blog content to those readers who have a genuine interest in your line of work or what you have to offer. This valuable exposure can result in lead generations for your business.
2. Connect with Target Audience
Once you've identified your target market, you can begin researching blog topics that would meet their particular needs. Your blog topics may serve to answer questions readers may have about a particular subject, provide valuable information that can help them be more productive, resolve problems that are interfering with work progress or help your readers meet business challenges they face in their profession.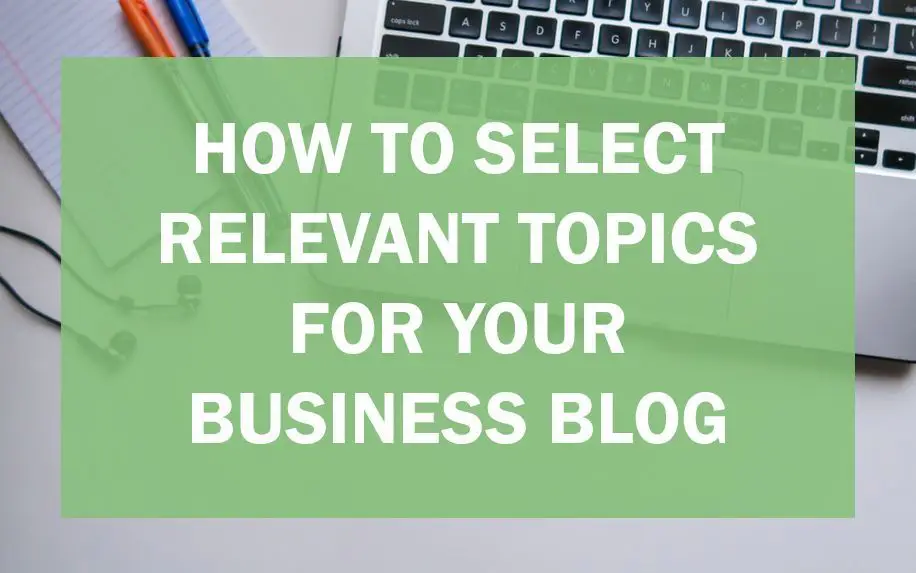 Understanding the needs of your readers will enable you to connect with your target audience and provide them with relevant content that's useful and beneficial. 'Evergreen' topics will generate more traffic to your site and produce long lasting effects for your business.
3. Establish Your Niche
Establishing a niche can make your blog more successful and generate more traffic over the long haul. You can then narrow your choice of topics to cover your specialisation. Specialising in a specific area gives you the opportunity to provide valuable counsel and insight on particular subjects readers need. 
This enables you to grow a specific target audience that needs and appreciates the content you have to offer. Over time, your following will refer friends and associates to your blog for the unique business content they need.
4. Look for Ways to Engage Your Audience
Topics that engage your audience will boost your company's branding and increase your followers. To promote user engagement, you'll need to provide readers with quality content that has depth and meaning. Choose topics that can be explored in greater detail and make way for you to share personal experiences and viewpoints about the same. 
A personal approach to business topics can do much to attract audience attention, especially if the material is unique, stimulating and informative. You can even introduce controversial subjects or offer controversial viewpoints to keep readers on their toes. 
Be sure to encourage readers to ask questions, leave comments and make suggestions on the blog posts you write as reader interaction helps a blog come alive and attracts faithful followers.
5. Create a Sense of Urgency
In today's fast paced business world, people want quick answers to their questions, instant solutions to their problems and immediate attention in satisfying their needs. 
Blog topics that evoke a sense of urgency are more likely to attract attention, arouse curiosity and make readers want to come back for more. By combining timely topics with time sensitive dialect, a business owner can generate more traffic to their site.
6. Check Out Your Competition
Another way to glean great topics for a business blog is to check out the competition. You can research popular blogs with a similar niche as yours, and see what topics they are covering. 
Visiting other blogs gives you an idea of what material is already on the market, so you can avoid overused topics and focus on developing fresh content that can help you build a dedicated following. You can also see your competitor's performance by looking into what blogs did better than others, in terms of engagement.
Use SEO Tools for Finding Blog Topics
There are quite a few SEO tools that business owners can use to find topics that resonate with their target audience and rank highly on search engine results pages. Here are just a few:
Google Keyword Planner
Use Google Keyword Planner to research popular keywords for topics in your niche to see how often they are searched. This gives you a better picture of the number of people interested in the topics you're interested in writing. Long-tail keywords containing three to four words can be more helpful as they generally indicate statements or questions from readers. 
By creating a list of relevant, highly-rated keywords, you can use these within your content to boost traffic to your site. Google Keyword Planner requires that you have a Gmail account, although there's no need to be an advertiser.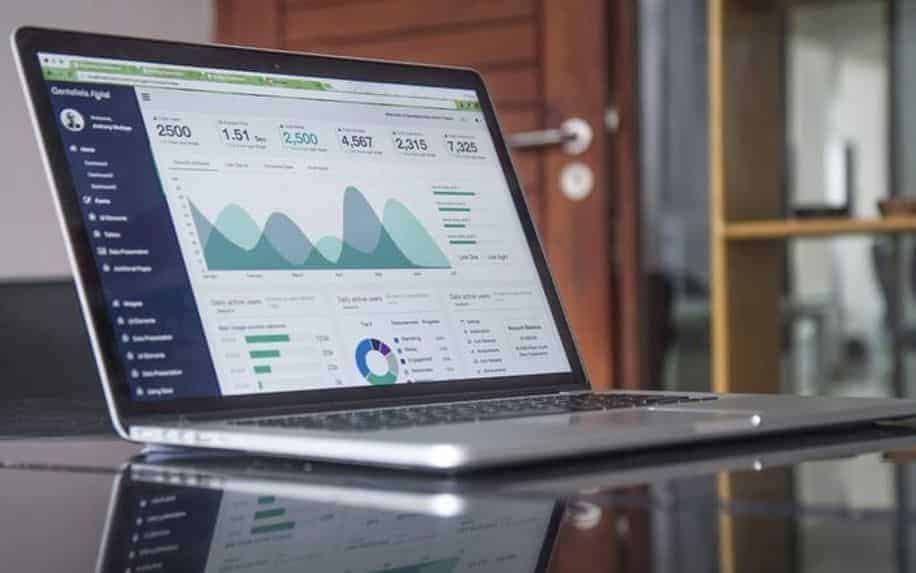 BuzzSumo
BuzzSumo shows you which topics have the best performance on social media in conjunction with high ranking keywords related to your topic. You can then create content around these tried and proven topics to get similar results. This tool can also give you valuable insight into trending topics from a time frame of 24 hours up to six months, so you can tell if a topic was a hit or not.
SEMrush
With SEMrush, you will be able to spy on your competitor's topics to see how they are ranking. This gives you an idea of what topics are trending in your market.It audits your on-page SEO and helps you improve your pages. This allows you to understand your page better and optimize it for SEO for better lead generation.
Google Analytics
Google Analytics tells you which keywords your blog is ranking for so you can maximise their use in your content. It starts by putting several lines of tracking code into the code of your website. This records various activities of your users when they visit your website, along with the attributes (such as age, gender, interests) of those users. It then sends all that information to the Google Analytics server once the user exits your website.
Forums
Visiting forums like Reddit or Quora is another means of finding relevant topics for a specific business. Consumers frequently visit forums to get help on specific subjects. They ask questions regarding all kinds of topics in the hope that someone will be able to provide the answer they need. Many of these questions can be used as topic ideas for business blogs as people obviously need help concerning these subjects. The tool FAQ Fox can help you compile questions from your competitors' sites on specific topics, making it even easier to provide relevant content for your target audience. 
If you have an interactive blog, you can use comments and questions from your own readers to generate relevant topics for your blog. You should check responses from your readers regularly via email replies, comments or questions section on your blog or social media platforms. Keeping abreast of your target audience's needs is key to growing a loyal following.
Do's and Don'ts for Selecting Blog Topics
Choose topics that have the public interest in connection with your business or industry. Not all topics will attract the attention of your target audience, even if they are connected with your particular niche.  
By sticking to trending topics, you're more likely to hold public attention longer and generate traffic to your site. Some topics are simply more interesting and relevant than others, making them better options to cover long term.
Stick with topics you are familiar with within your niche and can cover with expertise. If you're only vaguely familiar with a topic, your content may lack focus, clarity and relevance, making it unappealing to your target audience. 
Your lack of knowledge about a chosen topic could cost you some of your following, as readers won't waste time on content that's dull, antiquated or incomplete in meeting their needs. By sticking to subject matter you know, you can provide your readers with valued content that shows you are an expert in your field.
Don't underestimate your competition.  By getting to know your competition and how they operate, you can stay one step ahead of them. Staying abreast of your competition gives you a heads up on which topics are worth covering and which to avoid. Unless you have a novel spin on a saturated topic, it's best to leave it alone so as not to bore your readers. 
Readers appreciate blogs with a fresh and innovative touch. By branching out into unexplored territory with your blog, you're more likely to capture a greater share of the market. Don't commit to particular blog topics or subjects that you're not passionate about. Your content will eventually define your blog and establish your following. 
Before committing to a specific subject, make sure you have the interest and desire to cover that topic from all angles over the long haul as this shows your readers you are serious about providing them with the comprehensive material they need.
For more information, get in touch with us today.