Are You Looking for 'SEO Newry'?
ProfileTree – Expert SEO Specialists with a Local Flavour Serving Businesses in Newry, County Down, Northern Ireland
We are a self-made, family run agency based in Belfast and Monaghan. We've established ourselves in the Northern Irish market since 2010. We've grown the team, collected awards, and helped local and international businesses with their SEO performance. We've also helped hundreds of small and medium sized businesses with free SEO training through programmes funded by Northern Ireland's Councils over the course of three years. Investing in SEO for your business in Newry means making sure your new SEO partnership is built on proven methods. We're SEO specialists AND a leading content marketing agency, meaning we can help that you're not just seen but that the right traffic for you works hard for your business.
SEO Newry Explained
But how do we describe SEO? According to Moz, SEO is the practice of increasing the quantity and quality of traffic to your website through organic search engine results. Think of it this way: in the physical world, your company needs to be in the right location, to attract people into your shop and then make a sale. Digital marketing, including search engine optimising, in Newry or further afield is no different! You may ask yourself, "What do I need to know about SEO?". That's why we've created part three of this glossary of SEO terms for you. If you want to go through part one and two first, take your time to go through them first.
SEO Newry: Your SEO Glossary
SEO Newry Glossary #1: Alt Text
Alt text (alternative text) is the text description of an image on a web page. It's used by screen readers and search engines. Alt text is read aloud by screen readers used by visually impaired users. It displays in place of an image if it fails to load and is indexed by search engine bots to better understand the content of your page. Now, the first function for Alt text is to increase the accessibility of your websites to visually impaired users – this is something that affects your technical SEO from Google's point of view. Another benefit is that it improves the ranking of your images for Google Image Search. So, it's a great way to improve your overall SEO.
How to Write Good Alt Text?
Describe the image as specifically as possible
Alt text is, first and foremost, designed to provide text explanations of images for users who are unable to see them. If an image truly doesn't convey any meaning/value and is just there for design purposes, also known as 'decorative images' it should live within the CSS, not HTML.
Keep it (relatively) short. 
It's advisable to keep alt text at around 125 characters or less.
Include your keywords
Alt text provides you another opportunity to include your target keyword on a page, and thus another opportunity to signal to search engines that your page is highly relevant to a particular search query. Prioritise describing and providing context to the image, if it makes sense to do so, include your keyword in the alt text of at least one image on the page.
Avoid Keyword Stuffing
Google won't penalise you if you have a poorly written alt text, but you'll be in trouble if you use your alt text to stuff keywords. Focus on writing descriptive alt text that provides context to the image and if possible, includes your target keyword, but don't ever overdo it.
Don't use images as text. 
This is less of an alt text-specific best practice and more of a general SEO-friendly web development tip – it's even the same for social media marketing. Because search engines can't read text within your images, you should avoid using images in place of words. If you must do so, explain what your photo says within your alt text.
SEO Newry Glossary #2: Domain Rating
The relative strength of a website's authority based on its backlink profile. If you want to know more about backlinking, you can check part 2 of this glossary. Anyhow, domain authority or domain rating was created by Moz to score the relevance and strength of your site with respect to your industry or a specific topic. The scoring scale is between 0 and 100.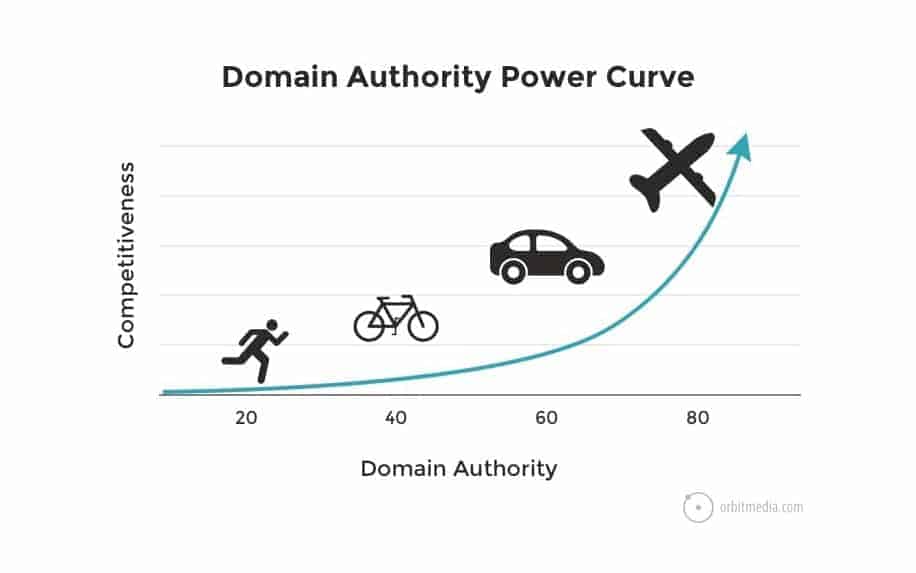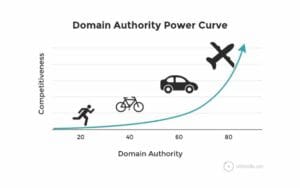 Below 30 is poor
30 to 40 is below average
40 to 50 is average
50 to 60 is good
60 to 70 is very good
Above 80 is excellent
You should also know that it's easier to improve your site's domain authority if it's between 20 to 30 than it is between 70 to 80.
How to Improve Your Website's Domain Authority?
This question comes naturally.  To improve your domain authority, here are some tips.
Acquire high-quality backlinks from authority sites
Create valuable content that is worth sharing
Audit your site and remove spammy links
Inbound links are vital for your website's domain authority and rankings, however, having bad links can cause more harm than good. Spammy websites' links can decrease your website's domain authority; it can even lead to a penalty from Google. To avoid that, you should audit your site for toxic links and remove them as quickly as possible. Tools like SEMrush, Ahrefs, or UberSuggest can identify those links for you.
Optimise your website structure and user experience
Improve your internal linking strategy, bounce rate, and dwell time
SEO Newry Glossary #3: Broken Links
A broken link is a link on a web page that points to a non-existent (or "dead") resource. They can be internal or external links. So, whenever you're linking to another page on your website, keep in mind that you should continuously check that these links are still valid and working. Check the broken links on your website every three months, ideally. While internal links are in your control, external ones are not.
What Causes Links to Break?  
You entered an incorrect URL (misspelled, mistyped, etc.)
The URL structure of your site recently changed (permalinks) without a redirect and it's causing a 404 error.
The external site is no longer available, is offline, or has been permanently moved.
Links to content (PDF, Google Doc, video, etc.) that has been moved or deleted.
Broken elements within the page (HTML, CSS, JavaScript, or CMS plugins).
Firewall or geolocation restriction does not allow outside access.
Broken links will affect your Google Search results; however, they won't impact your overall SEO. Just ensure that there're aren't too many broken links on a single page which might indicate that a site is either neglected or abandoned.
SEO Newry Glossary #4: Gated Content
Content that visitors can only access after providing their contact information. This is a great way to gather leads and especially if your industry relies on getting leads like Real Estate, for instance. The best thing about gated content is that it engages those who are really into the topic that they will provide their information to get to see your content. This puts all the best on the quality of content you create. The more original, long, detailed, and specific it is, the better. Creating gated templates and guides are wonderful at capturing industry-relevant audience. Templates and guides are downloadable files that visitors can use again and again to make their lives easier.
SEO Newry Glossary #5: SEO Audit
The process of evaluating and assessing your website to see how well it's performing in search engines. An SEO audit is the starting point for wanting to improve your SEO performance. It includes a review of all the metrics: traffic, domain authority, backlinks, ranking keywords, visitors' locations, and competing websites. It also includes assessing your user experience and the customer journey on your website, as well as the technical aspects that may be affecting your SEO performance. SEO audits help you put your finger on the problems.
SEO Newry Glossary #6: Black Hat SEO
Black-hat SEO refers to the use of strategies, techniques, and tactics that violate a search engine's guidelines. It focuses on finding and exploiting algorithmic loopholes. These unethical tactics don't solve for the searcher and often end in a penalty from search engines. The reason why search engines penalise them is that they trick the engines into ranking these websites which don't offer any real value to the users, so they end up frustrated with their search experience. This is exactly the opposite of Google's objectives. Black hat techniques include keyword stuffing, cloaking, and using private link networks.
Keyword Stuffing
Google explains keyword stuffing as adding lists of phone numbers without substantial added value, adding blocks of text listing cities and states a web page is trying to rank for, repeating the same words or phrases so often that it sounds unnatural.
Cloaking
Cloaking involves showing one piece of content to users and a different piece of content to search engines. Websites practicing black hat SEO will do this in order to make content rank for a variety of terms irrelevant to their content. Spam websites will often do this to try and avoid a search engine bot finding out the spam content they serve to users.
Paid Links
You should avoid paying any other site to link to your content. Google asks users to tell them about instances of people buying or selling links. They state they will penalise both buyer and seller of links once the practice is detected.
SEO Newry: How to Choose the Right SEO Agency for Your Business
For SEO in Newry, finding an SEO agency who'll look at your 'big picture' is the key to achieving real results for your business. That's because SEO built around your specific needs will be designed to perform hand in hand with your business goals. How? Great SEO works alongside your content, your marketing strategy, and your customer segments to make sure traffic is identified, driven, and converted in a tailored way for your company. We haven't just helped companies like yours with this process, we've grown our own business through strategy-driven, high-performance SEO and content marketing.
SEO Newry: Holistic SEO in Line With Your Business Goals
At times, we're asked by clients to 'get them seen on Google'. Great, that's what we're here for and that's what we do. But as professional SEO consultants for Newry, County Down, Northern Ireland and beyond – we have more questions that we need to ask to make the most for our clients. For example, which customers do you want your website to be seen by? And, seen by customers searching for what terms? How can we encourage them to click-through? What will they see when they arrive to your website and how can we help them convert?
SEO Newry with a Vision in Mind
A professional SEO agency will want to understand who you are targeting, why you are targeting them and how you'll start their journey to becoming a loyal customer. Don't know the answer to any of these questions? That's where a specialist SEO agency comes in, as they'll not just help draw up your roadmap from Google success to conversions but will adapt to the latest changes in the ever-evolving SEO world. In short: customers searching for questions you want to answer will see your company, thanks to content they'll want to engage with, then click through to your website where they'll be helped to start their relationship with your business.
SEO Newry: Client – SEO Agency Relationship and Communication Process
Starting Out
Put simply, look for an SEO agency who'll spend more time asking questions than trying to convince you to do the things that suit their business. A strategic agency will want to know what you need to do and why. They'll want to understand your business, marketing, and the overview of your online world. Looking at how your customers can move between the buying stages online is a key to knowing how to use SEO to find, encourage and help the right customers into and through this process.
SEO Newry: Watching Your Audience – The 'Report and Tweak' Method
SEO isn't a 'fix and forget' process, as the chance to continually check what's working – and why – makes applying changes to take advantage of change much easier. ProfileTree, an expert consultant, will help by monitoring what's happening online and why. We love helping our clients keep ahead of the latest changes, such as new devices or even whole new ways of searching like voice search, chatbots and more. Seeing SEO as an evolving process in an evolving online world for your potential buyers helps to meet them with the right content when and where – and how! – they want to see it.
Ultimately, SEO isn't a product. A professional SEO agency in Newry, or anywhere in Northern Ireland, will show that SEO is an ongoing way of thinking about web set-up and content and customer journey, a best practice, and a foundation for your digital word.
SEO Newry: A Full Digital Strategy Team
Most of all, ProfileTree built our own company on SEO and content marketing, so we understand how to incorporate great SEO into the very roots of the online presence where your customer interacts with your brand. And the fact that we have a team of experts – in SEO, in content writing, in social marketing, in video production, in web design/development in training too – means a personal service in Newry and County Down for businesses of a freelance SEO consultant with the benefits of a varied, specialist team.
SEO Newry: Have a Reason
The first sign of a 'cheap and cheerful' approach to SEO that won't produce good results for you? Tick box promises of more traffic. A professional, local agency will want to understand what audience you need, what you're offering AND how to convert those interested into viewers. 'Traffic' won't help your bottom line any more than passersby help a physical shop. Let's do things better.
SEO Newry: Have a Plan
You'll have your business goals and your marketing goals, but do you have a plan for your SEO needs based on campaigns, products, or different audiences? We'll help you find out what success looks like for you and draw up a map to great ROI. We've spent years learning how to make sure SEO work is built on the right foundations.
SEO Newry: Have a Team
Our SEO services for Newry, County Down, NI and beyond include the backing of our professional SEO agency AND our entire digital agency. We're also a digital marketing and content company, so you'll have a team of content, social media marketing, and design/ development specialists in support. Think of us as a team of specialists helping, and learning from, each other to benefit your business.
SEO Newry: Keep in Touch
We love using the latest changes – like voice search, new devices and more – to keep our clients ahead. Playing catchup is a costly business online, whereas meeting your customers as they change is a digital ROI 'sweet spot'. Ask us how you can work with the latest developments to leave your competition in your wake.
SEO Newry: How Much Is SEO Services
Working with so many different businesses over the years taught us to work with different budgets and requirements. We tailor all our packages according to your needs and it doesn't matter whether the budget you have is big or small – we work with KPIs. In other words, you set the budget, we tailor a package optimised for your requirements and within the limits of your spending. We have packages starting from 500£ per month covering SEO audit, content writing, imagery, keyword analysis, and reporting. For technical SEO and website optimisation, please contact us for an accurate budget as it varies from one website to the other.
SEO Newry: Ready to Book a Free SEO Audit?
Fill the form and send us your questions, we will be happy to answer all of them. Please do let us know if your business is registered in Newry. Alternatively, you can book a chat with one of our team members to audit your SEO performance and find out how we can help you grow your website traffic organically in Newry, County Down, Northern Ireland.
More services: Social Media Marketing Newry, Web Design Newry, Digital Marketing Newry, Content Marketing Newry, Digital Training Newry