For many businesses in Northern Ireland, knowledge of digital marketing is limited. As a result, the advantages of digital marketing are often misunderstood. Northern Irish companies that use internet marketing are typically ahead of the curve, and the effective use of digital marketing can make that critical difference between success and failure. With each and every campaign we lead, we continue to demonstrate why digital marketing is so important in the modern marketplace. In this article, let's dive into what digital marketing is and the right KPIs to measure the success of your digital marketing strategy.
Are you searching for 'Digital Marketing Northern Ireland'?
ProfileTree – Expert Digital Marketers and Brand Strategists with a Local Flavour Serving Businesses across Northern Ireland
ProfileTree are a digital marketing company with a difference. Based in Belfast, Northern Ireland, we drive digital campaigns that engage, inform, and inspire. The impact of digital technologies on marketing strategies has been transformative, and how consumers choose to engage with their favourite brands is constantly changing. We offer a full programme of agency digital marketing services, all designed to help businesses in Northern Ireland prosper in the online age. We've also helped hundreds of small and medium sized businesses with free digital marketing training through programmes funded by Northern Ireland's Councils over the course of three years. Investing in building a digital marketing strategy for your business in Northern Ireland means making sure your new partnership is built on proven methods. Our multi-talented experts can deliver on all aspects of digital marketing from social media marketing to building fully fledged websites and creating content optimised for SEO growth.
Digital Marketing Northern Ireland: What Is Digital Marketing?
How do we describe digital marketing? According to the most popular definitions, digital marketing involves the use of digital technology and the internet to execute campaigns around the marketing of products or services. Types of digital technology used to drive digital marketing typically include mobile marketing, display advertising, social media marketing, content marketing, video marketing, and any other digital medium.
Areas of digital marketing typically focus on the online world's most popular digital channels. These include social networks such as Facebook, LinkedIn, Twitter, Instagram, or TikTok which have emerged as some of the most powerful marketing tools available to advertising professionals, including social media marketers and content marketers.
Digital marketing in Northern Ireland is growing at a rapid rate, largely in thanks to the advent of social media. Recently published research identified Instagram as one of the most popular networks, with 38 percent of people in Northern Ireland actively using the platform. Snapchat is similarly popular, with 26 percent of over 16s in Northern Ireland using the app.
Digital marketing isn't solely concerned with social media, however. The digital marketer in today's Northern Ireland now works across a number of disciplines. In Northern Ireland and across the world, areas of digital marketing include:
Search engine optimisation
Content marketing (i.e. the marketing of online media content)
Marketing automation
Email marketing
Social media marketing
Display advertising
Mobile marketing
Voice search marketing
Where is digital marketing heading in Northern Ireland? Keep reading to learn how the industry is growing and to discover how to use digital marketing for your business.
Digital Marketing Northern Ireland's Scene
How has digital marketing changed business in Northern Ireland? The answers lie in how all of us interacts with our favourite brands. Many elements of traditional marketing have become obsolete, with increasing numbers of consumers making their buying decisions on smartphones, desktop computers, laptops, and tablets. Whilst only 17 percent of people owned smartphones only a decade ago, that number has reached 78 percent, and 95 percent among those between the ages of 16 to 24. Indeed, we are already in the age of digital dependency, and the advent of online media content and new media marketing has transformed our everyday lives.
How fast is digital marketing growing? According to Reuters, global digital marketing spending is currently reaching heights of nearly $100 billion. Meanwhile, an extensive report recently found that 69% of companies intended to hire more marketers in their workforce, with the most in-demand expertise in the categories of digital advertising (45%), content creation and curation (42%) and content strategy (39%). Amidst a backdrop of increased spending and skill demand, companies in need of digital marketing are on the increase. The battle for online competition in Northern Ireland is immense, and digital marketing planning is a new essential.
We're now entering the era of Artificial Intelligence tools which are used to automate almost every digital marketing aspect.
Digital Marketing Northern Ireland: How Digital Marketing Promotes Businesses
How does digital marketing help businesses in Northern Ireland? To understand how digital marketing helps a business, we must look at how online marketing has transformed the customer journey. In Northern Ireland and across the world, the customer experience has evolved. Consumers now expect to interact with their favourite brands online. Websites are now expected to work as an extension of a business' customer service capabilities, acting as a sleek and secure showcase and online inventory for their products or services.
The breadth of opportunity for marketing campaigns has multiplied in Northern Ireland. Digital media has diversified, allowing businesses more opportunity to identify areas where marketing can be applied.
Digital Marketing Northern Ireland: Why Local Businesses Need It
There are many reasons why digital marketing is important for businesses in Northern Ireland and beyond. Check out ProfileTree's checklist on why you need a digital marketing strategy:
Digital Marketing Northern Ireland Advantage #1: Target Your Audience
Knowing how to target customers for digital marketing can make that critical difference between success and failure. The main objective of digital marketing is to appeal to your target audience, bringing your branded message to them on the devices that they prefer to use.
Consider this: the average web user spends approximately 37 percent of their social media time interacting with branded content. As a result of these new levels of interaction, 48 percent of users claim to have made their last online purchase after experiencing a Facebook ad.
The industries that benefit most from digital marketing are therefore those that identify, target and appeal to their audience, using content that engages and inspires them to part with their cash. Successful social media strategies continue to demonstrate why content is important in digital marketing.
Digital Marketing Northern Ireland Advantage #2: Compete With the Top Players
Why invest in digital marketing? There are, of course, many reasons why digital marketing is effective. However, when we consider these reasons as one, we can say that the practice fundamentally levels the playing field for smaller businesses. Companies who have been late to the game have failed, with smaller, more tech-savvy businesses rising to the fore. Digital marketing for small business allows smaller players with a smaller budget to compete. In the modern marketplace, search engine ranking pages reign supreme. When done properly, a digital marketing strategy can place your business beside the very best in the industry.
Digital Marketing Northern Ireland Advantage #3: Measure Your Progress 
Some of the advanced technology used in digital marketing allows businesses to measure the impact of their marketing and advertising resources. Analytics technology allows businesses to find out lots of vital information about their target market. This vital information includes whether they saw your advertisement; if they interacted with it, if they liked it, how much time they spent interacting with it, if they shared it with their network and most importantly, if that interaction led to a sale. Digital market analysis is extremely important, and the means of doing so have never been more accessible.
ProfileTree are leaders in analytics and performance-based digital marketing in Northern Ireland. We spearhead campaigns that harness analytics technology, driving content that is engineered to boost organic traffic and sales conversions. We believe that successful campaigns should deliver a fantastic return on investment. That's why we are on-hand to regularly consult with our clients around essential metrics on web traffic, sales statistics, and social analytics.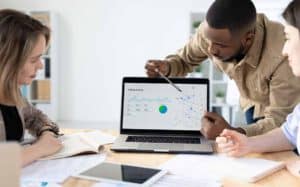 Digital Marketing Northern Ireland Advantage #4: Build Your Online Profile
The world of digital marketing is a world of competing profiles. The key functions of digital marketing are to boost your brand's credibility in a market saturated with competition. There are several key indicators that your business must achieve to remain competitive in its own market, and those most important of places: Google Search results pages. Any successful digital marketing strategy must begin with web development and web design that is stable, secure, and user-friendly.
On the other hand, a search engine optimisation (SEO) strategy is essential in being visible to potential customers online. Moreover, an effective social media strategy is essential in targeting your audience and selling your products or services.
Digital is the new norm, and businesses who don't invest in digital marketing will soon lose any dominance that they once had. In the world of digital marketing, it's all to play for.
Digital Marketing Northern Ireland: How to Measure The Success of Your Digital Marketing Strategy
One of the best advantages of digital marketing against traditional marketing is that it's measurable. You can easily find out how many people saw your post, sent you messages, interacted with your content, or even ignored it. Metrics are really everything to digital marketers. It's the data that opened the door to an empowered decision-making process for all marketers.
Digital Marketing Northern Ireland: Types of Data
Digital Marketing Northern Ireland Data Type #1: Experimental Data
his refers to data that comes from experiments or tests that businesses might utilize when creating marketing messaging and communications. An example could be using the results of an A/B or spit test.
Digital Marketing Northern Ireland Data Type #2: Captured Data
This refers to data regarding user behavior. When someone enters a keyword into Google, this becomes captured data. An example of a business utilizing captured data would be use of Google Analytics or other analytics sources tied to a business's website to understand impressions, clicks and other important information. Another example would be a review of backend CRMs for data like customer lifetime value and other loyalty metrics.
Digital Marketing Northern Ireland Data Type #3: User Generated
This is the data that businesses can compile from social media, like collecting Facebook posts or other using information from other sites, like YouTube comments or Yelp reviews that may indicate the landscape in which a business is operating.
Digital Marketing Northern Ireland: Key Performance Indicators (KPIs)
There are many KPIs and metrics for digital marketing activities. Every digital marketing channel has its own metrics. For instance, email marketing has 'open email rate', videos on social media usually have 'Video views' or a 'Full video view rate'. While we will not tackle every metric out there, we will focus here on the important metrics that get be generalised to many platforms across the digital marketing realm.
Digital Marketing Northern Ireland: The Most Important Digital Marketing KPI
You should never forget that the most important KPI for digital marketing is the Return On Investment (ROI). One cannot put enough stress on the importance of ROI. Data can be misleading and there are many vanity metrics out there. The number of views, shares, likes, followers, all end up as vanity metrics if your revenue is not positively impacted by it. If your metrics are good, but your revenue is declining, then you need to revise your strategy. It could be the marketing strategy that is flawed and needs to be optimised. However, it could also be the business process, the pricing, the expenses, or any other aspect of the business.
In this case, it is always recommended to get a second opinion on your marketing and digital strategy. If you are sure, the marketing strategy is moving in the right direction, then it could be another aspect of the business.
Digital Marketing Northern Ireland KPI #1: Web Traffic Sources
Traffic source in the simplest form can be defined as the origin through which people found your site. Every session or visit to your website has origin or source of the hit. Whenever someone visits your website through desktop, mobile or any Internet-enabled device, the Web & Google Analytics track its source or origin, which is classified as traffic source. Your website is the central channel of your digital marketing strategy. All your paid advertising, email marketing, and social media marketing lead to the website. That's why web traffic source is a metric that matters.
Understanding where your website traffic is coming from will help you prioritise your digital marketing efforts. It will help you set your marketing budget based on the efficiency of every channel. You can even eliminate channels that are not rewarding altogether. Google Analytics is the best tool to give you those insights. Social media pixels are also another way to find out web traffic sources. It is a piece of code that you place on your website. It collects data that helps you track conversions from social media ads, optimise ads, build targeted audiences for future ads, and remarket to people who have already taken some kind of action on your website.
Digital Marketing Northern Ireland KPI #2: Leads
In a digital marketing context, a lead refers to a contact with a potential customer, also known as a "prospect". To qualify as a lead, the prospect must give out some piece of information to you that identifies them or gives you consent to contact them again. Someone viewing your published posts or giving you a 'thumbs up' in the comments is not a lead. Meanwhile, someone contacting your sales team, signing up to a newsletter, or someone who entered their information but hasn't checked out yet is surely a lead.
Leads are an important metric because it is a sign that you are on the right track. People only engage with businesses they are considering. They may not be ready to convert or make a purchase yet, but they are considering you. At this stage, your goal is to give them reasons to convert, give them guidance and reassurance on the buying process, or give them a sense of urgency with a limited time discount.  Tracking the number of leads is important because it exposes whether your content marketing and website user experience are successful at engaging visitors.
Digital Marketing Northern Ireland KPI #3: Cost Per Lead
Say you're running a paid campaign on any third-party platform to place your advertising on their site, when users click on it, they're redirected to your site. On your site, the visitor needs to perform a particular action, for example, sign up for a newsletter, register for a webinar, or buy a discounted item. After they opt in, they become your leads, and the publishing platform gets a commission. That's when Cost Per Lead becomes a straightforward metric. As a business, it is crucial for you to know what it costs to get a lead. To calculate that, you divide the total ad spent budget divided by the number of leads you got from the campaign.
With this metric, you can learn whether you allocate your advertising budget wisely. Hence, you'll be able to discover the channels that bring you the most leads and reduce investments on less profitable channels. Moreover, there are tactics that you can use to optimise your campaign and reduce the CPL.
Digital Marketing Northern Ireland: How to Optimise Your Campaign to Lower Your Cost Per Lead
Digital Marketing Northern Ireland: Run Re-targeting Campaigns
You probably know that many customers are visiting your website, they take a small action like sign up for a newsletter or a add a product to their cart and then leave with converting. Instead of acquiring new leads, you can drive these users back by giving them a small push. When they visit different sites, they can see your relevant ads encouraging them to finish what they started. This way, you'll spend less money on converting warm leads.
Digital Marketing Northern Ireland: Narrow Down Your Demographics
Targeting everyone costs a lot. Besides, no single ad campaign can be interesting to everybody. Narrowing down your target audience is not only cost efficient, but also a wise strategic tool to find out who your most profitable customer segment is.
Digital Marketing Northern Ireland: Reduce the Number of Fields
Filling in long forms makes your audience tired and can even irritate them, so make sure to limit the number of fields to two only. An email or a phone number and a name will do. Any other information, you can ask for it at a later stage.
Digital Marketing Northern Ireland: Optimise Your Page Loading Speed
Your website's loading speed could be affecting your CPL. If people click on your ad and it took them forever to reach your website, they will bounce back. That is surely a bad sign that causes the cost of the lead to increase. Optimising your website's user experience is crucial.
Digital Marketing Northern Ireland KPI #4: Conversion Rate
A conversion rate records the percentage of users who have completed a desired action. Conversion rates are calculated by taking the total number of users who 'convert' dividing it by the overall size of the audience and converting that figure into a percentage. You define what the desired action is. Do you want people to sign up for a newsletter? Participate in an event? Do you want them to purchase a product? Is it their name and number you're looking for? That differs according to your business process.
There is no single conversion rate that can be used to define success across digital marketing. What you need to do is figure out where you 'lose' your customer. For example, if they're installing the app but never complete their registration, then you need to consider the user experience of the registration process. The point where the customer abandons your website is the process you need to revise.
Digital Marketing Northern Ireland KPI #5: Click Through Rate
Click Through Rate (CTR) is a metric used to measure the percentage of those who click on an Ad link. Click-through rates measure how successful an ad has been in capturing users' attention. The higher the click-through rate, the more successful the ad has been in generating interest. To calculate a click-through rate, take the number of times an ad is clicked on and divide it by the total number of impressions. Then take that amount and multiply it by 100 to get a percentage, which is the click-through rate.
It's important to consider that we're at a stage where users have become desensitized to ads, a typical CTR may be only about two users per 1,000 views, 0.2%. The reason why this is a metric that matters is that it tells you whether the creative aspects of your ad are attractive to your audience. Your visuals and ad copies play a major role in improving your CTR. Digital marketers continuously run A/B tests to optimise for the best CTR results.
Digital Marketing Northern Ireland: Your Choice for a Digital Marketing Agency
In Northern Ireland and beyond, ProfileTree has become celebrated for driving digital marketing campaigns that achieve real, measurable results. Forget impressions, likes and vanity-based metrics – we drive creative strategies based on data-driven conversion. Established in 2011, ProfileTree is an award-winning digital marketing agency specialising in content creation and organic digital growth. We have been successfully growing brands online ever since. Our clients return to us for our unrivalled expertise, overarched by an industry-leading team of content writers, video editors, web designers and brand strategists.
Don't just listen to us. Check out what our valued clients have had to say about our work in our library of case studies.
Digital Marketing Northern Ireland: Why Choose ProfileTree?
For digital marketing in Northern Ireland, we're a different kind of agency. We believe great strategy, local know-how and the very latest expertise combined creates the recipe for reaching digital marketing goals. Plus, we built our own company on digital marketing, content marketing and SEO FIRST so we'll show you proven methods designed to drive results for your business. Discover more below AND our essential digital marketing tips for local companies.
We challenged ourselves to summarise our most essential digital marketing advice for local companies into two short points. Want to know how to take your digital marketing to a new, more cost-effective, level?
Digital Marketing Northern Ireland: Connect to Your Business Strategies
When you speak to the right digital agency in Belfast, or Northern Ireland, be prepared to think beyond 'digital marketing products.' Instead, start with your business plan, marketing strategy and content strategy – if you have one – to genuinely combine your digital marketing into the direction and goals of your company. Also, and this is something often bypassed in error, by involving your team you can discover ideas and needs from every part of your business. You might find that sales have suggestions for a new target audience or other colleagues may have an idea for a campaign.
In short, digital marketing isn't a product or service as such. It isn't a string of actions, where you try one thing and try another, but a structured plan interwoven with the direction of your company to support and help your business grow. A common mistake, we should mention, is the approach of using digital marketing to constantly reach for a 'hard sell'. This isn't, of course, something that works on your shop floor, and it doesn't work online.
Instead, a sense of customer journey and/or community creates a circle of buyers ready to convert – when they are ready. After all, 'do you want to buy now?' is a yes/ no question…while smart digital marketing allows you to draw your audience closer until they are ready to purchase.
Digital Marketing Northern Ireland: Connect to How Your Company and Audiences
An often-ignored fact in digital marketing? Just as your business will change, your audience will change too. Digital marketing, without this factor designed-in, runs the risk of a costly catch-up later instead of being ready to meet your audience at the sharp end of their changing behaviour. For example, your potential customers and existing customers will already have encountered a chatbot working and helping with their questions 24 hours per day on Facebook. So their expectation of how long – and when – a business will reply has changed.
Your audience will constantly see rich social content beautifully optimised for their mobile device (such as Facebook Canvas) meaning your LinkedIn page with photos from staff events won't gain the same kind of response for much longer. Those who fall within your target segments may well have used voice search at home or on their phone/ tablet. Sooner or later they'll want to know how your online presence can respond to this. Will they be pleasantly surprised…or turn to your competition? Looking at digital marketing at a bigger picture avoids missed opportunities and wasted investment by taking considerations like these into account.
After all, you make have engaged a digital agency in Belfast or beyond for sporadic digital products or services – or worked with one of the marketing companies in Northern Ireland – but taking time out to really focus on outcomes can be the key to amazing return on investment.
Digital Marketing Northern Ireland: Your Big Picture
Investing in great digital marketing is the perfect opportunity to look at your company from your top strategies and work downwards. A focus on what you want your business to achieve, how you want your business to change, and any new audiences are among the essentials to have in mind. ProfileTree can help with a clearer, more strategic view of your goals.
Digital Marketing Northern Ireland: Your Online Traffic
Digital marketing creates traffic, but the right digital marketing creates quality traffic. This means the right people seeing the right message and responding in the right way for your business goals. Thinking quality, not quantity, of traffic, is an ideal step towards making an investment in digital marketing a true asset for your business. We specialise in creating a smarter approach to your online world through proven expertise.
Digital Marketing Northern Ireland: Your Business Goals
Again: linking your digital marketing to the very goals of your company means your investment runs through the heart of your business. This simple approach is often ignored by Northern Ireland companies, who instead treat digital marketing as an afterthought or a basic sales tool, instead of unlocking its true potential. Our work with your company starts with your business strategy FIRST to build a partnership around maximum ROI.
Digital Marketing Northern Ireland: How Much Does Digital Marketing Cost
Working with so many different businesses over the years taught us to work with different budgets and requirements. We have created multiple packages for each of digital marketing services. Of course, every project has its own requirements but generally, we use your requirements and budget to come up with a suitable digital solution. In other words, you set the requirements, we tailor a package within the limits of your spending. Contact us for a free quote and a digital consultation about your digital marketing strategy.
Digital Marketing Northern Ireland: Ready to Book a Free Digital Marketing Audit?
A digital marketing audit is where one of our expert team members go through your digital marketing channels such as social media pages, website user experience, and SEO performance and analyse it to give you a brief of your brand's digital well-being. Fill the form and send us your questions, we will be happy to answer all of them. Please do let us know if your business is registered in Northern Ireland. Alternatively, you can book a chat with one of our team members to audit your digital marketing channels for free and find out how we can help you establish a strong digital marketing presence in Northern Ireland.
More Services: Social Media Marketing Northern Ireland, SEO Northern Ireland, Web Design Northern Ireland, Digital Training Northern Ireland