For many website owners, organic traffic drops are a scary prospect. SEO is a complex game, and falling numbers of users are obviously worrying from a business perspective. Afterall, fewer users means less revenue. While some kinds of drops in traffic can indicate a serious problem, others can be explained by things as simple as the weather, or the time of year. So how do you know when it's time to panic? There are a number of ways to go about this, including full-blown
technical SEO audits
, or deep dives into your Google Search Console data. However, these are time consuming, and complex processes. As such, it's helpful if you have a broad idea of what the problem is before you start digging deeper. The key here is understanding the different kinds of traffic drop graphs.
Traffic Drop Graphs
When you notice your traffic figures sliding, your first port of call is assessing the shape of the curve. Surprisingly, this can tell us a lot about what's going on with a site. Helpfully,
Google
has placed these into four categories for us:
Site Level Issues & Manual Actions – Where your traffic takes a sudden dive and stays down.
Seasonality – Where your organic traffic drops and rises over a given time period,
Page Level Issues, Algorithm Changes and Disruption – Where traffic drops significantly, but in a less straightforward pattern,
Reporting Glitches – Where there is a sudden drop which quickly recovers.
Helpfully, Google has even provided a few diagram to help illustrate this point: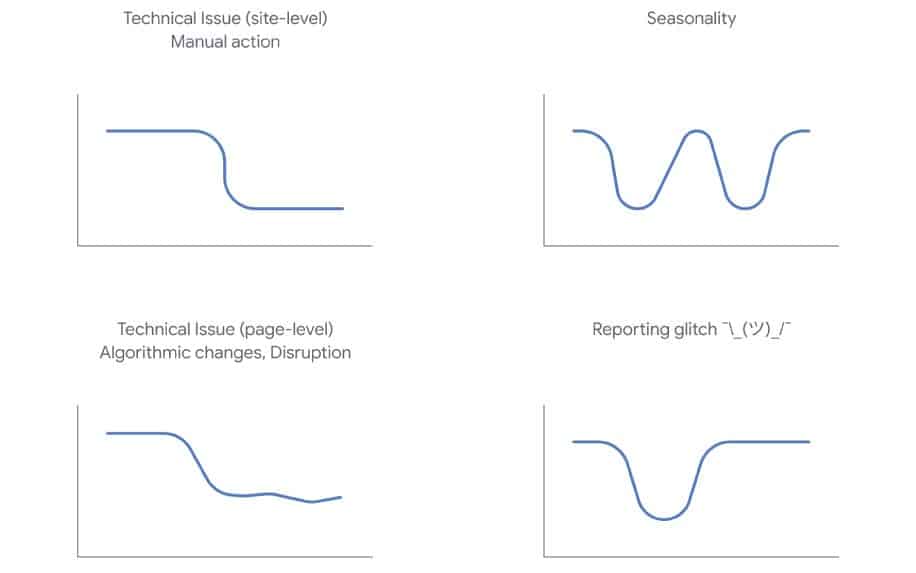 Of course, these are illustrative examples. In the real world, things aren't quite so clear cut. Still, this is a useful resource for deciding what the most likely culprit behind organic traffic drops is.
Why Has My Organic Traffic Dropped?
To give more context to what each of these traffic trends means, let's take a look at some of the likely causes for each of the main kinds of organic traffic drops.
Site Level Issues
Site level issues are problems which prevent Google from ranking your entire site highly. These can be crawlability issues like broken links and improper sitemaps, or they might be a result of penalties incurred for
blackhat SEO strategies
.
Page Level Issues
This is something which is wrong with a specific page or a number of pages, which causes them not to be ranked correctly. Examples include under optimisation issues, broken media, such as image files, or poor load speeds on individual pages.
Algorithm Changes
Algorithm changes are very hard to pin down these days, as Google is constantly tweaking its formulae. Still, this can have a major impact on your traffic, so when you notice a drop, it's worth reading up on
recent algorithm changes
.
Seasonality
This is a case of supply and demand. For example, if you sell Christmas trees, you're almost certainly going to notice a drop in traffic around the start of the year.
Disruption and External Factors
Typically, this means that you've been bested by your competitors, and lost rankings. Assess your Search Console data, or a traffic analysis
tool like Semrush
to see if you've begun slipping in the rankings, and then figure out what competitors are doing that you're not.
Reporting Glitches
Sometimes Google Analytics just gets things wrong. If your traffic drops or spikes suddenly, and then returns to normal, there probably isn't anything to worry about.
What to Do About Organic Traffic Drops
With an understanding of the broad category of issue you're looking for, it's time to start identifying the more specific causes of your organic traffic drops. You can essentially do this in three steps.
1. Adjust Your Time Frame
Set your analytics to show data as far into the past as possible, and see if you can notice any seasonal changes. If your traffic drops around the same time every year, or even every month, then the problem is likely decreased demand for your content. If this is the case, you can start thinking about how to create more evergreen content. If not, carry on to step two.
2. Look for Site-Wide Issues
Next, it's time to start looking for sitewide issues. First, check out your Google Search Console data, and see if you can identify any manual actions penalties or coverage issues. If these are detailed, then resolve them and verify in
Search Console
. If not, move onto the next step.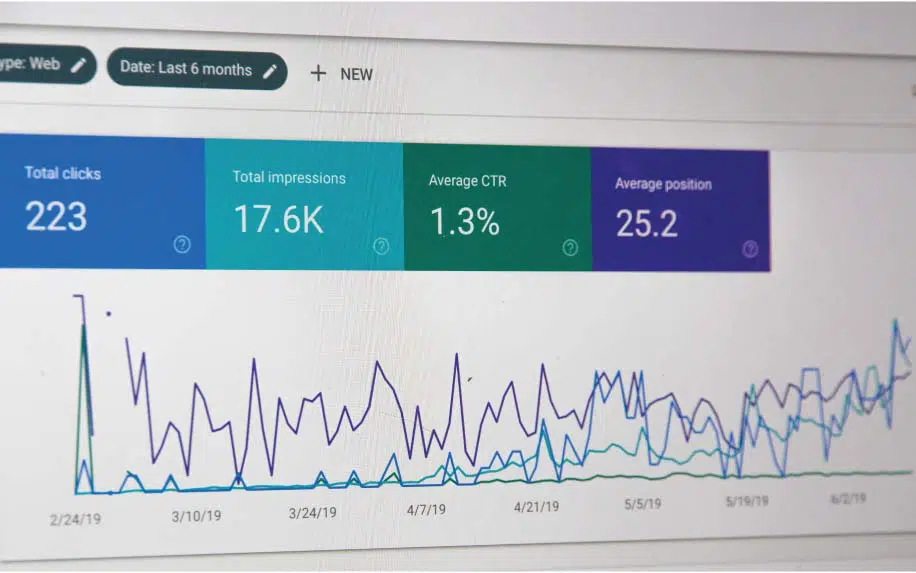 3. Look for Page-Level Trends
If it doesn't seem like the problem is site wide, head back to Google Analytics, and navigate to Acquisition>Landing Page. Start diving into each of your top landing pages to see where organic traffic drops have occurred. The key here is to look for trends. For example, are they all pages in the same sub-folder, or pages which you have recently edited? Then, use a technical SEO audit tool to assess what specific problems might be undermining their ranking potential.
Should You Worry About Organic Traffic Drops?
Organic traffic drops can indicate serious issues with your website, problems with individual pages, or simple changes in demand for your products and services. The key thing is to understand what each of these negative traffic trends actually looks like in your analytics tool. Of course, the best cure is always prevention. If you'd like to find out more about how to fortify your site against organic traffic drops,
speak to our team today
.