Are you searching for content marketing Belfast?
Across a range of sectors in Belfast and beyond, content marketing has emerged as an essential step in remaining competitive. ProfileTree are proud to offer a range of content marketing services, engineered to bring your branded messages to the places and audiences that matter most. Keep reading ProfileTree's Ultimate Guide to Content Marketing in Belfast to find out more about this growing practice, and how it can transform the prospects of your online business.
What is Content Marketing?
In Northern Ireland, digital content is all around us – a trend which continues to gather pace with the rise of metadata and smartphone technology. But what do we mean by 'content'? In a nutshell, the digital marketing and content creation industry maintain that digital content is anything that can be published, including text and audio files; graphics, animations, videos and images. In many cases, it can safely be said that whatever you are doing online, you are engaging with a piece of content.
What is Content Marketing and Why is it Important to Belfast Businesses?
To understand why content marketing is so important to businesses and organisations in Derry, we must look at how the online world has transformed our everyday lives. Increasing portions of our day are devoted to consuming content on digital devices; including smartphones, tablets and desktop computers. Each day our eyes register hundreds of thousands of images, each presenting ideas that are often conflicting, and frequently competing for your money.
In such an environment, high-quality content is king. Indeed, the reasoning behind content marketing centres around the principal that if a business offers their customers valuable and engaging content, they can reap the benefits of that of engagement (or, as previously described, 'profitable customer action'). For modern businesses, this 'profitable customer action' can translate into tangible results, with those using content marketing correctly often being those who build the most loyal online communities.
In Derry and in cities across Northern Ireland and the UK, digital content marketing has been established as an essential step in remaining both relevant and competitive. However, whilst more and more businesses are adopting the practice, many are lagging behind in their own digital marketing strategy. Despite the fact that the industry is growing at an exponential rate, the benefits of content marketing campaigns are sometimes misunderstood and often underappreciated. This means that Derry businesses and organisations who adopt content marketing are often at a significant advantage over their rivals.
The online world has stirred a revolution in how we browse, interact and engage with our favourite brands. Customer expectations have undergone significant transformation, and as the high street experience continues to lose ground to online shopping, the benefits of a content marketing strategy have never been so obvious. Web designers, content writers and digital marketers are constantly looking towards new and innovative ways of engaging their target audience. A well researched content marketing strategy can:
Attract online attention and generate leads
Grow your customer base
Increase sales online
Enhance your credibility and brand awareness
Engage your online community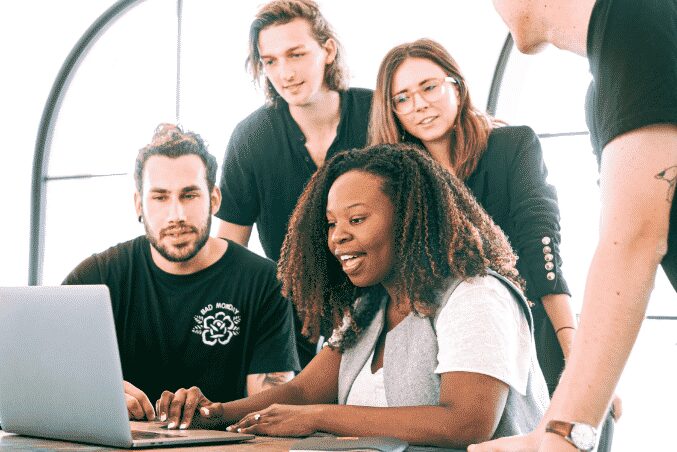 What Does a Content Marketer Do?
In many cases, Belfast-based organisations and companies with good marketing strategies will employ their own full-time content marketer, or they may outsource those skills to a content marketing agency. But what is the role of a content marketer?
In a nutshell, a content marketer determines new content as part of a full and comprehensive brand content strategy. They will scope, commission, write, publish and distribute material that builds a rapport with their target audience. An experienced content marketer will identify the most suitable types of content in digital marketing to drive campaigns that are truly meaningful to their customers and their market.
The role of a content marketer is not solely confined to writing, however. A professional working in this field will now work across multiple disciplines, employing the most effective content marketing tactics to measure and analyse their impact. This is a process assisted by a huge range of digital technologies, allowing content marketers to better refine and focus their efforts.
How does Content Marketing Differ from Traditional Marketing?
How is content marketing different from traditional advertising? The main difference between these two tactics is that content marketing is permissive, whilst traditional marketing is interruptive. For example, content marketing efforts are discovered by consumers, who access that content whenever they have given their permission. Meanwhile, traditional marketing target aims to 'interrupt' consumers when they are doing something else, such as walking through Belfast, taking public transport or watching television.
The differences between these two tactics are clear. But what is the benefit of content marketing over traditional advertising?
Own Your Audience:
Consumers who engage with your content do so because they choose to. Meanwhile, traditional marketing efforts are seen by a 'rented' audience (for example, those sitting on a bus or driving by a billboard). With content marketing, businesses and organisations can earn and 'own' their audience, building trust and loyal relationships along the way.
Engage Your Customers:
Traditional marketing often creates a one-way channel of communication and feedback. Meanwhile, content marketing aims to spark a conversation with potential customers.
Value Your Audience:
Unlike many forms of advertising and marketing, content marketing is often appreciated by the audience. Many consumers are intolerant of display advertising, and more are distrustful of online banner advertisements. Indeed, the majority of modern consumers are more willing to engage with content that is useful, informative and personalised.
The benefits of content marketing over traditional marketing are numerous. But does this practice really make a difference for Belfast businesses?
Does Content Marketing Really Work for Belfast Businesses?
When it comes to businesses in Belfast, does content marketing actually translate into real results? At ProfileTree, we believe that the statistics around this issue speak for themselves:
According to MarTech Advisor, content marketing is predicted to reach a $412.88 billion industry by 2021. This was attributed to lower costs, better engagement and improved brand awareness.
The Content Marketing Institute (CMI) found that 91 percent of B2B brands use content marketing, whilst 86 percent of B2C did the same. The same research found that the majority of brands not using content marketing planned to roll it out in the very near future.
It has also been reported that content marketing costs 62 percent less than outbound marketing, whilst generating three times as many sales leads.
A study by Kapost in collaboration with Eloqua recorded that, in the long term, the benefits of high quality content marketing far outweighed that of paid, traditional marketing. It also found that content marketing typically offered lower upfront costs.
Notably, a report by Skyword demonstrated that 87 percent of visionaries and 81 percent of leaders place content at the centre of their marketing strategy.
The advantages of content marketing for businesses in Belfast and beyond are clear. But how do these advantages translate into ROI?
Types of Content Marketing
For businesses in Belfast and beyond, the advent of digital content has opened a world of marketing opportunities. ProfileTree are proud to offer services around all forms and types of content marketing. Content marketing tasks offered by our award-winning agency include:
Copywriting:
This service involves the writing of the text of advertisements or publicity materials. Writing effective marketing content requires extensive skill and experience, and ProfileTree are proud to lend copywriting services lead by some of the country's most qualified and talented writers. Writing content for marketing is a fine art, and copywriting and content marketing frequently go hand-in-hand.
Social Media Marketing:
Today's marketplace is social, and bringing your branded message to your target audience requires research, skills and perseverance. This involves understanding how your audience likes to engage with your brand, along with their typical browsing habits and their ideal social network. Using social media for content marketing is highly effective, and our team of social media experts can assist your business in devising and implementing a strong social media marketing content strategy.
Video Marketing:
Video is the future of content marketing, and for industries in Belfast and across the world, a video can speak a thousand words. According to research published by Renderforest, the advantages of video marketing are significant: 78 percent of web users reported increased traffic to their website after using videos. Video content was found to help 69 percent of users generate more leads, and 93 percent of users considered video creation a priority. Choose ProfileTree and our team of videographers and video editors can demonstrate why online video is the future of content marketing.
Email Marketing:
Gone are the days when emails were reserved for office computers. According to Wordstream, nearly 105 billion emails are sent each day, with that number expected to reach 246 billion before 2020. This has created significant opportunities for effective email marketing content, and industries across a range of sectors are increasingly investing in this tactic. Notably, the use of the emoji in email marketing increased by over 700 percent between 2015 and 2016, and that trend continues to grow. A campaign with ProfileTree can help your brand or business discover why email marketing content is so effective.
Content Writing:
Not to be confused with copywriting, content writing involves a combination of writing talent with a close understanding of metrics and performance analytics. A highly valuable service, a content writer will use industry-leading research capabilities to create content engineered to boost your website's prominence in search results pages. Often referred to as 'writing for search engines', content writing services can entail anything website content and meta descriptions to blog posts and social copy. Content writing and content marketing are inextricably linked. Content planning and writing in digital marketing can be highly rewarding, and our team can show you how.
Choose ProfileTree: Belfast's Award-Winning Content Marketing Agency
Established in 2011, ProfileTree is an award-winning agency for content marketing. Our campaigns have become celebrated for their creativity and passion for unique material. Overall, our work has been commended for its strong ROI for each and every one of our valued clients.
As a content creation marketing agency, ProfileTree offer a range of services aimed at securing your business with the online prominence it truly deserves.
Our efforts were awarded at the Irish Content Marketing Awards for the Best Content Marketing Award for a Video Series – the latest trophy recognising the talent and dedication of our multifaceted team. With each and every campaign we steer, we continue to demonstrate why we are Belfast's top content marketing agency for small business, large business, charity, social enterprise and the public sector. To see our full list of content marketing services, click here.
Let us grow your brand while your run your business. For content marketing in Belfast, contact us today.
Why Choose ProfileTree?
For content marketing in Belfast, we love helping businesses like yours to build a high-performance online presence shaped around real ROI.
Because we know you want to see real outcomes from your digital investment, we 'real life' test all our methods and knowledge in-house…and can show you some HUGE results to prove it.
Our passion is helping local companies overtake their competition using tailored content designed to amaze potential customers and drive conversions (and conversations!).
Find out more below PLUS our free content marketing tips for local companies.
Because ProfileTree developed our own company on content marketing FIRST, we know the value of great content marketing. And we know that great content marketing must be designed around creating real outcomes for a business.
That's because a clear view of what your company needs to achieve will keep a clear focus on that goal. So, how to go from strategy to seeing the right results happen for you?
Let's break it down…
Step 1 – ROI:
What does success need to look like for you? Start by connecting your business goals to your marketing strategy. Then, your content strategy can form the way you attract, engage and convert each audience segment.
Bearing in mind that 'convert' doesn't have to equal 'sale', and neither does your ROI. Applying a sense of customer journey means new subscribers, event attendees (supporting a sales funnel), enquiries and more can all be the immediate goals.
After all, a common mistake in digital marketing (aside from not using content marketing at all) is to compare online marketing to traditional advertising: you 'show' your businesses or services to ask many people as possible and then count how many sales come in.
The opportunity presented by content marketing in Belfast is much more sophisticated: content can, and should, be used to target specific groups on specific platforms for specific reasons and with a specific outcome in mind!
For example, in years gone by a jeweller may have taken an advertisement in the print Belfast Telegraph or print Irish News to advertise engagement rings around the time of Valentine's Day. The outcome? A hope that more people will walk through the shop door. The method of measuring this? Unless a special offer, code or other method has been designed into the advert or sale process…who knows.
Today, content marketing in Belfast means being able to target – say – groups of people by age, interests, the online platforms they use and more with an offer specific to them.
It also means we move on from the 'call into our shop, or not' ethos of old. Content marketing offers a way to draw the person into your brand *until they are ready to buy*. So, in the case of jewellery shop fans of niche watches could be invited to monthly demonstration events, asked to sign up for newsletters with genuinely useful watch trade articles, invited to social events and much more.
All in all, this takes us from 'come to our stop…or not' to a community of future buyers who can dip in and out of making purchases as and when they are ready. PLUS methods can be built in for the buyers to recommend, give visibility to and draw in others to your community. After all, when customers who've become loyal to your brand share great content you've created a powerful opportunity.
In short: Thinking of content marketing in Belfast like traditional marketing is a missed opportunity, instead think about building a group of people engaged with, supporting and growing your business.
How? We'll show you proven results evidencing how this smarter approach has worked for Belfast businesses like yours. Businesses who grew online by thinking bigger online and using customer journey and content to its fullest.
Most of all, these clients took the concept of 'ROI' and used it to aim for quality over quantity PLUS count community-building among their goals, keeping future customers close to hand until they are ready to make their first purchase.
A conversion isn't always in the form of a sale, but a community created around your business can mean an accumulating series of sales. That's why taking a better approach to ROI can build a valuable online asset, instead of short-term hard selling, for your company.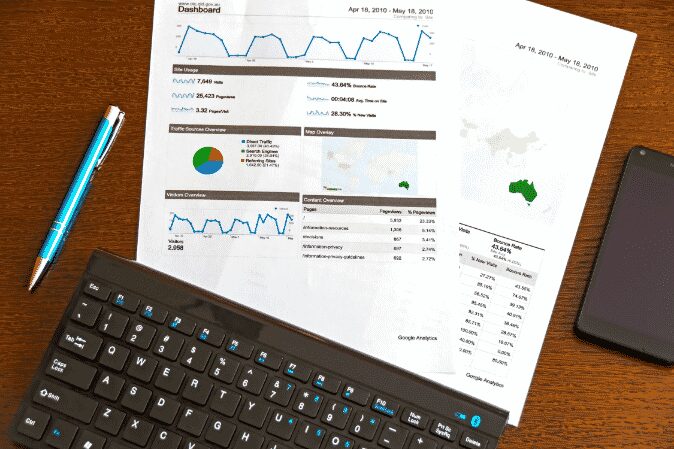 Step 2 – Know your audience:
Understanding your audience makes it easier to provide content to impress and retain your potential customers. Social and Google analytics can be used to form customer personas, while social listening can also form a picture. Talk WITH about the subjects they talk about, help them to understand what your business is all about and start real conversations.
Let's take a closer look…
Using metrics and analytics: Many of your social channels will include basic 'metrics' showing who has been engaging and some basic information such as their age, gender, interests, locations etc. If so, simple tools can be found online to do this.
Meanwhile, Google Analytics will give information about your website audience as well as the channels they use to access your site. A free online tool can also be used to draw up 'customer personas' to put a face, a name and a description to groups of audiences. The approach can also be used to draw up target customer personas for campaigns.
Social listening: Tools like TweetDeck can be used to watch for people discussing your business or industry, or related interests. TweetDeck can also be used to group people by, say, their hobby.
How does this all come together for content marketing a business in Belfast? Well, back to our example of the watch enthusiasts. Not only can you draw up a clear view of the people using your various channels, but you can start to separate your local watch enthusiast niche on – say – Twitter.
What next? By talking to the group *about the things that interest them* you create a connection. Your group may be of interest because they like expensive watches, but if they are talking about the weather or the bus lanes…talk about the same things! Then, when you do introduce – say – blogs or videos about local watch collections, trust and recognition will already have been formed.
Stay on brand, of course, and do this most of the time. You'll have created two things: customer personas showing you WHO you are creating content for, a better sense of the audience out there, a way to engage, a clearer sense of the content needed to draw the audience in PLUS a method of doing so.
Of course, building a sense of audience and creating the right content for marketing in Belfast can benefit hugely from expertise, experience and the latest digital know-how. ProfileTree can help your business to create a community, to target and engage an audience fully and to establish the right goals from your target segments.
Step 3 – Keep ahead!:
Content marketing is more of an ongoing activity than a 'fix and forget' action. By continuing with consistent, quality content in line with your strategy and ROI your audience will continue to delight your future/ past buyers. Also, keeping in touch with the latest changes around factors like search and social algorithms, new devices and even AI (such as chatbots) can help stay streets ahead of your competitors.
This is a vital consideration too many businesses fail to take into account. Treating content marketing as a 'done and dusted' task rather than an ongoing process means every time the online world changes, your efforts date too if they have been left as a static piece of work.
This forms another of the reasons to use specialist help with content marketing: the right content strategy, the right content and the right plan to keep your online presence performing well and ahead of the competition.
Of course, it's much easier to show how this works in Belfast. ProfileTree can explain how expert content marketing can grow your business and even use live results to demonstrate the ongoing success of brands grown online through superb content.
Our 2018 Awards
Impact Excellence Awards – University of Ulster (Winner)
'Employer for the Future' – Irish News Workplace and Employer Awards (Highly Commended)
Best SEO Campaign – DANI Awards (Finalist)
Best Tourism Campaign – DANI Awards (Finalist)
Best Business Growth – Belfast Chamber of Commerce (Finalist)
Most Creative Business – Belfast Chamber of Commerce (Finalist)
Best Marketing Campaign – Business Eye (Finalist)
Best Video Campaign for a Company – Sockies (Finalist x 2)
Best Content Marketing Award – Single Video – Irish Content Marketing Awards (Finalist)
Best Content Marketing Award – Travel – Irish Content Marketing Awards (Finalist)
Best Content Marketing Award – Video Series – Irish Content Marketing Awards (Finalist)
Most Effective Use of Content on Owned Media Channels – Irish Content Marketing Awards (Finalist)
GIVE VALUE
While your competitors are pushing a 'hard sell' online against a closed door, when you surpass expectations by giving your audience useful content you create a chance to stand out from the crowd.
After all: there's no traffic on the extra mile.
Ask us how we create content built around performance and designed for your audience, and the response you need, from the start.
GIVE CLEAR CTA
Know HOW you want potential customers to react to your content. This should be using a 'call to action' designed around an outcome your business needs.
More subscribers? Event attendees? Enquiries? Know your goal first.
But one common mistake: the wrong CTA at the wrong time. We'll help your business do better online through proven expertise.
GIVE OPTIONS
Not everyone will want to respond in the way you want to your content…yet.
Giving your audience a way to begin a customer journey with you means a network of people ready to convert when the time is right.
You wouldn't push a real world shop customer to buy too soon, why settle for less with your potential buyers online?
GIVE BACK
Don't forget to give your loyal customers a route to recommend and praise and become involved with your brand.
The right, shareable content can give both an insight into and a way to support your brand for previous buyers.
A buyer who has a way to stay without your community, and draw others in, is a valuable asset. And it has never been easier to do this!