Google Maps Marketing can strengthen your business in so many ways. For instance, mobile devices, including phones and tablets, are more popular than ever. More than a billion people are using mobile maps to get the information they need. 
Need to find an Italian restaurant nearby? Looking for a gas station as you travel in an unfamiliar city? Need to find five fun things within a 30-mile radius this weekend?
These are just a few of the reasons today's consumers are using their phones to find out. It's usually Google Maps providing them with the information they need. This is because it's right at the consumers' fingertips.
This is a huge opportunity for local businesses that are looking to find new customers and sell more products. If any business depends on a regional or local customer base, it is very important to take advantage of Google's online directories. 
Not only are there a host of advertising possibilities, but there are also tools to analyze the area's market and consumer behaviours and coordinate store staffing and scheduling needs. It's no secret that Google is serious about consumer searching, both on the internet and in the brick-and-mortar marketplace. 
And businesses should be too. Here are 10 reasons why getting on the map is important.
1. It Generates Local Business
Today's phone books, newspapers and other directories are now all online. Not on the countertop. The average American consumer, any consumer for that matter, has a mobile device they use to find everything, from a spelling of a word to the nearest Asian marketplace. 
Yes, face-to-face contact and using local media is important, but studies suggest that the first place consumers will look to find out information about a company is online. Using Google Maps will attract and generate more local business. 
Consumers will find and do business with companies they find through Google searches.
2. It Strengthens Search Engine Optimization (SEO)
Search Engine Optimization (SEO) is a term used for getting organic, editorial search results on search engines like Google.
It's a good marketing strategy to add detailed company information to Google Maps Marketing, including a link to your website. 
Google focuses on local searches instead of similar businesses nationally or statewide, so a local company will more likely be listed higher on a search if a location is listed for that category. 
And, if you add company content to your business listing instead of using the default information, a company's chances of ranking higher increase even more. It's a free service and can make a huge difference in your local business and business as a whole. 
Local searches increasingly feature what's known as a local pack. This block contains a few potential local businesses that meet the search query. Keeping your maps information up to date helps your chances of being featured in this.
Say you're looking for a hotdog in your local area. You might see the following: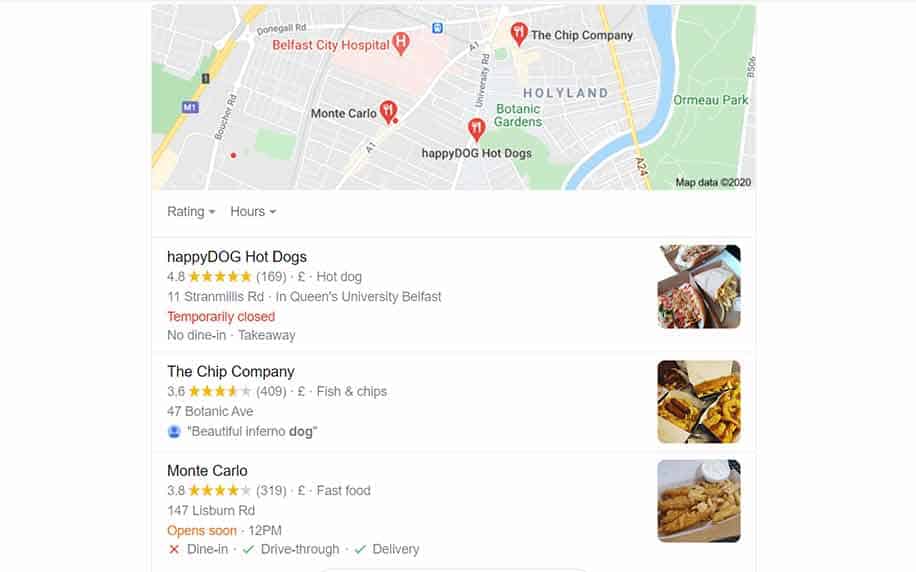 Many businesses aren't taking advantage of all Google Maps has to offer, so get ahead of the competition, create a complete profile, and keep it current.
3. Strengthens Consumer's Trust
Since consumers search for products and services differently than when the local newspaper, Yellow Pages and other print media were in vogue, search engines like Google Maps marketing is more important than ever. 
Being listed online builds and strengthens trust among consumers.
It's important to stand out from the crowd while at the same time being a part of the crowd. Sharing information about a company via a website or a listing on Google Maps is valuable to local success. This is valuable whether or not you have an e-commerce site.
4. Increase Brand Awareness
Local businesses have a huge opportunity to increase their brand's visibility using Google Maps marketing. For example, doing a local search for a restaurant, retailer, or any other location becomes almost entertainment itself. 
It's even easier and better to search Maps than a regular web search. A wealth of colourful logos, photos, and other "reel me in" content pops us and fills the page with helpful information. This exposure increases brand awareness and solidifies the company's presence in the local area. 
Google Maps understands how important making the search as easy as possible and does so for the consumer and business alike.
5. Keep Information Updated and Current
There is always information that may not be exactly correct on the internet. Businesses must make sure their listing is updated in current, so consumers are getting the right information. 
For example, if a business takes over a location previously owned by another or moves from one location to another, the listing's content must be updated, so consumers are getting the correct information. 
Make sure the address, open hours, website, name etc., are always current. Outdated information is not good for customer service or business.
6. Get Listed For Free
Listing company information on Google Maps is free. It's free to list a company and that company's information on Google Maps. Why is it free? Because Google wants consumers to spend more time on Google platforms like Gmail, Docs and Drive.
Advertisers pay per click in Google's world, and the bottom line is it is good for Google, the business and the consumer. Google Maps marketing is a win, win, win.
7. Get Google And Get Going
Google Platforms are an important part of any marketing strategy or content program. Companies need to make sure they are mobile responsive and user friendly in order to take advantage of all Google free offerings and research and know the paid options. 
Google is the future of search, SEO and content. Adding their platforms to your business strategy is important to success moving into the future and putting a business on the map.
8. Catch Google's Blog
This is an ever-changing world we live and do business in and in the Google world, it moves faster than ever. Google's platforms are improving and updating constantly so they have a Google Blog to keep users updated. 
This blog focuses on changes and updates but is entertaining too. Business owners need a few minutes to escape from everyday tasks and responsibilities, and their blog can offer a few minutes of escape. 
While at the same time informing the reader of a wealth of information, including how to greatly benefit from Google's platforms.
9. Build Longer Lasting Consumer Relationships
Properly setting up a business on Google Maps and constantly monitoring the activity from consumers, companies can build a loyal customer base and continue to nurture that customer base. 
This is valuable feedback and important market research/consumer behaviour information that can be used to improve products and services. Google allows consumers and businesses to interact by leaving reviews and commenting on them.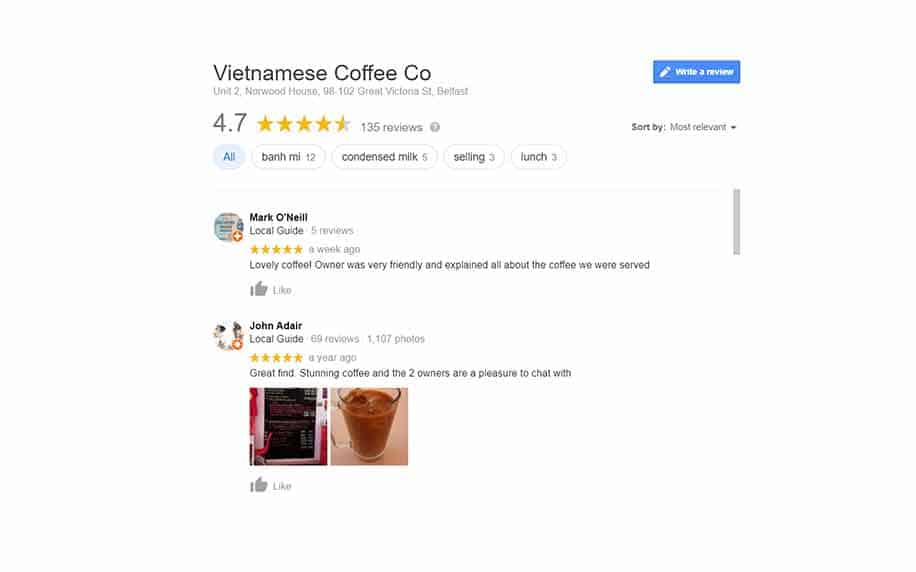 This allows a relationship to form, grow and convert visitors into customers. Quality, positive reviews from consumers improve visibility, too as well as increase the potential of a new customer visiting a location they read about via a review.
10. Add Supporting Photos
Savvy marketers will use Google Maps to the fullest, including adding content, photos of products, and location shots to show potential customers what a business offers and how they are better than their competitors. 
Content is crucial in today's online strategy, and photos speak volumes. Businesses must be verified by Google before photos are allowed to be uploaded. There are five types of photos, profile, preferred logo, cover photo and additional photos.