What is social media? Put simply, what once may have appeared to be a frivolous way to chat with friends is a now a vital part of most businesses.
Yes, you want to concentrate on running your business but an understanding of the marketer's social media realm – full of terms like algorithm, engagement rate and sentiment analysis – is an essential.
Read on for our QUICK READ overview…
What is Social Media?
And – more importantly – what does it mean for your business?
Social media may you think of websites and applications that allow you to communicate globally with friends and anyone online. But, crucially, it also means a way to speak to clients and potential clients directly.
It's a place where someone can promote their business in interesting ways to expand their reach. After all, people don't just ask friends, or simply look for a phone number for a business. They Google, they check their social media for recommendations, they look at reviews and they get a feel for how a business appears on social media AND how that business engages with customers.
Types of Social Media
There are many different kinds of social media. A few of the more well known ones are:  Facebook, Instagram, Snapchat, Twitter and LinkedIn.
Then, there are some industry specific social media, like Goodreads for readers and writers, Catster and Dogster for pet oriented people and those who serve them, DevianTart for artists and art enthusiasts and many more.
There are also different rules and functions for each social media platform, and each will have differing pros and cons for your business.

Social Media and Your Business
Social Media expert Sherri Goodall says "Social Media is Marketing 2.0….it's also a fun and unique way of staying in touch with people".
She further explains that,  different kinds of social media appeal to different people and have different ways of communicating.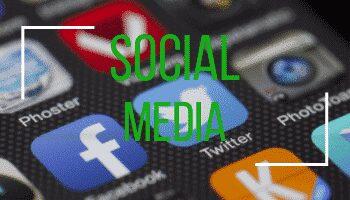 For social networking there's the very chatty, journal style of Facebook, it's a diary of pictures and lengthy journal entries.
For those that like smaller notes that are quick and pithy, there's the microblogging of Twitter and Tumbler. Photo sharing rules on the Snapchat, and Instagram platforms.
Pinterest is a morph between pictures and how to information.  For video sharing there's YouTube, Periscope, Vimeo, and Facebook Live. And many of the social media mesh together, for example: an Instagram hashtag # can appear on Facebook.
Types of Social Media and Is WhatsApp Social Media?
Brought to you by the people at Facebook, Whatsapp is (relatively speaking) a newer kid on the block in messaging.
It's a freeware and cross-platform messaging and Voice over IP (VoIP) service. 
Meanwhile, WhatsApp Business is free to download and, created for  the small business owner, allows you interact with customers easily by using tools to automate, sort, and quickly respond to messages. 
What Does a Social Media Marketer Do?
Shannon Hinderberger, a social media marketer for a number drinks companies, explains: "A social media marketer maps out online marketing and executes and manages communities"
Often it's through day-to-day activities to reach target market by creating curating and managing all published content on social networks like Facebook, Twitter, SnapChat, Instagram and Pinterest."
Like any good member of a team, a social media marketer has become an integral part of doing business.
Just as you might hire an accountant to take care of the book keeping and financial records, and a secretary or virtual assistant to take care of the daily correspondence and communication, a social media marketer handles the marketing strategy, message and measuring on a variety of platforms.
What is a Social Media Influencer?
A Social Media Influencer is a user on social media who has established trustworthiness and authority in a particular industry.
The influencer has access to a broad audience and can convince others via reach to by products and services.
What are the Advantages of Social Media
The advantages of using social media are numerous:
– It gives you brand awareness in the marketplace, where people can experience your message in a style that defines your company.
– By exposing you to more than just your usual clients, it creates a greater flow of inbound traffic to your website and your business.
– With more inbound traffic your search engine ranking may go up and that all too precious spot on the first page in a search engine is far more secure, especially when someone looks for your kind of business in your local area.
– It creates brand loyalty in a time in the economy when people are significantly brand loyal.
– Social media creates brand authority, by regular communication, clients see you as the authority in your industry.
– Higher conversion rates also become part of the equation of social media, as someone gains trust in you, they see you as the business to choose.
Summary: Your Next Step?
A digital marketing specialist can advise on the best platforms for your business, depending on the purpose and target audience, as well as apply the very latest working knowledge of any changes in the industry (such as updates to a platform's 'algorithm' affecting which content is shown to users).
They'll help with 'engagement rate' (the number of people who respond to your message) and even understanding 'sentiment analysis' (ie, how your brand is seen online).
Good luck!
Our FREE ProfileTree knowledge archive… Goals and objectives | Fair Use Laws | Copyright VS Trademark | Product Liability | Business News Articles |  Snapchat for Business
Unmissable QUICK READ What Is? guides… Alexa | Social Media Strategy | eMarketing |Google my Business | Facebook | App | Keyword Research | SEO | Google+ | Domain Authority | Lead Magnet | Hootsuite | Twitter | Twitter Handle | Facebook Live | Hashtag | Guerilla Marketing | Snapchat Geofilter