What is Google My Business? Think of it as a shop window Google opened up for your business. It displays your details details in their search results, meaning some great FREE benefits ready to use today.
How? We'll explain.
A growing number of businesses are attempting to improve their search results, and no search-engine company is more important than Google.
This company remains the industry leader and is the most visited and used website in the world.
As a result, most people who are involved in the process of SEO are attempting to impress Google's search algorithm and get their business noticed and rated highly.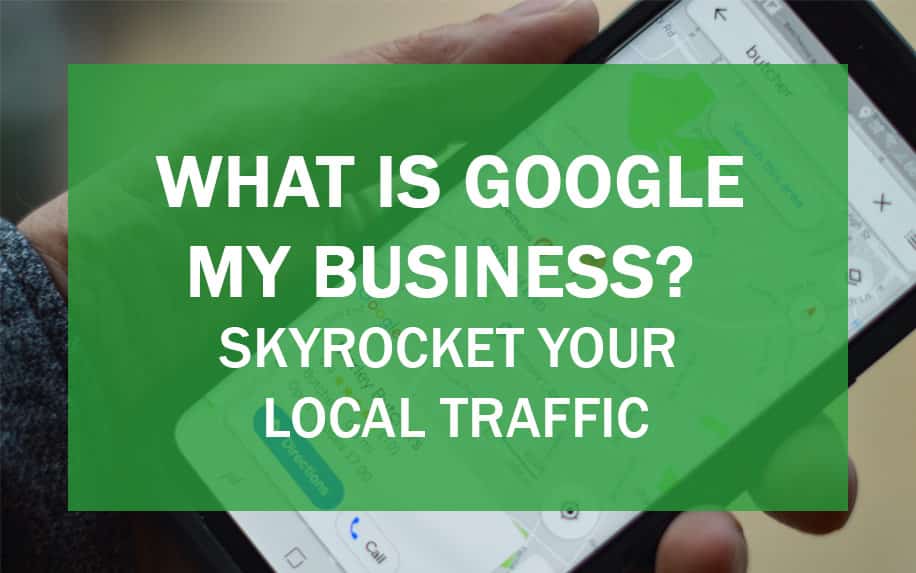 One way that these businesses are achieving this goal is by having, and making the most of, a listing on Google My Business.
Here's how.
IN A RUSH?! Click for our <90 second snapshot
What is Google My Business?
Google My Business is a service that allows you to list your business with Google and to get it included in searches.
With this service, you can add your business name, your phone number, the address, your email, and various other elements to your listing to attract more attention to your business.
Here's ProfileTree's Google My Business as an example: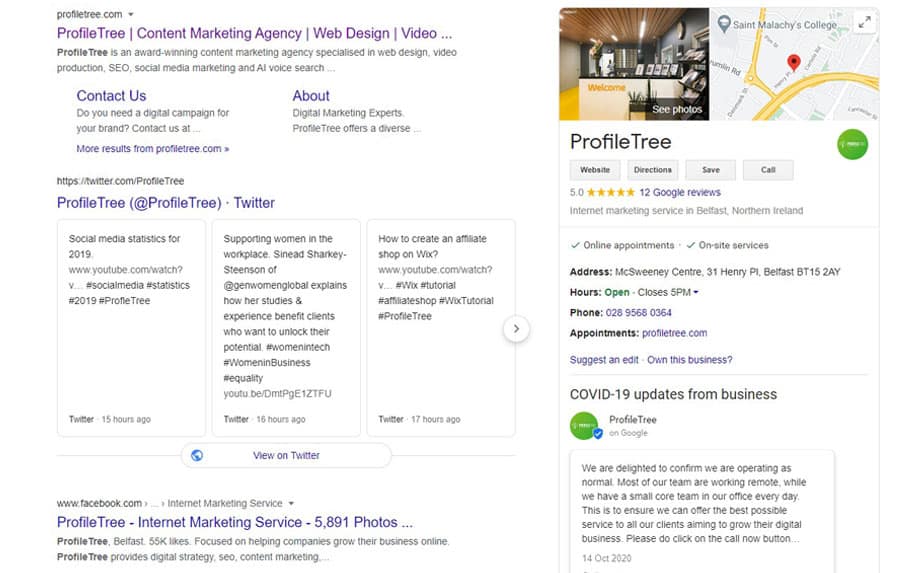 However, this service also provides you a variety of other benefits that are worth understanding. Before moving onto those benefits, it is crucial to examine a variety of other aspects of this service.
For example, it is essential to understand various options, such as labels, claiming your business on this service, and many other elements that can be confusing if you have little to no experience with online business marketing.
By better understanding this service and its benefits, you can get a feel for whether or not it is right for you. Honestly, companies that rank higher in Google search engines are going to be more successful than those who do not.
So even if you have never used a search engine in your life, it is critical to invest in this service and to understand it fully.
What are Labels in Google My Business?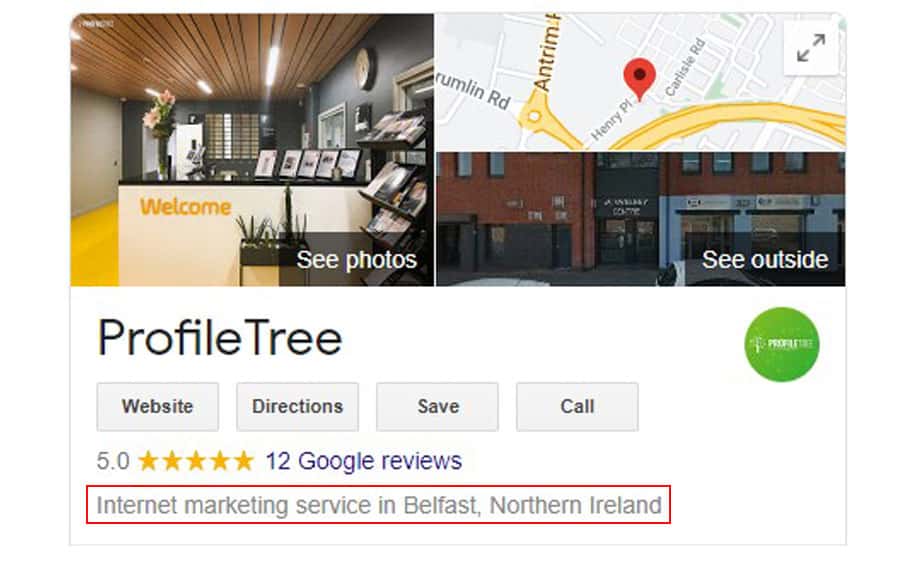 The labels on your Google site are significant to understand. They let you organise your business information in a way that makes it easier to find on Google.
Beyond that, you can integrate data from Google AdWords to improve your presence. You can add up to 10 different labels to your business to make it easier to find. Each tag is up to 50 characters long and must be carefully chosen to get noticed.
For example, the type of business you operate should be included in the search. So if you run a tax preparation company, you should have a label like "professional tax preparation" for your business.
It is also critical to include the city and the state in a tag. In this way, you can catch people who are searching for your site and help them find you more easily.
If you find that your labels are not attracting business the way that you would like, it is always possible to adjust them. Just delete a tag that you don't like and add another one to your business.
If you aren't sure what to include, Google AdWords can give you an idea of what kind of keywords are converting for your industry. Once you find these keywords, integrate them into your label to increase your search success.
How Do I Get My Business on Google?
The next step is to claim your business on Google My Business. It is nice to know that the process is relatively simple. If you are doing it on a desktop or laptop computer, you can follow these basic steps:
Open up the Google My Business website,
Search the site for your business name and address,
Enter your business information after being prompted,
Click "Submit" to create your page,
Now you can tweak your site to improve its appearance and make it more effective.
However, you can also download the Google My Business app and use these steps to create a site:
Open the app and sign in with a Google account,
Click on "Create new business" to get started,
Enter your business name and information,
Click on "Continue" to start adding listings,
Claim your business on Google Maps when prompted.
How Do You Get Reviews on Google?
Reviews on Google are a critical way of improving your online presence. Getting good reviews is a tricky process because it requires making sure your customers know about your site, as well as providing high-quality service.
Frankly, the best way to get good reviews is to ensure customers are satisfied with the services that you are offering. However, you can also improve your chances of good reviews by:
Promoting your Google page on your social media
Linking to your page with every post you make online
Including page information throughout your business building
Asking customers to review you on a receipt
Reaching out directly to satisfied customers and asking for a review
Thankfully, Google My Business allows you to access your reviews and highlight ones that you want to be shown.
And while you cannot hide or delete negative reviews of your business, you can highlight reviews that you like and use these to showcase your business in a favourable light.
What Benefits are Available From Google My Business
There are many exciting benefits to consider when using this service.
For example, you have direct control over your page and the way it is presented. This control allows you to adjust the various ways your company listing is showcased and improves your online presence at the same time.
However, you can also respond directly to reviews and create a positive interaction with them. Don't be like those companies that insult and belittle negative reviews. Positively address them and try to open up a line of communication.
Even if it doesn't change the person's mind about your business, it will show others that you read your reviews and that you take them seriously.
Beyond that, it also allows you to get your business listed on Google Maps. This service is critical because a vast majority of people use Google Maps when using GPS services.
As a result, your business will be easier to find and will stand out against companies that didn't bother with this process. Even better, it makes your company seem hipper and with the times. As a result, more people will trust your service and consider trying it out.
Other exciting benefits and features that you can get with this service include:
Common links that are important for your business
Insights that showcase various elements of your company
FAQ sections that are based on real customer questions
Site-tracking software that showcases what kind of hits you are getting
Call-tracking services that manage who is contacting you
Keyword-adjustment capability to improve your online presence
What is Google My Business? Things to Know
While Google My Business is reasonably easy to use once you get started with it, there are several other considerations you must make before using it.
The following are a few critical aspects of this service that didn't fit in anywhere else on this article but which are essential to know:
Google My Business Dashboard – This management tool is a great way to integrate new concepts, ideas, and information to your Google+ page. It can also be used to manage your customer reviews and provide you with information on your site's online presence.
Verification Benefits – Getting your business verified helps you stand out from other local shops and allows you to track your metrics in a streamlined way. Just as importantly, it gives you control over your online presence that you wouldn't have had otherwise.
Information Critical for Your Profile – Beyond a phone number and email address, you need a mailing address for your profile. Without this information, your company may seem less reliable and may get downgraded in Google's search algorithm.
Free to Use – Google does not accept any payment for listing your site. As a result, you can use this service for free without having to expand your marketing budget. That said, it is a good idea to pay for their AdWords program to increase your marketing success.
Quality Does Matter – While Google doesn't ask you to pay anything for this service, they do expect you to stick to their quality standards. These standards include presenting your information in a meaningful way, avoiding lousy content, and behaving respectfully.
How to Use Google My Business: Wrapping Up
The integration of Google My Business is a critical step that can help your company stand out from its competitors. So don't be afraid to try out this service as soon as possible. While it is probably best to have a professional help you set it up, using it can give you the upper hand you need to either catch up with your competitors or even pull ahead on Google!