What is social media strategy? When you're launching a business, it can be tempting to deal with social media on the fly. But your social media 'shop window' deserves more…and can do so much more for your company.
How? Read on for our five simple tips for better results!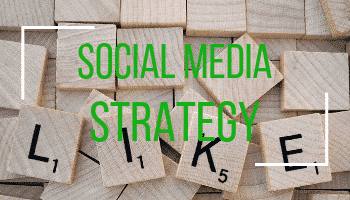 Done is Better Than Perfect
If you're new to social media, it's likely that you find yourself wondering, "What should a social media strategy look like?"
It is normal to feel like you don't know what you're doing at first, and the most important thing you can do is simply start posting.
Don't get caught in the cycle of wondering if your posts are good enough, or trying to figure out Facebook algorithms (they're constantly changing so rather than starting perfectly, the key is simply to start).
Keep it simple- photos showing who you are and what you do will give your audience a peek at what you do behind the scenes, and will begin to build trust in you as a business owner.
BUT finer points of social media algorithms, landing pages and more await but all in good time. And this is where your strategy – with factors including audience, results, original content and calls to action – will be needed and will fall into place.
Post Consistently
The best social media posting strategy is simply to be consistent. Facebook and Instagram both will reward you by showing your posts to a larger audience when you post regularly.
It's easy to post a lot one day, and then not at all the next day, but you're shooting your business in the foot by doing this.
Get in the habit of constantly taking pictures of the human side of your business and colleagues at work, then saving those photos for a day when you don't have as much going on.
Set a precedent for yourself- posting twice a day, three times a day- whatever works for you- and then stick to it. Your audience will get used to seeing you post and will look forward to seeing what your business is up to each day.
Once you post consistently, it's time to begin looking at paid advertising on social media, but it's important to ensure that you first have built an audience. Your audience will start to grow at least a little through consistent posting.
Know Your Audience
It's key that you tailor your posts to your audience, and it's important that you know who you are trying to reach.
Appealing to the values of your audience is an important way to build trust and start a virtual relationship – your strategy will include a target customer 'persona' to help visualise this.
Interact
You might think that once your post is up, you're done with social media for the day, but nothing could be further from the truth. Interaction is key.
You'll want to make sure you're at the very least liking the comments on your posts. Ideally, you'll want to respond to each comment in a thoughtful, conversational way.
Keeping the conversation going will help your audience realise that there's a real person behind your business, and they'll know that if you're there for them in social media posting, you'll be there for them when they choose to use your business.
It's also key to check your messages daily and respond promptly. A good rule of thumb is to respond to all messages ASAP when you can. Also, to absolutely not let any messages sit in your inbox unanswered for more than 24 hours. Set up messenger for Facebook and Instagram on your mobile phone so that you don't need to be at work or at a computer to respond to messages promptly.
Summary: Review, Revamp, Repeat!
The social media world is constantly changing, and it's important to regularly spend time reviewing your social media strategy. Or, better still have an agency with working expertise in the very latest methods and developments, draw up your plan.
Measuring your social media strategy is not always easy, but both Facebook and Instagram provide analysis tools that will allow you to see if you are moving in the right direction.
Troubleshooting is key- if one approach isn't working, try another. If text isn't getting you what you want, try photos.
If photos aren't working, try videos. If videos aren't working, try using live or story features. Since social media evolves almost daily, it's key that you do the same.
No matter how social media changes, the keys remain the same- staying honest, staying vulnerable, and interacting with your audience on a constant basis will build your business.
Unmissable BUSINESS and STRATEGY guides… Goals and objectives | Fair Use Laws | Copyright VS Trademark | Product Liability | Business News Articles | Snapchat for Business
Our QUICK READ What Is series… Google my Business | Facebook | App | Keyword Research | SEO | Google+ | Domain Authority | Lead Magnet | Hootsuite | Twitter | Twitter Handle | Facebook Live | Hashtag | Guerilla Marketing | Snapchat Geofilter