What is Hootsuite? Simply, a web application that allows you to manage social media for your business.
There are lots of ways to use Hootsuite AND it's easy for a beginner to start to enjoy the benefits! It is very similar to Twitter's own TweetDeck.
IN A RUSH?! Click for our <90 second snapshot
Getting the software
Getting Hootsuite is as simple as going to their website and signing up. Once you do that, you will get a dashboard from which you can manage accounts on Facebook, Twitter, LinkedIn, Google+, Instagram, WordPress, and several other social media platforms.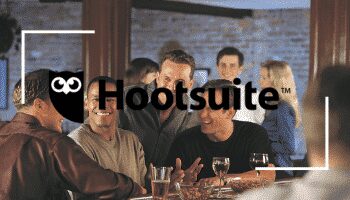 Large media companies may make use of the paid version, but the free version is great for busy individuals and small versions.
Posting to multiple accounts is what is the most popular feature of Hootsuite. If that is all you use it for, it is still a valuable tool. But that is just the beginning. Posts can be schedules at any time into the future. You can track how your posts are doing, and see all of the comments and reactions to all your posts in one place.
You have to attach your account to the platforms, and you can also attach multiple accounts of each one. From there you can schedule your posts as you like. Attaching your accounts is very easy, and the program itself is rather intuitive. Once attached, you can put them to work. It is compatible with a lot of networks. It has the main ones like Facebook or Twitter and also has a lot of obscure ones it will work with that you may not be using yet. You can also mix and match what you use and when you use it.
Many Uses
Social media is used in so many ways, it makes sense having a central system where you can manage them all. Hootsuite delivers this. If you want to offer special deals to your customers, for instance, you could schedule them to be released at the time you want. Customer service is another area where you could use Hootsuite.
The great thing is, you can do this to all of your accounts at the same time. Instead of having to post to each platform, you can put it on all platforms at one time from your HootSuite account.
The uses for business are pretty obvious. It is also useful for individuals who have a lot of accounts, or a lot of profiles that they are managing.
Posting things on a lot of accounts is a great tool, but using the scheduling feature is also a very convenient thing to have available. You can schedule multiple posts as often as you like. Updating posts are also very easy with this feature.
You could go on vacation for a couple of weeks and set up your social media platforms to post multiple time per day while you are gone.
Tracking results
While posting is the most common use for Hootsuite, another great use is to see the results. Monitoring your stream, or however many streams you have, all in one place is a great way to use the software. For example, if you post something to Twitter, Facebook, and Google+ you could see how those posts are doing, and see all the reactions in once glance. There's no need to even go to those programs anymore since you have it automated with Hootsuite.
Hootsuite also includes analytics and stats. You can see how well your posts are doing at a glance, without having to go to each one individually. Track your posts and see how people are interacting at a glance. This can also be a great help in planning future posts as you see various trends develop.
Hootsuite premium, the paid version, has apps for managing your accounts on YouTube, Instagram, Tumblr, and others. You can do a lot with the free program, but as your business grows and your needs increase, the paid version might be something to consider.
Another cool thing you can do is something called target messaging. With the app, you can break your list of contacts into groups on each of your platforms. You could divide your Facebook friends into several groups, and send only one group a message. This is not a post, but more of a private message to your audience.
You may be wondering how much does Hootsuite cost. There is a free version, the paid version is around £15 per month (please check for latest price). You can do a lot with the free version. For most individuals, the free version is all you would need. The free version has a limit of how many accounts can be used at once, but the paid version does not, or if it does it is a very high number.
If you like the free version, you can get a 30-day trial for the paid version. There are a lot more apps and features an available for the paid version.
Once your media empire grows, you may have several teams working on projects. A cool thing about Hootsuite is how you can use it in a team framework. Several people can have access to the program, and each one doing their own managing. You could have one group posting on one topic, and another group posting on a different topic, spreading the work around.
Hootsuite offers team packages too, so the different people signing into the account are not using the same password. The software itself helps keep it organized. You could have one person doing the posting and someone else answering questions, for instance.
Team members can also send each other private messages, so communication is even better. One caution is that you have to pay for each team member in the team management system.
Some people also use Hootsuite for customer service, and this is another area where the team management system can be effective. You may store messages from clients, and assign them to different team members to get them answered.
Hootsuite has caught on with most people who need to manage a social media account or several of them. Hootsuite has a lot of apps, and other tech companies have also jumped on the bandwagon. You can get an app that allows you to do your Hootsuite work without opening the program. A free extension is available for your Chrome browser, and it makes Hootsuite even more accessible.
Hootsuite is very compatible with Google+ network. This was an expensive part of the paid plan at one time, but now it is part of the free plan. With this app, you can use all of the Google+ features from your Hootsuite dashboard.
Hootlet
The Google+ integration has led to the creation of the HootSuite Hootlet App.
What is the main use of Hootsuite Hootlet? The main use is quick sharing or quick posting to your social media accounts. With this extension, you can share your content, or even schedule it for later, from your browser.
Hootlet is very easy to install as well. Go to your HootSuite account, and drag the icon to your browser bar. Drag it and drop it on your bookmark bar. That's all there is to it. We thought Hootsuite made things simple, but Hootlet takes that to another level.
Hootsuite made the world of social media posting much easier. The Hootlet extension makes that even easier, just a click or two now is all it takes.
This is particularly useful with Twitter. If you want to share something, you can simply click on the Hootlet extension to share the page you are currently viewing. Shortening the URL automatically is a great time saver, and makes it amazingly simple.
There are other apps that allow you to get reports by email, which is handy if you are traveling and may not be spending as much time online as usual. The reports are available on your dashboard, but with an email, you can share those with your team easily.
HootSuite is also compatible with different platforms. Since it is web-based, you can use it with Apple, Android, PC, Linux and mobile platforms. You may also use Hootsuite as a mobile app. It is easier to use with a computer perhaps, but you could use your phone to manage all your accounts from anywhere.
Other Options
HootSuite has been in business just six years and has more than 10 million users. It has had great success obviously, and just as obviously people want to copy that success so there are some Hootsuite competitors. There are several other media management systems out there, and they each have strong and weak points. Hootsuite may not be suitable for everyone, and if you find it lacking, perhaps one of the different ones will meet your needs.
Some of the leading competitors include Buffer, Sprout, TweetDeck, and Sprinklr.
Buffer does most of the things Hootsuite does and has the ability to post to Pinterest in paid plans. It is perhaps easier to use photos with text and has an RSS feed integration in all plans. The drawback is the free version is rather limited, and some have said it does not work well with Instagram.
Sprout has a very simple, clean dashboard, that some say is even easier to use than Hootsuite. There are also a few more analytics available. It is connected to and works well with Google analytics. If keeping track of how your posts are doing is important to you, this might be a good option.
Tweekdeck is free, period. There is no paid version. It does great things with Twitter, and you can have an unlimited number of accounts there to manage. Hootsuite can also be downloaded and used separately from the Internet. It can also be combined with Buffer.
Sprinklr is perhaps designed for larger businesses, but it does offer a lot of options. One cool thing is that you pay for specific services, instead of just one price. You can pay for content marketing, but not advertising, for example. This service gets into the paid advertising and is good for marketing campaigns.
Good luck!
Our FREE ProfileTree knowledge archive… Why use Social Media | Social Media Audit | Best Social Media for business | List of Social Media sites | Benefits of Social Media Marketing | Importance of Social Media Marketing
Unmissable QUICK READ What Is? guides… Tumblr | Content | App | Google+ | YouTube | Twitter Handle | Facebook | SEO | Google Ranking | Google my Business | Video Marketing | Internet of Things | Business Level Strategy