What is Hootsuite? Simply, a web application that allows you to manage social media for your business.
There are lots of ways to use Hootsuite AND it's easy for a beginner to start to enjoy the benefits! It is very similar to Twitter's own TweetDeck.
Social media long ago passed trend status for marketers into outright mission-critical daily workload necessity. Yet while platforms continue fragmenting attention into ever more dizzying arrays of apps, networks and influencers, expectations on brands heighten around consistent community engagement, response preparedness and integrated experience delivery. Organic reach dims ever lower for those failing to commit full resources.
For over a decade however, Hootsuite has provided the market's definitive social relationship management solution – synthesizing publishing, listening, customer service, analytics and advertising execution for solopreneurs to global agencies alike. This profile examines Hootsuite's capabilities elevating marketing productivity, global team collaboration and benchmark-leading campaigns activating owned social presence into quantifiable revenue.
We'll demystify features, and use cases and address frequent questions around setup, integrations implementation, training and reporting to showcase exactly why Hootsuite drives the social mandates of industry titans like Facebook, Uber and Samsung while remaining accessible for entrepreneurial ventures alike. Let's explore how to not just maintain but truly amplify results through social centralisation.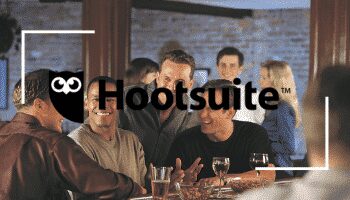 IN A RUSH?! Click for our <90 second snapshot
Table of Contents
Getting the software
Getting Hootsuite is as simple as going to their website and signing up. Once you do that, you will get a dashboard from which you can manage accounts on Facebook, Twitter, LinkedIn, Google+, Instagram, WordPress, and several other social media platforms.
Large media companies may make use of the paid version, but the free version is great for busy individuals and small versions.
Posting to multiple accounts is what is the most popular feature of Hootsuite. If that is all you use it for, it is still a valuable tool. But that is just the beginning. Posts can be schedules at any time into the future. You can track how your posts are doing, and see all of the comments and reactions to all your posts in one place.
You have to attach your account to the platforms, and you can also attach multiple accounts of each one. From there you can schedule your posts as you like. Attaching your accounts is very easy, and the program itself is rather intuitive. Once attached, you can put them to work. It is compatible with a lot of networks. It has the main ones like Facebook or Twitter and also has a lot of obscure ones it will work with that you may not be using yet. You can also mix and match what you use and when you use it.
Many Uses
Social media is used in so many ways, it makes sense having a central system where you can manage them all. Hootsuite delivers this. If you want to offer special deals to your customers, for instance, you could schedule them to be released at the time you want. Customer service is another area where you could use Hootsuite.
The great thing is, you can do this to all of your accounts at the same time. Instead of having to post to each platform, you can put it on all platforms at one time from your HootSuite account.
The uses for business are pretty obvious. It is also useful for individuals who have a lot of accounts, or a lot of profiles that they are managing.
Posting things on a lot of accounts is a great tool, but using the scheduling feature is also a very convenient thing to have available. You can schedule multiple posts as often as you like. Updating posts are also very easy with this feature.
You could go on vacation for a couple of weeks and set up your social media platforms to post multiple time per day while you are gone.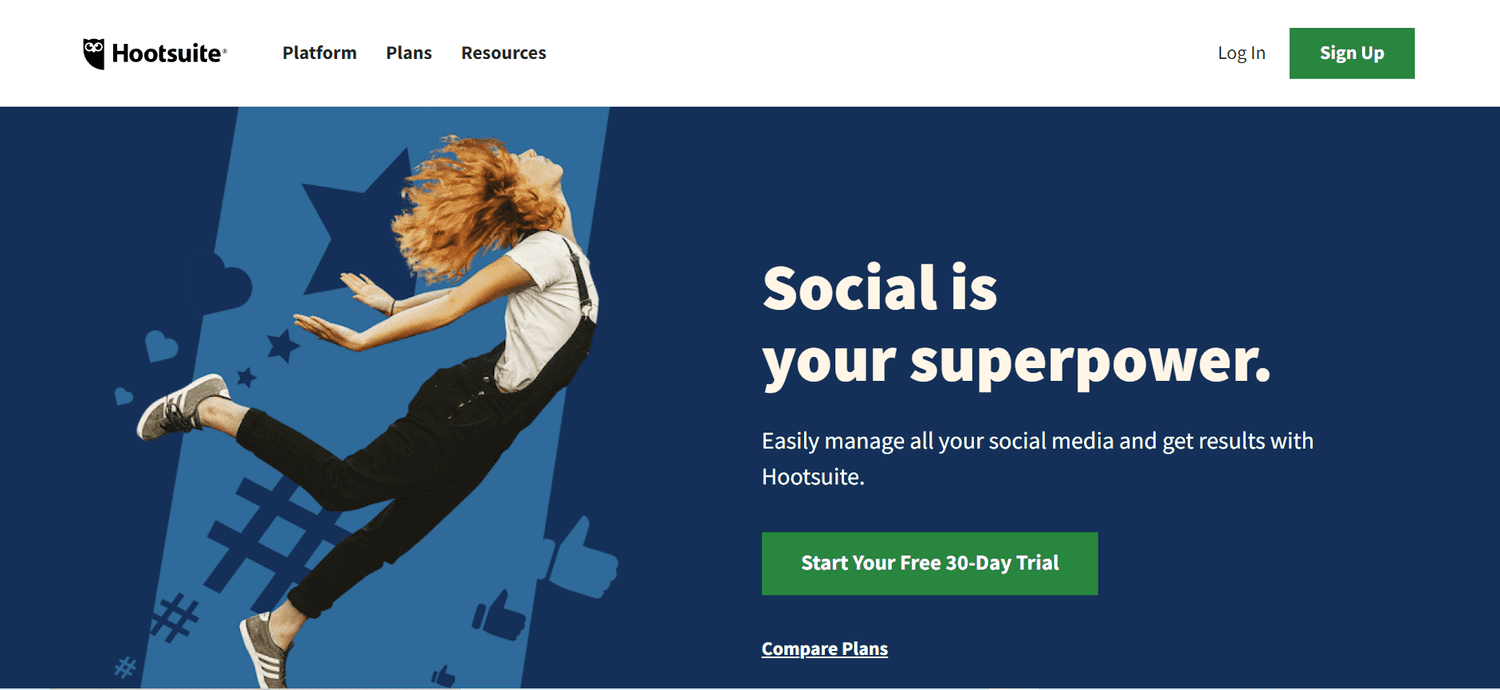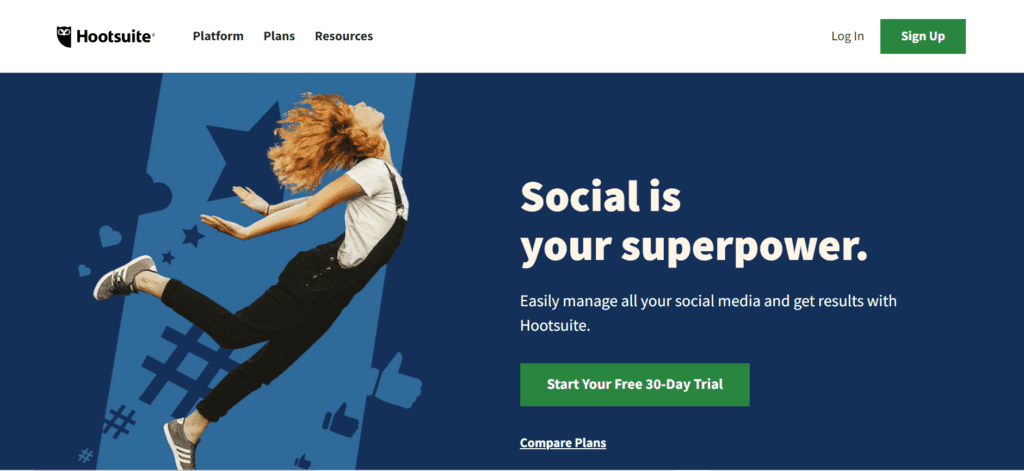 Tracking results
While posting is the most common use for Hootsuite, another great use is to see the results. Monitoring your stream, or however many streams you have, all in one place is a great way to use the software. For example, if you post something to Twitter, Facebook, and Google+ you could see how those posts are doing, and see all the reactions in once glance. There's no need to even go to those programs anymore since you have it automated with Hootsuite.
Hootsuite also includes analytics and stats. You can see how well your posts are doing at a glance, without having to go to each one individually. Track your posts and see how people are interacting at a glance. This can also be a great help in planning future posts as you see various trends develop.
Hootsuite premium, the paid version, has apps for managing your accounts on YouTube, Instagram, Tumblr, and others. You can do a lot with the free program, but as your business grows and your needs increase, the paid version might be something to consider.
Another cool thing you can do is something called target messaging. With the app, you can break your list of contacts into groups on each of your platforms. You could divide your Facebook friends into several groups, and send only one group a message. This is not a post, but more of a private message to your audience.
You may be wondering how much does Hootsuite cost. There is a free version, the paid version is around £15 per month (please check for latest price). You can do a lot with the free version. For most individuals, the free version is all you would need. The free version has a limit of how many accounts can be used at once, but the paid version does not, or if it does it is a very high number.
If you like the free version, you can get a 30-day trial for the paid version. There are a lot more apps and features an available for the paid version.
Once your media empire grows, you may have several teams working on projects. A cool thing about Hootsuite is how you can use it in a team framework. Several people can have access to the program, and each one doing their own managing. You could have one group posting on one topic, and another group posting on a different topic, spreading the work around.
Hootsuite offers team packages too, so the different people signing into the account are not using the same password. The software itself helps keep it organized. You could have one person doing the posting and someone else answering questions, for instance.
Team members can also send each other private messages, so communication is even better. One caution is that you have to pay for each team member in the team management system.
Some people also use Hootsuite for customer service, and this is another area where the team management system can be effective. You may store messages from clients, and assign them to different team members to get them answered.
Hootsuite has caught on with most people who need to manage a social media account or several of them. Hootsuite has a lot of apps, and other tech companies have also jumped on the bandwagon. You can get an app that allows you to do your Hootsuite work without opening the program. A free extension is available for your Chrome browser, and it makes Hootsuite even more accessible.
Hootsuite is very compatible with Google+ network. This was an expensive part of the paid plan at one time, but now it is part of the free plan. With this app, you can use all of the Google+ features from your Hootsuite dashboard.
Hootlet
The Google+ integration has led to the creation of the HootSuite Hootlet App.
What is the main use of Hootsuite Hootlet? The main use is quick sharing or quick posting to your social media accounts. With this extension, you can share your content, or even schedule it for later, from your browser.
Hootlet is very easy to install as well. Go to your HootSuite account, and drag the icon to your browser bar. Drag it and drop it on your bookmark bar. That's all there is to it. We thought Hootsuite made things simple, but Hootlet takes that to another level.
Hootsuite made the world of social media posting much easier. The Hootlet extension makes that even easier, just a click or two now is all it takes.
This is particularly useful with Twitter. If you want to share something, you can simply click on the Hootlet extension to share the page you are currently viewing. Shortening the URL automatically is a great time saver, and makes it amazingly simple.
There are other apps that allow you to get reports by email, which is handy if you are traveling and may not be spending as much time online as usual. The reports are available on your dashboard, but with an email, you can share those with your team easily.
HootSuite is also compatible with different platforms. Since it is web-based, you can use it with Apple, Android, PC, Linux and mobile platforms. You may also use Hootsuite as a mobile app. It is easier to use with a computer perhaps, but you could use your phone to manage all your accounts from anywhere.
Other Options
HootSuite has been in business just six years and has more than 10 million users. It has had great success obviously, and just as obviously people want to copy that success so there are some Hootsuite competitors. There are several other media management systems out there, and they each have strong and weak points. Hootsuite may not be suitable for everyone, and if you find it lacking, perhaps one of the different ones will meet your needs.
Some of the leading competitors include Buffer, Sprout, TweetDeck, and Sprinklr.
Buffer does most of the things Hootsuite does and has the ability to post to Pinterest in paid plans. It is perhaps easier to use photos with text and has an RSS feed integration in all plans. The drawback is the free version is rather limited, and some have said it does not work well with Instagram.
Sprout has a very simple, clean dashboard, that some say is even easier to use than Hootsuite. There are also a few more analytics available. It is connected to and works well with Google analytics. If keeping track of how your posts are doing is important to you, this might be a good option.
Tweekdeck is free, period. There is no paid version. It does great things with Twitter, and you can have an unlimited number of accounts there to manage. Hootsuite can also be downloaded and used separately from the Internet. It can also be combined with Buffer.
Sprinklr is perhaps designed for larger businesses, but it does offer a lot of options. One cool thing is that you pay for specific services, instead of just one price. You can pay for content marketing, but not advertising, for example. This service gets into the paid advertising and is good for marketing campaigns.
Latest Social Media User Engagement Statistics:
Underscoring the immense priority users place on social networks:
90% of consumers check social media daily encapsulating over 2.5 hours on mobile devices alone per Hootsuite's 2023 data
78% of people trust peer recommendations on social over branded content – 4x higher than search engines as an influence source
The top 15% most-viewed content last year on Facebook, Instagram, YouTube, TikTok and Pinterest accounted for over 95% of total aggregated impressions – highlighting the winner-take-all nature of feed algorithms demanding commitment.
LinkedIn now counts 830+ million members including 71% of B2B decision makers further elevating required presence
Core Hootsuite Platform Features & Benefits:
Post Scheduling – Pre-plan unlimited posts across connected accounts with approval workflows
Social Inbox – Manage all social messages and comments from one dashboard
Audience Insights – Leverage detailed statistics on followers and engagement metrics for outreach prioritization
Content Curation – Easily discover and share posts from other users to your feeds and stories
Team Collaboration – Secure account and profile access permissions for large managed accounts
URL Branding – Convert links into branded domains like social.yourcompany.com framed by icons
Hootsuite Integrations & Benefits:
CRM Systems: Seamlessly manage social posts, campaigns and engagements across accounts directly tied to contact/lead profiles within Salesforce, Microsoft Dynamics etc centralizing data.
Email Platforms: Sync email subscriber lists and campaign data with Hootsuite dashboards. Send automated post recaps. Incorporate social activity for targeting segmentation. Integrates with MailChimp, Constant Contact etc.
CMS: Auto feed published blog articles into social scheduling queues for additional visibility. Hootsuite integrates with leading content management systems like WordPress and Adobe Experience Manager.
Ads: Coordinate paid social campaigns optimum targeting on Facebook, Instagram, LinkedIn, and Twitter with dashboard tracking unifying performance analytics.
Hootsuite Setup & Usage Best Practices
1⃣ Determine Specified Admins & Authors: Control permissions tightly as needed across organization
2⃣ Schedule Content Expansion: Plan initial posting expansion pacing and voice
3⃣ Profile Cleansing: Audit & optimize page usernames, bios & imagery
4⃣ Listen First, Engage Second: Use dashboard to identify conversations for responding vs pushing single brand message
FAQs
Q: What are the pricing tiers for Hootsuite?
A: Plans range from free (1 user, 3 accounts) to $599/month for the Professional plan supporting unlimited users and accounts plus added features like more streams and content library storage. Enterprise custom quotes available.
Q: What team roles interact with Hootsuite?
A: Social media managers, community managers, digital marketing specialists, PR contributors, advertisers, customer service, sales development and executives with viewing permissions.
Q: How long does implementation take?
A: Depends on organization size but small businesses can self-setup in under 1 week. Larger enterprise configuration with integrations and trainings may take several weeks with assistance.
Q: Can we manage thousands of social accounts in Hootsuite?
A: Hootsuite supports unlimited accounts yet interface management best practices would recommend keeping a single dashboard stream to under 50 accounts simultaneously. Segment across teams instead of one streaming inbox.
Q: How do we track or justify Hootsuite ROI?
A: Set benchmark metrics around communication response times, follower growth, content engagement rates, campaign conversions etc to showcase productivity lift. Survey customers on impact. Calculate against alternative staffing/tools.
Conclusion
In conclusion, Hootsuite represents the undisputed leader in social media management technology consolidating publishing, engagement, analytics and advertising capabilities for individual solopreneurs up to Fortune 500 enterprises. Adoption continues proliferating across marketing and growth functions needing workflow productivity.
However, simply installing Hootsuite fails to magically elevate results absent core digital literacy and defined processes optimized for efficiency. Approach expansion using the platform thoughtfully across training while resisting overextending single dashboard bandwidth limits or social risk exposures from consolidation. Monitor success metrics closely and keep enhancing integrated synergy across martech and workflows.
With social's persistent rise and fragmentation challenges, no brand can afford compliance gaps or opportunity costs from inconsistent messaging. And no marketing team need shoulder the entire burden alone anymore thanks to Hootsuite's steadfast innovation. Consider both immediate efficiencies around global collaboration and approvals but also future possibility frontiers integrating digital experiences seamlessly tied to owned consumer signals and behaviors. Then execute social excellence as another catalyst driving overall customer value.
Good luck!
Our FREE ProfileTree knowledge archive… Why use Social Media | Social Media Audit | Best Social Media for business | List of Social Media sites | Benefits of Social Media Marketing | Importance of Social Media Marketing
Unmissable QUICK READ What Is? guides… Tumblr | Content | App | Google+ | YouTube | Twitter Handle | Facebook | SEO | Google Ranking | Google my Business | Video Marketing | Internet of Things | Business Level Strategy