Snapchat, for marketing, is a popular channel today. It is one of the fastest-growing social media networks. However, using Snapchat for marketing presents new challenges. It has a distinct culture compared to other social media sites.
Nearly 2/3 of its demographic are users between the ages of 18 to 34, but it is still an effective marketing tool even if your target demographic doesn't fall into this range.
With over 100 million people and 400 million snaps per day, it can give you great exposure.
Today, we're going to look at everything you need to know about using Snapchat for marketing.
What Is Snapchat?
Before you learn how to harness the power of Snapchat as a marketing tool, you must understand what the app is. Put simply, it is a social media site that allows users to share photos and videos called "snaps".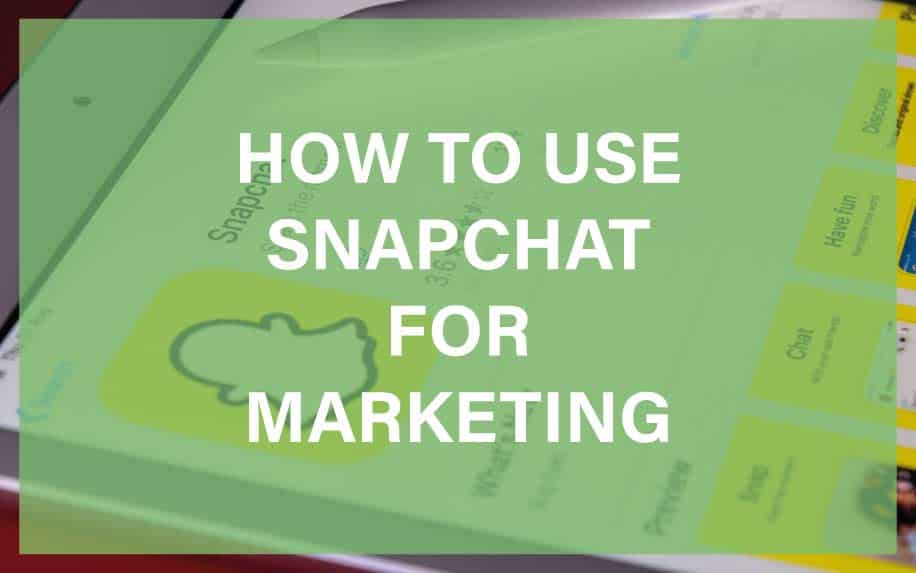 The snaps disappear 10 seconds after viewing. While this can seem like a marketing challenge, it can actually work to your benefit. Story mode is another facet of Snapchat. It gives users a 24-hour feed of your snaps in chronological order.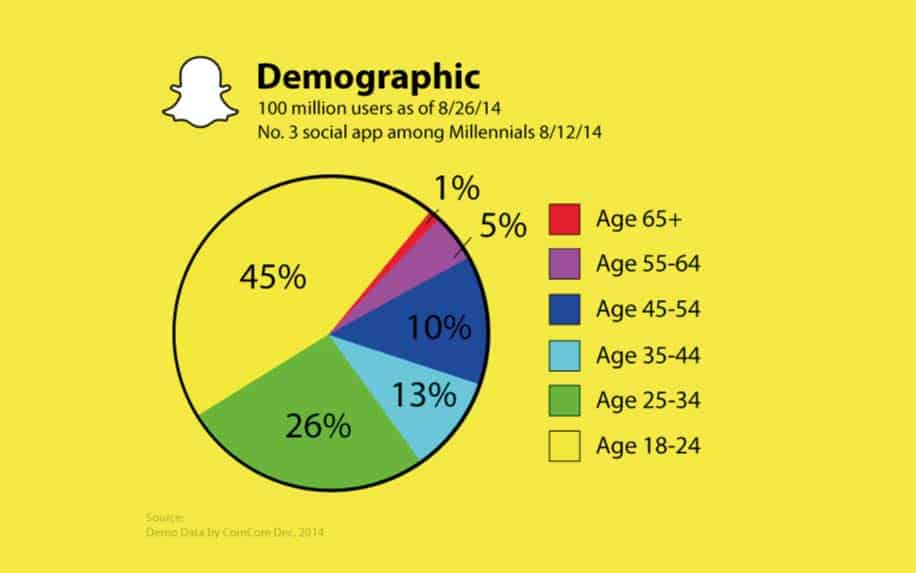 How do Businesses Use Snapchat?
Businesses can and do use Snapchat for material such as:
Mobile coupons,
Giveaways,
Sneak peeks,
Product previews,
Holiday event and sale previews.
Snapchat is every brand's best friend with its ability to help communicate and build relationships with mobile users. Many brands will offer their customers mobile coupons in exchange for product loyalty and promotion on Snapchat.
For example, an ice cream company may reward consumers who post a picture to Snapchat of them enjoying the company's products. This creates a more personal relationship between businesses and their customers.
Everyone appreciates giveaways, and businesses can utilise Snapchat to profit from this. Something as simple as a hashtag makes it easy for fans of any particular brand to encourage their families and friends to check it out.
A giveaway campaign running using Snapchat allows businesses to get their products in the hands of consumers who want them and need them the most. Snapchat can be used by a business's customers to promote the business's website and more.
Using it for giveaways has been effective in helping businesses gain additional customers.
With its video capabilities, Snapchat allows businesses to give consumers a behind-the-scenes look at their operations. Photos and videos can be combined to create an entire presentation for consumers.
This is also a great way to build a sense of authenticity and community among your audience.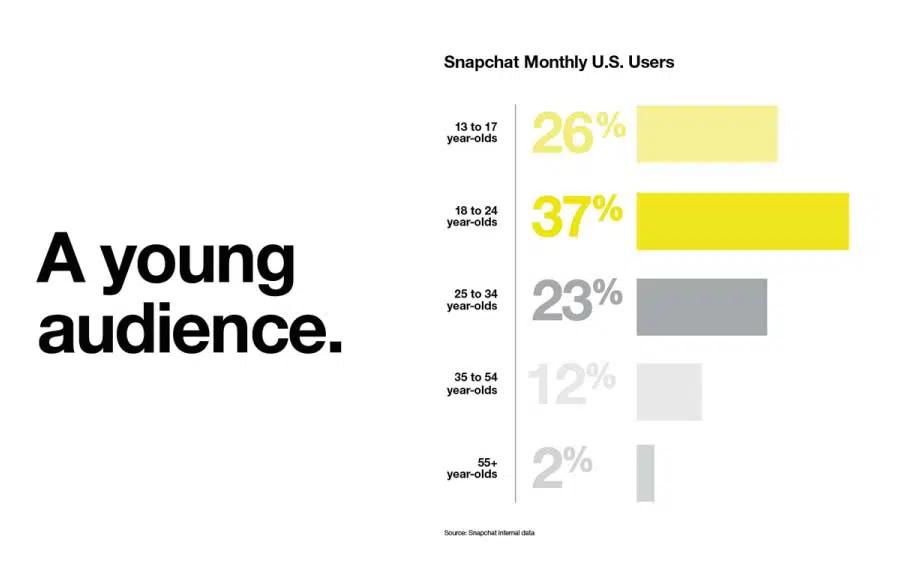 This can then be used to direct consumers to a business's website, YouTube channel or other social media sites. It can also be used to build anticipation and excitement for upcoming sales promotions and advertising campaigns.
When a business is preparing to launch a new product or service, Snapchat is often used to give a preview of it. Snapchat lends itself well to product teasers and has been successful in turning consumers on to new products and services.
This becomes even more crucial in the months and weeks leading up to seasonal events and sales, such as Thanksgiving and Christmas. However, it can also be used to mark any special event or occasion businesses want their customers to embrace.
Snapchat Advertising
There are several ways to advertise on Snapchat. You can buy advertising that goes into everyone's feeds, but it will cost you approximately $750,000 a day. You can also purchase ads in the Discover content, but it will cost you quite a bit as well.
Unless you have a large advertising budget, you will want to take advantage of Snapchat the same way individuals do. For free.
Another popular strategy is using Snapchat Geofilters, which allows your audience to create user-generated content which promotes your brand to their audience.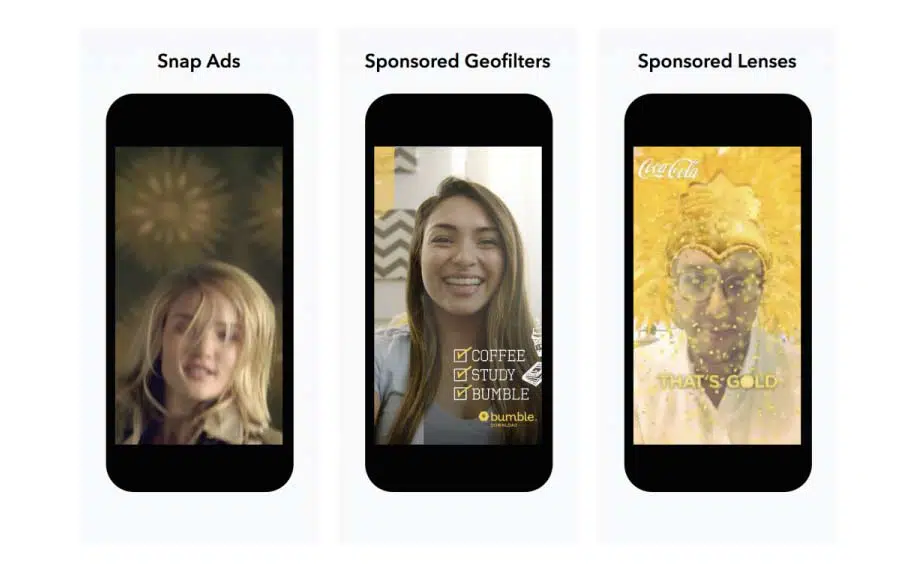 Discover Platform
The Discover platform features content from trustworthy sources, including National Geographic, Comedy Central, and CNN.
What makes this important to anyone who is interested in marketing with Snapchat is that you can purchase advertising space in the content. This allows you to reach the article's audience, giving you a much larger reach than posting content on Snapchat alone.
This is an innovative type of influencer marketing.
How to Start Using Snapchat for Marketing
When you sign up for Snapchat, they will first ask you for your email address, birthday, and phone number. Unlike most other social media services, they aren't set up for business accounts.
This means that you have to set up the same type of account for a business as you would individually. It also differs from most sites because you can't set up a lengthy and detailed profile.
Once you are registered and logged into the sight, you will see your ghost. No profile pictures here. Instead, you have your own personal ghost. Tap on your ghost to access your profile page.
From there, you can see who has added you. You can add them back if you like.
A left swipe will clear them from your list, but this is the only way you can see who has added you. This makes it in your best interest not to clear out your added list.
Growing Your Audience
Being found on Snapchat is also different from other sites. There are no suggestions for people you should follow. The only way for people to find you is by your name on Snapchat or by your ghost.
The best way to gain followers is to let your followers on other social media networks know. You need to post your exact name, however, or it won't appear when people search for you.
You can also post a photo of your ghost. People can then take a photo of your ghost to follow you. This is great for a generation used to convenience.
Beyond this, you'll have to work with influencers with a large Snapchat audience to grow your following.
Snapchat for Marketing Through Story Mode
You can create successful Snapchat marketing campaigns through story mode. When you post a photo or video, you can send it to your contacts or add it to your story. Choose story mode, and it will go on your story page.
To make sure everyone can see your story, you will need to go into your settings and select everyone. Anyone viewing your story can see anything you've posted in the last 24 hours in order from oldest to newest.
To see how your story looks or to see what others' stories look like, go to the stories page. Your story will be first on your feed, followed by others' stories. While Discovery mode is only available to a few chosen companies, anyone can utilize story mode.
Discovery mode may have benefits for every business choosing to advertise on Snapchat because it gets users used to seeing companies on a site traditionally used to chat with friends.
The movie Pitch Perfect 2 bet on Snapchat's story mode. They encouraged fans to follow them in a Super Bowl Ad.
The fact that the movie's marketers chose to use the incredibly valuable and expensive Super Bowl advertising space to mention Snapchat speaks volumes about just how effective the story mode platform can be.
Brands on Snapchat
There's a misconception that Snapchat is just for teenagers. It's true that the platform's users tend to be on the younger side, but that doesn't mean you can't benefit from Snapchat for marketing your business.
Early advertisers on Snapchat included innovative smaller companies and major international brands, such as:
16 Handles – This is a frozen yoghurt company from New York. They asked Snapchatters to post a Snapchat of them at one of their stores and then rewarded them with discount coupons ranging from 16% to 100% off.
Acura – Acura used Twitter to promote its postings on Snapchat, starting with the release of the Acura NSX automobile.
Grubhub – This San Francisco-based food delivery service started promotion on Snapchat in August 2013 with deals and surprise posts.
Karmaloop – This fashion retailer started using Snapchat in July 2013 to show new product designs and behind-the-scenes footage of the main office and staff shenanigans. Read more in our SEO guide.
New Orleans Saints – This team started using Snapchat in October 2013 with behind-the-scenes videos and insider scoops.
Rebecca Minkoff – This fashion designer started using Snapchat in September 2013 by promoting her new Snapchat account with her already popular Twitter account.
MTV UK – Snapchat postings by MTV UK promoted the television series "Geordie Shore" by releasing special videos about the cast before the season's premiere.
Taco Bell – Taco Bell started creating Snapchat stories in April 2013 by using the feature to tell followers that it was bringing back the Beefy Crunch Burrito.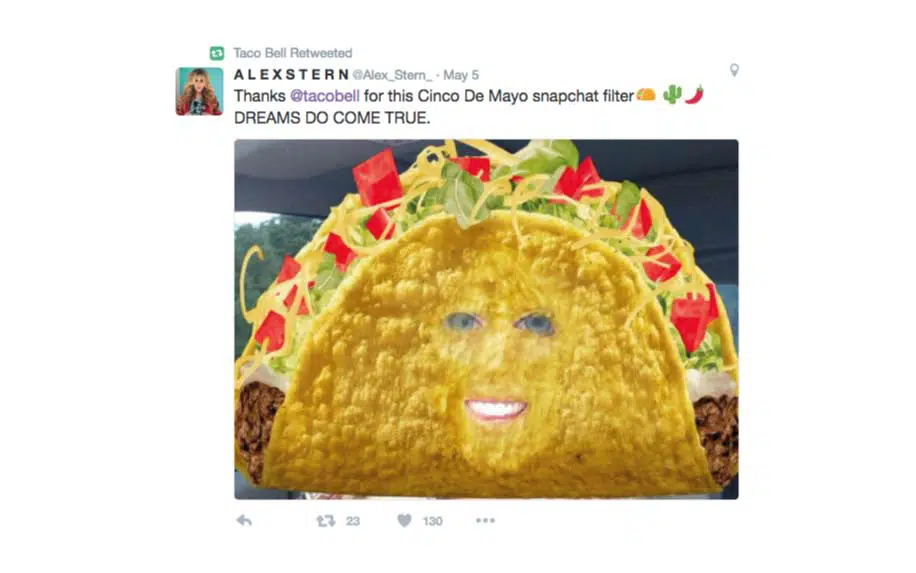 Snapchat for Marketing: Top Tips
The first thing you should know about your Snapchat marketing strategy is that Snapchat is so popular because it is fun. This means that the content you put on there should be fun and lighthearted as well.
Overly sales content just won't cut it.
You may have gotten used to being less formal on other social media platforms, but you will have to step it up a level to fit in on Snapchat. Let your personality shine through. Give your followers a behind-the-scenes look at what goes on in your business.
Show off your company culture by featuring things like birthday parties and events like company picnics. Let your customers see the inner workings of your business. The more personable you seem, the more likely you will have a loyal following.
You should also use the platform to let people know about your business and what you are all about.
Using story mode to cover live events is a great way to get the attention of your potential customers. Whether you are opening a new store, debuting a new product or service, or having a giveaway, live events are sure to draw people's interest.
Contests and giveaways are another way to connect with your followers on Snapchat. There are many ways to conduct a Snapchat contest, but one of the most popular is to have people take pictures of your product or service.
You will want to share your content and details on all of the social media sites you have a following on. This will bring the highest amount of new followers.
Snapchat has several ways to customize your photos to make them more interesting. You can add text, lenses that let people know where you were, or even draw on your photos. In addition to this, you can create fun, lighthearted videos.
However, using Snapchat for marketing is only effective if you can actually monetise your audience. This means directing users to your website or funnel entry points. Otherwise, it's impossible to achieve ROI from your Snapchat marketing.
While Snapchat shouldn't be your only facet of social media marketing, it should be a part of it. Especially if you are targeting the younger generation, Snapchat has a wealth of potential customers just waiting for you to engage with them.
For more help with any aspect of your social media strategy, contact ProfileTree today.