Snapchat marketing is a popular channel today. It is one of the fastest-growing social media networks. However, using Snapchat for marketing presents new challenges. It has a distinct culture compared to other social media sites.
Nearly 2/3 of its demographic are users between 18 and 34, but it is still an effective marketing tool even if your target demographic doesn't fall into this range.
With over 100 million people and 400 million snaps daily, it can give you great exposure.
Today, we will look at everything you need to know about using Snapchat for marketing.
Table of Contents
What Is Snapchat?
Before you learn how to harness the power of Snapchat as a marketing tool, you must understand what the app is. Put simply, it is a social media site that allows users to share photos and videos called "snaps".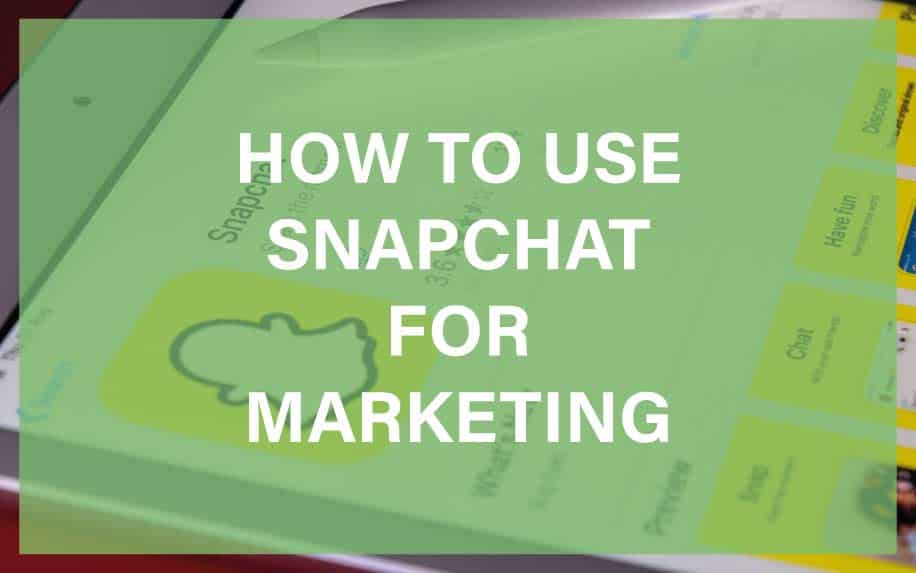 The snaps disappear 10 seconds after viewing. While this can seem like a marketing challenge, it can work to your benefit. Story mode is another facet of Snapchat. It gives users a 24-hour feed of your snaps in chronological order.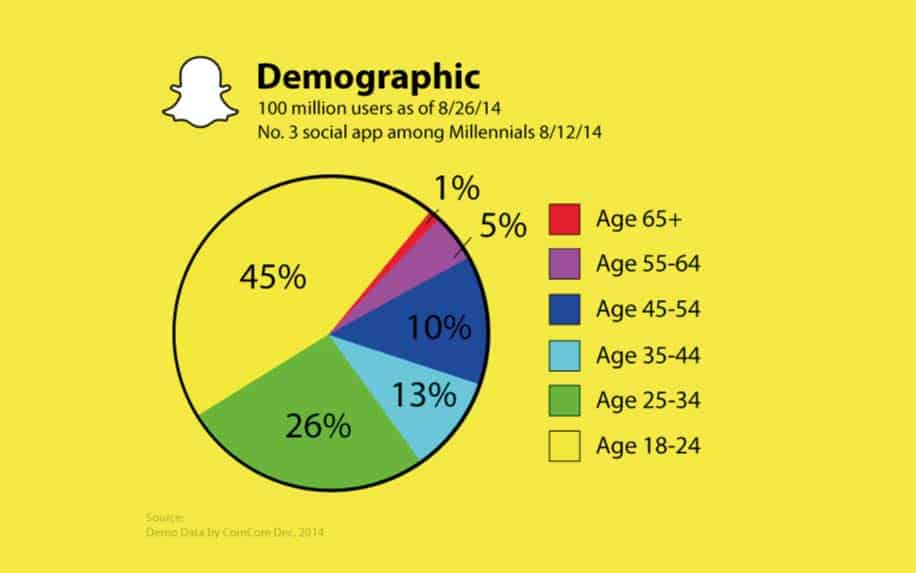 How do Businesses Use Snapchat?
Businesses can and do use Snapchat for material such as:
Mobile coupons,
Giveaways,
Sneak peeks,
Product previews,
Holiday event and sale previews.
Snapchat is every brand's best friend with its ability to help communicate and build relationships with mobile users. Many brands will offer their customers mobile coupons in exchange for product loyalty and promotion on Snapchat.
For example, an ice cream company may reward consumers who post a picture to Snapchat of them enjoying the company's products. This creates a more personal relationship between businesses and their customers.
Everyone appreciates giveaways, and businesses can utilise Snapchat to profit from this. Something as simple as a hashtag makes it easy for fans of any brand to encourage their families and friends to check it out.
A giveaway campaign using Snapchat allows businesses to get their products into the hands of consumers who want them and need them the most. Customers can use Snapchat to promote the business's website and more.
Using it for giveaways has been effective in helping businesses gain additional customers.
With its video capabilities, Snapchat allows businesses to give consumers a behind-the-scenes look at their operations. Photos and videos can be combined to create an entire presentation for consumers.
This is also a great way to build a sense of authenticity and community among your audience.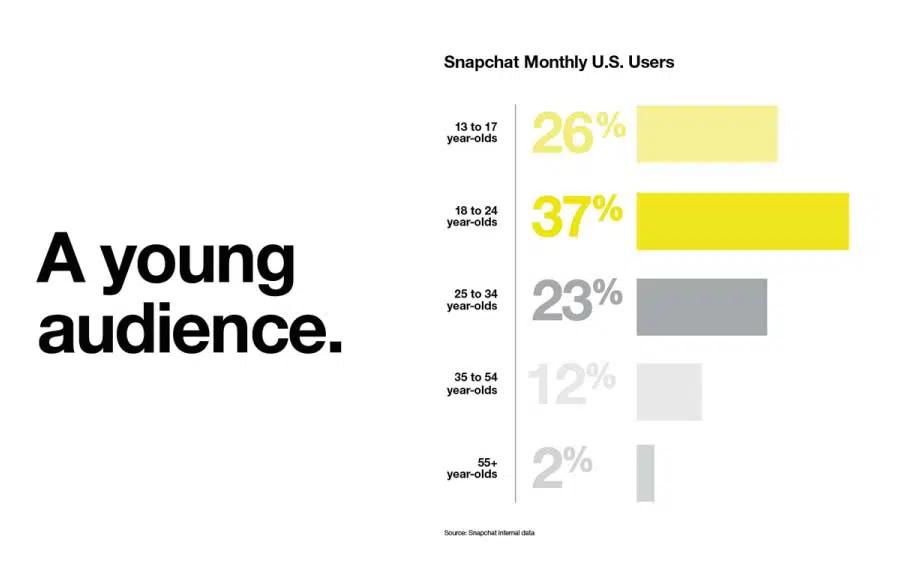 This can then direct consumers to a business's website, YouTube channel or other social media sites. It can also build anticipation and excitement for upcoming sales promotions and advertising campaigns.
When a business is preparing to launch a new product or service, Snapchat is often used to preview it. Snapchat lends itself well to product teasers and has successfully turned consumers to new products and services.
This becomes even more crucial in the months and weeks leading up to seasonal events and sales, such as Thanksgiving and Christmas. However, it can also mark any special event or occasion businesses want their customers to embrace.
Unlocking Snapchat Marketing Success: A Comprehensive Guide for Businesses
In the ever-evolving digital landscape, Snapchat has emerged as a powerful platform for businesses to connect with a young and engaged audience. With its unique features and ephemeral nature, Snapchat offers a fresh and dynamic way to engage with consumers, build brand awareness, and drive conversions.
This comprehensive guide will delve into the intricacies of Snapchat marketing, providing businesses with actionable strategies and insights to harness the platform's potential. Whether you're a seasoned marketing professional or just starting, this guide will equip you with the knowledge and tools to succeed on Snapchat.
Understanding Snapchat's Unique Ecosystem
Before embarking on your Snapchat marketing journey, it's crucial to understand the platform's unique characteristics and user base. Snapchat is primarily driven by visuals, focusing on sharing short-lived photos and videos known as "snaps." This ephemeral nature creates a sense of urgency and encourages spontaneous engagement.
Snapchat's Audience: A Demographic Powerhouse
Snapchat boasts an impressive user base, with over 330 million daily active users worldwide. The platform is particularly popular among Gen Z and millennials, making it an ideal channel for reaching these coveted demographics.
Snapchat Advertising
There are several ways to advertise on Snapchat. You can buy advertising that goes into everyone's feeds, but it will cost you approximately $750,000 daily. You can also purchase ads in the Discover content, but it will cost you quite a bit.
Unless you have a large advertising budget, you will want to take advantage of Snapchat like individuals do for free.
Another popular strategy is using Snapchat Geofilters, which allows your audience to create user-generated content which promotes your brand to their audience.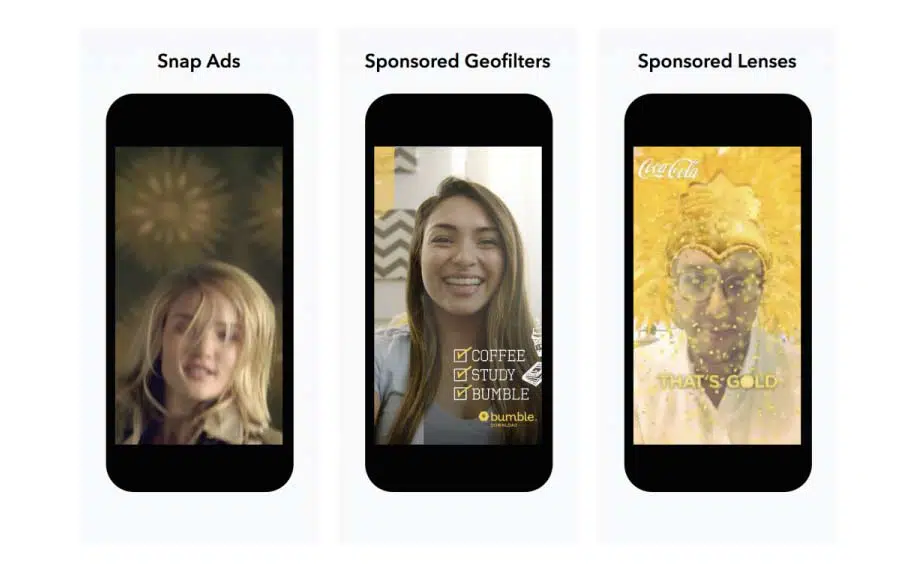 Discover Platform
The Discover platform features content from trustworthy sources, including National Geographic, Comedy Central, and CNN.
What makes this important to anyone interested in marketing with Snapchat is that you can purchase advertising space in the content. This allows you to reach the article's audience, giving you a much larger reach than posting content on Snapchat alone.
This is an innovative type of influencer marketing.
How to Start Using Snapchat for Marketing
When you sign up for Snapchat, they will ask you for your email address, birthday, and phone number. Unlike most social media services, they aren't set up for business accounts.
This means you have to set up the same type of account for a business as you would individually. It also differs from most sites because you can't set up a lengthy and detailed profile.
Once you are registered and logged into the sight, you will see your ghost. There are no profile pictures here. Instead, you have your ghost. Tap on your ghost to access your profile page.
From there, you can see who has added you. You can add them back if you like.
A left swipe will clear them from your list, but this is the only way to see who has added you. It is in your best interest not to clear out your added list.
Growing Your Audience
Being found on Snapchat is also different from other sites. There are no suggestions for people you should follow. The only way for people to find you is by your name on Snapchat or by your ghost.
The best way to gain followers is to let your followers on other social media networks know. You need to post your exact name, however, or it won't appear when people search for you.
You can also post a photo of your ghost. People can then take a photo of your ghost to follow you. This is great for a generation used to convenience.
Beyond this, you'll have to work with influencers with a large Snapchat audience to grow your following.
Snapchat for Marketing Through Story Mode
You can create successful Snapchat marketing campaigns through story mode. When you post a photo or video, you can send it to your contacts or add it to your story. Choose story mode, and it will go on your story page.
To make sure everyone can see your story, you will need to go into your settings and select everyone. Anyone viewing your story can see anything you've posted in the last 24 hours in order from oldest to newest.
To see how your story looks or what others' stories look like, go to the stories page. Your story will be first on your feed, followed by others' stories. While Discovery mode is only available to a few chosen companies, anyone can utilize Story mode.
Discovery mode may benefit every business choosing to advertise on Snapchat because it gets users used to seeing companies on a site traditionally used to chat with friends.
The movie Pitch Perfect 2 bet on Snapchat's story mode. They encouraged fans to follow them in a Super Bowl Ad.
The fact that the movie's marketers chose to use the incredibly valuable and expensive Super Bowl advertising space to mention Snapchat speaks volumes about how effective the story mode platform can be.
Brands on Snapchat
There's a misconception that Snapchat is just for teenagers. The platform's users, indeed, tend to be on the younger side, but that doesn't mean you can't benefit from Snapchat for marketing your business.
Early advertisers on Snapchat included innovative smaller companies and major international brands, such as:
16 Handles – This is a frozen yoghurt company from New York. They asked Snapchatters to post a Snapchat of them at one of their stores and then rewarded them with discount coupons ranging from 16% to 100% off.
Acura – Acura used Twitter to promote its postings on Snapchat, starting with the release of the Acura NSX automobile.
Grubhub – This San Francisco-based food delivery service started promotion on Snapchat in August 2013 with deals and surprise posts.
Karmaloop – This fashion retailer started using Snapchat in July 2013 to show new product designs and behind-the-scenes footage of the main office and staff shenanigans. Read more in our SEO guide.
New Orleans Saints – This team started using Snapchat in October 2013 with behind-the-scenes videos and insider scoops.
Rebecca Minkoff – This fashion designer started using Snapchat in September 2013 by promoting her new Snapchat account with her already popular Twitter account.
MTV UK – Snapchat postings by MTV UK promoted the television series "Geordie Shore" by releasing special videos about the cast before the season's premiere.
Taco Bell – Taco Bell started creating Snapchat stories in April 2013 by using the feature to tell followers that it was bringing back the Beefy Crunch Burrito.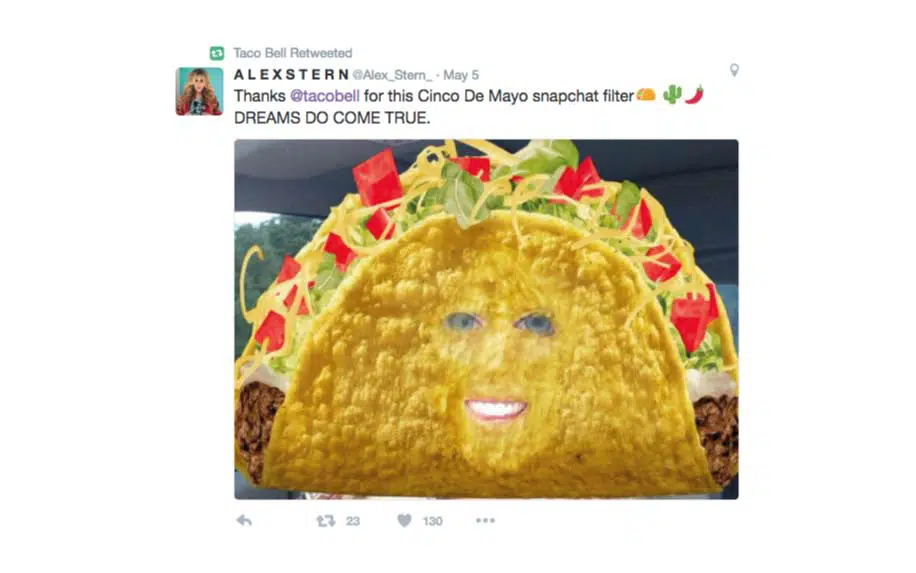 Snapchat for Marketing: Top Tips
The first thing you should know about your Snapchat marketing strategy is that Snapchat is so popular because it is fun. This means that the content you put on there should be fun and lighthearted as well.
Overly sales content just won't cut it.
You may have gotten used to being less formal on other social media platforms, but you will have to step it up a level to fit in on Snapchat. Let your personality shine through. Give your followers a behind-the-scenes look at what goes on in your business.
Show off your company culture by featuring birthday parties and events like company picnics. Let your customers see the inner workings of your business. The more personable you seem, the more likely you will have a loyal following.
You should also use the platform to inform people about your business and what you are all about.
Using story mode to cover live events is a great way to get the attention of your potential customers. Whether opening a new store, debuting a new product or service, or having a giveaway, live events will surely draw people's interest.
Contests and giveaways are another way to connect with your followers on Snapchat. There are many ways to conduct a Snapchat contest, but one of the most popular is to have people take pictures of your product or service.
You will want to share your content and details on all social media sites you follow. This will bring the highest amount of new followers.
Snapchat has several ways to customize your photos to make them more interesting. You can add text, lenses that let people know where you are, or even draw on your photos. In addition to this, you can create fun, lighthearted videos.
However, using Snapchat for marketing is only effective if you can monetise your audience. This means directing users to your website or funnel entry points. Otherwise, it's impossible to achieve ROI from your Snapchat marketing.
While Snapchat shouldn't be your only facet of social media marketing, it should be a part of it. Especially if you are targeting the younger generation, Snapchat has many potential customers just waiting for you to engage with them.
Latest Snapchat User Statistics and Demographics (2023):
Snapchat has 363 million daily active users globally, with 229 million in North America.
70% of Snapchat's daily users are between 13 and 34. This makes it highly popular with teens and young millennials.
Snapchat reaches over 90% of 13-24-year-olds and 75% of 13-34-year-olds in the United States.
The gender split of Snapchat users is nearly equal, with 51% identifying as female and 49% as male.
Snapchat is particularly widely used by younger demographics, with 77% of 18-24-year-olds and 71% of 13-17-year-olds in the U.S. using the platform.
Typical Snapchat users open the app over 30 times per day and spend over 30 minutes actively using it per day.
Snapchat Ad Formats and Recommendations:
Filters:
Filters are graphic overlays that users can add to their Snaps and Stories. Brands can sponsor custom filters based on events, product launches, etc.
Geofilters are location-based Filters that activate when users are in a certain location. Brands can create Geofilters for stores, events, and neighbourhoods.
3D World Lenses bring Filter effects into the real world using augmented reality. Brands like Starbucks have used Sponsored 3D World Lenses that transform surfaces into branded AR experiences.
For maximum impact, Filters should be visually engaging with branding that fits the Snapchat aesthetic. Animated and interactive Filters perform well.
Lenses:
Sponsored Lenses allow brands to create their own augmented reality selfie effects, building on Snapchat's popular Lens format.
Branded Lenses that go viral can reach up to 100 million views. Successful examples include the Rainbow Puke Lens for Gatorade and a KFC AR Chicken Bucket Hat Lens.
Like Filters, branded Lenses need to be fun and innovative while integrating the brand seamlessly. Easy sharing mechanics and seasonal trends can help Lenses take off.
Snap Ads:
Snap Ads appear between Stories or Discover content, similar to TV commercials. Vertical video ads in Stories receive full-screen exposure.
Snap Ad specs: 1080×1920 aspect ratio, 9:16 orientation, under 6MB file size, <15 sec (Stories), <60 sec (Discover).
Snap Ads have an average CPM of $10-20 depending on targeting, much higher than CPMs on platforms like Facebook and Instagram.
Sponsored AR Lenses:
Sponsored Lenses appear when users tap to open the Lens Carousel. Like organic Lenses, they can go viral quickly if compelling enough.
Prices for Sponsored Lenses vary based on audience size and targeting. A branded Lens for North America can cost over $500,000 for one day.
Key Elements of a Snapchat Marketing Strategy
To effectively leverage Snapchat for business goals, it's essential to develop a well-defined strategy that aligns with your overall marketing objectives. Here are some key elements to consider:
Define Your Goals: Identify your Snapchat marketing goals, whether driving brand awareness, generating leads, or increasing sales.
Understand Your Target Audience: Research your target audience's Snapchat behaviour, preferences, and interests to tailor your content and strategies accordingly.
Create Engaging and Authentic Content: Produce high-quality snaps and stories that resonate with your audience and reflect your brand's personality. Utilize Snapchat's creative tools, such as filters, lenses, and augmented reality features, to enhance your content.
Foster Interaction and Engagement: Encourage audience participation by responding to comments, hosting polls and quizzes, and running interactive campaigns.
Measure and Analyze Performance: Regularly monitor your Snapchat marketing performance using analytics tools to track engagement metrics, identify areas for improvement, and optimize your strategies.
7 Effective Snapchat Marketing Strategies
Showcase Your Products and Services: Utilize visually appealing snaps and stories to highlight your products or services, showcasing their features, benefits, and real-world applications.
Run Exclusive Promotions and Offers: Create a sense of urgency and exclusivity by offering Snapchat-only discounts, promotions, and limited-time deals.
Partner with Influencers: Collaborate with relevant Snapchat influencers to reach a wider audience and leverage their credibility to promote your brand.
Host Contests and Giveaways: Generate excitement and engagement by hosting contests and giveaways with attractive prizes, encouraging user-generated content and brand awareness.
Share Behind-the-Scenes Content: Give your audience a glimpse into your company culture, team, and creative process, fostering a sense of connection and transparency.
Leverage Snapchat's Advertising Platform: Utilize Snapchat's advertising platform to target specific demographics and interests, reaching a wider audience beyond your organic followers.
Optimize Your Snapchat Presence: Ensure your profile is complete, informative, and visually appealing, making it easy for users to discover and connect with your brand.
Frequently Asked Questions About Snapchat Marketing
Here are answers to some common questions businesses have about marketing on Snapchat:
How do you create ads on Snapchat?
Snapchat ads are managed through Snapchat Ads Manager. You can sign up for an account and choose your campaign objective, target audience, budget, and creative assets to launch your ad.
What types of ads can you run on Snapchat?
The main ad formats are Filters, Lenses, Snap Ads (video), Sponsored AR Lenses, Story Ads, Commercials, Collection Ads, and Dynamic Ads.
How much do Snapchat ads cost?
Costs vary based on ad format and targeting, but Snapchat ads can cost anywhere from $10 – $20+ per CPM on average. Geofilters start around $5 per 20 submissions. Sponsored Lenses cost ~$450K+ for nationwide geo-filtering.
How can you measure Snapchat marketing results?
The main metrics to track are Impressions, Reach, Engagement Rate, Swipe Ups, Lens Views for Sponsored Lenses, and Conversions from Links. Use Snapchat's reporting or third-party analytics.
What makes a good Snapchat ad?
Strong Snapchat ads are vertical, authentic, fun, and relevant to younger demographics—leverage holidays, events, trends, humour, and celebrities that appeal to Gen Z/Millennials.
Should small businesses do Snapchat marketing?
Snapchat can be effective for small businesses with a young target audience. Start local with Geofilters for stores. Influencer marketing is also affordable on Snapchat.
What are the best practices for Snapchat influencer marketing?
Look for Snapchat influencers in your niche with highly engaged followers. Negotiate pricing based on content type and distribution. Track share rate, views, and engagement.
Conclusion: Unleashing the Power of Snapchat Marketing
Snapchat marketing offers a unique and effective way to connect with a young, engaged audience and drive business results. By understanding the platform's nuances, developing a well-defined strategy, and implementing creative and engaging campaigns, businesses can harness the power of Snapchat to achieve their marketing goals and establish a strong presence in this dynamic social media landscape.tunesharemore_vert
For more help with any aspect of your social media strategy, contact ProfileTree today.