What is guerrilla marketing? Let's look at it another way. How does 'greatest impact with the least possible investment' sound for your business?
Guerrilla marketing is all about using strategies which create a high impact for low investment. For example, this could mean hijacking other company's promotions or events to your own benefit.
Read on and we'll explain.
The main idea behind any guerrilla marketing campaign is to create marketing benefits that are cost-effective, particularly winning media attention without having to pay for the advertising exposure.
Today we're going to cover the basics of guerrilla marketing, and look in more detail at some of the concrete strategies you can implement to grow your business.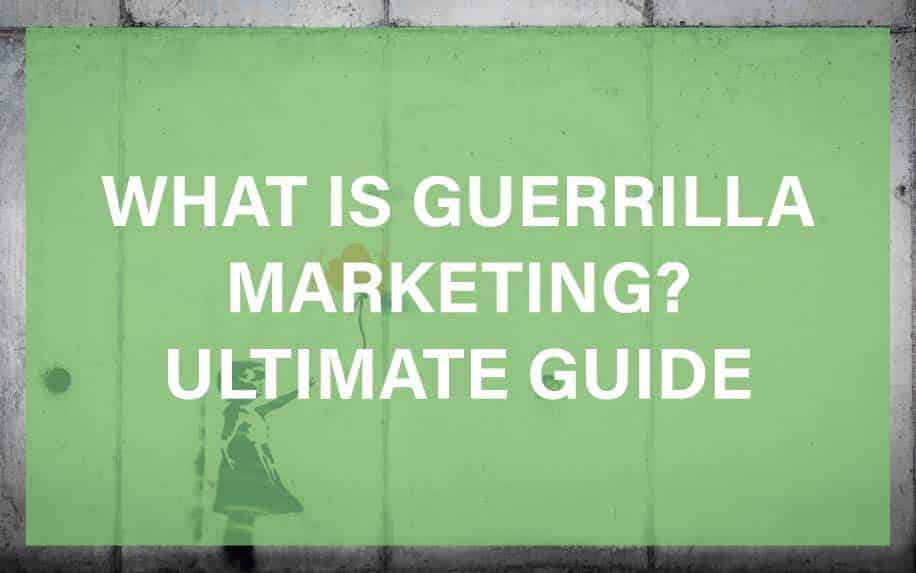 Let's start with the basics.
What is Guerrilla Marketing?
Guerrilla marketing is a popular strategy among brands who lack the budget or resources to implement costly traditional marketing campaigns. In other words, a range of tricks to get high exposure for low investment can be considered guerrilla marketing.
guerrilla marketing attempts to achieve the same goals as massive paid advertising campaigns without the need for such an incredible expense. This is the basis of what a guerrilla attack in marketing is.
In essence, it is about getting attention without having to pay that much for it.
Sometimes guerrilla marketing is much more effective than traditional advertising, so it is important for entrepreneurs to learn what is an encirclement attack in marketing in order to benefit the most from this strategy.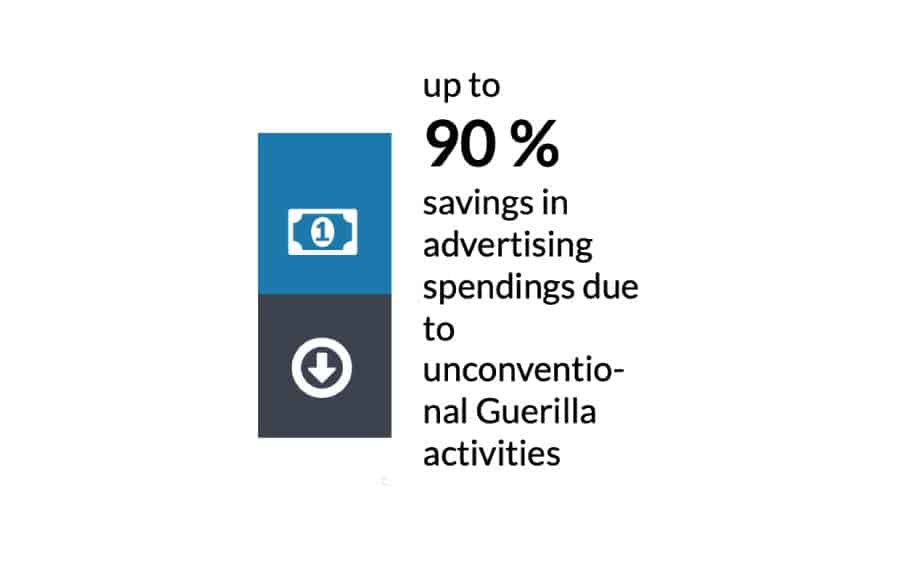 What is an Encirclement Attack in Marketing?
An encirclement attack in marketing is a method to surround competition in all major ways possible. The idea is to analyse the weaknesses and strengths of the competitors and launch an attack in multiple ways simultaneously.
Once you understand your own strengths, and your competitors' weaknesses, you're in a much stronger position to use guerrilla marketing to your advantage. For example, you might choose to leverage a weak spot in your competitor's brand reputation.
That way, you can tailor the direction and messaging of your guerrilla campaigns to highlight this weakness, and how you can offer something better for customers.
Our Top Guerrilla Marketing Strategies
Of course, there are a number of different kinds of guerrilla marketing. After all, getting high exposure for low investment is a broad umbrella. As such, we're going to focus on some of the most common guerrilla marketing strategies around.
Here are some real-life examples of guerrilla marketing techniques that are used successfully by all kinds of brands around the world.
Throw a Party at a Convention Instead of Having a Booth
If a start-up company wants to get as much attention as possible at a conference or a convention, they might consider throwing a party. The marketing director learns that to have a major presence on the convention floor will cost a small fortune.
Having a tiny booth will not be effective and paying for a larger booth in a prominent position is cost prohibitive.
At a major convention, the cost of a high-profile booth may be in the many tens of thousands of dollars. This amount can far exceed what a start-up company is capable of paying for.
In light of this fact, the marketing director decides instead to rent a suite in a hotel near the convention and throw a party with an open bar for special invitees.
The company then pays for the entry to the convention of attractive people who are tasked with the effort to hand special invitations to the party, directly to certain people from specific companies.
Many conference attendees like to go to a party after spending all day on the centre floor.
Even better, most conference events don't run into the night, so you'll have an easier time getting attendees, as your event won't clash with the scheduled talks, panels and workshops at the official convention.
A party atmosphere is more casual and gives the staff of the company that is throwing the party the chance to network with influential persons that can help advance their product launch and create more awareness about their products and services.
The cost of throwing such a party can be far less than the cost of having a booth at the convention. Moreover, throwing a cool memorable party is one way to get more attention.
Get Local Media Attention
Getting media attention is not always easy for positive events. In general, the media likes to cover disasters and horrific news, more than positive stories. Things going to plan isn't exactly major news.
However, on occasion, the media, especially the local news, will cover certain significant events, such as the opening of a new store, the start of a big construction project, or other things that might really benefit a community.
Having a positive news story about a company and its efforts is much more powerful than any advertisements that the company may run. This means it pays to have public relations efforts to get local news coverage for significant things that any company is doing.
This requires outreach and PR, in order to make local news outlets aware of your company, and interested in picking up the story. To make this work, you'll have to think about what you can do to make your event or launch truly newsworthy.
One way to do this is to tie your pitch to how your product or service aids the local community, or relate it to other current events in some way.
Going Viral
Viral marketing can be very beneficial. Viral attention means that viewers of the content forward a link to it, retweet it, or send a copy of the content to many others.
Oftentimes, this happens by accident. However, companies can create viral content intentionally as well. There is a fine art to doing this that requires having the sensitivity to guess what will be popular and what people will like to share with others.
There are many examples of things that went viral, including videos on YouTube, tweets on Twitter, Internet memes, and so forth. Creating a new catchphrase is another way to do this.
Using Graffiti
Street art and wall murals can be a powerful way to advance guerrilla marketing efforts.
The best way for companies to do this is to have permission to paint graffiti on public walls and to make the street artwork representative of what the company wishes to promote without it appearing to be an overt advertisement.
The idea behind using street art is that it attracts more attention than commercial billboards. guerrilla marketing is all about getting attention for the company's product or services in unusual and more cost-effective ways.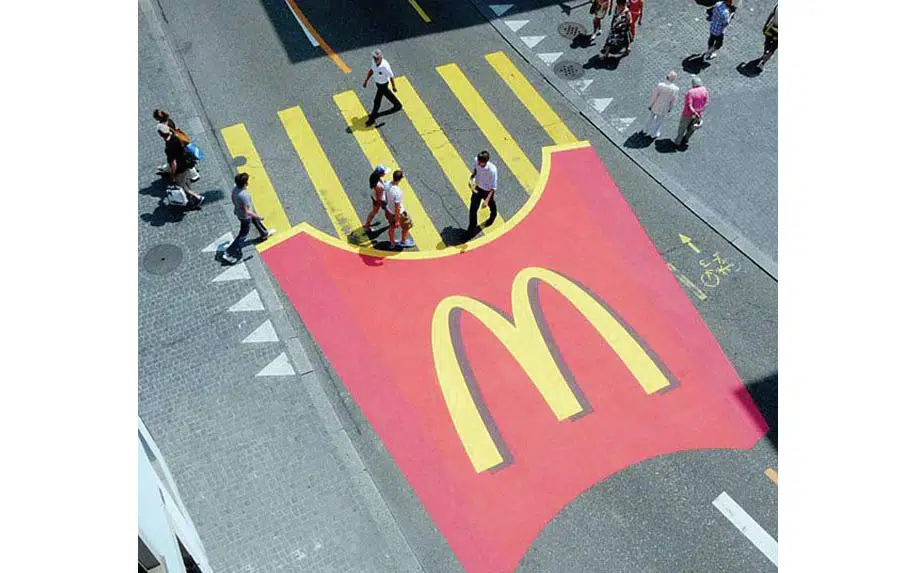 How to Use Guerrilla Marketing
Guerrilla marketing benefits may be more effective than traditional promotional campaigns because everyone is so saturated with advertising that most of the traditional advertising is ignored.
The idea behind an effective guerrilla marketing campaign is to make it stand out and be different from the rest as well as cost less than other ways to advertise.
If you have ideas for your marketing strategy which you'd like to discuss with the experts, contact ProfileTree today.