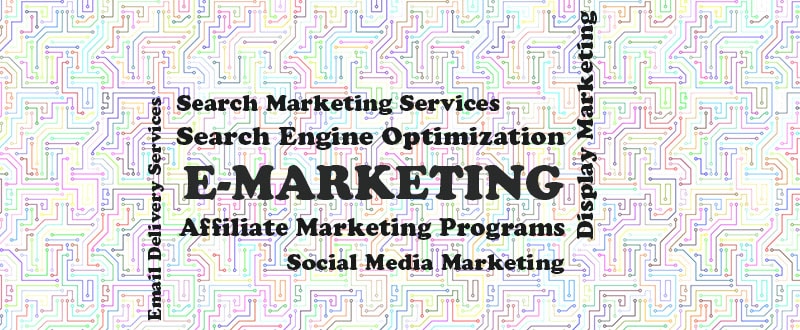 Business has come a long way. Today, marketing isn't bound to brick-and-mortar institutions. It revolves around modern communication, mobile technology and evolving principles. Electronic marketing is powered by the Internet, and it's growing at a rapid pace.
SEE ALSO: Digital Marketing Channels
What is eMarketing, Exactly?
The definition of eMarketing hasn't changed much since it was established. eMarketing is the wide-ranging methodologies used to offer goods and services online. Often, business operators who embrace online marketing also engage eMarketing. The two are incredibly similar, but eMarketing removes the 'online' portion from the mix. It doesn't require typical online promotions to influence sales, connect with customers and promote products.
The Many Forms of eMarketing
To understand what eMarketing is, one must understand how it's been responsible for developing new innovations. In modern business, eMarketing is an essential component of the marketing mix. Modern companies are continuously allocating resources, driving them via eMarketing solutions and directing customers towards new options. Below are the world's most common eMarketing methodologies:
Email Delivery Services
Email marketing is one of the oldest eMarketing methodologies around. Whether clients need updates, product information or service options, email marketing can help. Email delivery systems inform buyers about future products, dish out monthly newsletters and connect brands directly with consumers. In 2017, a lot of email delivery services are centric to mobile technology. In fact, the following innovations have made mobile-based email marketing more profitable:
Short-code
Digital coupons
Website links
Location-based services
Social Media Marketing
Social media marketing, while still growing, has a firm foundation in the eMarketing world. It's the perfect accessory to any digital marketing campaign, and it's responsible for a majority of online information retrieval resources. Today's online communities are sharing links, promoting brands, watching videos, and engaging the buying world with incredible speed.
Because social media networks, like Facebook, Twitter, and Instagram are incredibly large, community managers, advertisers, and business leaders are working hard to offer substantial business opportunities to buyers. Today, an estimated 60 million bloggers exist. Many of these have created powerful advertising opportunities, connecting their content to digital communities via links, company pages and even instant messaging social media apps.
Search Marketing Services
Pay-per-click, or PPC, marketing is one of the fastest avenues to garner sales, increase online visibility and advertise a website. The Internet is expanding, accommodating for both businesses and consumers. To promote products and services correctly, a business must adopt PPC advertisement strategies.
Successful PPC campaigns increase a business's ROI, and—in some cases—can immediately spike consumer traffic. Because the end-game of PPC strategies are to drive sales, business operators are crafting sophisticated campaigns centric to targeting conversion as an asset. A lot of PPC activity helps make consumer information transparent. It reports search metrics back to the business, revealing information about:
Website clickthrough
Page views
Shopping cart abandonment rates
Customer behaviors and trends
Affiliate Marketing Programs
Affiliate marketing, meanwhile, helps online businesses grow via a partnership. It's considered to be one of the online advertising's 'purest' forms. Because it revolves around transactions, affiliate marketing relies on commission-based services. Affiliate marketing is responsible for business promotions, transaction diversity and even business competition.
In 2017, affiliate marketing websites exist in the hundreds of thousands. Customers can visit these websites via other websites, including:
Information portals
Blogs
Voucher sites
Product review sites
Price comparison sites
Search Engine Optimization
You've probably heard about the importance of keyword-centric marketing before. Search engine optimization, or SEO, naturally increases a website's traffic by making sure its sitemaps, content, links and coding are presented in a digestible way.
More importantly, SEO serves businesses by 'pushing up' pages throughout different search engines. SEO, in 2017, is a cornerstone of eMarketing, online advertisement and digital buying. The world's biggest search engines, like Bing and Google, are always evolving. They're always changing their ethical strategies, too, to promote the use of keywords without allowing keyword 'stuffing' and poor-quality content.
Display Marketing
Display marketing has come a long way. Often called CPM advertising, display marketing campaigns increase brand awareness, boost website traffic, increase sales and boost product leads. In the past, display marketing was bound to banner advertisements. Now, it's being incorporated to mobile technology, virtual reality apps and augmented reality services.
Display marketing, while more classic than many eMarketing approaches, is still responsible for inventory placement, inventory management, campaign optimization and tracking options. As with affiliate marketing programs, display marketing heavily relies upon a business's networking capabilities to succeed.
eMarketing in a Digital World
Unsurprisingly, the Internet's sheer commercialization has created a lot of debate about different marketing disciplines. To study the new phenomenon, business decision makers need to study conceptual frameworks. Rapidly changing online environments are difficult to study, empirically, because data is growing.
That said, quite a lot of meaningful research has revealed rich information. Yesterday's application models are today's obsolete approaches. As several experts have said, eMarketing—at its core—uses electronic communications technology to achieve objectives. Because electronic communications technology is changing, the goals are being achieved differently.
The Importance of Internet Leads
The question, "What is eMarketing?" is changing, itself. In the past, display advertisements were king. Now, lead generation is a go-to strategy for many companies. Lead generation tools, implemented across company websites, help consumers access mailing lists, read newsletters and redeem coupons. While lead generation is about traffic generation, it's become the crux of modern digital business.
Response collection tools, first and foremost, are leading the way. These tools aren't online polls and feedback forms, either. They're digital footprint trackers. It isn't enough to find out what a customer's favourite product is. Businesses need to focus on related products, favoured services and effective advertising methods.
Social Media Content and Cross-Channel Marketing
Above, we discussed the importance of Facebook, Twitter, and Instagram as marketing tools. It's worth mentioning their ability to promote cross-channel travel. Digital advertising tools, like Facebook Ads and Google Adwords, target specific customer demographics. For example, if a company utilizes Google AdWords to promote text advertisements, users are likely to encounter these advertisements via their Facebook Newsfeed.
Why? Because social media itself has become a marketing platform. Today's companies are promoting via 360-degree media, music video campaigns and YouTube affiliate advertisements. Text, too, is popular. If a business can promote an affiliate's blog or eZine, they're headed in the right direction. Text-based advertisements target users effectively, and they offer powerful insight into SEO strategies.
To gain customers, you need to understand customer niches. A lot of modern advertisement revolves around inviting buyers to email lists, promoting coupons and utilizing instant access as a door-opener.
The Power of Mobile
Because of this immediate access, business providers have turned to smartphones. Today, 55 percent of email is opened via mobile. Mobile access isn't simply a marketing amenity. It's the future of real-time eCommerce, the foundation of modern eMarketing and the future of business innovation. Today's industries are flocking to mobile—and it isn't a surprise. When customers can engage fully, with immediate access and on a rolling basis, the business has incredible visibility.
eMarketing is incredibly durable, too. We're in the information age, and our access to technology isn't going anywhere. Likely, the future will present more opportunities via virtual reality display ads, quick-access mobile deals and highly immersive social media. As the customer's demand for here-and-now products increases—so, too, does the world of electronic marketing.