What is an app? App is short for application, which is a piece of software which runs through a web browser, or can run offline on a phone, computer or tablet. The term has come to mean any piece of software which is used by humans. What could it mean for your business?
The most common usage of the word app is when making reference to a mobile application, or any small piece of software running on a website. However, the word app has gradually kept into also meaning desktop programs.
As such, there are basically three types of apps: web, desktop and mobile apps. We'll look at each of these in a little more detail. First though, let's take a look at why businesses should care about what apps are, and the benefits they offer.
IN A RUSH?! Click for our 70 second snapshot.
What is an App: Benefits for Businesses
Any business purchasing decision is all about the bottom line. That is, return on investment. App usage is no different. However, the reason for the prevalence of apps is that they can offer massive ROI, either through reduced costs, or increased revenues.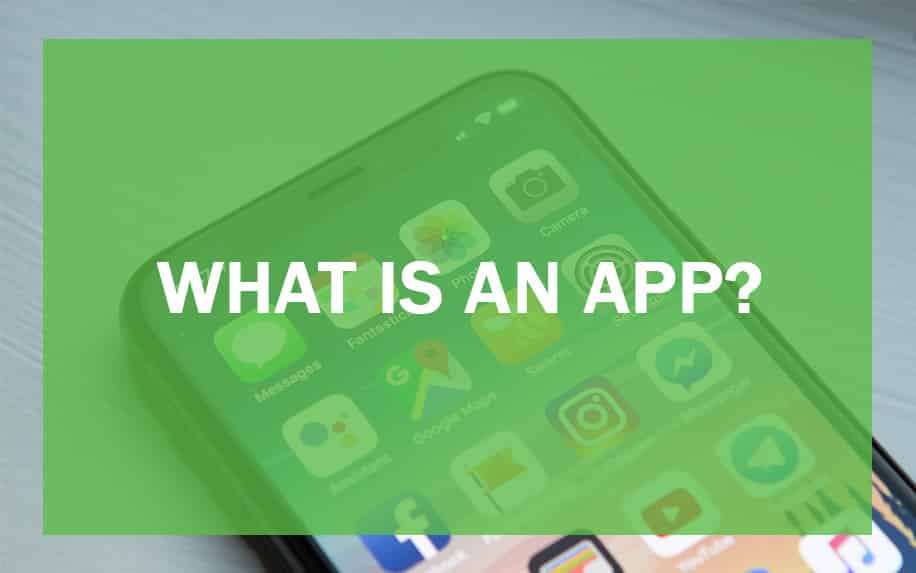 To that end, there are essentially two categories of apps which can provide business value:
Apps which are built or developed to help your employees do their jobs better,
Apps which are used by your customers, clients or audience.
Of course, these are two fairly different aims. Either category can cut costs or boost sales. This works by making your operations more efficient, as well as giving you new and more effective ways to reach your target customers.
To help get to grips with everything that apps can offer businesses, let's take a look at each in a little more detail.
Internal App Usage
Mobile, desktop, and web apps can play countless roles within a business. For instance, workforce management apps can be used across devices to ensure that your staff are exactly where they need to be, when they need to be there.
Additionally, more and more businesses are taking advantage of a range of collaboration and productivity apps.
Additionally, web apps play a bigger role in day to day business operations than ever before. Cloud based office tools, like Google's GSuite allows colleagues to work together on tasks across different time zones, or even different continents.
Creating an App for Your Brand
It's also common for companies to develop apps to interact with their target customers. This all comes down to positioning your brand in the places where your audience spends their time.
For example, mobile users spend the majority of their time in stand-alone apps: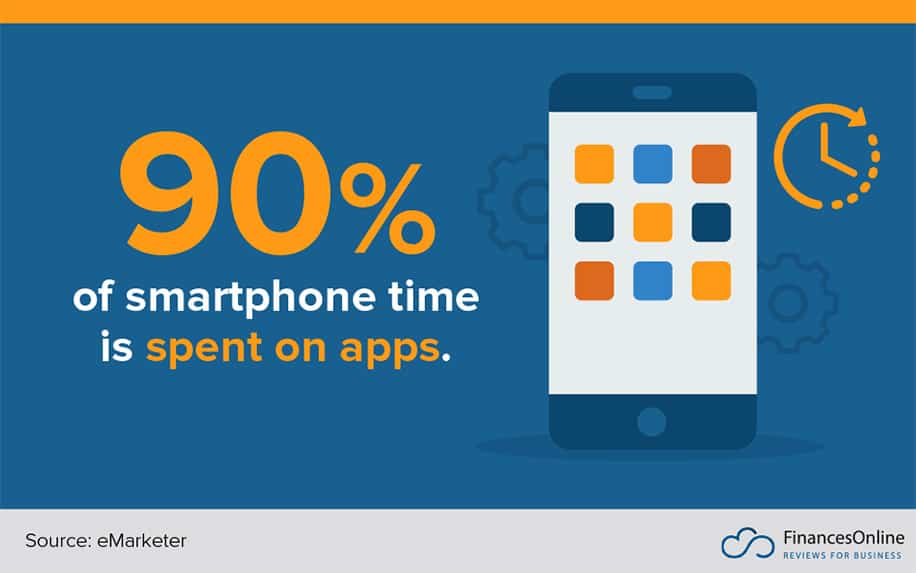 As such, if your business model depends on constant contact with your customers, it makes sense to develop a mobile app, as this is how they like to interact with the brands they love. Mobile apps are also great for customer retention.
Similarly, companies are increasingly relying on web apps to offer their core services to customers, especially where these once required human intervention. For example, the majority of bookings in the travel industry are made through online platforms or comparison sites.
The bookings made face-to-face or over the phone make up a tiny sliver of the market.
Now that you understand the potential benefits of using apps in your business, let's dig a little deeper into what makes each of the three main app types tick.
Desktop and Web Apps
A desktop app is a fuller progra, that consists of features that are found in a program. The mobile app version is an app that is simpler and easy to use. Most web apps, and desktop apps are made to be used with a keyboard and a mouse, and they have a larger display.
Desktop apps are stored and accessed on the actual harddrive of your computer. While this means that they can be accessed whether or not you have an internet connection, it also means that you'll have to have adequate space on your computer.
Web apps are hosted in the cloud, either by the creator, or for some enterprise level web apps, on a dedicated server, which can be deployed either externally or on your own site. These can be accessed on any computer with an internet connection, with no need for the user to store data on their own harddrive.
Naturally, this helps greatly when multiple users are working on the same project. For example, if someone is off sick, there's no need to access their computer to retrieve important data or documents.
Mobile apps are to be used with a smaller screen, and are accessed with a stylus or the finger. A web app has many features, but it must level the capabilities of the web browser program, and the internet connection, which makes most web apps lightweight.
If there is a mix between a desktop app and a web app, this is called a hybrid because it will have offline, desktop interface, and can be accessed to other hardware and connected devices.
There are many examples of apps, some are available in all three forms, and some are just for mobile devices only.
Mobile Apps
Some mobile apps are free to the consumer, but there are some that must be bought. Another commonly used app comes from the Google Play store. Apple users can use the App Store to download for iPods, iPhones, and iPad devices.
There are also many mobile application development tools available for your devices. The mobile application development tool is a way that indicates the process by which an application software may be developed for the many devices.
The best way to find the tool that will be most beneficial for your organization is to check out and compare all of the available products and ratings to find the development tool that is just right for you and your device.
How to Download, Install and Access Apps
Most phones come with an app store built-in. All that is needed to do is to go to the app store, and choose some apps that interest you. There is no limited amount of apps that can be downloaded on a phone. It all depends on the amount of storage that your phone has.
Desktop apps are typically purchased directly from the developer, while web apps can often be accessed immediately through your web browser, with no need for installation.
Today, apps are one of the mainstays of many businesses, and are used for both verbal and written communication. Apps provide opportunities for personal, business, educational, and medical services, all at your fingertips.
Some apps can actually save lives by assuring that help is at hand in cases of emergencies and some are purely for fun.
In either case, there's a world of options at your fingertips. Enjoy!