What is inbound marketing? Well, you can't run a business without customers and customers won't come to you if they don't know you exist. Inbound marketing is one of the cornerstones of creating an effective and sustainable business.
Inbound marketing is a clearly defined type of marketing with a focused approach to acquiring customers. The goal is to set up your inbound strategy in such a way that customers find you, rather than the other way around.
Naturally, when this works, it greatly reduces the costs of customer acquisition.
However, inbound marketing isn't quite as simple as set and forget. Rather, most inbound channels require constant ongoing optimisation, in one way or another.
In an increasingly fragmented and distracted digital landscape,interruptive advertising loses potency daily. From banner blindness to growing ad blocker usage, conventional displays scarcely connect meaningful consumer conversations. To stand out in the chaos, B2C and B2B brands need to take an inward focus – creating and distributing valuable, relevant content, information and tools designed specifically to engage high-intent audiences and prospects when they are naturally discovering solutions for their needs. This transition from interruption to attraction is inbound marketing.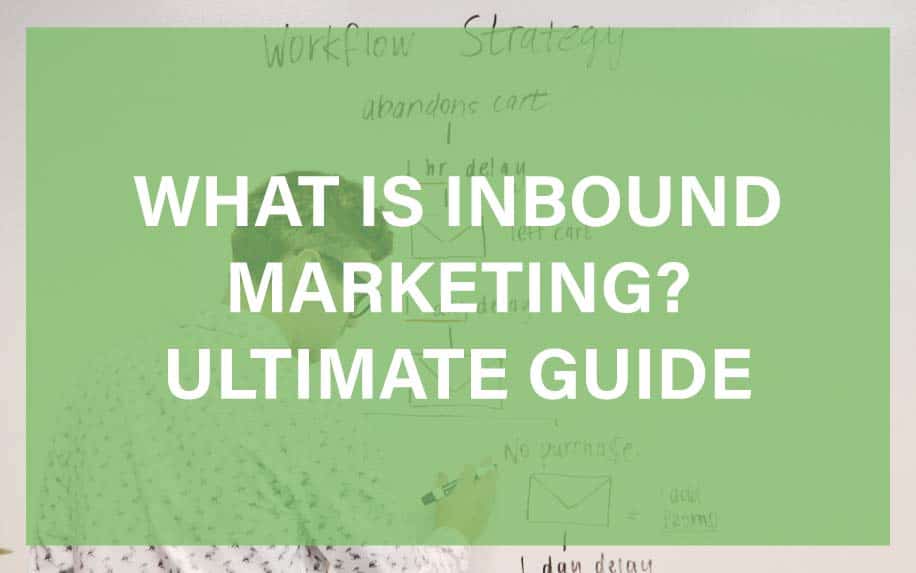 But what exactly constitutes an effective inbound strategy beyond just blogging more? How can companies guide buyers down personalized journey pathways tailored to their pains and questions across channels using behavioral signals and intent data? Where should they focus spend between production, distribution and performance optimization?
This comprehensive guide examines how leading organizations re-architect go-to-market models around owned media empires powering sales and marketing efficiency continually through the customer life cycle. Follow the modern inbound blueprint and transform growth.
Read on to find out how you could benefit from a coherent inbound marketing strategy.
Table of Contents
Inbound Marketing Definition
Inbound marketing is defined as a type of marketing focused on search engine optimisation (SEO), content, social media presence, and having a defined brand. To simplify, inbound marketing brings the customers to you.
In other words, the goal of inbound marketing is to make your business discoverable by potential customers.
For example, you could promote a new product or service your company is offering on social media. A customer who is looking for exactly what your company provides contacts you interested in what you're selling.
You didn't have to seek this customer individually out or market to them directly. Inbound marketing focuses more on reaching broad categories of interested customers by using high-quality content.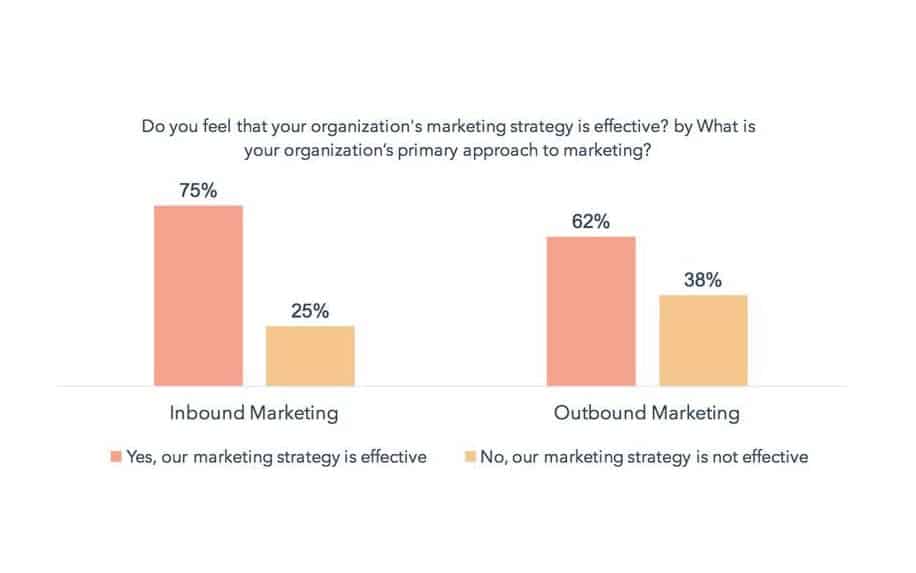 Inbound vs Outbound Marketing
When comparing marketing methods it's important to know what each is. As inbound marketing has already been discussed, let's define outbound marketing. Outbound marketing is the term used to define classic advertising methods.
These can include direct mail, television commercials, radio ads, telemarketers, and printed ads stuffed in door frames or left on automobiles. Basically old fashioned interruptive advertising.
In other words, outbound marketing strategies aim to get customer's attention, even when they're not specifically looking for your products or services.
This interruptive nature is the key difference between the two methods. Let's compare the two across a range of different channels.
Old Media Versus New Media
Outbound marketing often leverages traditional old media. In the modern marketplace, this means that it's easier to ignore. People don't watch traditional television as much as they used to and streaming services are reducing the reach of commercials.
The switch to cellular technology is making cold calling less effective as well. Inbound marketing leverages new technology such as social media and the Internet. In terms of using a modern format to advertise from inbound marketing easily wins.
Two Way Communication
Inbound marketing is a two-way street. A potential customer can easily reply to a social media posting or a blog's comment section and you can respond back to them. This creates a dialogue and that is a building block to a consumer relationship.
Outbound marketing is a one way street. A potential customer can't respond to a flyer or a commercial.
The ability to get feedback from customers in real time is very valuable and something markers from several decades ago would have given endless sums of money to get, so take advantage.
Show Value
Outbound marketing is often shallow, flashy, and not particularly deep. It's often this way out of necessity due to the fact it's casting a wide net and has to grab as much attention as possible. Inbound marketing you can take your time.
For example, a TV ad aims to grab as much of the attention of as many viewers as possible, often with gimmicky slogans or hard sales techniques.
A well thought out blog entry gives you a chance to show knowledge, expertise, and reach out to your customers. Because inbound marketing is about you, you can show customers why they should do business with your company.
Customers' Moods
Inbound marketing starts the customer engagement process out on a good note. They saw a posting or video or something of that nature that they found interesting. They have a need and have found you the person who can sell them the solution to that need.
A customer brought in by inbound marketing comes to you.
Outbound marketing tries to pull people in which may create customers who are curious but they need more work to convert into a sell. The inbound customer is already interested in what you're offering.
Our Top Inbound Marketing Strategies
As noted above, inbound marketing covers a lot of different material. Here are just some of the more popular forms it can take.
Blogs
A blog can be about a variety of topics. When writing your company's blog you have flexibility in terms of content. The key thing to keep in mind is that what you're writing should be valuable to your readers.
Topics can be about industry news, new product releases, opinion articles, lists, informative pieces, and so on. No matter what the topic, make your readers feel like their time wasn't wasted.
If you want people to find your blog, your SEO game will need to be strong. In other words, you need to identify topics that people want to read about, and create better resources than any of your competitors.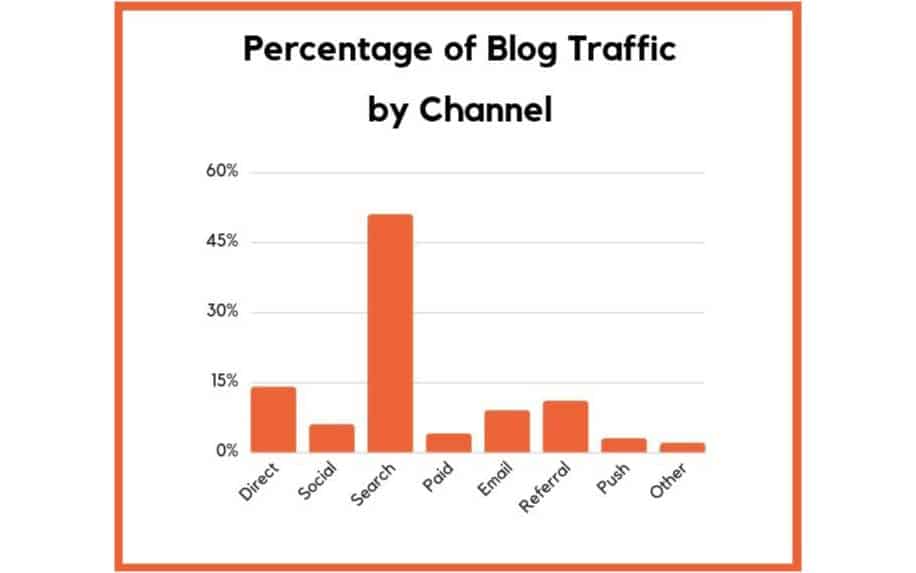 Social Media Posting
The sheer reach of social media speaks for itself. If you want to succeed in the modern market a social media presence is key.
Depending on the platform your social media postings can be articles, quick quips, pictures, or other content suitable for the platform you're on.
Likely you're going to be using multiple platforms as part of a wider marketing strategy so there should be a common theme or tone across your various company accounts.
There are two key ways to use social media for inbound marketing:
Audience aggregation – Where your followers share your content, which in turn grows your audience.
Social media search – Where potential customers find your business while using native search on a given social media platform. This is most effective on LinkedIn.
SEO
Search engine optimisation is one of the most important parts of inbound marketing. Statistics show that most people don't read past the first page of search engine results. A skilled inbound marketing agency can help craft your SEO approach.
This assures when customers are searching for services and terms related to your business that you show up on the first page.
Videos
Much like blogs, video marketing can cover a wide range of topics. A video can be a more effective format for more advanced material where it's easier to show a topic than tell.
This also increases your reach as video viewing on the Internet is becoming a huge part of modern media consumption.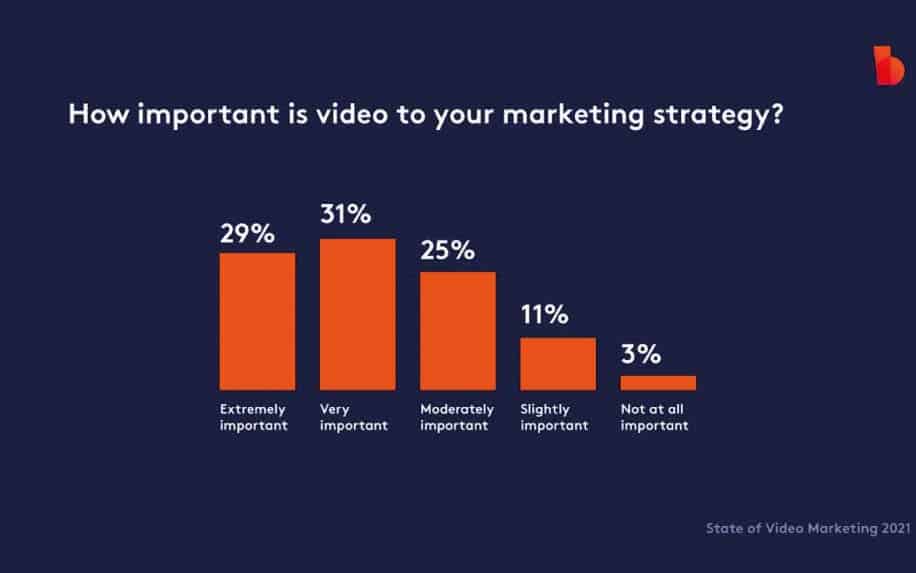 E-Books
A short e-book is a great way for your company to show off your expertise. If you work in home repair a short book on common easy to fix problems around the home is a good topic.
When offering such an e-book you can include contact information for your company advising readers to reach out to you for professional help with more advanced issues.
This builds trust and associates your company with a topic the e-book reader is already interested in.
Many companies use e-books as lead magnets, where customers can access your premium content in exchange for signing up to your mailing list. This helps to lock inbound leads into your marketing funnel.
What is an Inbound Marketing Agency?
Now that you have a better idea of what inbound marketing is, let's look at how you can implement it. Unless you're a huge company who can afford your own marketing department that solely works in that field, hiring outside marketing experts is probably a good idea.
It's also worth noting that even huge companies hire outside professionals because even they aren't experts at everything.
If you need:
Increased client revenue.
More customer leads.
A higher customer retention rate.
Then an inbound marketing agency can help you achieve these goals.
How to Utilise Inbound Marketing
As the above information shows, inbound marketing is no simple thing. It is a complex and rigorous discipline that requires you to have expert assistance. But the investment in outside assistance is worth it and more than pays for itself.
If you want to bring customers to you and increase both brand awareness and your share of the market an inbound marketing strategy is needed. By hiring experienced professionals you can increase sales and reach out to customers you never knew existed.
Latest Inbound Marketing Adoption & Impact Statistics:
Over 30% of all marketing budgets now allocated to inbound tactics – content, SEO/SEM, social media and email marketing according to HubSpot's 2023 Benchmarks report
Companies with mature inbound programs see 33% higher conversion rates from high value prospects while decreasing dependence on expensive traditional interruptive ads
Sophisticated nurture email tracks deliver up to 20x ROI over generic batch sends to cold audiences by strategic segmentation per Ascend2
SEO and content amplification through social media doubles website organic traffic on average based on recent Backlinko analysis
Inbound Strategy Across the Buyer's Journey:
Awareness Stage – Targeted social campaigns + SEO focus keywords by persona pain points
Consideration – Conversion-centric landing pages + Comparison content offers
Decision – Product capability testimony collateral + Consultative nurture sequence
Retention – loyalty & advocacy incentives program + automatic re-engagement workflows
Examples of Impactful Inbound Tactics:
EMEA leader created a suite of interactive ROI calculators combined with follow-up automated value quantification proposals driving sales conversations
Software company nurtures free trial users with in-app messages guiding feature adoption based on actual usage data and best practices for specific app capabilities matching their roles.
Retailer leverages previous purchase data and external signals to tailor email catalog promotions and trigger direct mail complements coordinated for context.
Inbound Marketing FAQ
Q: What budget is ideal for inbound marketing?
A: Measure budgets not based on arbitrary percentages but required resources across owned media production/promotion, tools/infrastructure and personnel ranging from $50K to $500K+ annually depending on business size.
Q: Should we hire an inbound agency or build in-house?
A: Consider hybrid – core strategy/orchestration in-house but specialized execution help fromretainers. Many brands maintain agency partnerships long-term while eventually insourcing.
Q: How should we structure inbound organizationally long-term?
A: Centralized "Growth" teams who synthesize insights, strategy and architecture solutions with executions distributed cross-functionally.
Q: How do we sell executives on primarily inbound allocations?
A: Showcase peers pivoting successfully and use pilot programs with attribution analytics tied directly to revenue plus customer value (LTV, satisfaction, expansion).
Expert Inbound Commentary:
"The brands still overdependent on DR-centric Metrics like CPLs or asset download volumes tend to struggle evolving beyond basic 'content marketing' output KPIs to genuinely transform go-to-market models leveraging owned media – they fail recognizing customer lifetime journeys." — VP Demand Generation, Leading Cloud Enterprise
Conclusion
In conclusion, inbound marketing represents the future of effective digital growth and customer connection. With increasing platform algorithm opacity and Cost-Per-Click rises across channels, only brands delivering truly relevant utility matching audience intentions will sustain engagement and conversion momentum.
Yet too many companies still severely underinvest in owned media properties and integrated nurturing frameworks fueled by analytics tailoring experiences to different micro-journey stages and lifecycle value. They wrongly cling to antiquated playbooks dependent almost exclusively on interruptive models blasting generic promotions. Build sustainable competitive differentiation through solutions-focused content, seamless buying education and continuous retention programming demonstrating genuine commitment to audience needs.
The coming years promise to further consolidation around sophisticated inbound organizations as media dollars flow to the strategies respecting user signals. Now is the time for leadership to develop the technical infrastructure, creative systems and cross-functional alignment needed for differentiated customer experiences – not just more content. How will you stand out by the relevance that earns attention before a loyal community? The choice is yours.
Speak to ProfileTree today to learn more about developing an effective inbound marketing strategy.