What is a Twitter handle? Twitter is an online social media network that lets its users broadcast status updates with a small amount of characters allowed, as opposed to the longer form seen on Facebook, LinkedIn, etc. A Twitter handle is simply the Twitter name shown when you post a Tweet.
When you are using Twitter, you are encouraged to use what is called a Twitter handle. Many personal Twitter users use a Twitter handle that is more personal to them or their friends, while groups and organisations may have a different strategy for picking their own Twitter handle.
IN A RUSH?! Click for our <90 second snapshot
What Should You Use as a Twitter Name?
Whatever the reason for each person's unique Twitter handle, one thing is for sure: the Twitter handle has become a mainstay in digital marketing and building brands. It has even helped reinforce what is now referred to as the personal brand. Everyone on Twitter can create a personal brand using a Twitter handle, signified by an "@", then whatever words or phrases make up that handle.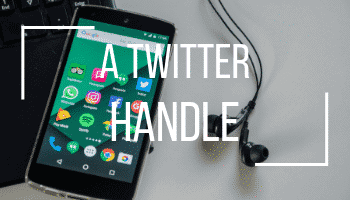 On Twitter, everyone has an identity. However, some identities have been duplicated or fan pages created to honor someone that is likely already on Twitter or was previously. On Twitter, a name means identifying who are in the world and on social media.
If you have an avatar or online persona, you should be consistently applying across all platforms, including Twitter, Facebook, etc. Twitter users can follow your stream of content and develop an interest in your particular channel. That is why a name is important.
Brand Identity
You want to be memorable. That is how people use Twitter to their advantage. They can broadcast messages as a brand, either an individual or an entire organization. Picking a Twitter name, therefore, is important for establishing your brand identity on the Internet.
If you have already started creating your brand, then it is just a matter of expanding your brand to the online marketplace of ideas, which is a place where Twitter resides. Twitter is a platform that allows all of its user base to freely exchange messages and ideas using their own personal brand to do so on their platform.
This makes the Twitter platform very powerful and is why it is used by so many millions of people around the world. You can break news, announce a new product or service, entertain people or send out an important social message that you feel might make a difference in the world. You should consider these factors when deciding on your Twitter name or brand online.
How Do You Make a Twitter Handle?
If you are looking into making your own Twitter handle, then you need to know how this whole process works. A Twitter handle is like your Twitter name and it is preceeded with the @ symbol we discussed earlier. For example, this online media and publishing company uses Twitter to broadcast messages related to that particular industry including news, events and related tips/information about media and publishing. The company, Lawson Media & Publishing, uses the Twitter handle @LawsonMedia.
If you examine their Twitter profile, you will see their logo and their company colors match on the profile. Their feed can be followed by other Twitter users who will eventually become very familiar with the Lawson Media & Publishing brand and messaging.
Twitter Settings
Making a Twitter handle involves going into your Twitter settings to make your handle. However, when you first create your Twitter account, you should be prompted to make this change to your profile. It is an integral part of the Twitter ecosystem after all. Think of it this way: radio and TV stations use call letters to identify their station, creating a consistent way to identify them across media platforms and messages. Cable providers use channel numbers to identify channels in their guide.
This is similar to how the Twitter handle works. It is a channel management feature for your brand to take advantage of. Go into your settings a look for the place to change your Twitter handle and make it your own.
How Long is a Twitter Handle?
There is no right or wrong answer to the question of how long a Twitter handle should be, but Twitter may have a limit on the number of characters or type of characters allowed in your Twitter handle. However, users also have limits. You don't want to create a Twitter handle that is too long for people to remember if you shout it out in a video or mention it to someone personally. It should be fairly easy to remember just like any other channel or brand that has had any type of success.
Take some time to create something that both represents your business or brand but also something that is catchy enough to be memorable to users on the Twitter platform.
Summary: Should I and Can I Change Twitter Handle?
In summary? What is a Twitter handle? You'll now be much clearer on this simple essential for effective Twitter use. You can change your Twitter handle, again, by going into your account settings and finding the form field that contains your Twitter handle information. It is not recommended to change your Twitter handle too many times because you can confuse users and turn them away because they won't be able to recognize a consistent identity on the platform. Pick something and stick with it, at least for a while to build up a fan base.
And remember, "if it ain't broke, don't fix it!"
Our FREE ProfileTree knowledge archive… Get Verified on Twitter | Twitter Dimensions | Top Twitter tools | Free Twitter Analytics | Social Media Monitoring Tools | Instagram Campaign | YouTube statistics | Facebook marketing | Why use Social Media | Why Snapchat?
Unmissable QUICK READ What Is? guides… Facebook | App | Hootsuite | YouTube | Tumblr | UX Design | Domain Authority | YouTube Rewind | Google+ | Keyword | Snapchat | The Internet of things | SEO Title