What is Google Advanced Image Search? If you use images in work, or even outside your workplace, there are some great FREE features you can start using right away.
How? Our QUICK READ guide will explain…
IN A RUSH?! Click for our <90 second snapshot
What is Google Advanced Image Search? Searching for Images
Searching for photos or images on Google is simple. The Google toolbar has several options to choose from. The user has to click on the Images icon to access the Google Image data base.
In the search box, enter a specific keyword, like vegetarian pizza, and click on the search icon. This will produce a number of photo and image results.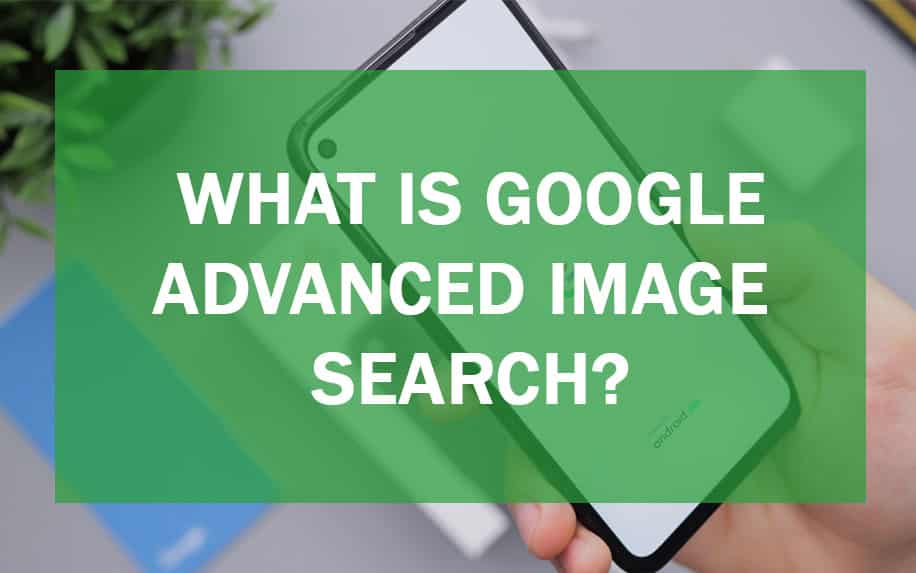 Under the Google tool bar, you will find keywords that narrows down the image search. Some of the words are thin crust, vegetable, vegetarian, California Pizza Kitchen and others.
When you want to find a specific type of image file, specify the type in the keyword search. An example might be file type:gif vegetable pizza. This can be typed into the search box with or without quotes around it.
Many images on Google Images can be saved, and used because they are royalty free, or in the public domain.
Always check the copyright on images, before using them. Attractive Images bring traffic to websites and catch the interest of customers.
What is Google Advanced Image Search? Understanding Google Advanced Search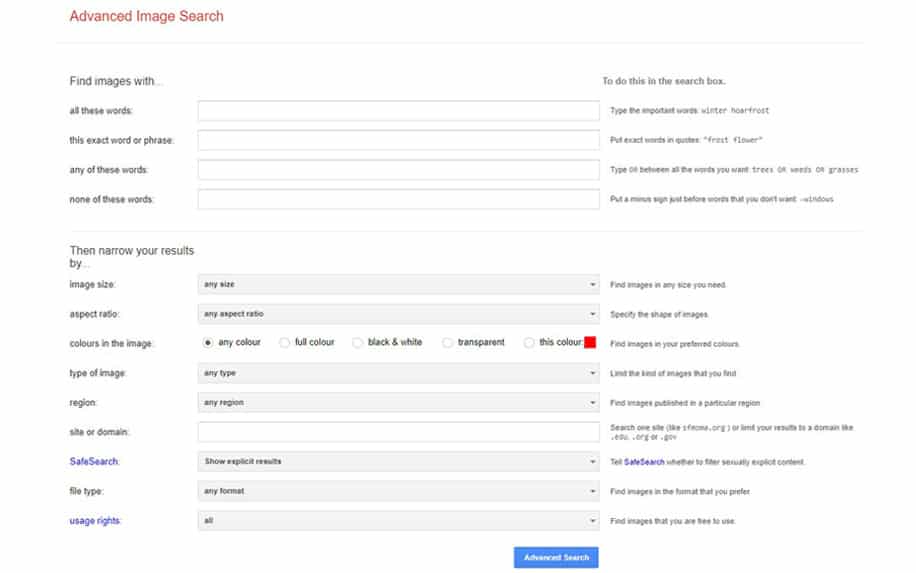 When you want to narrow your search for a specific image the Google Advanced Image Search is handy to use. On the Google tool bar, click on Settings. On the drop down menu, select Advanced Search. You are now in the Google Advanced Image Search.
What are Google image search options ?
The Google image search options narrows down the search for a specific type of image. You can select different combinations of keywords using the and, or, any and not functions.
The way to eliminate certain words in your search is to use a '-' before them. Then the search engine will not search for these keywords.
Google advanced search has several options you can check for certain results. Below is an explanation of these search options.
Colours
Colours is an option that controls the colours in the images you see in Google Advanced Image Search. When you check black and white option, used with the keywords vegetarian pizza, you will get black and white images of pizza.
Checking the option, any colour you will get you the largest number of image search results.
The full colour option results in images of pizza that look professional and in full colour.
When you want an image that highlights red in your image, you can check this colour. Using the drop down menu, you can specify the colour you want.
This searches for images with the colour you choose. The size option on Google Advanced Image Search let's you specify the size.
This is very helpful, if you are looking for a specific size image whether small, medium, or large. The drop down menu has several different options for finding different size images.
Their aspect ratio option gives you tall images, square, wide or panoramic.
Check the type of image option, when you want to find a specific type of image file. The choices are face, photo, clip art, line drawing and animated on the drop down menu. You can specify other type of image files, in the search or keyword box.
Safe Search filters your results to find more specific image results.
Their Domain option helps you find images on a certain a domain or website by typing in the URL. All these options are to help you limit your search using specific criteria.
What is Google Advanced Image Search? Choosing An Image
Google Advanced Image Search returns several pages of images for you to choose from. When you click on a image it will bring you to a page listing the size of the image. It may say that that the image is subject to copyright.
There is a button on the right side that you can click on that says Save. Another button 'View the saved image' lets you see the image.
You can save an image by right clicking on it with your mouse, and choosing to save it to a folder on the hard drive of your computer.
What is Google Advanced Image Search? Mobile Devices
The Google Chrome browser for IOS and Android mobile devices supports a reverse image search option. You will find this function on images.google.com. When you find the photo you want tap on the photo and hold it down with your finger.
A pop up menu should appear.
Tap Search Google option. When this doesn't work you can tap on Open Image and copy the URL and paste it in. This drop down menu should have several options that you can tap and choose. Some of these options are Open in New Tab, Copy Link URL, Save Image, and Open Image.
Google Reverse image search is when you have an image and want to know its origin or find similar photos to it. Using the Reverse Image Search on a PC is easy just click the camera symbol on the Google toolbar.
After that paste URL of the photo you saw online or upload the photo from your hard drive or drag it from another open window.
Reverse Search
There are many ways to do a reverse image search with a mobile device or app. Using your Google Chrome or Safari browser open it in IOS or Android.
Find the image you want to use in reverse search and hold your finger on the image. A menu should appear with the information and options choices.
Tap on Search Google for this image. Other options in the menu are are Save Image, Open Image, Open Image in New Tab, and Cancel. This option is limited with other mobile devices.
Using Google Reverse Images Search is easy to use. Just navigate to this site and tap or click the upload picture box. This allows you to take a photo using your mobile device or upload a picture from your photo library.
Once your photo is uploaded you should tap or click on Show Matches. Google will show you images similar to your image, and you can find out more about the copyright details. This is the way to answer the question can I Google a picture. This is the way to do this.
There are third party image search apps for professionals TinEye is a third party image search engine and has 27.8 million images. You can search by specific URL's or images can be uploaded, or dragged from another window.
On mobile devices, you just click the upload icon () and get a menu with options to take a photo, use one from the library, or upload from a third party service.
It is a paid service and used by professionals who work designing websites and other businesses.
What is Google Advanced Image Search? What About Google Goggles ?
Google Goggles is an image recognition program created by the company for Android devices. It is also is a feature or option in the Google Mobile apps for iPhones.
This app let's you take photos using your mobile device and receive information on the location of this image. This program can be downloaded to your device. Once it is downloaded you tap the icon to launch the program.
Click or tap the small camera icon on the search bar. Take a photo by tapping the camera icon. You must setup a Google Account and agree to the terms of service to use it. When you aim your camera at an object the search results will tell you about the photo or image.