What Is Twitter? We bet you know the answer BUT aren't sure how to make it work for your business.
We lift the lid on using Twitter for business growth in six simple steps…
IN A RUSH?! Click for our <90 second snapshot
What is Twitter? 1, Getting Started
Launched in 2006, Twitter is a social networking platform where users share content and can post short paragraphs called "tweets".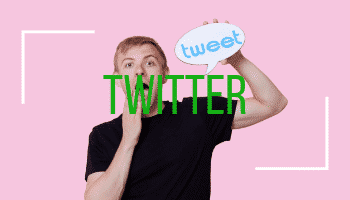 Twitter is one of the most popular social networking platforms today, with over 300 million individual monthly users and millions of "tweets" posted each day.
It is also among the 10-most visited websites on the Internet, and it is now used by people around the world of all ages, across a broad range of demographics.
As a result, it's an important vehicle for advertising and developing brand recognition.
Setting Up Twitter
Setting up a Twitter account for your business is actually a fairly simple process. Simply go to the Twitter homepage and click "sign up".
From there, you will be walked through the steps to setting up a profile and writing a description of your business, adding photos, and perhaps most importantly, creating a Twitter handle. What is a Twitter handle? This is essentially the name of your account or username. It is a URL web address that is unique to you and comes right after Twitter.com. For example: http://twitter.com/username.
Naturally, your twitter handle should use your business name, but if for some reason the handle is unavailable (as in, it's already being used by another Twitter user), then you should at least use something similar or something that helps to represent your business as a whole.
Once your account is set up, you'll want to start following other users in order to help people notice you. Fortunately, Twitter makes this easy by producing regular lists of users they suggest you follow (usually based on your interests and niche) but you can also search for users yourself if you already have some in mind.
New followers
Many users will respond by following you in return, and this makes it even easier for others to start noticing your profile. You'll also want to start sharing content and creating your own unique posts in order to build up your page and help yourself gain even more followers.
So what is Twitter used for exactly? The full answer could take a while. Fortunately, the shorter version is quite simple: Twitter is used primarily for connection and greater exposure. The more followers you have on Twitter, the more people there are who will see your brand and hopefully want to learn more.
What is Twitter? 2, Tweeting
Posts on Twitter are called "tweets". But what is a tweet, and how are they distinguishable from tweets on other social media websites?
To start, tweets are limited to 280 characters (the limit used to be 140 characters, but Twitter changed this in November 2017) and are therefore shorter than most posts on its rival social media platforms.
If you're confused by what a "character" is, have no fear because it's actually quite simple. Characters are all of the letters, spaces and punctuation marks. So, there are 13 words in this sentence, but there are 69 characters.
What to Tweet
What makes a good tweet? It really depends on what kind of business you are running and the kinds of users you want to reach (more about this later), but overall you'll want to write something that's either very interesting, entertaining or otherwise memorable.
You may want to use your first few tweets to help describe your business and what you offer to others. And especially when you're first starting out, it's a good idea to include shareable links and "clickable" content with your tweets. And of course, you'll want to use hashtags.
What is Twitter? 3, Hashtags
You may have already heard of a "hashtag", but what exactly is it? More importantly, why is it used?
The short description of a hashtag is a word or short phrase (with no spaces between the words) that follows a "#" (or what used to be known as a "pound sign").
While not necessary, the great thing about hashtags is that they automatically link your post to others that have used the same hashtag. That's right: click on the hashtag and you'll instantly see a list pop up of all the most recent tweets that have used the same hashtag.
This not only allows you to see who else is out there that may be worth connecting with, but also helps other users find you and your business. So while not all tweets are going to come with hashtags, it's usually a good idea to include them because it helps increase your visibility. To help get you started, here's a list of hashtags that were popular throughout 2017.
What is Twitter? 4, Advertising
There are many ways to advertise on Twitter, and the right path for you and your business will depend on your specific needs.
We'll go over the different ways to advertise on Twitter, but first you should be asking yourself the following questions:
Right now, is my specific goal to get my business name out there or to advertise a certain product or service?

What kind of audience do I want to reach? Their demographic?

What is the tone I want to set with my advertising campaign? How do I want to make people remember what they see?
The most basic form of Twitter advertising is your user account itself. Your account should thoroughly represent your business, as should your tweets, and this alone will help gain you more brand recognition.
But of course, it doesn't stop there. If you want to up your game (and you should), there are multiple other ways you can do it. For example, you can ask other, more high-profile, users to retweet your posts and to help promote you.
Paid Content
In addition to this, Twitter now has their own system where you as a business can pay to have your account and / or your content promoted. While it does cost money, it also can greatly help to boost your amount of followers and overall visibility. This is especially good news if you're just starting your business or are trying to promote a specific product or service for a certain period of time.
To learn more, it's also a good idea to visit Twitter's advertising information page at marketing.twitter.com, or simply reach out to the social media pros over at ProfileTree. Trust us, we do this stuff all the time. 
What is Twitter? 5, Creating Content That Trends
The real key to successfully marketing your business on Twitter is to create content that "trends", that is, gets a high amount of viewer traffic in a relatively short period of time.
Trending content is also shared among users and even posted to other social media sites (like Facebook). And perhaps most importantly when it comes to Twitter, the tweets that trend very often incorporate the use of popular, trending hashtags.
So, whats's trending on Twitter? Usually posts that are newsworthy and fulfill the interests of large groups of people, are unique, and are not quickly forgettable.
You can get an idea of the kind of stuff that trends by checking out this database that displays the most recent trending hashtags.
What is Twitter? 6, Measuring
An easy measure of judgment here is how many followers you have, though the "right number" to have will depend once again on the size and type of business you run. BUT it is better to measure how many people engaged – that is, performed an action like commenting or sharing – with your tweets.
If you do sign up for Twitter Advertising (that is, Twitter's paid promotions system), you can also access their analytics section that shows how much online traffic you're getting, both from promoted content and regular tweets.
And last but certainly not least, you'll know for sure that your Twitter account is successful once you start winning actual business from people who found you on Twitter or discovered one of your advertised services from a tweet.
Unmissable SOCIAL MEDIA expertise from ProfileTree… Get Verified on Twitter | Twitter Dimensions | Top Twitter tools | Free Twitter Analytics | Social Media Monitoring Tools | Instagram Campaign | YouTube statistics | Facebook marketing | Why use Social Media | Why Snapchat?
Our QUICK READ 'What Is?' series… Facebook | App | Hootsuite | YouTube | Tumblr | UX Design | Domain Authority | YouTube Rewind| Google+ | Keyword | Snapchat | The Internet of things | SEO Title | Twitter Handle