There's one great reason to make sure you're using the best possible top hashtags on Instagram: being seen by as many people as possible on a platform built to celebrate your photos can only be good news!
Instagram has taken centre stage ever since its appearance in 2010 and has created a home to savour our love of great images.
Digital marketers are always looking for the top hashtags on Instagram while working on their keyword strategy.
After all: the more popular a hashtag is, the higher traffic you will reach.
So…what are the top hashtags on Instagram? And how can you use these to benefit your business?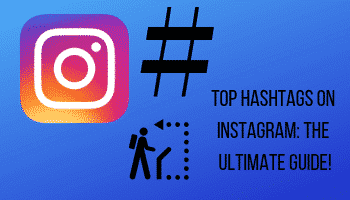 About Instagram
Instagram was not always the gigantic platform it is today. Instagram appeared as a mobile photo-sharing app in 2010. When it first launched, its server used to crash frequently. But it has come a long way. With growing popularity, Facebook realised Instagram's powerful influence and decided to pay a billion dollars to acquire the app. Now, Instagram is a favourite for many people.
What Makes Instagram Social Giant
Mobility
There are obvious reasons that made people fall in love with Instagram. Instagram is an on-the-go app; so many people are attracted to it. There is no wonder that the majority of Instagram's users are under thirty years old. There is so much action going on. This kind of energy is way less obvious on other social media channels.
Instagram Culture
Being a mobile app, mainly, Instagram popularised the idea of taking photos, editing them, and sharing them instantly. You know when you are out for dinner with friends, and you find one of them taking a picture of their dish before eating with "#Instafood" as a caption? That is "Instagram culture." It is true that this culture of sharing photos right in the middle of any event was popularised when Instagram came to live. This "hashtag language" also gave Instagram a special flavour.
Filters
Filters are "Instagramers'" favourite feature. They give amateur photographers, and photo enthusiasts, the ability to share great-looking images without needing to have any editing skills. Another thing that attracted specific industries to Instagram is its visual nature. Fashionistas, influencers, celebrities, hotel resorts, restaurants, etc. are all industries which found Instagram a rich mine of followers. Industries like music and fashion, for example, depend mainly on showing off their products through visuals, in addition to targeting younger age groups. Instagram is their paradise.
Instagram Statistics
Studying Instagram's statistics is considered crucial by marketers in order to determine where they should direct their marketing efforts. For any industry, one platform is going to be more effective than the other. You can only find out the ideal platform for your business by observing the nature and demographics of each social network.
Instagram has over 500 million active monthly users

Instagram users have shared over 40 billion photos to date

An average of 95 million photos and videos are being shared per day on Instagram

80% of Instagram users come from outside of the U.S.

Women use Instagram a little more than men, representing 68% of users

Instagram is used by 8% of brands

60% of the top brands on Instagram use a consistent filter

With 25%, the largest age group of users is 25 to 34-year-olds

B2C marketers are significantly more likely (6%) to increase Instagram activities than B2B marketers (48%)
Statistics
Instagram as a Photo Library
Instagram is a huge platform with a lot of marketing potential. It has a different nature than other platforms such as Facebook and Twitter. It also looks like it will be the modern human's archive of photos. Since its inception, the number of uploaded photos has reached 40 billion. This number is unimaginable. In less than 10 years, we have added over four times more photos than there are human beings on earth!
Instagram for Business
"Any business can benefit from its presence on Instagram, but some will benefit more than others."
Any business can benefit from being on Instagram, but some will benefit more than others. For example, you are in luck if you sell bags to teenage girls. That is because more females use Instagram than males, and more millennials use it than older generations. On the other hand, you may want to focus on another platform if you sell medical supplies for seniors.
In addition, Instagram may not be the perfect channel for B2B businesses, however, you do not have to completely ignore it. Finally, filters have proved to be one of Instagram's most loved features. Obviously, there is something about filters. They are used to improve aesthetics, add a vintage effect, highlight objects, manipulate colors, or make the photos appear more unique and fun in general.
Facebook and Instagram
According to Hootsuite, "Since Instagram was bought out by Facebook, usage has been astronomical". There are many reasons why Facebook bought Instagram, but there are two main ones: youth and pictures.
Youth
First comes, youth. Facebook was born in 2004, which makes it a relatively old channel (compared to the age of the Internet.) You may say that good old Facebook bought Instagram to look younger and cooler. As mentioned earlier, most of Instagram users are young and "hippie," unlike Facebook's audience. Facebook could not just watch another app pull this valuable, young base away from itself. Or even worse, watch another competitor such as Google, buy it. So as Forbes mentioned, Facebook bought Instagram "because it wanted to buy soul".
Pictures
Don't forget that Facebook originally "boomed" because of its photo experience. When Facebook was launched, this was the main reason everyone wanted to join: to look at other people's photos. Now for the first time, Facebook realised that there is another little app that does a better job at that. They did not want to lose that major attraction. Mark Zuckerberg, CEO of Facebook said that clearly when his company made the deal: "Providing the best photo-sharing experience is one reason why so many people love Facebook and we knew it would be worth bringing these two companies together."
Hashtag Definition
According to Wikipedia, "A hashtag is a type of metadata tag used on social networks such as Twitter and other microblogging services, allowing users to apply dynamic, user-generated tagging that makes it possible for others to easily find messages with a specific theme or content." Any word or sentence can become a hashtag by adding the pound sign (#) at its beginning. Adding the pound sign before any word or sentence turns it into a searchable link.
That makes it way easier to find all relevant posts, ideas, articles, etc. just by clicking on that link. Hashtags are also known as tags, hash symbols, and hashes. Moreover, hashtags should not include spaces. To add more than one word, you can simply run them together or use an underscore between words. In addition, hashtags do not support punctuation marks; commas, periods, exclamation points, question marks and apostrophes are out.
History of Hashtags
Hashtags were not popular before social media. However, that does not mean that social media is their birthplace. Tags were used in programming long before they became "hip." Twitter is the first social channel to introduce hashtags to the community of the Internet. In 2007, a Twitter user suggested that they bring hashtags to social media.
It was not before two years that Twitter responded positively to that request. In 2009, hashtags came to live as searchable links on Twitter. Later on, other social channels embraced the inevitable "hashes."
Hashtags: Why Are They Important?
So, if hashtags are made of regular words, what makes them different from keywords? There is a huge amount of data on Instagram and other social channels. That makes it difficult sometimes to identify and find relevant material. It also makes going through search results laborious and confusing. Let's say you support a specific football club and you are always looking for posts, news, tweets, or pictures relevant to it.
Once you click on its hashtag "#XYClub," you will get EVERYTHING that was ever written which included that hashtag. So, if you are looking for latest news, pictures, or articles, there you have it. If you are looking for pages or accounts to follow, you can find those so easily. Even if you are looking for fans who support the same club to engage with, bingo.
The secret here is grouping. Hashtags gather content with the same subject under one umbrella, making it easier to keep up with tweets, photos, or posts. Therefore, hashtags are brilliant; they are like powerful keywords that "group" content easily. They directly tell the search engine the topic of content.
How Do Top Hashtags on Instagram Work?
Top Hashtags on Instagram: Labeling Photo Genres
Hashtags are not just topics, hashtags label your images and present them to the right kind of audience. There are endless genres of photography. Landscape, portraiture, food, fashion, documentary, sport, street photography, etc. They are all popular on Instagram. How can people, who are not on your list of followers get to see your photos?
The right way to connect with those interested in the genre of photography you are sharing is using hashtags. For example, adding #streetphotography under your photo, will make anyone interested in street photography easily find you. Anyone who comes across your photos is a potential follower. Mashable mentions: "Hashtags can be used to complement photos shared on Instagram and help you discover new accounts and pick up followers. Some hashtags were created specifically for Instagram photo challenges — #ThrowbackThursday, for example, encourages users to post retro photos."
Top Hashtags on Instagram: Mood
Expressing moods is also popular on Instagram. People like to group photos into moods. For example, if one is sharing a picture of his/her team winning a match, you can add #happy, #excited, #success, #winning. If there is a picture of a couple's wedding, they may add #happy, #love, #marriage. This is also another way to group similar photos together. If a user wishes to watch happy photos, let's say, he/she can just click on the hashtag, and find thousands of relevant images.
Top Hashtags on Instagram: Location
Locations are great when they are used in hashtags, especially for businesses. When people search for a product or service provider, they usually include their location in the hashtag. If a woman in California is looking for a near spa, she would not be happy to see spas in the UK. She is surely not looking for that. For that reason, she may use #SpasInCalifornia, or she may even add her city in the hashtag.
Now, when she uses this hashtag, more relevant results will show up, and only businesses who have used this tag in their photos will win. In addition to providers, tourism is another industry that benefits from location hashtags. Before deciding where to go, tourists will most probably search for locations on Instagram to find out how a city really looks like. Furthermore, tourists usually take lots of photos, so you will not find it rare that someone uses #Paris, or #NewYork.
Top Hashtags on Instagram: Humour
In many cases, hashtags on Instagram are used for humor. They do not necessarily represent a popular topic or something that other users may search for. Take a look at this: "The movie #Gravity is beautiful, but so terrifying! #nevergoingtospace".
Clearly, nobody would ever search for "never going to space," however, using hashtags is sometimes used for sarcasm, this is part of the "hashtag culture" that proves how popular hashtags have become. It is becoming a language of its own.
How Can You Use Top Hashtags on Instagram to Reach More Followers?
Top Hashtags on Instagram: Set a Tone
Anyone involved in digital marketing should know that it is crucial for a business to maintain a certain tone while creating content or publishing posts. Fixing a tone on social media gives a brand its own personality. This is one of the ways that the audience identifies your brand. It is similar to having a logo, for example. When people see it, they know that this is a product of your company.
Hashtags are a great way to create a tone for your online presence. Coming up with a witty hashtag to accompany your posts helps you maintain a tone. If you wish to maintain a causal or a friendly tone, you can come up with a funny hashtag to accompany your photos. On the other hand, if your business has a more serious nature, you can use its slogan, or what is known as a brand hashtag, while sharing photos on Instagram.
Top Hashtags on Instagram: Brand Hashtags
"A brand hashtag is a hashtag used for a company name or tagline, such as KitKat's #HaveABreak. Brand hashtags are used consistently, regardless of campaigns or promotions going on. They're a great way of creating a community and enabling your brand to get involved and engage with customers, as well as monitor what people are saying about your brand." Brand hashtags are one of the main assets of maintaining a tone for your business. The more people become familiar with your brand hashtag, the more influential it becomes.
Social media experts recommend that a shorter hashtag is better. Make it easy to spell, and written the same way across all social channels. In addition, do not make your brand hashtag way too general. For instance, if you are a clothes store thinking about making your brand hashtag #cooloutfit, you may want to reconsider. This hashtag is not unique, not exclusively related to your business, and not catchy. It is useful to add a personality to your brand hashtag. Try to make it as relevant as possible to your brand, to avoid finding your brand hashtag in non-relevant photos.
Top Hashtags on Instagram: Event Covering
For every event now, you will find a hashtag associated with it on any social media platform. Creating a hashtag for an event makes it easy to track its updates, and all its up to the minute news. People love to know what happens in an event, even if they could not make it to that event. Sharing live photos from an event using an event hashtag is a great way to gain traffic.
Viewers can simply click on the hashtag to know everything that happened during the event. Event hashtags are specifically popular with concerts, sports matches, art galleries; aka events with rich visuals. The perfect example for event hashtags are those which cover the Oscars, the Golden Globes, or the World Cup Final. Such events receive a worldwide recognition, with millions of people sharing photos relevant to the event. Red Bull and Monster Energy are also brilliant at using event hashtags. They both have an inspiring Instagram portfolio as well.
Top Hashtags on Instagram: Engagement Hashtags
Most of top-notch brands have used engagement hashtags, at least once. Engagement hashtags are those which directly ask the audience to share their own relevant content using a hashtag. This is called user generated content. User generated content is said to be the most authentic form of content. Why? Because we all know that every brand introduces its product as "the best in the market," regardless of how true that claim is. We also know that all influencers and brand ambassadors get paid to promote products.
People will not always trust what a business says about itself. However, customers will always trust what another customer says about the product, because they know it is authentic and genuine. This is the power of reviews and user generated content.
Example of Successful Engagement Hashtag
#ShareACoke, you probably remember this. Coca-Cola's #ShareACoke is the perfect example of how to use an engagement hashtag. The company was suffering from a decade of declining revenue when they decided to produce Coke bottles with customers' names on the labels. Coca-Cola then asked everyone to share their Coca with their name under the hashtag #ShareACoke.
More than half a million of user photos were shared on the hashtag, each showing off a bottle with his/her name on it. Coca-Cola gained 25 million new Facebook followers and saw a 2% increase in U.S. sales. Well played.
Top Hashtags on Instagram: Competition Hashtags
Similar to engagement hashtags, competition hashtags also aim to create user generated content. The only difference is that through competition hashtags, companies motivate their audience to participate in order to win a prize. It could be a discount, a gift card, a free membership, or a product. A mouth-watering example of competition hashtags was Domino's Pizza's #Letsdolunch on Twitter, back in 2012. Domino's promised anyone who retweets #Letsdolunch a big discount on their pizza on the same day they retweet using the hashtag.
Who would not be interested in tasty cheap pizza? Even huge brands such as Volkswagen starts use competition hashtags. Volkswagen Ireland combined a competition hashtag and a hashtag for a cause in one campaign #vwsnapshot.
Top Hashtags on Instagram: Campaign Hashtags
Next comes campaign hashtags. Campaign hashtags are those which are specifically designed for promoting one product or offer. They should not relate to all your photos, just those involved with one specific product campaign. Campaign hashtags come in handy before and during the launch of a new product. You can use the hashtag when you add a teaser photo, a countdown or behind the scene photos.
These pre-launch steps can get your audience excited for the new product. Through a campaign hashtag, you can easily find out what your viewers are saying about your new campaign. Hearing feedback after a new product release is a lot of work. Your viewers will have questions, comments, and complaints. They may also want to know how and where to purchase. Using a campaign hashtag makes customer service on social media less messy.
Top Hashtags on Instagram: Global Trending Hashtags
In many cases, companies use already-trending hashtags to their own favor. It is pretty useful when a hashtag which already has gained so much attention is used for marketing. Sometimes, companies get lucky and their benefit coincides with a trending hashtag. For example, that time when KFC saw #NationalFriedChickenDay trending and jumped in right away. KFC did not come up with the hashtag, they merely saw how relevant this trending hashtag is to their brand and used it to their own favor.
Luck is when opportunity knocks and you answer. Other times, businesses just have to carve their way through creativity. That's what Expedia did with their #throwmeback. #ThrowBackThursday is a globally trending hashtag on Instagram and other social media websites where people share old photos of themselves weekly. Expedia tweaked that hashtag and used in a way that relates to their brand.
Top Hashtags on Instagram: Hashtags for a Cause
Many hashtags went globally viral over the Internet for a good cause. In 2014, #Bringbackourgirls went viral with many celebrities, and political and public figures. It was used to shed the light on the abduction of three hundred Nigerian girls by the extremist group, Boco Haram. Over a million tweets worldwide featured the hashtag in a powerful social media campaign. Furthermore, in 2017, #Metoo was another hashtag that grabbed tremendous attention worldwide. Women all over the world shared their stories of abuse or harassment. In many similar cases, hashtags were used as a tool to raise awareness about an important topic or an event.
Hashtagify
Hashtagify is an easy and free tool that helps you find popular hashtags on Instagram and Twitter. The tool offers an in depth analysis of data and hashtags. It measures each hashtag's popularity by tracking how many times a hashtag is used in comparison to all other hashtags. Hashtagify has additional features which are specifically useful for Twitter and Instagram.
Keyhole
"Keyhole shows how many people posted with your hashtag, along with the number of likes and impressions your campaign is generating. It also tracks the most influential people engaging with your keywords. You could use the tool to find all the hashtags relevant to your brand."
Hashtags.org
Hashtags.org is a great tool which shows a detailed report of top trending hashtags by the hour. It also divides hashtags into different categories to make finding hashtags relevant to your niche easier. For a monthly fee, the website also provides a complete analytics tool.
TrendsMap.com
Trendsmap shows trending hashtags based on locations. Whether by country, city, or state, you can always find out which hashtags are trendy in a particular place. This is a nice feature for start-ups targeting local markets and audience.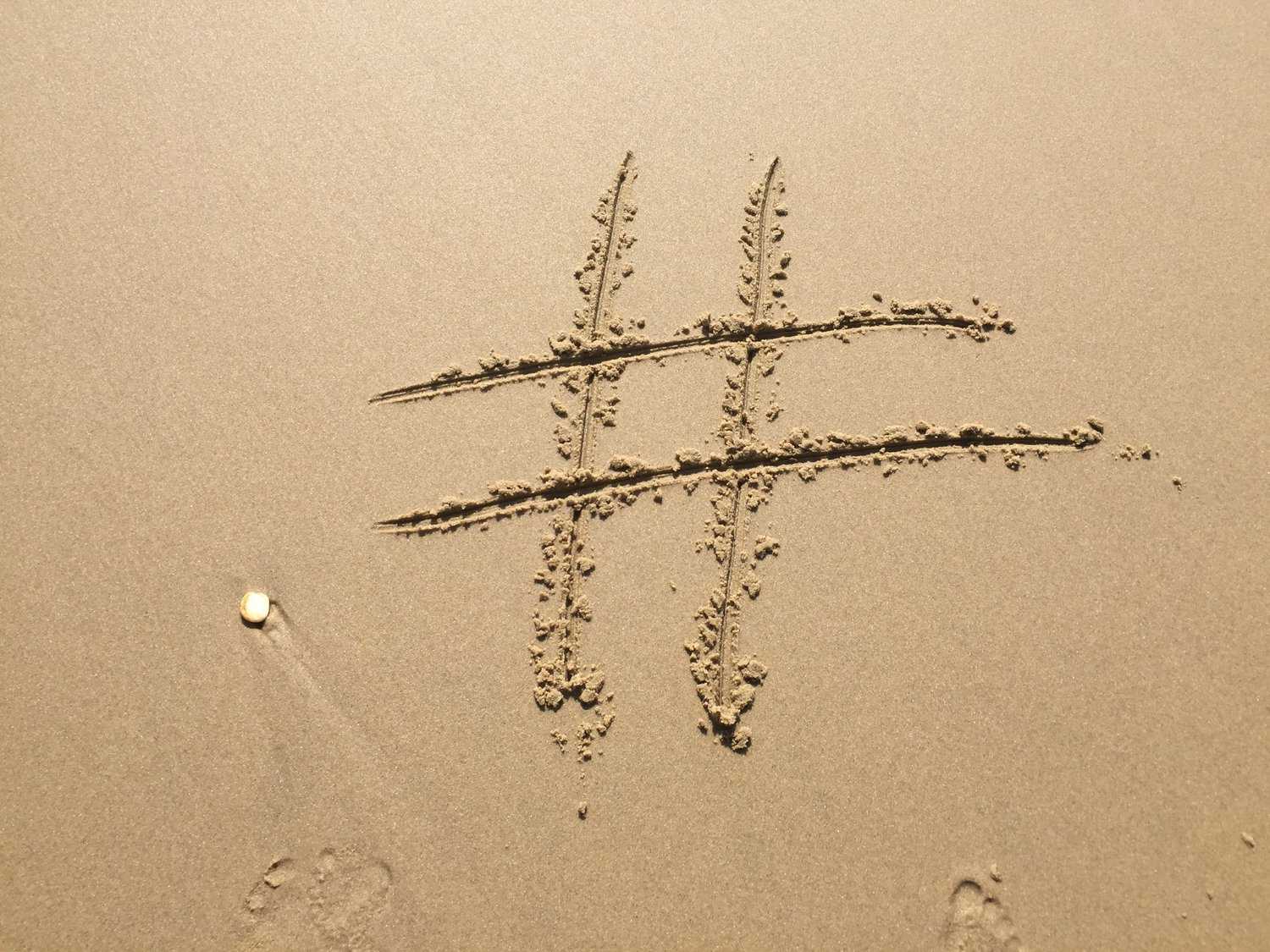 Top Hashtags on Instagram for Marketing*
#marketing
2. #marketingtips
3. #b2cmarketing
4. #b2bmarketing
5. #strategy
6. #mktg
7. #digitalmarketing
8. #marketingstrategy
9. #mobilemarketing
10. #socialmediamarketing
Top Hashtags on Instagram for Contests*
#contest
2. #[yourbrand]contest
3. #contests
4. #contestalert
5. #contestentry
6. #sweepstakes
7. #[yourbrand]sweepstakes
8. #giveaway
9. #[yourbrandgiveaway]
10. #giveaways
Top Hashtags on Instagram for Restaurants*
#food
2. #foodie
3. #yummy
4. #nom
5. #hungry
Top Hashtags on Instagram for Retailers*
#shopaholics
2. #shoppingaddict
3. #currentlywearing
4. #instastyle
5. #fashionaddict
What Not to Do with Hashtags
Do not overuse hashtags. It is considered spamming if you use too many hashtags, especially if they are irrelevant to your photo or niche.

Do not use long hashtags. The simpler they are, the better. In some cases, long hashtags can come in handy, but that is not very often.

Do not use a hashtag with a spelling error. Make sure your hashtags do not have typos. This will ensure that all users will use one hashtag with the correct spelling.
#TLDR!
Hashtags on Instagram are a powerful way to organise and categorise photos. They can be used as a tool to get more engagement through competitions and giveaways. Moreover, hashtags also help create a community for your business by forming a group of loyal followers who respond frequently with your hashtags. In addition, through the proper use of hashtags, establishing a tone can be a lot easier.
Hashtags can help develop a strong brand personality that the audience can identify and react with. Furthermore, hashtags can be used in launching new product campaigns. Associating a product campaign with a hashtag makes it easier to track feedback and aid your customers with any inquiries. In short, there are multiple uses for hashtags, and they all contribute to more traffic and higher engagement rate. Businesses should be keen on embedding popular hashtags in their niche and keep an eye on hashtags used by their competitors as well.
Businesses and Hashtags
Over the past few years there has been a rise in businesses opening with names starting with a hashtag. Many beauty shops have jumped on the trend with business names such as #nailsboutique and #hairstyle.
General Top Hashtags on Instagram*
#love
#instagood
#photooftheday
#fashion
#beautiful
#happy
#cute
#tbt
#like4like
#followme
#picoftheday
#follow
#me
#selfie
#summer
#art
#instadaily
#friends
#repost
#nature
#girl
#fun
#style
#smile
#food
#instalike
#likeforlike
#family
#travel
#fitness
#igers
#tagsforlikes
#follow4follow
#nofilter
#life
#beauty
#amazing
#instamood
#instagram
#photography
#vscocam
#sun
#photo
#music
#beach
#followforfollow
#bestoftheday
#sky
#ootd
#sunset
#dog
#vsco
#l4l
#makeup
#f4f
#foodporn
#hair
#pretty
#swag
#cat
#model
#motivation
#girls
#baby
#party
#cool
#lol
#gym
#design
#instapic
#funny
#healthy
#night
#tflers
#yummy
#flowers
#lifestyle
#instafood
#wedding
#fit
#handmade
#black
#pink
#일상
#blue
#work
#workout
#blackandwhite
#drawing
#inspiration
#home
#holiday
#christmas
#nyc
#london
#sea
#instacool
#goodmorning
#iphoneonly
Be sure to check out this blog for more fun and interesting Instagram facts.
See also:
Our FREE ProfileTree knowledge archive… What is IGTV | Top Hashtags on Instagram | Instagram Campaign | The Best Instagram Hashtags | Instagram Likes | What is Social Media | TweetDeck User Guide | How to Make Money Online | YouTube Monetizing | Video Marketing | Get Verified on Twitter | Twitter Dimensions
Unmissable QUICK READ What Is? guides… LinkedIn | Reddit | Pinterest | Website | WordPress | Web Designing | eMarketing | Social Media | Logo | Blog | Social Media Strategy | Twitter | Photoshop | Facebook Live | Hashtag | Twitter Handle | Snapchat | Snapchat Geofilter | Facebook | YouTube | Google+ | Hootsuite | Tumblr | Content | SEO