Because TweetDeck is an essential addition to the bank of Twitter tools you can use to make Twitter work harder for you and your business, we've created FREE TweetDeck User Guide to outline all you need to know.
With many people not using the social network to its full potential we've put together our one-stop 'How to use TweetDeck?', 'TweetDeck User Guide' and 'TweetDeck Help' overviews.
Let's take a closer look with our specialist reviewer James…

To find out more about TweetDeck, click for our essential 'What is TweetDeck?' introduction.
TweetDeck, put simply, gives you a single interface that can manage all of your Twitter accounts. You can schedule tweets for all accounts as well as monitor your following and followers easily.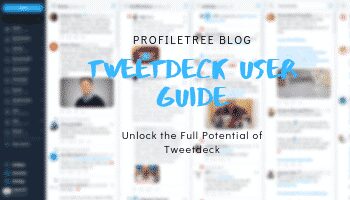 Throughout this article/guide, you'll be shown how to use TweetDeck to its full potential, step by step.
We'll cover…
How to First Use TweetDeck – Initial Setup
IT'S EASY!!! All you need is an existing Twitter and you're ready to go! When you go to the TweetDeck web address all it asks for is your Twitter Login.
This is due to TweetDeck being a product of Twitter. Once you log in to your Twitter you should be greeted with a dashboard, like the one below: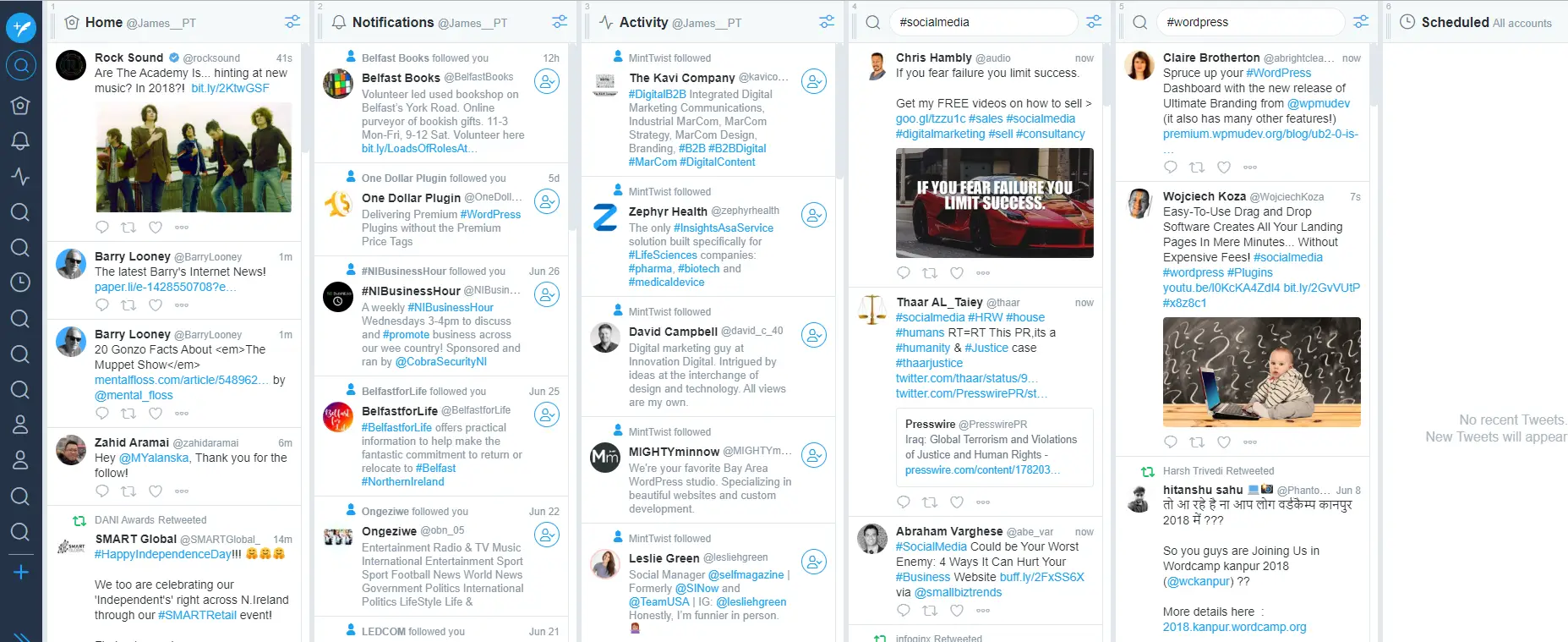 The above image is a screenshot from my very own dashboard. So there are a few more columns added to mine. When you first originally go onto the dashboard you should have three columns. The home column for your timeline, a notification column for all notifications and an activity column.
Different Types of Columns
Before you can be shown how to setup a new column on your dashboard, you will need to understand each of the columns that there are. Overall there are 15 different types of columns. That includes the home, user, notifications and activity columns. Below each of the columns will be talked about individually. The below image is the prompt you will see when wanting to create a new column.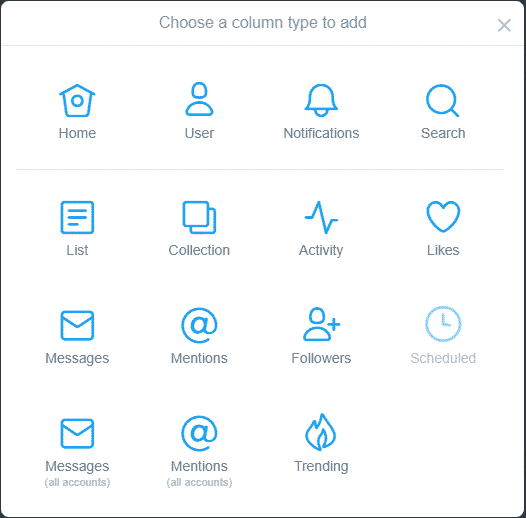 Home-
The home column, is a real time column for your own timeline. This will show all tweets from people you follow, retweets and everything else that would originally shown on your normal Twitter timeline. If you follow a lot of people this could potentially change a lot, that's why we have more columns.
User-
The user column, allows you to create a column specifically for a single account. You don't need to be following this account to do this. For me the perfect example of using this column to great potential is by creating a @ProfileTree column. This allows me to see all tweets, retweets and likes from ProfileTree easily.

If you have a large following or you want to keep your amount of following down, this column could come in handy for keeping on top of important tweets and news. For example if you had a WordPress news account, you could use this column to check on @WordPress easily. You don't need to follow them, so it is an easy way of keeping the amount of people you follow down.
Notifications-
This column is pretty self-explanatory. This column shows all the notifications from all of your accounts in order of the way they have been received. All new followers, likes, comments and retweets will show in this column. If you have a large following or a tweet really blows up, you could only imagine what it would look like. It would be the most annoying part of being famous, I reckon, all the notifications your receive.
Search-
This column is a very important column to use. If you are interested in different topics and topics, you are able to 'follow' their hashtags on TweetDeck. This is a feature that you cannot do on on Twitter itself. On Instagram you're able to do this. Whilst on Twitter you can search for hashtags, all tweets that feature the hashtag do not show. Whereas on TweetDeck they will show in order.
For instance if I was to create a search column for #bmx, it will show me every new tweet that features this hashtag. To use this column to its full potential, I recommend that you use important hashtags for your search columns. So use keywords.
If you're a web developer, maybe use a column with #webdevelopment or #webdesign. If you're lucky you will find tips and tricks for web designing that could help you in the future and much more.
Lists-
You are also able to create lists of many accounts and put them into a column. You can then name this column something appropriate. This is a great technique to see what your competitors are getting upto at that moment or a great way to amazing content.
If you're interested in WordPress, you can create a list called of the same name and add many WordPress accounts to this list. All tweets, retweet, new followers and likes from these accounts will show here. Its also the same for when you are wanting to see competitors.
Collection-
A collection column can be an extremely fun column. When you make a collection column it can be about anything. Your favorite memes, a cringey compilation of tweets, important articles that are relevant to you.
For me, I would make a collection of pun memes. Some people love these, some people hate them, but check out the below pun.
Its a Cadillac Escalate..!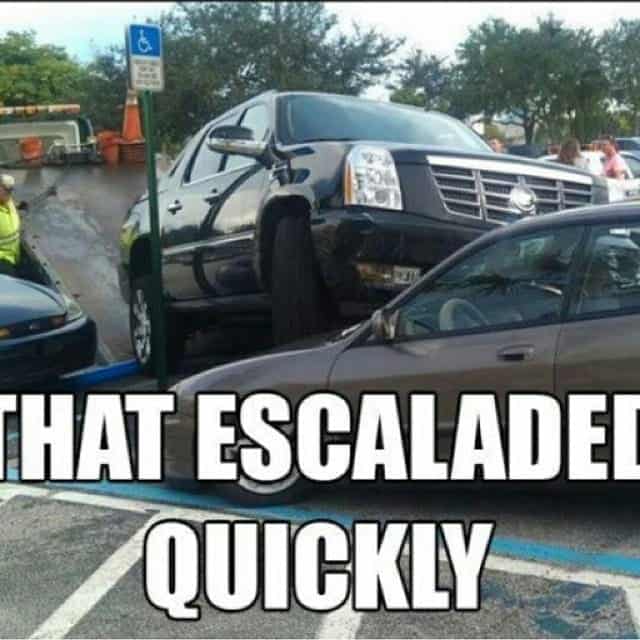 Activity-
The Activity column is quite similar to your actual timeline. You get to see what your followers and following tweet, retweet, like and comment. It is just an overall column for all of your followers/ following.
Likes-
If you are a person who likes tweets, then this column is right for you. All tweets that you have liked will show in order of when they were liked. It is a good way to keep an archive of important tweets, so you don't need to remember the accounts they were posted too. It is basically the likes column of Twitter only on TweetDeck.
Messages-
In this column all direct messages are shown. It isn't a much needed column if you don't receive many messages from other users. It can be a very helpful column as it shows all your messages, making it easier to respond.
If you're own a popular Twitter account, you probably will receive many messages. This column makes it easy to tell the difference between spam messages of 'fans, saying 'I LOVE YOU", and other users maybe wanting to collaborate on a project.
There is a also a separate messages column for all of your accounts.
Mentions-
A mention column is also very self-explanatory. It will show all tweets your Twitter Handle has been included in. If you have a small Twitter or don't get mentioned in a lot of tweets its not a much needed column.
It can also be very similar to the messages column as if your Twitter is very popular, you may be mentioned in a lot of spam tweets. This column makes it easier to spot spam and real mentions.
There is a also a separate mentions column for all of your accounts.
Followers-
This column is quite simple really. All of your following and all of your followers you follows show in this column. This column is realistically only for people who care about the amount of people they follow.
Scheduled-
One of my favorite columns is the scheduled column. This can be a very important for announcements and also if you have many tweets you would like to post that day, but don't have the time to do it later on. You can line up tweets for all accounts with scheduling. With this column you can see all the lined up tweets for that day.
I find this column very helpful for when wanting to share multiple articles throughout the day. It also would be also a very good way of setting up an announcement.
Music artists and a lot of other businesses have different announcements and promotions, that are only released at a certain time during the day. This is a great way of preparing for the announcement. It also means they can be involved in a conference or a meeting to announce whatever it is while the Tweet goes live.
Trending-
There is a also a trending column. Twitter has also been recognised for recognising trends. On Twitter itself they have trending topics for you and show the amount of tweets with the certain hashtag.
Many people will use this column to widen their social media presence and following. This column works by selecting a trending column and creating a column for it.
If used in conjunction with many of the above columns you can really help yourself gain a better following on Twitter. Trending topics make people change a lot of their topics they are sharing, which is a good thing for your online presence. It can be seen as a bad thing as you are online jumping onto a trending topic for this reason.
A great example would be YouTube with the game Fortnite. The game exploded in 2018 and broke records for people playing the battle royale mode world-wide.
Many gaming YouTubers who hadn't posted to YouTube in months started to upload almost daily videos again. Others moved their content from gaming as a whole to a sole Fortnite channel. Even Youtuber's who did't do gaming videos jumped onto the trend, by playing the game in obscure locations and some even made skits of the game.
How to Set Up A New Column
If you have no experience with social media management tools, setting up a new column might be confusing. Especially as there is many columns you can set up.We recommend that you have read over the above section carefully for what kind of columns you would like to include on your dashboard.
The first step to creating a new column is finding and clicking on the plus icon on the left hand tool bar, shown below…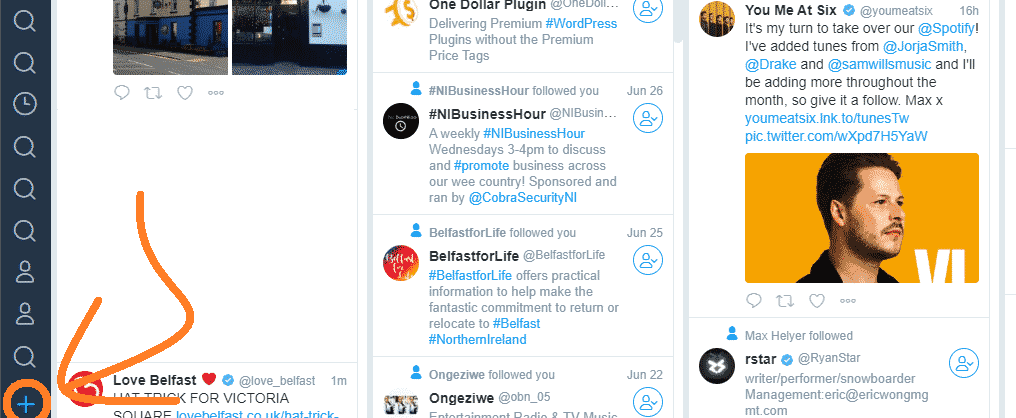 Step 2- You will be taking to this column panel to choose whichever column you want ton show in your dashboard.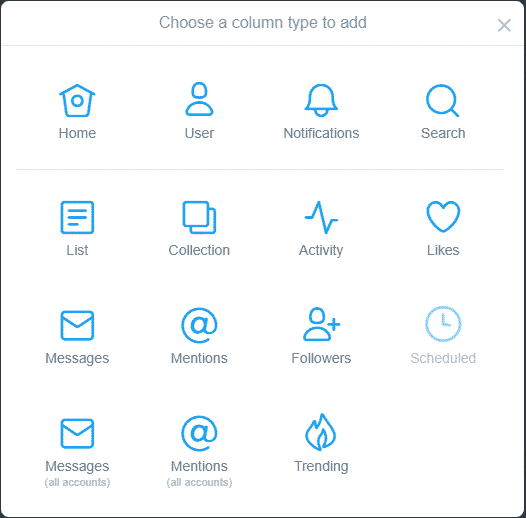 The next step/Step 3, is to choose which column you would like to add to your dashboard. As you can see the scheduled column is faded. That is because it is already setup on my dashboard. For this tutorial I will use the collection column to show you what is next.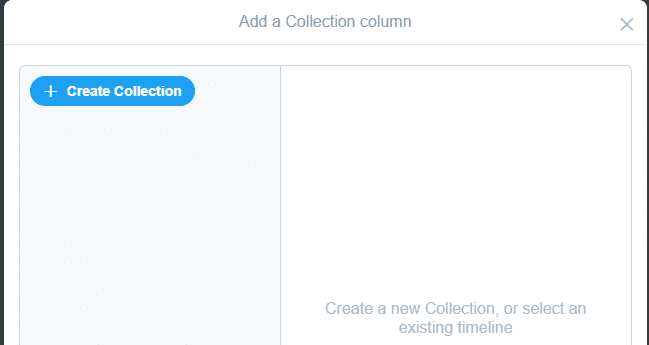 The above image is the panel you will see next on a collection column. Click on create a collection. You will then be brought to a panel to name and describe that collection and click save.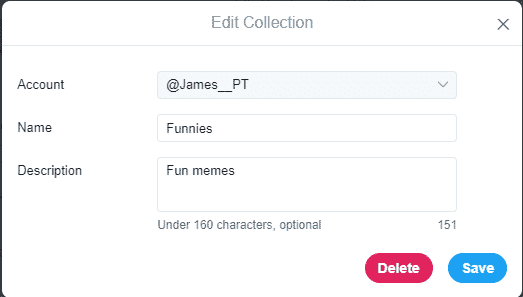 The column will now be created. To add tweets to your collection, all you need to do is drag and drop tweets on your dashboard to your new column.
How to Connect Multiple Accounts to TweetDeck
Connecting multiple accounts to your TweetDeck is very easy. There is a few easy steps to doing so. The first step is to click the 2 people icon in the left hand sidebar, similar to adding a column. It is the icon above the gear icon for settings, shown below.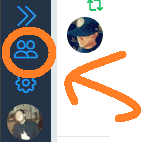 The next step is to then click on link another account to your own button. This will then bring you to a prompt saying that the main account will become an admin over the newest edition to the dashboard. You can see the button at the bottom of the below image.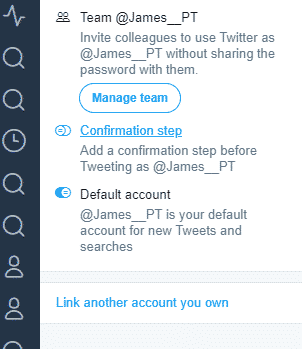 After the admin prompt, and you agree to it, it will ask you to enter the details of your other Twitter account. Once you do this, the account will be added to the dashboard. The login will look like the below image. A normal Twitter login…

How to Remove an Account from TweetDeck
To remove an account from your own dashboard it is very easy. All you need to do, is go to the accounts icon, just like you don when adding an account. On every other account except the main account for the dashboard, you should find an extra button saying 'leave team'. This button should be located beside the manage team button, which is on every account.
Click on the leave team button. A prompt should come up asking is this right, basically. This is so you don't accidentally log out of the dashboard. There will now be two buttons. A Leave and a cancel button. If you want an account to be logged out of the dashboard, click on leave.
How to Schedule Tweets
Scheduling a Tweet is so easy, especially due to the layout of TweetDeck. The first step to scheduling a tweet is creating a tweet. To do so within the TweetDeck dashboard, click on tweet or the icon shown below, circled.

The next step to scheduling a tweet on TweetDeck is to create your tweet. When you click on the Tweet icon shown above, a panel will be shown, just like the one below.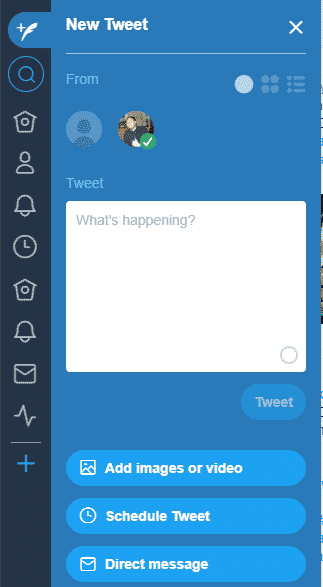 In the panel shown above you can see you can pick which account, you would like your tweet to be posted on and write your tweet. You can also add images or videos to your tweet or send it as a direct message to a user. That all important 'schedule tweet' is also there above 'direct message'. Click on this to make a scheduled tweet, and a new panel will show up.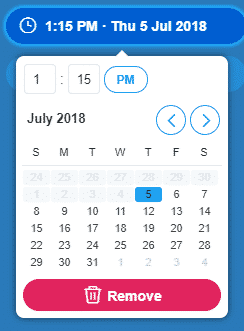 The above image shows how you can schedule you Tweet. You can choose a date as well as a time for your tweet to go live. Perfect for announcements and other events.
Managing Multiple Accounts
To manage your accounts it is also very easy. Again go into the accounts of the left hand sidebar. You will see all of your accounts within your dashboard. This is the same place where you add accounts from above.
Click on manage team. Here you can change the role of all the members of your TweetDeck, including changing admins. You can also add other team members that you wish to be part of your TweetDeck.
Summary: An Essential for your Team?
Overall TweetDeck is a great tool; if you have a large team it might well be a great management tool for your whole team however it is just as useful for one or two accounts.
The next step? Why not test its benefits for your business!
Also: check out our 'Should My Company Use TweetDeck' guide to find out more about the benefits of TweetDeck for your workplace.