What is Pinterest? In some ways, it's one of the most under-looked social media sites. In particular, Pinterest is one of the least utilised social platforms for businesses to connect with their customers, but it can offer amazing results when utilised for marketing strategies.
Pinterest is one of the most effective places for consumer-focused businesses to reach an audience who are passionate about a given niche/topic. Unlike Facebook or Instagram, Pinterest users are more likely to be seeking out specific products. If your business isn't on Pinterest you might be missing a chance to engage with your customers in one of their favourite places.
In this article, we'll explore the visual social media site and how you can start incorporating it into your marketing tactics.
Table of Contents
What is Pinterest?
Pinterest is a visual social networking tool that allows users to express themselves through posts called "pins". The platform works in a similar, albeit digital, manner to a traditional corkboard with pinned photos. Images or videos pinned to a user's board usually revolve around a specific theme. This becomes known as a collection of pins.
Using a visual orientation as its method of interaction, Pinterest focuses on a person's lifestyle and tastes, allowing them to discover and share with like-minded people. Pinterest's goal is to "connect everyone in the world through the things they find interesting".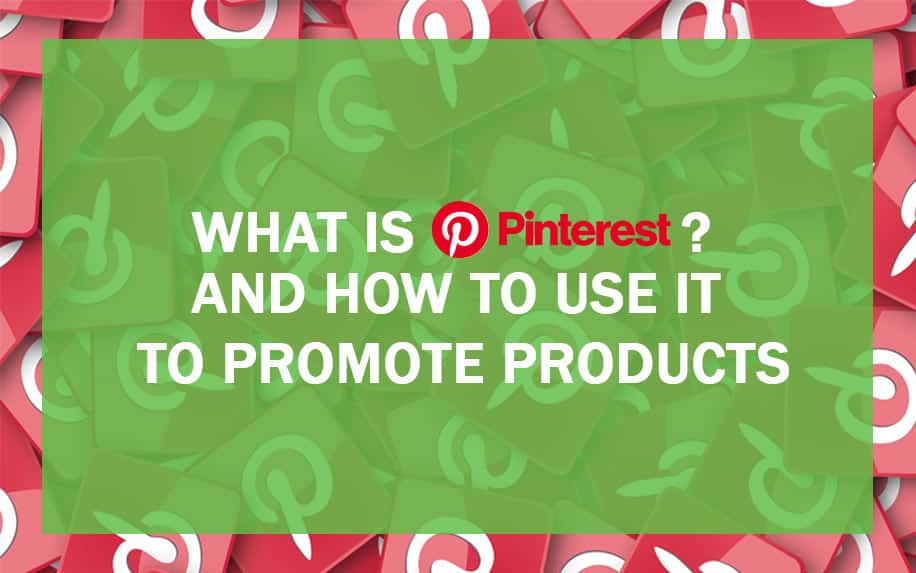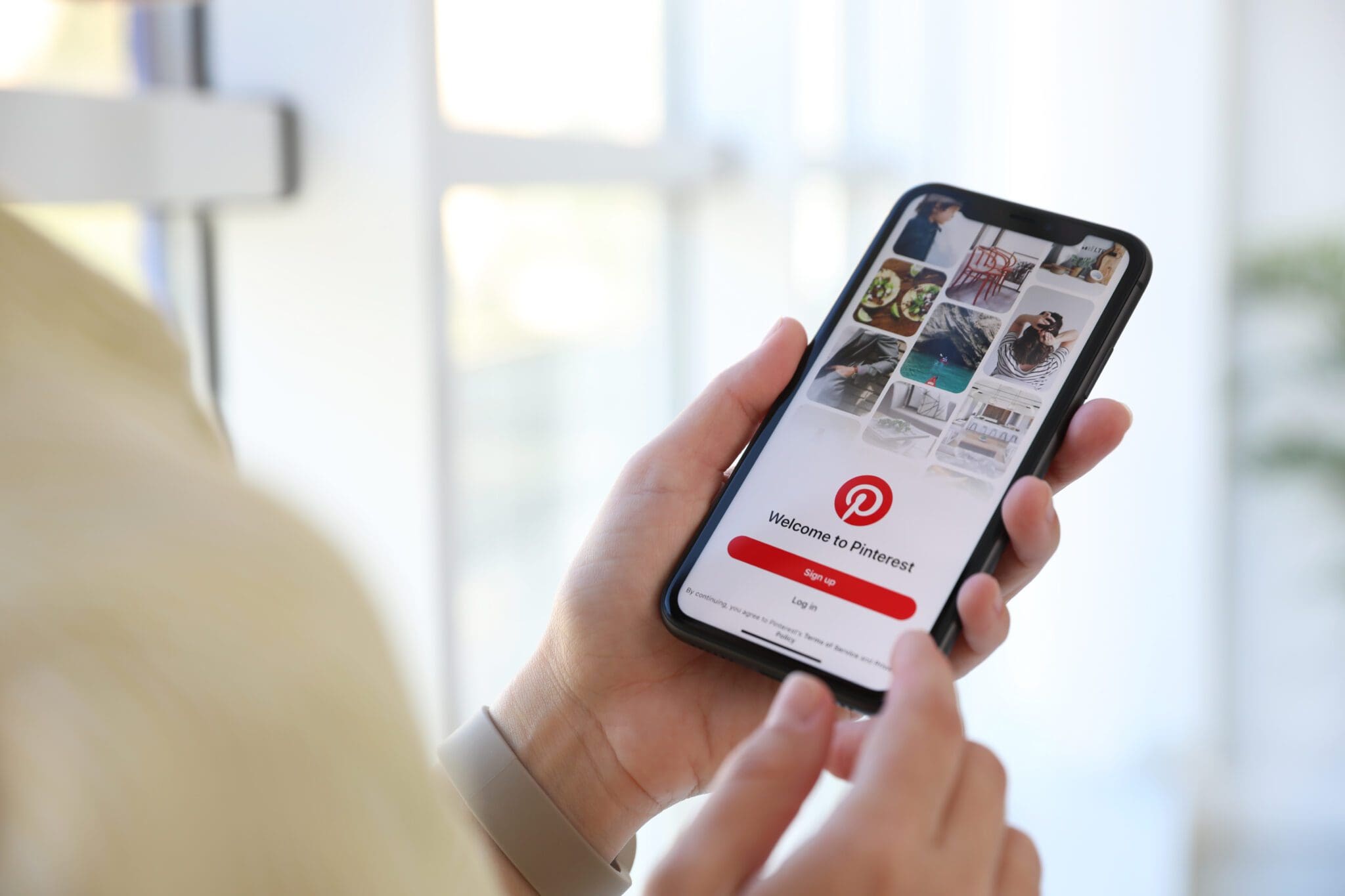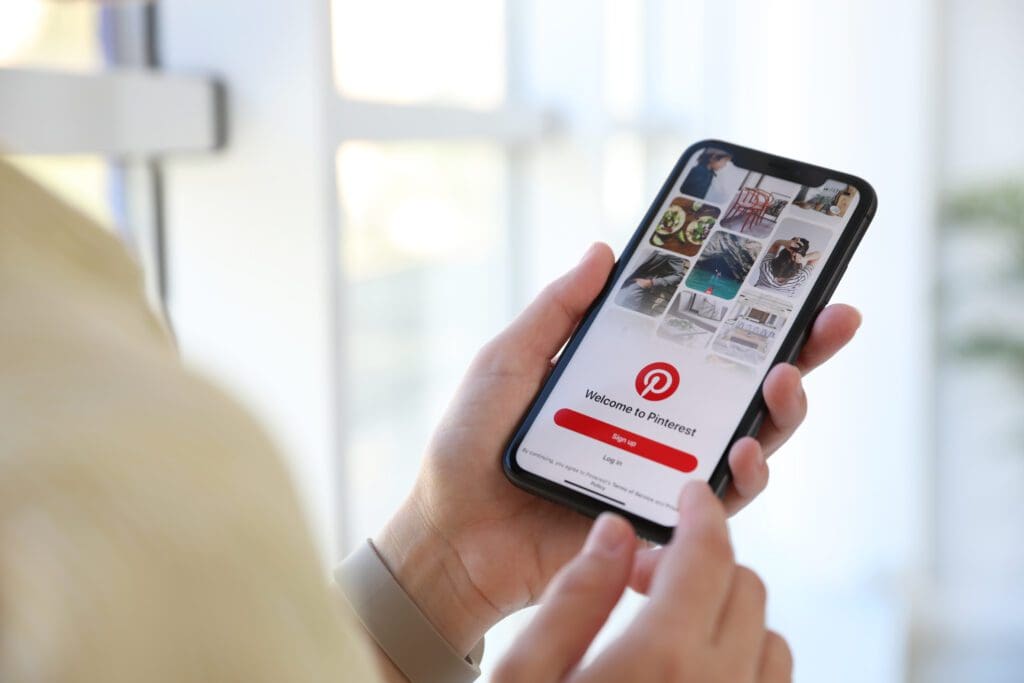 What is Pinterest Used For?
Pinterest can be used for inspiration, developing wish lists, organising, or even as a business marketing tool. When the user has a specific purpose in mind, Pinterest becomes much more effective. Think of it as a visual discovery engine, where users can "pin" images and videos from the web onto virtual boards, organizing them based on their themes or interests. These pins can be personal uploads or sourced from websites, and they often link back to the original source, making it a valuable tool for driving web traffic.
For example, many brides-to-be have found the ease of use of Pinterest to be a much better option to organize their wedding ideas than the bulky, three-ring binders wedding planners often use. Some Pinterest members use the boards for decorating ideas, giving each room of the house its own board and then pinning different ideas for that space.
Artists can also use it to organise their work by themes and to save inspiring ideas for later projects. It helps cooks keep their recipes organised. Students might create shopping lists for school items or organise classes, projects and events. DIY-ers find Pinterest a useful tool for bookmarking project ideas. Boards can also have multiple contributors, which makes collaborating with co-workers on big projects a much simpler and more organized task.
The possibilities are endless and people from all walks of life have found value in the visual social media platform.
What is Pinterest Good For?
Pinterest helps people with organisation, creativity, collaboration, and inspiration. That's why so many businesses have now focused their marketing efforts on using the social platform. With more than 445 million users and ongoing growth, Pinterest can help businesses reach their audiences to capture their attention with a single image.
According to research, about 87% of Pinterest users have purchased a product because they first saw it on Pinterest. Another 93% of Pinners use Pinterest Boards to plan a future purchase. There is even an analytics counter on the Pinterest app that allows you to see your followers' engagement with your Pins.
Pinterest creates the perfect middle ground for businesses and consumers to connect and discover each other.
What is a Pinterest Board?
A Board on Pinterest is where users can organise specific Pins around different ideas, interests, themes, and plans. The Boards are also an important part of a brand or identity when it comes to business.
Boards show people what your business message is, the types of products you offer, what inspires your brand, and more. It's a good way for a prospective shopper to get to know you as a business or individual, depending on the type of service offered.
A person's Pinterest boards can be as individual as the person who uses them.
The more you use Pinterest, the more Pins will be used, and this often leads to the creation of new boards. A Pinterest Profile can hold up to 500 boards. These Boards can be used individually, or they can be created in a way that allows other Pinterest users to contribute to it.
What is a secret board on Pinterest?
A secret board on Pinterest is a board that is private and hidden from public view, they are visible only to you and anyone you share the board with.
Only the pinner who created the secret board can see it by default. It does not show up on their main Pinterest profile.
The pinner has the option to invite specific Pinterest users to view and collaborate on the secret board.
Pins on a secret board are only visible to users granted access to that board.
Creating a secret board helps keep pins organized privately for future use.
Users typically use secret boards to privately collect and organize gift ideas, event planning, trip planning, goals, inspiration, recipes etc.
Secret boards allow pinning content you may not want public but want to save digitally.
Pinners can later add pins from a secret board to a public board if desired.
There is no limit on how many secret boards a pinner can create.
Boards can be changed from secret to public visibility at any time.
Pinterest secret boards provide a private space to organize content and ideas visible only to the pinner or selected collaborators. It allows discreet ideation and collection.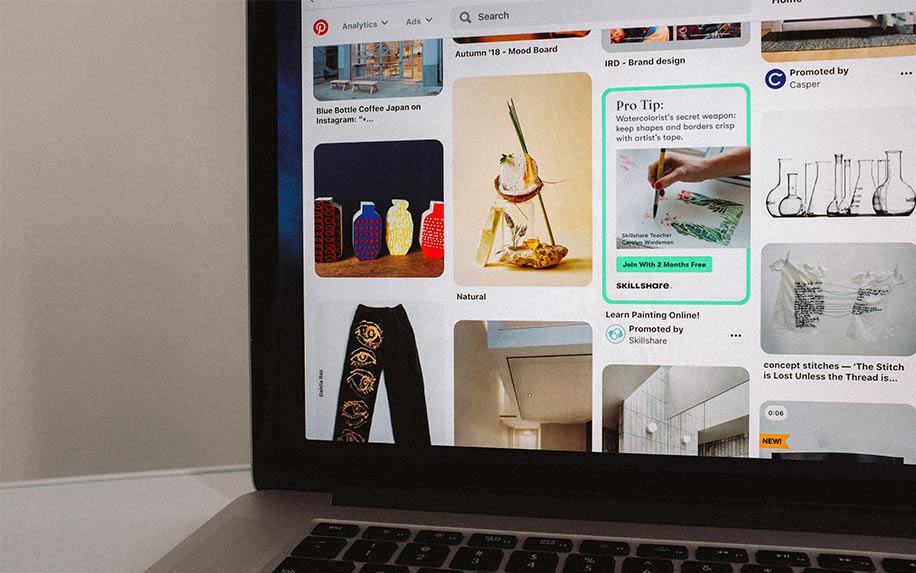 What is the Pinterest App?
The Pinterest app is an extension of the Pinterest service that makes it available to use right from your phone or tablet. The app works the same way the desktop service does. Through the Pinterest mobile app, you can Pin and Re-pin the same way you would via desktop, minus the browser extension.
Pinterest has also listened to feedback from its users and made the app more accessible to those who are blind or have impaired vision. They've improved the clarity of images, made text bolder and provided the option to increase text size, and included spoken reader feedback for more support.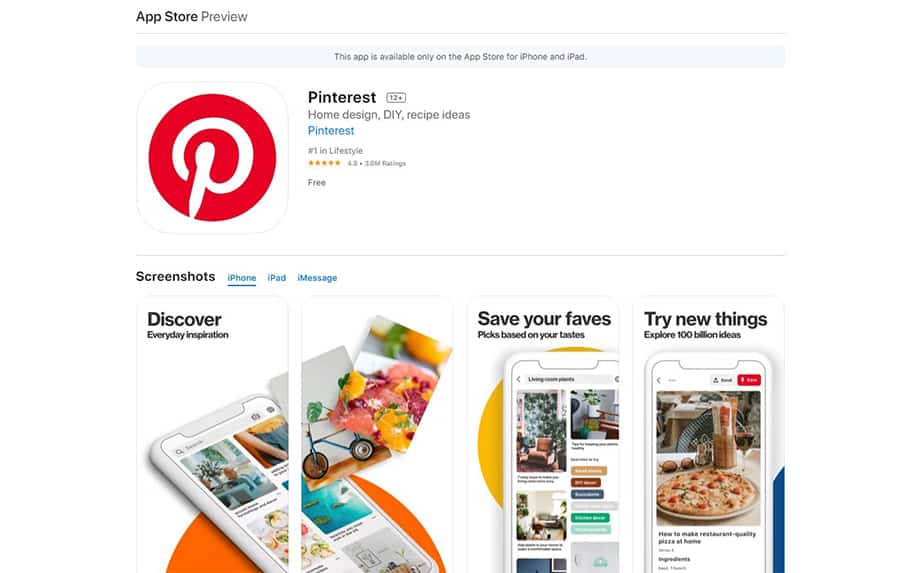 How does Pinterest Work?
There are millions of Pins available on Pinterest. Each Pin features its own exclusive "Pin it" button that when selected can be Re-pinned to one of your own Boards. You can also simply like the Pin as a keepsake, without it appearing on any Boards. When you find an image that you like, simply click the button and select the corresponding picture.
Then you can assign the pin to one of your boards and add accompanying text if you'd like.
You can also just head to the Pinterest homepage and click the "+" symbol to upload images or videos from your computer or via the URL. When you hit the "Like" button on a pin it leaves a notification on the timeline of the original pinner about your approval.
There is also an option to post a notification to your Facebook Timeline about which pins you have liked or added.
What is Pinterest Lite?
Pinterest Lite is a streamlined version of the Pinterest app designed for users in regions with slower internet connections or limited data plans. It offers the core features of Pinterest but is optimized to use less data and to load faster. Here are some key points about Pinterest Lite:
Smaller App Size: Pinterest Lite typically takes up less storage space on a device compared to the standard Pinterest app. This makes it suitable for devices with limited storage.
Faster Load Times: The app is designed to load content more quickly, even on slower internet connections.
Data Efficiency: Pinterest Lite uses less data, which is beneficial for users who have limited data plans or are in areas with expensive data charges.
Core Features: Despite being a "Lite" version, the app provides the essential features of Pinterest, allowing users to browse pins, save ideas, and discover new content.
Target Audience: Pinterest Lite is primarily targeted at users in emerging markets where internet speeds might be slower and data costs higher. However, anyone can use it if they prefer a more lightweight version of the app.
Availability: Pinterest Lite is available on the Google Play Store for Android devices. The availability might vary based on the region.
Pinterest Lite is a more lightweight and data-efficient version of the standard Pinterest app, designed to provide a better experience for users with slow internet connections or limited data plans.
What is a Pinterest Board Cover?

A Pinterest board cover is a large visual banner that appears at the top of each Pinterest board. It serves as the headline visual representing that particular board and its theme. It is the first impression pinners will get when visiting your board, so it should quickly communicate what the board is about.
The dimensions for board covers are 222 pixels wide by 150 pixels tall. They can be customized with images, patterns, and colours that represent the board theme. You can select one of your own pins as the cover image or upload a custom image. The visually engaging cover encourages pinners to start browsing the board's contents. It offers a creative branding opportunity to make each board distinct and compelling.
What is a Pinterest Business Account?
A Pinterest Business account is a type of account on Pinterest specifically designed for businesses, brands, bloggers, and other professionals. It offers tools and features tailored to promote products, services, and content to a wider audience on the platform. Here are some key points about a Pinterest Business account:
Profile Features: With a Business account, users can display their business name instead of their first and last name. They can also add a business logo and a link to their website.
Rich Pins: Business accounts have access to Rich Pins, which provide more context about an idea by showing extra information directly on the Pin. There are different types of Rich Pins, including Product Pins, Recipe Pins, and Article Pins.
Pinterest Analytics: One of the major advantages of a Business account is access to Pinterest Analytics. This tool provides insights into how pins from a business's profile are performing. Users can see which pins are most popular, who is engaging with their pins, and what people are searching for.
Promoted Pins: Business accounts can use Promoted Pins, which are paid advertisements. These pins appear in a user's feed just like any other pin, but they have a "Promoted" label. This feature allows businesses to target specific demographics and increase their reach.
Shop the Look Pins: These pins allow businesses to tag multiple products within a single image, making it easier for users to shop directly from the pin.
Story Pins: Business accounts can create Story Pins, which are a collection of multiple pages that users can tap through. They're useful for step-by-step guides, recipes, or showcasing a product range.
Catalogues: Businesses can upload their full catalogue to Pinterest, turning their products into shoppable Product Pins.
Verified Merchant Program: This is a program for businesses that meet Pinterest's criteria for high-quality customer service. Verified merchants get a special badge on their profile and are eligible for increased distribution of their shoppable pins.
Customization: Business accounts can customize their profile's layout, showcase specific boards, and even create a rotating showcase of their top pins.
Educational Resources: Pinterest offers various resources, guides, and webinars to help businesses succeed on the platform.
A Pinterest Business account provides tools and features that help businesses, brands, and professionals promote their products, services, and content more effectively on Pinterest. It's an essential tool for anyone looking to leverage Pinterest for commercial purposes.
What is Pinterest TV?
Pinterest TV refers to the video content features and viewing experience available on Pinterest. Below are some key things to know about Pinterest TV:
In 2017, Pinterest launched Pinterest TV which features video pins and video recommendations personalized to each pinner.
Video pins allow pinners to embed videos within their pins from sources like YouTube, Facebook, Vimeo, etc.
The videos auto-play as Pinterest users scroll through their feeds in full screen with sound disabled by default.
By clicking on a video pin, the user can activate sound and watch the full video in a dedicated video viewer experience.
Video recommendations are provided based on the user's interests and profile to provide personalized content.
Videos cover topics across lifestyle areas like cooking, fashion, beauty, home decor, DIY projects, and more.
Pinterest TV offers full-screen browsing focused solely on video content via sections like Today, For You, Following.
Pinterest uses machine learning to optimize and recommend video content most relevant to each pinner.
The feature provides an immersive experience for engaging with and discovering new video content.
Pinterest TV allows seamless video pinning and provides a customized video viewing experience based on pinner interests and engagement.
What is Destination Link on Pinterest?
In Pinterest, a "destination link" refers to the URL or web address that a pin directs to when clicked. Essentially, it's the source or destination website that the pin's content originates from or is related to. Check out why it's important below.
Purpose: The destination link provides additional information, context, or a place to purchase or learn more about the content of the pin. For example, a pin might showcase a product, and the destination link would lead to the online store where that product can be purchased.
Adding Links: When a user creates a new pin, they have the option to add a destination link. This ensures that anyone who is interested in the pin's content can easily find the original source or related information.
Rich Pins: Some pins, known as "Rich Pins," automatically pull additional information from the destination link, such as product prices, article titles, or recipe ingredients. This provides a richer and more informative experience for Pinterest users.
Traffic Generation: For businesses, bloggers, and content creators, the destination link is a valuable tool for driving traffic from Pinterest to their websites. When their pins gain popularity, they can lead to increased website visits.
Ensuring Relevance: It's important for the destination link to be relevant to the content of the pin. Misleading links or links that lead to unrelated content can frustrate users and may violate Pinterest's community guidelines.
The destination link on Pinterest is the URL that a pin directs to, providing additional context, information, or a place to purchase the item or learn more about the topic of the pin. It's a bridge between the visual inspiration on Pinterest and the deeper content or products on external websites.
How to Use Pinterest to Promote Products?
Since Pinterest is all about helping communities with an interest in a particular niche content and recommending them products that they might like, the first step to using it for product marketing is figuring out which community you'd like to target. It's the same method you would use for any other marketing tactic – identify your target audience.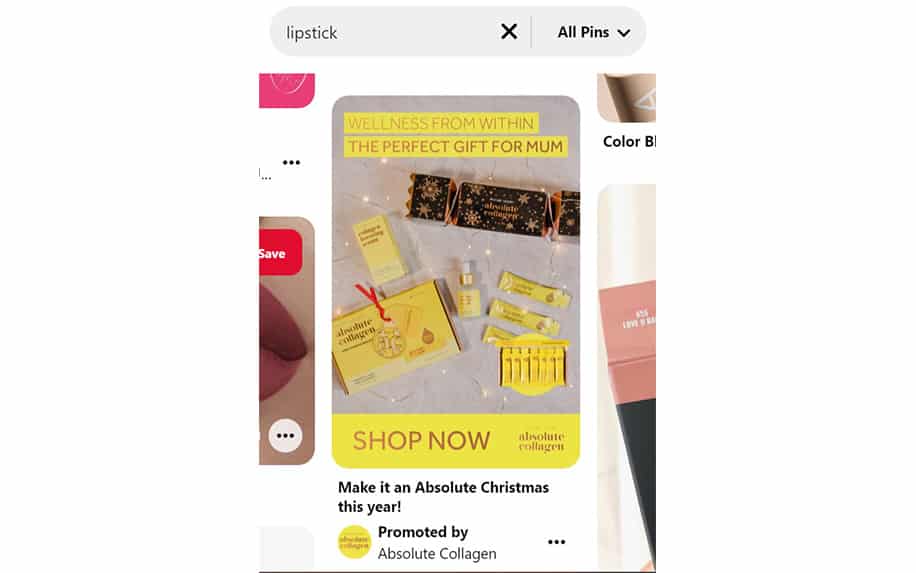 Once you have identified your target audience you can start creating visual content that appeals to them, i.e.) videos and images. Remember, when users create Pinterest boards, it is for inspiration – they're collecting ideas for how they'd like their life to look, so make sure you create engaging content that they will want to pin.
Pinterest affiliate marketing
Pinterest affiliate marketing is a way for content creators, bloggers, and influencers to earn money by promoting products or services on Pinterest through affiliate links. Affiliate marketing is a performance-based marketing strategy where businesses reward individuals (affiliates) for driving traffic or sales through the affiliate's marketing efforts, typically via a unique link.
How Does Pinterest Affiliate Marketing Work?
Once you sign up with an affiliate program, you'll receive a unique link for the products or services you want to promote. When someone clicks on your link and makes a purchase, you earn a commission. You can create pins on Pinterest that showcase the product or service. When users click on your pin, they'll be directed to the product page through your affiliate link.
Advantages of Pinterest Affiliate Marketing
Visual Platform: Pinterest is inherently visual, making it ideal for showcasing products. High-quality images can lead to higher click-through rates.
Purchase Intent: Many Pinterest users visit the platform for inspiration and ideas, which means they might be closer to making a purchase decision.
Evergreen Content: Unlike some other social platforms where content has a short lifespan, pins on Pinterest can continue to drive traffic for a long time.
If you decide to start affiliate marketing it is essential to disclose that your pin contains an affiliate link. This can be done by adding a simple note like "#affiliate" in your pin description. You should also avoid spamming with numerous affiliate pins, and focus on creating high-quality pins that provide value to your audience. Write compelling descriptions for your pins to encourage users to click and learn more.
What is Impressions on Pinterest?
Impressions on Pinterest refer to the number of times pins from your account are seen or served to Pinterest users. It does not necessarily mean that the user interacted with or clicked on the pin, but more impressions mean your pins are being shown to more Pinterest users organically.
Getting a high number of impressions requires posting engaging, relevant pins consistently. Unique impressions count for each Pinterest user only once, this avoids multiple views by the same person inflating numbers.
Why are they important?
Impressions help gauge how well your pins are resonating with the Pinterest algorithm and community. High impressions are relative to engagement metrics like clicks, closeups, and saves. It could also indicate that your pins' headlines/images could be better optimized. Impressions show the overall exposure and visibility of your pins, while other metrics indicate actual user engagement and conversion. Analyzing both is key.
Want to know more?
If you enjoyed this article, be sure to check out these: TikTok Banning | Content Optimisation 101 | Twitter Monitoring | Instagram Facts | When Was YouTube Created? | Canva AI | How to Make a Decision.