Want to get verified on Twitter? That little blue checkmark next to a Twitter handle has long been held in high esteem and can add extra authority and prominence to your account.
Landing that coveted blue badge was once an arduous process requiring notability and public interest confirmation. But Twitter now offers users a faster path to getting verified for a price through its new Twitter Blue subscription. So, should you shell out the $8/$11 monthly fee for instant badge access? Or stick to applying for free legacy verification?
We will explain everything you need to know about the revamped paid verification model versus going the traditional route. You'll learn about changed eligibility requirements, if the badges look different, how approval timeframes compare, the costs involved and what users gain from being verified under both programs.
Follow our latest guide on maximizing your verification chances to decide whether paying extra monthly is worthwhile or if organically qualifying for the free badge makes more sense based on your goals and budget. Time to unlock one of the top signs of social credibility and influence on Twitter!
If you think your account should carry a blue, there's some good news: the process may not be easy, but it is at least crystal clear…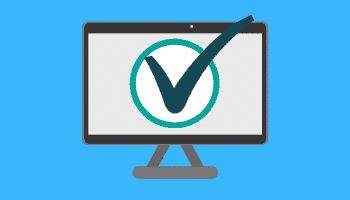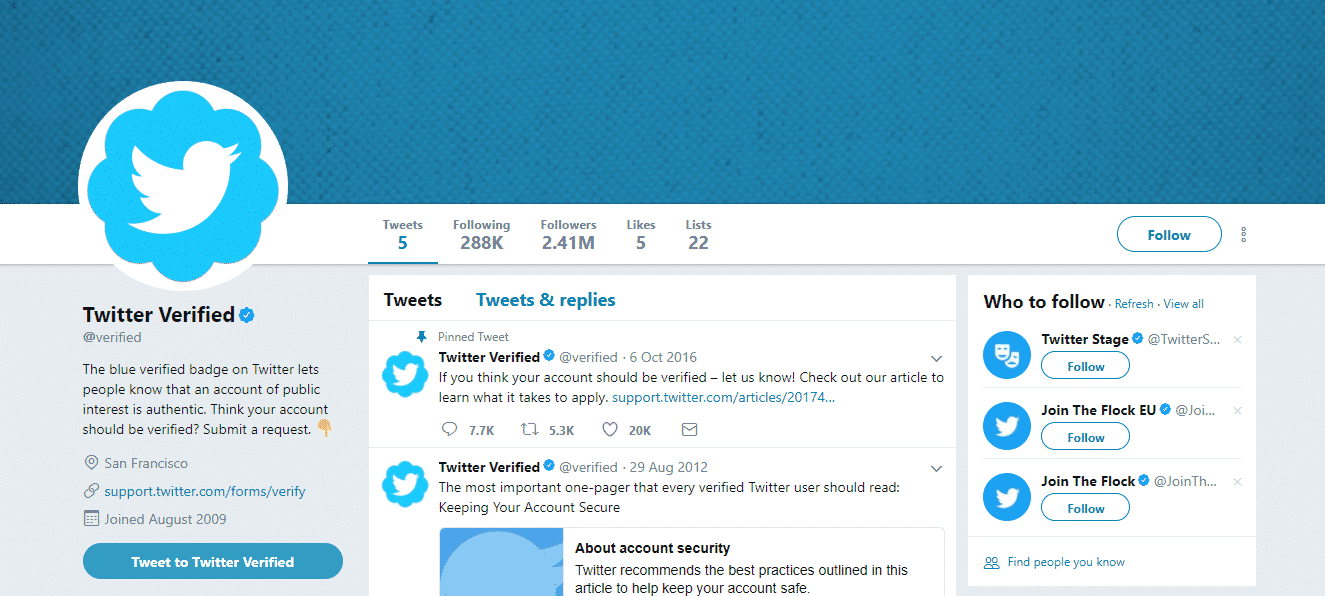 Table of Contents
What Is Account Verification?
If you don't know what a blue checkmark is, it's an icon that shows that the account is authentic and truly represents the person(s) associated with the account. A Facebook/Instagram/Twitter verified account badge is always placed next to the account name and is only applied by the platform itself.
What's usual is that verified Twitter accounts are people or brands in the fields of music, acting, fashion, politics, journalism, media, sports, business and other key interest areas. Basically, you have to be a public figure of sorts to get verified on Twitter. But what exactly is a public figure? A public figure gets recognized by the media as an important person or expert in their industry.
What You Need to Have
Think about it like this. Chances are if someone has a Wikipedia page, they are a public figure. To be alive and have a Wikipedia page about you, you need to have around 10 articles talking about you from major publications.
These are not one-line quotes or mentions you give to the local newspaper, even if it is The Guardian. Nor are they interviews, where your answers are being documented word for word. Nor are there podcasts or radio shows that you end up on, no matter how popular the host is.
When It First Happened
The Centers for Disease Control was one of the first accounts to be get verified on Twitter several years ago. Twitter said it was verified "in order to help citizens find authentic and accurate public health information straight from the source."
Oprah was also among the first to get the checkmark, along with Kim Kardashian and the Milwaukee Police.
Twitter's new paid verification vs legacy free verification processes:
Paid Verification (Twitter Blue)
Cost is $8/month for web or $11/month on iOS
Available in US, Canada, Australia, New Zealand and the UK
Primarily requires a valid government ID and phone number
Verification badges have a different color and appearance
Access to subscriber-only features like edit tweet, 1080p video uploads
Can be revoked at any time for violating rules
Free Verification
Detailed application form requiring explaining notability
Reserved only for governmental, companies, brands, influential individuals etc.
Requires public interest confirmation from references
Lengthy review process, low acceptance rate
Verified status harder to lose but still possible
No access to special subscriber features
How to Get Verified on Twitter: A Simple Guide
Fairly recently, Twitter began allowing anyone to apply for a verified account. While this doesn't mean it'll be easier to become verified, the process is at least more straightforward. If you want to get verified on Twitter there are some basic things to understand first:
Become Eligible for Review First

So the first thing you'll want to do is to make sure that your information is up to date. Your birthday, email address, phone number, website link must be all in check. Twitter won't deem you eligible for verification if you don't have this information in place.
Request Verification
Then, go to the Verified account on Twitter and its username is @verified then you click on the link that's in the URL section of the account.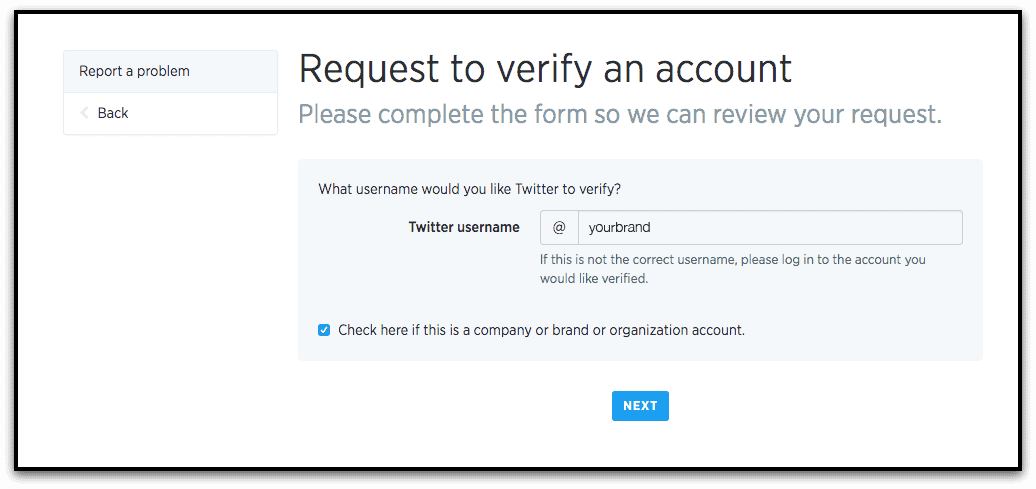 Once you click on the link and go past the next screen, you're going to see your username filled in. Click on the checkbox, followed by 'next'.
Show Twitter Some of Your Credibility
This part is very important: to get verified on Twitter, their system allows you to submit up to five URLs in order for them to verify that you're an owner of a website, or you're a staff member, or that you had some sort of presence online. As aforementioned, it's intensely crucial that you position yourself as being someone of importance. Twitter is not going to go ahead and verify you just because you're active on social media, so this is really where you have to build your case and be very selective with what you share with them.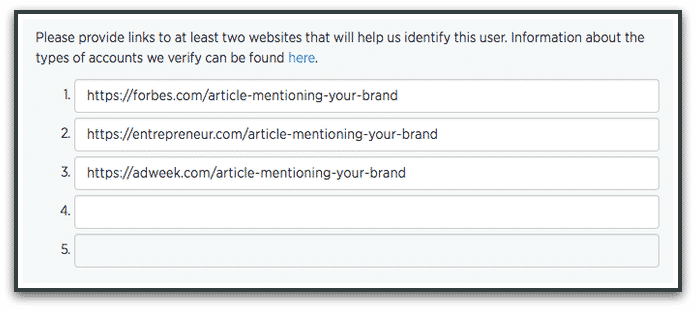 Besides the five links you submit, you'll be allotted 500 characters to state that case and let Twitter know why you're applying for the check-mark and why they should accept that request. Don't try to include any additional links in this section, otherwise, you won't be able to click next.
The last section at the end of this page would be to add a photo ID. Some people would submit their driver's license or their passport, so they could go ahead and see through a government-issued ID that the same person requesting verification is the same person that has a Twitter account.
Confirm Your Information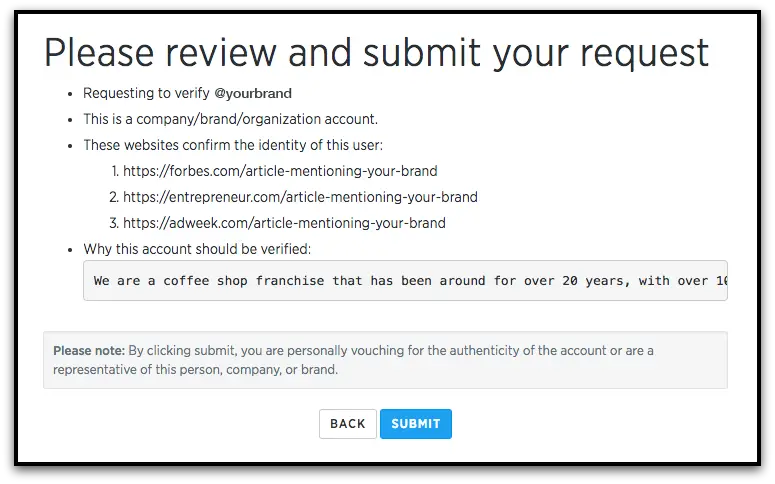 Once you've completed this form you'll be directed to another confirmation page. Verify that the information is correct and supports the list of reasons you provided for why you should be verified.
Wait for the Confirmation Email from Twitter
If you're approved you'll receive a confirmation stating that your account has been verified.
There's a couple of things you have to take in mind: In the bio of your Twitter account, make sure that you have the URL link to the website. Another note is that this approving process could take weeks, if not months. It all depends on how backed up Twitter's verification system is. Hearing nothing back means that your application is still pending.
You'll know you're verified when the @verified account follows you on Twitter. You'll also receive an email from Twitter's support team if your request is rejected explaining why.
The Benefits of Being Verified on Twitter
One of the main benefits of getting verified is that it boasts personal branding. Moreover, with the verified badge, you can have lots of perks including accountability and stability, definitive access to more specialized Twitter analytics, trust amongst the community, extra security, avoid identity theft, helps you network with others, new followers and much more.
Identifier of Value Determined by an Authority
This is an interesting perk of verification because it only works as long as people consider Twitter to be an authority. In the past, verification has been solely at the discretion of Twitter. You couldn't request it or really do anything to attract it besides grow as a person or as a brand to the point where people notice you, and then to the point where Twitter notices you. This meant that verified users were all verified through direct notice and intervention on the part of Twitter themselves. Still, now everything changed as Twitter opened their request forms to anyone.
Adds Accountability and Stability
Two words: Fake accounts. The social media is swarming with fake accounts of people pretending to be celebrities, public figures, or even key members of organizations. Some of these accounts would use hate speech or offensive words to trigger other people and sometimes other people believe they are authentic (yes, social media is full of these kinds of people.)
So in order to distinguish these fake accounts from the real ones, having the blue checkmark is a necessity for yourself and your business. Signals of high authority and authenticity. After all, 85% of customers buy products and patronize services from brands they trust.
A Sign of Trust amongst the Twitter Community
While some sceptical users will decry the value of verification, the fact is that it's still a valuable source of authority amongst the average user. Most people are learned in the arcane ways of marketing. All they know is that some people have a blue checkmark and others don't and that having one is a good, rare thing. It's much the same way that a lot of people know that earning a Medal of Honor in the military is a high accolade, but they don't know anything more specific about it than that.
You don't need to know the ins and outs of Twitter marketing or the details of earning verification in order to understand that having it bestowed upon you by Twitter themselves means you have passed some kind of test of worth. Twitter is a great place to build thought leadership, and a blue verification check mark generally correlates to easily build more followers.
Prevents Twitter Identity Theft
Impersonation on Twitter can range from the benign parody account to the malicious phishing attempt, and it's the latter that are the worst for businesses to deal with. When someone sets up a profile with your information copied from your profile, there's very little way for users to determine which is the real account. They can look at the recent tweets, the account creation date, and the interaction history, but that only goes so far.
Helps You Network with Influencers
Influencer marketing is the Next Big Thing on the web right now, and it means people with authority are in high demand. Those people know it, though, and tend to be selective with who they engage with on a deep basis. Superficial responses are par for the course, but if you want them to recognize you or open up deeper options for a relationship in business, you need to stand out from the crowd.
One such way to stand out is to be verified yourself. When an influencer sees an incoming message, they're likely to look for reasons to ignore it. If it's from someone verified, they will give it more attention than they otherwise might.
Twitter's legacy free verification requirements compared to past policy:
Twitter's New Verification Criteria
Elon Musk has instituted strict new policies around obtaining free legacy verification since taking over Twitter. As of November 2022, accounts must meet one of the following to qualify:
Government entities, official political candidates or elected politicians
Major corporations, business partners directly affiliated with Twitter
Highly public-facing or influential celebrities, global brands/organizations
Registered nonprofit charities and advocacy organizations
Credible news organizations and independent journalists
Unlike the previous process open to a broader range of public figures, Musk has reserved legacy verification for accounts serving an overt public interest. Most individual experts, influencers or creatives unlikely qualify anymore.
Differences From Past Verification Policy
Twitter previously offered verified badges to accounts deemed "authentic, notable and active" in categories like entertainment, journalism, government, sports figures, activists and rising stars demonstrating reach/impact.
Tighter restrictions under Musk mean over half of accounts once potentially able to get verified including prominent individuals, niche influencers, academics and subject experts no longer make the cut.
Recent tweets I could incorporate to showcase Twitter's latest information and status around verification:
In a November 13th tweet, Elon Musk reinforces the new exclusivity of free verification badges under his policy:
"Legacy Blue checkmarks will be removed soon unless confirmed by Twitter to be an active, prominent and legitimate account."
Musk is also clearly pushing users towards the paid model, tweeting on November 2nd:
"Power to the people! Blue for $8/month"
Highlighting the launch of Twitter Blue subscription verification in an additional region, the official Twitter account tweeted on November 15th:
"A new way to get verified! Twitter Blue rolls out in India"
Discussing applicants under past policy, the Twitter Support account offered this update on November 9th:
"We are not currently processing unpaid verification requests. Members of the confirmation flow will receive messaging updates as our work continues."
Get Verified On Twitter frequently asked questions.
Still, have questions about getting verified on Twitter? Here is some helpful info:
How long does paid verification take?
Paid verification via Twitter Blue takes 1-2 days after submitting your application and payment.
What happens if I cancel my Twitter Blue subscription?
Your blue badge will be removed if you cancel after obtaining paid verification.
Can my verified status ever get revoked?
Yes – violating rules under either the paid or free pathway can still result in badge removal.
Does verification help with reach or impressions?
Not directly, but it can drive more profile views and lend credibility helpful for content promotion.
Get Verified On Twitter Conclusion
Getting verified on Twitter holds tangible benefits like increased visibility, credibility and authority to enhance your social presence. While the paid route offers a quicker shortcut for $8/$11 per month, free legacy verification status may carry more prestige and recognition of your position.
Evaluate which pros matter most before choosing the best path forward for your goals. But no matter how you get your blue badge, leverage it responsibly to continue meeting Twitter's standards.
In a Nutshell
In the past, the process for how to get verified on Twitter was difficult. Now, Twitter made it possible to request verification—all you need to do is make sure you have followed some steps carefully before applying.
See also:
How to Get into Marketing? Simple Steps You Can Take NOW
Video Marketing: A Must For Your Business
Video Marketing: A Must For Your Business
Marketing Campaigns: Your Ticket to the Big League