What is Instagram Television? Will IGTV Shake Up Online Video?
Recently Instagram released their own YouTube-esque platform called Instagram Television (IGTV) in an attempt to take Instagram – and video itself – forward into the future.
Not only does IGTV give Instagram users a new ways to use the platform, it also shows great potential for the future of how people watch videos and even advertise online.
Read on to find out more about what will probably be the biggest Instagram update of 2018…
IN A RUSH?! Click for our <2 minute snapshot
How Does IGTV Work?
To gain access to this new feature, you'll of course need the latest Instagram update. From the update you'll then see a new symbol at the top of your screen. It will similar to the Instagram logo, except with a 'TV' symbol included.
From here you'll see four options: 'For You', 'Following', 'Popular'and 'Continue Watching'. The 'ForYou' option will show many different types of videos such as popular videos and videos from people who you follow. It is basically a mix of the two other options  'Following' and 'Popular'. If you start to watch a video and move away from it, it is easy to go back to it due to the 'continue watching' option.
To upload you own videos, you'll need to first create your channel. This is simple. All you need to do it s click on the cog symbol (it looks quite a lot like a settings symbol). This symbol will then change into your Profile Picture on your account when ever you set up the video. Once your channel is set up, to add a video, you need to click the plus button.
There is also a IGTV app which users may want to use a lot more often than going through the actually Instagram app as using this app is a lot easier.
Differences Between IGTV and YouTube
The main difference between IGTV and YouTube is found by way of the vertical videos. IGTV only allows you to post videos that are vertical and not landscape. This is a massive difference between YouTube and itself as videos vertical videos on YouTube can be very hard to watch and is a great feature as more and more people are now watching videos from their mobiles, tablets and other handheld devices.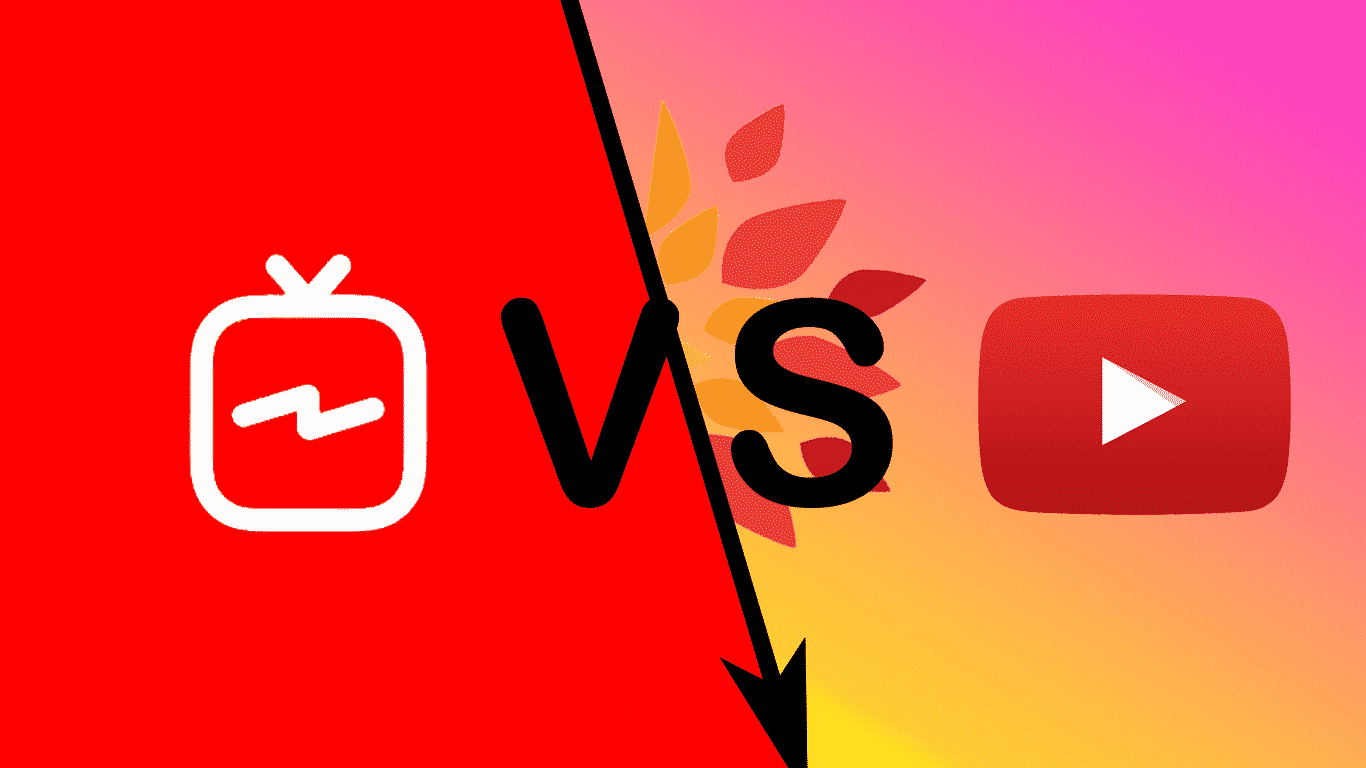 For the moment you can only upload videos of between 15 seconds and 10 minutes. This will more than likely be changed in the future. It could also mean a lot of people will prefer YouTube to IGTV for the meantime if they have a long video.
If a person wants to post a long video to IGTV, they will need to do it in multiple videos. You also can't create playlists for the meantime on the new feature, so you should use hashtags. A hashtag can create a list of videos within that hashtag, so a slight playlist. Although any video using this hashtag will be found in this list. 
For instance if ProfileTree had multiple videos for creating a WordPress site, you could use a hashtag showing as #ptcreatewordpress. This hashtag will then show all videos with the same hashtag, and I'm sure a lot of people will not be using that hashtag. 
Another feature that is great compared to YouTube is the search. You are easily able to search for videos while watching other videos. Compared to YouTube videos searching can be difficult, if you are watching a video. It almost forces you to watch a video before searching for another. 
Can It Compete With The Likes of YouTube?
We all know and understand that the go-to platform for videos is, of course. YouTube. In fact every minute, 300 hours of video content is uploaded to the platform.
With YouTube being so dominant, it's very hard to compete. So what does that mean for IGTV?
IGTV is an attempt to completely change the game. How? Well, Instagram's new platform is built around vertical videos, the videos we have complained about for years and years when uploaded to the like of YouTube. They have focused more on this because more and more people are using smaller handheld devices instead of desktops to watch videos and many of these devices have vertical screens.
For instance if you're a user of YouTube and you try to watch videos, you either need to watch the video sideways or it will be a small video located at the top of the screen. Why? Well, its because all videos uploaded to YouTube are landscape videos. This means many more people who watch videos on their phones and other smaller devices will potentially use IGTV over YouTube due to the screen size of the video.
So yes, the new platform has potential to compete with YouTube over this one very big fact!
Do we think it'll compete? Not so much. YouTube is not like other social media networks such as Twitter and Facebook, where other platforms come along and steal users. YouTube have been the biggest and somewhat the only video social media/platform, for over 13 years. This is a difficult fact for any newcomer to work around!
What Does This Mean for Creators Like You and Me?
If you're one of the many creators from around the world, IGTV could potentially revolutionise the way you go about making your content. With the new IGTV, creators will now need to think of new ways to create and make their videos. Since the release of IGTV, many creators have then used the same video they have uploaded to YouTube and have applied it to their new IGTV channel.
Only one problem! If the original video was in landscape, there is no way you can change that video into a vertical video. This meant many creators uploaded the YouTube video to IGTV with just the middle part of the video, hoping for the best. 
How to fix this? It is a bit of a difficult situation! The only way we can see people fixing this problem is by uploading their YouTube video to the new IGTV and placing it sideways. This could be the reason many people will stick to uploading to YouTube as it is very familiar.
Other people may also just want to use IGTV as a place to upload longer stories, as before stories on SnapChat could only be ten seconds long and up to a minute on Instagram.
ProfileTree and IGTV
Will ProfileTree jump onto the IGTV bandwagon? In the future….probably! You'll probably find that adverts and many other similar videos from the company will be uploaded to this new Instagram feature. Videos will be very similar to YouTube. The only problem we might find is the difference between the new vertical videos on IGTV and the usual videos on YouTube. 
The best part of this new feature is the fact that there is now another platform/feature we can now become apart of. And easily too.
Summary: Will IGTV be successful?
In the near future, IGTV will be successful. Perhaps not as successful as YouTube in the next few years, but it does have potential to be more successful than YouTube over the next decade.
As the popularity of mobile devices becomes greater and greater, the increase in people using IGTV may well increase too. Enjoy!