The attention spans of viewers are getting shorter. But remember the good old saying "A photo is worth a thousand words?" Luckily, this still applies today. The twentieth century witnessed the emergence of color movies. Ever since then, people have been so busy with improving our human visual experience. We have come a long way since then, yet, our adoration for visuals has not decreased a bit. The almost instant and growing popularity of visual platforms like Pinterest, Instagram and Snapchat is a proof to that claim. Other digital platforms which are less image-oriented also encourage sharing images. Image dimensions are often overlooked when sharing photos online, which may affect the efficiency of your social media strategy. In the next paragraphs, we will explain Twitter dimensions in detail. What do image dimensions mean? What is the ideal image sizes for different photos you share on Twitter? And why do they matter? Let's dive into it.
What "Image Dimensions" Mean?
"Image dimensions are the length and width of a digital image. It is usually measured in pixels." Now, this also relates to resolution. "Resolution refers to the number of pixels in an image. Resolution is sometimes identified by the width and height of the image as well as the total number of pixels in the image." As the megapixels increase, the size of an image increases as well. Every platform on social media has certain image dimensions that the website supports. To maintain a perfect appearance on your business profiles on any channel, you need to keep these dimensions in mind. While choosing profile photos, cover/header photos, or photos you share in separate posts, you need to pick the suitable pictures based on the supported dimensions.
Do Twitter Dimensions Matter?
The question is: How do you want your business profile on Twitter to look like? Do you want to make it look professional and inviting, or poor and appalling? If the answer is professional and inviting, then Twitter dimensions matter. Your audience does not want to watch fuzzy or cut-off images. When you choose a large image somewhere it does not belong, it gets cut off, and you lose important parts of your image. That affects the quality of the overall look. Similarly, when a small image is selected for a place meant for bigger pictures, it becomes blurry and distorted. A huge no. Therefore, twitter dimensions matter; because knowing which images to select and where to put them is a part of controlling how your business looks like on Twitter.
Ideal Twitter Dimensions for Images:
Anyone who is a frequent user of the tweeting blue bird knows that there are different kinds of photos that you can share on the platform. Every type of image has specific dimensions that you should be aware of while selecting photos to share.
Avatar (Profile Picture)
Your avatar is the image that will be most frequently associated with your brand on Twitter. Your avatar, or profile picture, will be visible on three places on Twitter: your page, stream timeline, and the "who-to-follow" section. Whenever visitors check out your Twitter profile, they will immediately see your profile picture right next to your name. In addition, a smaller version of your avatar will show up beside every tweet you have on your own page. Similarly, the same small version of your avatar will appear beside your tweets on your followers' timeline. This is most likely how your followers will recognize your business on the timeline. Finally, the "who-to-follow" box which is located directly to the right of your twitter stream.
Twitter Dimensions for Your Avatar:
Use a square image that is ideally 400 x 400 pixels.
Maximum file size 2 MB.
Image types include: JPG, GIF or PNG
Header Image (Cover Picture)
"Header" is Twitter's version of a cover photo. Although your header will only appear in one place, which is your own profile. It is still quite important because it appears at the very top of your profile and it is much larger than an avatar. You have a larger space to display something unique to your audience. Therefore, make sure to choose the highest quality images for your header.
Twitter Dimensions for Your Header: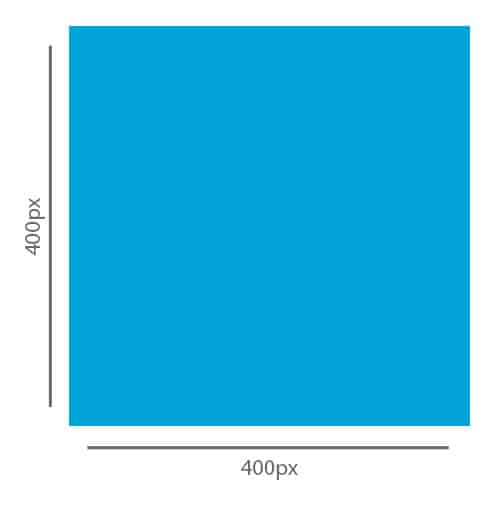 Recommended 1,500 x 500 pixels.
Maximum file size of 5 MB.
Image types include: JPG, GIF or PNG.
A Single Image in a Tweet
Twitter may be a little more famous for being the social platform for expressing opinions through short messages. However, the website now encourages sharing images in tweets. It is worthy to mention that any image you share in a tweet will be "scaled to 506 pixels wide and the height will be adjusted accordingly but to a maximum of 506 pixels." This matters because you do not want your image to be cropped out in a funny way on the timeline.
Twitter Dimensions for a Single Image in a Tweet:
Minimum to appear expanded 440 x 220 pixels (a 2:1 ratio).
Maximum to appear expanded 1024 x 512 pixels.
Appears in stream collapsed at 506 x 253 pixels on desktop.
Maximum file size of 5 MB for photos, and 5 MB for animated GIFs on mobile and 15 MB on web.
Multiple Images in a Tweet
Twitter has this nice feature of adding up to four images in a single tweet. Of course, that has different image dimensions than those of a single image in a tweet. Similarly, your images will be scaled down when they appear on the timeline. "The images used to be displayed as four equal horizontal rectangles but now, they are cropped into squares and the first image you upload will appear bigger."
Twitter Dimensions for Multiple Images in a Tweet:
Two images: Scaled to 252 pixels tall and cropped to 252 pixels wide
Three images: Scaled to 337 pixels tall and cropped to 337 pixels wide
Four images: Scaled to 379 pixels tall and cropped to 379 pixels wide
Twitter Cards
Twitter cards are the regular tweets with an extra topping. In addition to the 280 characters, Twitter now offers, you can add links, pictures, or videos. There are four different types of Twitter cards. Our main focus here is that the four types of these cards include images.
Twitter Dimensions for Twitter Cards:
The recommended image size by Twitter is 800 x 418 pixels for 1.91:1 aspect ratio.
In a Nutshell
If you are thinking that this is a lot of details, or maybe you got confused adjusting your images, there is a brief solution. Social media gurus have created –almost- perfect photo templates that work for different social media platforms. According to Buffer, here are two–one size fits all- photo templates:
1,024 x 512 for horizontal images.
800 x 1,200 for vertical images.