SiteGround Basics!
SiteGround? I know what you're thinking, they must be involved in archaeological digs or installing house foundations but they most certainly are not. SiteGround is one of the top web hosting companies in the world, with many rating sites, placing them in their top 10 if not top 5 best hosting companies. Since 2004 when they were established they have steadily gained a great reputation. They now serve over half a million clients, which keeps growing by the day.
Below I will be looking at all the features SiteGround offers including the security and support they offer as well as the different plans they offer, which to me seem too good to be true.

What is SiteGround Great for?
SiteGround offer a range of plans for different businesses and clients. These plans go from the StartUp plan to the 'GoGeek' plan which is a plan for people who would like to host many websites on an giant scale. This plan would be targeted towards clients who have outgrown the StartUp plan. Customers who would like to host multiple websites would be targeted in this plan. SiteGround are also widely known in the hosting services for their great speed, security and support.
Unlike WP Engine (WordPress Engine), SiteGround offers hosting for many other apps including WordPress, cloud hosting and Re-seller hosting. With the many different hosting they offer, it means they have expertise in many different areas, which could be helpful to clients in the long run, if the customer doe not know what type of hosting would be best for them.
SiteGround offer data centres worldwide, from the US, Europe and even Asia. This allows customers to choose which data centre to be housed in allowing for different speeds and loading times. They also pride themselves of their uptime percentages and support.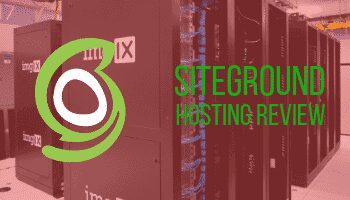 What's the Pricing like?
Plan 1; StartUp*
One of the best selling points SiteGround offer is their pricing. For WordPress hosting they offer three plans which I have previously talked about. The first plan is the 'StartUp' plan which allows its user up to 10GB of web space and up-to 10,000 monthly visits. This plan would be great for users who only would like to host one website, such as a personal blog. The price of this plan is £2.95/$3.68 a month which to me seems more than reasonable for all the features you get with it.
With this plan and the two other plans, you also get access to essential WordPress features such as free WP installer, site transfer, free SSL's, 24/7 support and many other features including a free daily backup and free email accounts. All these features mean that the customer will receive all the right material to startup perfectly good hosting for how many websites/clients they would have.
Plan 2; GrowBig*
The second plan that SiteGround offer for WordPress is the 'GrowBig' plan. To me this plan is named accurately as essentially once your site on the 'StartUp' plan starts to exceed the number of visits per month and the amount of web space, you would then need to go into a bigger plan. This plan costs £4.95/$6.18 month and comes with additional features with the added cost. The added features that you get along with this plan, is priority support and more backup features.
Plan 3; GoGeek*
The last plan for WordPress costs £8.95/$11.17, which seems to be expensive compared to the other plans. Along with the this plan you also get more added features including one click staging in WordPress. This plan would be great for people hosting multiple websites that gain a huge following/a large number of visits as this plan allows up-to 100,000 monthly visits. This plan also allows up-to 30GB web space.
Is the Performance any Good with SiteGround?
As I said earlier, SiteGround pride themselves on their uptime percentages. They even guarantee 99.9% uptime on their site and if it goes below you will be compensated."We have a unique approach to achieving the highest possible uptime leading to actual numbers of more than 99.99%. We also guarantee that if you ever experience more than 0.1% downtime on a yearly basis you will be compensated."
Over the twelve months of 2017, SiteGround had an overall downtime of almost two hours, within the whole of the 8760 hours of the year. Six of these months had an uptime of 100%, giving their customers the best uptime possible within these six months. From this information, it can be said that SiteGround take their uptime very seriously and it is something worth thinking about when finding a web host.
Along with the uptime, they also pride themselves on the load time they provide. This is another positive they provide for choosing SiteGround to host your sites. Compared to other companies, SiteGrounds average load time is 1.3 seconds considering the average load time is around three seconds. With the GrowBig and the GoGeek plans, you get an additional feature called the WordPress SuperCacher. This helps to speed up your websites by offering upto four times the speed to your loading. The SuperCacher does this by working with three different cache methods called the static cache, the dynamic cache and the Memcache to optimize your site to its full potential. The server to user response times is just like the load times as they provide all information to the user's browser quickly.
SiteGrounds Target Market;
With the three different plans for WordPress that SiteGround offers, there are a few different audiences they are trying to attract. With the StartUp plan, they are trying to attract smaller audiences. These audiences would be more personal for websites such as blogs. The GrowBig plan is ideal for customers who would like to host multiple websites. These websites would be smaller websites that don't attract massive traffic. The third plan would attract bigger companies and customers who would like to host multiple websites. All of the websites they would be hosting would be achieving a large amount of traffic to their website. This plan allows for upto 100,000 visits per month.
Do SiteGround provide good Security?
With every plan SiteGround offer for WordPress, they offer free SSLs and HTTP. Not only does this increase the security of your site, but it also increases the speed and the SEO of your site. With the help of SSL, all personal information such as credit card information can be encrypted. This means the server you send your information too will only receive the details of your information.
SiteGround also offers a lot of tools for the security of your websites. These tools help your site from spammers, hackers and other malicious attacks. One way SiteGround does this is with their IDS/IPS systems. These systems are built to monitor and detect malicious activity on your network. Common attacks are also easy to detect with SiteGroud as they use ModSecurity on all their servers and it is updated weekly to stop newer attacks getting through.
Backups are also done every day of your website. This is to combat anything maliciously happening to your site, so you restore your install to the most recent backup. By having backups daily, your restore can be from as early as the day before.
Isolation technology is also used by SiteGround. This means that every account with them is isolated from others. This is key to stopping one security flaw making many accounts vulnerable to attacks. Not many other hosting services use this technology.
What Support do they Offer?
SiteGround has been recognized as one of the top web hosting services that pride themselves on their customer support and care. On all of their ways to contact support, you should expect an instant reply apart from the ticketing system. With the ticketing system, SiteGround offer a guarantee for a first reply within the first ten minutes of receiving a ticket.
All ways to contact the support is available 24/7, so whichever way you prefer to get support is always available to you. To provide the best service to all of their customers, shifts are overstaffed. Along with overstaffed shifts, staff are monitored for their performance and speed.
SiteGround also offers tutorial, webinars and a setup wizard. With all this material provided, contacting customer support on certain issues such as setup is kept to a minimum. For WordPress, they offer a wide range of tutorials, including the installation, updates, plugins and many more issues and topics.
Does SiteGround offer any other Features?
You may have realized I have talked a lot about WordPress above and we all know that SiteGround offer services for other apps such as Joomla and email registration. By providing multiple services, they are experts in a range of different apps and the hosting for them. SiteGround also accept different currency's as payment, which is one benefit of SiteGround, Which WP Engine do not offer.
Country specific domain names are also offered to get the perfect domain for many of their customers. Although they offer this, they do not offer a free domain when you sign up which is one of a few let downs made by SiteGround.
Free site migration is also offered by SiteGround. This means it is a little hassle to move your site over to their host. This service applies to many of the apps they host including WordPress and single websites also.
All the support talked about above is offered with any other apps and sites they host that are not WordPress. This includes the tutorials, support centre and setup wizard. In terms of performance and security, they vary from app to app, but they all are excellent and offer great results.
What are the Negatives of SiteGround?
With all the benefits SiteGround give to you, I'm sure that the small negatives seem very picky, but there is always going to have to be negatives to everything. As I said before one negative was that they don't offer a free domain when you register.
Apart from that, there aren't many other negatives. One negative however is the number of monthly visits allowed in each plan. This limit could cause many customers to move to cloud hosting. Cloud hosting is a considerable amount of dearer compared to the shared hosting plans. Also going over these limits could cause your websites to not be hosted until the first day of the next month.
Another negative would be the storage they offer within these plans. The amount of storage offered again isn't that much, which could provide limitations on image and video-driven sites as the highest amount of storage offered is 30GB in the Go Geek plan.
What's my Opinion?
Overall I feel that SiteGround offer a great service, one that is very unique to them. The fact that they offer great performance, security and support over many different applications, including WordPress only show you that the customer is the most important part of their service. Not many companies could compete with everything they offer at a more than reasonable price.
This article was last updated on 25th September 2019
*ALL PRICING WITHIN THIS ARTICLE WERE ACCURATE AT TIME OF WRITING. ALL STERLING (GBP) AND EURO (EUR) WERE CONVERTED FROM DOLLARS (USD) USING GOOGLE'S OWN CONVERTER.
*ALL PLANS AND PACKAGES MADE BY FLYWHEEL ARE SUBJECT TO CHANGE BY FLYWHEEL THEMSELVES.
Check out other hosting reviews;WP Engine | SiteGround | GoDaddy | HostGator | iPage | Flywheel | DigitalOcean | Bluehost |DreamHost | InMotion | NameCheap | 1&1| Site 5 | 123Reg | A2| Liquid Web
To find out more about SiteGround and what they offer, check out SiteGround