The closest way to define search engine optimisation is selecting the location of your retail brick and mortar store. Would you choose a city-centre spot where your customers usually hang out? Or would you go for the outskirts of town with no passerby and only cricket sounds? Instead of 'passing by', people now pass by your website, and they don't do so randomly. They do so by searching for what they want on Google. Google then guides them to the best websites. So, how can you guarantee that your website is among Google's top recommendations. That's called search engine optimisation. Let's dive into types of SEO, digital marketing strategy, and how ProfileTree can help you grow your traffic and conversions.
Are You Looking for 'SEO Antrim?
ProfileTree – Expert SEO Specialists with a Local Flavour Serving Businesses in Antrim, County Antrim, Northern Ireland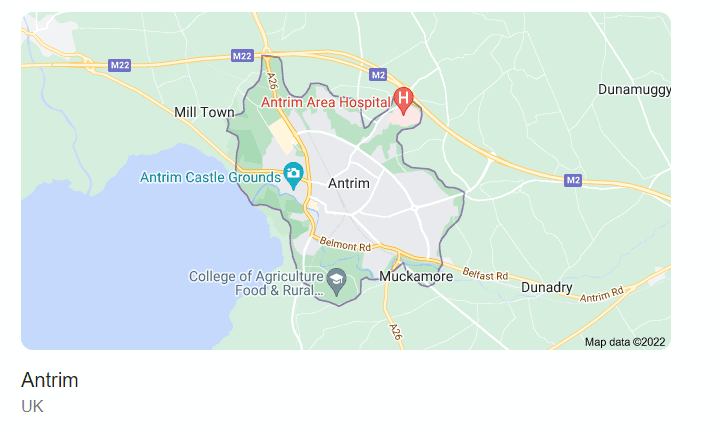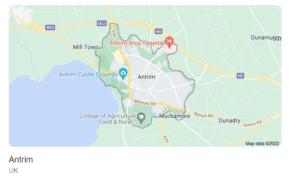 We are a self-made, family run agency based in Belfast and Monaghan. We've established ourselves in the Northern Irish market since 2010. We've grown the team, collected awards, and helped local and international businesses with their SEO performance. We've also helped hundreds of small and medium sized businesses with free SEO training through programmes funded by Northern Ireland's Councils over the course of three years. Investing in SEO for your business in Antrim means making sure your new SEO partnership is built on proven methods. We're SEO specialists AND a leading content marketing agency, meaning we can help that you're not just seen but that the right traffic for you works hard for your business.
SEO Antrim Strategy: 7 Types of SEO
To be able to improve your SEO performance, you need to first understand how SEO works. It'll also help you evaluate what any agency offers you. Because not every agency will offer the same things. The concept of SEO is optimising your website for search engines and there's a lot of aspects to that. It is also important to work on your SEO with, not only Google in mind, but also your customer. When optimizing a website for search engines, you must consider hundreds of rules to satisfy the various search engine ranking factors and at the same time keep your users happy.
SEO Antrim Strategy #1: Technical SEO
Google and other search engines evaluate your website from a technical point of view. In other words, there are technical parameters that affect the visibility of a website in search engines.
One of those parameters is optimised robots.txt. A robots.txt is a text file that resides in the root directory of your website. It gives search engines crawlers instructions onto which pages they can crawl and index, during the crawling and indexing process. This ensures that search engines can correctly access your website.
Add and Verify Google Search Console
Google Search Console is a free platform for anyone with a website to monitor how Google views their site and optimise its organic presence. That includes viewing your referring domains, mobile site performance, rich search results, and highest-traffic queries and pages. Here are some things that Google Search Console can help you with monitoring and identifying your website's:
Highest traffic pages
Highest click through rate queries
Average click through rate
Click through rate over time
Impressions over time
Average position over time
Highest ranking pages
Lowest ranking pages
Ranking increases and decreases
Highest traffic queries
Further Technical SEO Tactics
Create an XML Sitemap and submit it to major search engines
Optimise your site structure and URL structure
Responsiveness on both mobile and desktop devices
Website speed and loading time should be the fastest possible
SEO Antrim Strategy #2: On Page SEO
Keeping in mind that search engines ranking is performed on a page-based level, we can't stress enough on the importance of optimising every page on your website. You can use free SEO checkers available on the Internet to find out the issues causing the page not to rank. Here are some main guidelines to follow to optimise your on page SEO.
Word Count
The length of written content for any of your service pages should be in the range of 400+ words. For blog articles, the ideal length should be in the range of 800+ words. But don't be afraid to write way more than that if you can. Longer content never harms your website.
Headings
The page title is shown on the search engine results page, however, the H1 tag is what is shown as the top heading of a page. An optimised page has only one H1 tag and usually it must include the same topic and wording of the page title – more or less. Moreover, an optimised page needs to have subheadings (H2, H3) for the different sections. The readability of your content is crucial for both Google and your visitors. In case of long form content, subheadings make the page easier to read by users and scan by crawlers. At least one of your subheadings must include the primary keyword you target.
Paragraphs
Paragraphs are no longer than four lines in length. Once again, this makes it easier for your readers and Google to understand the article and skim through it quickly to get the information they're looking for. So, avoid long blocks of text at all costs.
Images and Video
A one-thousand-word article should contain a minimum of 2-3 relevant images. Each image should have alt text explaining what the picture displays to make it accessible for those with audio or visual impairments. One of the alt texts at least should include the primary keyword. Meanwhile, embedding videos within your pages is great because people prefer videos to any other content format – so video content is engaging. It also increases a visitor's dwell time on the page and that's a good sign to Google.
Keyword Density
This SEO factor is debatable. Some people say it is super important for search engines, while others believe that search engines evaluate the article as a whole. However, it is best to keep the primary keyword's density between 1.5-2.5% of the total word count.
Bold, Italics, Bullets and Numbered Lists
Rich text elements are used to signpost key information to users and search engines, in order to improve scalability of content. Make use of schemas, table of content, and structured data to pinpoint to search engines important parts of your content.
Page Formatting
After you create the content, upload it to the website and optimise it following the previous points. Use page preview, skim through the page, and review the page formatting. Is everything clear to the audience? Can they easily find what they're looking for? Do you have enough engaging elements with media and video. Simply put, spend some time 'polishing' your page. Although Google doesn't view your page like a human, but Google can find out if your audience are happy enough to stay.
SEO Antrim Strategy #3: Content SEO
Content SEO is a sub-part of on page SEO. It focuses on the material you add and create for your website. This comes as a natural question to whoever is creating content. What should you create content about? It starts by doing keywords analysis. If you already have a website, then you can use one of the free keyword research tools like UberSuggest. It will give you a list of keywords that Google associates with your website and which ones are the most successful at attracting traffic.
Work around these and find out more opportunities with popular keywords that are relevant to your field. Use a mix of long tail keywords and short ones. If you offer more than one service or product, then consider creating content separately for each one of them to rank.
SEO Antrim Strategy #4: Off Page SEO
Backlinking
Technical, on page SEO, and content SEO have to do with what you do on the website itself. However, how you promote yourself off the website matters to your SEO as well. For instance, when other websites link to your website, it gives you more authority and credibility. It is a sign of good, useful content. Therefore, reaching out to other local businesses to feature you or partnering with them is a great way to improve your SEO.
Another factor that affects your website's SEO performance is your social media SEO. Google likes to rank known brands high in the results because people trust them. You are more likely to click on a brand that you know. Therefore, you must prioritise working on your brand promotion on other social media platforms, getting good reviews on these platforms, and encouraging conversations about your brand in the various social media networks and forums. Google can pick up these signals and reward websites that people talk about.
SEO Antrim Strategy #5: Local SEO
Local search is when someone searches for businesses, products, services, or any additional information relevant to one specific location. They could be searching for "Christmas markets near me" to find an upcoming event in their city or "best painting service in [Antrim]" to find a painting service nearby. Of course, the above guidelines are to be followed either way, but for optimal local SEO results, here are some guidelines:
Put your business name, address, contact details on all pages of your website. Add the Local Business schema on your homepage
Create a Google My Business Account
Register your business with trusted directories like Yelp, Yahoo small business, Foursquare and other.
Promote your website on local directories and websites
SEO Antrim Strategy #6: Mobile SEO
Although we've already touched on this in the technical SEO section, it is worth mentioning again separately. Google will penalise your website if your website is not mobile friendly. This can really damage your ranking. For that reason, use Google PageSpeed Insights or Mobile Friendliness Tool for free to find out how your website performs on mobile devices. The tools also highlight the problems you should fix to improve your performance.
SEO Antrim Strategy #7: Ecommerce SEO
Ecommerce SEO is particularly tricky. It's much more challenging than optimising a corporate website or a blog. First, it has many more pages. Second, you need to work on every product separately. Sometimes the products are completely unrelated to each other. So, it is tricky to get Google to associate your website with some many unrelated keywords.
How to Optimise Ecommerce SEO Antrim?
Optimisation of an online shop starts with the homepage and category pages. These are your top priorities, and they can make or break your online store. They need to be clear, and their web design needs to be created with a customer journey in mind. Once those two are optimised, move to every single product page, and optimise its content, and ALL the visual elements, too. Think of all the questions a customer may ask and note it in the product description. Add the necessary schemas (product, offers, etc.). Don't forget to make use of social media SEO. Finally, start a blog and publish content related to your products and how they can help people solve a problem.
SEO Antrim: How Can an SEO Agency Help Your Business
For SEO in Antrim, we know you've probably had enough of costly 'trial and error', had enough of third-hand advice and had enough of digital investments that've failed to deliver. That's why we understand that you'll want to make sure an SEO partnership is built around the right results for your business. And that's why we don't do 'off the shelf' search engine optimisation services. Instead, we build a results-based strategy around your company and your goals. Find out more about the ProfileTree difference below AND explore our free business SEO tips…
SEO Antrim: How to Guarantee Your SEO Agency Uses the Right SEO Tactics
If you've been looking at SEO as a product, as a 'fix and forget' item someone 'does' to your website or as something you can buy from a corporation, you'll be missing out on the benefits of winning and converting quality traffic.
SEO Antrim: SEO Can't Be a Single 'Off the Shelf' Item
SEO can be seen as being built into the DNA, the very thinking behind your website and the way you choose content to be shown within your online presence. It is about moving the right traffic around your entire digital world with the goal of creating a journey with a conversion and customer relationship at the end. ProfileTree, a County Antrim website solutions company, will help with this broader, goals-orientated view.
SEO Antrim: SEO Can't Be a Tick Box Solution
SEO treated as something that can be added as a tick box service, rather than a process and a results-driven relationship between a business and agency, will be doomed to poor outcomes. Working with ProfileTree to understand how you are seen in search, how to drive the right traffic and how to convert traffic is the opposite of this approach.
SEO Antrim: SEO Will Change
Once you have your SEO just right, new devices and ways of searching will start to eat away at results. A professional, local agency will help profit from changes as they happen, rather than your business trying to keep up with inevitable change. But why invest in SEO at all? Look at it this way: the online world is the equivalent of people walking along a high street, great SEO means attracting customers with the right signage and offer, then a combination of SEO and content means developing a relationship geared towards a sale – at the right moment – once they are inside your 'shop'. Simple.
SEO Antrim: Local Knowledge
To meet your business goals, your SEO consultant needs to understand your business and its challenges. ProfileTree can understand and adapt to the highs and lows of your company because we're – like you – a County Antrim business! Our experts live and work in your area, so we don't just understand your market but your business environment too. We already know your customers, understand what it means to be a local business and have already worked with audiences like yours.
SEO Antrim: Local Service
We aren't a call-centre, and we don't send an auto-response email when you need help. Our local SEO services offer the standard of service you'd expect for your customers because we know your business counts on your time. Your customers in Antrim expect a certain level of service, and there's no reason why you should settle for less from an SEO partner. We offer a 'pick up the phone and just ask' approach, meaning we're simply here to help when you need us.
SEO Antrim: Local Changes
Business in Antrim, including wider County Antrim, changes…and changes fast. Your SEO and website solutions need to be responsive and understand your company when goals change too. ProfileTree can adapt our outcomes to your priorities.
When something in your market creates a challenge, we'll help turn it into an opportunity through proven SEO and a fast, specialist response. Ask about our client testimonials for an overview of how we can help.
SEO Antrim: Local Future
Changing devices, search methods and even how customers use the internet will mean changes by your potential customers in how they engage with your business. A relationship with a specialist ProfileTree SEO expert, with a ProfileTree specialist team behind them, means being ready for voice search and much more. We LOVE how the digital world changes, and we are always on the look for new methods to keep one step ahead. The good news? We've already done the testing and are ready to help you grow.
SEO Antrim: Ready to Book a Free SEO Audit?
Fill the form and send us your questions, we will be happy to answer all of them. Please do let us know if your business is registered in Antrim. Alternatively, you can book a chat with one of our team members to audit your SEO performance and find out how we can help you grow your website traffic organically in Antrim, County Antrim.
More services: Digital Training Antrim, Digital Marketing Antrim