While it may seem unthinkable today, there was a time when SEO and user experience (UX) were seen as two very distinct aspects to running a successful website.
During the budding days of SEO, all it would take to reach the top of the page rankings was a website filled to the brim with various keywords and a couple of handy backlinks.
However, as Google and other search engines have strived to offer their users a more personalised and efficient service, the art of SEO has grown exponentially into one that relies on hundreds of variables in order to create a successful site.
As of 2015, one of the main factors Google decided to focus on was user experience. Because of this, SEO and UX have become pretty inseparable bedfellows for websites looking to reach the top of the rankings.
With this in mind, let's take a closer look at this essential combination.
What Exactly Is UX?
At its core, UX is primarily focused on turning visitors to your site into new clients through a positive experience with your product or service.
Ill-designed websites, lacklustre copy or confusing navigation can make using a website both irritating and time-consuming which, in turn, negatively affects a user's experience.
On the other hand, a slick website design that allows users to quickly access the information they need can be extremely beneficial to a business.
It's for this very reason that user experience has been a key player in creating new leads for businesses, with the industry offering employment opportunities across a wide array of UX specific roles.
User experience (UX) is an extremely valuable field.
Merging SEO and UX
When it comes to merging these two concepts together, quality has become one of the most important variables. With search engines increasingly focusing on UX when determining SEO rankings, the quality of your site will directly influence where you place.
With this in mind, whilst utilising keywords and backlinks is still an important part of SEO, you can't simply utilise old-school techniques and expect positive results.
Keywords need to be embedded into well-written and organic copy, whilst links and navigation need to be ergonomic and cogent, using a call-to-action section (CTA) or connected paragraph.
How Do SEO and User Experience Work Together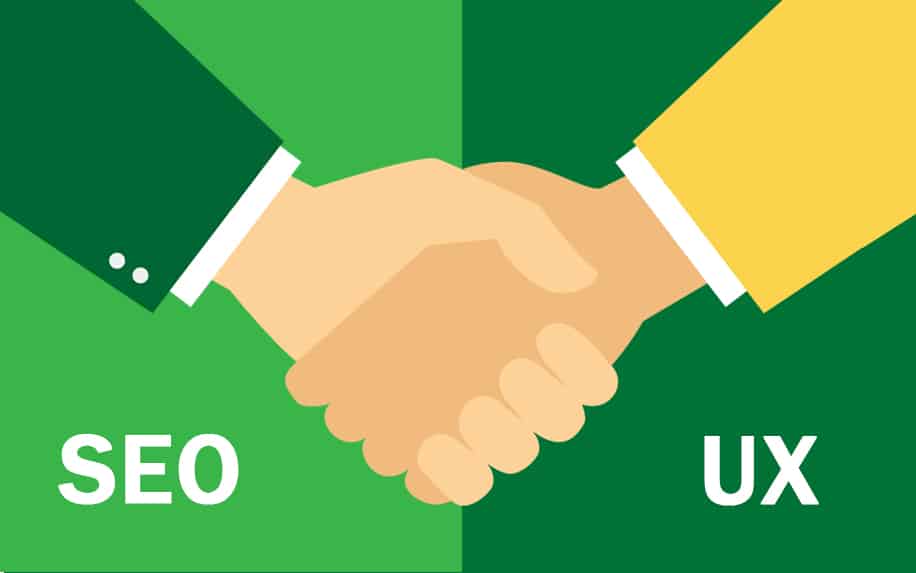 You may have an understanding of SEO and user experience separately but may not fully understand how well they work together.
The easiest way to break down how SEO and user experience work together to improve your business is realising that SEO targets the search engines you want your website to rank on and UX targets your website visitors once they have reached your website from the search engine.
The two combined, when done correctly, can create success for your business website and increase your potential sales leads.
SEO and UX Overlap Points
Let's consider the specific points where SEO and UX overlap. Essentially, this happens in two ways:
Where SEO and UX impact one another,
Where SEO and UX are impacted by common factors.
Both of these are important. In either case, without properly understanding these points of overlap, you might hurt one aspect of your site while trying to improve another.
Here are some of the most important points where SEO and UX overlap.
Load Speeds
One of the most important factors which affects both SEO and UX is the load speed of a given page. How this affects user experience should be pretty obvious. After all, who likes sitting around waiting for pages to load?
Poor load speeds basically impact SEO the same way.
You can think of search engine crawlers as being essentially as lazy as their human counterparts. The slower your site is, the worse it's chances of ranking are. This is made even worse where your site has issues with server timeouts.
Meta Data
Meta data is most often associated with SEO, but there are also a number of instances where it can have an impact on UX. The most important pieces of metadata to consider for UX are:
Title tags and meta descriptions – In addition to impacting your site's chances of appearing on SERPs, these also affect the chance of a user clicking through. More importantly, they should properly describe the contents of a page. Where users have been misled in order to improve traffic figures, they are unlikely to stay on the page long enough to make a conversion.
Image alt attributes – Again, these days alt tags are most frequently talked about in the context of SEO. However, their original purpose is to improve the experience of users with reduced mobility or poor internet connections. As such, it's important to balance these concerns with keyword optimisation.
Bounce and Exit Rates
This is an instance of UX having an impact on SEO. When organic users land on one page and then move onto another without leaving the site, this signals to the search engines that your site has provided them with something of value.
The SERP algorithms then know to privilege your site.
The opposite also applies. That is, if you have high exit and bounce rates from a particular page, it means that the user didn't find what they were looking for. The algorithm then decides not to display your content for that particular search query.
Average Time-on-Page
Similarly, the longer the average user spends on your page, the more likely it is that they've found it valuable. The search engines are essentially concerned with directing users towards valuable pages.
This means that giving users an engaging or interesting experience will lead to better SERP positions for your site.
What Impact Can You Expect to See?
Of course, the main benefit of combining SEO and user experience will be an increased level of traffic to your site which will, ultimately, drive profits.
However, understanding this link can change the way your business operates as a whole, combining departments and fostering integration across your whole operation.
Working with the Professionals
Whilst a quality UX is a positive factor in SEO, there are a host of other factors that contribute to getting your website to the top of the page rankings.
Here at ProfileTree, our team of dedicated digital strategists, copywriters, marketers and designers are on hand to give your business the boost it needs to succeed online.
Do you need help in creating a winning combination of your SEO and user experience for your website?
Or do you want to learn more about how our award-winning content marketing services can help you?