Websites now play a major part of a business's digital marketing orchestra. It is the only platform you truly own. Moreover, customers now expect so many things out of a website. It needs to be responsive, engaging, optimised for mobile devices, visually pleasing, and easy to navigate. As an experienced web design agency in Antrim, we will share some of the tips and tricks that you need to know before embarking on a new web design project. Let's talk about choosing the requirements of your website according to your needs and the different types of websites out there, particularly event websites, membership websites, and non-profit websites.
Are You Looking for 'Web Design Antrim'?
ProfileTree – Expert Web Designers and Developers with a Local Flavour Serving Businesses in Antrim, County Antrim, Northern Ireland
We are a self-made, family run agency based in Belfast and Monaghan. We've established ourselves in the Northern Irish market since 2010. We've grown the team, collected awards, and helped local and international businesses with building top-notch websites. We've also helped hundreds of small and medium sized businesses with free web design and development training through programmes funded by Northern Ireland's Councils over the course of three years. Investing in building a website for your business in Antrim means making sure your new website partnership is built on proven methods. We're also SEO specialists and a leading content marketing agency, so not only can we help with building a website, but also help you get traffic for that website.
Web Design Antrim: The Pre-Briefing Stage
Deciding to build a website from scratch or to redesign an existing website is an important business decision. In the past, the 'IT team' would just gather up and list some pages required for the website and someone would write a brief introduction on the company and that would be it. It is way more complicated than that now. A web design project nowadays is a project that requires the alignment of many stakeholders: tech, marketing, business strategy and management, HR, customer service, and sales. A website is more than a brochure about your business. It's an integration of the internal business process, a marketing channel, a customer service portal, a sales channel, an HR portal, and many other things.
Web Design Antrim: Internal Team's Alignment
There are many questions that you need to answer before heading out to hunt for a quote. Every business process may be different according to the structure of your company, the number of employees involved, the objectives of building a website and how you intend to use the website overall. Here is a list of questions and discussions that you need to bring to the table, based on our experience with clients across different industries.
Web Design Antrim Pre Briefing Stage: Identifying Business Goals in Reference to The New Website
What are your business objectives from having a website?
What is the most profitable source of income for your business? How do you see it growing on digital platforms?
What is the least profitable source of income for your business? Can a website feature give it a push?
Who is your target audience? How well acquainted are they with the digital world?
Web Design Antrim Pre Briefing Stage: Assessing The Internal Side of Your Business
What does the internal process look like? What can a website do to optimise your business process? – especially from a customer point of view.
Are there any mundane processes that you would like to automate through your website?
If yes, are your internal staff members ready for a digital transformation?
Is there someone assigned to look after your website after it's built?
Are you going to add content on a regular basis to the website?
Web Design Antrim Pre Briefing Stage: Website Design and Functionalities
What are the pages you require for your website?
What are the features and functionalities that you would like to add to your website?
Who is going to host and maintain your website?
Do you have a specific design in mind?
Do you have any design references within your industry or outside of it?
Do you have a specific budget in mind?
Web Design Antrim: Types of Websites
We've touched on several types of websites in previous web design guides: ecommerce websites, business websites, blog websites, and portfolio websites. Now, we're going to discuss three more popular types of websites: event websites, membership websites, and non-profit websites. It's important to understand that not all websites are built equal. The needs of every website determine what its requirements, features, user experience, site map, and even the tone of voice of its content will look like. Moreover, the bigger picture of what the visitors will expect out of your website needs to be considered during the design and development phase.
Web Design Antrim Type #5: Event Website
An event website allows for streamlined event management, from invites to marketing, buying tickets, and even through follow-up email marketing. Your site is your event's central command station, acting as the anchor of your event marketing efforts. If you're looking to reach a wide audience, you can even use your site as your virtual event location — which may not be a bad idea, as 80% of event organisers claim virtual events reach wider audiences.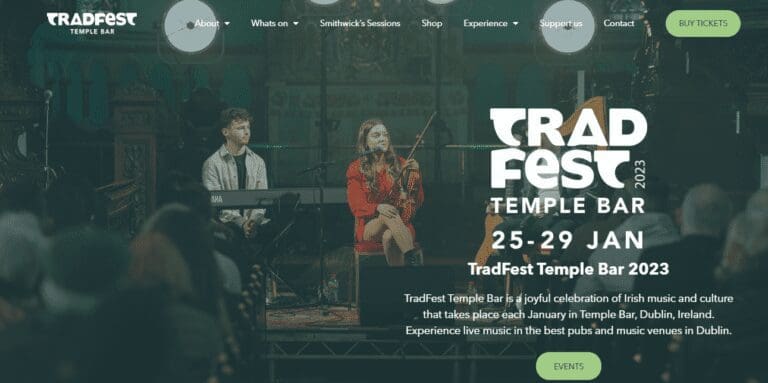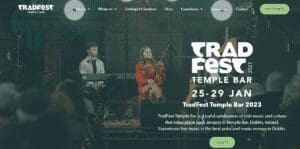 Building a Website for Engagement
An event website needs to be engaging, because if you don't spark the interest of your visitors that your event is the most enjoyable, useful, or creative. Additionally, you need to build authority and create a hype for your line up of speakers, bands, companies, etc. So, not only are you building your own brand, but also co-branding or partnering with other relevant people so you can both build an equity for the event altogether.
Event Website Core Pages and Functionalities
About
The must have pages on an events website are usually 'About' and 'What's On'. The About page includes information about you as an event organiser. Who you are and why you organise this event and what it represents to its attendees. A little bit of the event's history is always appreciated, too. In other words, you're giving the visitors a reason to care while sharing your vision with them. The About page should be entirely about you, your team, your loyal fans, etc. This is where you build equity for your own brand.
What's On
On the What's On page, that's where you create a hype for the speakers or your line up of guests and the programme of the day(s). This is the hero page of your website, in addition to the homepage. The UI/UX of this page must capture the soul of your event and be supported with video content, great aesthetics, and imagery of those who will make your event.
Functionalities
Most event websites require a booking system. A booking system gives you control over the process. From the moment a potential attendee visits your website to the moment they make their payment and receive their ticket. Having this process done through a third-party vendor blocks you from having insights about who your audience is. You wouldn't be able to target them through email marketing, ads, or get in touch with them for any other reason.
The one thing you need to be careful about is that integrating a booking system requires a highly secure and stable website build. A stable website build won't crash when it's two days before the big event and many visitors are buying tickets – last minute. A secure website is also super important to accept your clients' payments.
Additional Ideas
Many event websites love to add a blog or under another word call it 'Experience'. This is a place where you can share engaging guides to about your events, programme, destination and its culture, or any valuable information related to the topic of the event. There are two advantages to establishing a blog or 'Experience' page on an event website. First, you can use it as a search engine optimisation tool to attract traffic to your event. Additionally, this is a place to truly engage and build a community from your attendees where they can get to know each other and share their experiences – or even better encourage them to share user-generate content.
Web Design Antrim Type #6: Membership Website
A membership website ensures exclusivity by requiring visitors to sign up or pay a fee to receive full access to its services, tools, or resources. A membership website is suitable for online magazine or publications that require membership to read. Alternatively, you may have a business or non-profit site that you want to add a members-only page to access additional content. Doing so can increase revenue streams, builds trust and loyalty between your members, and increases website traffic. So, in other words, it could be a way to monetise your website.
Membership websites are also suitable if you want to have a customer service portal integrated into your website. Many B2B businesses wish to digitise their sales process. It empowers your clients and differentiates you among competitors. Your client would be able to login, access your service, get a quote, and approve or purchase it, then track their order and have exclusive resources or documents related to their order or the services they could be interested in.
Membership Website Core Pages and Functionalities
Pages and functionalities for membership websites vary a lot according to the nature of the business. However, what they have in common is usually the personal aspect of the user experience. They login to your website, so in other words, it's their profile. They expect that what they see on the homepage is personalised and tailored according to what they're interested in. It's also a good idea to give your users the opportunity to save things and get back to them later. Whether it's content, services, or any other aspect, try to give your audience as much control as possible over what they see on their profile.
Web Design Antrim Type #7: Non-Profit Website
With a non-profit website, you can create a website that informs visitors of your organisation's mission, goals, and core values. Whether a school website, church website or animal rescue site, be sure to include information about past events, your mission statement, and a donations page.
Non-Profit Website Core Pages and Functionalities
The About Page is really your selling point on a non-profit website, since you don't have 'products', you're selling your own credibility and purpose. Give your audience as much information about your organisation as possible because transparency is a top priority for anyone donating money. The second page which is also central to a non-profit website is 'Testimonials' or the stories that give your visitors proof of your real-life impact. They want to know that the entity they're donating to is changing lives. They want to see the team behind your organisation or become part of the volunteers participating.
To encourage them to do, of course, you need the right calls to action and a clear customer journey. However, this cannot be achieved if your events or on-ground activities are not well-documented, displayed, and explained through engaging content and web design. The 'Donation' page is a must have on a non-profit website. It's the transactional page where visitors can give out their payment information. Security is, of course, one of the top priorities for any organisation accepting donations. 
Finally, non-profit websites usually have a 'What's On' page. This is particularly useful if you continuously have events or programmes and need volunteers or attendees to take part in your events and raise money through selling tickets. In such case, a booking system is required to showcase upcoming events, the schedule, and have people buy tickets through your website.
Web Design Antrim: Why Choose ProfileTree?
We love to do things differently and we love to deliver great work based on real results and your individual needs. With no fuss, no jargon, and no wasted time. For web design in Antrim, we know how to help your business grow because we're also a County Antrim-based company and because we built our own success on web design, content marketing, and SEO. This means we know how important your online world is for your business and we know a digital investment needs to perform for your company.
Local Agency with World Class Results
We're finding more and more customers telling us they've never looked back from a decision to work with a local website agency. Why? The simple value of a local solution to local business challenges! We're a County Antrim-based company in the same business market as our local clients, and they've all been telling us one thing: the difference between working with a Northern Irish agency as opposed to using international 'off the peg' solutions has made a big difference to their business.
Web Design Antrim: The ProfileTree Methodology
Web Design Antrim: Design That Performs
A generic web design solution won't feature a focus on results built around your business, a specialist site can. Need more leads? Need better sales support materials online? Ability to make changes quickly? eCommerce? A site custom-made to be a living, breathing – and performing – part of your company can truly deliver on your business objectives. Ever-changing SEO requirements also mean that a technical knowledge is needed to keep your site visible for those searching for your business.  Meanwhile, a 'one size fits all' approach could see you drop from view compared to competitors.
Web Design Antrim: Local Customer Service
When you have a question about your site, when an urgent issue needs to be addressed or when you need a change without delay, dealing with call-centres and 'support tickets' can be infuriating for a local business. We're a small team, based close to you and with a belief that your time is valuable. We won't waste it as we know it is better spent on the bigger challenges of running a company.
Web Design Antrim: Development That Grows With Your Business
We're seeing our local area change around us. And fast too! What your business needs today may not be the same as what you'll need tomorrow. A lasting relationship based on responding to change, keeping your business ahead of the digital curve, can't be matched by a general web solution.
Web Design Antrim: Local Customers
We know your customers because we are your customers! Members of our team live in and around Antrim and County Antrim. Just like our clients, we're invested in the local area and local business markets. We're based in Belfast, County Antrim, with team members from across NI. That's why we want businesses like ours to thrive together and grow together!
Web Design Antrim: Local Knowledge
Our County Antrim-based team know the challenges faced by your business because we're a County Antrim-based business too. We'll meet with you to find out how we can help grow together. Just ask! Every area in NI has its own unique challenges and customers. To bring potential buyers into your brand, working with a local agency who'll understand those groups can be the start of a winning partnership.
Web Design Antrim: Local Support
We aren't a call-centre and we don't hide behind a receptionist, meaning we're quick and responsive to your enquiries. We're an NI company like you, meaning we know the value of great local customer service. Your own customers expect better than recorded messages, slow replies, or generic responses. Why work with a company unless they can match your business ethos and approach to customer service?
Web Design Antrim: Local Changes
We know Antrim is a changing town, just like Belfast it is a changing city. Working with a local company on local solutions can mean a better understanding of your business not just today but looking to the future too. Often, we find that our customers come to for help with the same changes we find we need to manage our business around too! In fact, the right web design and digital approach can even leverage change for the better.
Web Design Antrim: How Much Does a Website Cost
Working with so many different businesses over the years taught us to work with different budgets and requirements. We have created three different packages for our web design and development projects; through which we cater for different needs and requirements. In other words, you set the requirements, we tailor a package within the limits of your spending. The average cost of a website at ProfileTree is 7000£ covering research, UI/UX design, web development, SEO, and content migration. This price figure is subject to change according to the requirements of the website and future updates to our packages.
Web Design Antrim: Ready to Book a Free Website Audit?
Fill the form and send us your questions, we will be happy to answer all of them. Please do let us know if your business is registered in Antrim. Alternatively, you can book a chat with one of our team members to audit your website for free and find out how we can help you establish a strong website presence in Antrim, County Antrim, Northern Ireland.
More services: Social Media Marketing Antrim, SEO Antrim, Content Marketing Antrim, Digital Training Antrim, Digital Marketing Antrim