'What is readability?' might not be your first question when drawing up content. But this means you could be missing out on a simple, easy way to 'tune up' your ROI.
How? Let's take a closer look at some essential questions: What is readability? How does it improve the SEO of my website? What can I do to improve my own readability? What are the best tools to help me improve my readability?
Essentially, readability is about making your content as easy to understand as possible, for humans and algorithms alike. This is something that many brands underestimate. The truth is that people have different literacy levels.
You want everyone to be able to understand and enjoy your content. Beyond that, algorithms aren't quite as smart as big tech companies would like to think they are. The importance of readability reflects this fact.
Today we're going to cover everything you need to know about readability. Let's start with the basics.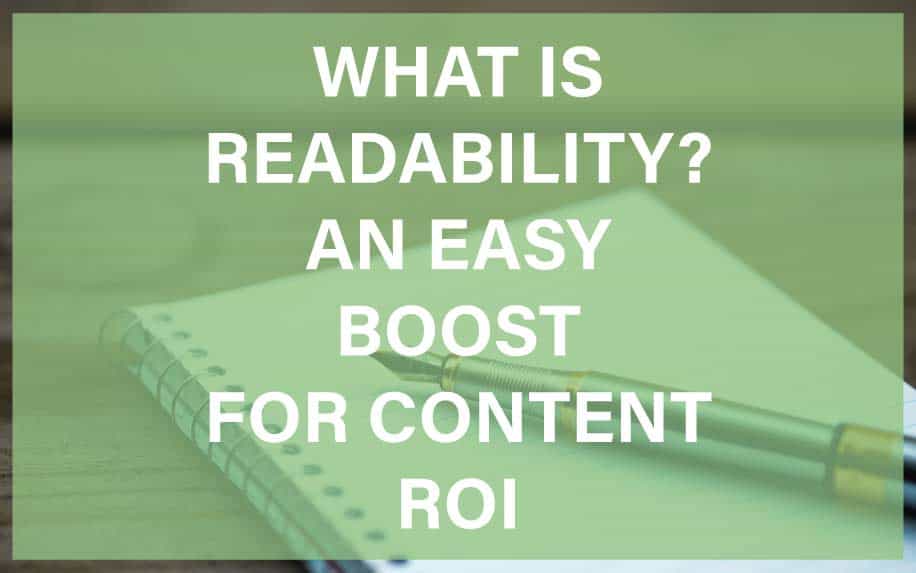 What is Readability in WordPress and Beyond?
What does readability actually mean? It's simply the combination of sentence structure, the language you use, the length of your sentences and much more. It all adds up to the one question: is your content easy to read or hard to read?
Some of the factors that influence your readability include:
Sentence structure,
The language/tone used,
The length of your sentences,
Grammar used,
The length of the paragraphs,
Headings used and transition words used.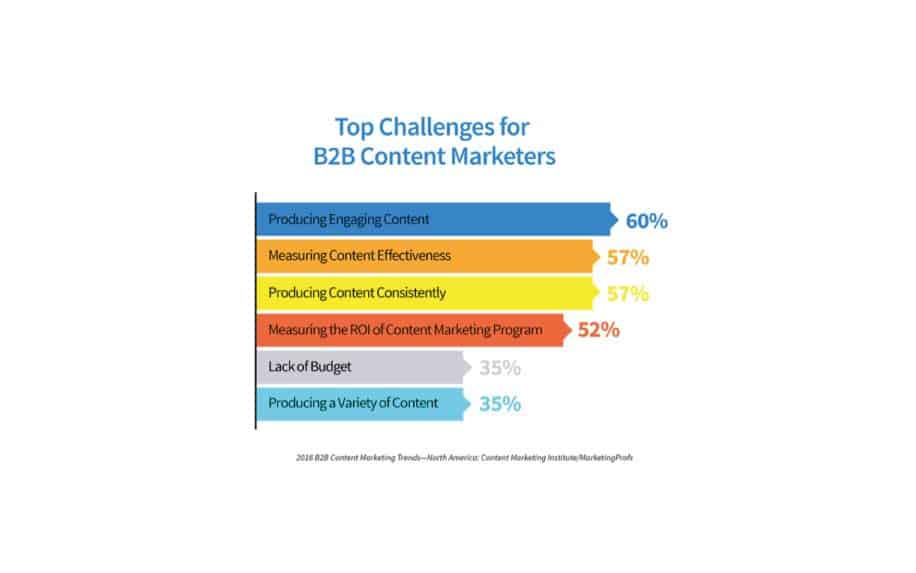 How Do I Get a High Readability Score?
The conventional wisdom is that your content should be useful for an expert, but that you're granny should understand it. Of course, this ignores the fact that many people have smart grannies.
All the same, the basic principle is that anyone should be able to get the same value out of your content, regardless of their literacy or expertise.
So how can you achieve this?
As noted above, readability is made up of a handful of factors:
Sentence length: All sentences should be as concise and to the point as possible.
Vocabulary: Don't use technical jargon where simple language will do.
Paragraphs: Generally, your paragraphs shouldn't be any more than 3-4 lines long.
Style: Don't use complex or overly literary styles.
Grammar: Avoid complex syntax like the passive voice and multi-clausal sentences.
Structure: Break your content up with subheadings, images and videos at least every 200-300 words.
You'll read some people saying that you need to achieve a certain readability score for your content to be effective. The truth is a little murkier than this. Generally speaking, the higher your readability the better.
However, this needs to be balanced with providing good information. For example, in technical industries, it's a lot harder to avoid complex vocabulary. As such, it's important to have the most readable content possible, while still getting your point across.
Why is Readability Important?
There are many reasons why readability is important. First and foremost, users need to actually understand your content. Most people don't finish Ulysses because they just find it too hard. The bookshop has already made their money though.
The same can't be said about content marketing.
If someone finds your content too hard to read and gives up, they'll leave your site. This tells the Google algorithm that they didn't enjoy your site, so it won't show it to other users. In this way, readability has a concrete impact on SEO.
The format of content also is important to the overall readability of your content. If your content doesn't flow nicely it can become very difficult to read.
Similarly, if your images don't flow with your content it can become difficult to read.
To help with images throughout your content, always make them consistent. Similar size images and images placed in similar areas of the page can also make your content easier to read.
The flow of your content can also allow you to get your message across much easier. Whether you are doing a review or writing a recipe, the flow of the content is vital.
At a basic level, your content should also be laid out in a visually appealing way. The thing to realise here is that people are lazy, especially on the internet. If you present users with large chunks of text, they'll be less inclined to read it. User experience is key.
This is why short paragraphs are so critical.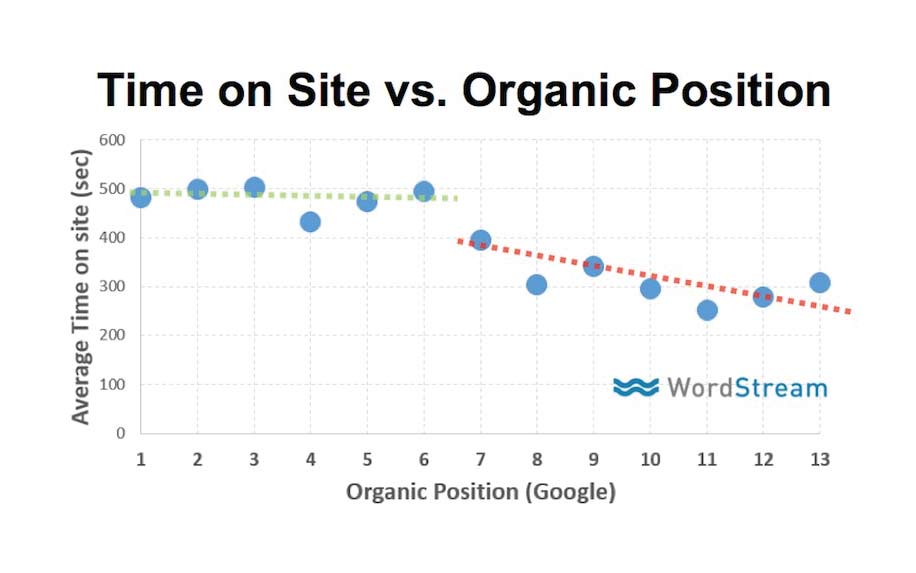 How to Measure the Readability of Content
To help improve your own readability, there are many techniques and tools you can use. Many of the techniques even relate back to what you were taught back in school!
That's because many time-served sentence structure, grammar and spelling techniques come to life when you want to increase your readability. All of these techniques would make your writing a better read for your users. A better read means better readability.
Using images within your content is also a great way to increase your readability. It allows content to be spread apart making it much easier to read. Users can then scan over content and then take the main points from the content much easier.
Online tools and plugins also help your readability. You can apply content to many of these tools and they will score the content using algorithms.
Read on to discover some of the best online tools…
The Best Readability Tools
On the web there are numerous readability tools to help your content perform at its best.
There are also different individual tools that can be applied to web builders, such as Yoast. This means you don't have to go anywhere else off your web builder to check your articles readability.
Readable.io
Readable is one of the leading online readability checkers. It uses the two best algorithms to determine the score of a document. These algorithms are the Flesch score algorithm and the Gunning-Fox Index algorithm.
Some of the best features of this tool is that it will score any document including PDFs, word documents, webpages and much more. It can also analyze the readability of a site in a few minutes.
ProfileTree would recommend Readable to make improvements to your content. It is a highly-regarded way to find pieces of content you might reconsider to improve. Definitely worth a trial!
Readability Test Tool
Another great web tool is 'Readability Test Tool'. This tool works very similarly to the Readable tool, as it uses algorithms to determine the readability. It is a quick and easy tool, which allows users to test their already published content. All you need is a URL.
The one downfall to the tool is that it only offers statistics of your site and your pages on the sites.
It does not highlight your pages like the readable tool does. This makes it tough to help improve the readability of your pages and articles, if you don't know which parts of content that you need to improve.
Grammarly
You may have heard of Grammarly, as it is widely advertised online on platforms such as YouTube. So, it may be surprising to see this tool within this small list of readability tools.
The reason it is in this list?
It helps with spelling, grammar and sentence structure, which is a great big part of readability. Not only does this tool check within documents, it also checks your spelling, grammar and sentence structure online, within emails, social media and web builders.
It is a free web tool, which can be added to your extensions on Chrome.
Yoast
Yoast is a Plugin for WordPress. This tool is built for WordPress SEO.
So what does this have to do with readability? Well, the readability of the content helps out the SEO of the content. This tool implements a readability tool alongside some other SEO tools, to help your site/pages rank online.
The readability check is free with both the free and premium version of the plugin. It uses the Flesch score algorithm to determine the readability of the content within your site and pages. It also has a highlighter tool like readable, which shows which content could be improved.
If you use WordPress for your website, we highly recommend the use of Yoast, as it not only helps with your site's readability but also the SEO of your site.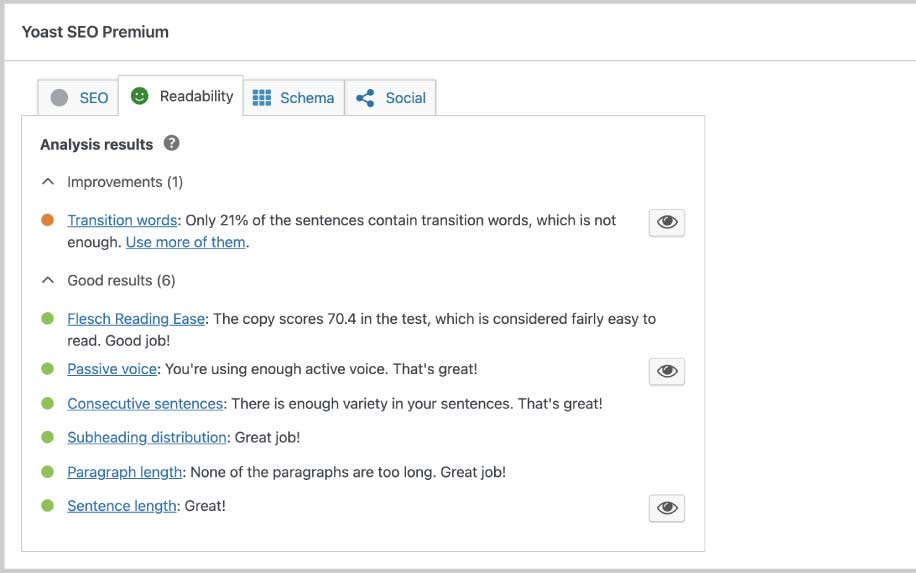 What is Readability?
The VERY good news about improving your content readability? Since you're already writing the content, an awareness of readability means you can make improvements as you go along.
In truth, readability is all about getting into good habits, and understanding what good online content looks like. So, there's no extra work. Your readers will appreciate it and the search engines will love you for it.
If you want help with your content marketing efforts, contact ProfileTree today.