What is Digital Marketing? Simply: methods that will help refine your image and help you attract and reach more prospects.
Need more customers? Trying to make your brand more user-friendly or appealing? Digital marketing involves setting a plan of action based on achieving company goals.
How? Read on…
IN A RUSH?! Click for our <90 second snapshot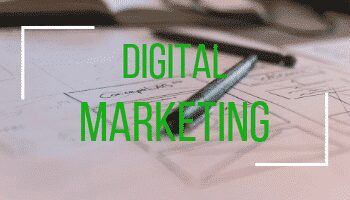 What Does a Digital Marketer Do?
Digital marketers are experts that help you strategise and carry out activities online that result in more leads, customers, and sales. A digital marketing strategy is simply a plan to achieve a goal. The strategy you use is contingent upon your goal. Your strategy consists of actions and a series of these actions is a campaign.
A full strategy can have many parts and usually includes:
Content generation
Email marketing
Social media marketing
Video marketing
Social listening
Brand awareness
What is Digital Marketing Strategy?
So, what is involved in digital marketing? Buyer personas need to be developed so that your company knows exactly who they are creating content for. The more specific your buyer personas are, the better.
It's crucial to understand who your customer is to get the most out of your inbound and outbound efforts. This part of the strategy involves creating a list of the clients that provide the top 20% of revenue, these are your best customers.
Buyer personas
Provide unique solutions for your audience's most common problems
Research, survey, interview, and know your buyer better than you ever have
Determine the location, age, income, and job title of your buyers
What goal does each buyer persona intend to achieve and how you will help
Use the hobbies and interests of your buyers to create content
Understand the priorities of your customers
Sales Funnel
Your business pipeline consists of the activities that guide a prospect into becoming a lead. Usually, there are no less than four stages to a showcasing/deals pipe. Expert digital marketers can help you gain the attention of your ideal prospects.
Once they know about your business, it's important to get them engaged and keep them that way.
This can be achieved through social media polls, quizzes, surveys, newsletters, contests, among other methods.
Marketing experts helps you figure out what the needs of your customers are so that you can meet the need. In some cases, you can research your prospect so well that you know what their needs are before they do. By meeting that craving and you can motivate them to make a move.
Types of Digital Marketing
Owned, paid, and earned media
Earned media consists of shares, reposts, reviews, and mentions
Paid media is advertising, PPC, display ads, paid influencers, retargeting, and social media ads
Owned media is your website, blog, mobile site, and web properties
Video marketing
Including video in an email increases click through rate
How to increase conversions by including video on your landing page
Determining the best way to add video to your advertising strategy (full page ad)
How to assist your buyer's decision making process through video
Trust is easier to build through video
Benefits of Digital Marketing
Digital marketers drive leads to your business. Prospecting is essentially using inbound and outbound marketing including SEO to attract visitors to your site.
What is your USP or unique sales proposition? How do you fit into the market?
What makes your business distinct and your offerings the most attractive? Be able to articulate this to your prospects with succinctly and simply. You could have a higher quality offering than your competitors, but if it seems too complex, it's less attractive.
Summary: Build More Trust
Your website and social content both work as a digital 'shop front'. Think of your client's user experience and consider how you can enhance that. Everything about your site affects the client encounter.
Compose your site and digital strategy with care. Good luck!
Free MARKETING knowledge base from ProfileTree… Facebook Marketing Services | Viral Marketing | Video Marketing – A must | How to get into Marketing | Content Marketing | Online Affiliate Marketing | Snapchat Marketing Guide
Our quick read WHAT IS series… Corporate Strategy | Business Level Strategy | Video Marketing | B2B Marketing | Value Proposition | Leadership | B2C Marketing | Online Advertising | Mobile Marketing | Content | Content Marketing | Guerilla Marketing | Influencer Marketing