What is affiliate marketing? Imagine unlocking the potential of people in your marketplace who can drive potential customers to your business. How?
Affiliate marketing is one of the best ways to make passive income while also pursuing your interests.
Advertisers continually rank personal testimony as one of the most effective ways to sell a product. By participating in affiliate marketing you are becoming an essential component in that marketing engine. But what is affiliate marketing, and how can you get started?
What is Affiliate Marketing?
Affiliate marketing is a tactic where a business or a product owner allows third-party people to earn compensation by generating leads to the business' products or services. The third party is referred to as ''affiliate''.
In other words, this is when major companies use freelance marketers to sell their products for them. In return, the affiliate gets a cut of each sale they make. Typically, this is a fixed percentage.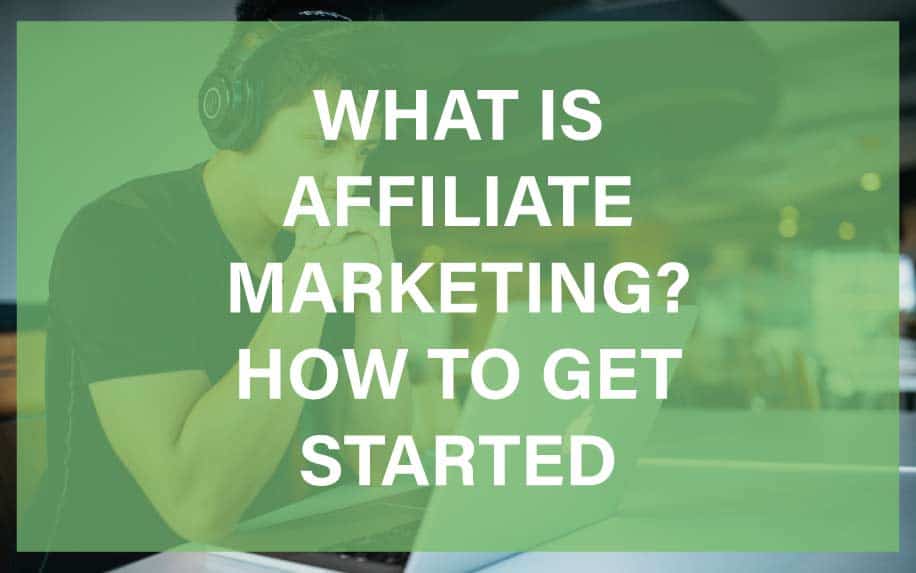 How Does Affiliate Marketing Work?
Affiliate marketing, being a practice of recommending business services or products to potential customers, has developed with the improvement of technology. It involves four parties:
Affiliate marketers,
Vendors,
Affiliate networks.
The Affiliate
The affiliate is the person who actually does the work. On their website, the affiliate publishes customer reviews or details about the product and is sold on the vendor's website. There is also an affiliate link that links to the advertiser's product page.
An affiliate uses whatever channel they see fit to market to consumers. They can use digital billboards, social networks or via a search engine. Affiliates help an e-commerce merchant to reach a wider variety of internet users and online shoppers.
They implement text ads, banner ads and/or links on their website or email their clientele. The advertisement can be in the form of images, videos, articles or anything that can draw attention to a product or service.
When a visitor of the website clicks the ads or the links, they are redirected to the e-commerce site. When they purchase the service or product, the affiliate receives the agreed commission.
The price of the service or product is the same as buying directly.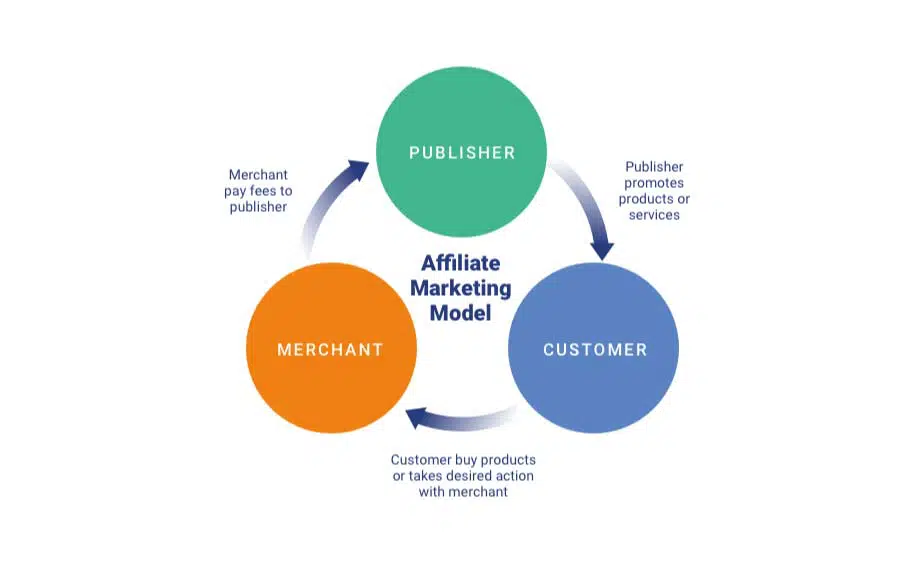 In affiliate marketing, cookies are used to manage ads and links a visitor clicks on. They also record time and date. Thus, they help in remembering the kind of content or website liked most.
The Vendor
This is the brand who actually makes and sells the product or service. In return for a cut of their sales, they get a cost-effective way to market their products.
Even better, they only have to pay affiliates when they make a sale, meaning that this is a highly cost-effective channel.
Affiliate Networks
Affiliate networks are intermediaries which match affiliates with vendors. Typically, this is a kind of marketplace where vendors advertise their rates and conditions, as well as providing useful information for affiliates.
Would-be marketers can then bid to join the vendor's affiliate team.
How to Start Affiliate Marketing
There are a number of steps to getting started with affiliate marketing. The most basic framework involves the following stages.
Choose Your Niche
To start, you should sell services or products in a niche that you are familiar with. It's advisable to choose products or services that represent your current occupation or interests.
For instance, if you are an interior designer, it's easier to sell bedding sets than automotive spares or parts. You'll perform better in your individual marketing efforts if you sell what you are knowledgeable about.
However, there is more to choosing a niche than going for what you're passionate about.
Different industries and types of products offer different affiliate rates. For most physical products, you can only expect around 10% of each sale. This means that, unless you only work with high value items, you'll need a lot of sales to make a decent income.
By contrast, many SaaS businesses offer affiliate rates of 100% or even more during product launches. That's right, they'll pay you more than the customer actually pays for the product.
This is because digital products have no cost of reproduction, and often use subscription models.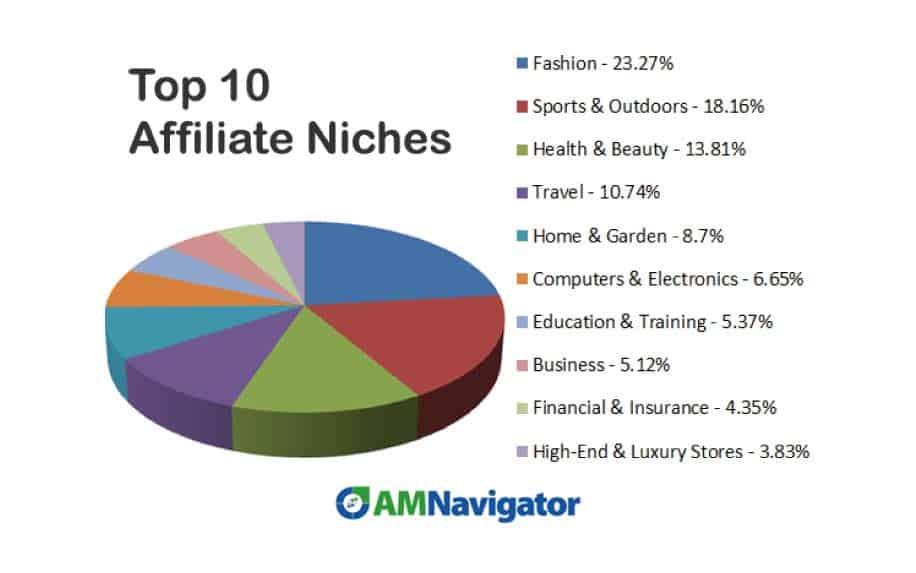 Start a Website
Business will want to know the URL website that you will use as a platform to market their products or services. They do this to ensure that the contents of your website would affect the business' reputation.
Make sure that your website has authoritative content.
For most affiliate marketers, the most expedient way to get up and running is using a website builder like WIX, which requires little design skills or knowledge to create effective landing pages.
Join an Affiliate Program:
Joining affiliate programs is mostly free. Reputable businesses don't charge any fee for joining their affiliate program. If you are asked to provide your credit card number to join an affiliate program, you might be getting scammed.
However, you will be asked to give PayPal or bank account information. This is so as the business can have a means of paying you your commission after successful sales. In most cases, you can be asked for the URL of your website.
Again, before you join a program, be sure to shop around. Make sure you're getting the best rate you can for products in your niche, rather than settling for one of the big name vendors.
How to Become a Successful Affiliate Marketer
Of course, affiliate marketing is one of those things that a lot of people try their hand at, but most never actually make any money. In fact, between setting up a website, taking affiliate courses, and running PPC campaigns, many new affiliates actually post a loss.
Use the following steps to get off to a good start, and actually start generating income through your affiliate efforts.
Step 1: Searching for Ideas
The best way to start looking for an affiliate marketing niche is to look at some of the most successful and highly-trafficked sites on the web. Competitor analysis is often the easiest way to figure out what works in your industry and what doesn't.
Most affiliate marketers rely heavily on paid search.
Conducting proper competitor research allows you to figure out which channels, keywords, and targeting criteria offer the best return on investment, and which strategies are too crowded to make an impact on audiences.
Step 2: Narrow Down to Your Niche
It might be counterintuitive, but the wider you cast your net as an affiliate marketer, the less success you're likely to see. Part of this comes down to the fact that there are so many people out there trying to make a passive income from affiliate marketing.
By contrast, if you have a tightly defined audience, you have a much better chance of standing out.
Say for example that you want to work in nutritional products and supplements. If you narrow this down to supplements for a specific sport, like cycling or running, you'll be able to use much more targeted and effective marketing campaigns.
Step 3: Research
The better you know your audience, the stronger your pitch will be. For most affiliate marketers, the best audience research approach is creating representative buyer personas. These are fake personalities, which represent your ideal customers.
Specifically, you'll want to understand who your target audience is, in terms of demographics, interests, income, behaviour, and the core problems they face which your products can solve.
Step 4: Utilise SEO Before PPC
The reality is that it's difficult to make large sums of money straight off the bat with affiliate marketing. Many new marketers make the mistake of overreliance on PPC, before they've created truly effective content and landing pages.
Then, they blow all their savings on ineffective campaigns.
The alternative is to put the work into strong SEO first. This means developing landing pages which attract and convert effective users effectively. You can experiment on what works the best for CRO, without having to spend money on acquisition.
Then, when you're satisfied that your conversion rate is suitable for your cost per click, you can go hard with PPC, and start watching the cash roll in.
Affiliate Marketing Advantages for your Business
The potential advantages for you? Put simply, affiliate marketers can take your products to interested customers at no fee. It's a great way of getting people to talk about the products.
Affiliate marketing can help businesses reach a wide range of customers enabling it to reach its potential.
Could you benefit from unlocking new leads for your business? Contact ProfileTree today to find out how.