So you're considering a job in marketing. You may be a student choosing a major or you love marketing and advertisements. This article is here to explore marketing prospects in today's job market and help you make a decision.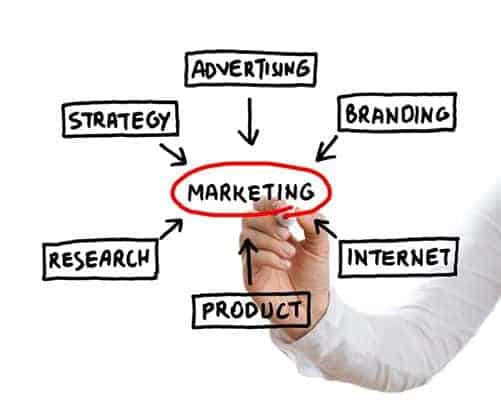 Marketing Prospects:
Marketing is one of the most popular job fields today. Everyone who creates a product, runs a brick and mortar shop or creates content on the internet needs to care about marketing. A good marketing campaign plays an important role in any business success.
For this reason, many companies hire marketing professionals to manage their campaigns. The job market for marketing is a promising one. However, there's a dark side of marketing prospects like any other field. 
This guide is here to discuss the marketing prospects in the job market and assist you in making your career decision.
What Does a Marketing Specialist Do?
To discuss marketing prospects and marketing careers we first need to know what people in the business do. The field of marketing is expected to grow ever more important with the growth of technology. The reason is that as technology advances more jobs and more fields are open while maintaining the same old careers. 
Here's a rundown of some of the most common marketing fields you should consider:
Sales Representative:
as a sales representative your role is visiting and contacting new and prospect clients to promote your products, especially the newer products. After scoring a deal your role extends to offer continuous support and ensure customer satisfaction. 
Marketing Specialist:
A marketing specialist (or marketing manager) is often the brains behind a successful marketing campaign. People from artists and writers to brick and mortar shops hire a marketing specialist to research their products and find the best way to promote their business. Marketing specialists often have to oversee multiple marketing fronts from social media to on ground campaigns and keep a sharp eye for marketing trends.
Marketing Research Analyst:
A research analyst's duty is mainly research. Researching the market, customers, products and competition. His findings are then used to understand consumer trends and making decision regarding the campaign. 
Advertising and Promotions Manager:
They work in advertising companies or regional offices. Their duty is to understand their client's needs and his means (like budget) to devise the most fitting advertising and marketing plan. They manage advertisements from social media to billboards or oversee the respective teams.
Instead of outright pitching a product, a content marketer solves a prospect customer's problem. He creates content aimed at helping, educating or solving a problem associated with his problem. This method is in request nowadays because it creates a bond between customer and brand.
SEO or search engine optimization is the use of many techniques to improve your rank on search engines. The higher a page ranks the more people are going to see it. Specialists in these techniques can make a difference in a marketing campaign by increasing the reach through search engine.
Is a Marketing Degree Worth It?
Should I invest more money, time and effort in a marketing degree? The answer to this question isn't a simple one. Different sources have different answers ranging from it being a useless degree to a necessary step in a marketing career path.
Instead, here's a rundown of some necessary points to consider in making a decision that fits you.
1-Can You Study Marketing?
History is straightforward to study. You study events that have already happened and the facts are all clear. There's not much development going on.
Marketing on the other hand is constantly developing. Every few months a new platform or mobile app appears and is a new marketing front. And older platforms keep updating themselves with new features to adapt to their users, think of IGTV. Because of this, marketing is constantly evolving faster than textbooks are.
However, a marketing degree isn't just about teaching you new techniques. A marketing degree teaches you fundamental principles you can use on any platform. That's because your users are always going to be humans, therefore, their nature doesn't evolve too fast.
2-Who's Teaching You?
Marketing is by far one of the most practical fields of work. It's like engineering and art in a sense that you learn by practicing and doing real work. 
A good marketing program at a university will have experts teaching its courses. Your teachers are often veterans of the marketing business who know the essentials of industry. Even if marketing is quickly evolving they can teach you the essential skills you need to work in marketing.
It's always good to have an experienced mentor. If that's the case at your university, go for it.
3-Can You Catch Up?
So technology advances at a very fast rate. That means that as a marketer you'll have new technologies to learn and use (like IGTV). It also means you'll face a challenge in marketing new technologies (like the newest smartphone features). 
Most courses won't teach you the newest technologies as they come out. Some will come up through your years of study and you have to learn them on your own. Some will definitely come out after you leave school.
On the other hand, if you study for a degree you'll "learn how to learn" as my professor used to say. This means you'll learn the skills and the mindset necessary to learn new technologies in your career. Such a skill will save your time and give you an edge.
4-Making an Entry:
By this point you should know that marketing is all about results. The most important thing in your marketing job application isn't certificates on your CV. It's most often your work portfolio, past experience and internships. 
However, there's a catch here. When your seeking your first job you are yet to build a portfolio, and then there's applying for the first internship. You can get past that by doing some independent work or volunteer work like running a personal blog or a vlog. 
On the other hand, a marketing degree will give you an edge. If you have two people with the exact qualifications, no portfolio to speak of and one has a marketing degree, who will you choose? You probably answered the degree holder, the one who studied the principles and basics. 
A degree should ease your entry into the job market and make it easier to get an internship. From that point onwards, it's your skill that matters most.
Entry Level Marketing Jobs:
Whether you decided to study for a degree or learn on your own, it's now time to make your entry. Marketing prospects are different from one job to the other depending on what skills you need. Below is a summery of common entry level marketing jobs to help you make a choice.
Were you writing for the school paper? It's time to put your writing skills to good use as a content writer. Good content writers are on demand and their jobs range from short ads to longer blog posts. 
Content writing has its own set of unique skills different from fiction or journalism. And it has own rules and measures. A good content writer knows his way around SEO (search engine optimization) and knows what's a keyword. In short, a good writer knows how to turn readers into customers and clients through his writing.
Your job as a content writer may include writing blog posts for a company blog or writing short ads as a copywriter.
The new marketing tools on the internet haven't got on-ground sales representative out of work. On the contrary, it made even more work for in-office sales representatives.
As an on-ground sales representative your job includes going from vendor to vendor, older clients and prospect clients alike, to pitch your product. You do your best to sell them your company's services and if they are already clients you try and sell them newer products and services.
In-office sales representatives complement the efforts of their on-ground colleagues. They offer support and customer care to clients and to ensure their satisfaction with what they got. That doesn't mean they don't contact customers (and potential customers) to try and sell them newer lines of products themselves.
Companies need to reach out to their customers and potential customers who happen to be all on social media. For this reason, social media specialists work to spread awareness of their company and maintain their brand.
A social media specialist will have to plan a strategy for the company's social media accounts to reach people. He will also keep up with the latest social media trends and quickly use them to reach his customers. It's not uncommon for one company providing social media services to run the accounts of rival teams or restaurant chains.
As more people use social media everyday the prospects for social media specialists are looking good and stand out from other marketing prospects. 
4-Account Coordinator: 
No one works entirely alone; and that's true in marketing companies. An account coordinator does a lot of bookkeeping and communicating between clients and executives. 
A coordinator's job can be summed up in a few words: he communicates with a client to understand what he chose for his strategy and budget and relays that info to the executive. He works with the executive to make sure the client's targets are achieved and he's happy. 
Account coordinators are often on a great learning path. The can also expect to find work because maintaining communication with a client and executing his strategies at the same time is too much work for one man.
In Conclusion:
Marketing prospects are bright for the upcoming years. Whether you decide to go for a marketing degree or learn by doing right away you can expect to find a place in the market. There's a variety of entry level marketing jobs each with its set of skills and requirements.