The best social media for small businesses – Each app broken down and explained.
Social media is an invaluable tool for any small business, it can help you to grow a side hustle into a full time job, or expand the customer base of your small business on a much larger scale. In this day and age it is difficult to argue against the fact that social media is something every business can and should utilise to their advantage. However not every app is created equal for your specific needs. The app you choose to promote your content on will affect your results.
In this article we will outline the pros and cons of each social media app for your small business. The best social media for commerce is entirely dependent on your individual business, what you are selling, your ideal target audience, and how you want to market your goods.
In a perfect world a business would use all of the social media apps available to their advantage, however this just isn't realistic. Yes, apps like Instagram, Facebook, Twitter and YouTube are all free, but time is also a finite resource. Most small businesses don't have a dedicated social media team or employee, and so the time you spend promoting your business online could be taking away from another important aspect of your work.
Do you want to stand out online with social media training? Why not read our blog post or contact a member of our team for more info!
If you are looking for an overview of each site, why not check out the best social media sites for businesses or the best social media platform. In this article we will list the Pros & Cons of each app as well as some interesting statistics that may help your decision in realising the best apps for social media marketing. We have listed the best free apps for social media marketing, however you may choose to purchase ads on them if you wish.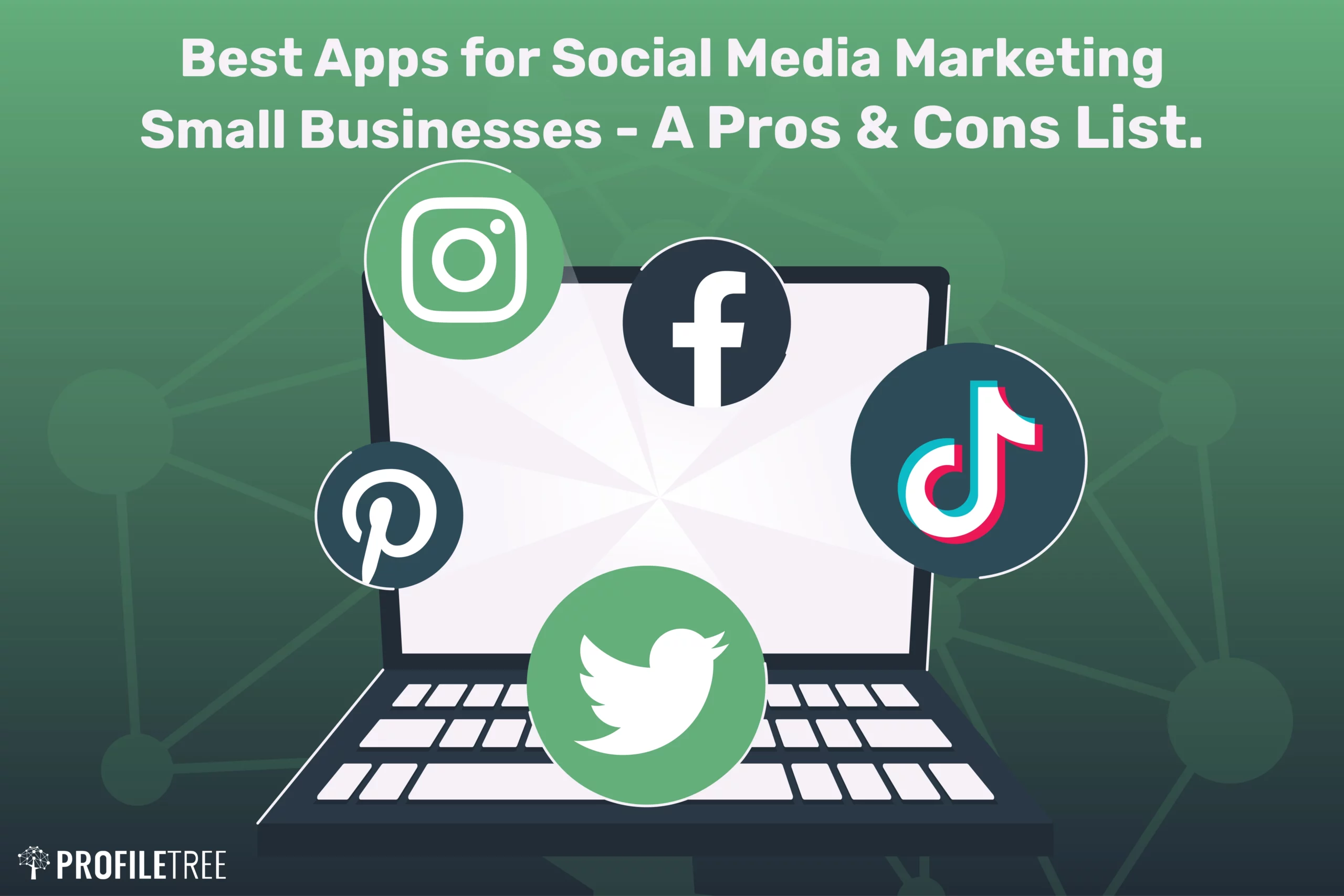 Click on a section below to skip ahead to that portion of the article.
Instagram – Best social media for small businesses
Instagram started off as a simple photo sharing app for users to post photos of their lunch or night out. It has since become a diverse platform that is suitable for many types of businesses. This is due to the fact that Instagram is frequently adding new features, from live videos and 'stories', a post that disappears after 24 hours to 'Instagram reels', a type of short form video content. Instagram continuously implements new social media trends into its app to remain popular, so you don't have to worry about creating a new account on a different site.
Instagram posts can be as easy or intricate as you like, from a simple photo with a short caption to a highly polished video with detailed information and plenty of carefully considered hashtags. Product Giveaways are also an extremely popular way to get new followers. The versatility and visual focus is one of the reasons many businesses use Instagram.
Pros and Cons of Instagram
Important Information:
Users: 2.3 billion users per month. 4th most viewed social media site in the world, and 5th most viewed site in the world.
Age range: More than half of Instagram users are aged between 18 and 34. This makes the app ideal if you are targeting a younger audience.
90% of users follow a business account, as stated in 32 Instagram Statistics.
Pros of Instagram
A visual medium: With update changing the site over the years, Instagram is still in essence a photo and video sharing site. You don't have to worry about writing paragraphs of information, if you can translate your product well into the medium of photography.
If you do produce something, for example as a baker, artist, carpenter, clothing designer, or offer a service as a fitness instructor, gardener, financial advisor or singer you can use Instagram to showcase the product or service you are offering. What's more, if you can deliver on what you are promoting on Instagram, you can earn loyal followers who will translate into repeat customers.
The benefit of this is compounding, if someone buys your product more than once, they are likely to share it to their followers, who will potentially also buy your product. One of the rarest things about social media is that real people will promote your content for free if they like it or want to show it off what they have just bought. Instagram is one of the best social media apps for advertising as consumers often identify with a brand that offers value.
Scheduled posts: Instagram has a scheduling feature which allows users to create a post and schedule a specific time to post it. This can be a way for users to create multiple posts at once and post them consistently throughout the week to create a consistent social media presence. You can also save an unfinished post as a draft and return to it later. Because of this Instagram is one of the best app for scheduling and planning social media posts.
Instant Sharing on other apps: You can change your settings so that every post on Instagram is instantly uploaded to Facebook, ideal for running multiple business accounts without wasting your time.
IGTV / Instagram Live: The one minute video limit was removed with the arrival of IGTV. A business that may want to upload a tutorial highlighting the service they offer would benefit from this. Live videos allow users to do Q&A's and connect with followers on a more personal level.
Built in Business Features: You can choose to label your account as personal, private, creator or as a business, each having their own benefits. The creator and business accounts in particular offer advantages including features such as audience demographic, post scheduling, times followers are most active and a post by post reach. These tools help you to maximise the impact of your Instagram business strategy.
Stories: Stories are arguably more important than posts themselves. They only last for 24 hours but have a range of features such as a Q&A box, a countdown timer for your next post/sale as well as the option to add regular posts to your story to 'advertise' it for free. The key is finding a story post rate that is consistent but doesn't feel spammy. Story's can be saved as highlights to feature permanently on the top of your page. Its common to include FAQ's, menus, price lists and opening hours in your highlights.
Direct Message: DM's are chatrooms which allow you to communicate with other accounts or in a group. Most sales are either initiated or finalised in the DM's as it is the perfect place for a potential customer to enquire about the goods or services you offer privately. The best way to get inquires is usually to post a photo on your main feed or in your stories. If people like what they see, they may ask for more information via a direct message.
Built in Marketplace: A newer addition to the app, Instagram now has a marketplace where users can buy or sell products. The fact that followers don't have to access a different app or website to purchase your goods makes life easier for them, and sales more possible for you.
Pinned Posts: You can pin three posts such as important product information, giveaways or high quality/popular pictures of your product.
Link to website: As seen in the picture below, there is a specific place to add a link just below your bio and above your posts.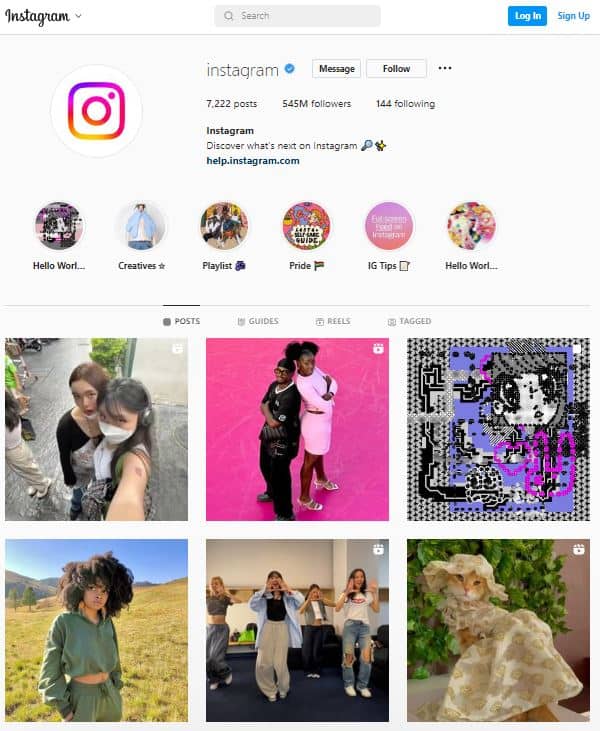 Cons of Instagram
Ads: The most annoying part of social media apps for both personal and business users alike are the ads. They frequently pop up in between photos of people you follow and in general are skipped passed without much thought. Businesses may feel pressured to purchase ads to boost their reach, but it is not always guaranteed success.
Algorithm: The Instagram algorithm changes frequently. This means that what Instagram prefers users to post (and what they will show to other users) will change often and may require you to adjust your content. This can be frustrating for any user who has devoted time to understanding and perfecting their posts, only to find out that their content needs further optimisation. If you want to learn more, you can read our ultimate guide to each social media algorithm.
You can't go Private as a business account: This isn't an issue for most users, but it understandable that when starting out you may wish to go private for a while, or you may need a break from posting. Unless you switch back to a personal account (and lose your business account benefits) you can't go private for a while.
TikTok – Best social media for small businesses
Pros and Cons of Tiktok
TikTok is the fastest growing social media site of all time reaching 1 billion views 3 years faster than Facebook. The app hosts short form videos and since its success, many other apps such as Facebook, Instagram and YouTube have implemented similar short form videos into their sites. Due to the fact that is it much newer than other apps, it can be easier to grow an organic following without the need for ads.
Users: TikTok has surpassed 1 billion users in just under 5 years and has been downloaded over 3.5 billion times.
Age Range: 43.7% of TikTok users are 18-24 years old, an ideal site for businesses if your target audience is in this age range.
Social media users in the US spend an average of 38 minutes a day on the app, which is more time on average than other large sites.
Pros of Tiktok
Grow your audience: TikTok is one of the best apps to grow a large audience. Its' young demographic are very engaged. Its has a global audience and many products go viral on TikTok selling out instantly.
For You Page: The default page or For You Page shows users videos of accounts they may like, not necessarily accounts they are following. This means that growing an audience is actually a lot easier than apps such as Instagram or Facebook where users are shown the accounts they are following first and foremost.
Multiple ways to Engage: Videos on TikTok can be stitched, or you can do a duet with another account. This essentially allows users to remix someone else's video by adding their own content to it. Its a great way to boost engagement.
Built in editing software: You don't need any prior video editing experience to make a Tiktok post. The editing tools are easy to use and are specifically designed for the general public to be able to create and edit with ease.
The power of sound: Every few weeks a new song goes viral on TikTok. Using this song will boost your reach and engagement. You can also create your own custom sound or voiceover and it may become viral. You can use other peoples voiceovers to attract followers, especially if the original account is similar to yours.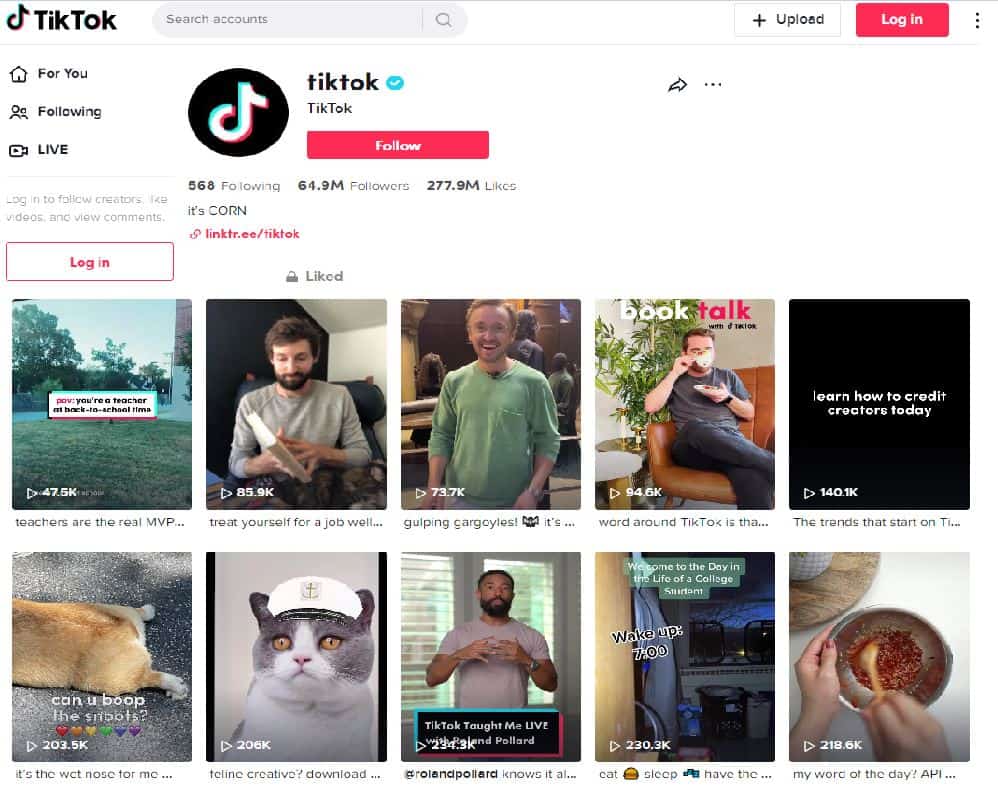 Cons of Tiktok
Favours short content: Even with the addition of longer videos of up to 10 minutes, TikTok favours shorter content. The endless feed of entertainment means that people naturally give less attention to individual posts. Short content is easier to film, but it can be difficult to showcase your business in 30 seconds or less.
Ads: TikTok ads are expensive. Even with the boosted performance of an ad there is no guarantee that users will actually stop scrolling and watch your video.
Videos only: If you feel as though your product or service doesn't translate well into video format, TikTok may not be the best option for you. That is not to say that you shouldn't be creative when marketing, but some people simply don't enjoy the process of filming, editing writing scripts, or doing voice overs. You don't have to show your face or speak, but users tend to engage more with this type of content.
Younger audience may not have purchasing power: The younger audience on TikTok has benefits and disadvantages. Younger audiences are always a key demographic in marketing as they decide what is and isn't trendy, but they may not have purchasing power. Followers do not equate to sales after all.
If you are still unsure about joining Tiktok as a Business, ask yourself a few questions: 'Is my target audience on the app?' 'Am I willing to take time to create content for the app?' and 'Are the app features compatible with my business goals and core values?'
Facebook – Best social media for small businesses
Pros and Cons of Facebook
Users: Facebook has 2.74 billion active users. 36.8% of the world's population use Facebook monthly! 79% of monthly users are active daily.
Age range: Facebook is the most popular platform from the 35-44 demographic.
Pros of Facebook
Groups: There are groups for everything and everyone on Facebook. You can join a group related to what you are selling and contribute to it. While advertising isn't favoured by many in groups, building a rapport with potential customers by actively contributing in groups could create future sales.
Community: Community pages allow users to connect on a local scale. If you want to promote your business to a local audience, joining a community page for your town or city is a great place to start.
Media friendly: Videos, photos, links, text posts, status updates and more can be posted.
Events: One of the best features on Facebook is arguably the events page. Any user can create an event and invite users to attend. So whether you are hosting a event virtually or at a real life location such as a sale in store, users can be notified on the app.
Instant sharing on Instagram: Cross posting suitable media such as photos and videos works with both apps with a simple click of a button which is a great time saver if you plan to use both.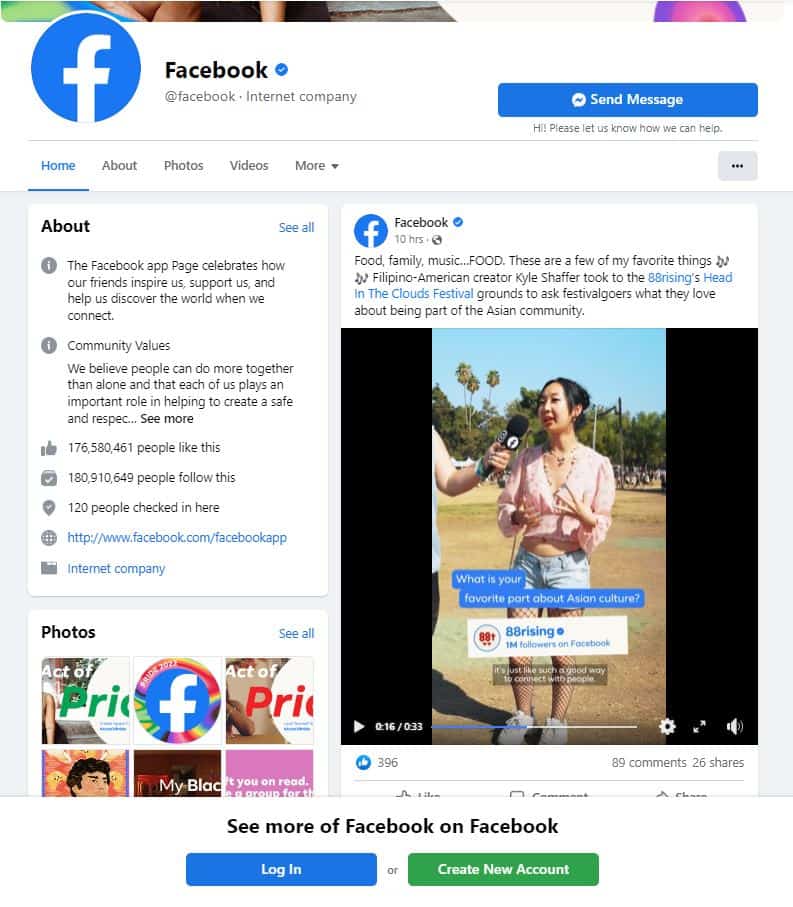 Cons of Facebook
Advertising & Boosted Posts: Facebook ads can target specific ages, locations and interests but they can be costly. You can also boost posts but in our opinion Facebook boosted posts aren't necessarily the best way to spend your marketing budget. Facebook ad manager is a better way to spend your money for an increased return on investment. Facebook is considered one of the best apps for advertising on social media, due to its large audience and popularity.
Trust: Many users don't trust Facebook to protect their privacy, they may therefore be less likely to purchase items through Facebook. This is a problem with many sites, but Facebook is the app that has faced the most controversy around customer privacy.
Mature Audience: This can be a pro or con depending on your target audience. Facebook is less popular with the younger Gen Z audience, so if they are your target market your probably better off on another platform. Young people are still joining Facebook, but its usually at an older age in comparison to other social networking sites.
Messenger: A handy alternative to WhatsApp as you don't need a users phone number. If they have a Facebook or messenger app and depending on their privacy settings you can message them.
Pinterest – Best social media for small businesses
Pros and Cons of Pinterest
Pinterest is often overlooked by businesses looking to expand their growth on social media.
Users: Pinterest has 431 million monthly users.
Age range: Women aged 25-34 represent just under 30% of Pinterest's audience. Women outrank men and non-binary users in every age group, but it's particularly visible in the 25 to 34 bracket.
Almost 40% of Pinterest users are between 50 and 65, representing the largest age demographic on the platform. The median age of Pinterest is 40, due to the fact that there is a even split of use between generations.
Pros of Pinterest
Conscious social media use and High Conversion rates: A lot of people use Pinterest to plan projects and they are usually looking for something to buy for their project when online. Even though Pinterest has less monthly users than other apps, those who choose to pin are more likely to converse their browsing into buying.
Hyperlinked Pictures: Images on Pinterest are hyperlinked to their original source This means that is very easy to drive Pinterest traffic to other sites that you have an account on such as Instagram or even your own website. Pinterest is one of the best social media apps for artists, photographs and creators in general, it is less saturated than other sites so you can gain a following on Pinterest and link to other social networks.
Pins vs Followers: If you offer a range of products Pinterest can actually be very beneficial to you as users can choose to pin a specific image or follow a premade board as opposed to following everything you post. A baker for example could have three different boards with images of cakes for weddings, birthdays and specific holidays. People planning weddings would much prefer to look at a board about wedding cakes as opposed to an Instagram feed that weddings cakes posted randomly throughout.
Trusted Source: People trust Pinterest for providing quality goods on their site. Many people use Pinterest with the sole purpose of discovering a new brand or product.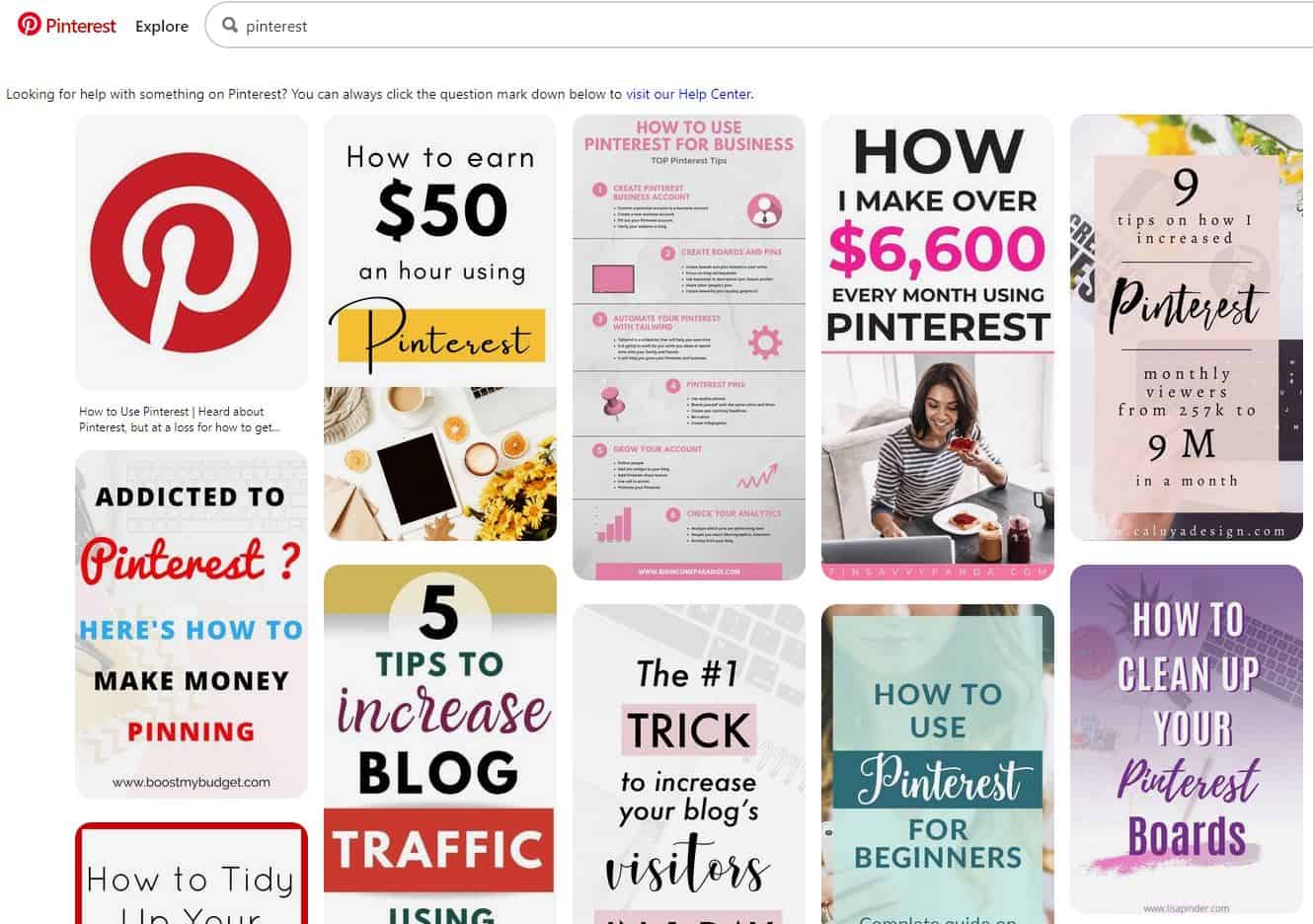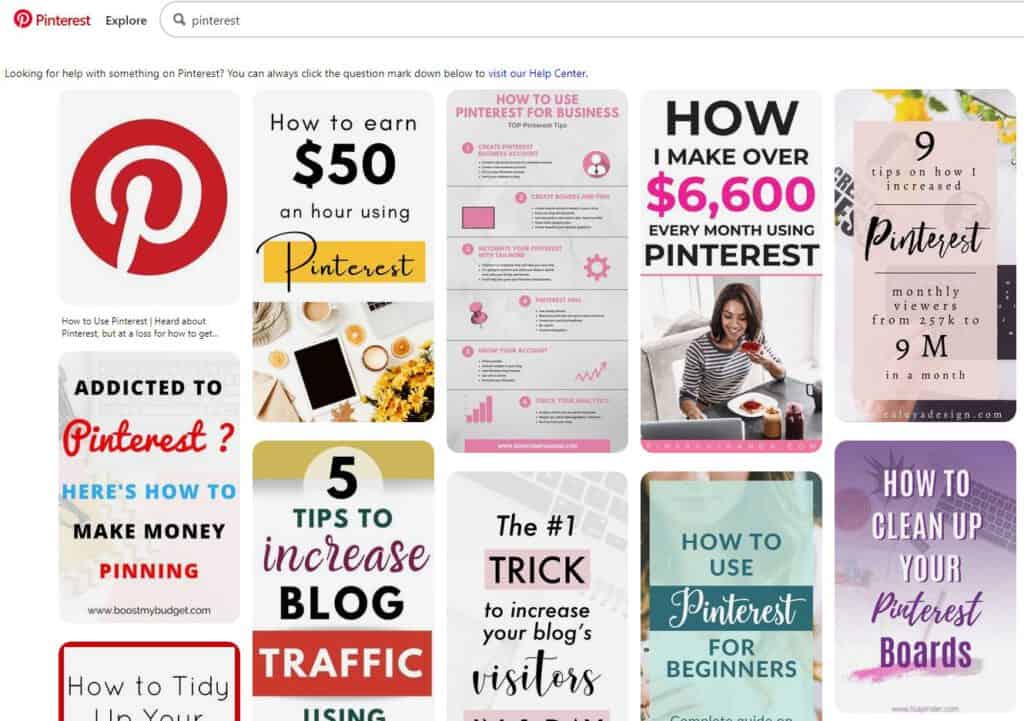 Cons of Pinterest
Narrow audience range: Over 75% of Pinterest users are female, depending on your target audience this is either a massive advantage or discouragement. More male users are joining the app however so this may change however. Reaching a broad audience is less likely on Pinterest than other sites.
Rules: The images you post must meet certain quality and size requirements. These are not too difficult to comply with but it does take time.
Image Copyright: If you are using photos you have taken yourself this isn't an issue, but copyright issues can arise when you use other peoples images for commercial use. You're better off to use your own images, or else make sure that the images you use are copyright free.
Image Protection: It is very easy for a user to use your image on Pinterest without crediting or linking your account. This is a problem on every social media site and web page so we strongly encourage you to add a watermark to your images before posting. It can still be cropped out, but it does offer you an additional layer of protection.
Pinterest is an ideal picture sharing site, with more focus on just pictures than other social media sites.
Twitter – Best social media apps for small businesses
Pros and Cons of Twitter
Users: Twitter has 330 million active users and almost half of them admit to purchasing something they saw on the app
Age range: Nearly 40% of Twitter users are in the 25-34 year old age bracket.
Pros of Twitter
New Source: A great place to keep up with current business news and trends, Twitter can act as your main newsfeed.
Show your personality: Many businesses large and small use their platform to discuss things relevant to their product or service while also showcasing a bit of their personality. People are more likely to consider purchasing a product from a business if they feel they know or like the person behind it.
No Algorithm: Twitter posts are shown in chronological order in real time. There is no algorithm that decides what is shown at the top of your feeds, unlike Instagram. Your will automatically see your post if they look down through their feed up until the last post they saw.
Power of Retweeting: If someone retweets your original tweet all of their followers will be shown the post and can either like or retweet it again. This compounding affect can allow a user to go viral easily.
Media: The variety of media allows users to post a quick tweet, a well thought out thread of tweets, as well as photos and images.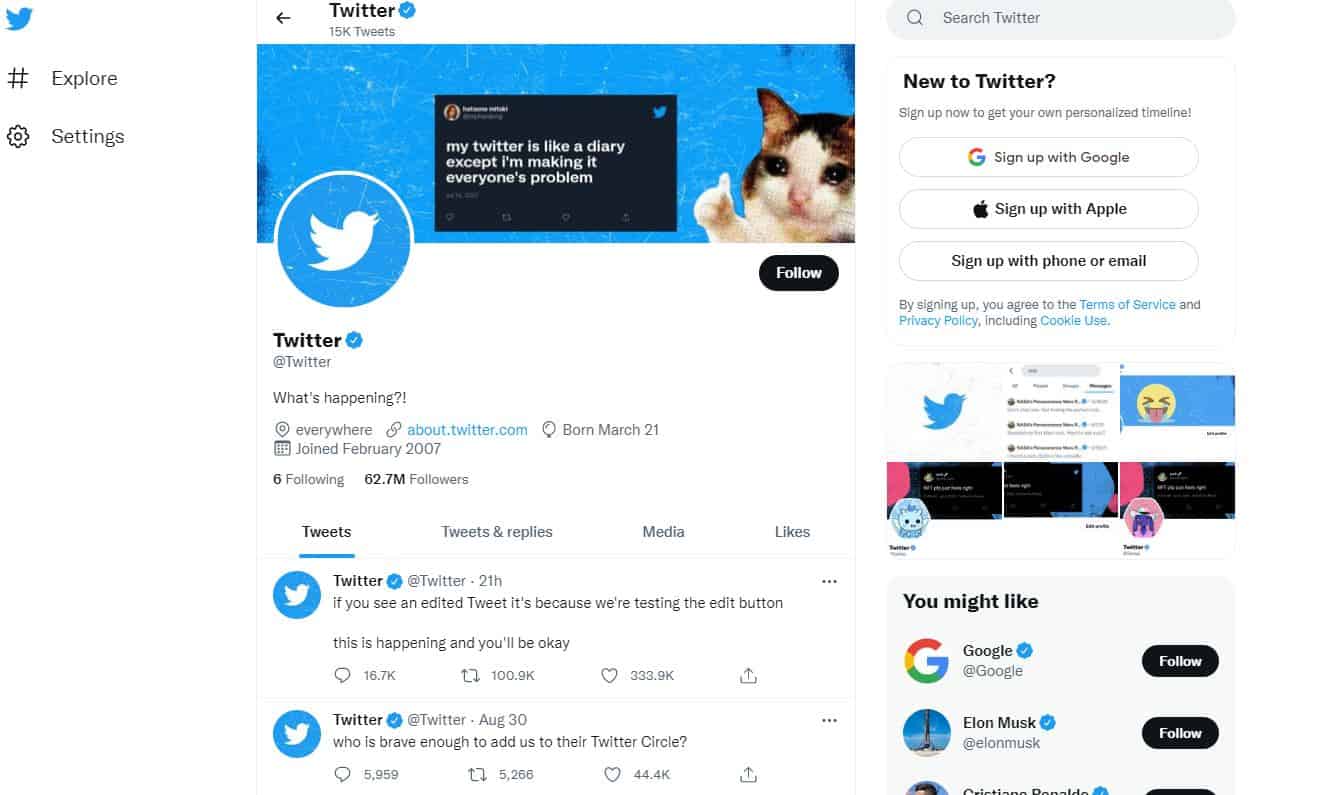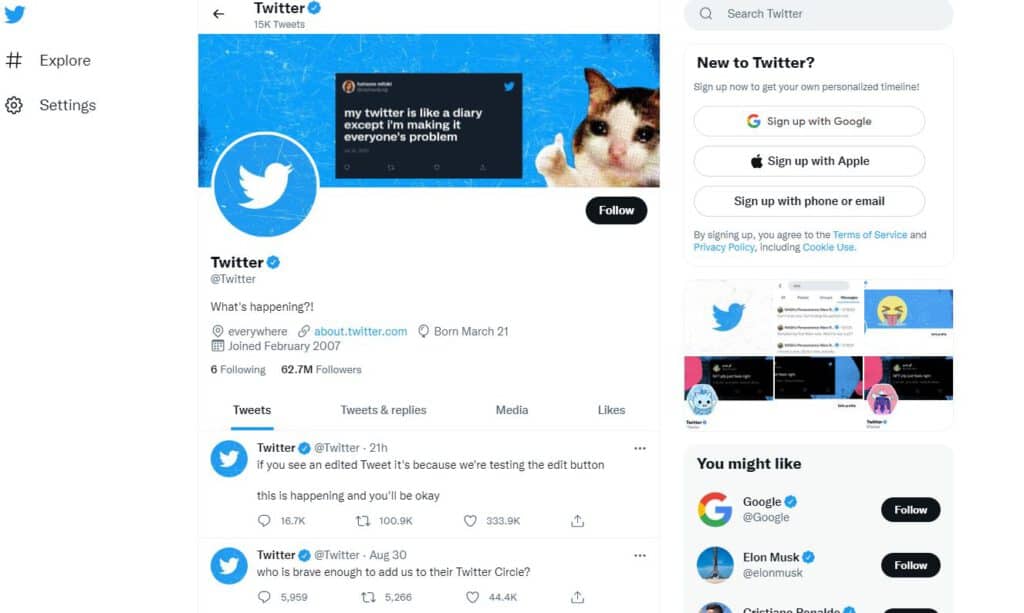 Cons of Twitter
Ads: Promoted tweets or paid ads can be very expensive.
Character limit: Tweets are limited to 280 characters. While you can start a thread of multiple related tweets, mastering a concise delivery of information takes time.
Information Overload: There are so many tweets each day that a typical account will not see all of the content they follow. Content can easily get lost.
Bots / Spam accounts: While spam accounts are a problem for every social media app, Twitters was so severe that it actually removed spam accounts from the site. This resulted in the offical Twitter account losing 12% of their follower base which equated to 7 million followers!
Twitter has evolved into a new home for digital marketing, and while it may not suit everyone it is worth considering as a potential site for your business.
A summary of the Pros and Cons of Each App
In summary, you may want to use the following social media sites to market your business for the these reasons:
Instagram: Primarily a photo and video sharing app, Instagram offers built in business tools & analytics as well as DM's for easy communication. Be wary of Ad costs and an everchanging algorithm that will require you to think about what content to produce. Instagram is arguably the best app for making social media posts however , simply because of how easy it is to use. It is also arguably the best app for designing social media posts due to the editing and filter features you have access to.
TikTok: Tiktok hosts a younger audience, with multiple avenues to engage and go viral. Short form video content of 30 seconds to 3 minutes is the primary form of content you will have to produce. Tiktok is one of the best apps for social media content creation as it has all of the necessary editing tools and effects built into the app. It is also one of the best apps to create content for social media as many users post Tiktok videos on other social networking sites.
Facebook: Great for engaging with your local community, joining or creating groups related to the services you offer and hosting events, Facebook is a great platform that supports a variety of content. It is the platform that is most popular with the middle aged demographic and should be your target audience if you are using it. You've probably used Facebook before, and have a good knowledge of what people like on the app.
Pinterest: A focus on high quality photos that can easily be linked to external sites, Pinterest typically has a narrower audience range but a high conversion rate of pins to sales. Niche products or specific posts are often favoured over generic content.
Twitter: A variety of media including images and videos can be used, with a focus on short form text called tweets. It can be difficult to stay relevant amidst the amount of content produced daily for the app but there is no algorithm to contest against, your posts will show up on feeds in chronological order. Great for communicating with clients and showcasing a bit of the personality behind the business.
Final Thoughts and General Tips for Every App
There is no right answer when it comes to choosing the best social media platform for your business. Yes, some are more compatible with your vision than others, but you still can find success on a site that doesn't necessarily favour your content.
Our aim is to point you in the right direction for the most rewarding and easiest to achieve results. The best social media for your business in particular is the app that you like to use to promote your content, and the one you are willing to put time and effort into to grow.
The purpose of this article is to highlight the pros and cons of various apps so you can experiment with them and find the best social media for your small business. There is nothing to stop you using all or some of these platforms or focusing on just one. Be mindful when and if customers ask you for your social media handle on a specific site as they are showing a demand for your product or service on that app.
The main rule to consider when promoting your business is that you need to provide something useful to your audience. You may feel as though your product or service isn't polished or photogenic enough to be posted online, but apps like Instagram and Facebook are a place where people come to explore their interests and find some type of value. If you can find a way to package what your offering in an entertaining, educational, exciting, imaginative or enticing way you are on the right track to starting a successful social media business.
Learning to balance quality content and a consistent quantity of content to remain relevant can be tricky, and is something each business must decide for themselves. How often you choose to post and what you post are two of the biggest challenges businesses face online. There is a fine line between regular content and posting that feels like spam so always ask yourself why you are posting. Not everything you release has to be spectacular, but it should be related to your overall sales goal and brand identity.
Don't be disheartened if your struggling to gain followers. Its more important to create a sense of community on your account. Are you replying to comments and DM's? Are you helping people with interested with what you are offering with value? Are you supporting other accounts on a similar journey to you and creating meaningful interactions?
Many accounts online have thousands of followers but little to no engagement or sales because they are focusing only on growing while neglecting maintaining the viewers they already have. Growing your account is very important but taking opportunities to engage with followers can create returning customers and a loyal follower count who will support you on other sites.
FAQ's
Why should brands use social media? / What brands should use social media?
Any business large or small can benefit from having a social media account. With the rise of online shopping and internet use over the years, it is a necessity for many business to have an online presence.
What is the typical social media costs for small businesses?
The biggest benefit of social media is that it is free to sign up, more businesses and consumers use the site because there are no costs. Paid ads help to boost your account, but they aren't mandatory for every business. Giveaways, Shared Posts, Information that offes value or entertainment and good follower engagement can create a steady online following without the need for ads.
How important is social media for small businesses?
This entirely depends on your marketing strategy, are you focused more on online sales or do you want to grow a local following. Either way you should use social media, but to varying degrees. An online store with no physical location should prioritise social media as their main marketing tool.
What social media is best for small businesses? / Advice for businesses using social media:
In general Facebook, Instagram, Tiktok, Pinterest and Twitter are good ideas. Focus on the apps that your target audience use as well as the apps that best showcase the product or service you are offering. Look at where and how other businesses are marketing similar products online but market in your own unique way.
How do I use social media for a small business?
One of the best thing you can do is ask yourself who your ideal customers are. Most people don't care about your product or service. They are simply looking for the content that will provide the best solution for their problem. Focusing on marketing the value your product offers rather than the product itself is a great start on social media.
What can social media provide for a local small business?
Social media provides brand awareness. The majority of people in your local area use social media as their primary news source, form of communication and entertainment hub, even if they want to shop local. By marketing online you can target a local audience who may not be aware of your brand.
How can I promote my business online for free?
Learning to deliver value through high quality content and using keywords for search engine optimization will promote you business without the need for excessive ads. At profile tree we specialise in digital content marketing and would be more than happy to have a chat about your options.
We hope that you have received value from this blog, we have plenty more articles for you to choose from or you can contact our team for personalised help on how to grow your business online!
So have you decided on the best social media apps for business? Which app best suits your business and marketing style?
If you have enjoyed this blog you may find these other blogs useful: