An artistic portfolio, as the ultimate collection of an artist's best work that showcases their talent, creativity and dedication to their career and their general quest in the realm of art, is utterly indispensable to convince the client sitting on the other of the table they are the best match for and the only one capable of perfectly delivering the job needed.
Now that almost everything is done online, a phenomenon accelerated by the pandemic, every artist has to have their portfolio on the web as it is a core part of their very own personal brand. Online portfolios are needed so artists can better promote their work, reach a wider audience, build a good reputation, attract potential clients and employers and also improve their techniques through the feedback they receive on their work.
However, that does not mean that any online portfolio will do. Only the well-curated, neatly-looking and attractive ones can make a difference and provide the aforementioned benefits. That is why you, as an artist, must take special care when building your online portfolio. In this article, we are going to address three great website builders that you can use to get this job done, even if you have no prior experience in website building or coding.
So bring a cup of coffee, and let's establish your artistic online presence.
1. Wix
The first great website to use when building your online portfolio is Wix.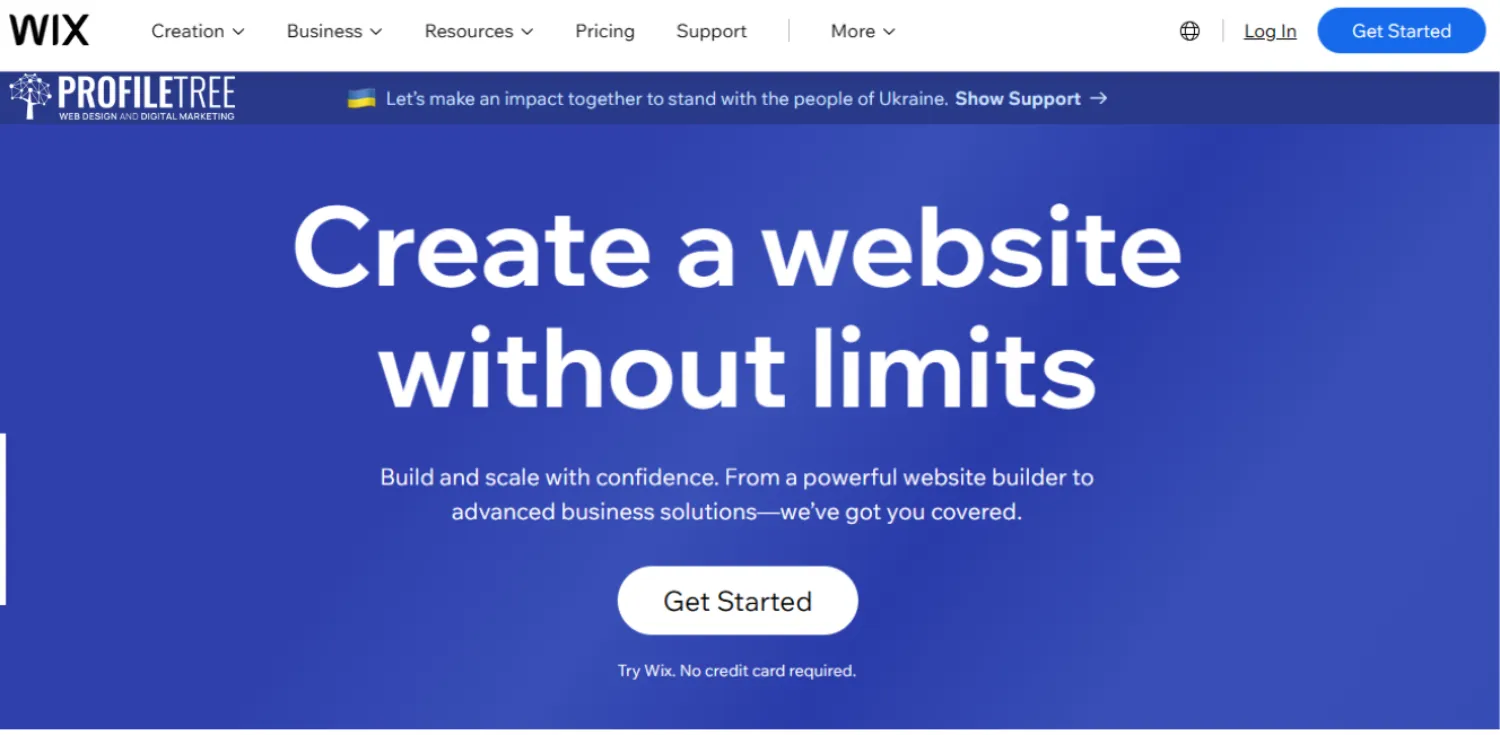 Wix is a beginner-friendly, extremely easy-to-use and navigate-through platform established in 2006 that, besides website building, offers other web development services, including web hosting and domain registering.
Wix requires no knowledge in coding to build your portfolio, for it offers over 800 templates to choose from, 52 of which are specially made for portfolios. Templates can be easily customised by a wide range of tools enabled by the platform's drag-and-drop editor. For instance, you can change the layout, background, colours, fonts, sections and images to your preference in a fraction of time.
Benefits
One of the great benefits of Wix is that it actually offers three different types of editors that match different levels of expertise in online portfolio building as well as various needs and requirements. First, there is the normal, beginner-friendly Wix Editor, which anyone can start with. This is the one that offers artists templates to choose and edit.
Then there is the Wix ADI, or Wix Artificial Design Intelligence, which was introduced in 2016. Unlike the regular Wix Editor, Wix ADI does not offer templates but rather uses the power of artificial intelligence to design a high-quality online portfolio completely from scratch and only based on the inputs that you give it.
Last but not least is Editor X, which is still a Wix service yet hosted on an independent website that was launched in February 2020. It is specially made for professional web designers and web design agencies and provides a wide range of advanced options and tools, still without using any coding, to create more complex websites.
Speaking of pricing, Wix offers a free plan with storage and bandwidth each of up to 500 MB, which is reasonable to test the service first and publish your portfolio. If you find it convenient and would like more options and features, you can upgrade to any of their premium plans.
Drawbacks
That said, there might be a few drawbacks to Wix, which some may find more or less annoying.
For instance, once you have picked a template for your website, you cannot go back and replace it. In such a case, you would want to delete the entire design and start with a new template from scratch. You also need to make huge changes to your template to prevent it from looking similar to other websites made by using the same template.
Secondly, and despite the three editors the platform already offers, which are still an advantage for many people using Wix to build their websites, some artists might not understand the differences between them. Therefore, they may find the website a little bit confusing when they are using it for the first time.
Despite the good customizability options, the platform offers beginners, Wix might be a bit limited for anyone with good technical expertise who said that all the artists out there have none of it. Some artists are experienced enough to design perfect and fully customised portfolios for themselves, yet such freedom might not be available with Wix.
The same goes for coding. While Wix does not require any coding for website building, which is a plus point for beginners, developers might not find the platform very helpful, for it does not give them access to the source code of the designs. So, optimising a template by editing its source code is, unfortunately, not an option.
Building an Online Portfolio with Wix
Now, let's get down to the real work and build an online portfolio with Wix.
The first step, as you probably guessed, is to sign up. You can do this either by using your email address or just with your Google or Facebook accounts.
After you have successfully signed up, you will be directed to the Partner Dashboard page, on the right side of which you can see a blue button reading 'Create New Site', so click that. You will then be taken to a page where you are asked about the platform you want to use, Wix or Editor X. If you remember from the previous section, Editor X is the website builder especially made for companies and professionals, so we will go for regular Wix at this stage.
Next, it will ask you what website you want to create, so go ahead and choose Artist Portfolio from the dropdown menu, then type a name for it. On the next page, you can find different options for what you want to add to your website. The portfolio template is already built-in, but before you are directed to the editor to start customising it, you will again be asked which editor you want to use to create your portfolio: Editor X, Wix ADI or Wix Editor.
Wix ADI
As we mentioned earlier, ADI stands for Artificial Design Intelligence, which means Wix's smart AI will ask you a few questions and then use your answers to build your website the way you want.
So, at the start, the ADI will ask you to review and edit your info. This is where you can add your logo, a name for the website, an email address, a phone number, and any social links. Then, you will be asked to pick a theme. There are six different options: breeze, high rise, play, thread, jet black, and fuse.
Once you have picked a theme, the ADI will prepare three different homepage designs, each with different layouts and options. Choose what appeals the most to you and move on to edit the template.
Editor X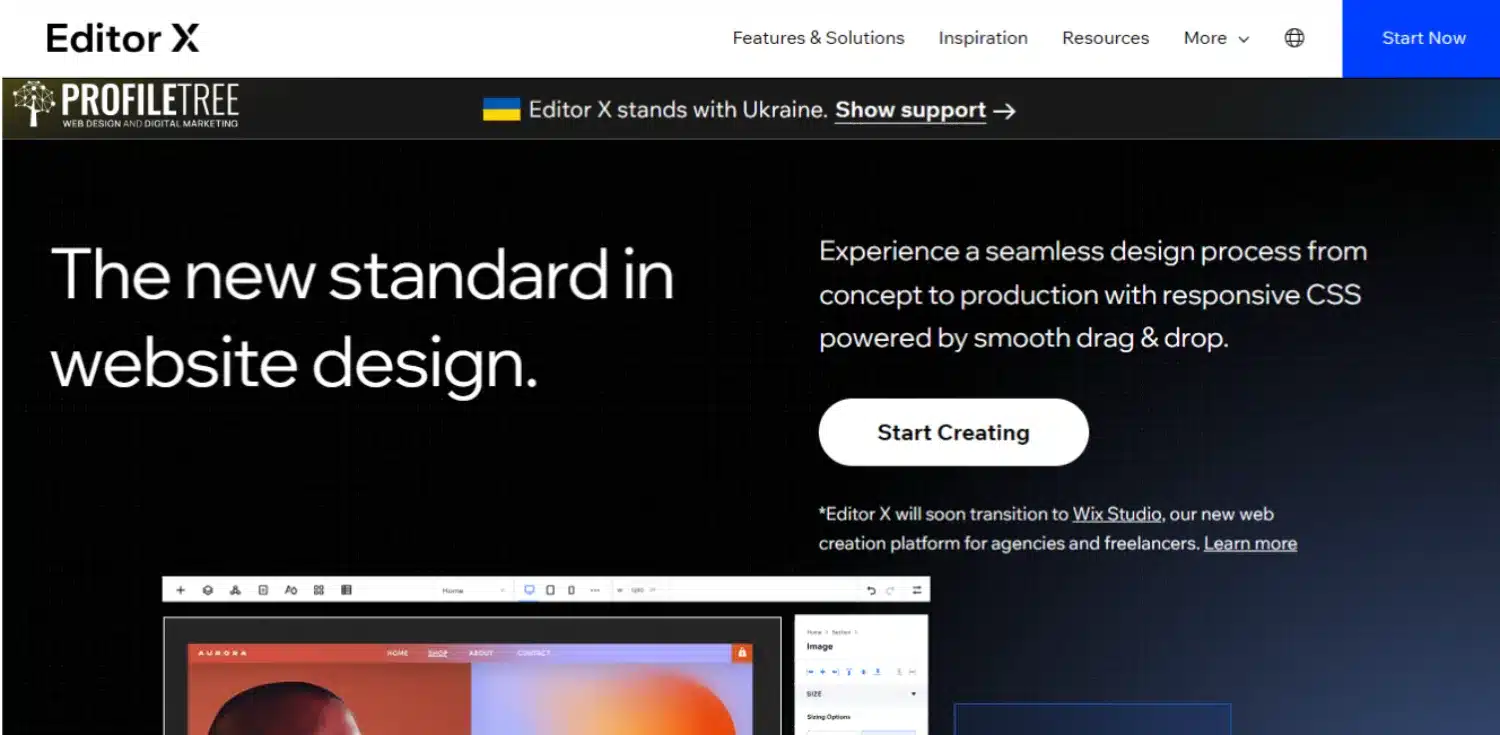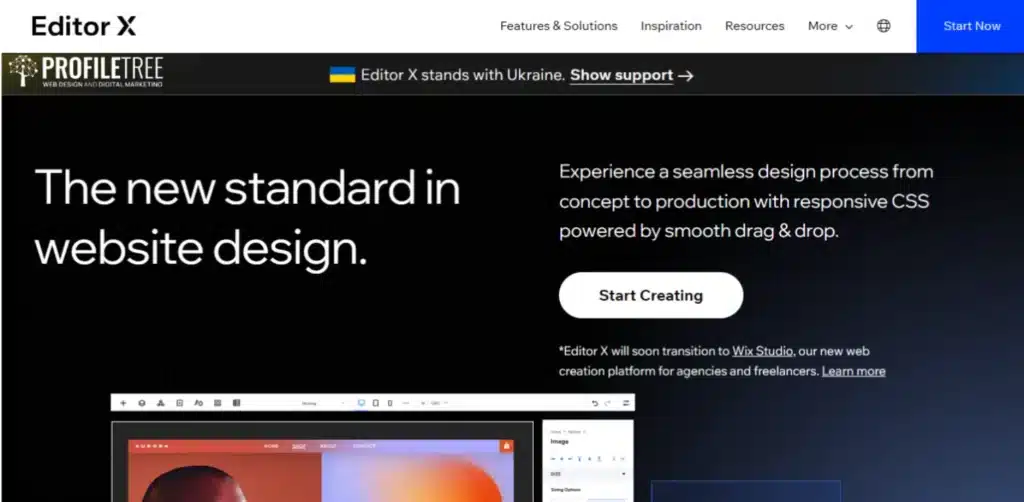 Now, let's go back and take a look at Editor X.
Editor X tends to have more fluid designs; however, it is limited to the templates you can choose. There are no individual templates, such as artists, clothing websites, real estate pharmaceuticals, etc. You just choose the ones that are around the actual site itself. That said, these template designs are fairly impressive with what they have, and you may be able to find something that is suited to your artistic portfolio.
So, if you choose to use Editor X, a photography portfolio option, for example, will definitely do the job, and all you will have to do is replace the images with your art. You can also change the names of the pages, edit any statements and write in yours, etc. The Editor X designs are quite elegant and have a tendency to be simplistic and sophisticated, and they perfect colour schemes, too.
So, you can go ahead and edit this template and work with it. It may seem a little bit more complex, but it is still manageable. However, Editor X does require some coding if you want your design to be a little bit more fluid, but that is primarily up to you, especially if you are creating an artist website where you want to just base it off your actual product or your actual design.
Remember that at this stage, you just want to showcase your work neatly more than building a super impressive website. Each website is different, and you want to make sure that you stand out as well, and that is why you are building yourself a portfolio in the first place.
Another thing to note about Editor X before you get started with it is that it is a little bit more expensive in terms of the pricing plan.
Wix Editor
Now let's go back to the step where we chose the editor to explore the regular Wix Editor and check out the different templates they have, which are specially designed for artistic portfolios.
Now, Wix Editor is the easiest to use of them all. It provides a wide range of fairly minimalistic website designs which you can easily edit using drag-and-drop, and each of them has multiple different options. Some may have blogs. Some can live videos in the background with power links. Some can include online stores where you can sell your products. Others may be only one page and still be graceful and comprehensive.
That being said, if you, with any of Wix's three editors, do not like any of the templates the platform offers you, you still have the option to use a blank template to create your portfolio however you want.
Yet, if you decide to go with Wix Editor, the template editing process is not more than just a fun game.
Once you have picked a template, you will be redirected to the editing page. On the left side, there is a sidebar which you can use to add elements, sections, pages, menus, apps and media. On the top bar, beside the URL, you have the option to view what your portfolio will look like on desktop and mobile.
Above that, there are the website's settings and the Dev Mode, which, when enabled, lets you add in some code, typically with JavaScript Node, if you are familiar with it. You can also embed HTML or CSS if you want or hire a developer to help you with your portfolio.
The settings dropdown menu provides you with a variety of options, such as connecting a domain, getting a mailbox, adding Favicon, and making and keeping your portfolio mobile-friendly.
The toolbar option found on the right side of the URL lets you customise the different sections of your portfolio the way you want. You can move and enlarge the images and align them to the middle, right, or left. You can pin things or move them around, add decorative elements, hide or even delete them.
There is an area for all the pages that you have on your website, and you can also view them using the pages and menu option, drag them about and create sub-pages. In addition, you can change your gallery, upload images, replace them, or delete them altogether. It is also pretty easy to change the title of the entire portfolio or that of any of its pages.
Wix is a very easy website to use, and there are plenty of video tutorials out there to assist with specific areas. So you are not really stuck on information about Wix, for it is a widely used platform.
Pricing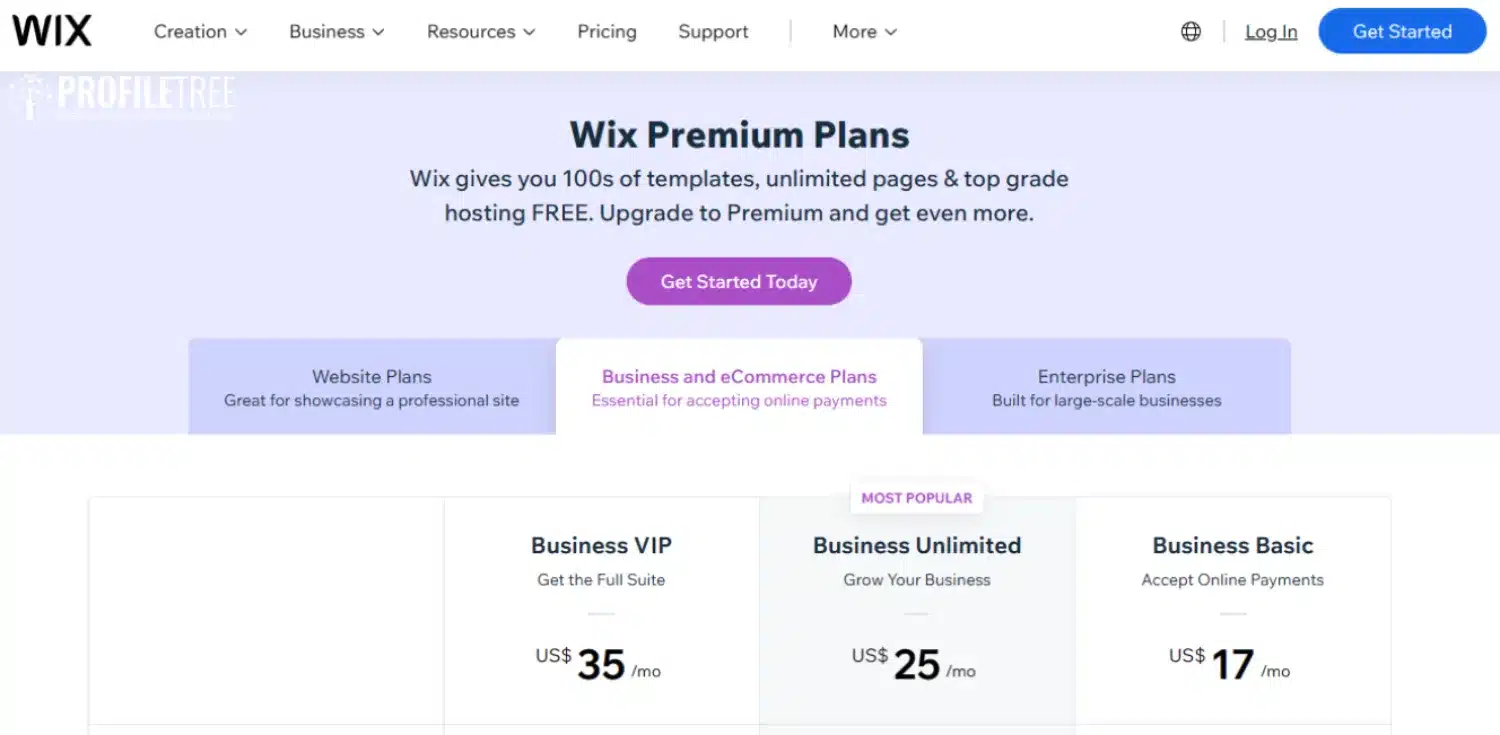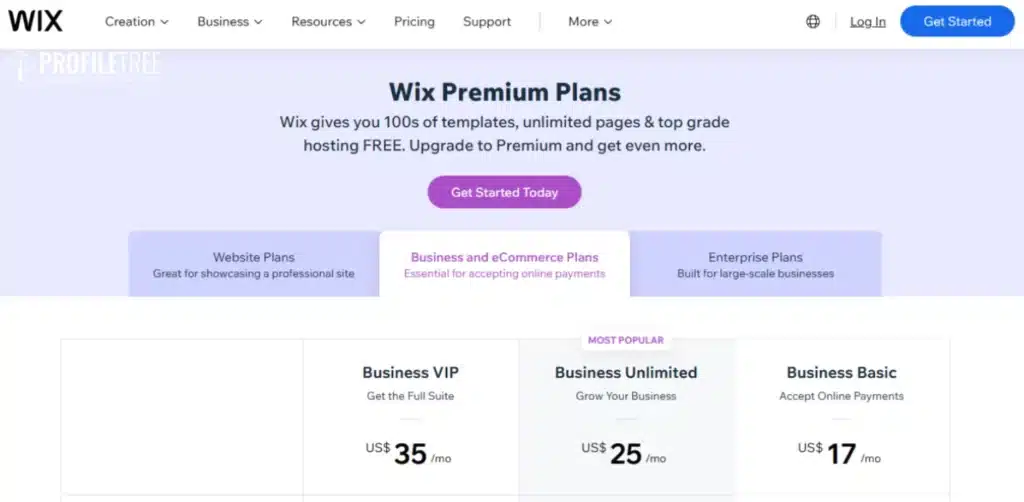 Wix provides three different options for plans: the Website plans, the Business and E-commerce plans and the Enterprise plans. Now, since portfolios are basically showcase websites, you do not really need to create an e-commerce website, so a Website plan will work perfectly for you.
The Website plans include four different options: VIP, Unlimited, which is the most popular option, Combo and Connect Domain, with the latter being the platform's most basic one and what works best for someone still getting started with building their website. Each of these plans costs $24.5, $12.5, $8.5 and $4.5 a month, respectively, as of September 2023.
The Business and Ecommerce plans are a little bit more expensive. They have three options, and the basic one is Business Basic for $17/month. It allows you to accept some online payments and gives you a free domain for a year, after which you will have to pay for the domain. Then there is the Business Unlimited plan, the most popular in the e-commerce category, and costs $25/month. Finally, there is the Business VIP coming at $35/month.
The Enterprise plans are designed for large-scale companies that undoubtedly have more complex and advanced requirements for their websites. So companies can Request a Call and get in touch with Wix to discuss their needs. The prices are then determined accordingly.
2. Squarespace
The second portfolio builder we have is Squarespace.
Squarespace is a New York-based company specialising in website building and web hosting and providing special templates dedicated to portfolios in addition to many other services. It uses the drag-and-drop tool to allow users to easily edit the templates to their preferences and create fully optimised websites. It is quite simplistic, easy to use and ideal for beginners with no coding background whatsoever.
Squarespace has a great number of stunning, ready-made templates specially designed to showcase artistic work and stand as a professional reflection of the artist's personal brand. It offers a two-week free trial to test it out, powered with loads of features.
But, like anything else in the world, nothing is perfect. As it turns out, Squarespace does have some drawbacks. For example, it has no auto-save for pages and posts, which means you can easily lose your work if you do not manually save it after each step. The interface is also a bit confusing and not the easiest to use or navigate around at times.
In addition to that, Squarespace might not be the perfect website when it comes to scalability. So, if your portfolio grows and starts receiving more and more traffic, there is no way you can scale it up to contain the growing number of visitors. In such a case, it will be more prone to crashing.
How to use Squarespace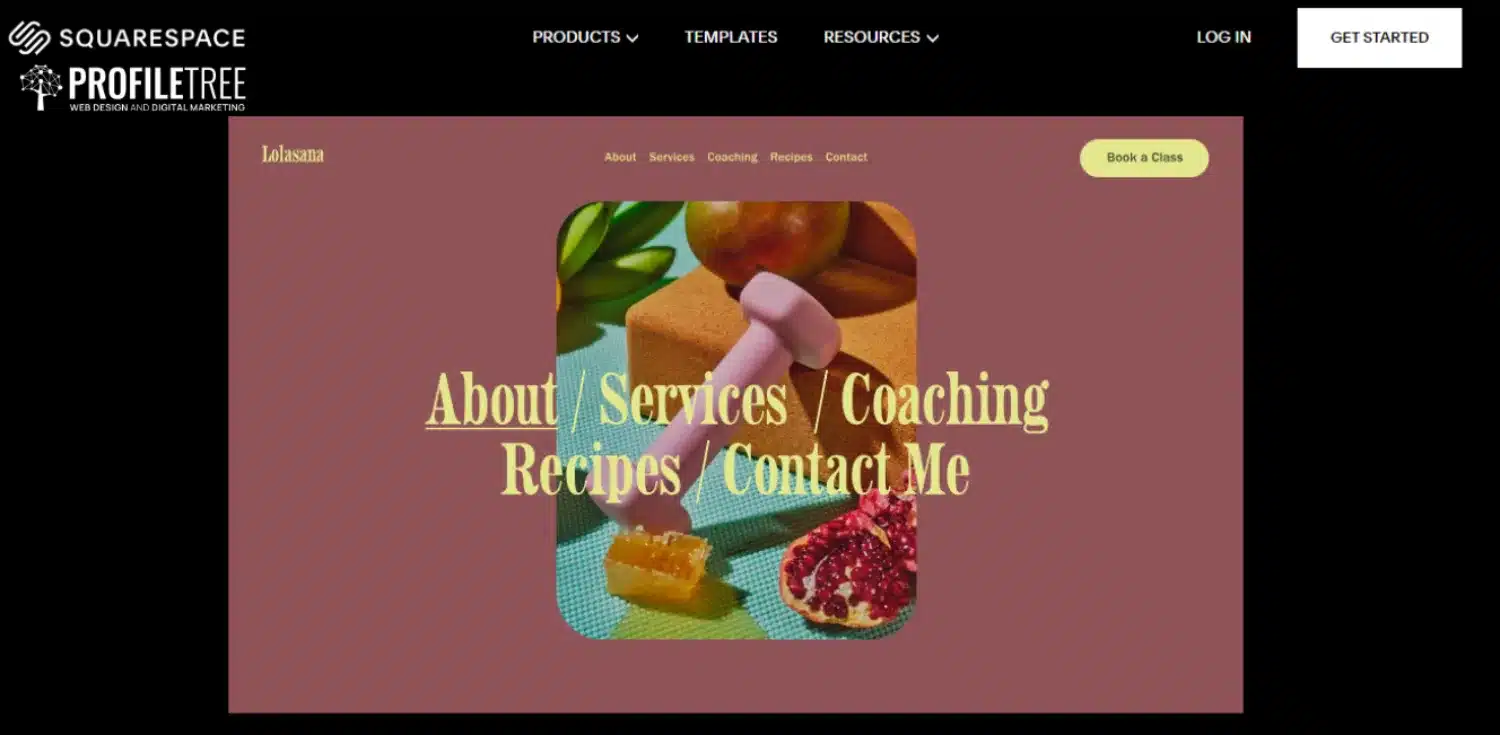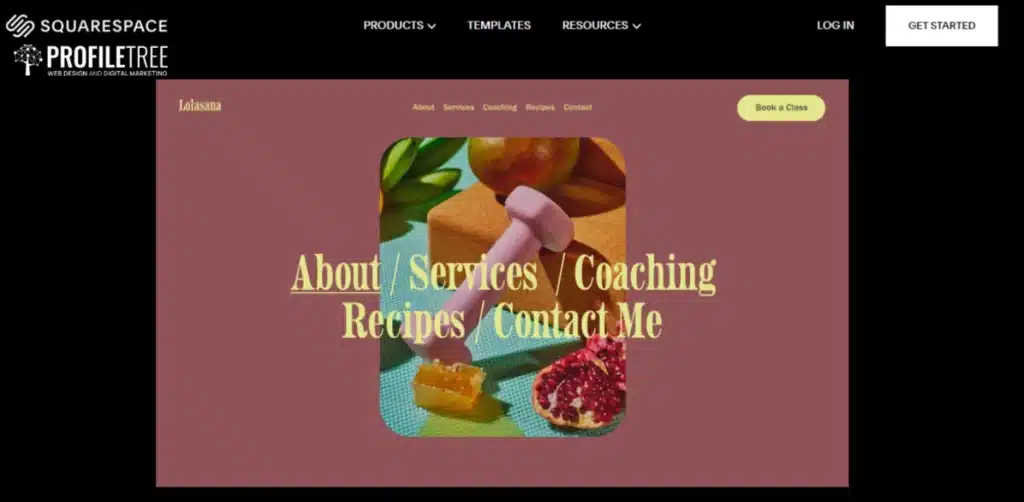 Despite that, creating a website on Squarespace is just a piece of cake, for the platform offers a huge number of attractive and elegantly-looking templates suitable for the most famous industries, including gaming, fashion, photography, consulting, marketing, art, food, design, and travel. There are even templates for creating a personal CV or website.
As we are concerned with portfolios only here, both the art and design categories would be perfect. But for those who cannot find their industry among the ones suggested, they still have the option to type it, and Squarespace will recommend templates that best match it. Squarespace also offers a few demos illustrating how templates can be edited.
Besides those different templates, you can also create an e-commerce site with Squarespace.
OK. So, how do you actually create a portfolio website using Squarespace?
After you have signed up, you can choose one of the templates in the Art category to continue with. Once you click Start Design, a new page will open saying Welcome to your Site. Below that, you should type the title of your portfolio, then click Continue. The next pages offer you a short guide on how you can add, edit and use the page layouts.
Most portfolio templates will surely have galleries so you can showcase your work.
Once you click Get Started, you will be taken to the editor to fully customise your portfolio. On the left side of the editor page, you will find a list of different options to start with. The first one, for instance, is the Website. If you click that, you can find different options, either to add a new page, a shop, an about page or a contact page.
If you do not like the template very much, you can still add a blank page and build your portfolio's homepage from scratch. So just click on Main Navigation to add a new page where you will be able to give it a name, a URL and a navigation title, which will appear on the navigation bar on the site's homepage. You can also disable that page if you want instead of deleting it, and it will disappear from the navigation above.
On the left side menu, too, you can adjust the style of your portfolio by adding icons, buttons and animation, changing fonts, colours, spacing and adjusting image blocks. You can also change the header in terms of style, theme, position, etc.
As we mentioned above, Squarespace does not autosave, so remember to save every step after you have finished it.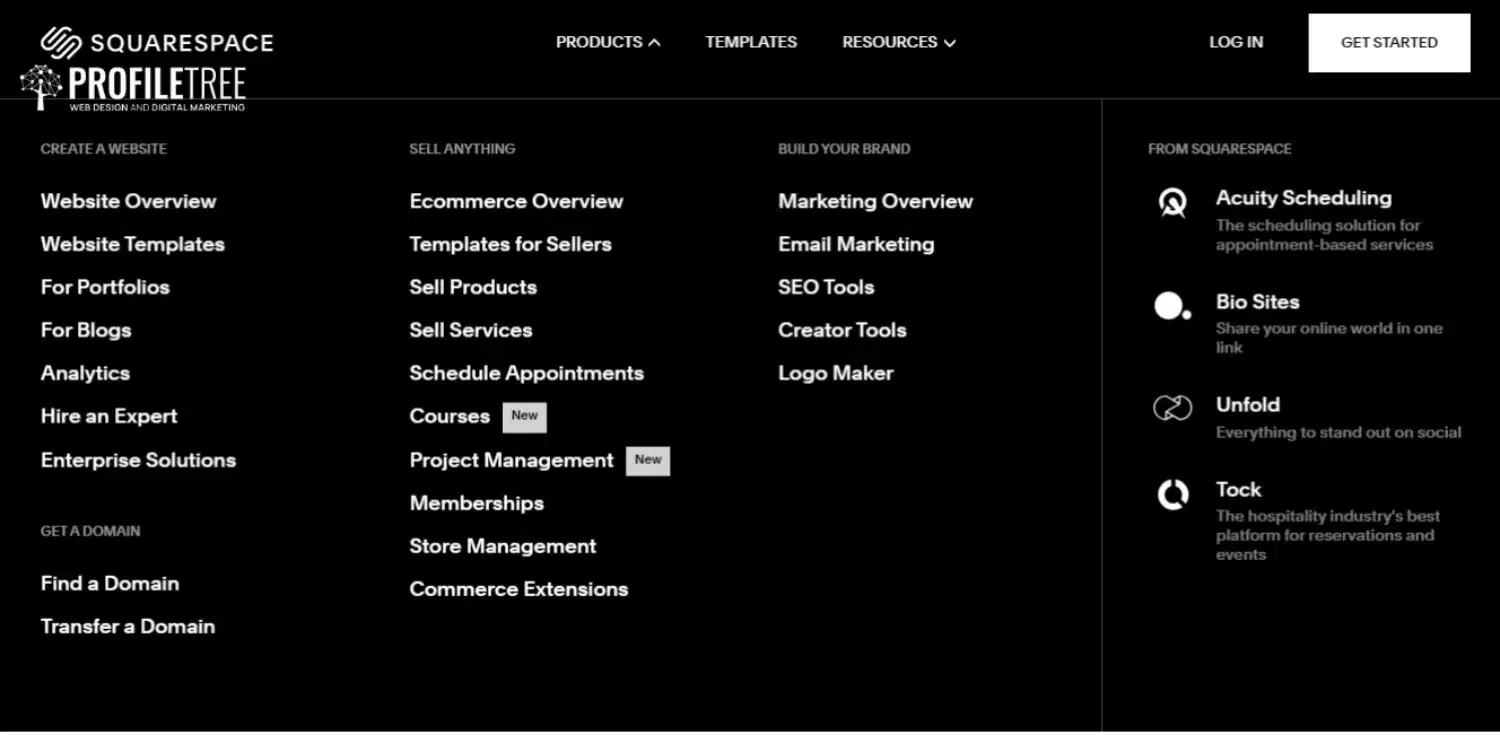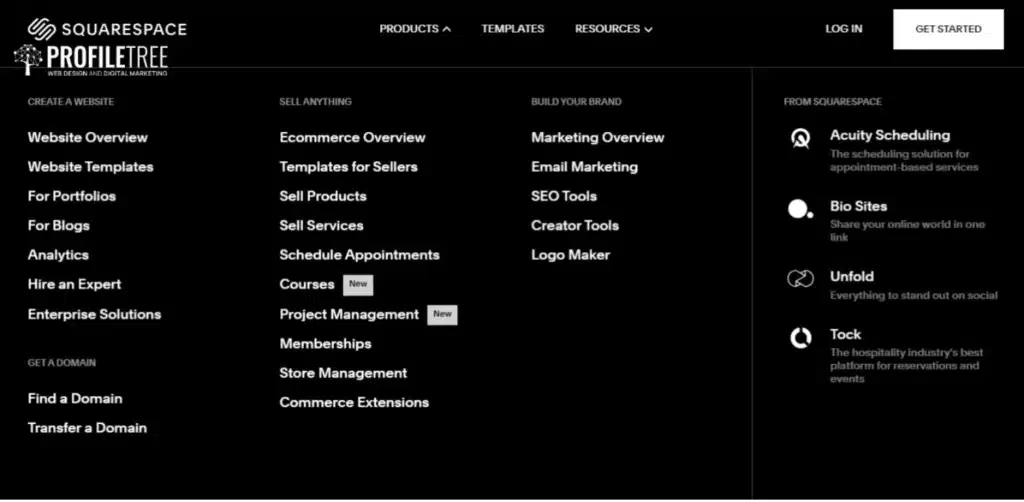 Pricing
Unlike Wix, Squarespace is not free. It does offer a 14-day free trial, but you will have to pick one of the plans the platform offers if you are pretty satisfied and want to continue with it.
So, there are basically four different plans that suit different parties. The first one is the Personal plan for $16 per month. If you pay annually, you will be given a free custom domain for the first year.
The second plan is the Business plan, which is by far the most popular one on the platform. It costs $23 per month and comes with all the features of the Personal plan as well as many others, including advanced website analytics. You also get fully integrated e-commerce to help you sell and grow your business. Yet, this feature comes with a 3% transaction fee.
Then there are two E-commerce plans, the Basic plan and the Advanced one, each costing $27 and $47 per month, respectively and offering a wide range of large-scale features that suit large businesses.
All those plans are paid for on a monthly basis, but in case of an annual payment, Squarespace offers between a 24% and 30% discount on them.
3. GoDaddy
The third and last website builder that artists can use to build their portfolios is GoDaddy.
GoDaddy is an American company offering services in web hosting, website building and email registering. This means you can use it to build and publish your website or to host a website that you built using any other platform.
As a website builder, however, GoDaddy is very fast, with straightforward and simple editing tools to help you build your portfolio with no need for any prior experience. It allows scalability through the different plans it offers and has 24/7 support ready to help you with any issues at any time. It also offers a bunch of add-ons, such as SEO tools and analytics, to help improve the functionality of your website.
That said, there might be a few unpleasant issues with this platform. For instance, it has barely any customizability or templates are also not the easiest to find, and the website might be a bit hard to navigate through. Besides, the platform sometimes has introductory rates, which increase when plans are renewed, and this might not be convenient for many users.
How to use GoDaddy
On GoDaddy's homepage, click the three lines on the top-left corner of the page and go for Websites and Hosting and then Website Builder. Scroll down to the templates section of the page and click Browse All Templates. There, you can find different categories for websites, such as photography, travel, music, home services, magic, etc. There are a lot of options, but since we need a portfolio, we will choose Art & Design and here is where you can build your portfolio from scratch.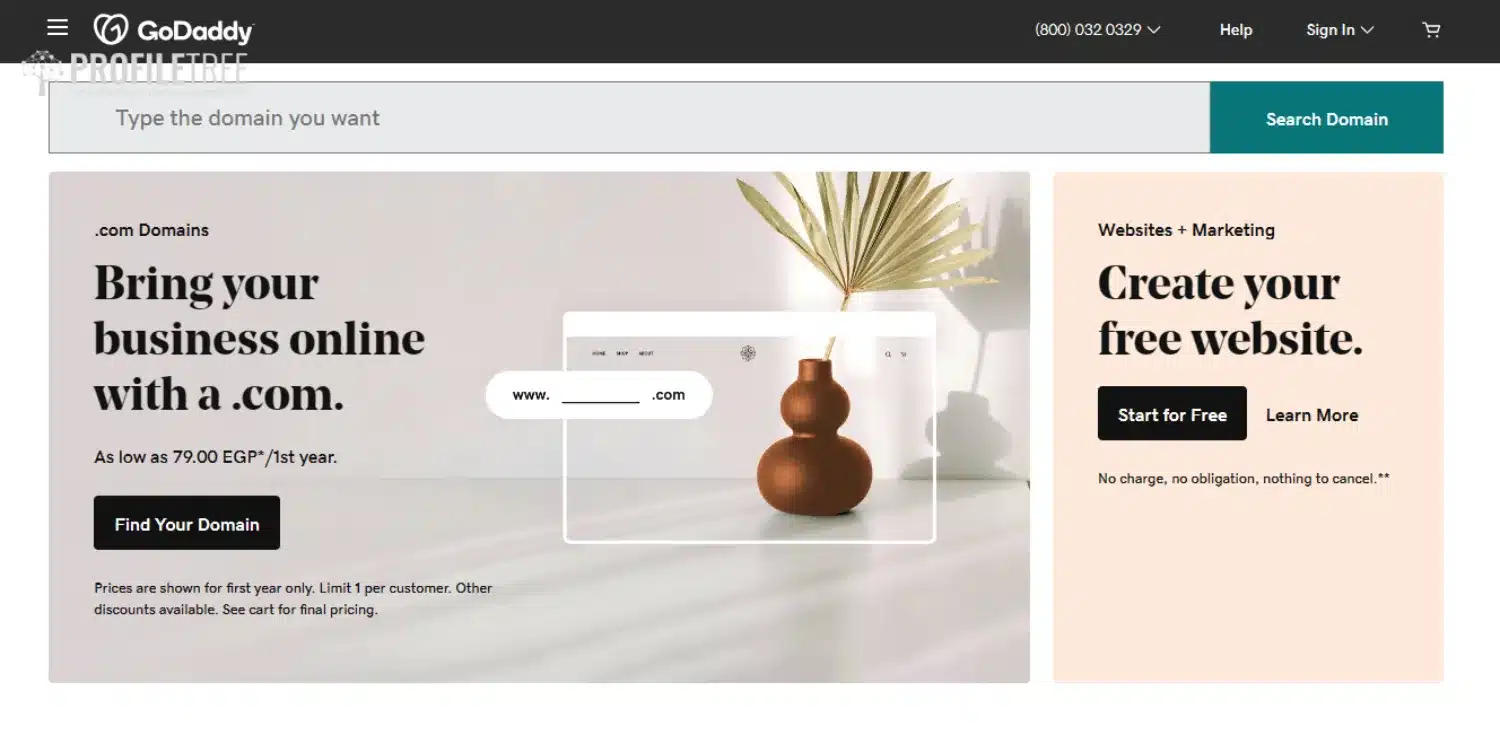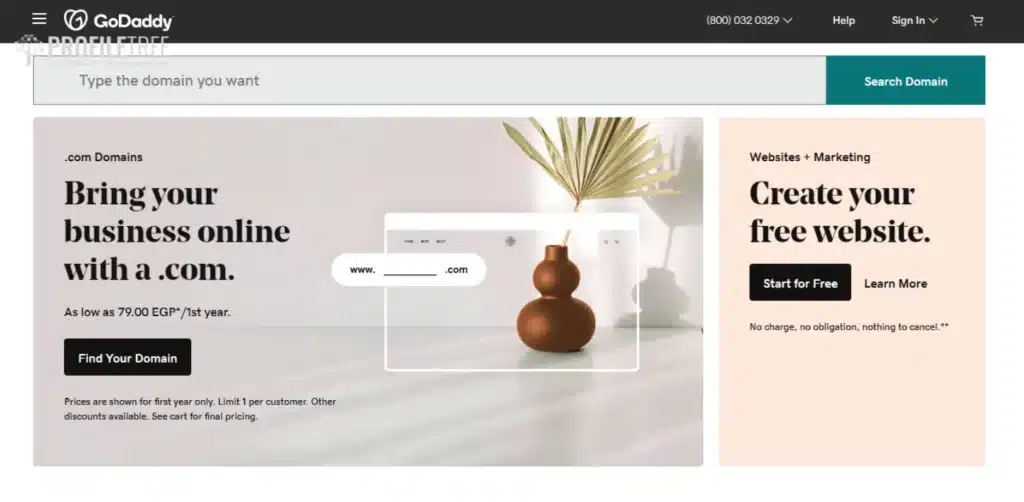 Once you click that, you will be given different templates that suit an artist's website. Choose what appeals to you and click Start Editing.
Here comes the difficulty with navigation, however. GoDaddy will take you to a new page asking you if you truly Start a new site, and once you confirm that, it will ask you again what kind of website you want to create with many options to choose from. Look for Portfolio and click Continue. Enter a name for your portfolio and click Continue. GoDaddy will then cook something for you, definitely powered with a photo gallery, to help you showcase your work.
Once your template is ready, you will be taken to the editor to customise your portfolio the way you want. You can add some more pages just by clicking the plus button there, such as an About Me page to tell your audience a bit about you, and you can even show this in the navigation bar. Besides, you can create a link to an external website. You can create dropdown menus, a header or a footer if you want, add or remove sections, etc.
Speaking of the design, you have a whole set of options to style the website to your preference. You can turn everything upside down and change the template completely if you want. For example, you can change the theme colours, the alignment of the objects on each page, the fonts, icons, and buttons.
When you are done with that, you can add your social accounts and link your website to them so it is easy for your audience to find elsewhere on the web.
You can edit the website anytime you want. If there is a page you are not happy with or feel is not beneficial to your portfolio anymore, you can either hide it from the navigation or delete it altogether, which you can do from the Page Settings.
From the Page Settings as well, you are able to edit SEO and add a domain to your portfolio if you have one. If you do not, you can purchase one from GoDaddy; otherwise, your portfolio will have the GoDaddy free-version domain name, which is just a random mix of numbers and letters or the name you typed for your website ending with godaddysites.com.
When you are done editing your portfolio, you can go ahead and publish it and make it available on the web. But before you do that, make sure you check how it is viewed on mobile and desktop and make any necessary edits to fit it on different screens.
Pricing
While Wix has a free version and a bunch of reasonably priced plans, and Squarespace gives a 14-day free trial and more expensive paid plans, GoDaddy falls somewhere in between them.
So GoDaddy offers a 30-day free trial for you to test it out and see how much it is helping you create your portfolio. If you like the service, you can go ahead and register for any of the three paid plans it offers.
As of September 2023, GoDaddy has the Basic plan for £6.99/month, the Standard plan for £8.99/month and the Premium plan for £11.99/month. It also offers an E-commerce plan for £11.79/month.
All these prices are applied when paying monthly, but if you choose to pay annually, you are going to get a discount of 27% on the Basic plan and 28%, 30% and 32% on the rest of the plans, respectively. All plans are renewed yearly.
Each plan gives you some features, such as a custom domain connection, guidance and analytics, the ability to edit your website on the go and surely 24/7 support. No SEO is provided with the Basic plan, unfortunately, but it is available on all the other three plans.
Overall, when it comes to pricing, GoDaddy comes in first place. Second place is Wix, and finally, there is Squarespace. Yet, all those website builders are perfect for building your online portfolio and quite easy to start with as they do not require any technical expertise, not even the slightest bit of knowledge in coding. With only their drag-and-drop mechanism, creating an elegant portfolio that showcases your best work and highlights your top skill is not but a fun game.