TikTok is the home to millions of creators who strive to become overnight sensations with viral videos that grab them the title of "most-followers on TikTok"
With the platforms wide variety of content from comedy sketches, videos of pets and cooking videos to name a few, there is something for everyone to enjoy. TikTok has caused many ordinary people who enjoy creating content on the app to be shot into stardom. In a short period of time a TikToker's followers could grow by the thousands or hundreds of thousands from just one of their videos going viral.
Top 5 Most-Followed TikTokers in the World
1. KHABY LAME- 146.7 Million Followers (Senegalese-Italian)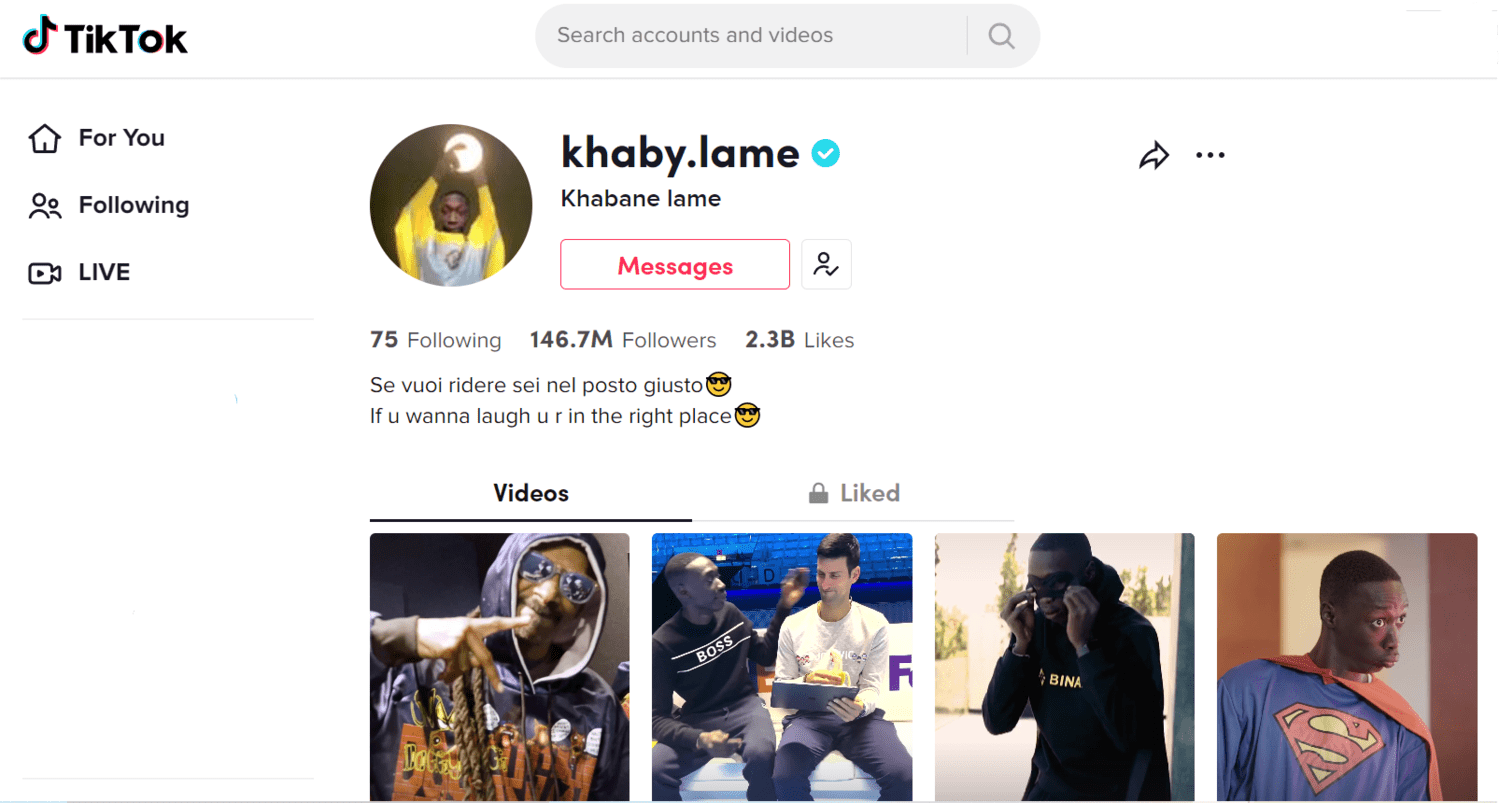 Khabane Lame (@khaby.lame) has earned himself the title of most followed TikToker in the world with an impressive 146.7 million followers which is constantly growing.The 22 year old started posting videos on TikTok of him recreating and mocking "Life Hacks" during the pandemic when he found himself out of a job. Soon his videos began to hit over a million views.
3. Charli D'Amelio- 144 Million Followers (American)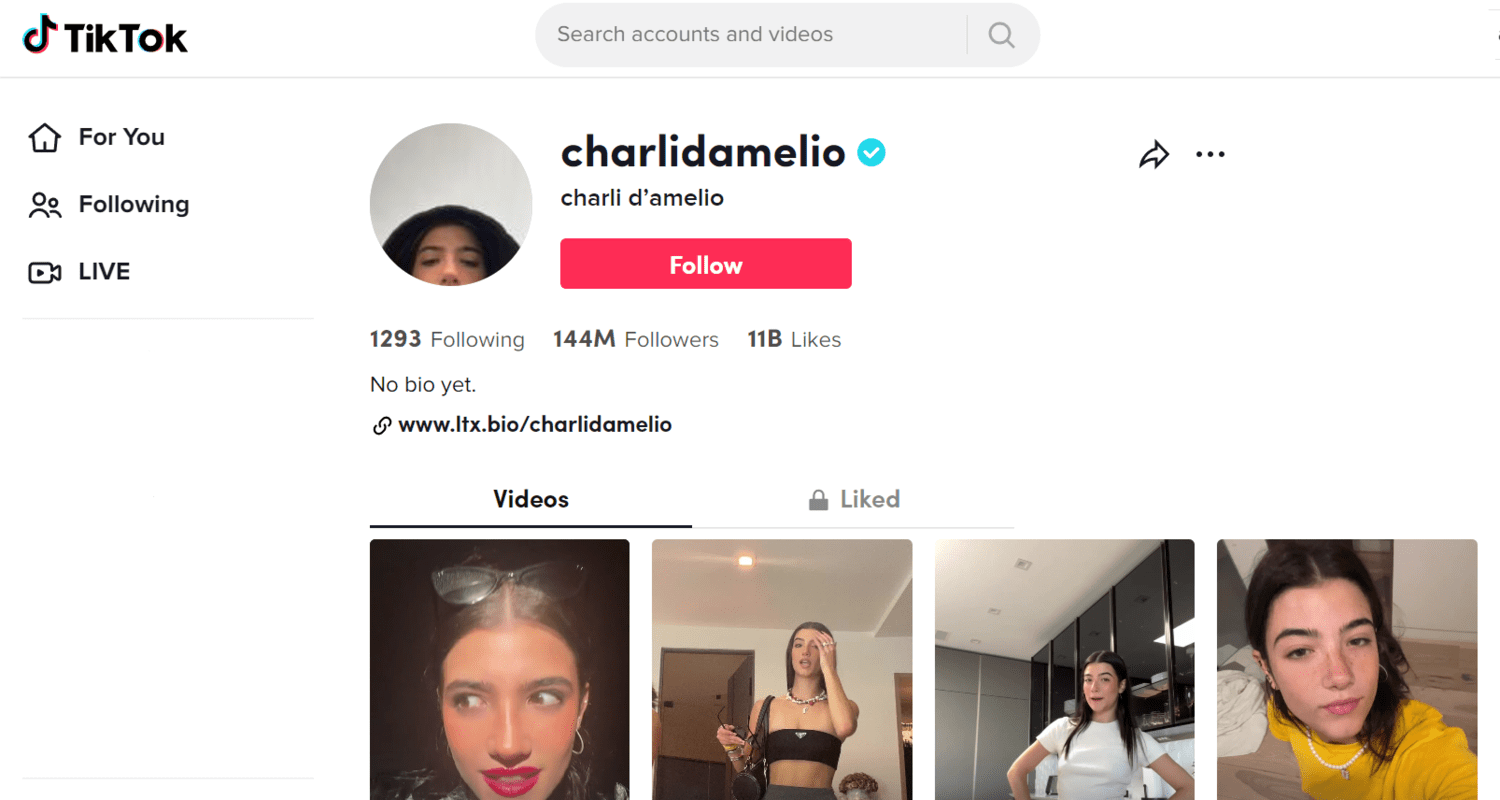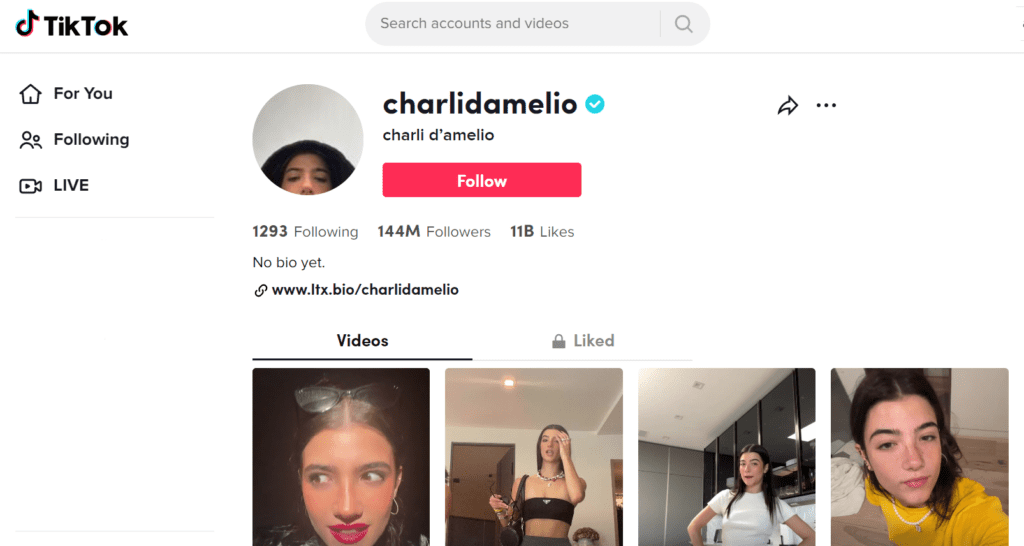 Before Khaby Lame grabbed the number one spot, Charli D'Amelio held the title for nearly two years and is one of the most recognised TikTokers in the world. The 18 year old dancer was also on of the first TikTokers to reach 10 Billion likes. Charli was put in the spotlight for her TikTok videos of her dancing viral dance routines and creating her own dances. Since rising to fame on the social media platform, Charli has gone on to work with Hollister to create her own clothing line and have her own reality T.V show "The D'Amelio Show", which shows her life with her sister Dixie and her parents.
3. Bella Poarch- 90.7M Followers (American-Filipino)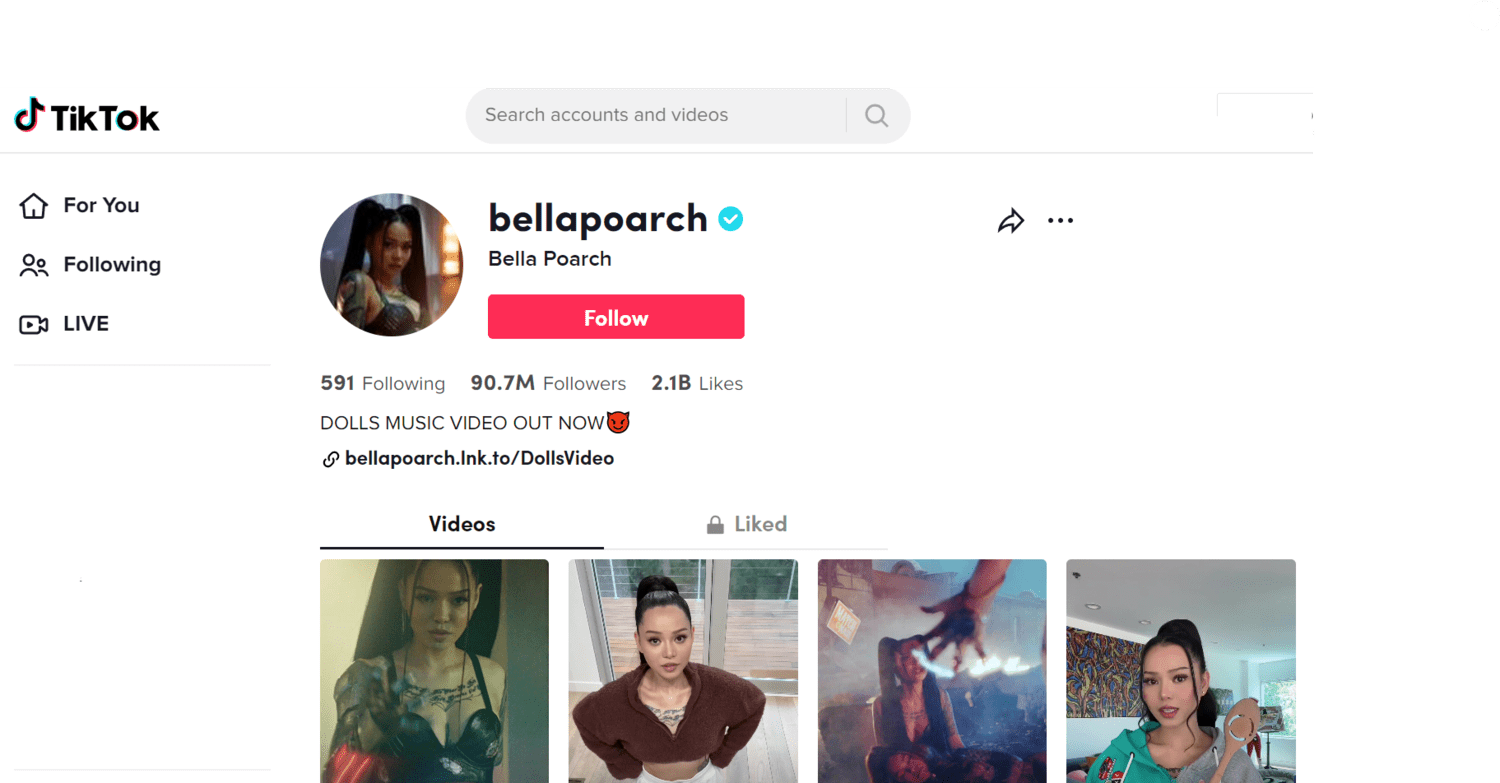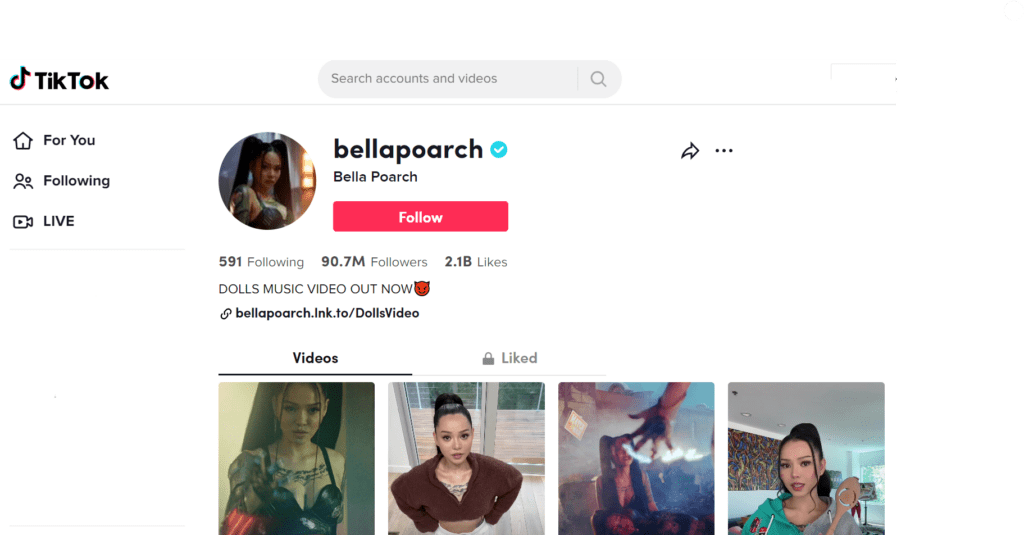 Bella Poarch earned herself a spot in the top 3 most-followed TikTokers in under a year of setting up her account. The US Navy veteran has over 2 Billion likes on the social media platform which she shares videos of her talking about gaming, lip-syncing, and taking part in dance challenges. Since rising to fame, the singer has released two original songs and has starred in her own music videos.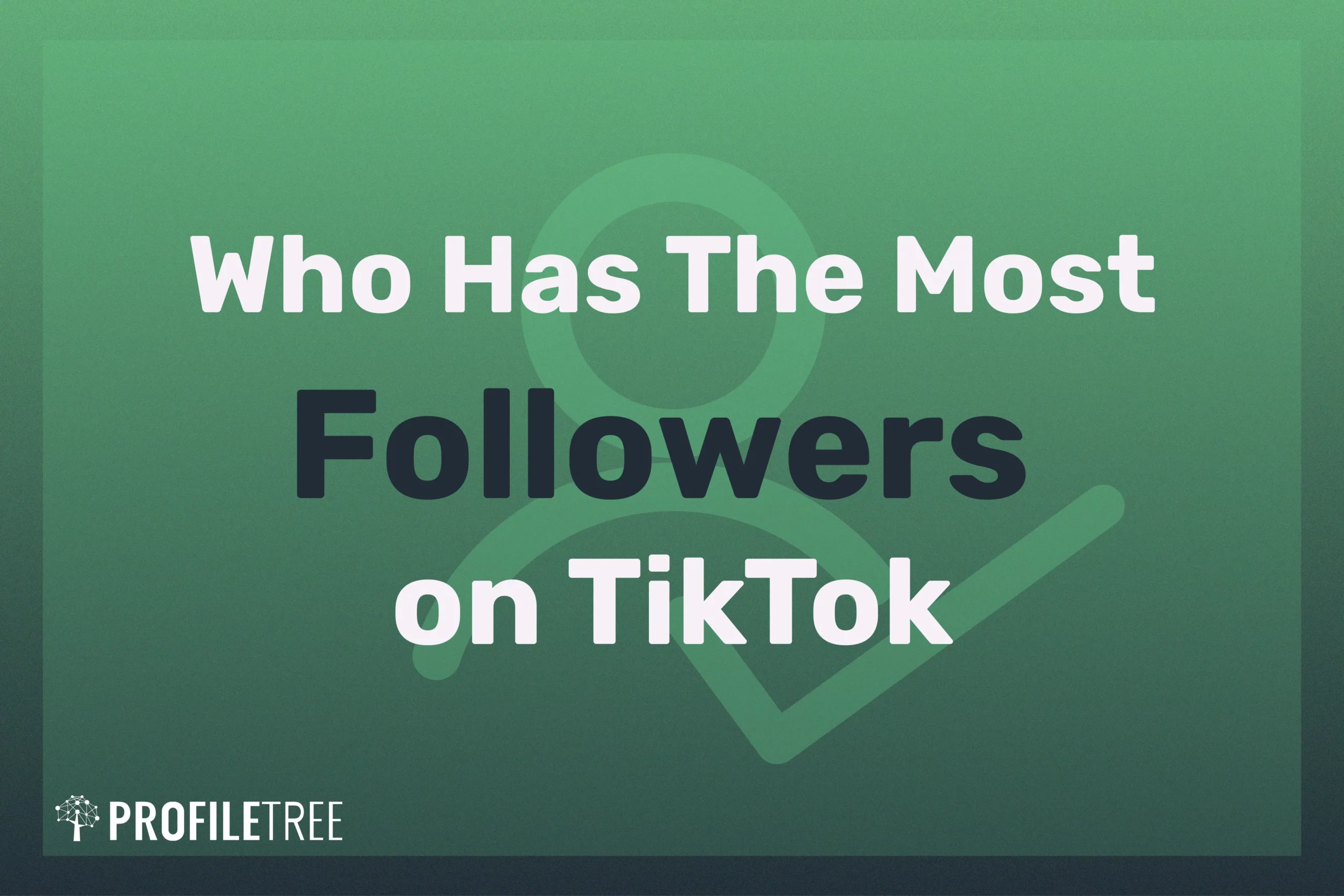 4. Addison Rae- 88.4 Million Followers (American)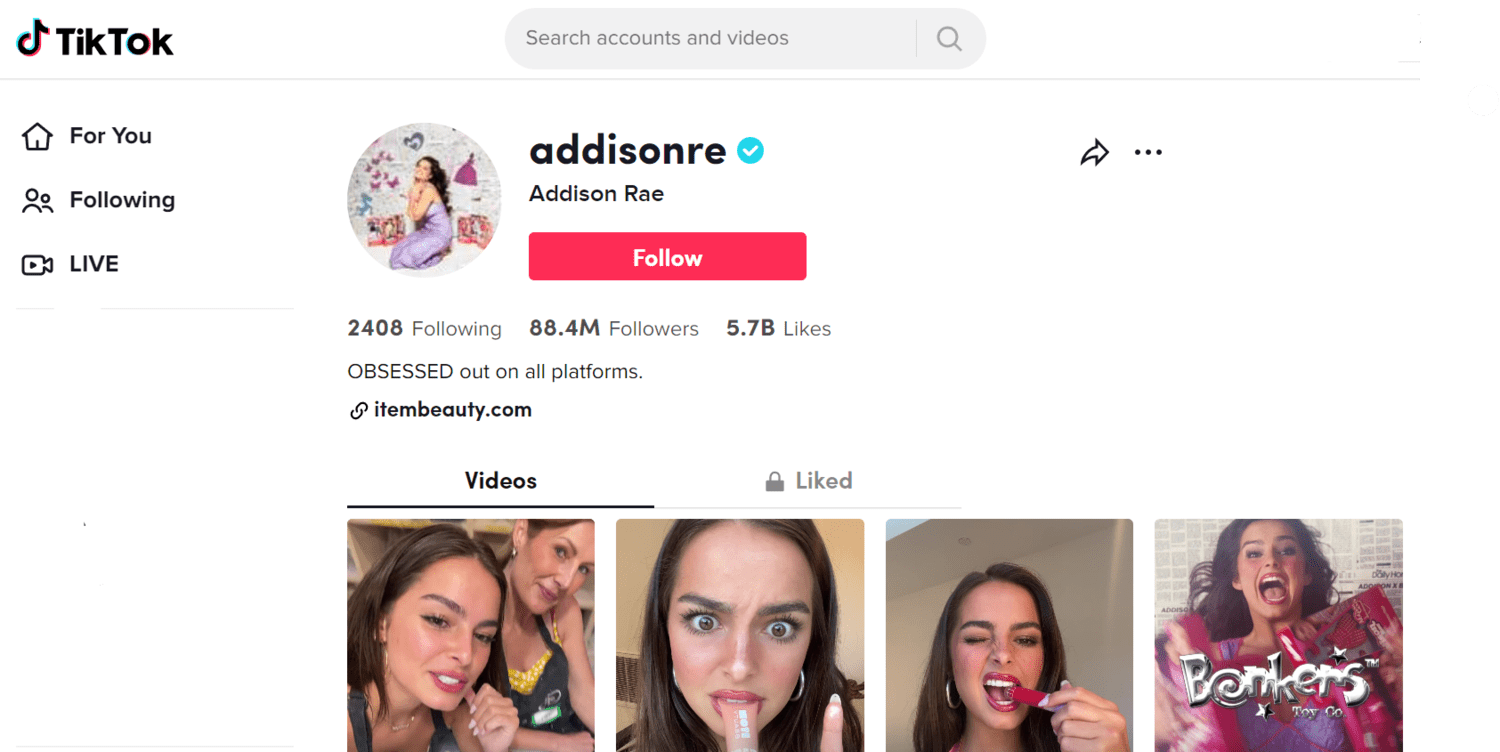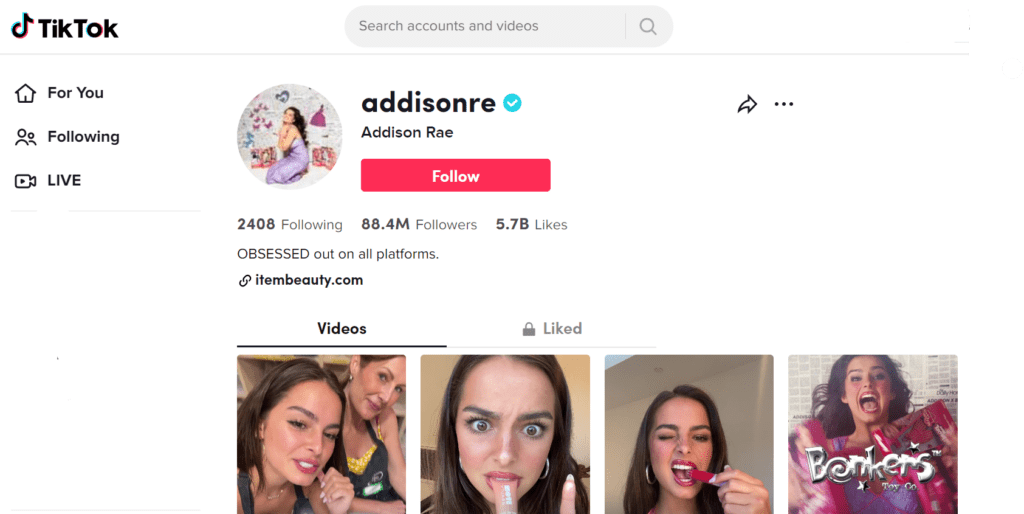 Similar to Charli D'Amelio, Addison Rae gained her huge following through her dance choreography and lip-syncing videos. The 21 year old has had great success outside of her TikTok career, starring in the Netflix film "He's All That", creating her own fragrance line and making the Forbes 30 under 30 List in 2021 for social media influencers. Since her rise to fame, the singer and actress has been seen socialising with big names like Kourtney Kardashian and was invited to the one of the most prestigious events in the fashion world, the Met Gala in 2021 and 2022.
5. Will Smith- 72.2 Million Followers (American)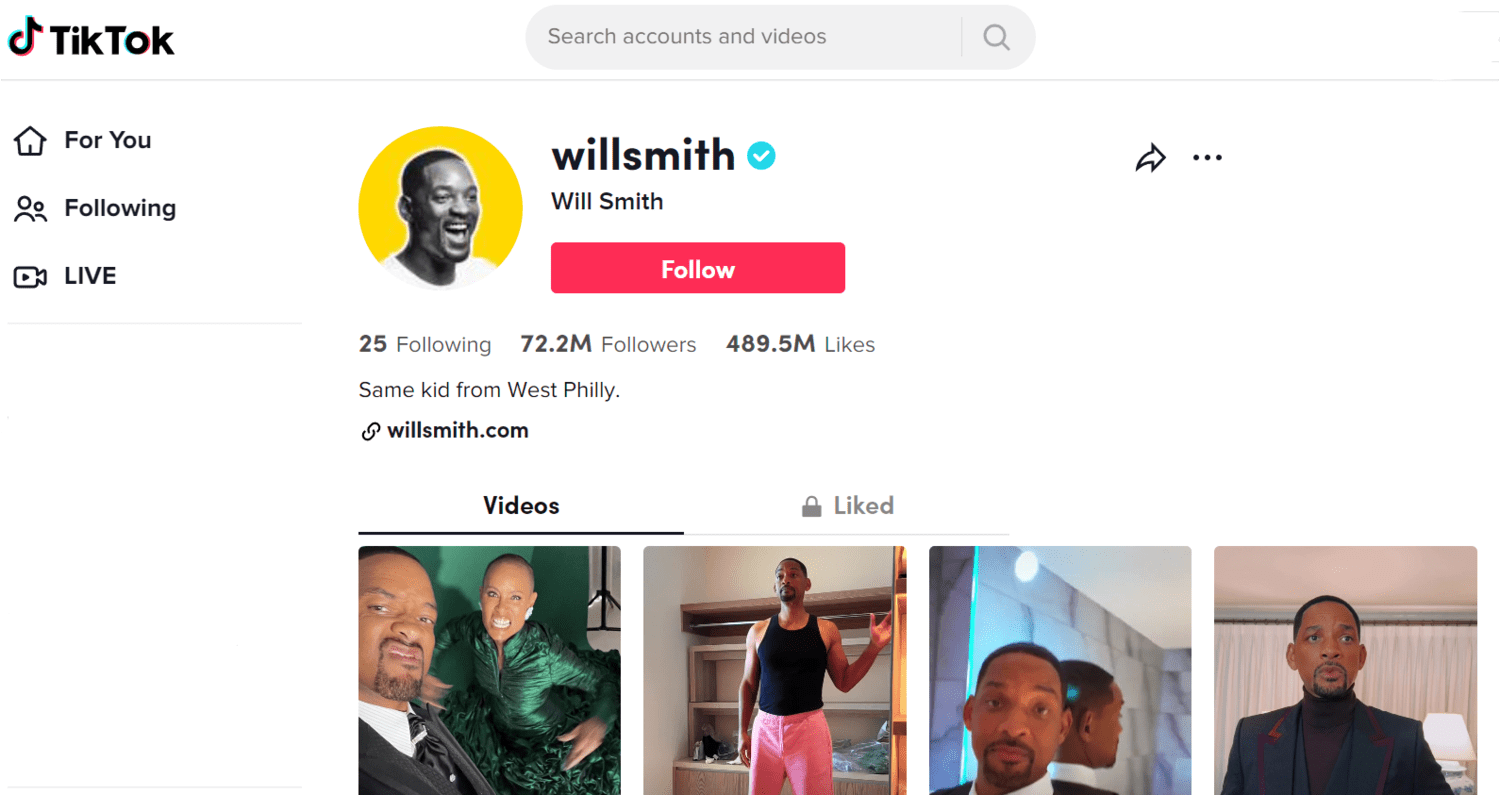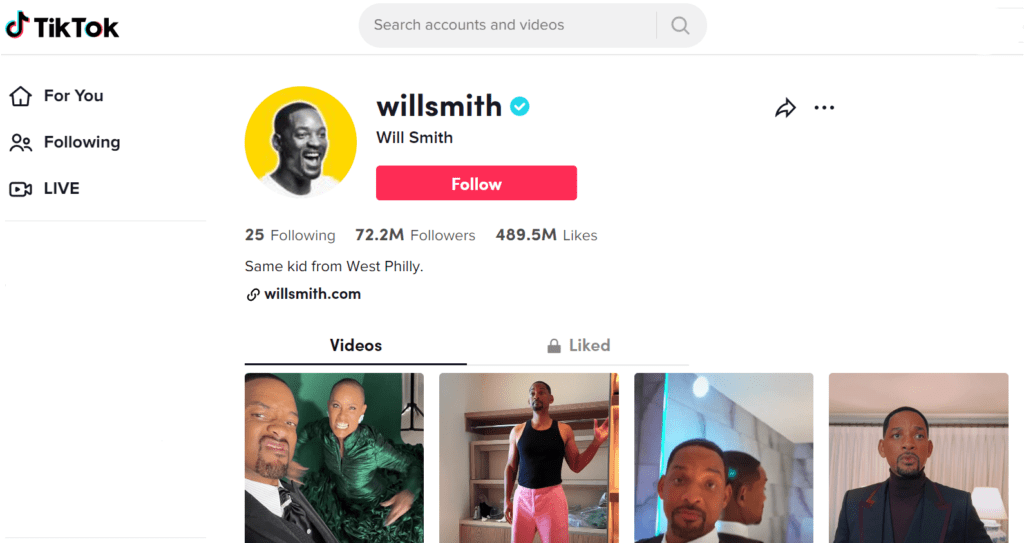 Unlike the previous TikTokers named above, Will Smith didn't gain his fame from TikTok. Like many celebrities Will Smith hopped on the TikTok trend and quickly gained popularity on the video sharing platform. The singer and actors funny videos showing him take on viral trends and lip-syncing boosted his following to make him the only A-lister in the Top 5 most followed person on TikTok.
Most-Followers on TikTok in the UK
Kyle Thomas- 32.5M Followers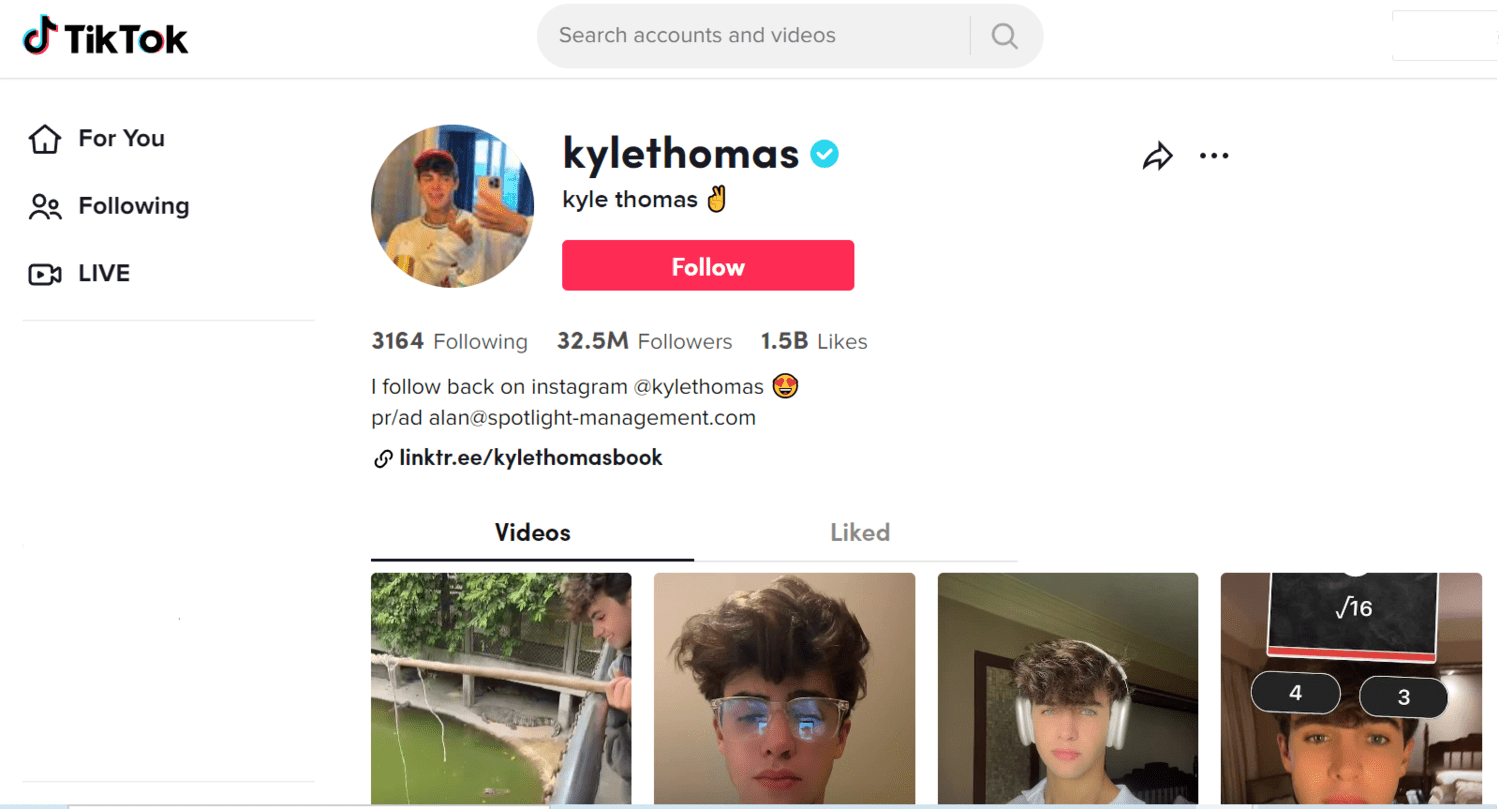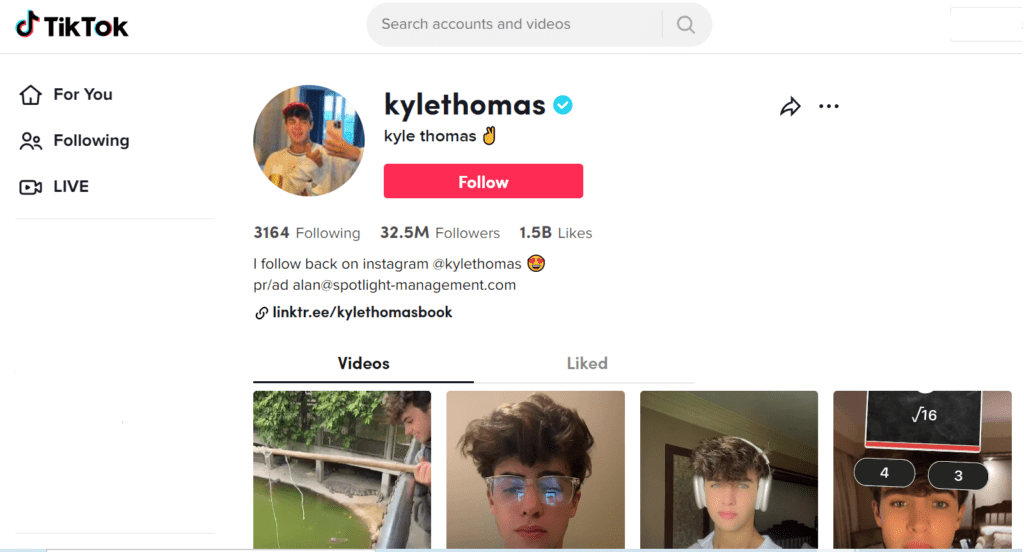 Kyle Thomas earns the title of the most-followers on TikTok in the UK. Sharing videos of his pet meerkat Mylo, of him lip-syncing, doing comedy sketches and food reviews, Kyle has gained quite the following at just age of 17. His wide variety of content as led to Kyle gaining 32.5 million followers and 1.5 billion likes on the social media platform.
The TikToker from Kent hasn't just kept his creativity to TikTok, as he is set release his first graphic novel "Guardian of the Realm" in July 2022.
Jeremy Lynch- 19.5M Followers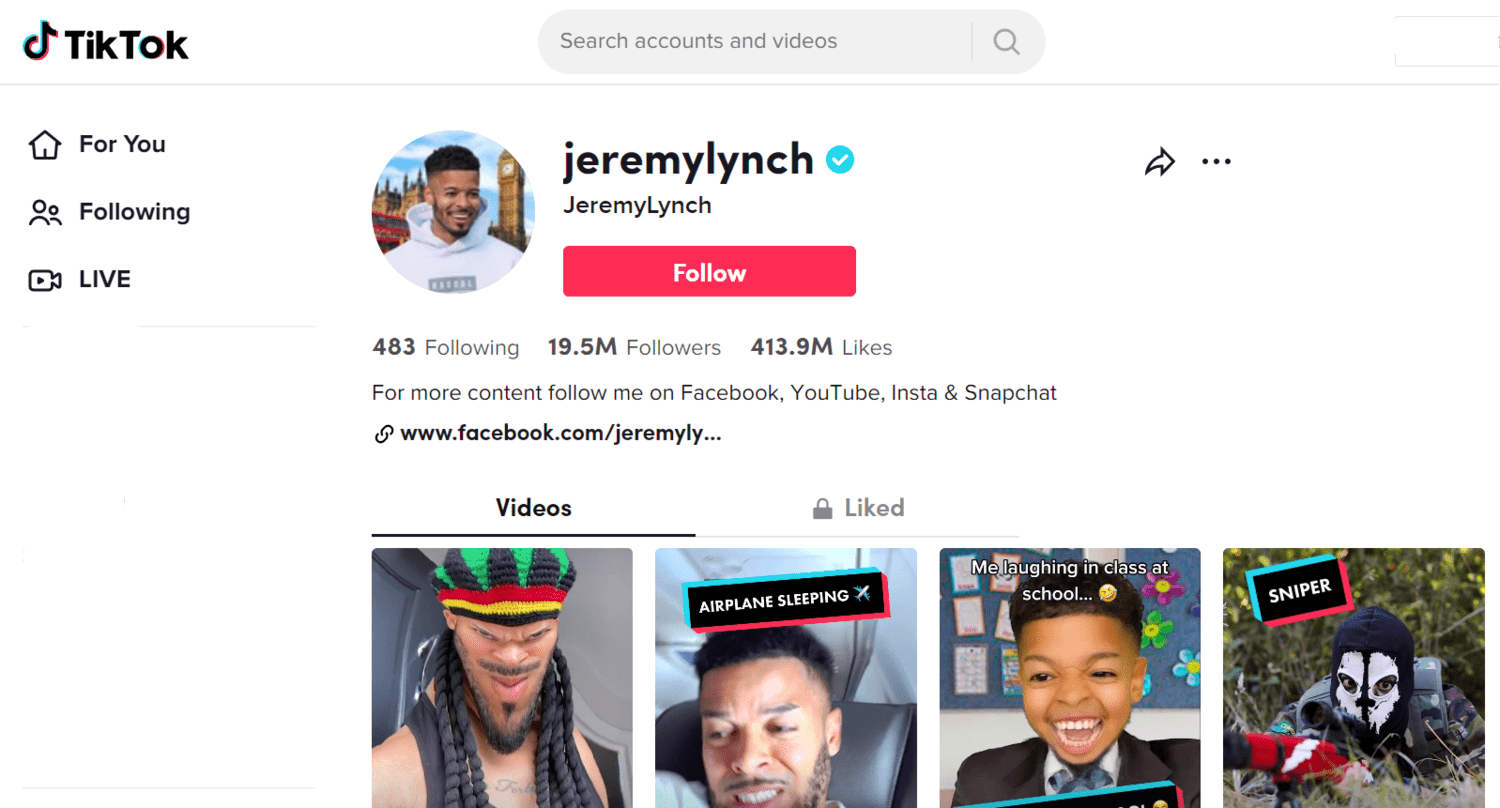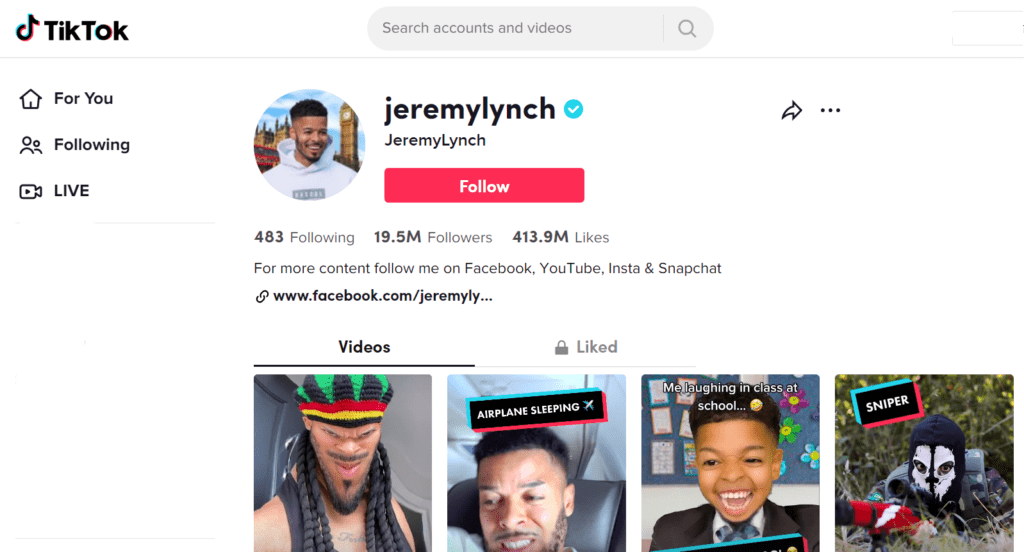 Jeremey Lynch has gained an impressive following on his TikTok page where he shares football freelancing videos, creative transition videos and comedic skits with his 19.5 million followers. Jeremey, a former Arsenal Academy junior player, was famous before TikTok and was first put into the spotlight in 2008 when he appeared on Britains Got Talent where he showcased he football skills.
The Londoner later went on to form the duo F2Freestylers (The F2) with his friend Billy Wingrove where they show their 14 million Youtube subscribers soccer skills. The duo have done videos with Cristiano Ronaldo, Virgil Van Dijk and Mason Mount to name a few.
Abby Roberts- 17.1M Followers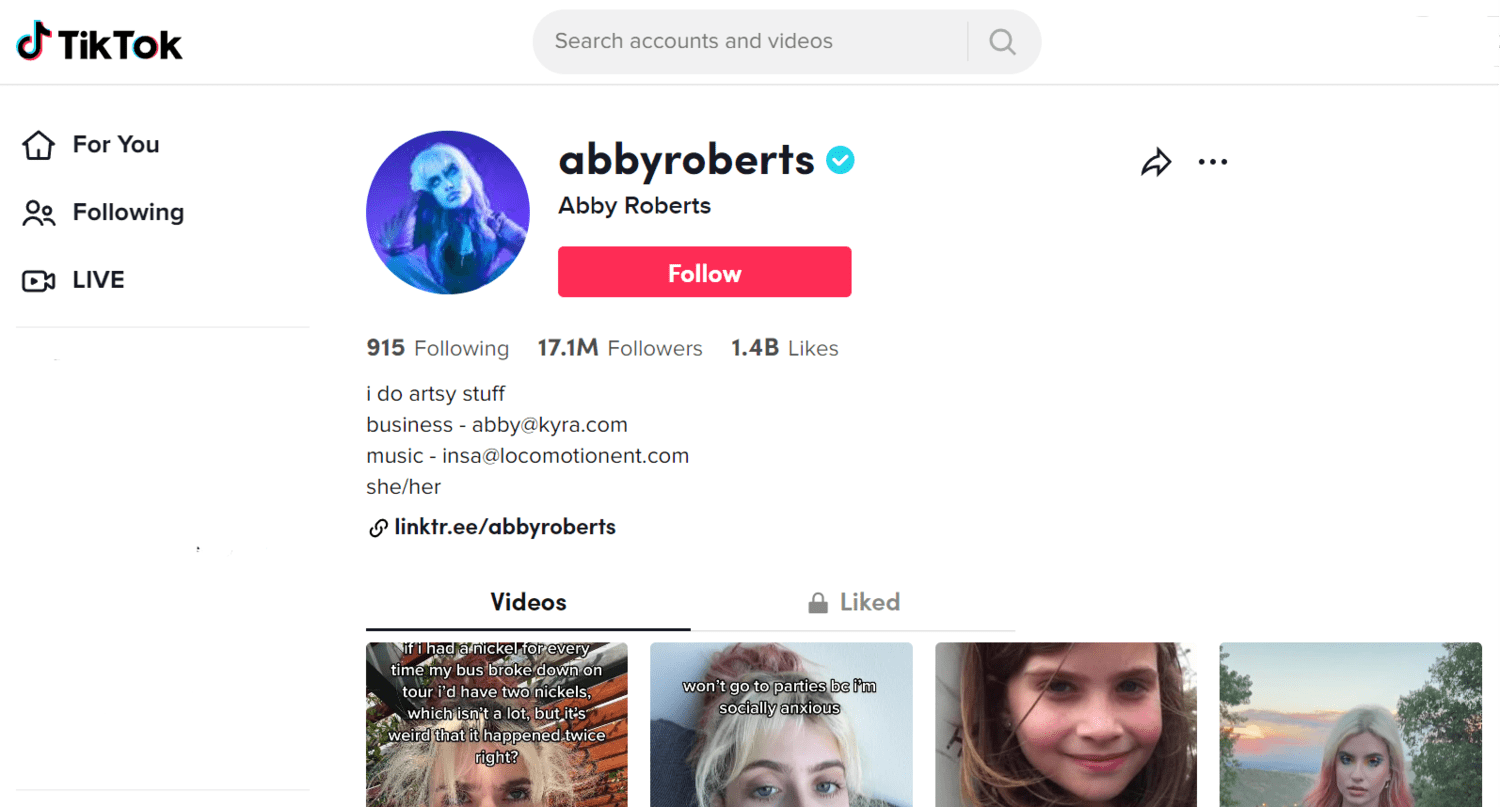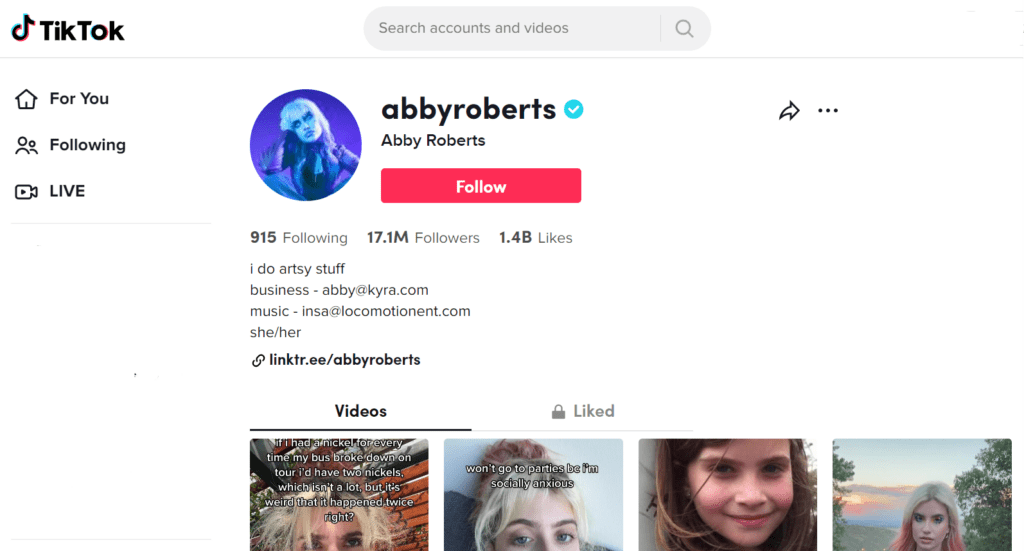 Abby Roberts has the third most-followers on TikTok. The 20 year olds TikTok videos of makeup and special effects looks attracts 17.1 million followers. The Leeds born make-up artist blew up overnight when James Charles reposted a look she recreated of his and asked her to do an Instagram takeover on his page leading her to gain 100,000 followers overnight. Soon after her TikTok videos began to attract huge attention and boosted her career.
Abby has also expanded her career outside of TikTok, appearing on the TV show Glow-up as a guest judge in 2021. She has also gone on to start a music career with her first album "Ashes" getting over 250,000 monthly listeners on Spotify.
Shauni Kibby- 17.1M Followers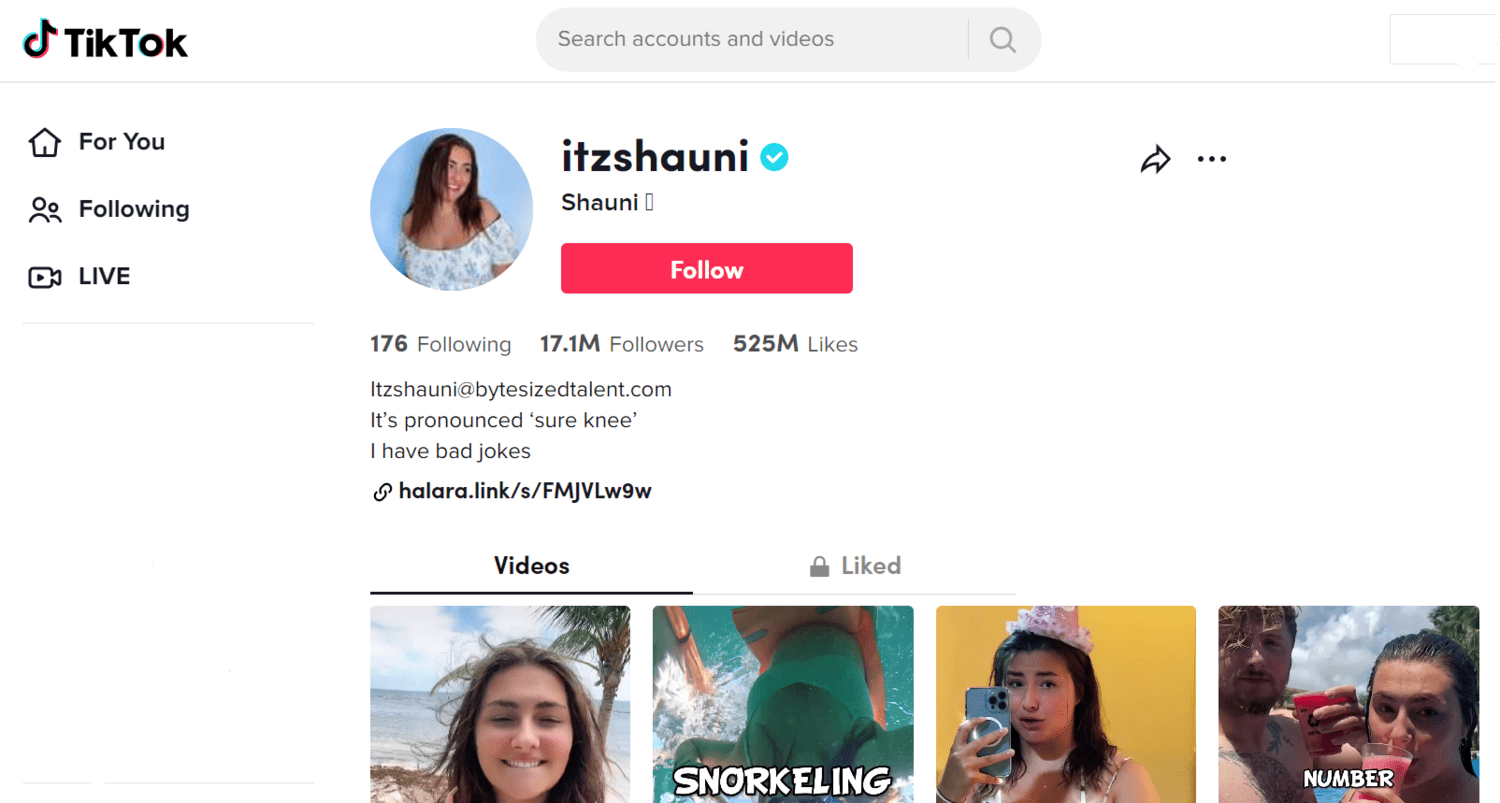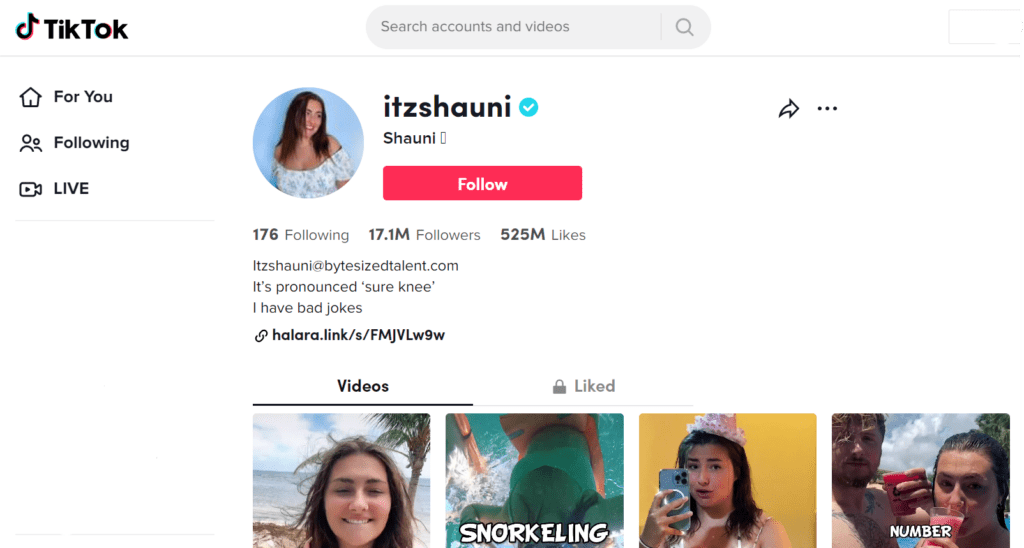 Although Shauni and Abby Roberts both have the same amount of followers, Abby's 1.4 billion likes on her videos put her just that bit further up the list. Shauni Kibby gained her following through her viral videos of her opening toys. The British TikToker also shares videos of her day-to-day life, body positivity, and challenges to her 17.1 million followers. The 22 year old also appeared on CBBC's Saturday Mash Up alongside her boyfriend, fellow TikToker Jake Sweet.
Evie-Meg Field- 15M Followers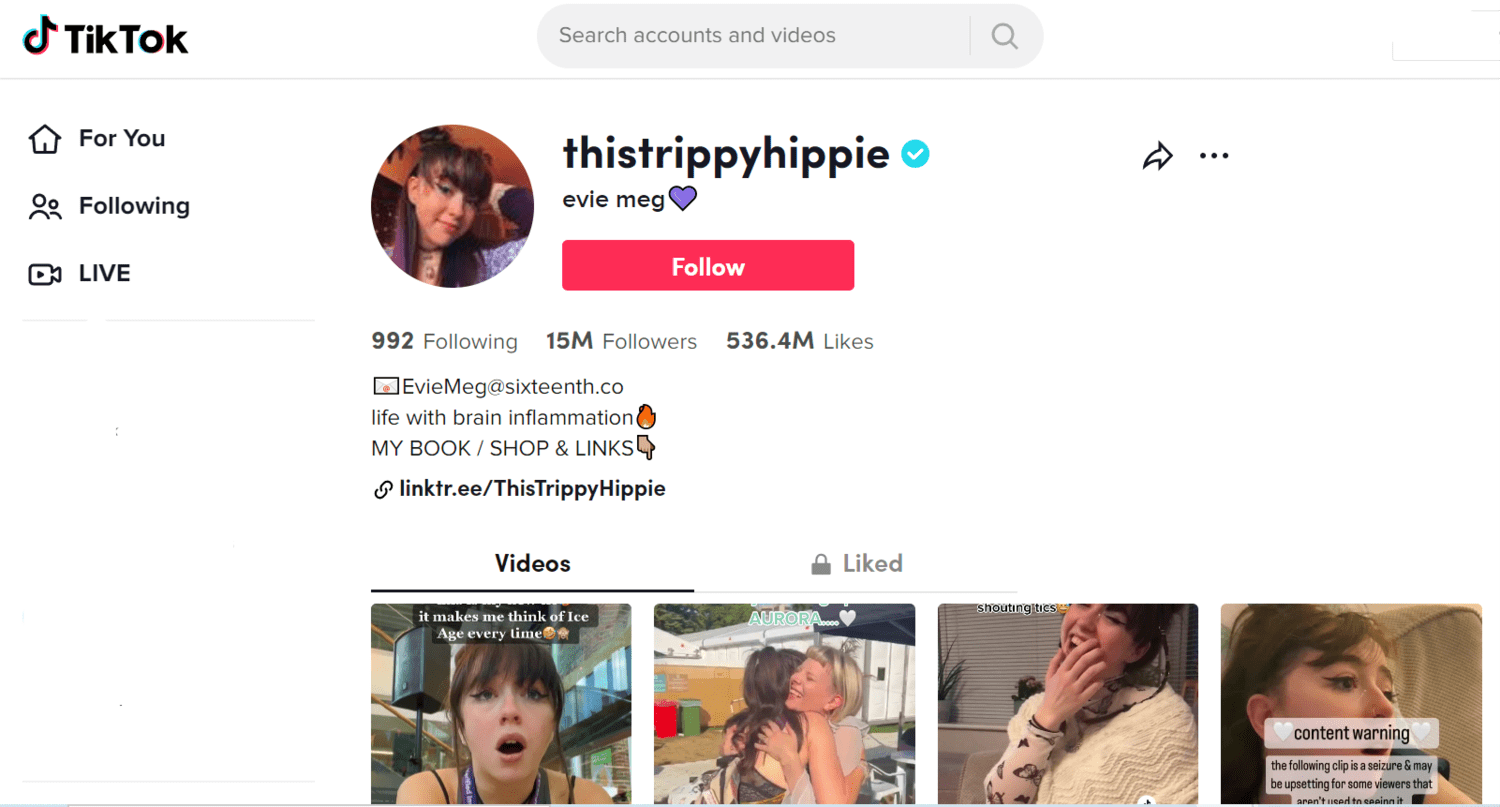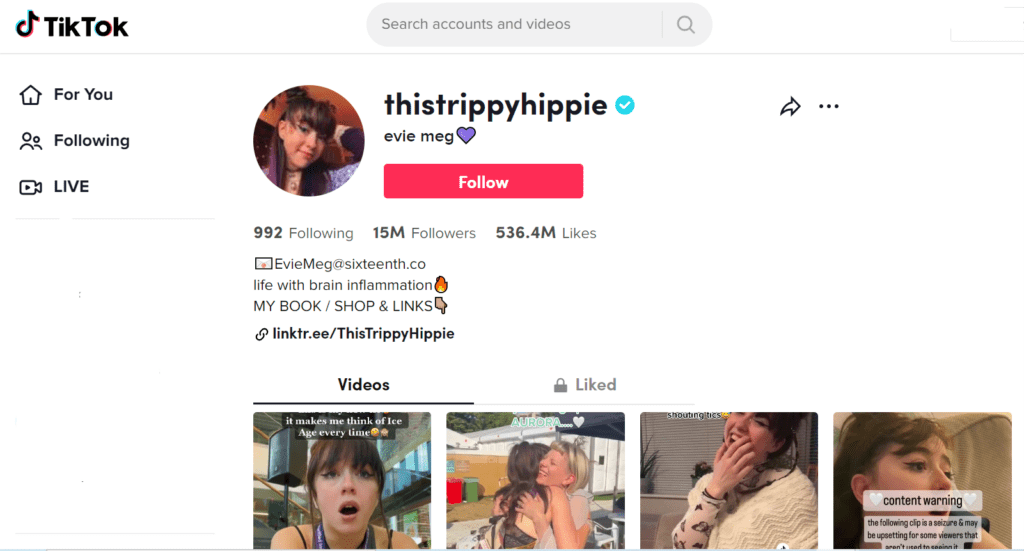 Evie-Meg Field shares videos to her 15 million followers about the reality of living with Tourette Syndrome. She posts honest stories of her experience with Tourette Syndrome and debunks the myths around the neurological disorder.
Evie-meg uses the name ThisTrippyHippie for her TikTok account. The 21 year old has gone on to publish her own autobiography " My non-identical Twin" in order to further raise awareness of Tourette Syndrome.
Most-Followers on TikTok- Northern Ireland
Joel Mawhinney- 16.6M Followers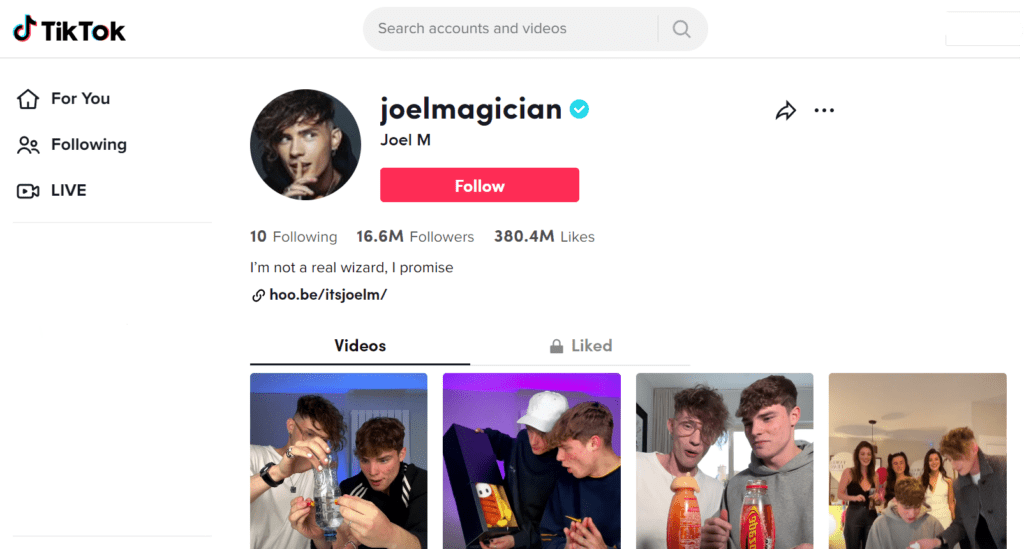 Joel is a 24 year-old magician and mentalists who uses his TikTok page to show his 16.6Million followers magic tricks and illusions. His bind-blowing videos are the reason he has the most-followers on TikTok in Northern Ireland. The County Down native has gone on to write his own book 'Make Your Own Magic' in which he reveals the magic behind some of his tricks. The TikToker who goes by JoelMagician (@joelm) has also hosted his own BBC One show "Life is Magic".
Emma White- 1.4M Followers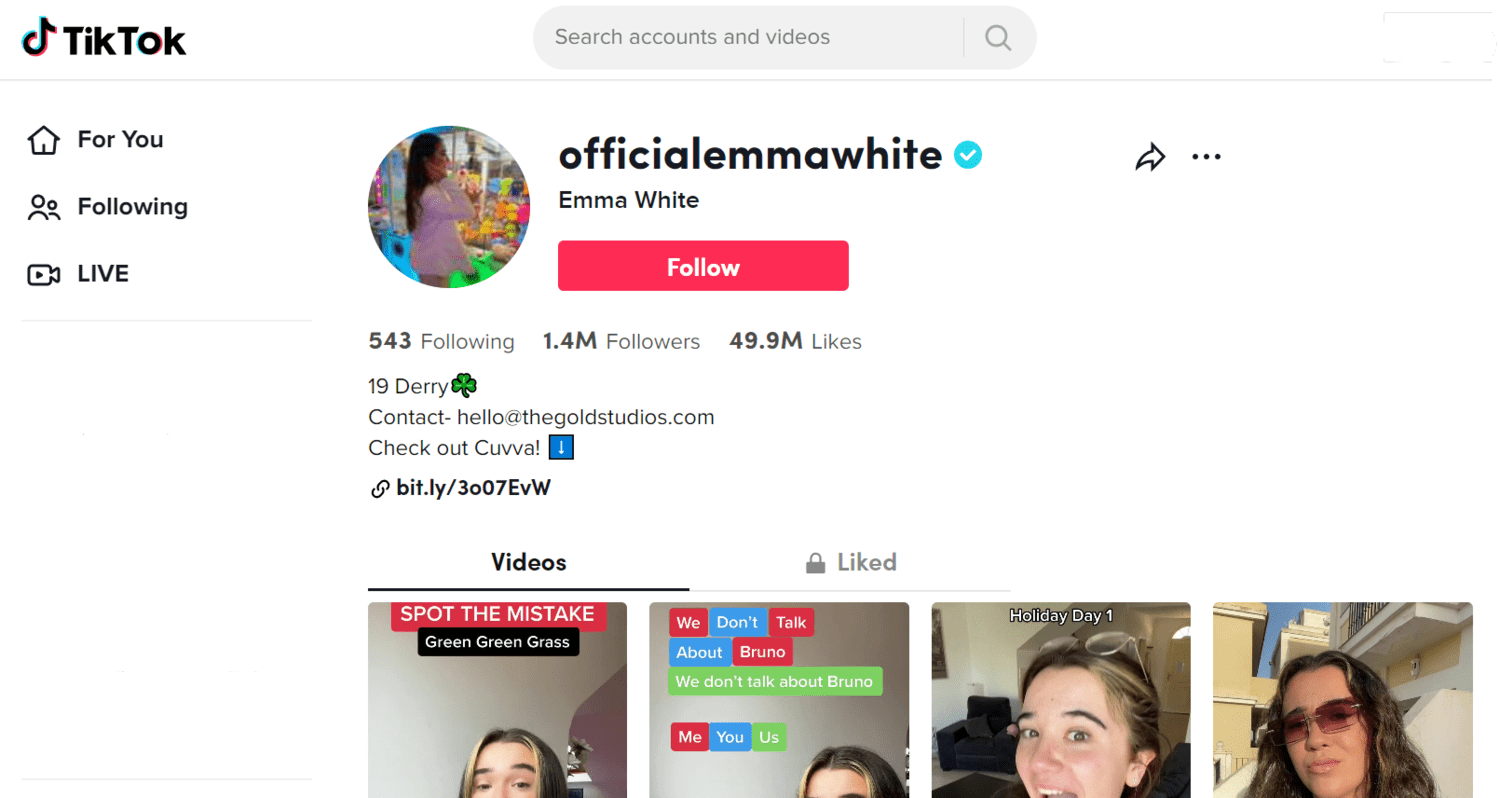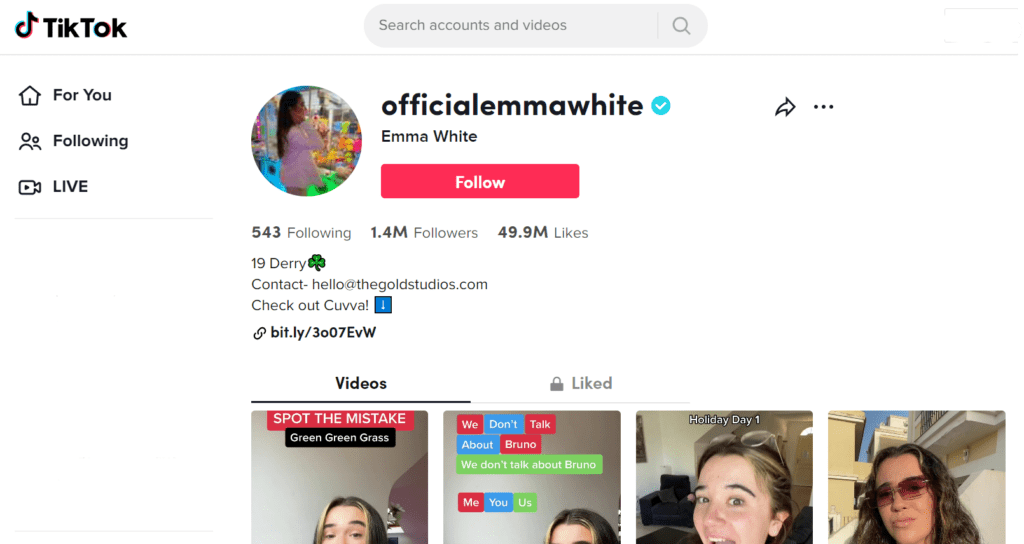 Emma White gained 1.4 million followers on her TikTok page @officialemmawhite from her videos of her singing well-known songs and creating videos that followers can duet with her. Some of the Derry singers most viral videos have reached over 1 million views.
Olivia Neill- 1.3M Followers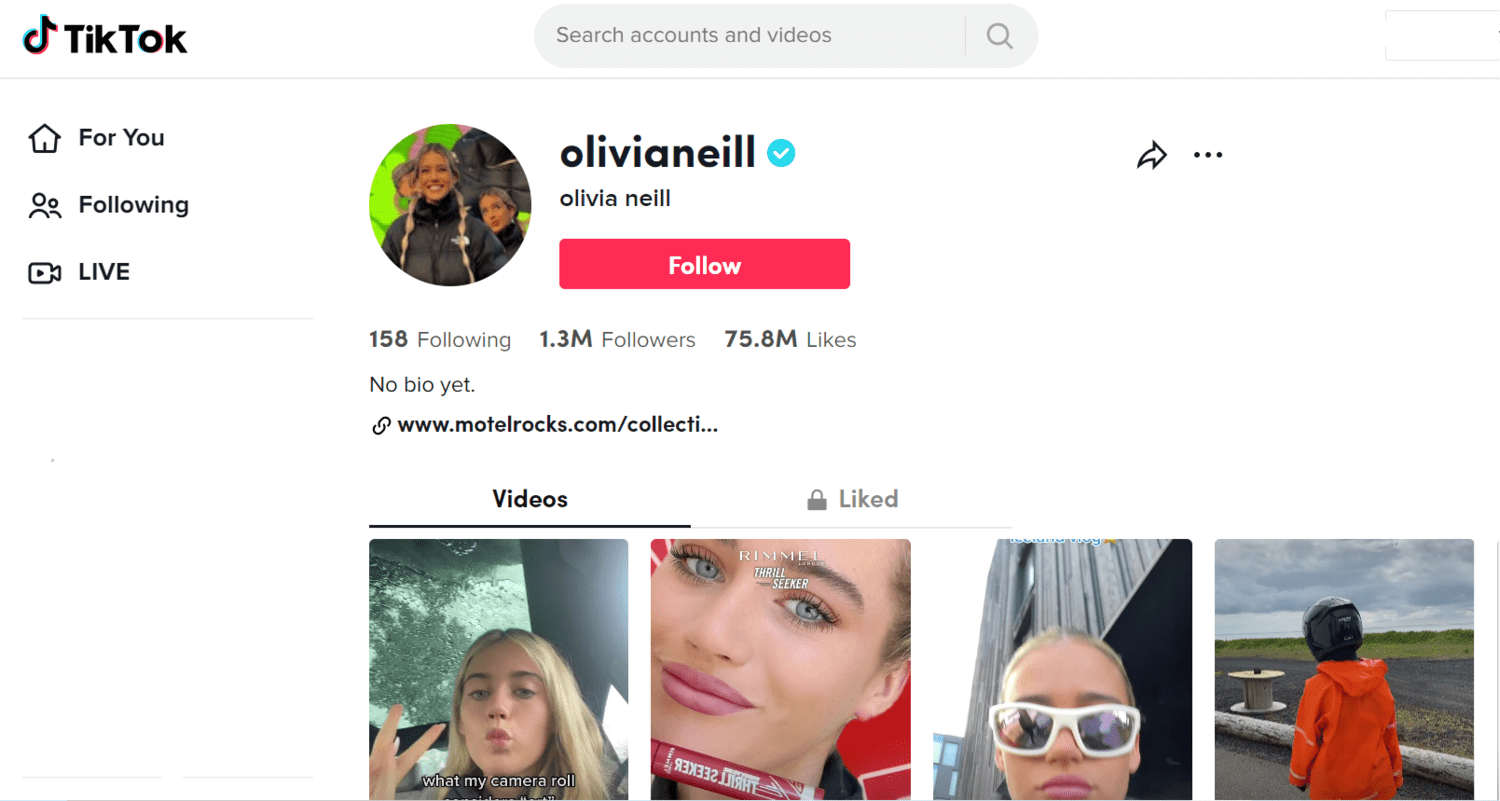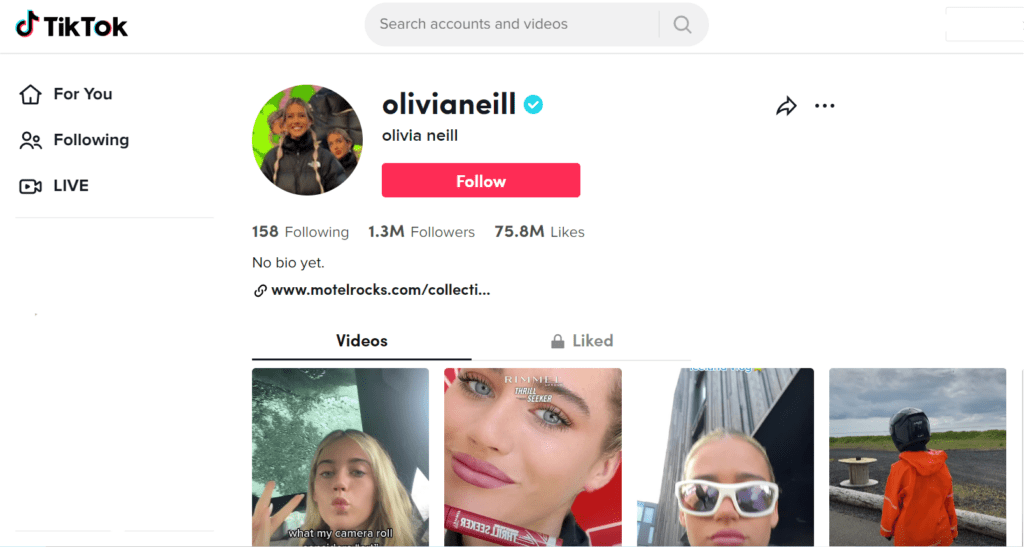 Olivia Neill has made quite the name for herself as one of the most recognised Northern Irish TikToker at only 20 years old. Olivia has gained popularity on multiple social media platforms including Youtube which she has over 750K subscribers. The Belfast Tiktoker has her own podcast "Inner Monologue with Olivia Neill" and has signed with model agency Elite London. Her dancing videos and fashion content has led her to work with big brands like Rimmel and Motel Rocks.
Emma Kearney- 711K Followers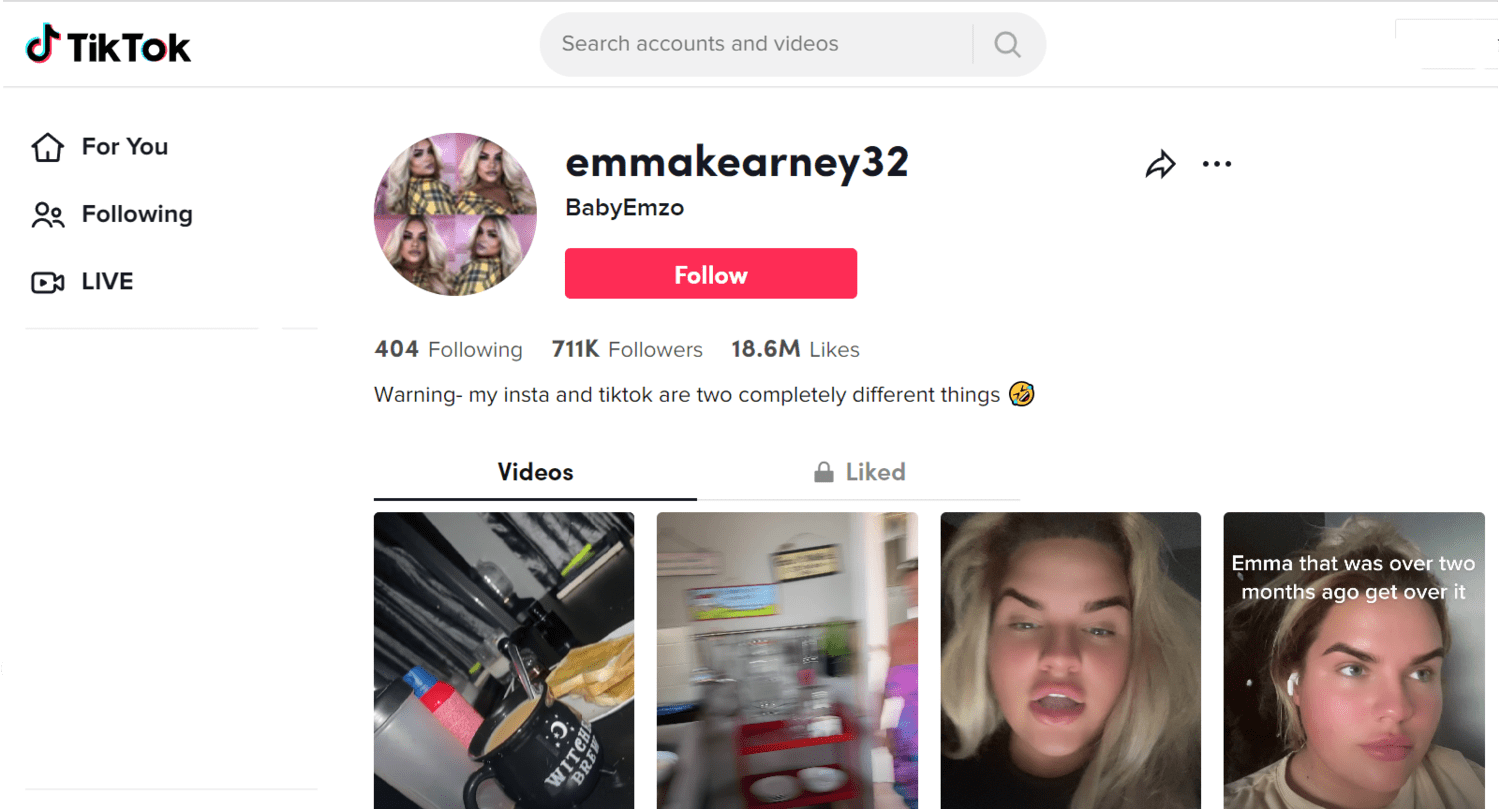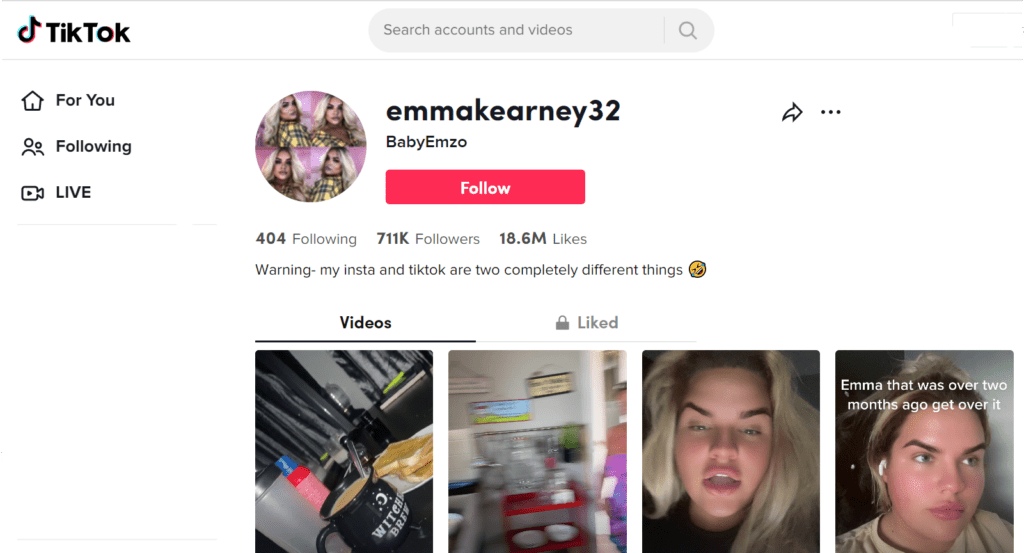 Emma Kearney has built up a considerable amount of followers through her make-up tutorials and funny videos of her day-to-day life which features her family often. Her success on the social media platform has allowed her to open up her own beauty salon Emzo & Co in Newry and she gone on to collaborate with Irish tan brand Iconic bronze to release her own eyeshadow palette, brush and eyelashes set.
Sophie Grier- 503.2K Followers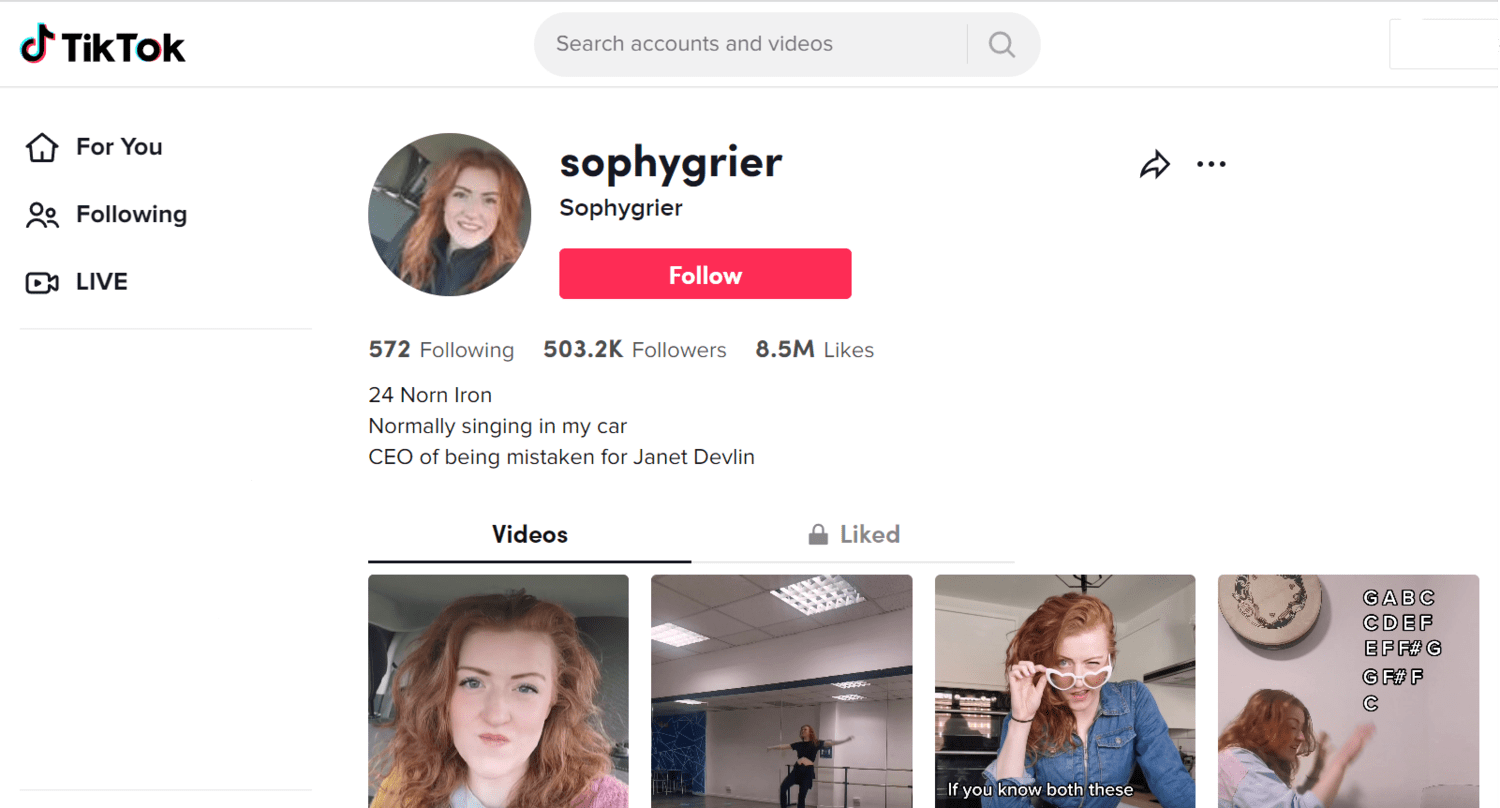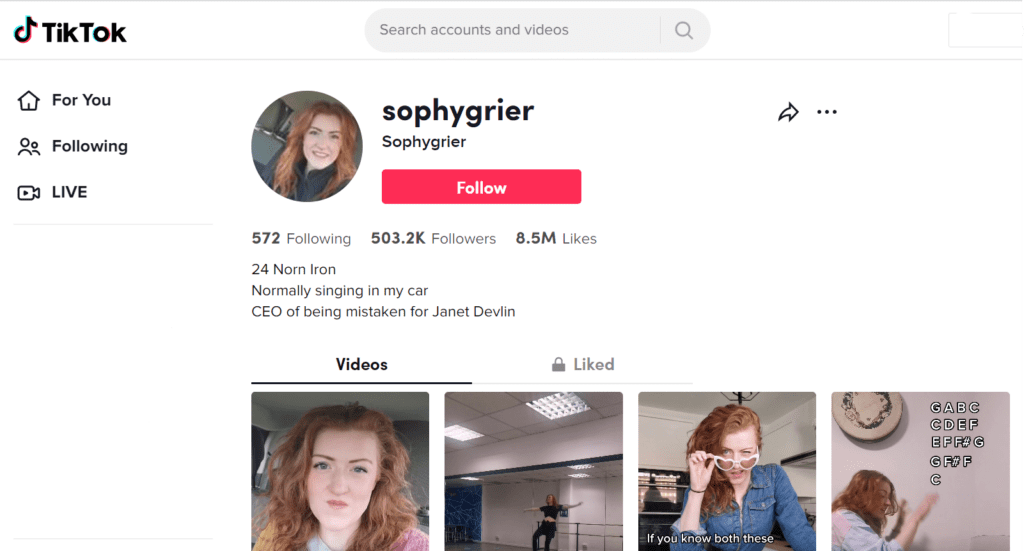 Sophie Grier joined the social media platform when her shows were cancelled due to the pandemic. The singer from County Antrim took up a job in a warehouse and began posting videos of her singing while on the job and in the car. It wasn't long before the 24 year olds videos started to become viral and her following quickly grew on her TikTok page @sophygrier. One of Sophie's car signing videos has reached up to 9 million views.
Most-Followers on Tiktok- Ireland
Victoria Adeyinka- 14.8M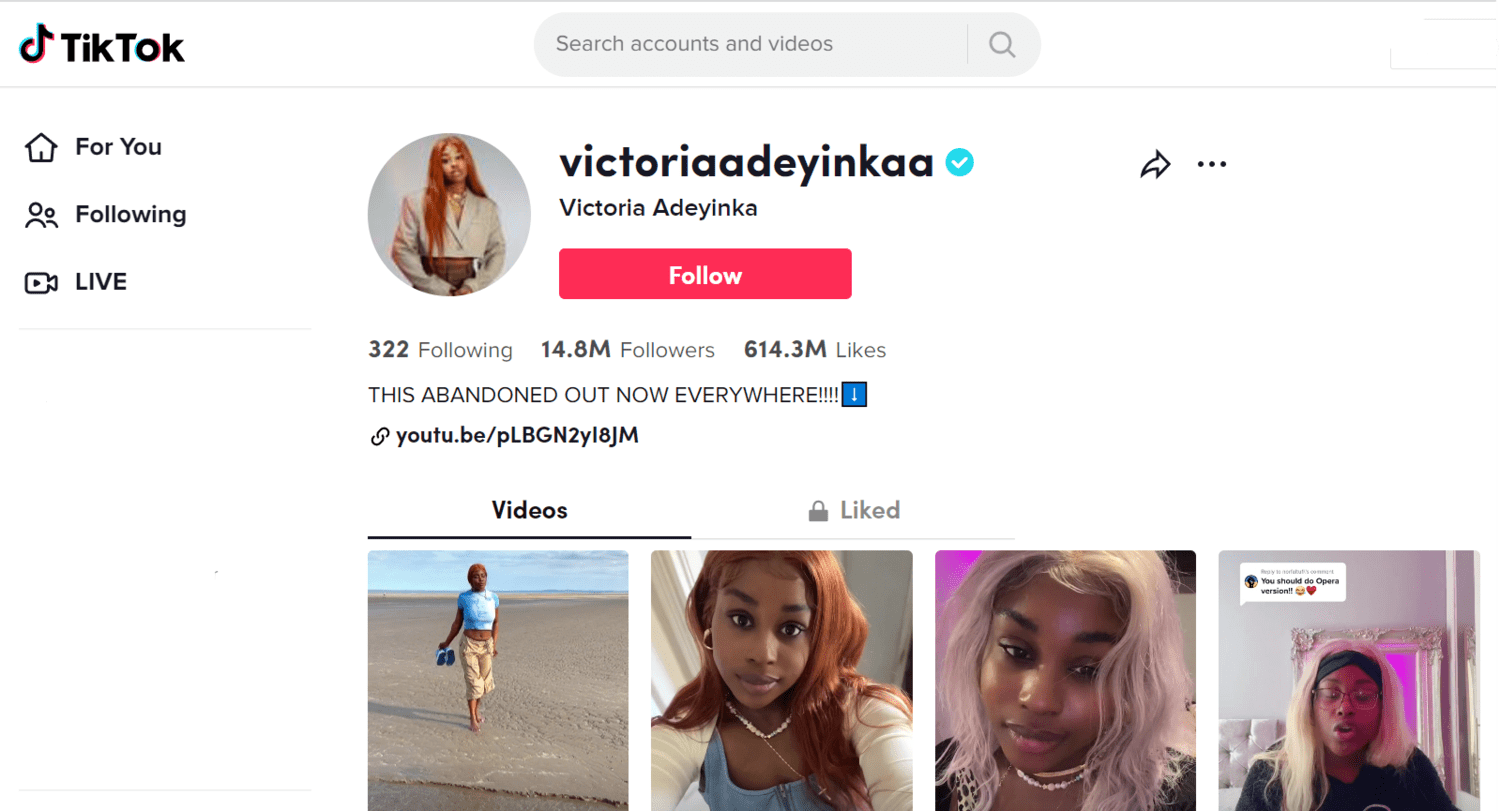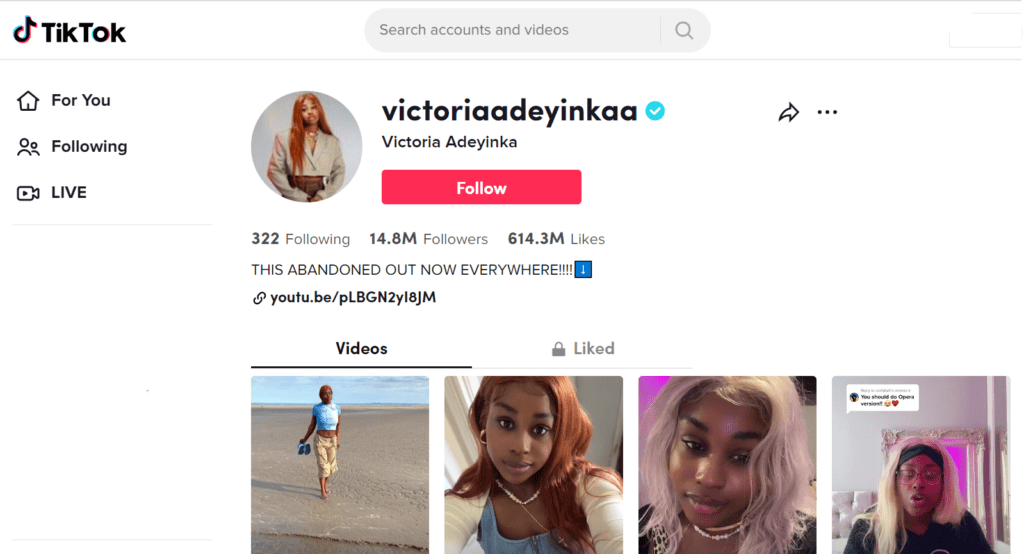 Since starting her TikTok page in 2019, Victoria Adeyinka has earned 14.8 million followers giving her the title of most-followers on TikTok in Ireland. The 19 year old entertains her followers with her original content and comedy sketches and often features her own mother in her funny videos. This year the Drogheda born Tiktoker has pushed her career beyond TikTok with the release of her first single "This Abandoned" which has over 50,000 plays on Spotify.
Cairde-3.1M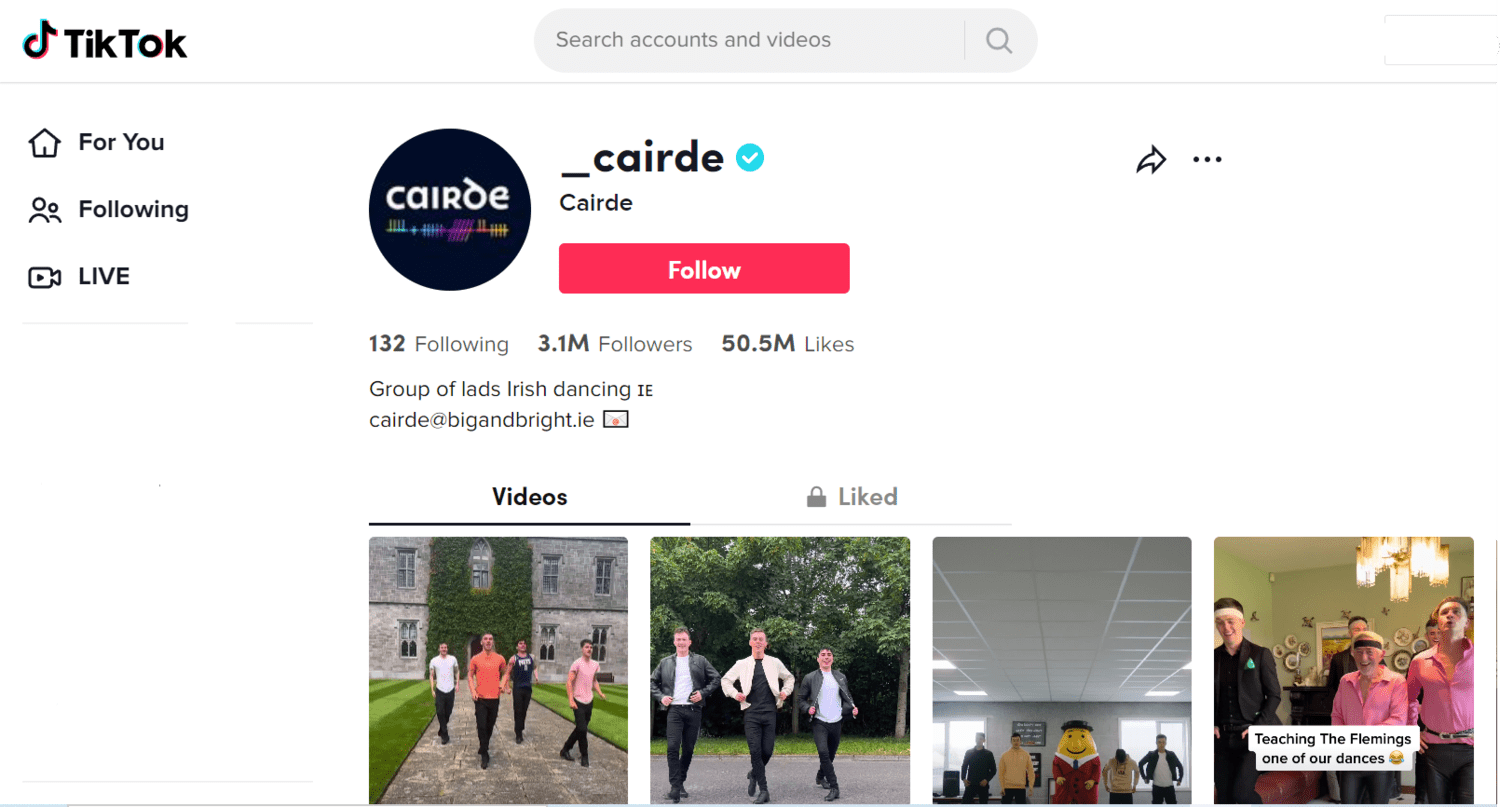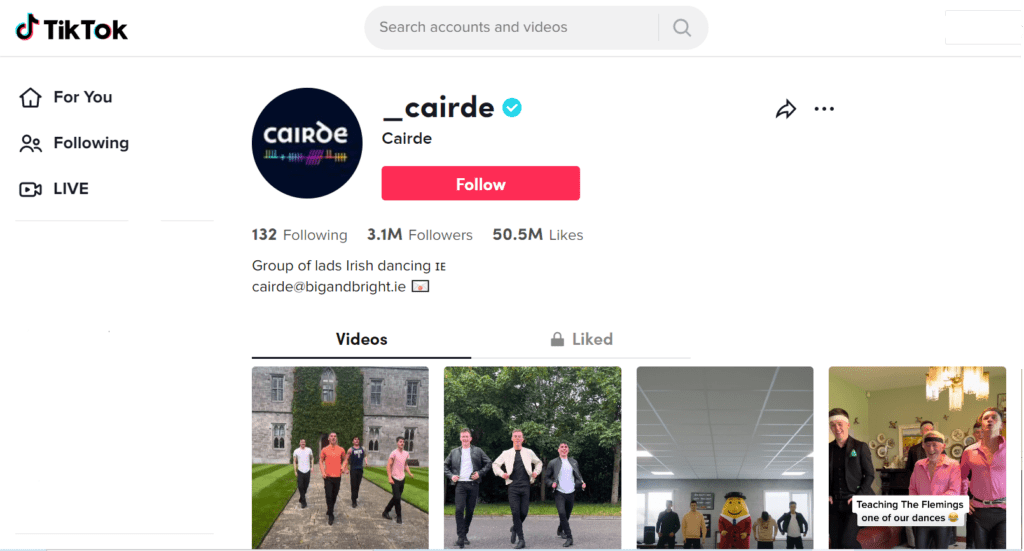 Cairde is a group of seven Irish dancers who have shaken up the social media platform since joining in 2020. The group share videos of them Irish dancing to popular songs to their 3.1M followers making them the most followed Irish dance group on TikTok. Their modern twist on Irish dancing has caught the attention of the world with one of their videos reaching almost 90 million views. The Irish dance crew has gone on to appear on "The Late Late Show" and "Good Morning America", perform for the President of the United States, Joe Biden, and at the Abu Dhabi Grand Prix Formula 1 Finale.
Tadgh Fleming-2.9M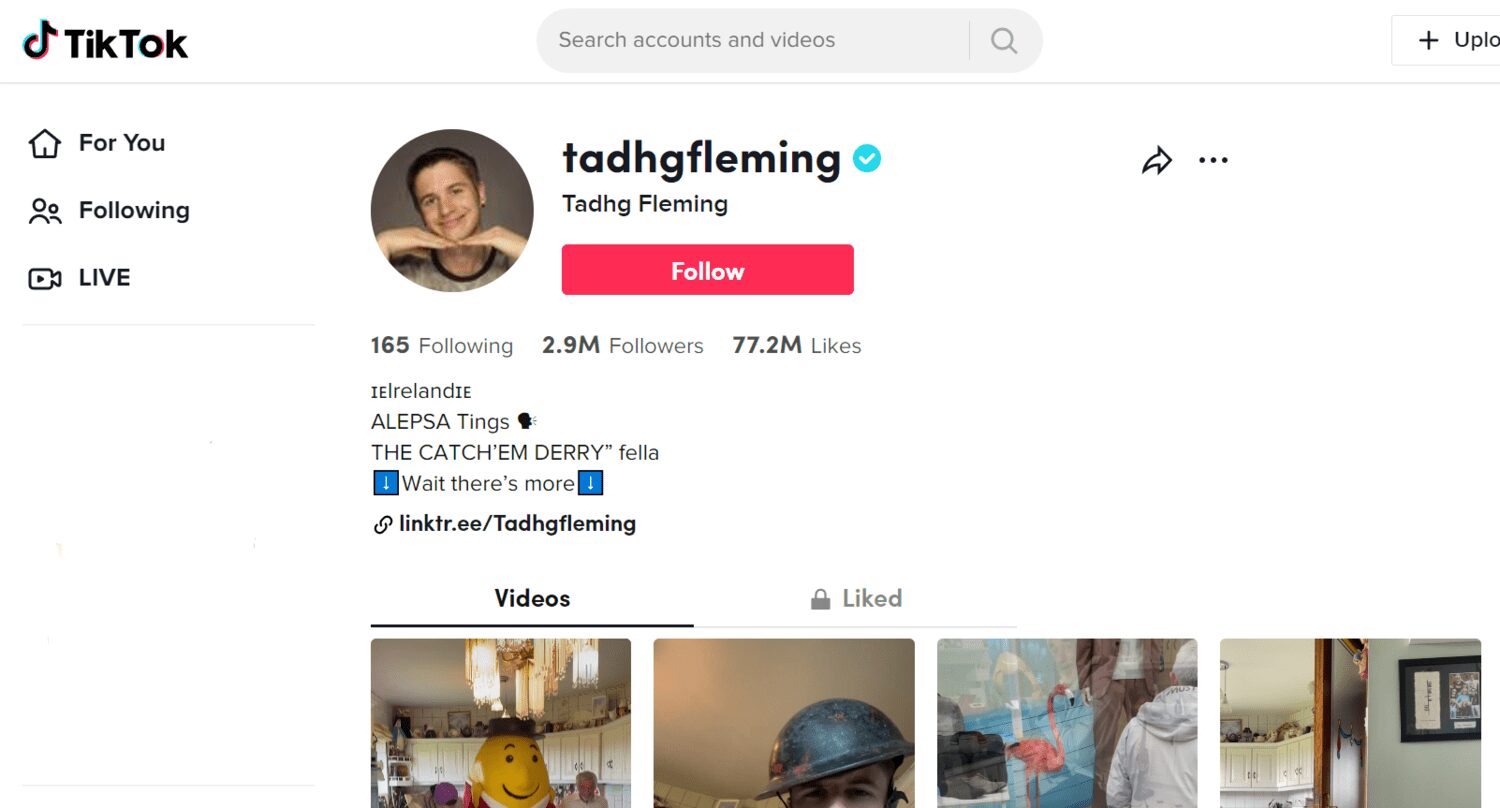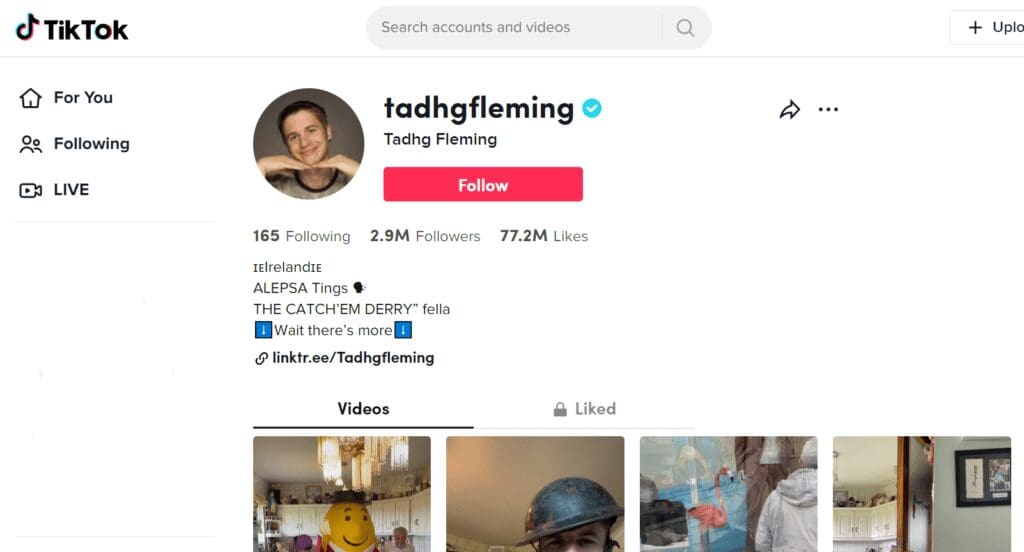 Tadgh Fleming went viral in 2017 when he posted a video on Facebook of his father trying to catch a bat that had flown into their kitchen while Tadgh shouted "Catch him Derry" throughout it. The viral video led Tadgh and his father to appear on The Late Late Show and ever since the Fleming family have been providing us with hilarious content. The 32 year old Kerry man and his family are known to put their own comedic twist on TikTok trends. Since joining TikTok Tadgh has gained nearly 3 million followers and in 2021 won Best Social Media Star of the year at the Gossies.
Keilidh Cashel-2.8M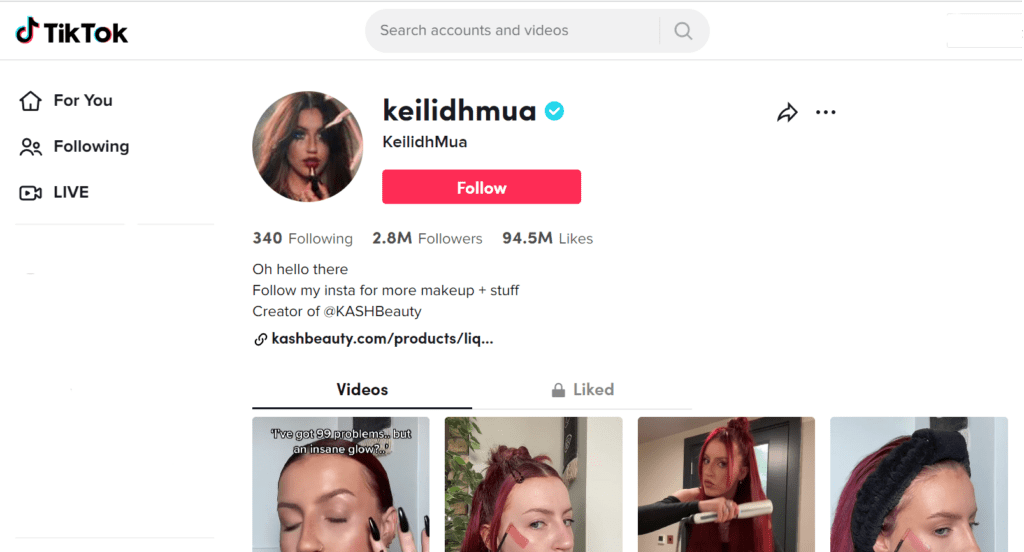 Keilidh Cashel made a name for herself through her Instagram and Youtube page before TikTok. Her creative videos of her make-up and special effect looks have attracted 2.8 million followers to her TikTok page. The 24 year old has done videos with famous make-up artists James Charles and Manny MUA and she is well-known for her impressive and realistic make-up looks for Halloween. The Monaghan born MUA even has her own make-up brand KASH Beauty.
Miriam Mullins-1.9M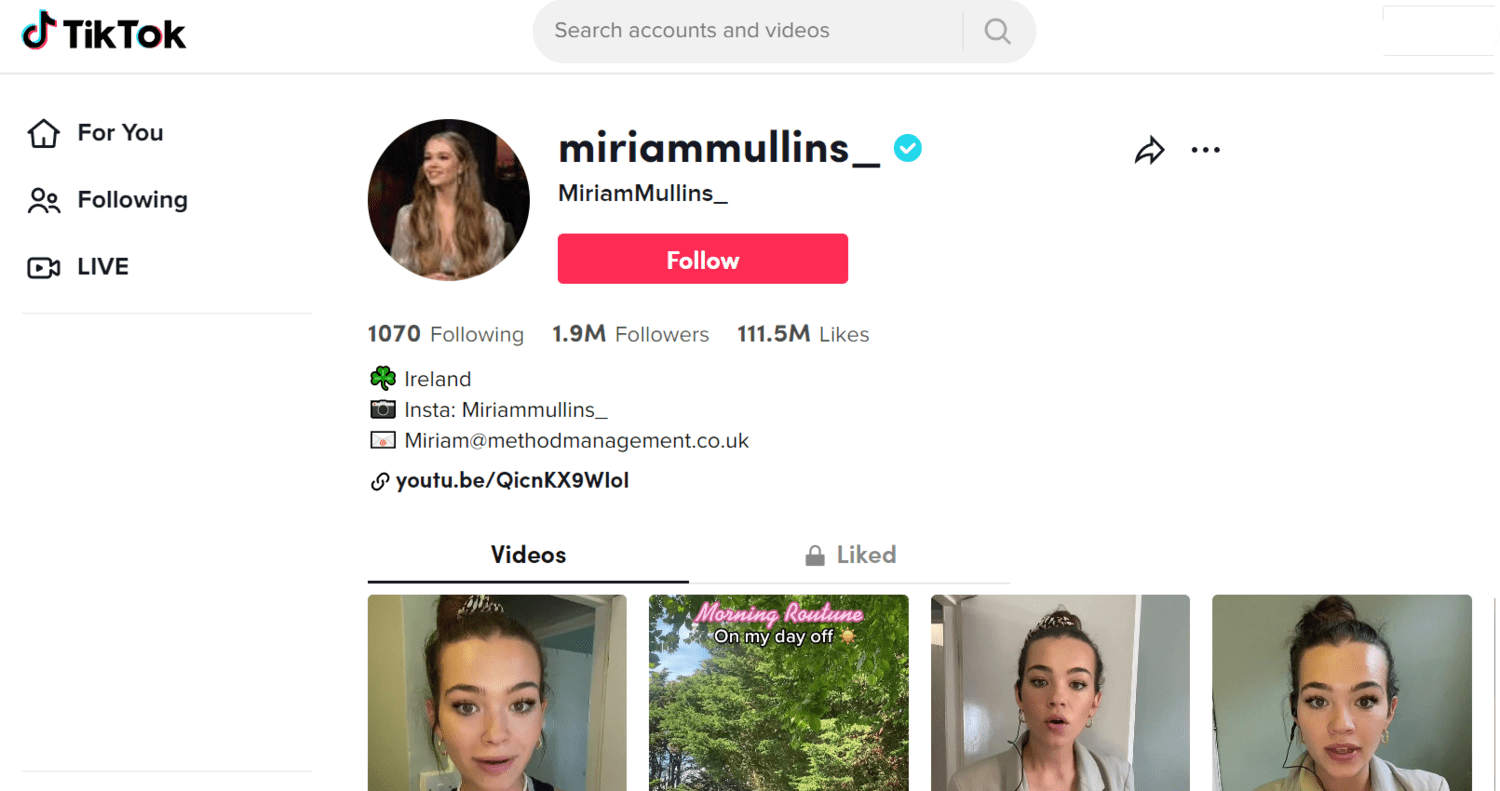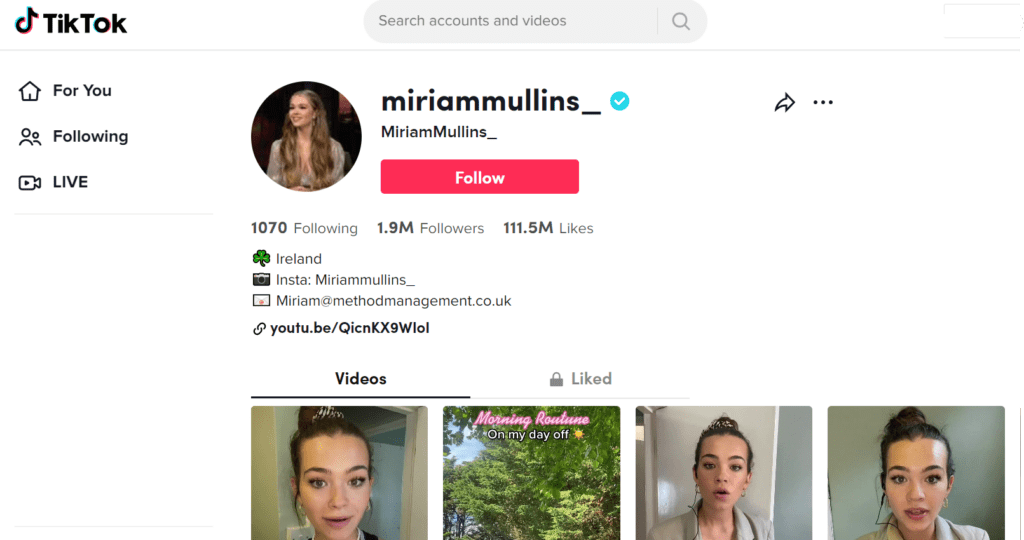 Miriam Mullins is a social media influencer and creator who has gained a following of 1.9 million on TikTok from her relateble content and comedic sketches, in particular her "Irish Mammy" skits. Like many TikTokers, the 26 year old from Cork started her TikTok page out of boredom during the pandemic. Her success on TikTok has led her to appear on The Late Late Show in 2021 and to be in partnership with PAIR mobile.
Read more related articles: Influencers: The Process of Social Influence, Tiktok for Business