If you've read the news or been online lately, you've probably heard of a new social media platform called TikTok. Easily the largest and hottest platform, TikTok is so popular that even celebrities, politicians, and sports teams are making accounts and posting content. TikTok for Business launched in June of 2020, and since then it has taken the marketing world by storm. So, is TikTok right for your business? Today we're going to go over all the benefits of this exciting app and what kind of advertisements you can share to your audience's feed.
What is TikTok?
TikTok
is a popular social media platform where users can upload short videos. Since being merged with another application called Musical.ly and after the discontinuation of the globally popular app Vine, users have flocked to the platform in droves. The videos posted on TikTok range from lip-syncing and dancing, to makeup or home improvement tutorials, to well-scripted original shorts and stand-up comedy. As TikTok's popularity has grown, we are seeing more and more creative, original content being shared on the app.
Videos on TikTok
can be anywhere from 15 seconds to 3 minutes long, and the application also allows users to host live streams on their profile, similar to Instagram. TikTok is unique from other social media platforms because its users don't even need to follow anyone to have a feed full of content. Instead, users can simply open the app and have a feed created by the app's algorithm which chooses videos they may enjoy based on their demographic and location.
What are the Benefits of TikTok for Business?
Like any social media platform, TikTok has numerous benefits. The growing popularity of the platform gives marketers tons of opportunity to grow their audiences, promote their products, create engaging content, and more.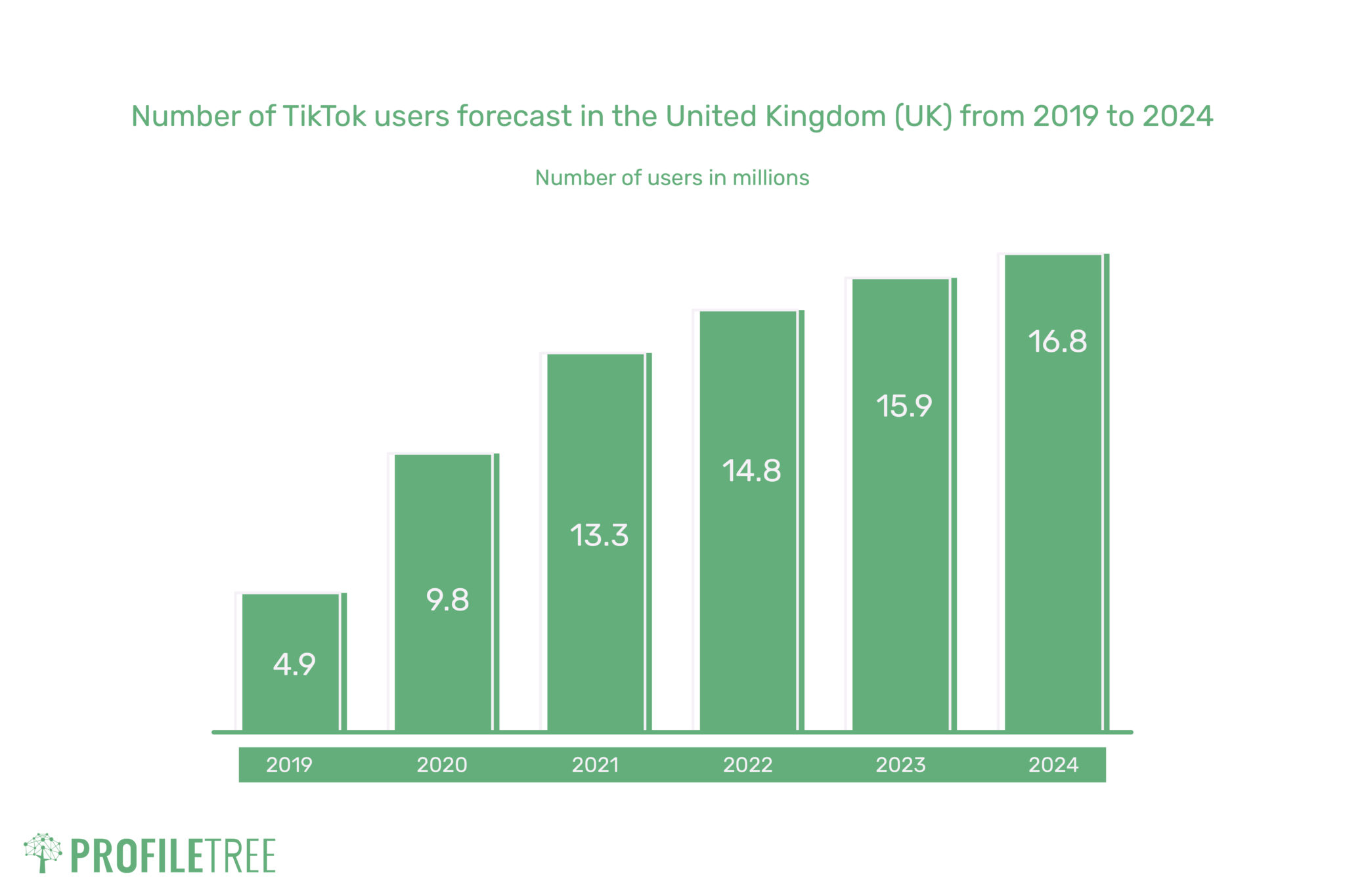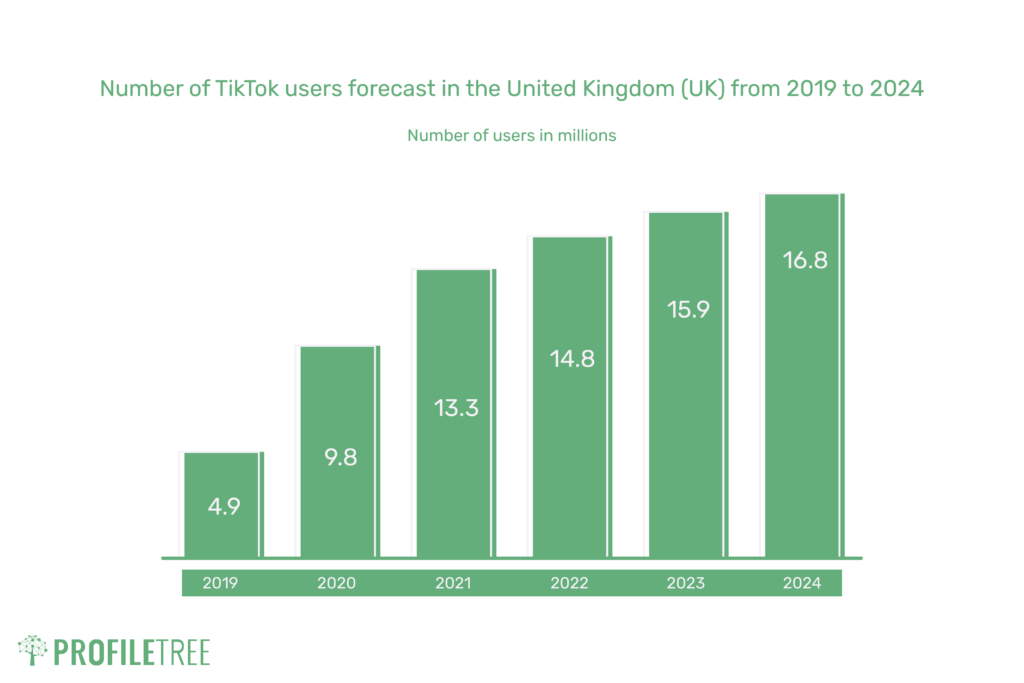 Growing International Audience
Since its launch in 2016, TikTok has over 2 billion downloads. On average, the app has upwards of 800 million active users across more than 150 countries around the world. Whether you're looking to reach a local or an international audience, TikTok is a great platform to use. TikTok's user base is made up mostly of teenagers and young adults, with over 13 million users in the United Kingdom alone. Based on the app's growth so far, it is estimated that UK users will grow to over 16 million strong by 2024.
Influencers
Influencer marketing
is a staple for many businesses. It is very successful because of the relationship between influencers and their followers. When an influencer promotes a product, their followers see it more as a recommendation than an advertisement. This relationship builds trust between the influencer and their audience, and makes the viewers more likely to try out the product. With TikTok for business, influencer marketing is taken to a whole new level. Other platforms such as Instagram and Facebook are saturated with brands and sponsored posts. TikTok has the advantage of being a newer platform and is not yet widely used by brands, making it easier to come across as genuine and personalised to the audience.
Stay Within Your Budget
No matter how big or small your company is, TikTok can be a
great platform for all brands
to promote on. Some paid advertising on the platform can be costly and unaffordable to smaller businesses, but influencer marketing is cheaper on TikTok than other social media platforms. Even if you're not interested in paid advertising on the platform, you can still generate reach and engagement through original content posted on your page. For this, you only need your smartphone. Sure, some brands use editing software to create amazing content, but it's not necessary to create viral videos. No matter your budget, you will be able to create engaging content and have the chance to make huge gains on the platform.
Brands can be Authentic
One big thing that consumers are looking for from brands is authenticity. Audiences no longer fall for high-production commercial advertising, and prefer to see the authentic side of the brands they buy from. TikTok for business provides companies with the perfect platform and opportunity to be authentic with their audience. They can give behind the scenes tours, filmed on their iPhones, host Q&A live streams, and even take part in fun trends if it matches with their brand.
Video Marketing is a Hot Trend
Across all networks,
social media video content
proves superior to any image or text posts. In fact, the average generation Z consumer spends nearly 5 hours a day on social media, and 3 of those watching videos online. Videos have a unique power to engage audiences, as well as great ROI for brands. As more and more consumers prefer watching videos over other social media posts, this trend is not going to end anytime soon.
The Chance of Going Viral
On TikTok, every post has the chance of going viral. In fact, TikTok has come out and confirmed that they do not prioritise any page over another, and that follower counts do not influence whether or not your content will show up in someone's feed. This means that no matter if your account is 3 days or 3 years old, you have the same chance to create a hit video. Some users have even climbed to thousands of followers after posting just one video. So, how do you increase your chances of going viral? Hop on trends! If you scroll through your TikTok feed, you will notice that many videos use the same hashtags and sounds. Consider whether or not these hashtags and songs are appropriate for your brand and find trends that you can create content for. This uniqueness makes TikTok especially great for smaller businesses, because it is the first platform to focus on viral marketing. TikTok's algorithm is much more democratic than other platforms' like Facebook or Twitter. Instead of only the pages with huge followings getting attention, TikTok prioritises the early movers. Thanks to this, smaller pages won't struggle to make an impact against better-known brands in the same way they do on other social media networks.
Is TikTok for Business Right for You?
When deciding which platforms to advertise on, there's a lot of factors to consider. Being a newer platform, TikTok can be quite mysterious to those not familiar with the app. However, TikTok is a fast-growing platform that can serve as a great advertising opportunity for many businesses, so it is worth considering.
Demographics
TikTok's user base is primarily younger, with over 50% of users being between the ages of 18 and 34.  If your target audience falls within this age range, TikTok for business is a great way to reach them! On average, most users spend just under an hour on TikTok per day, with the younger demographics spending closer to two hours scrolling through the app daily. With nearly one in ten videos being sponsored or an ad, this provides brands a lot of space to advertise their business! If your target audience is outside this demographic, however, TikTok may not be the best place to spend your time and effort. While the platform can be a very successful strategy for some companies, it is not very effective for B2B brands.
Advertising on TikTok
Although TikTok is not built as well for marketing as other social media platforms, the app has recently launched new opportunities for
advertisers
. On TikTok for business, there are a few different ways to advertise:
In-feed ads: these are similar to Instagram ads, and users will come across them while scrolling through their feed on the app.
Brand Takeovers: a full-screen advertisement that is displayed when users first open the app.
Branded AR filters: similar to Instagram and Snapchat, this allows a brand to create their own face filter, which is live for 10 days.
Brands have also begun to create hashtag challenges on TikTok. To do this, companies share a video using a branded hashtag and encourage users to duet or recreate the video. Then, the TikTok community can respond and share videos of their own with the hashtag. With hashtag challenges, your audience can turn into advocates for your brand, and further expand your reach. This is a great option if you want to focus on audience engagement.
Influencer Marketing
Even though TikTok is a relatively new social media platform compared to veterans like Facebook and Twitter, it is a network
full of influencers
. TikTok influencers have hundreds of thousands to even millions of followers, so any partnership with them is sure to introduce new consumers to your brand. In addition, now is a great time to engage with these influencers, since they currently charge significantly less than similar influencers on other platforms. If you're considering using influencer marketing on TikTok, make sure to choose your influencers carefully. Many businesses will choose their influencers based on their follower count, but on TikTok this metric isn't as important as on other platforms. On TikTok, users don't just see content from the accounts they follow. While you may see slightly more content from an account you follow than one you don't, your For You Page feed will mostly consist of trending videos, whether you follow the creator or not. This is why some creators can get millions of views or likes with a very small following and overnight sensations are quite common on TikTok. When choosing the right TikTok influencer for your brand, a track record of getting lots of views is more important than their follower size due to the platform's unique feed dynamics.
User Generated Content – Monetise Your Audience!
Especially if your
target audience
is the Gen Z audience, TikTok for business is a great platform for user generated content. Studies show that generation Z enjoys being involved in the content creation process much more than any other generation. This is why they are watching less TV – it is not an immersive experience. Another great thing about user generated content is that you can actually monetise your audience and use them as ambassadors for your brand. Product reviews are becoming incredibly popular with users, and these videos are a great way to get your audience to try your product. Similarly, getting a clear call to action into your videos will help direct traffic to your website and get them into your marketing funnel. If you can encourage your audience to post and share videos of themselves using your products, filters, or branded hashtags on TikTok, it is a great way to increase engagement and reach for your brand.
Creating Original Content
One great thing about TikTok is that you don't need any professional recording equipment – you can create all the content you need on your smartphone. However, while the
video editing
doesn't need to be high quality, your ideas and content does need to be original and engaging. Unfortunately, not every business will be able to consistently do this, and the fun atmosphere of TikTok may not match all brands' tones. If your brand is very serious, and your marketing focuses on sensitive subjects or is very research-based, TikTok for business may not be a good platform to focus advertising on.
TikTok Could be Your Next Marketing Adventure
TikTok has become a powerful marketing tool for many businesses around the world. With its young, growing audience, cost effective influencer marketing, and easy trends to jump onto, it's no surprise that TikTok is the fastest growing social media platform currently. With all the benefits TikTok for business has to offer, it is worth considering whether your brand could be successful on the platform. There's no harm in trying out TikTok marketing for yourself. So, download the app, scroll through your feed, and see if TikTok can fit into your marketing strategy. To learn more about improving your social media marketing strategy,
contact ProfileTree
today.