Talking With Kate Taylor Tourism Challenges and How To Overcome Them
A tourism sector consultant has discussed a range of solutions to some of the common challenges found in the tourism sector.
During a ProfileTree Business Leaders video interview, Kate Taylor of Taylored Training passed on a range of insights from her work with Irish tourism businesses.
For Kate Taylor tourism is a field she has extensive knowledge and experience in as her role as a tourism consultant.
"I have worked with over 500 tourism businesses at this stage, through Fáilte Ireland and Tourism Northern Ireland as well as directly.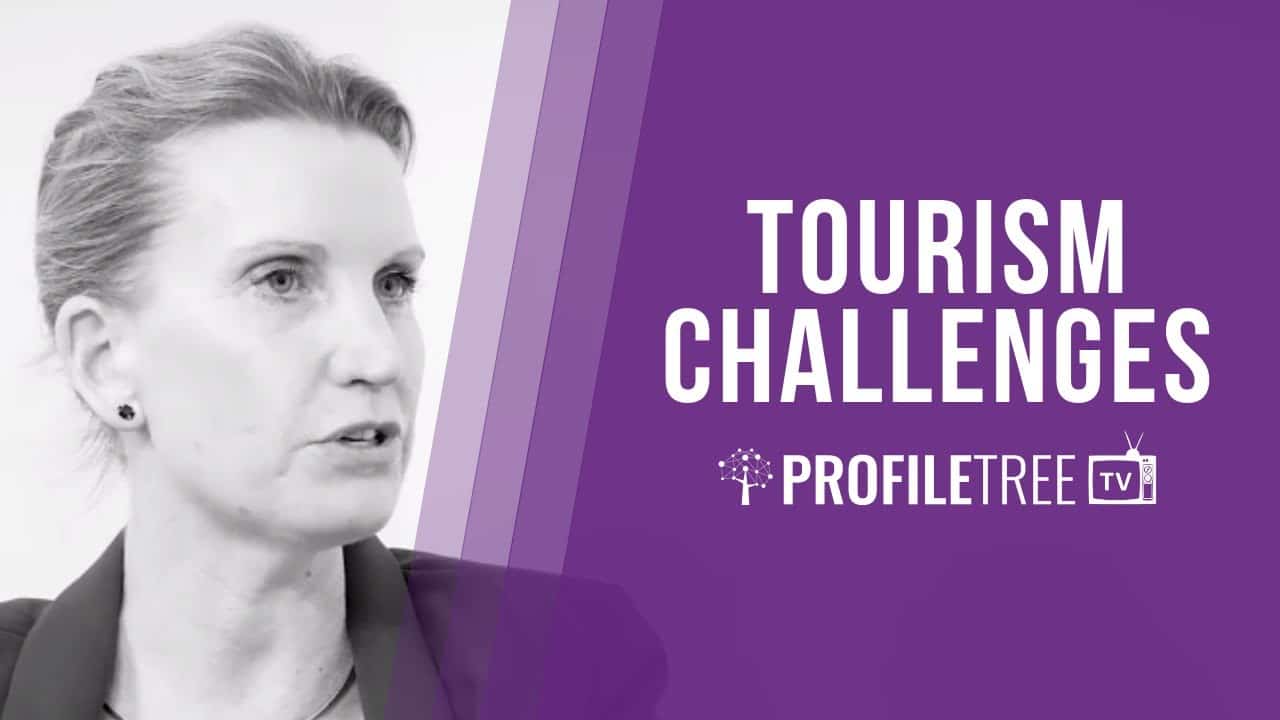 "Really what I do is help tourism businesses to grow, and grow their profits, with less stress and in less time."
Kate referred to some of the challenges faced by companies working in the tourism industry.
"It's such a busy, noisy space when it comes to tourism sales marketing, especially on an international playing field, because even the smallest of tourism businesses in this country are competing on an international stage, whether we want to or not, due to search engines and the web.
"We are competing with these amazing destinations and incredible top accommodation providers and fantastically exciting activities and attractions from all over the world.
"All of those businesses are shouting really loudly in terms of their tourism messages and their visuals and their imagery and photography and video."
Kate pointed out that this can make it difficult for businesses to know where to focus their efforts.
"It's that feeling of overwhelm, whether it's a small one-man band tourism business or the sales and marketing director of a group of hotels, it's that feeling of 'what do I focus on?', 'who do I focus the messages at?'.
"You might get to the end of a busy day and wonder 'what did I actually achieve today?' and most importantly 'is it going to deliver on the bottom line?'.
"That's when I start working with businesses, when they have that uncertainty about their sales and marketing decisions."
The tourism consultant said she often finds that tourism businesses begin to "spread themselves very thin".
"It develops into this scattergun approach of 'well, I'd better do a bit of everything and aim a bit of my message at everyone'."
Kate explained her path to becoming a tourism specialist.
"I got the travel bug very young, I was very fortune that my family travelled a lot due to my father's work. I lived and travelled all over the world for years.
"From a tourist perspective I saw everything – the good, bad and the ugly – from five star first class to camping on a beach. I got a great snapshot of that side of the market.
"Then I thought it would be a great industry to get involved with, so I started working directly as sales and marketing manager in a couple of independent hotels and then for a group of hotels.
"I realised 'this is far more complicated than it looks to the outside world'."
In her experience, Kate Taylor tourism challenges were not uncommon and she found that she was investing budget but wasn't seeing the results.
"I thought 'there must be some secret to success here that will help'.
"Really where my whole process and formula evolved is that I'm a firm believer that success leaves clues. No matter what type of business you are in, or size of business, there's some other business at a far higher level of success than you are.
"So, why reinvent the wheel yourself? I took a step back and bought every book I could, I interviewed people, I went to every seminar on every related topic, I started an online course with Brian Tracey.
"I thought I would learn from all these people who were getting it right and then take little snippets of each and combine them.
"I started doing that and bingo, it worked for myself in my roles so I went freelance then and thought 'let's put all these learnings into one process, one formula'."
To discover more insights from Kate Taylor see our full video interview.
Business Leader Interviews from ProfileTree TV
Business Insights:
Two Years to £27 Million | Should Your Business be Concerned about Brexit? | The Business Mindset | Workplace Wellness | What is Company Culture? | Business Broadband NI | How to do Business Internationally? | Do you have a HR Strategy? | What is Innovation? | What is a Business Development Manager? | Importance of HR | Accounting Strategy
Business Types:
What is a Franchise Business? | FitzWilliam Hotel Belfast | Newspaper Marketing Trends | Discussing Product Development
| Publicity Management
Personal Development:
The 'PROVE IT' Guy | Performance Consultant and Speaker | How to Build Self-Confidence | What is NLP Therapy? | Feel Good Hypnosis
Marketing:
How to use Psychology Marketing? | What is Growth Hacking?
Technology:
Augmented Reality in Education | Why is Technology Important in Business?