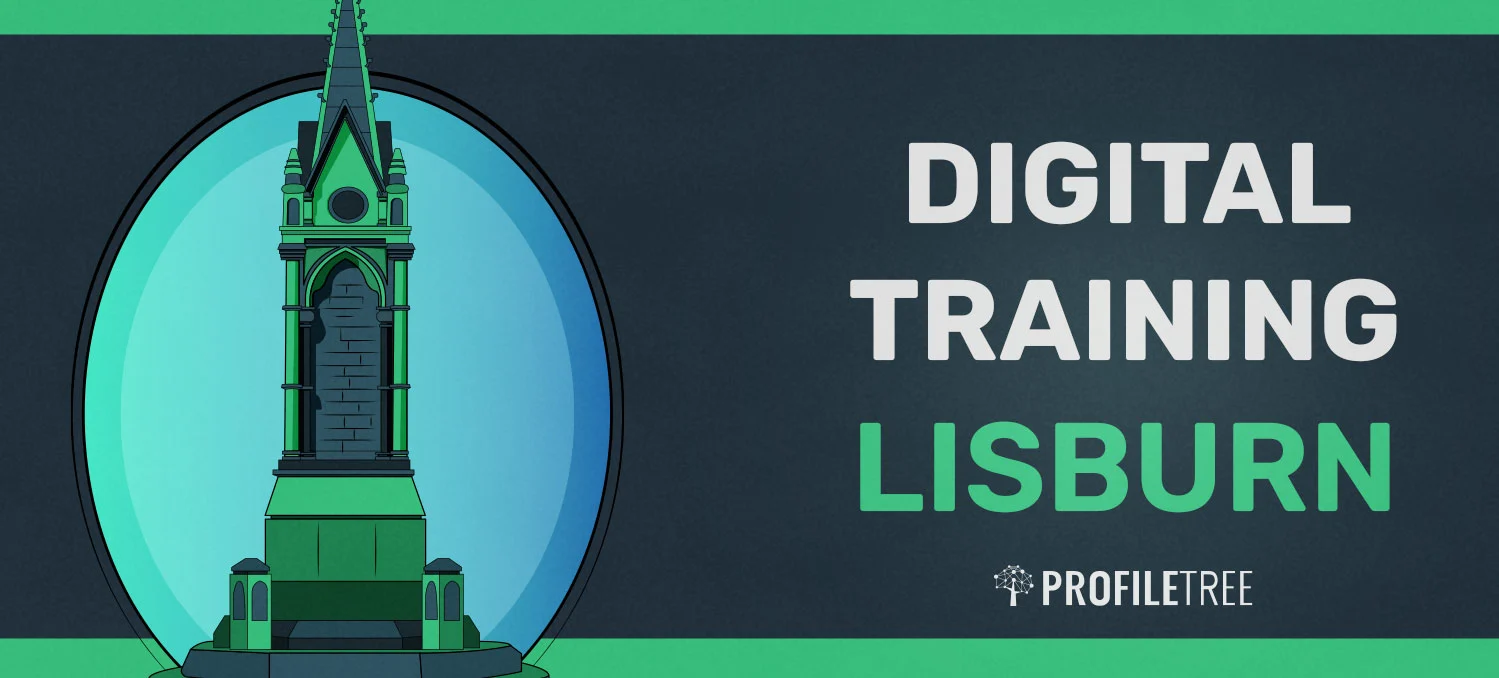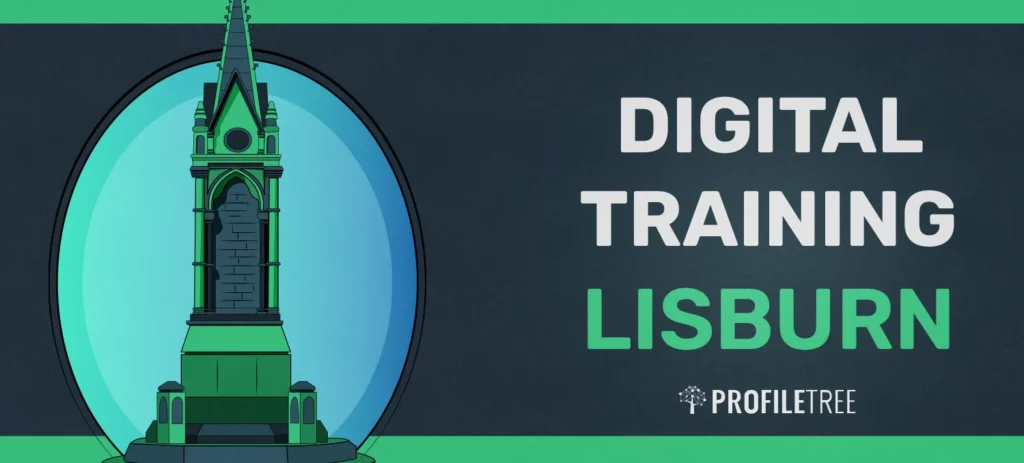 Digital is the future. Almost every organisation, regardless of its size, has been trying to adopt technology and embrace the digital transformation. Small and medium sized businesses in Lisburn are also trying to incorporate technology into their business process as well as find efficient, digital alternatives to optimise the way they do business. As a local digital marketing agency, we understand the challenges that our clients face within that area; and we love to empower our local business community with knowledge that we've gained over the years. In this article, we tackle what digital skills are and how to approach digital training based on the needs of your business.
Are You Looking for 'Digital Training Lisburn'?
ProfileTree – Expert Digital Trainers and Digital Strategists with a Local Flavour Serving Businesses in Lisburn, County Antrim, Northern Ireland
We are a self-made, family run agency based in Belfast and Monaghan. We've established ourselves in the Northern Irish market since 2010. We've grown the team, collected content marketing awards, and helped local and international businesses with building top-notch websites. We've also helped hundreds of small and medium sized businesses with digital training through programmes funded by Northern Ireland's Councils over the course of three years. Investing in building digital training for your business in Lisburn means making sure your new partnership is built on proven methods. Our multi-talented experts can deliver on all aspects of digital training from blogs to social media content to video production, SEO and web development.
Digital Training Lisburn: What Are Digital Skills?
Digital Training Lisburn: Digital Skills Explained
Digital skills are broadly defined as the skills needed to use digital devices, communication applications, and networks to access and manage information from basic online searching and emailing to specialist programming and web development. At their core, these skills help people communicate and collaborate, develop, and share digital content, and problem solve in a work-anywhere world. 
Digital Training Lisburn: Digital Skills in the Office
This is a rather theoretical definition of what digital skills mean. In the real world, digital skills used in the office day-to-day are much more straightforward. The ability to use software tools to get work done – even if it's just Microsoft Office tools like Word, PowerPoint, or Excel. The tools are endless and every other year, a new tool appears that revolutionises the way we work. The ability to understand and navigate those digital tools easily is a much needed digital skill.
Digital Training Lisburn: Digital Marketing as a Skill
Another important aspect is digital marketing and its varying fields: content marketing, social media marketing, video production, SEO, pay per click advertising, email marketing, etc. and utilising that to promote your business. Creating a strong digital presence for your brand is now as necessary as hiring an accountant for the business.  In the post pandemic world, people have grown more and more accustomed to doing everything online. That's why businesses who don't have digital presence seem archaic to the market. Additionally, as the purchasing power shifts to millennials and Gen Z, who are more comfortable doing everything online, digital marketing and ecommerce will become the standard way of doing business.
Digital Training Lisburn: Website Building and Design
Having a website is the equivalent of owning a store in the good old days. You can't tell your story, attract traffic, or create brand awareness without a website. While developing complex and customised websites requires an advanced knowledge of coding and programming, building a basic website now doesn't require that kind of knowledge. There're many tools available to those who can neither code nor design a website through which you can build many different types of websites. All you need to know is how to use those tools without learning a line of coding. It's not hard to be trained for using those tools to build a website, especially if you can't afford an advanced website.
Digital Training Lisburn: Data Analytics
The amount of data that businesses deal with today is truly unprecedented in history. Every department within any organisation deals with a tremendous amount of data. Your sales, marketing, procurement and inventory, finance, and HR teams either have data lying under their hands which they are not utilising in the right way, or they need to document data to be able to make better decisions but they don't have access to that data. Learning how to use digital tools and the ability to build systems or programmes that organise information – even if it's an Excel sheet – is essential in today's business environment.
Adopting not only the tools, but also the mindset of where to collect data from, how to analyse, and how to avoid being misled by data is part of the digital skill. The most important asset of all is how to visualise this data and create presentations which are memorable and engaging. In other words, the goal is to analyse this sea of data and create a story or a solution to a problem through your findings. Learning the tools is surely a given, but the mindset behind the tools makes the real difference.
Digital Training Lisburn: How to Prepare Yourself Before Hiring a Digital Training Agency
Upskilling your team is a great place to start but it's process. By investing in their development, you'll set your team up for success and help ensure that your business remains competitive for years to come. We are often approached by clients who are keen to upskill their teams and really have a strong intention to get involved with technology and the digital world. However, they often have only the broad headlines. Once we start asking about specifics, the room gets quieter. To be able to find out what you truly need out of your digital training programme, here are some ideas:
Digital Training Lisburn Step #1: Identify Your Goals
Why are you willing to invest in a digital training? You must have some goal in mind. The answer to that question is not 'I want my team to run social media accounts', it's more like 'My audience are present on TikTok and I want to grow my business by growing my brand awareness by 2% among that age group.' The more specific you are about your goals, the better. Whoever is delivering the digital training programme wants to know your specific goals.
Digital Training Lisburn Step #2: Talk to the Managers
Direct managers typically know their team better than the business owner. They work closely with their team members, and they can identify the skills they need to make their teams more efficient and productive. They should also collect data on their employees, during one to ones, or during a quarter or yearly appraisal, they collect performance and skills data, to ensure their teams are reaching their professional goals.
As a result, talking to managers is an important step when identifying skills gaps if you're unsure where to start. A good question to probe an answer from them is: if you were to hire one person tomorrow, what would be the role of that person?' Working with managers in this way can help you determine where the team has bottlenecks and how to improve them. 
Digital Training Lisburn Step #3: Collect Data
Many small businesses fail to collect data on their employees, making it difficult to determine where and what their digital skills gaps are. If you believe your company has digital skills gaps (it probably does, but don't worry – you're normal!), the best thing you can do is to collect and analyse your employees' data. You'd be surprised by the number of times we suggest to our clients to check the CVs of their current employees so they can take notes of their skills, but they don't have records of those CVs. You can review all types of analytics – including previous work experience and work performance – to start identifying specific skills for each team.
Digital Training Lisburn Step #4: Meet With Employees
The process of designing and creating your digital training programme shouldn't be done in a closed room where only the top level managers are involved. On the contrary, your digital training should be a social event, something that helps your employees build bonds because they will sit together to attend sessions, ask each other questions, and benefit from each person's knowledge and experience.
In fact, engaging your employees in a digital training programme early on has a positive impact on the work environment. Employees appreciate a workplace that invests in their personal progress.  It has a great impact on their morale and productivity. Many employees want to improve their skills to receive promotions, earn a higher salary, and grow as a professional. However, many companies make the mistake of not providing their employees with learning opportunities to help them get there, leading to lagging motivation or increased turnover. 
In addition the emotional benefit of keeping your employees engaged, employees know themselves better. Asking employees about their weaknesses or areas of improvement during an interview may not get you the most accurate answers. However, asking them that question for the sake of developing a training programme based on their needs will surely give you accurate cues. Once you learn more about your employees, you can start to find ways to reduce any skills gaps by helping them determine the skills they need for certain roles. 
Digital Training Lisburn: How to Approach Digital Training For Your Business
Investing in digital training in Lisburn with the suitable training partnership means finding a training company who'll deliver the standards you expect, the expertise you need and a focus on your unique business. We help our clients in a new way through our 'no fuss' approach to service, your budget, and your needs. We customise training solutions brought to you by specialists with advanced, working expertise. How? We're also a digital agency, meaning our experienced trainers perfect and adapt their skills on a daily basis to bring the very latest digital knowledge to your business.
Digital Training Lisburn: What to Expect from Digital Training
We often discover one common thing about local companies, from Lisburn or further afield, who ask ProfileTree for help with digital training. Usually, the company will have wasted valuable budget on the wrong digital training in the past.  They're always surprised, then, to discover that a simple change of language can transform both their approach to digital training and the benefits their company enjoys from training. One of the first things we'd advice a potential client to do is to change their thinking about digital training, be it digital marketing, content, or social media marketing, to change their outcomes they can expect to see. 
Digital Training Lisburn: Don't Talk 'Channels', Think 'Outcomes'
At times we're approached by companies who would like, say, Twitter training for their team. But we'll usually advise that greater knowledge of the platform doesn't make for any kind of return on the investment without a little more planning. For example, more colleagues posting a larger number of Tweets will not contribute to a greater number of enquiries or landing page visits without some shared sense of a purpose or an understanding by staff of how and why a campaign works. After all, greater mastery of a channel only begins to have real value when the concept of measurable outcomes and strategy is introduced.
Digital Training Lisburn: Don't Ask 'How to Use?', Ask 'How to Grow With?'
Being able to use a digital tool has value in the present time but understanding how to react to things like algorithm changes will mean being able to adapt to how that tool evolves…something they all do! Being quick to change WITH a platform, and with your audiences, will mean making the most of that platform every time. For example, many businesses continue to invest time and money in Facebook content no longer optimised for Facebook's current algorithms. The right digital training partner will help your business respond more quickly to the twists and turns of the digital world.
Digital Training Lisburn: Don't Chase 'Reach', Build 'Conversions'
Thinking 'reach' is like opening a new high street shop no one is visiting but still thinking all is well. That's because 'reach' is similar in concept to people passing by the window of your physical shop. It only begins to have real value when people walk through your door. The question is 'how to do this'? That's why this is the type of question your digital training should be out to answer.
Digital Training Lisburn: Don't Think 'Site', Think 'Page'
Google sees your website as a collection of pages, not as a site. And so should you. 'Bringing people to your site' doesn't pay any bills in and of itself. However, using digital training to understand how to bring targeted traffic to a landing page with the right Call To Action is a completely different approach. A clear, outcome-based process such as this is the ideal basis for digital training.
Digital Training Lisburn: Don't Target 'Customers', Aim For 'Audiences'
Your customers are different from one another. They don't like to be treated as a single block of people in the real world, any more than they'll welcome a 'broad brush' approach online. Knowing how your audiences behave online and which products/services apply to each of them are key to achieving success. Moreover, how these audiences fit into your digital world is the factor you can use to form the basis for a high-performance digital strategy. ProfileTree can help – ask us how.
Digital Training Lisburn: Don't Think 'Views', Grow 'Traffic'
A 'view' of, say, a landing page simply equates to someone entering your real-world shop. However, 'traffic' as part of a 'customer journey' is similar in thinking to playing a special offer in a local location, attracting new buyers through that offer to your physical shop and having the right products and sales approach ready to create a new relationship between that person and your business. It's clear which one is more valuable! 
However, this approach needs careful thought about which audience members see which content online, how they are encouraged to response, and how they are helped to buy – in their own time. While competitors are using their budget on over-specific, time-bound digital tools, working with ProfileTree to train your team towards this kind of thinking can unlock new levels of ROI.
Digital Training Lisburn: Don't Push 'Purchases', Think 'Content'
We've mentioned that potential customers won't want to buy until they're ready. How to guide this traffic through your online presence until the time is right? With great content. Many companies, including your own competitors, can overlook that quality content can be as important as how your pages look and what your company is seen to be doing on social. Ask us how digital training can make the right outcomes happen for your business online!
Digital Training Lisburn: Build the Foundations
Rather than seeing digital training as a 'fix and forget' transaction, work with a specialist company who'll learn about your business first. This creates a firm footing for the investment because the right reasons, approach and goal will be in place from the very beginning. Instead of looking at your training project as a generic 'product', ProfileTree will take a broad view of your business and make sure the right training is being planned for your individual needs.
Digital Training Lisburn: Ask The Experts
By this we mean: your own people! Involving colleagues in the digital training planning process can open the door to some very valuable insights and suggestions. Practical needs could be overlooked, and an opportunity for a different take on what is required missed, by not making the initial stages a team activity. We'll take your colleagues' thinking and create a high-performance digital training strategy designed for real outcomes from your online world.
Digital Training Lisburn: Think Longer Term
To avoid a training investment becoming dated, partnering with the right local business for training delivery can help make sure the information taught is not just current but is looking ahead to new developments in the near future too. How? Just ask! ProfileTree helps local businesses to grow through embracing digital change. After all, we're also a digital agency so keeping ahead of the latest developments, large and small, is in our DNA. We love helping other local businesses through this know-how.
Digital Training Lisburn: Stay Innovative
Many companies are tempted to 'chase' their competitors who have taken to new platforms or are using new techniques. This can be worthwhile but keeping in line with the 'early adopters' in your audience can mean you are ready and waiting when more and more of your potential customers make the switch to, say, new types of device. We'll hone your digital training around a focus on innovation to make sure you benefit from changes in technology, audience behaviour and more.
Digital Training Lisburn: How Much Does Digital Training Cost
Working with so many different businesses over the years taught us to work with different budgets and requirements. We have created multiple packages for each of digital marketing services. Of course, every digital training project has its own requirements but generally, we use your requirements and budget to come up with suitable digital training solutions. And we hardly ever give our clients one solution – we usually give them multiple to choose from. In other words, you set the requirements, we tailor a package within the limits of your spending. Our digital training hourly rate start at £65 per hour.
Digital Training Lisburn: Ready to Book a Free Digital Training Audit?
A digital training audit is where one of our expert team members will get on a call with you to understand what you have in mind for digital training. You'll discuss your goals, your team's skills, and where you see potential. Our specialist will go through your digital marketing channels and analyse your performance briefly to recommend digital training solutions. Fill the form and send us your questions, we will be happy to answer all of them. Please let us know if your business is registered in Lisburn, County Antrim. Alternatively, you can book a chat with our team for free and find out how we can help you plan your digital training in Lisburn, County Antrim, Northern Ireland.
More services: Social Media Marketing Lisburn, Web Design Lisburn, Digital Marketing Lisburn