Today, Google is about more than searching words and phrases and satisfying yourself with what comes up. Today's
Google
features have made it easier to find exactly what you're looking for. With options like the Google Advanced Image Search, you are a hundred times closer to finding the image you've been looking for. The search bar is constantly improving and developing, and Google's search bar has been developed to fit the needs of today's society. Sometimes searching for something doesn't necessarily imply that you know it's name, which is why features like reverse image search and advanced image search were implemented.
The Basics
To begin, we need to understand that fundamentals of Google search. Before we go deep, let us understand the basics of Google searching and Google image searching. Google image searching is a powerful tool to locate media across the web. To use the image search, simply type what you would like to see in to the search bar and press enter! You can arrive here more quickly, if you make use of your browser's search bar. For many browsers, if Google is you default search engine. Any input typed into the address bar, will usually google search the topic. A quick flip to the image sections from there, allows someone to google image search significantly faster. Depending on what topic you've searched you're likely to arrive at a plethora of results available, courtesy of Google's large databases. If you'd like to focus on any one image, clicking on it will open that image in a callout box. This box displays the image you've selected and singles it out and enlarges it, while showing you similar images that you may already arrived at during your search. The resolution of this image is also displayed when its called out. All this information can be narrowed down to three simple steps!
Type to search in the search bar
Click on your best match
Find other similar matches to make sure you pick the best one!
Google Advanced Image Search: How to Use
Not everything can be entered in the search bar, so the google advanced image search allows you to specify what the image you are searching for looks like.
Google
advanced image search is easy to use. It allows you to fine tune the results of your search using several categories. You can find the 'Advanced Search' menu under the 'Settings' icon and you can get started on setting this advanced options for your image search.
Color With this setting you can pick the color you want your results to appear in. For example, if you pick black and white only the black and white pictures in the results will show up. However, it is not only limited to color and black and white, you can search for single colors like red, blue and orange.
SafeSearch Enabling SafeSearch means that you will not be shown any explicit results. If this is your preference, you should make sure that it is always enabled. This is helpful when setting up the searching options for kids. It will select only the options that match your preferences, no profanity, nudity or violence.
Domain Choosing the domain will narrow your search results down to results from a single website or domain. If you are looking for images from a specific site, using this option is really helpful. In addition, Google's advanced image search can help you locate an image if you remember the domain in which you remember seeing it.
File types Images come in various types and formats. To ensure that your image search results fall within a certain file type, make sure to use the Google advanced image search option. This option will let you select the file type that fits your need.
Size Alongside file types, images also come in various sizes. Sometimes, you need to be conscious of the sizes of images you share to make sure that it is easy for you to upload and for other people to download. Also, size will sometimes also affect the quality of the image if you wish to enlarge it. As a result, you should decide whether you need small, medium or large images to be shown in your image search.
Keywords This is a lot similar to Google's regular Web search, where you can filter your results to match any or all of the keywords in a phrase. The Google advanced image search feature will ask you if you're looking for an exact word or phrase. In addition, it may ask for a selection of words, or even words you want to exclude from your search. Consequently, your results will be heavily narrowed down. This will be helpful in specifying your results when your keywords have several meanings.
The Use of Google Advanced Image Search
Beyond Google's advanced image search, there are other ways you use this search feature to find the type of image you need. Google advanced image search is a powerful tool which, which helps bring to focus very refined images searches. There are a multitude of ways to use such a search engine, and one of which is the search for media and content. Here are some cool and interesting ways you can use Google reverse image search!
The Search for Desktop Wallpapers.
First of all, one way the advanced image search can be used is to locate potential desktop wallpapers! Advanced google search has a one click option 'Use my desktop size'. The correspondent image search will only yield results which are which are within that image size. Using a search term for example 'scenery' in addition to the specification of your own desktop size may also aid in your search for a desktop wallpaper
Searching via Camera Type
If you're interested in photography, or you're trying to select the right camera for you, this feature might prove useful. This trait allows for photographers or anyone, to compare the traits of different photos via the brands of cameras from which they were taken. Not particularly interesting to the average customer of
Google
, the ability to distinguish between camera makes may prove useful to someone particularly interested in the subject. Perhaps, someone interested in purchasing a camera of their own.
Searching for Related Pictures
Similarly, searching for related pictures is an advanced Google search features for images. This allows users to find or Google for similar images accessible via the search engine. The use of which allows for asses to 'lookalike' images. The service works appears in a mirrored fashion to that of Google image search.
Search via Content
Almost all searches can now be made via all sorts of contents. A variety of faces, news images, clip art, drawings, etc. can be searched for on google image search. Therefore, the search results can also be further filtered, via their size and color. This option is available from the results page, under the drop down menu.
Google Reverse Image Search: How to Use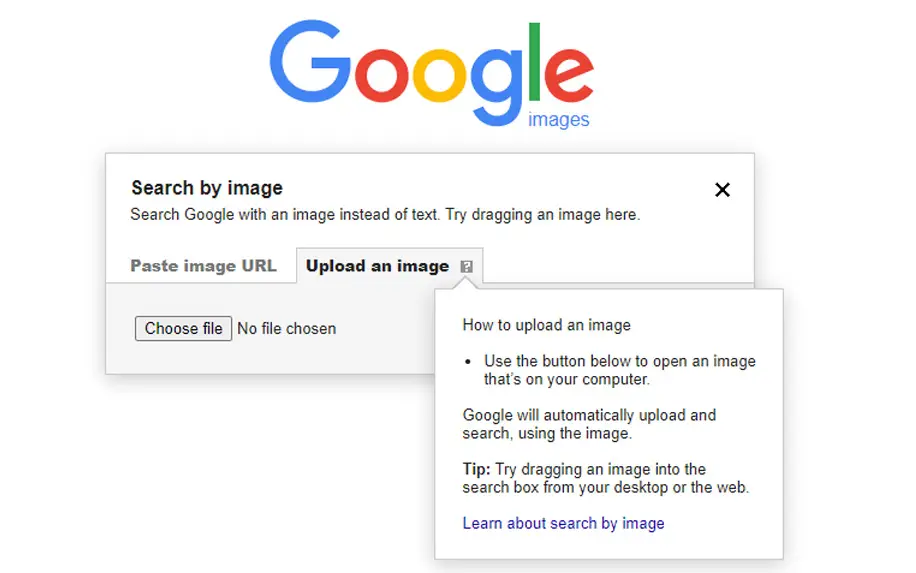 Sometimes, you know what you're looking for, but you don't know what it is called you just know what it looks like.
Google
understands that not everything can be put in words so the implemented the Google Reverse Image Search (GRIS) which allows you to search with images rather than text. This tool can be used multiple ways here are some:
Find the Source
Using google image search you can also locate the sources of images. A tool like this can be useful in the spotting of fake images. This will also help you find where else your work is being used online. This also allows you to find other similar images for your work when searching for appropriate visuals.
'Search Google for Image'
If the image you would like to search is itself an image you have found through a google search. A simple right click on the image will prompt a small menu bar to appear. On this bar you should find the option for 'Search Google for Image'. This option should yield results that represent websites that have used the image that is being searched.
Uploading from your Desktop
Moreover, another way to accomplish a reverse image search is to upload an image that you have on your library. Under the 'Camera' option, there are two tabs. The first of which is called 'Paste image URL'. The pasting of an image URL onto this bar, will yield the same results the 'Search Google for Image' option would yield. Similarly, if you would like to use an image saved onto your computer. The 'upload an image' tab will allow you to o that. You can select whatever image from your desktop to upload. Then, you can reverse image search to achieve the same results. Alongside these uses, GRIS can also be used to locate the illegal use of content and to track down unlabeled products or images.
GRIS's Perks
Some of the advantage of use of such a service is it's ease. As just described, the tool is very simplistic. GRIS also retrieves information rapidly, making it very user friendly. Potentially the most important of all these positives are its actual effectiveness. Google reverse image search yield results which could be considered very useful. However, GRIS does have its limitations. GRIS tends to be able to easily recover images from the main pages of sites, however it does appear to struggle with sub-pages an other subsequent links. Want to
learn more about Google
?
Google Sheets Vs Excel