Social media marketing is all about interacting and engaging with potential customers in a narrative that is more about people and less about business. Whoever is managing your social media platforms should have the best understanding of your audience, and nobody understands your audience like locals who might already be your customers! That's our team here at ProfileTree.
Social Media Marketing Newry, County Down
ProfileTree – Expert Social Media Marketers with a Local Flavour Serving Businesses in Newry, County Down, Northern Ireland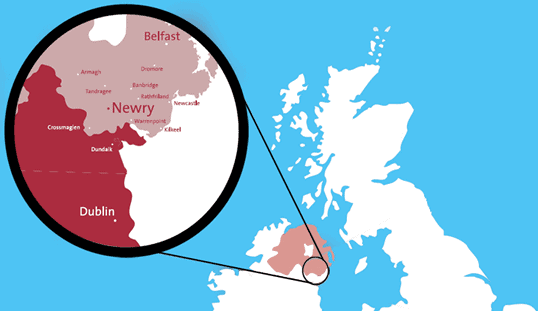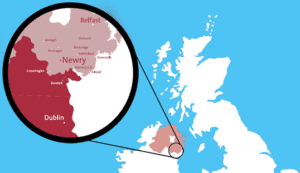 We are a self-made, family run agency based in Belfast and Monaghan. We've established ourselves in the Northern Irish market since 2010. We've grown the team, collected awards, and helped hundreds of local and international businesses with their social media presence. We've also helped small and medium sized businesses with free digital marketing training through programmes funded by City Councils over the course of three years.
How Social Media Promotes Business
We believe in the power of social media marketing. It is your door as a small or medium sized business to create brand awareness and tell the world who you are. Social media today is cluttered, and therefore, it's getting harder to differentiate a brand on social media. It's both art and science to identify a tone of voice for your brand, study your audience, and craft engaging bite-size stories that your followers will find relevant enough to interact with. Think of social media as a magnet that attracts people who are willing to listen to your story.
'Social Media Marketing Near Me'
Once those people reach your platform, this is your moment of truth. Are you ready with a solid story and wow-visuals that give those people a reason to stay? Not only to stay but also to have reasons to trust your story enough to purchase your product or use your service. To craft powerful, relevant stories, you need a social media agency near you – living your day-to-day struggles. A true 'social media marketing near me' means that those who manage your social media presence understand your local market's pain points, trends, and know the ins and outs of the local community.
Which Social Media Is Best for Business
The options are many. Social media is not just Facebook. Instagram, YouTube, Twitter, LinkedIn, TikTok, Snapchat, Pinterest, and the list is endless.
Let's take a closer look at some of the insights related to Instagram, YouTube, and LinkedIn as an example.
Instagram
The 2022 Instagram Engagement Report, produced by HubSpot and social listening and media monitoring platform, Mention, has found that, among the 1.3 billion active users on Instagram, the UK came in third place as the country with the most posts published in 2021.
Engagement in the UK and Ireland surpassed last year's global average, coming in at 5.43%, nearly double the global average of 2020 at 2.26%. The report findings this year saw that cities with smaller populations ranked higher for engagement, versus a bigger metropolis which was seen in 2021 report.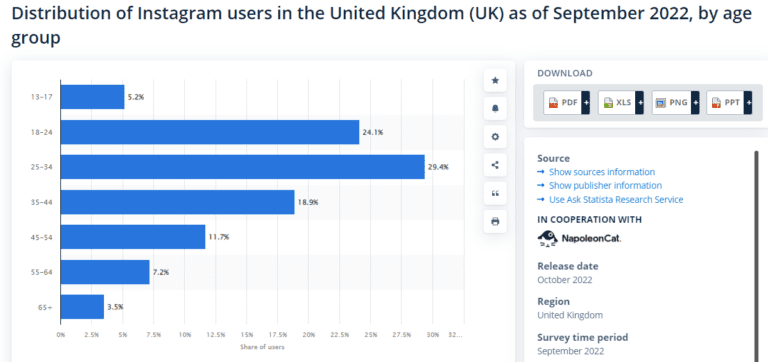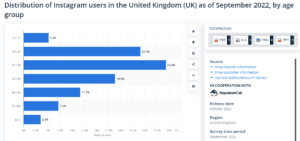 YouTube
YouTube is the second most popular social media site
More than 35.6 million adults in the UK use the platform
35% of the UK population are an active user of YouTube
46% of women use YouTube in the UK vs 54% of men
YouTube use is growing the fastest amongst Baby Boomers and Gen-X-ers
The most active demographic is aged 25-44, accounting for 44% of all users
The most popular YouTube channel in the UK was Ed Sheeran with 43 million subscribers. The channel also boasted around 18.78 billion views
There were 34,800,000 LinkedIn users in United Kingdom in October 2022, which accounted for 51% of its entire population. People aged 25 to 34 were the largest user group (20,000,000).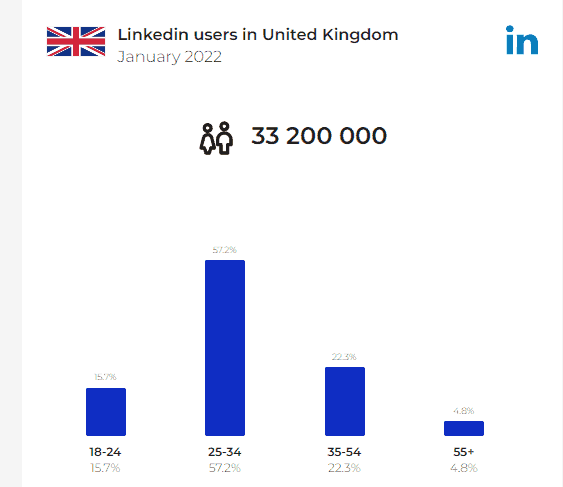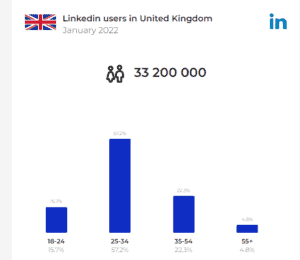 Need Help with Choosing the Best Social Media Platform for Your Business?
At ProfileTree, we put quality over quantity. You don't have to be present on every platform just for the sake of being present. Your brand's social media presence should be meaningful above all. Identifying which platforms are best for your business depends on many factors. This exercise is what our team uses to identify the right platform for all our clients.
What is the nature of your business?
Who is your target audience?
What type of content resonates with your audience?
What are your social media objectives?
Let's help you answer those questions! Book a chat with one of our social media experts for free – no obligations. We will help you identify the best social media for your business.
How Do Social Media Marketing Agencies Work
Social media marketing agencies start their work by researching and analysing your industry, your competitors, and the overall market status. At ProfileTree, we also audit your existing social media platforms if you're already active on any of them. Then, we craft a brand tone of voice, plan out a social media strategy and start creating content based on the set objectives. Content includes creative concepts, visuals and designs, videos, reels, stories, and articles. The content is published regularly, and we moderate engagement and interactions as well as report them to you. We continue to optimise our content and strategy side by side with your team as we go.
How Much Is Social Media Advertising
Working with so many different businesses over the years taught us to work with different budgets and requirements. We tailor all our packages according to your needs and it doesn't matter whether the budget you have is big or small – we work with KPIs. In other words, you set the budget, we tailor a package optimised for your requirements and within the limits of your spending. We have packages starting from 500£ per month covering content, visuals, moderation, and reporting.
Ready to Book a Free Social Media Audit?
Fill the form and send us your questions, we will be happy to answer all of them. Please do let us know if your business is registered in Newry, County Down. Alternatively, you can book a chat with one of our team members to audit your social media platforms and find out how we can help you establish your social media and digital marketing presence in Newry, County Down.
More services: Content Marketing Newry, SEO Newry, Digital Marketing Newry, Digital Training Newry