What is YouTube Rewind? YouTube has changed over the years with more new features than ever before. Read on for a Quick Read guide to one newer feature – YouTube Rewind – and all you need to know.
IN A RUSH?! Click for our <90 second snapshot
What is YouTube Rewind?
YouTube rewind is a compilation of 50 of the most viral videos for the past year each year. This compilation allows viewers to look at the videos that made headlines, those that were controversial, fun, entertaining, and even thought provoking based on the number of views that it garnered the previous year.
Each year this compilation allows viewers a comprehensive list of the videos that made the rounds so that you can see what was popular without having to go through millions of videos to find them on your own.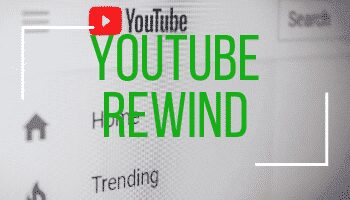 These Rewind videos are a great way to see what was popular and to have a good time. They are always under 10 minutes long and compile all the important social trends and videos of the year into one easy to digest video. These are fun, colorful, short, and easy to watch and are fun to just see what you notice when you are watching them.
Furthermore…
The Rewind has not changed format much since 2012 or so when the mashup format was introduced. Though they are mashup style, they do have individual components of each video and of each trend so that you can pick out what the different trends are as you watch. They are created so that each time you watch them you see something new that you may not have noticed on the first time watching.
These videos are always produced on the YouTube spotlight channel and are produced to be fun and entertaining as well as engaging and eye opening. They are also produced with very good production value and are high quality videos overall.
The YouTube spotlight channel also has tons of behind the scenes videos about the filming of the rewind each year so you can see some of your favorite YouTube stars, social media stars, and even movie and television stars as they work to create these visual masterpieces. For such short videos, they do have a ton packed into them so you have to either pay very close attention or watch them several times to make sure you catch everything.
When Does YouTube Rewind Come Out
YouTube rewinds are created each year near the end of December to reflect the videos that were most watched the year before. These compilations are created at the end of the year so that the videos that have been watched have a chance to be properly and accurately ranked.
Each year the rewind is themed according to what the most popular video of the year was. In 2011 for instance, the second YouTube rewind to be released, the theme was based around Rebecca Black's Friday video. The video did not go over well however as they asked Black to host and many people disliked the video for this reason. 2012 was YouTube Style in honor of Gangnam Style, 2013 was What does 2013 Say because of What Does the Fox Say and so on.
These videos are released in the middle of December of the year that they represent in most cases so that there is plenty of time for the biggest trends of the year to come together and for a video featuring these trends to be created. Since these videos are a compilation, they are never released before December of the year that they represent.
YouTube Rewind 2018
The rewind for this year is not going to come out until December but there are a few trends that we can be sure will show up in the rewind. For starters this year has been a very controversial one as far as politics is concerned and the Presidential election is sure to make an appearance, the break up of 5th harmony, songs like Havana by Camila Cabello, No Tears Left to Cry by Ariana Grande and more are all likely to make an appearance. Kylie Jenner's pregnancy as well as her sister Khloe's and the Blocboy dance are all sure to be part of the recap.
If you want to find out what is likely going to be part of the 2018 video, you just have to pay attention to trends that you see and what you are hearing a great deal about. You can also search most popular videos and most popular songs so that you can see what videos are being watched and what might show up in the next rewind. The only real way to see what is going to be in the video is to wait until December when the video is released.
More Fun…
It is very fun to guess what might be part of the 2018 video and for the most part, it is not a huge surprise when you see what was included. The surprise is how YouTube decides to incorporate these items together and how they decide to bring all the trends and popular ideas for the year together into a unique but still cohesive video that is entertaining but that still makes sense.
You can usually start to see what might be part of the video at the end of each year if you take the time to search some of the most popular videos of the year.
What's in a YouTube Rewind?
There are a wide range of things that appear in a YouTube Rewind from fun videos like music videos and skit videos to more important and impactful videos that have the most watches during the year in which they are featured. YouTube works to add a variety of content to each rewind so that viewers get a good idea of what was being most watched during the year that they are viewing.
For the most part, the YouTube Rewinds are focused around the music that was the most popular during the year paired with other clips that outline things like trends, and other popular things that made the rounds in the previous year. In most cases the rewind is hosted by popular stars from the previous year and new clips that highlight the feeling of the previous year are produced.
YouTube Rewind 2017…
2017 was the Shape of 2017 and topics like popular songs, popular trends, memes, and even fidget spinners were added to help let people know what 2017 was like. Popular dance moves, toys, and even and things like slime were used to create the video that was a mash up of everything that was popular during the year. These clips were all set to the most popular songs of the year and were made to be interesting and fun and were condensed into a video that was under 10 minutes long.
Though this was a fun video, YouTube also tries to incorporate things like big news stories, both sad and inspirational, so that made headlines. These videos also feature influencers and other people that were popular during the year for both positive and negative reasons. Overall, the rewind is a recap of essentially everything that made the previous year what it was.
How Long has YouTube Rewind Been Running?
2010
YouTube Rewind started in 2010 with a video that was simply titled the Year in Review. The video was simple and combined both clips of the 10 most popular videos of the year along with slides that explained how they were chosen and how they became viral. It was a clip show style format that was under 2 minutes long and that really highlighted what made YouTube such a special platform.
2011
2011 was hosted by Rebecca Black and was not a popular as the previous year. This was a countdown style video where clips of the most popular videos were displayed numbered and in order so that viewers could see what videos were the most popular and a short clip of each.
2012
2012 was YouTube Style named after Gangnam style and showed the videos that were the most popular but showed them in a style that took popular stars and placed them in the videos for some of the most popular videos. The first part of the video was focused on Gangnam style then Call me maybe with the help of the most popular stars from the previous year. This was a music style video that had more cameos of the most popular YouTubers than anything else.
2013-15
2013 was What Does 2013 say and was in the style of What Does the Fox Say again with popular stars from YouTube being featured in the video in the style of some of the most popular videos from the year. 2014 was Turn Down for 2014 and was a similar mash up style. 2015 was Now Watch me 2015 in the style of Now Watch Me Whip and it featured the popular dance style as well as tons of songs that were popular during 2015.
2016-present
The rewind for 2016 was the Ultimate 2016 Challenge and featured some of the challenges that made the rounds during 2016. It also featured big stars like the Rock as well as others and really highlighted th social scene that was 2016. 2017 was the Shape of 2017 and featured a ton of songs, trends and more all with the theme of Ed Sheeran's Shape of You which was the most popular song.
Overall these videos are all under 10 minutes long and are a mash up style that is fun and easy to watch. Though there is not much content by way of explaining and being a social commentary, they do show a ton of trends and give a good feel for what the essence of that year was so to speak.
Our FREE ProfileTree knowledge archive… YouTube SEO tips | How to get views on YouTube | How to increase my subscriber amount on YouTube | YouTube Statistics | How to make a YouTube Channel | YouTube Monitization
Unmissable QUICK READ What Is? guides… YouTube | Video Marketing | Video Production |YouTube Monitization | Online Advertising | Tumblr | Content | Lead Magnet| Snapchat? | Google+? | An App? | YouTube Rewind | Tumblr | LinkedIn | Reddit | Pinterest | Instagram | Website | WordPress | Social Media | Logo | IGTV | Buzzsumo | Blog | Social Media Strategy | Twitter | Facebook Live | Hashtag | Snapchat Geofilter