What is YouTube Monetization? As YouTube is part social media and part search engine and is the second most used search engine online (after Google), so videos posted to YouTube are easily sourced and listed for easy discovery.
Unlike other social media platforms though, it is possible to make money from YouTube with YouTube monetization.
This process of making money has changed over the years. so while it is no longer possible to simply sign up and begin making money right away, there are plenty of opportunities available to eventually build up a following and earn money with videos uploaded to YouTube.
IN A RUSH?! Click for our <90 second snapshot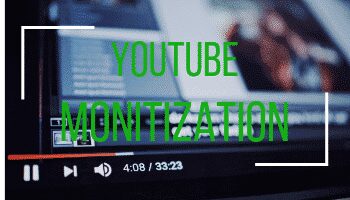 What is YouTube Creator Studio?
It is easy to create a YouTube account. For anyone who already has a Gmail account (or any other Google entity), half of the job is already done. To create the account, an individual needs to head over to the YouTube website and select the "Sign Up" option, in the upper, right hand corner. From here, they can sign-in with their Gmail account. If a Google account is not yet active (or if a new one is desired), the individual just needs to follow the prompts, type in a username and password, and then confirm everything.
Now…
Now, there are many people on YouTube who do not want to upload content. They just want a profile so they can subscriber to other stations, comment on channels and interact with other users. For those individuals, nothing else needs to be done. However, for anyone who is interested in posting videos to YouTube, there is a Creator Studio feature.
When clicking on the profile icon in the upper right corner of the YouTube screen (after logging in) a user has an option to open the "Creator Studio." This is where an individual can upload new videos, monitor current video performance, editing videos and so on. When the new page loads, if no videos are up yet they have the "Upload Video" option. If there are videos currently present, they can see all of the current views and watchtime. It also shows subscribers, the rate of subscribers over the last 30 days, and the money they have made over the last 30 days.
The Creator Studio feature becomes the person's channel headquarters and is where they will editing, alter, delete or add future content moving forward.
YouTube Monetization Requirements
YouTube has changed the monetization requirements a few times over the years. However, the most drastic changes started up earlier in 2018. These changes affected a number of smaller channels and will affect those just starting up their YouTube accounts moving forward.
The standard requirements to now make money off of YouTube is a channel needs to have at least 1,000 confirmed subscribers and at least 4,000 watch time hours over the past 12 months.
The at least 1,000 confirmed subscribers means these subscribers cannot be fake. If YouTube finds out someone created fake accounts to boost numbers, or that someone went to a "buy subscribers" website and purchased these fake subscribers, YouTube will not only not count these subscribers, but there is a change YouTube will ban the creator account as well. It's important to not test YouTube on this as it is very good at identifying these fake subscribers.
On the other end…
On the other end, it is necessary for a user to have at least 4,000 watch time hours within the past 12 months to be eligible for monetization. Now, this doesn't need to be over the course of an entire 12 months. It can be in less time. If someone makes the 4,000 watch time hours over a single month that works too. However, the minimum is 4,000 hours over a year. For anyone who wants this broken down on a month to month basis, this equates to 20,000 watch time minutes per month.
Similar to the subscriber numbers, it is very important for a user to not try and influence their own numbers. They cannot simply watch their own content on loop. YouTube can monitor IP address and where view time comes from. If it discovers the watch time is from the user's home address (or all from a singular address), it will flag the content and either remove the watch time minutes or block the account all together.
Some may ask…
Some may ask the question of how many views do you need to make money on YouTube. It no longer has anything to do with views. While the number of views is helpful to a user looking for popular content, this is not a metric used to determine how much money someone makes (or when they will make money). YouTube found that someone watching a video for five seconds shouldn't count as a view. That's why it is all about how long people watch content, and not the number of views.
It may take a while to reach the 1,000 subscriber and 40,000 watch hours within a year, but once this is obtained it is possible to begin making money off YouTube.
How Do You Monetize Videos on YouTube?
In order to begin monetizing a YouTube channel, after it reaches all the necessary subscriber and view time amounts, a user needs to have their Google AdSense in place. If they already use an AdSense account for other advertising making opportunities on a website or in other areas of the Internet, this account can be used. If not, they need to sign up for a Google AdSense account.
Creating the account is straight forward. After heading over to the AdSense page, a user needs to select to create an account. With the already existing YouTube/Gmail account, this is done in a few short steps. It is necessary to authenticate the account now using either a cell phone or through an email, although cell phone text message is the preferred way of doing this (this helps Google ensure a single user does not have a large number of AdSense accounts).
Once…
Once the AdSense account has been created, the individual needs to head back over to their YouTube account and select the Creator Studio option. While in the Creator Studio page there is a "Monetization" option (usually listed on the left side of the page). Here, the user is able to then input their Google AdSense code. This is not the user name of the account. Every AdSense has an associated code that is input. This can be copied from the AdSense account (usually listed under the profile name after logging on) and then added to the required space on YouTube.
YouTube will then authenticate the AdSense and connect the profiles together. If the YouTube page has already reached the necessary subscriber and view amount numbers the account will begin to make money. If, however, the user has not yet reached the necessary threshold, YouTube will hold onto the AdSense information and authenticate everything once the necessary numbers have been reached.
How Much Money Can You Make?
Once it is possible to begin making money on YouTube, one of the most common questions is how miuch does YouTube pay for your videos. This answer isn't as straight forward as it might seem. There are a number of different factors at play when it comes to determining how much money a person will receive.
For starters, this is where the number of views can help. YouTube does provide money information based on the amount paid by the number of views. A view counts as someone who remains on the channel for at least five seconds (which is enough time for the first ad to begin playing). There are different advertisement options on YouTube. The first is a commercial that plays at the beginning/end of a video. The next is a visual ad that might appear over the lower third of the video during playback. The third is an ad that appears on the side of a YouTube channel, when viewed from a desktop. Different kinds of ads pay different amounts.
Additionally…
Additionally, the popularity of a particular channel has a big role in the amount of money someone makes. Naturally, the more popular a channel is the more someone will want to advertise on it, which means someone with a million subscribers and who averages over a million views per video will make more money than someone with a thousand subscribers and a few hundred views per video.
The content of the videos plays a role in how much someone can make off of YouTube as well. When advertising on social platforms like Facebook, a business will "bid" on specific keywords. They more they are willing to pay the more likely the advertisements will appear with the given keywords. This is true with YouTube as well. Some content and some keywords are deemed as a greater value, which means advertisements appearing on these channels will pay more, which gives the account holder more money.
If someone interacts with an advertisement on a channel this helps increase the amount of money someone makes off of their channel. A person should never interact with their own ads (YouTube can see this and will remove the money made). With all of these variables in place, it's nearly impossible to tell someone what they will make. However, it can range anywhere from $1 to over $10 per 1,000 views.
YouTube And You
Over time, it is possible to make money with monetization on a YouTube account. While it isn't possible to just sign up and begin making money right away, once all of the requirements are met, YouTube Adsense turns on and it begins allowing users to make money. Because of the new requirements though, someone hitting the requirements will likely now make more money than they would have before, as fewer channels now have monetization.
So it will take a bit of time and effort to take advantage of the monetization opportunity, someone who puts in the time will eventually make money from YouTube monetization.
Good luck!
See also:
Our FREE ProfileTree knowledge archive… YouTube Monitization | How to make a YouTube Channel | YouTube Stats | YouTube SEO Tips & Tricks | How to increase your YouTube views | Increase my subscribers on YouTube
Unmissable QUICK READ What Is? guides… YouTube | YouTube Rewind | Facebook | Google Play | Google+ | Tumblr | Twitter handle| SEO | Video Marketing | Black Hat SEO | Google Hangouts | Internet of Things