Create a YouTube channel: it can seem daunting, but the right strategy opens up immense opportunities to build an audience and impact the digital video era. The first step is identifying a content focus and niche that aligns with your interests and capabilities. Once your channel concept is defined, optimize your presence by customizing branding elements, crafting engaging video titles and descriptions, and establishing a consistent upload cadence.
As you create top-notch videos, employ best practices like leveraging SEO keywords, promoting your content across platforms, and analyzing performance metrics to inform your approach. With a stellar channel foundation, utilizing YouTube's tools and monetization options unlocks the platform's full potential for creators. This comprehensive guide covers the essentials of starting and growing a YouTube channel from square one, with expert tips and advice for standing out in the highly competitive space. Follow these steps to launch and evolve your channel into a thriving video community.
YouTube feels like it is forever growing. There are over 2 billion YouTube users, which equates to 79% of all internet users. 500 hours of videos are uploaded to YouTube every minute. Half of the users access YouTube via their mobile devices. Many believe that applications like YouTube and Netflix will signal the end of TV.
Table of Contents
The Importance of Video Marketing
YouTube is the leading way for businesses to carry out video marketing, as there is a massive opportunity for businesses to get creative. Due to the sheer volume of people viewing YouTube daily, it is an ideal platform for businesses to display their products. According to HubSpot 99% of video marketers plan to continue using video in 2021.
How to Create a YouTube Channel
Making a YouTube channel is not difficult; below, we will give you a step-by-step guide on creating a channel.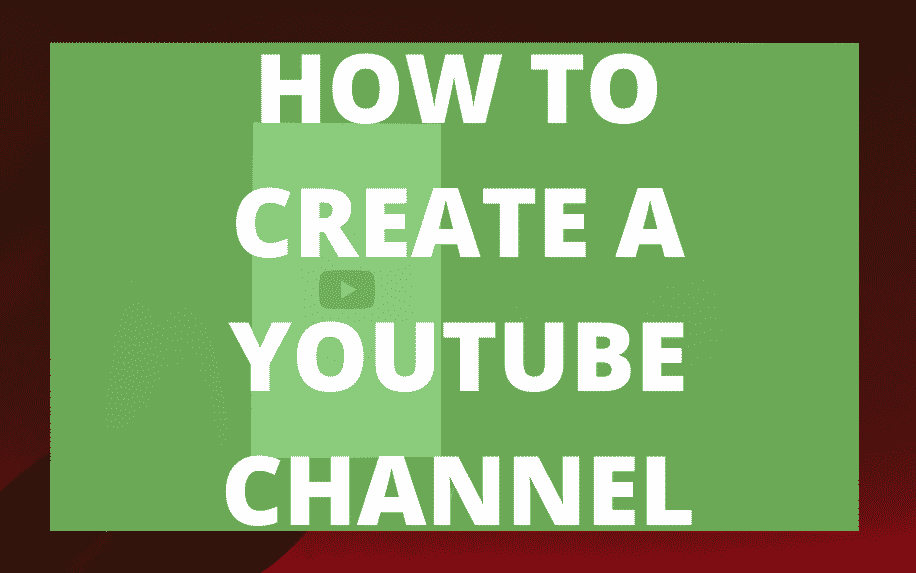 Signing In
Go to YouTube and click the 'Sign In' button in the top right-hand corner.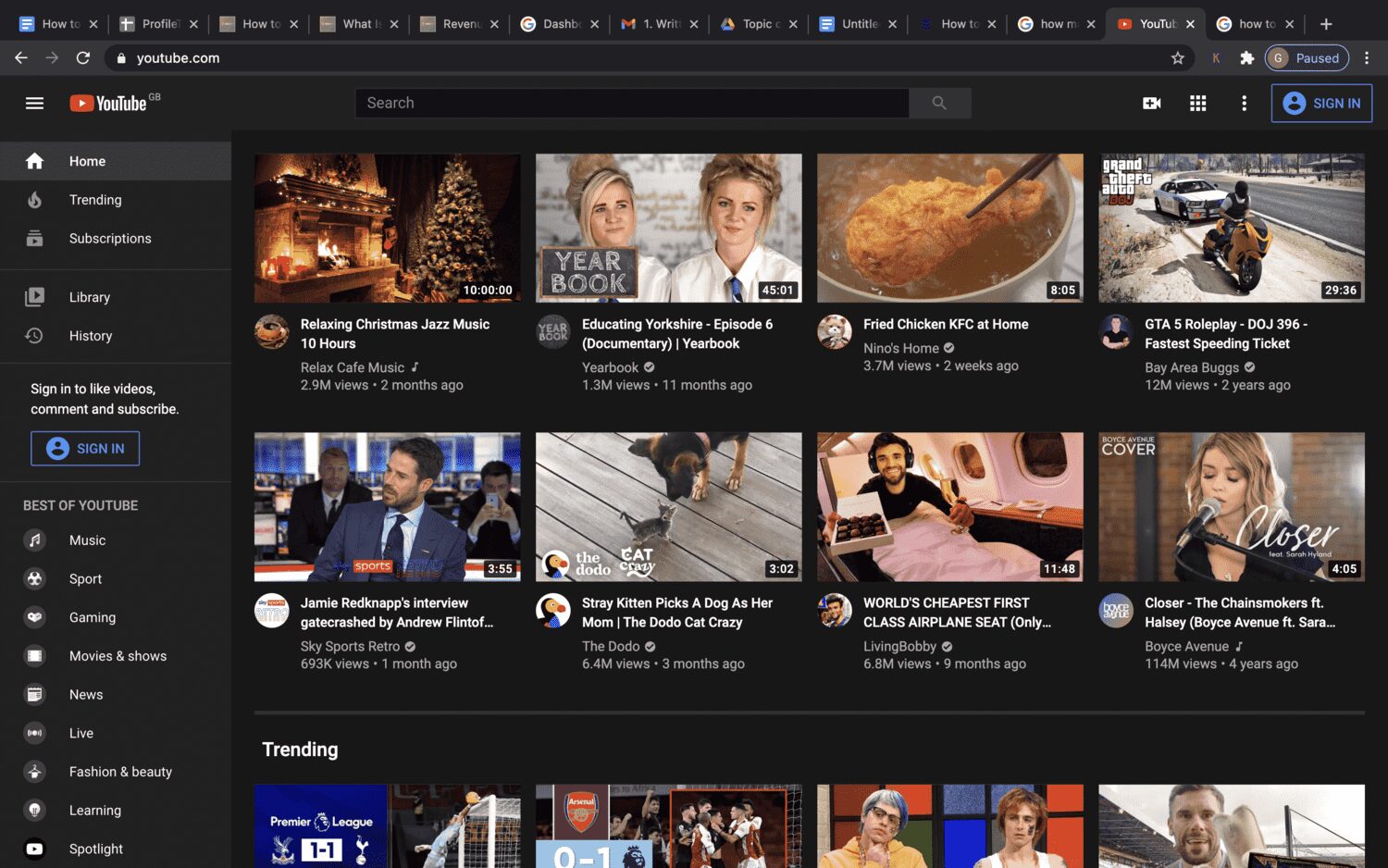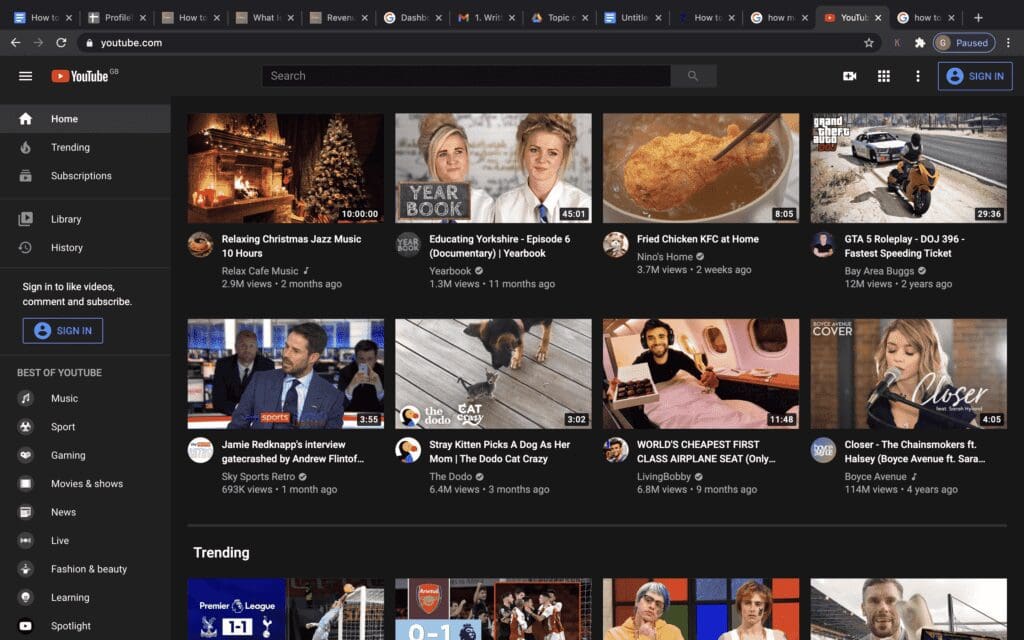 Next, you must select the Google account connected to your YouTube account.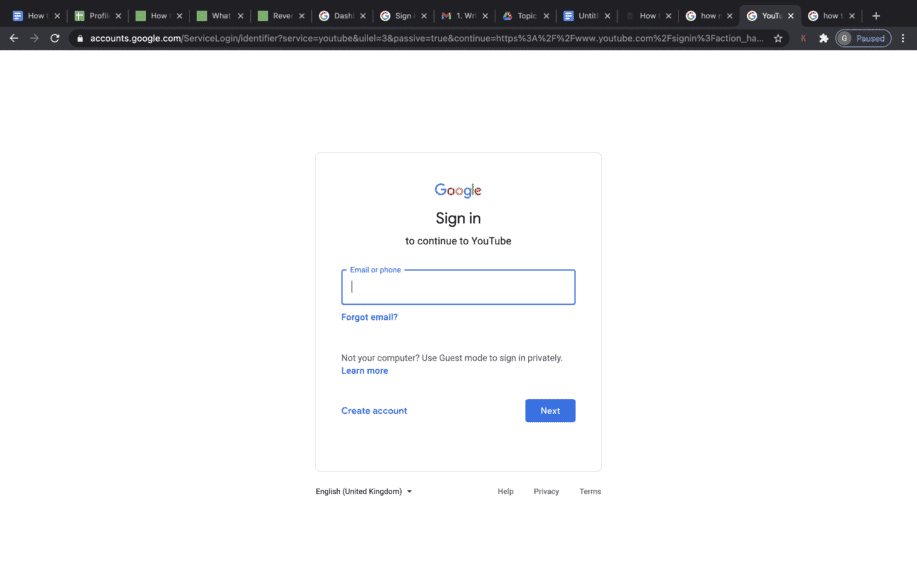 Creating a Channel
After logging into your Google account, you must create your channel.
This is in the top right corner, where the 'Settings' are located.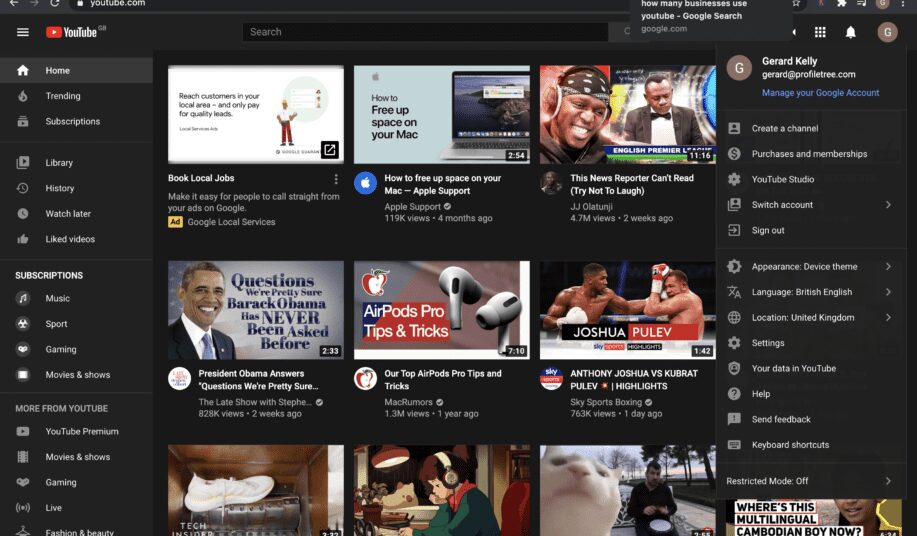 Next, choose what kind of channel you want to make.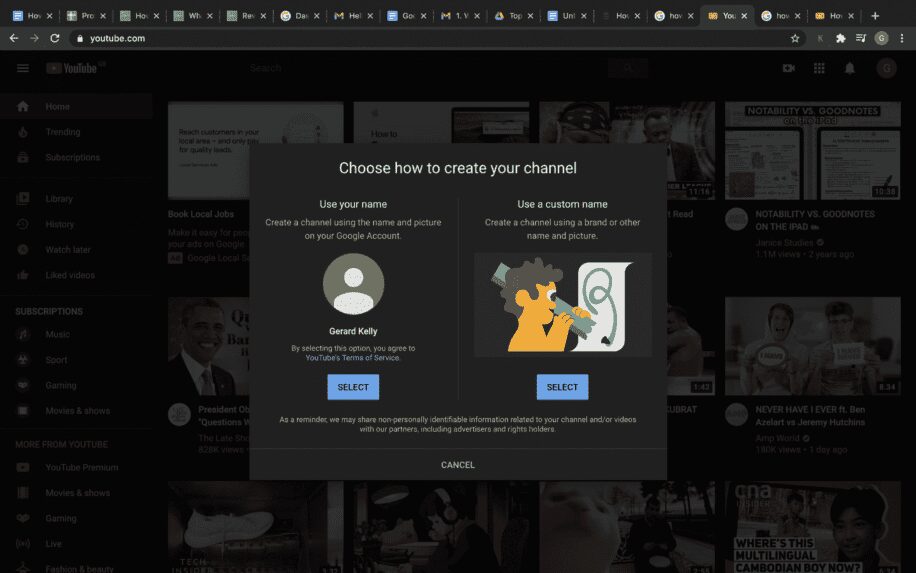 You can select a personal channel or a custom name that could be used for a business.
For this example, we will be choosing the custom name.
Choose a Name
This next stage can be the most tricky: selecting a name. You will be fine if you are naming your channel after a company.
Consider a unique name; you only have 100 characters, so choose wisely!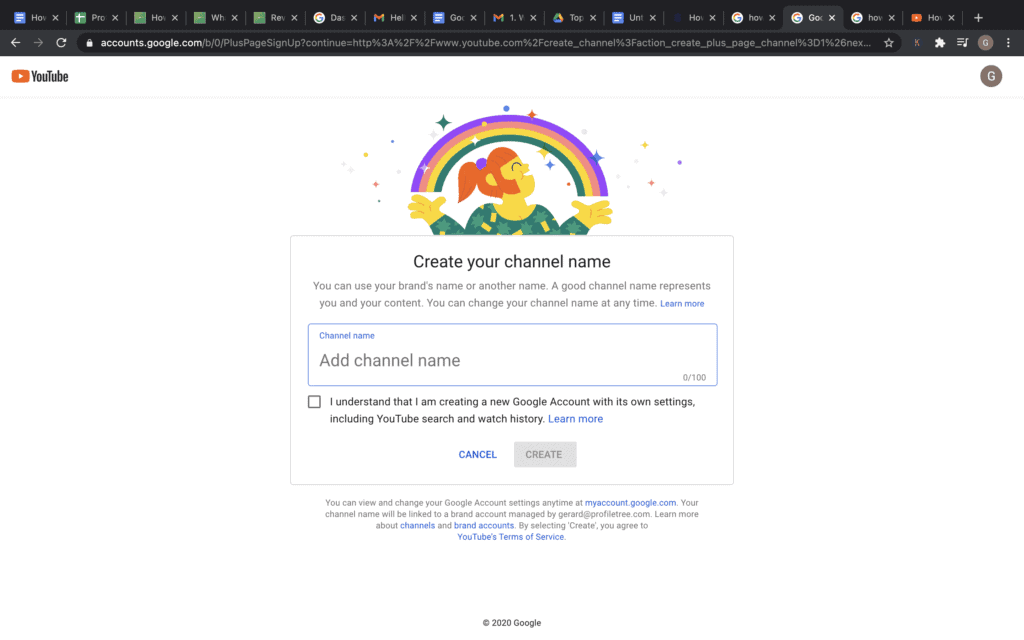 Boom, you have now made your YouTube channel!
How to Design Your Channel
Now, it is time to customise your channel.
You can either upload a picture of yourself or if your channel is for a business, you can upload their logo. Just make sure the picture falls within the Community Guidelines!
You can also add a description to your channel; this is a way of introducing yourself to the YouTube community. You can describe what kind of videos you plan to make, or if you are a business, then you can describe what products you wish to sell.
There is an option to add links to your site; this could be used for your social media sites, or adding your business's website.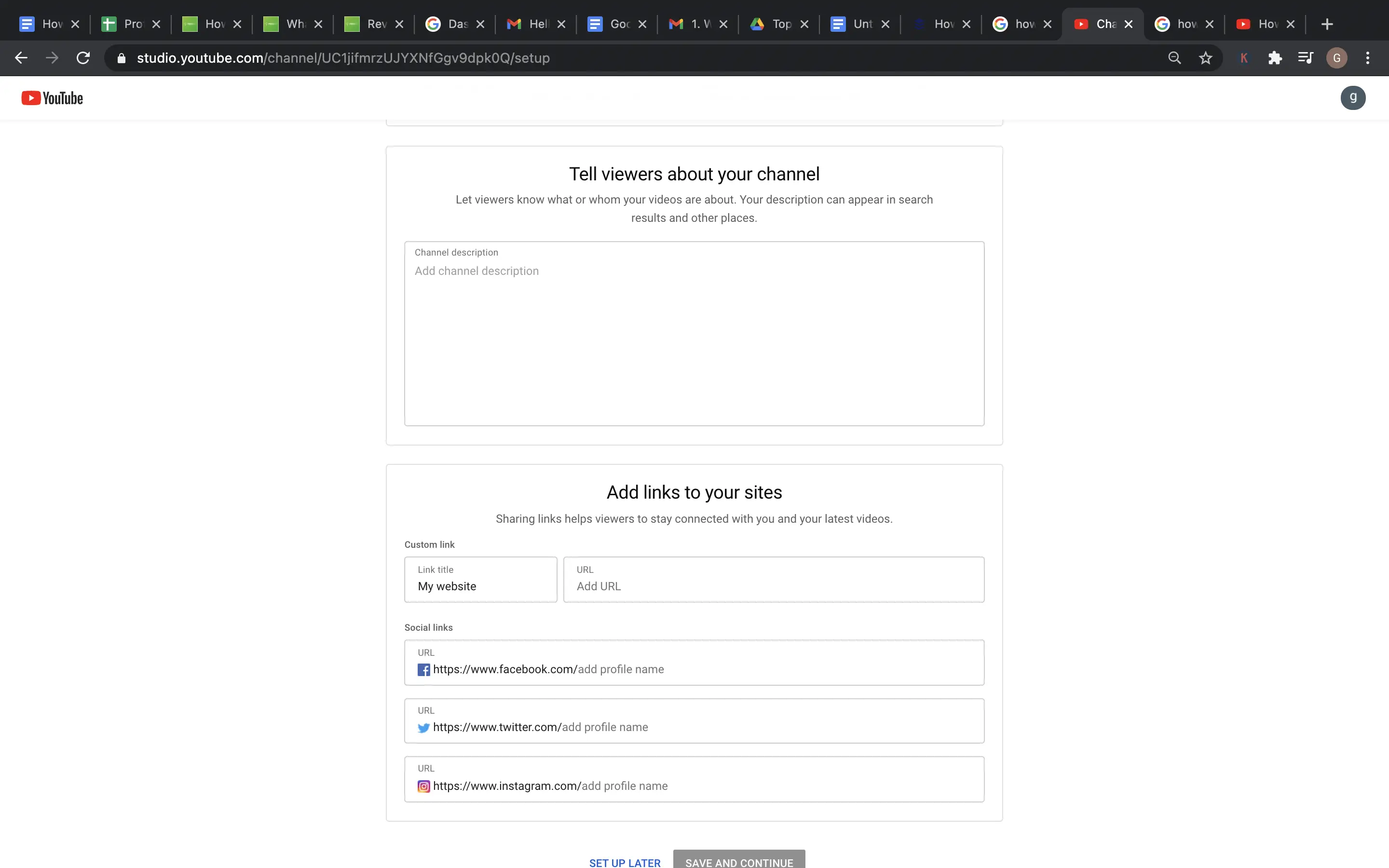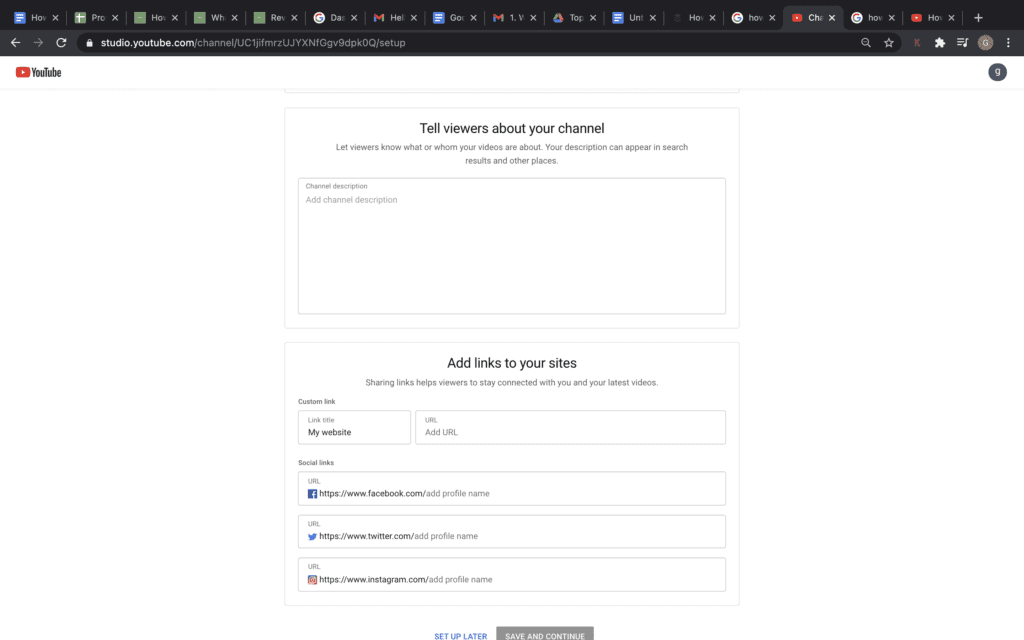 It is important to add a banner to your channel. Once again, your banner could be a picture of yourself or a product your business sells. The banner stands out when you view someone's YouTube channel, so it is important to make it look good.
A good example of a business promoting its products via its channel banner is Apple.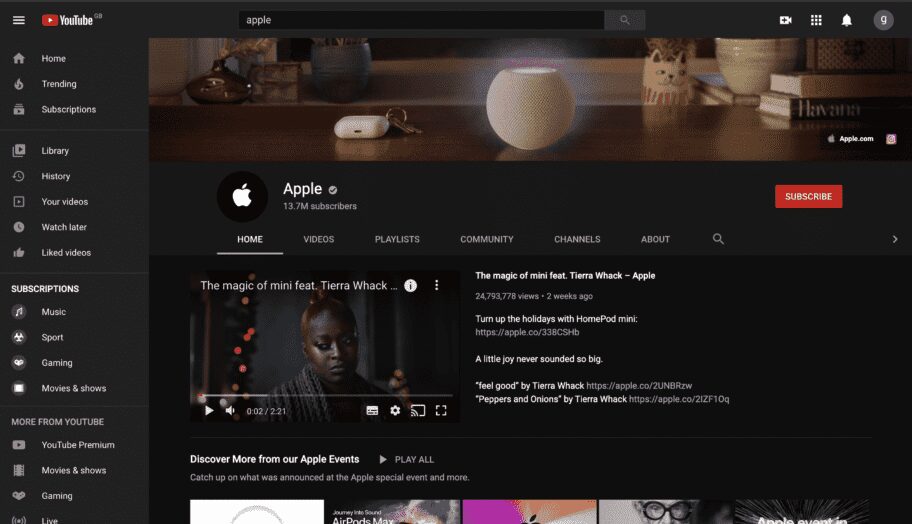 Not many people need an introduction to Apple, but displaying their products on their YouTube banners is a clever touch.
Here is an example of a different kind of YouTube channel.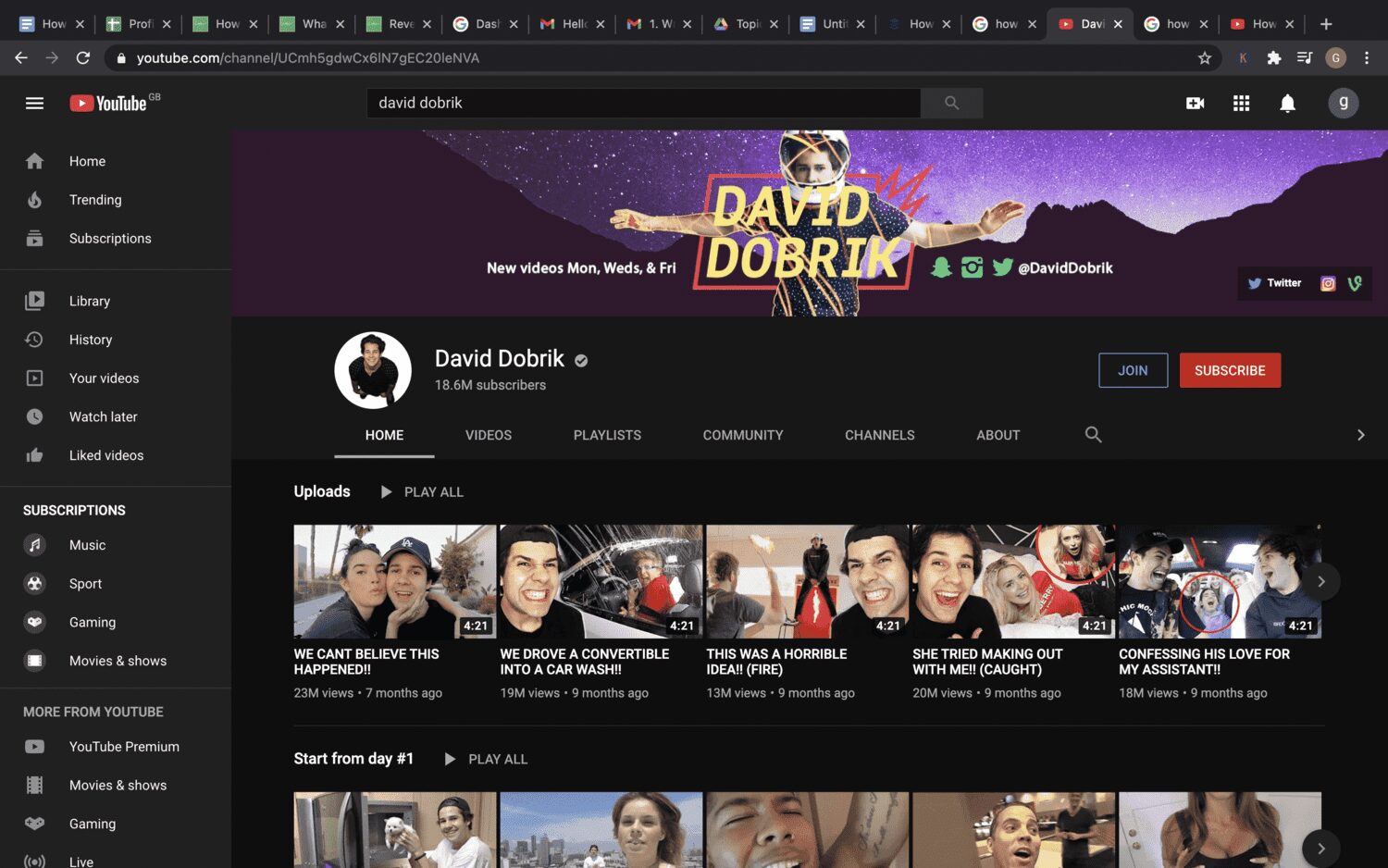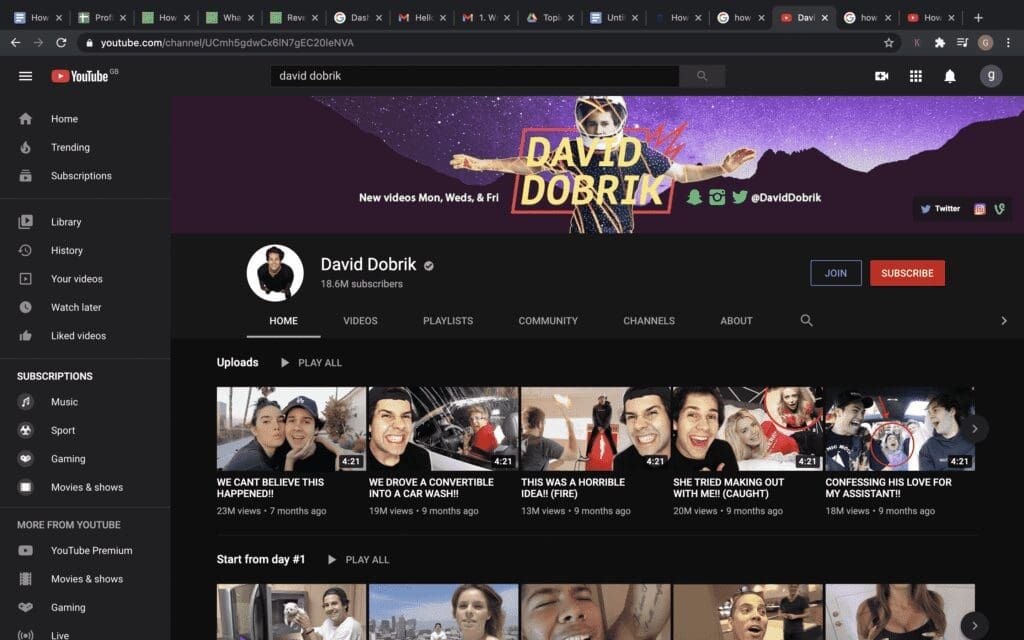 David Dobrik instead has a picture of himself. On the banner, it has all his social media accounts and his usual upload schedule. This lets his fans know when to expect his videos to be uploaded.
Hopefully, these two examples give some inspiration for designing your YouTube banner.
How to Grow Your YouTube Channel
Now that you have made your YouTube channel, it is time to grow! We have a range of articles on how to get more views and gain more subscribers. Here, we will give you a few quick tips on gradually growing your channel.
Know Who Your Audience Is:
Make sure you create videos that your viewers want to watch. You can check the age demographic and the majority gender via YouTube Analytics. These statistics will give you a good gauge of how to adapt your videos to people who watch your channel. A business will know who buys their product, which is much easier.
In YouTube Analytics, you can also check where people are watching your videos, knowing this will allow you to upload at a time that would suit most of your viewers.
See What Is Popular
Always check out what videos are appearing on the trending section of YouTube. Is there a particular kind of video that keeps reappearing? If so, be creative and put your spin on the videos. If you are a business, look at what kind of videos your competitors make to see if you can do better.
Social Media
Promoting your social media pages is vital for a business, and it will encourage people to check out your product or service. You can also use social media to let people know when you have uploaded. Twitter has a feature that allows you to schedule tweets; you could use this to tweet when you have uploaded a new video.
The Importance of SEO
Check out our previous article to get a detailed background on YouTube SEO. YouTube is the second most popular search engine after Google, so it is essential to get to the top! When people search on Google, a YouTube video is sometimes brought up instead of a website. This will bring people who may not even have a YouTube channel to watch your videos.
Keywords
It is advised to put the keywords at the start of your title if possible because it will be much easier for YouTube to know your video is a topic, meaning people will find it easier when searching. As many people use YouTube as a visual guide, using keywords like "how to" and "what is" are great titles for videos.
Descriptions
Having a well-detailed description can be a major factor in the SEO of a YouTube video. In your description, you can include links to other videos, blogs or websites or a link to subscribe to your YouTube channel.
Longer Videos
The longer the duration of your video, the higher it will rank and be more relevant towards keywords. Suppose you are lucky enough to monetize your YouTube videos. In that case, it is advised to have your videos at around eight minutes because you can mid-roll advertisements in your videos, which is good for revenue.
Encourage Comments
Asking your viewers questions in videos is a great way to engage with them in the comments section. The more positive feedback you receive on your videos, the more likely it is to end up on the trending page, exposing you to a large amount of the YouTube community.
Do Not Forget to Like and Subscribe
Always ask the viewer to like and subscribe to your YouTube channel. People subscribing will mean your videos appear in more people's suboxes, meaning more viewers. You should encourage people to turn on the bell notification once they have subscribed, as it will alert them when you upload a new video.
Choose a Niche:
Research audience demand and competitiveness for potential topics
Consider your expertise and interests to decide on a focus
Look for gaps or angles not covered in depth by other channels
Align with your brand if you have an existing business
Weigh the pros and cons of narrow vs broad focus when picking a niche
Set Up Your Channel:
Use keywords relevant to your niche in the channel name and description.
Create a logo and branding elements customized for YouTube
Design an engaging channel banner that represents your content
Organize channel sections – playlists, shorts, live streams
Enhance the look with channel art and branded thumbnails
Optimize Videos:
Research keywords and write SEO titles/descriptions for discovery
Engage viewers in the first 10 seconds with compelling openings
Use on-screen text, graphics, and b-roll to reinforce important points.
Link to other videos at end cards and in descriptions to boost watch time
Statistics on popular types of content and channels on YouTube:
Gaming videos generate over 50 billion monthly views, making up over 25% of YouTube watchtime.
YouTube has over 50 million channels focused on vlogging and personal stories—daily vloggers average 224,000 views per video.
Music videos account for 32% of total watch time on YouTube and 38% of the top trending videos.
Comedy is the 3rd most popular category, driving over 14 billion views per month.
YouTube's top education channels, like Khan Academy and TED, have over 26 million subscribers.
Channels focused on beauty, style, and fashion make up over 20% of the most-viewed channels for women aged 18-34.
Kids' content on YouTube generates 3x more views than videos aimed at adults.
News channels see over 8 million subscribers globally, led by top creators like Philip DeFranco (7.2 million).
90% of ASMR content on YouTube is watched by those aged 13-24 looking for relaxation.
These statistics demonstrate the diversity of popular content categories, and creator focuses thriving on the platform currently.
Growing Your Audience and Promoting Videos
Gaining subscribers and viewers takes consistent effort. Here are some tips:
Optimize your channel and videos for search discovery by using relevant keywords. This helps surface your content.
Promote new videos across social media channels like Facebook, Twitter, and Instagram. Draft custom captions and posts tailored for each platform.
Engage with viewers by replying to comments, asking for feedback, and participating in the community.
Collaborate with other creators in your niche for shoutout videos or create complementary content.
Share your videos on your niche's forums, groups, and communities to reach interested audiences.
Run YouTube video ads to increase visibility and subscribers—target lookalike audiences of existing viewers and fans.
Send email and text notifications to alert subscribers instantly when you publish new videos.
Include subscribing calls-to-action, end cards with related video links, and playlists to boost watch time.
Promoting consistently, optimizing for discovery, and building community are key factors for YouTube channel growth. Experiment to determine which efforts drive the best results.
Tips on monetization options for YouTube channels:
Advertising Revenue Sharing:
Enroll in the YouTube Partner Program to unlock earning potential from ads.
YouTube places ads on your content and shares the revenue.
The more views and engagement your videos get, the more you can earn.
Sponsorships:
Pitch brands relevant to your niche to do sponsored videos and brand integrations.
Ensure sponsorships align with your audience and content style.
Disclose sponsorships clearly and follow FTC guidelines.
Affiliate Marketing:
Find affiliate programs that match your niche and promote special offers, deals, or products to your audience.
The best affiliates provide links, product feeds, creatives and tracking.
Disclose affiliate relationships and only promote products you genuinely recommend.
Memberships:
Offer exclusive access and perks like bonus videos, livestreams, and more via channel memberships. Fans pay a monthly fee.
Merchandise:
Design t-shirts, mugs, posters and other custom merch featuring your brand and sell them through your channel, site or stores.
Leveraging multiple revenue streams helps build a diversified monetization model for long-term YouTube success. Make sure to maintain transparency around paid promotions to keep viewer trust.
Tips on production equipment, editing, and software for starting a YouTube channel:
Video Equipment:
Invest in a quality camera – DSLRs like the Canon 70D or mirrorless cameras like the Sony a6400 are popular starter options.
Use a tripod for stable shots and smooth pans/zooms. Look for one with fluid head mobility.
Get a shotgun mic for better audio. Lav mics are also great for interviews and voiceovers.
Improve lighting with affordable ring lights, soft box lighting kits, or reflectors.
Video Editing Software:
Beginners can start with free iMovie, YouTube Studio, or DaVinci Resolve.
Use paid programs like Adobe Premiere Pro or Final Cut Pro for more advanced editing.
Use free tools like Audacity to clean up your audio with noise removal.
Add stock b-roll clips to bolster your editing from sites like Videvo or Storyblocks.
Other Gear:
Invest in a basic green screen setup for special effects.
Use props, visual aids, and camera rigs to take production value up a notch.
Organize files and footage using external hard drives.
Start with the basics and upgrade your equipment as your channel grows and you better understand your needs. Focus first on great content!
Create A Youtube Channel FAQs
Q: How long should a starting YouTube video be?
A: Aim for videos between 5-10 minutes long at first while you build production skills. Shorter is better for maximum engagement.
Q: What niche or topics are best for new channels?
A: Pick a niche you're passionate about and have expertise in. Gaming, music, comedy and DIY niches tend to perform well.
Q: How much does it cost to start a YouTube channel?
A: You can start a channel for free, but investing in basic equipment like a camera, microphone and editing software will improve quality.
Final Thoughts: How to Make a YouTube Channel?
Thankfully, it is pretty easy to create a YouTube channel, and anyone can do it. The hardest part is becoming a successful YouTube channel. Becoming the next PewDiePie or KSI is not easy, but uploading quality videos and being consistent is a good start. Always listen to feedback, even if it is negative; this will show you what you are doing wrong.
Launching a successful YouTube channel takes time and effort but can be extremely rewarding, creatively and financially. Identifying a content niche, optimizing your channel branding, consistently producing high-quality videos, and promoting your content effectively establishes the foundation.
As you gather feedback and analytics, you can refine your channel strategy. Partnering with other creators, diversifying monetization streams, and leveraging YouTube's latest features will help unlock the platform's full potential. With dedication and creativity, any creator can build a thriving channel on the world's top video platform.