YouTube feels like it is forever growing. There are over 2 billion YouTube users, which equates to 79% of all internet users. 500 hours of videos are uploaded to YouTube every minute. Half of the users access YouTube via their mobile device. Many believe that applications like YouTube and Netflix will signal the end of TV.
The Importance of Video Marketing
YouTube is the leading way for businesses to carry out video marketing, as there is a massive opportunity for businesses to get creative. Due to the sheer volume of people viewing YouTube everyday, it is an ideal platform for businesses to display their products. According to HubSpot 99% of video marketers plan to continue using video in 2021.
In this article we will show you:
How to create a YouTube channel
How to make your channel look presentable
Growing your channel
YouTube SEO
How to Create a YouTube Channel
Making a YouTube channel is not a difficult task, below we will give you a step-by-step guide on how to create a channel.
Signing In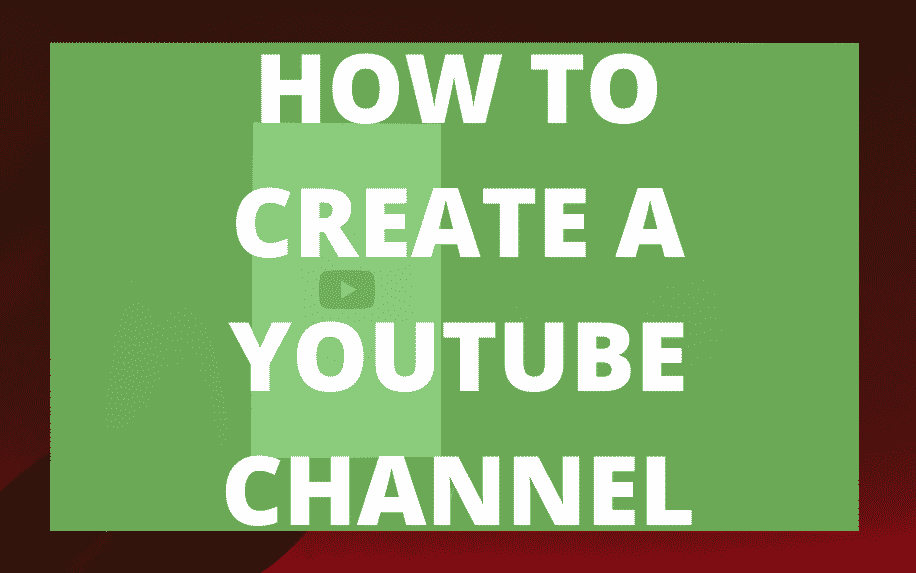 Go over to YouTube and click the 'Sign In' button that is located in the top right hand corner.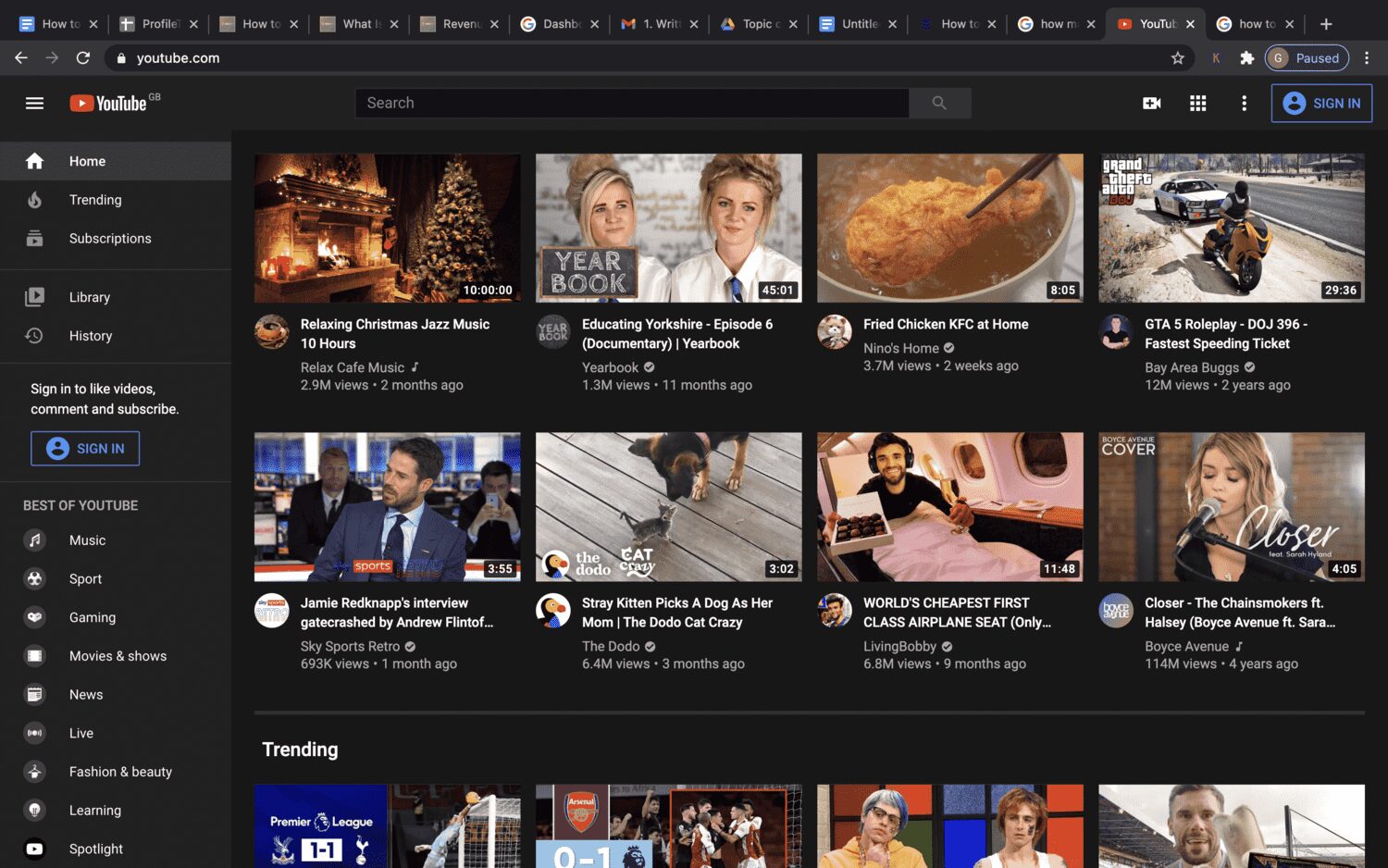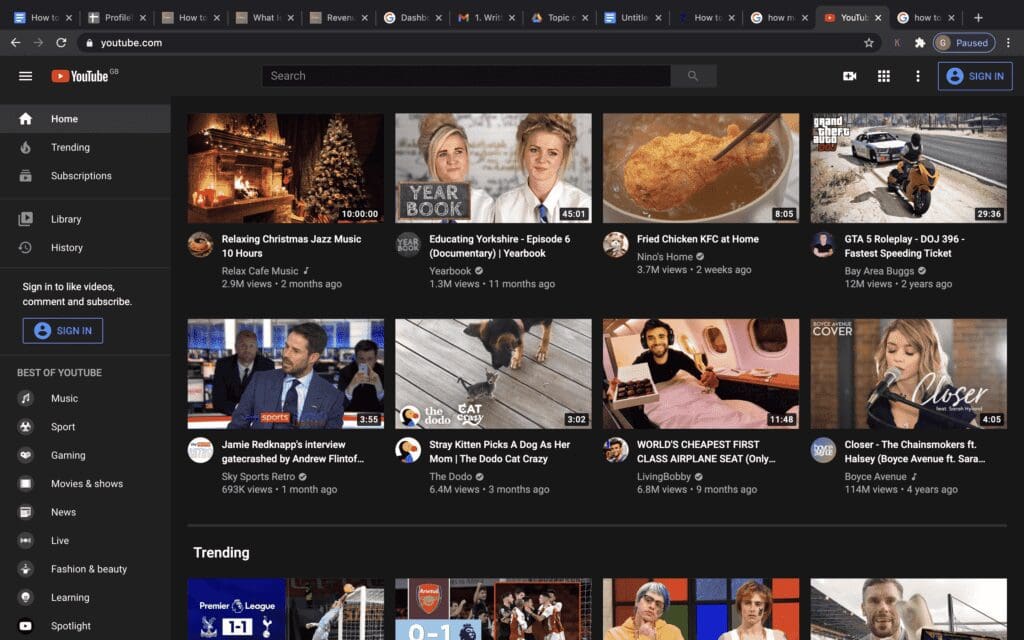 Next you have to select the Google account that will be connected to your YouTube account.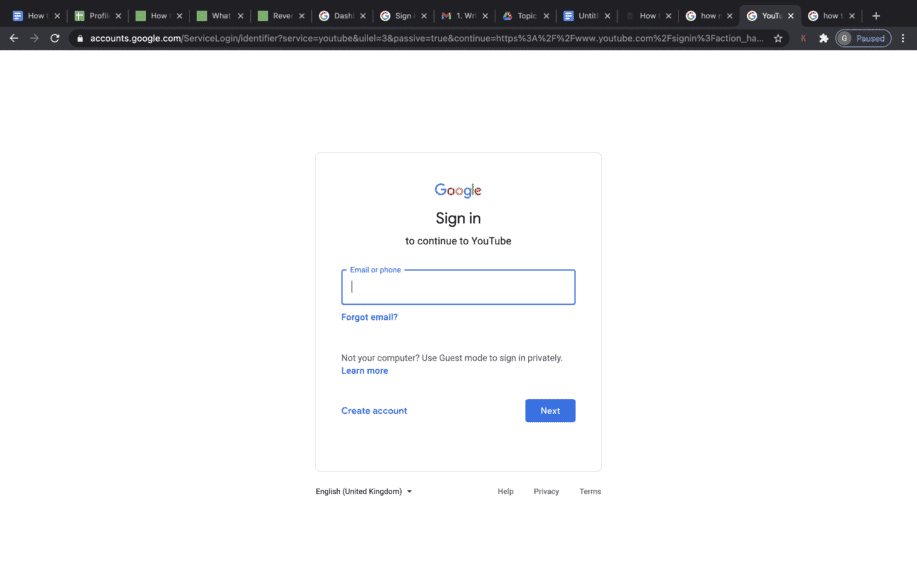 Creating a Channel
After you have logged into your Google account, you have to create your channel.
This is found in the top right corner, where the 'Settings' are located.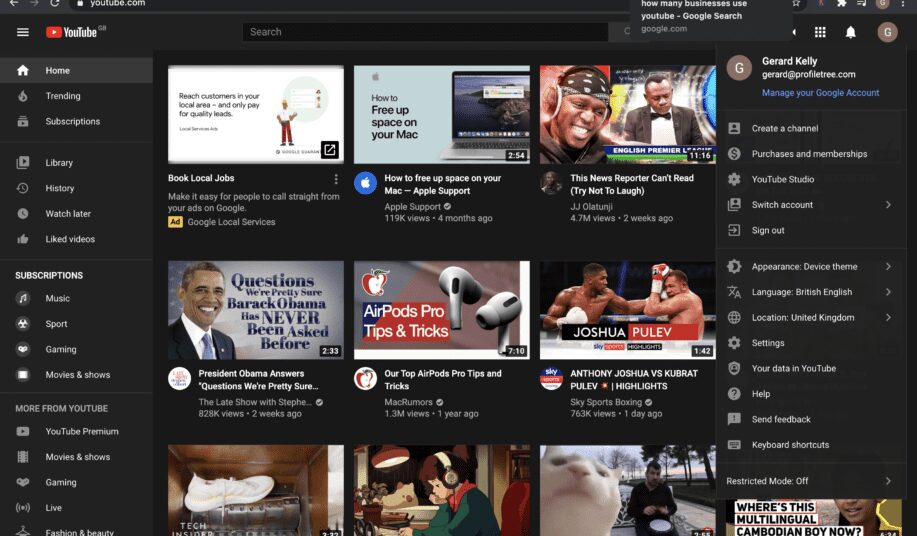 Next, choose what kind of channel you want to make.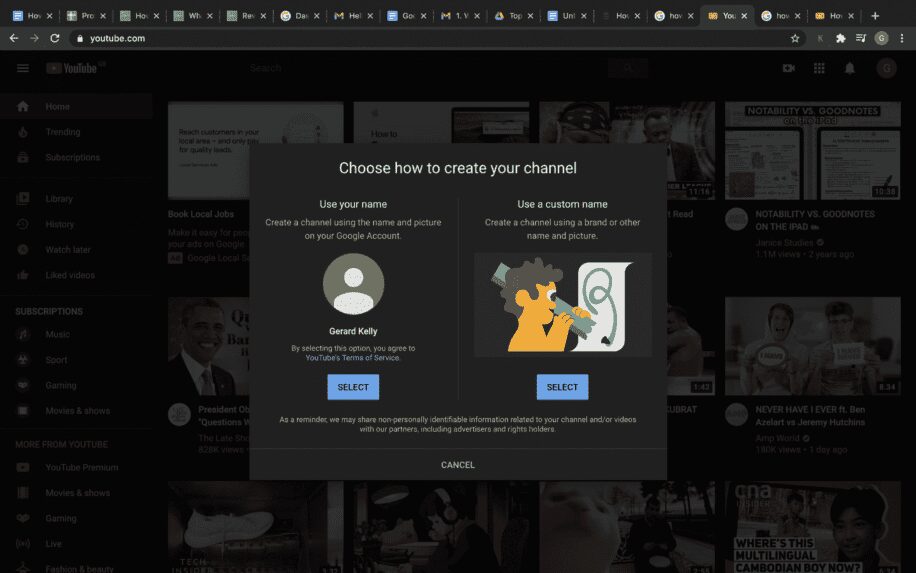 You can either select a channel which is personal, or you can select the custom name which could be used for a business.
For this example, we will be choosing the custom name.
Choose a Name
This next stage can be the most tricky, selecting a name. If you are naming your channel after a company, then you will be fine.
Try to think of a name that is unique, you only have 100 characters, so choose wisely!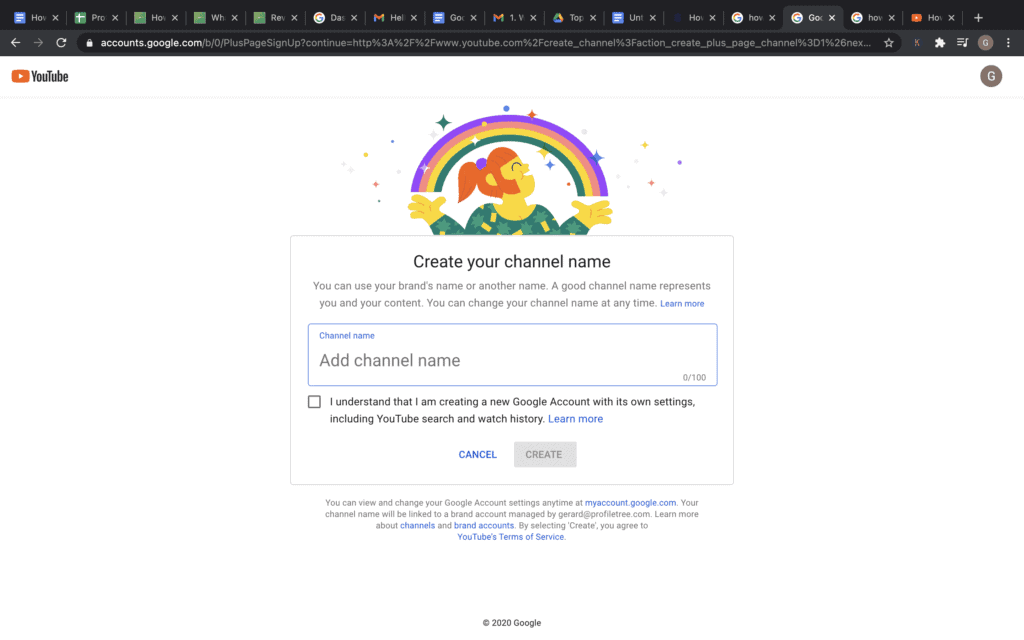 Boom, you have now made your YouTube channel!
How to Design Your Channel
Now it is time to customise your channel.
You can either choose to upload a picture of yourself, or if your channel is for a business, you can upload their logo. Just make sure the picture falls within the Community Guidelines!
You can also add a description to your channel, this is a way of introducing yourself to the YouTube community. You can describe what kind of videos you plan to make, or if you are a business, then you can describe what products you wish to sell.
There is an option to add links to your site, this could be used for your own social media sites, or adding your business's website.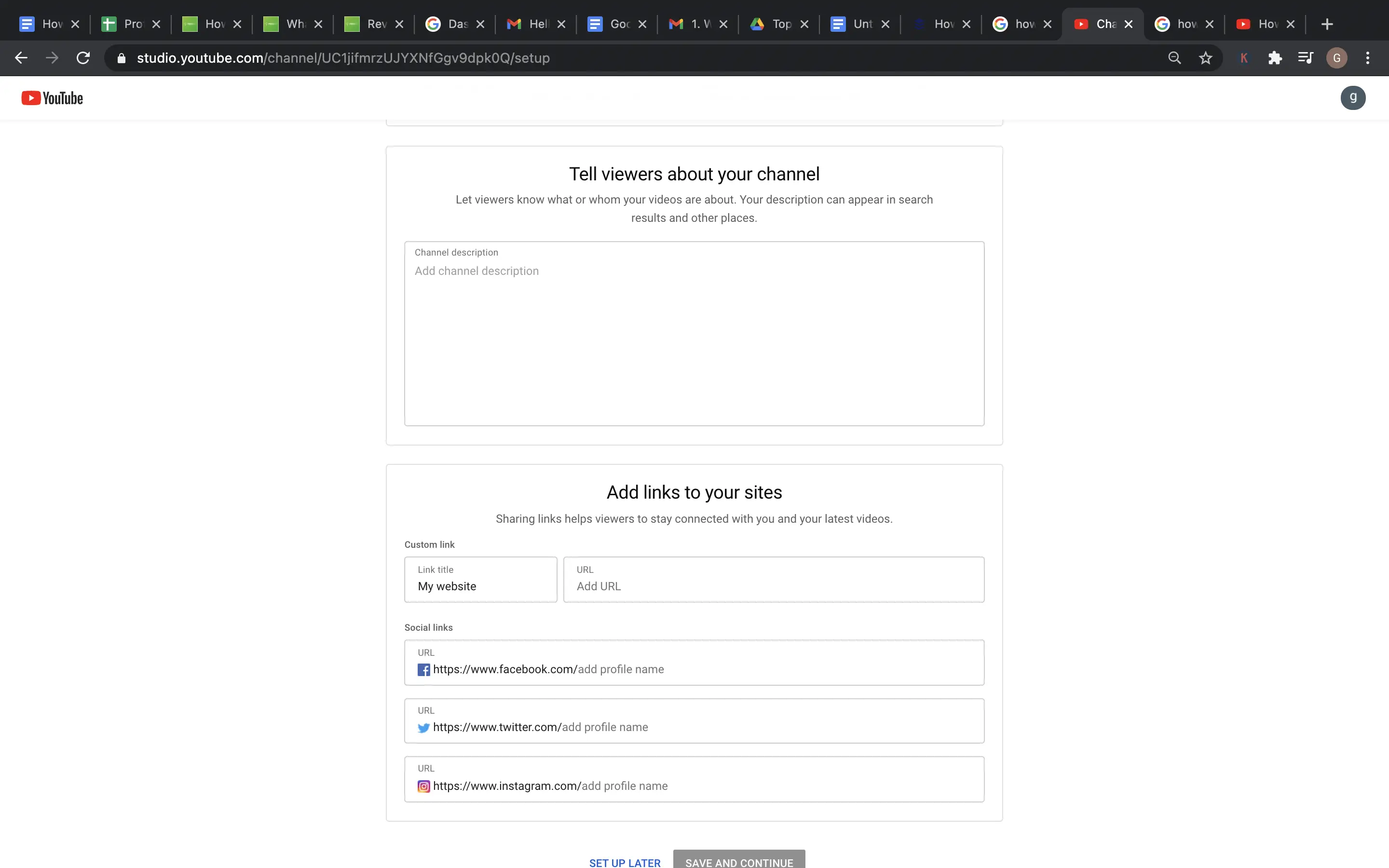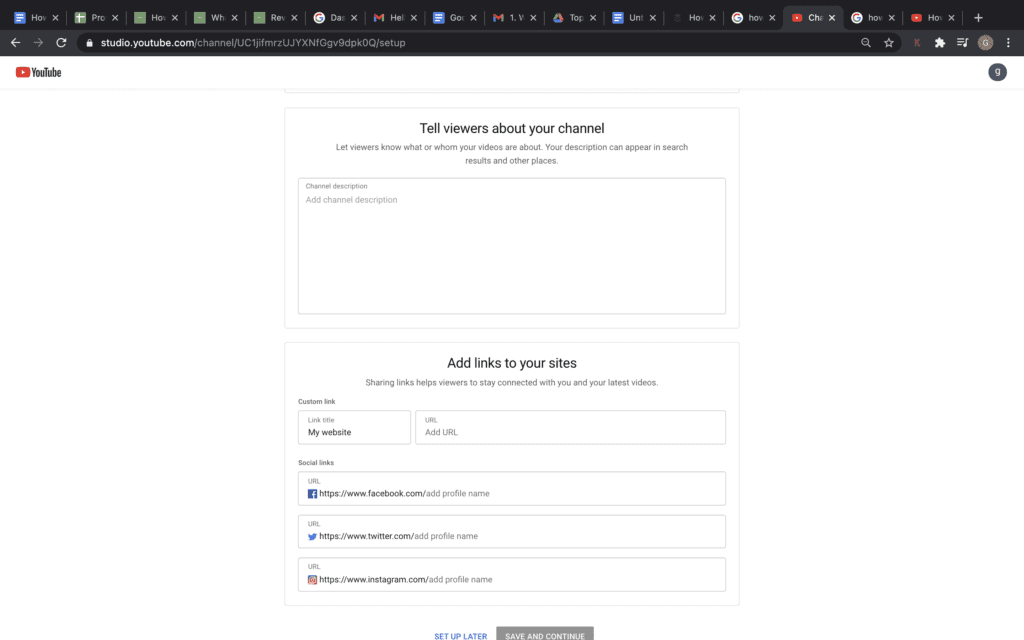 It is important to add a banner to your channel. Once again, your banner could be a picture of yourself or a product your business is selling. The banner stands out when you view someone's YouTube channel, so it is important to make it look good.
A good example of a business promoting their products via their channel banner is Apple.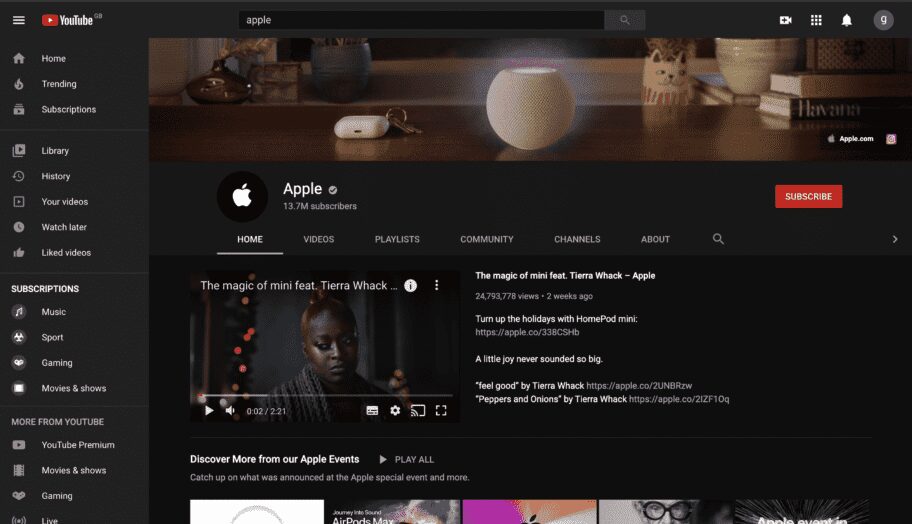 Not many people need an introduction to Apple, but it is a clever touch to have their products displayed on their YouTube banner.
Here is an example of a different kind of YouTube channel.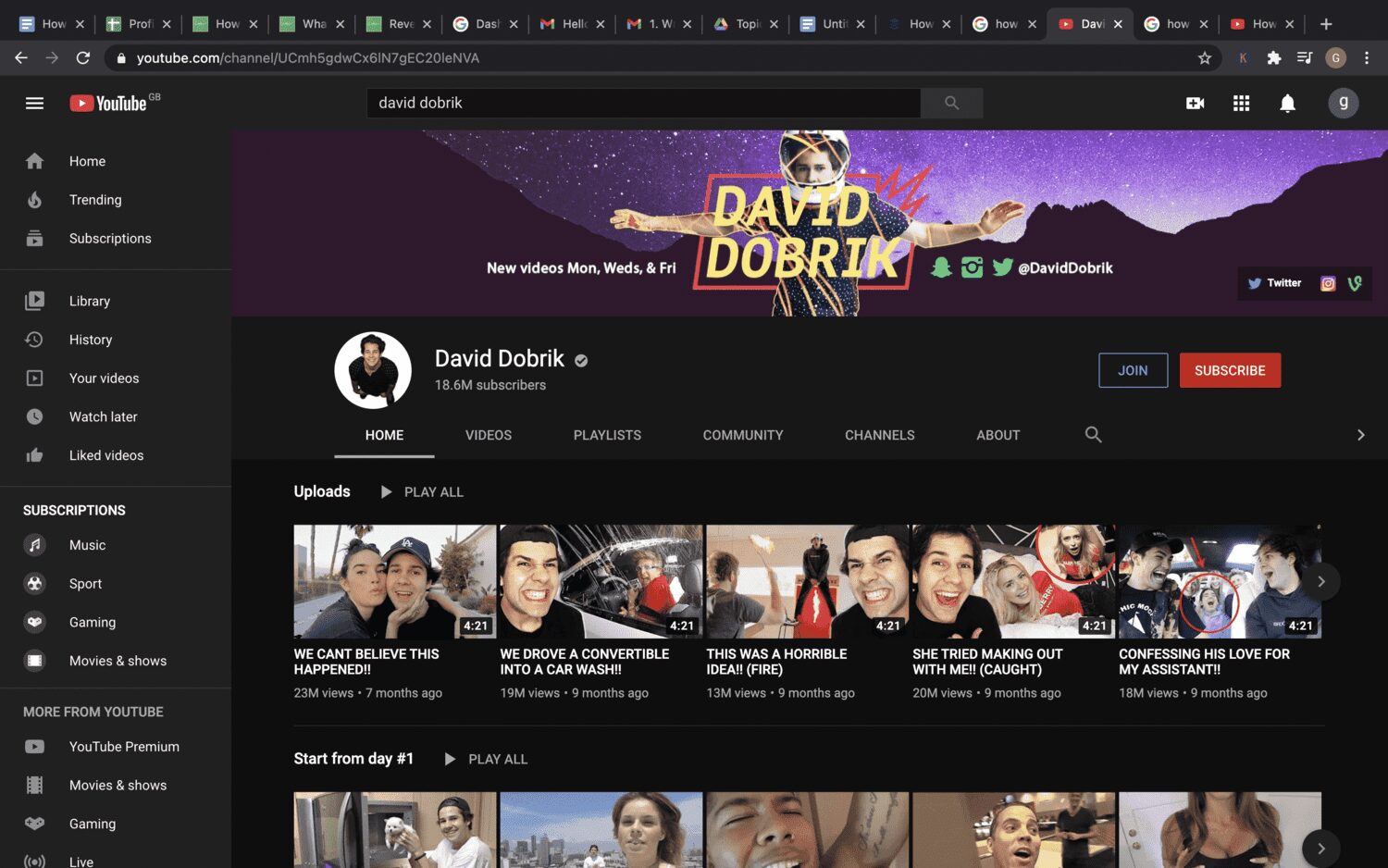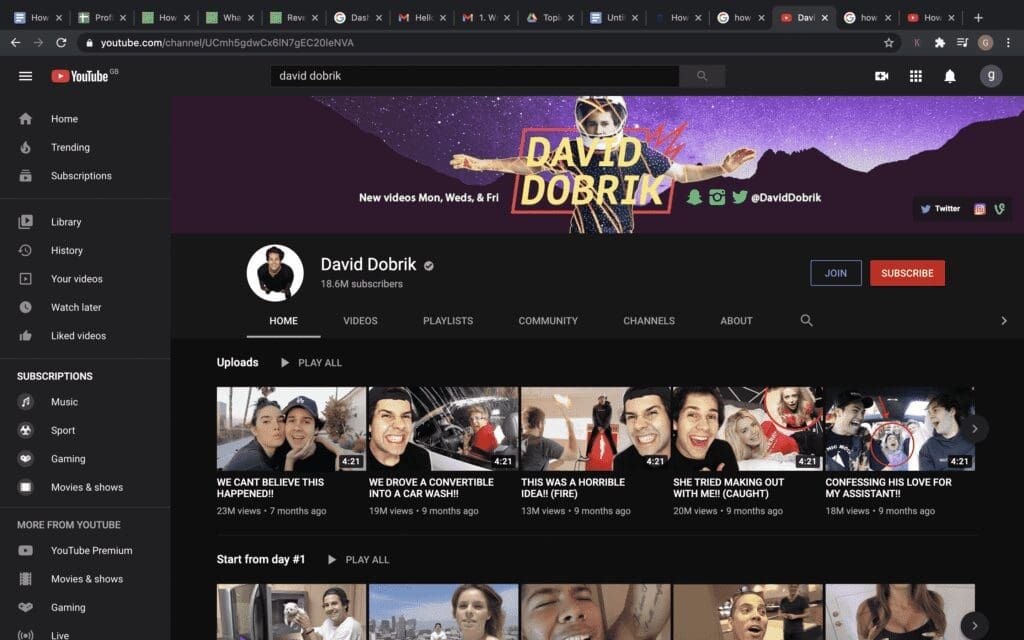 David Dobrik instead has a picture of himself. On the banner it has all his social media accounts and what his usual upload schedule is. This lets his fans know when to expect his videos to be uploaded.
Hopefully these two examples give some inspiration into designing your YouTube banner.
How to Grow Your YouTube Channel
Now that you have made your YouTube channel, it is time to grow! We have a range of articles on how to get more views and gain more subscribers. Here we will give you a few quick tips on how to gradually grow your channel.
Know Who Your Audience Is:
Make sure you create videos that your viewers actually want to watch. You can check the age demographic and the majority gender via YouTube Analytics. These statistics will give you a good gauge on how to adapt your videos to people that actually watch your channel. A business will know who buys their product so this is much easier.
In YouTube Analytics you are also able to check where people are watching your videos, knowing this will allow you to upload at a time that would suit the majority of your viewers.
See What Is Popular
Always check out what videos are appearing on the trending section of YouTube. Is there a particular kind of video that keeps reappearing? If so, be creative and put your own spin on the videos. If you are a business look at what kind of videos your competitors are making to see if you can do better.
Social Media
For a business, it is vital to promote your social media pages and it will encourage people to check out your product or service. You can also use social media to let people know when you have uploaded. Twitter has a feature that allows you to schedule tweets, you could use this to tweet when you have uploaded a new video.
The Importance of SEO
Checkout our previous article to get a detailed background on YouTube SEO. YouTube is the second most popular search engine after Google, so it is essential to get to the top! When people search on Google sometimes a YouTube video is brought up instead of a website, this will bring you people who may not even have a YouTube channel to watch your videos.
Keywords
If possible, it is advised to put the keywords at the start of your title because it will be much easier for YouTube to know what the topic of your video is, meaning people will find your video easier when searching. As many people use YouTube as a visual guide, using keywords like "how to" and "what is" are great titles for videos.
Descriptions
Having a well detailed description can be a major factor in the SEO of a YouTube video. In your description you can include things like links to other videos, links to any blogs or websites or a link to subscribe to your YouTube channel.
Longer Videos
The longer duration of your video, the higher they will rank and be more relevant towards keywords. If you are lucky enough to monetize your YouTube videos, then it is advised to have your videos at around eight minutes because you are able to mid roll advertisements in your videos, which is good for revenue.
Encourage Comments
Asking your viewers questions in videos is a great way to engage with them in the comments section. The more positive feedback you receive on your videos the more likely it is to end up on the trending page, which will expose you to a large amount of the YouTube community.
Do Not Forget to Like and Subscribe
Always ask the viewer to like and subscribe to your YouTube channel. People subscribing will mean your videos appear in more peoples suboxes which in turn will mean more viewers. You should encourage people to turn on the bell notification once they have subscribed as it will alert them when you upload a new video.
Final Thoughts: How to Make a YouTube Channel?
Thankfully, it is pretty easy to create a YouTube channel and can be done by anyone. The hardest part is becoming a successful YouTube channel. Becoming the next PewDiePie or KSI is not an easy task, but uploading quality videos and being consistent is a good start. Always listen to feedback even if it is negative, this will show you what you are doing wrong.