One of the main challenges for any business is connecting with their audience. These days, this primarily happens through digital channels, like social media, email, content marketing and company's websites. There are countless ways to go about this. One of the most popular is BuzzSumo. BuzzSumo allows you to analyse the most popular terms and phrases on social media and examine who is using these terms and phrases. It's also a popular option for figuring out which content is performing the best in your industry. This helps your business in a couple of concrete ways. First of all, your customer acquisition will become more efficient, as you gain a better understanding of what people actually want to hear and read about. Second, once you've got your audience's attention, you'll stand a better chance of selling to them, as you have a better grasp of their problems and needs. Let's dive a little deeper into what BuzzSumo can do for your business.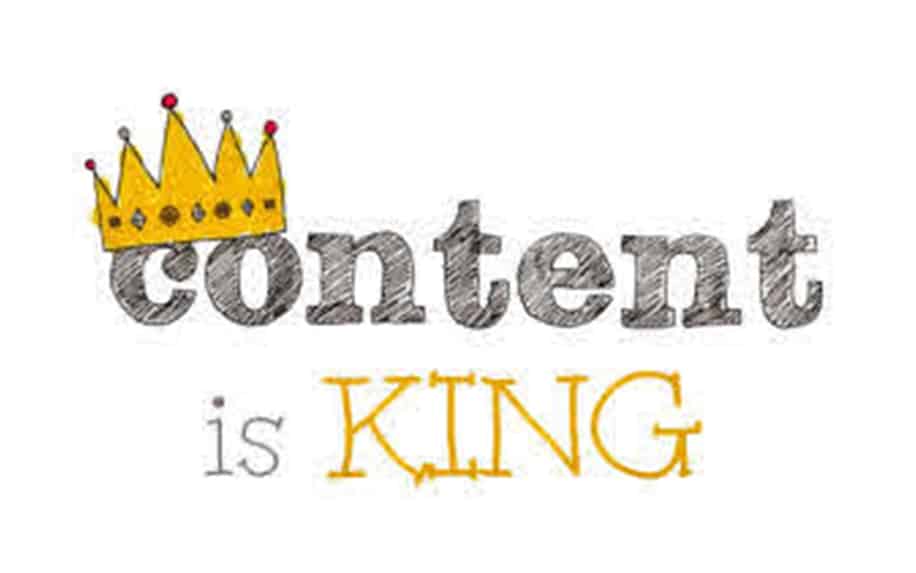 Who Should use BuzzSumo?
BuzzSumo offers effective features for just about every industry. The tool is based around the goal of gaining a better insight into your customers, your competitors, and generally what works in your industry. However, there remains a question of which specific companies can benefit from using BuzzSumo. The answer relates to how much you use
social media
and
content marketing
in order to attract and convert customers. If this is a major marketing channel for you, a license for BuzzSumo may well offer amazing return on investment.
BuzzSumo Social Media Content
With BuzzSumo, you'll find out who is saying what, how often and when on social media. This eliminates the need for guesswork. The analysis performed by Buzzsumo will give you actual relevant trends for your search by allowing you to quickly and efficiently search for the number of mentions your brand has, as well as who is making these. You can also analyse other pieces of data which impact your social performance, including the time of day that posts are made, the demographics of your audience, and which content performs the best.
Content Discovery
Content marketing is one of the most cost effective ways to attract users. That is, if you know what content to write. You already know there's a vast amount of content online, so your challenge is how to sift through to find content that resonates with your particular audience. BuzzSumo not only allows you to quickly find the trending content, but also to view rising content. Your content discovery may even be carried out over a time period in order to discover trends over time. Whether you search last week, last year, or yesterday, BuzzSumo social media content discovery allows you to analyse and compare trends. You can search content by genre, including whether it's a video, list post, how-to post, or infographic.
Search for Industry News and Trends in BuzzSumo
BuzzSumo's social media content discovery tool allows searches by length of content to help determine whether long or short form content is better suited for your target audience. You can even figure out the exact ideal word count for users in your niche. Before you design that great attention grabbing headline, search currently trending headlines through BuzzSumo to improve your ability to grab the attention of your intended audience. This also adds value to your SEO efforts. You can even use BuzzSumo to effectively determine which days of the week are best suited to market your content on each of the social media outlets! You can also search by specific domain name, content author, or singular social media platform. No matter which specific features you use, the BuzzSumo social media content discovery tool will help you refine your search to gain the most relevant information possible to effectively connect with your target audience.
BuzzSumo Social Media Influencers Tool
Using BuzzSumo, social media influencers can be followed and assessed, including through searches by topic and/or geographic location. You'll learn what content influencers share most often, the domains these influencers share, and tailor your marketing to take advantage of this information. What's more, you can search and filter these key influencers by reach, authority, influence and engagement as, once you have identified the key influencers, you may follow them directly through BuzzSumo and add them to your own Twitter lists.
Exporting Data in BuzzSumo
BuzzSumo allows you to export data as an Excel spreadsheets or text file for your analysis. Tip: when considering how to use BuzzSumo, the ability to set up email alerts is a prime feature. BuzzSumo allows alerts for brand monitoring, domain alerts, author alert and alerts for specific links. With BuzzSumo, competitor data can also be examined to see what your competitors are doing well, and what they aren't doing so well, to help you stay ahead. BuzzSumo competitor comparison reports can also be used whether you are looking back one day or one year! It also allows for a deep dive into content, whether using BuzzSumo competitors comparison, domain comparisons, content frequency, length, or type analysis.
How Much Does BuzzSumo Cost?
BuzzSumo pricing has been designed to take into account not only the size of your business, but also the convenience of whether you prefer to pay monthly or yearly. The cost is segmented into four categories: Pro, Plus, Large, and Enterprise. The Pro level is for 1-5 users, Plus is up to 10 users, Large is designed for up to fifteen users and Enterprise covers everything above fifteen users. Let's look at the specific pricing plans available for BuzzSumo.
BuzzSumo Pricing Plans
Each and every BuzzSumo pricing plan allows for a seven day BuzzSumo trial period. If you aren't certain of the level of use you may need, you are not only entitled to a free seven day trial, but you may change pricing plans at any time during or after the trial period. You may also cancel your BuzzSumo pricing plan at any time. However, there is no refund for the remaining unused time of your plan.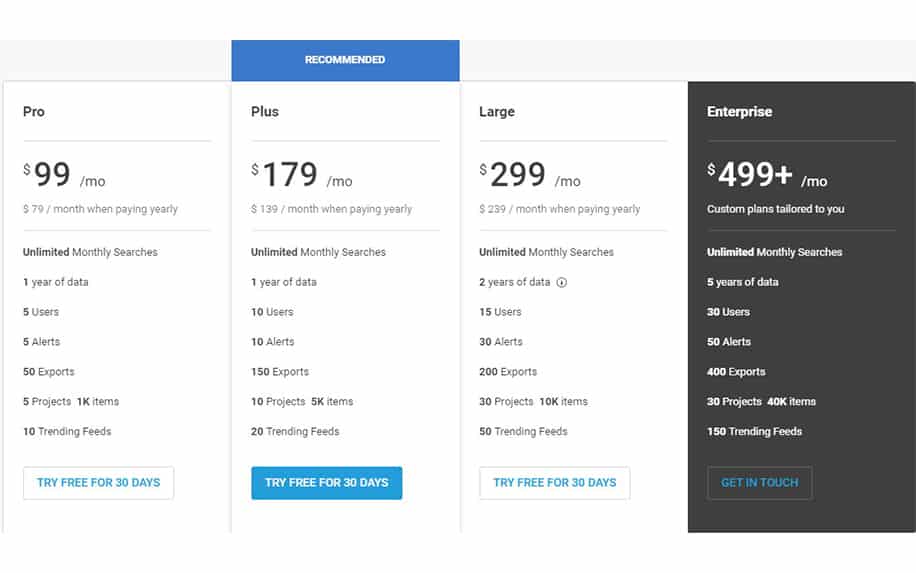 BuzzSumo: Unlock Social Media for Your Business Today
Clearly, BuzzSumo makes for a powerful and practical resource you can use to benefit your business. This can help you attract new users, and convert your existing ones into paying customers. With a free trial available, there's no reason not to take a smarter approach to social media using this impressive tool. Additionally, there are a range of pricing plans available which allow a variety of organisations to take advantage of what BuzzSumo has to offer.