The Importance of Social Media: Social media marketing provides valuable benefits for brands looking to expand reach, gain insights, boost SEO, convert sales, and more. Developing a strategic presence on social platforms should be a priority for today's businesses.

Social media has become a major component of companies' marketing strategies. This is true whether you are a one-person shop or you run the marketing department of a large multinational corporation.
So, why are businesses gravitating to it? Why is social media important? Why use social media to market your business? Sites like Facebook and Twitter were initially intended to be a fun way to keep up with friends and family. They have become a virtually unavoidable aspect of establishing an online presence for businesses of all types and sizes. Here are some reasons social media is important to maintaining and growing your business.
SEE ALSO: Social Media Marketing Companies
Table of Contents
Social media marketing: Building Brand Awareness:
Social content can reach millions of active users – Facebook has 2.8 billion monthly active users as of Q2 2021.
Hashtag campaigns and viral content spreads quickly. Oreo's "You Can Dunk In The Dark" tweet during a 2013 power outage earned 525 million impressions.
Paid social ads allow hyper-targeted reach to specific demographics and interests.
importance of Social Media on Market Research:
Social listening tools like Mention and Keyhole track brand mentions, customer feedback, and conversations. This enables real-time understanding of brand perception.
Social media analytics provide data on audience demographics, engagement rates, clicks, shares and more. Metrics reveal content resonance.
Interactive formats like polls and questions collect first-party data on consumer preferences and interests.
Thought Leadership:
92% of B2B marketers use social media for thought leadership per Social Media Examiner. Sharing expertise builds authority.
Participating in industry discussions and using employee experts establishes know-how.
Sponsored content and social ad targeting aids discovery by interested audiences.
User Engagement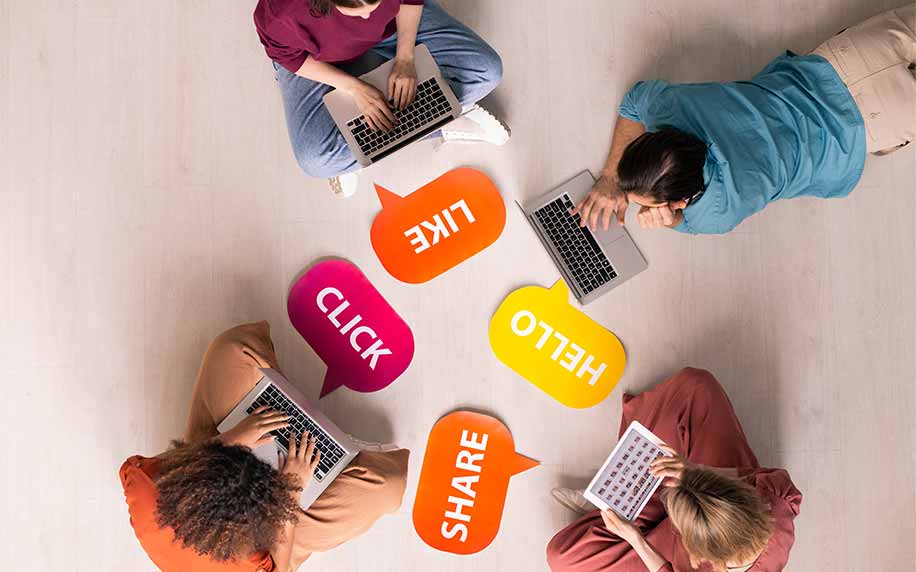 You can engage directly with your customers.
Most businesses have social media pages for the express purpose of enticing customers, getting sales, and expanding their online presence. It is also an excellent opportunity to engage with your customers and discover what they want without doing costly or time-consuming market research. If you ask a customer on Twitter what style of clothing or flavour of ice cream they'd love to see from you, they're very likely to give you a direct answer. This also enables you to stand out from your competition, who perhaps aren't engaging with their users as much.
Brilliant social media usage will give the public a positive impression of your company's customer service.
If customers are unhappy, they will often tweet at you, leave comments on Facebook and Instagram, get a thread going on Snapchat, or contact you through other platforms that your business uses. Unlike calling or emailing to resolve an issue, your exchange with the customer is out in public view. This can serve as an indirect method of marketing your business by proving that you have excellent customer service skills and went out of your way to address a complaint. It's also easy enough to inject your branding and company culture into how you publicly handle customer service through social media.
If you want access to influencers who can help grow your brand, social media activity can be the way.
Influencer marketing has risen in prominence recently, where you capitalize on a luminary or thought leader in a certain industry to help spread the word about your business. Many people are trying to get an influencer's attention and ask them to do something for them. Organically getting influencers' attention through social media and engaging with them can open up many opportunities for influencer marketing without the ignored emails they received under the pretence of you asking them for a favour. Additionally, following influencers' channels also enables you to start getting more of that influencer's followers, which is precisely what you want.
Growing Your Following and Online Presence
Social media isn't just Twitter and Facebook, presenting many opportunities to get exposure for free or at low costs.
91% of retail brands use at least two social media channels, with apparel brands using at least five. Businesses that rely heavily on visual elements like apparel, food, and design are more likely to use more than two platforms. What sets social media apart from other marketing methods is that the total effect is measured by how often your posts are seen and shared and how large your following is. Setting up multiple social media channels allows you to cast a wider net when getting more customers who feel compelled to click on and share your posts.
There are at least 200 social media channels in addition to the more commonly used platforms like Twitter, Facebook, LinkedIn, and Snapchat. It may take some experimentation to figure out the right platforms that are the most effective, but having at least 2-5 different social channels is the way to go.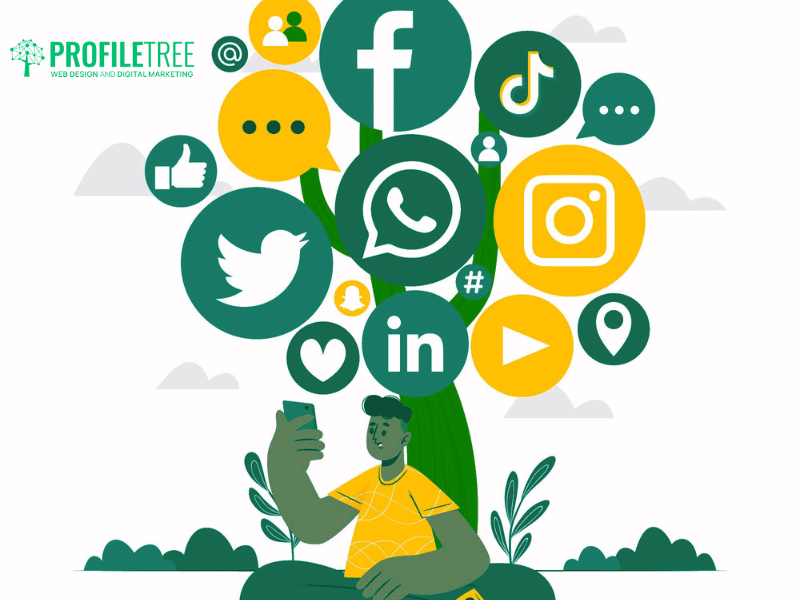 Having enough social media pages makes it easier for people to find you and prove your credibility.
Having a website is necessary for people to find your business online, but a website by itself is no longer enough. Establishing a social media presence it not only provides another means for people to find you online but also proves that you are reputable. While some established small businesses opened before the digital age may get a pass, a newer business will flounder without having enough means for people to find it.
Your social media pages will appear in search results and also show potential customers that there are other means to contact you aside from the ways you have listed on your website.
Social media is a powerful indicator of your brand voice, and people will judge it.
Customers, as well as other decision-makers like potential business partners and investors, may get their first impression of your business through social media. What kind of brand voice are you putting forward? Is it consistent across your social media feeds and channels? How about the content of your posts and the type of content you are sharing?
A humorous Twitter feed rife with current pop culture references may indicate an apt brand voice for a youthful apparel brand but isn't likely to get you a good impression from a potential strategic partner if your chief output is management consulting. The impression your feeds leave on the people who find it demonstrates the importance of social media and why it shouldn't be sidestepped.
A Cost-Effective Way to Grow Your Following
Social media creates an ecosystem that can strongly boost your traffic.
Your followers, the accounts you follow, and those you engage with all form a strong ecosystem. You want to see who has the most followers in your niche and start following them so those people will start following you. While email marketing and pay-per-click ads (PPC) have their place in your overall marketing strategy, social media marketing specifically addresses two aspects where your website may falter: targeting and traffic.
People may not be coming to your site for whatever reason, but that changes once you amp up your following on social media. Targeting the kind of users who talk about what you're selling eliminates a lot of the costly guesswork that goes into PPC campaigns and also lets you engage with them directly instead of hoping they just click on the ad.
Growing your following through social media channels organically and through paid methods can be highly effective.
Because social media relies so heavily on the "ecosystem" aspect, it presents an incredibly efficient and cost-effective method of organically growing your following. Organic growth can take an incredibly long time, so there are methods to speed this up, like promoted tweets and other paid social media positioning.
This is not the same as buying followers, which is a bad idea that will not generate any revenue. Rather, paid social media is buying traffic that is heavily targeted to certain keywords, demographics, and other criteria you set so you can be sure you're getting the kind of followers most likely to engage with your brand.
Social media makes sharing simple.
If you have an infographic, e-book, or other pieces of content that you want to get seen and shared, social media is the most efficient way to do so. It takes a few seconds to tweet it to thousands of people, as opposed to emailing people one by one (or in the case of email marketing, only about 20% of your subscribers opened the message.)
Importance of social media for individuals:
Stay connected with friends and family: Social media is a great way to stay connected with friends and family who live far away. It is also a great way to meet new people and make friends.
Learn about current events: Social media is a great way to learn about current events and stay informed. It is also a great way to share your thoughts and opinions on current events.
Entertain yourself: Social media is a great way to entertain yourself. You can watch funny videos, read interesting articles, and play games on social media.
Latest trends in social media marketing:
Short-form video: Short-form video platforms like TikTok and Instagram Reels are becoming increasingly popular. Businesses are using these platforms to create engaging and informative video content.
Social commerce: Social commerce buys and sells products or services directly on social media platforms. Businesses are using social commerce to make it easier for customers to purchase their products or services.
Influencer marketing: Influencer marketing partners with social media influencers to promote your products or services. Businesses are using influencer marketing to reach a wider audience and to build trust with potential customers.
In summary, social media is not just a way to get new customers and engage with existing ones but also a way to exemplify to the public how you interact with them. A major attraction of your brand should be excellent customer service and showing the world that you can handle difficult situations easily or even with humour. You can also form relationships on social media, both with influencers as well as customers and potential partners.
These relationships will help build your business, and you may not have had the opportunity to pursue them through other means. Social media can be crucial to growing a dedicated following and using it to engage, not just show the products and services for sale.
Social media also allows for more fine-tuned targeting of users so that you can be sure you're getting quality followers interested in what you offer. When they see your posts, you want them to share them so that you continually get more exposure. This is especially true if your followers have the exact types of users you hope will follow you and eventually become paying customers.
The importance of social media shouldn't be underestimated in the incredibly open and interconnected world we live in today. Your social media strategy is ultimately what's going to determine whether your business is making tractable growth or will keep having difficulty getting both customers and traffic.
Online Marketing Strategy and Examples: How to Set One
Importance of Social Media FAQ
Here are some frequently asked questions about the importance of social media:
What are the top benefits of social media marketing?
Increased brand awareness, consumer insights, thought leadership, expanded reach, improved SEO, and higher conversion rates.
What platforms should brands prioritize?
Look at where your target audiences are most active – often, Facebook, Instagram, Twitter, and LinkedIn top the list.
How much should companies invest in social media?
Budget to resource it adequately based on campaign goals and platform minimums. Many brands spend 10-20% of their marketing budget on social.
How long does it take to see results?
Allow 3-6 months to establish accounts, create engaging content, and grow followers before evaluating performance.
How often should businesses post content?
1-2 times daily on Facebook and Twitter, 1-2 times on Instagram. Adjust based on audience.
Importance of Social Media Conclusion:
Given its expansive reach and measurable impact across all marketing objectives, social media should be a high-priority channel for today's business. Dedicating resources to develop an authoritative brand presence and leverage data-driven social strategies can pay dividends for companies of any size and industry. The importance of social cannot be understated in the modern digital landscape.