The top social media sites are now worth billions, meaning there's never been a better time to make sure you're making the most of the countless social media platforms competing for your online attention!
But which are the very biggest social media platforms and how can they make life – and work – even easier for you?
Read on for the only guide to top social media sites you'll need!…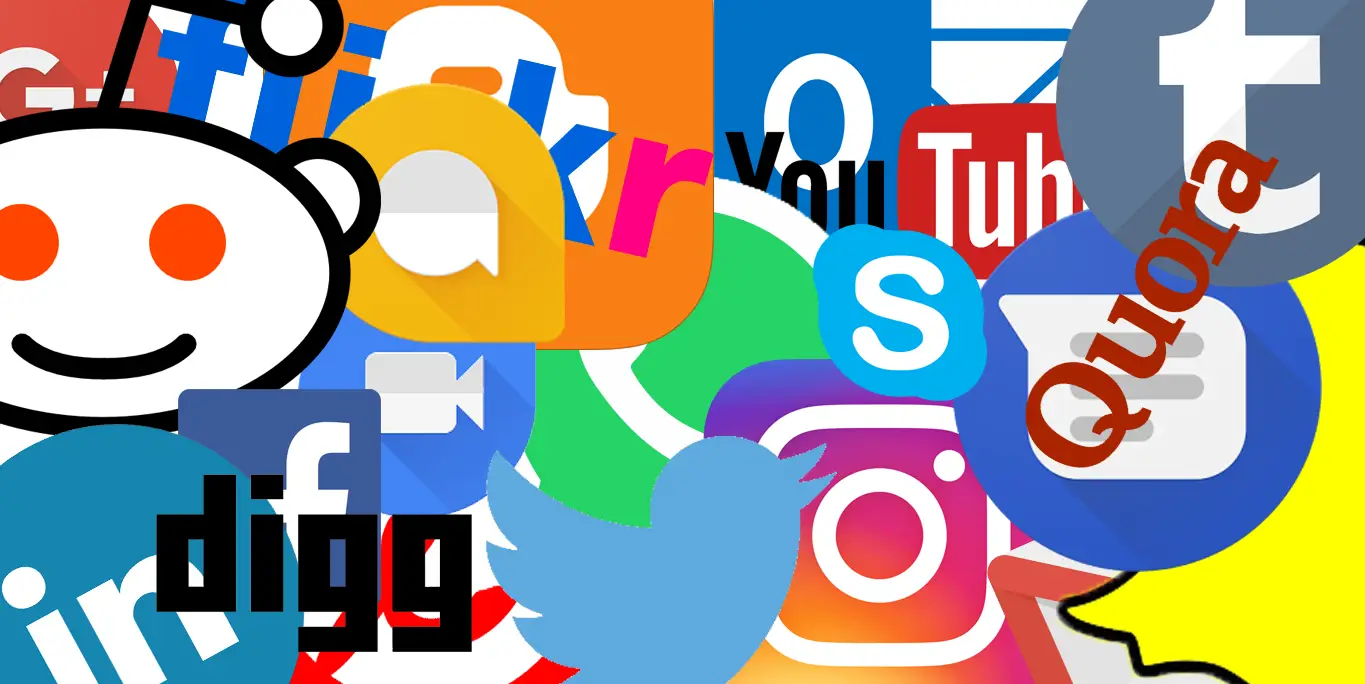 Contents (Click to Visit Any Section!)
'Tradional' Social Media- Facebook, Twitter and LinkedIn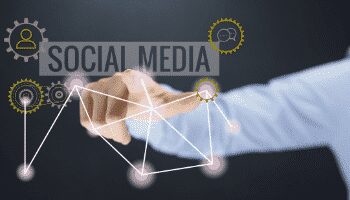 Video and Image Social Media- YouTube, Instagram, Snapchat, Pinterest, Flickr, Skype and Twitch
Blog Social Medias- Blogger, Digg, Tumblr and Medium
Email and Messaging Medias- Jump to Section
Past Social Medias- Bebo, Vine, MySpace, YikYak and Hi5
Different Types of Social Media
'Traditional' Social Media
These are the sites people would realistically think of as being social platforms, however there's no such thing as 'a traditional' social media. Generally these are the social media platforms people are more familiar with, such as Facebook and Twitter.
Facebook and Twitter are perfect examples of a social media platform that use multiple ways to connect with one another. For example, with Facebook you can share a post with attached images, articles and videos.
Video and Image Social Media
Videos and images have always been included within many social media platforms. In recent years there have been an increase in the amount of social media platforms who solely use or mainly use images and videos to connect with others.
Prime examples of these social media sites being Instagram, Snapchat and YouTube. These are the main types that use this method. Each one of these social media platforms provide a different service.
Google itself has also jumped into the video/image social media world with apps such as Allo and Duo. These apps allow users to face-time one another and also send images to other users in a Snapchat-like manner.
Blog Type Social Medias
Blogs have transformed the way we use social media. With the rise of social media since the early 2000s, blogging has started to be well implemented into society. You can blog about anything. Usually people blog about their hobbies and interests, such as food, gaming, fitness, health and much more.
Nowadays with the rise of YouTube, people have turned to video platforms to blog, in what we know as vlogs or video blogs. Many people use these blogs and vlogs to set themselves goals and blog/vlog them reaching targets and getting to their goal.
Blogger and Tumblr are two of the most know blogging platforms out there, Tumblr being very popular with the teenage and younger generations.
Reminder: Email and Messaging Count As Social Media Too!
One type of social media we don't necessarily think a being such? Emails and messaging. Gmail and Outlook are some of the most popular email services on the web. Different emails have different features but most emails operate in the same way and have many of the same features.
Many popular search engines have their own email systems. Google and Yahoo being the most used emails from search engines. Messaging apps are also a kind of social media. Apps such as Android messaging and iMessage are types of social media, as you can talk to others through these services.
Facebook is the worlds largest social media. With billions of users, YES BILLIONS! It is one of the most successful companies ever. So, what makes it so successful?
Users of the social media platform can post status updates, videos and photos to their own news feed. They can also share articles and posts with their friends and family, amplifying views and clicks. Making this social media platform great for online businesses, news stations and everyone alike as a target audience.
This social media platform itself was created by Mark Zuckerburg in 2004 and was used as a social media for Mark's College before becoming available worldwide in 2006.

Twitter is a very simple but beautifully-executed social media platform. It is used to post 'Tweets', where users can share articles, posts, images and videos.
Since it was launched in 2006 it has now become one of the most popular social media platforms in the world. It now has multiple hundreds of millions of monthly users. With many celebrity accounts now surpassing millions of followers.
It is easy to setup and free to use and is the perfect social media platform to advertise your business as you can follow a lot of your target audience, which could then get you more business. Hashtags are a great tool on Twitter as if you use a specific hashtag, it automatically links to other posts on the social media platform with the same hashtag.
There is no limit to the amount of people you can follow or the amount of people who can follow you. This can allow many users to blow up overnight on the social media platform. But that possibility is very difficult to achieve.
LinkedIn is another beautiful social media site. It is widely regarded as a very professional social media platform as it links professionals from around your community, country and the world together. This makes this social media platform perfect for professional businesses. With LinkedIn's mission being to 'professionally connect to create new avenues for workers around the world, to grow.' This social media platform achieves this brilliant, apart from maybe the around the world part.
How does LinkedIn achieve this? The social media allows users to create and talk to other professionals from the comfort of being behind a screen. This means if you're a person who doesn't like to deal with clients and other professionals face to face, you can easily do it online.
Since its founding in 2002, this social media platform has grown significantly. In 2018 the platform has reached over 500 million users.
YouTube is one of the biggest video sharing social media in the world, owned by Google. With over 100 hours of video being uploaded to the social media platform every minute there is never a short of videos to watch online. Anyone can access YouTube for free although you need to be registered to upload content and to have access to premium features such as commenting.
Originally YouTube was setup for the individual user but with solo success many news channels, TV shows and more, started to upload to the site. Many channels started to gain growth and gain millions of subscribers.
Since the original aim for individual users, YouTube have since changed their aim. You can upload to the social media platform with an account but you can't gain any revenue unless you have over 1,000 subscribers and a certain amount of views. The social media platform used to be easy for content creators to make money, but over the past few years this has became harder.
Instagram is another great social media that uses images and videos online to connect others. It is an app also owned and developed by Facebook. Since the development in 2010 and being available on both iOS and Android, users were then able to stay connected with their friends, celebrities and brands much easier.
Since the development of Instagram, it quickly became a well used social media platform, gaining over 800 million monthly users. That just less of Facebook.
In 2016/2017 they added stories to Instagram, similar to many other social media platforms like Facebook, Whatsapp and the origin of stories Snapchat. Furthermore in 2018 they have since started to challenge YouTube with a video platform called IGTV.
Snapchat is a great social media tool, that allows its users to share quick and easy images and videos with their friends. Since its development in 2011 this social media platform has grown to be one of the biggest image sharing social media platforms in the world.
Since 2011 it has turned into a bigger social media adding many more features, allowing users to connect to others in their nearby area.
One of the biggest features on the app is its stories, which many other medias have adopted a form off. These stories allow images to be uploaded on your profile for 24 hours until disappearing forever, unless you have saved the image or video. Saving an image is another feature that was further developed into the app after first development.
Nowadays Snapchat has millions of daily users. Many of whom log on to the media to keep their streaks alive with friends. Streaks is an amazing feature which means their users will log in daily to keep them. A great feature to keep their daily user count up. You can also post to public stories which are stories available within your area which you can access from the snapmaps feature.
Pinterest is another visual social media platform, allowing users to create their individual pins and is widely known for being the online version of a traditional cork-board, you would see in homes around the country.
Pins usually follow a theme and every time you add to a theme it starts to become a collection of pins within a theme. Like adding to your cork-board with the use on pins.
When you first login to the site, it asks you to open up about your hobbies and interests. These then allows Pinterest to focus on your ideal topics and share to more targeted audiences.
The trend with Pinterest is, that it is the place to develop new interest and hobbies and to follow new and upcoming trends. Very much like Instagram in a sense.
Users on the platform can get ideas for their art, fashion and much more. Generally Pinterest is great for following your interests, which is a breath of fresh air from the typically social media activity of following your friends and people who you know.
Flickr is another photo sharing social media platform. Users can easily share photos with their friends, family and followers. Many users would compare Flickr to Instagram only for more professional photographers and enthusiasts.
In a way Flickr is the LinkedIn of the photography social network.
There are multiple different key features of Flickr. Most notable the feature called Photostream. This feature allows all your public uploads to be found in one location or collection. This allows users to see your portfolio of photos much easier.
Another key feature of the platform is galleries. Galleries allows users to showcase their best images from events or days out in one collection. Each gallery can have upto 50 photos or videos within it. So, always make sure to upload your best photographs.
This social media is a great way to connect with other professional and enthusiasts, who love your work and vice versa. You can learn all their techniques, their favorite locations to take photos and their camera setup to get their best pictures. And lets not forget about the editing software they use.
Skype is a social media that connects people through videos, messaging and calls. You have probably heard of the platform as it has millions of users and over half a billion downloads since its release in 2013.
Nowadays many individuals and businesses use the software to connect with people from around the world.
Individuals use it to connect with loved ones far and wide and many businesses use it to conduct interviews with possible employees and clients. This is what makes it great for.
You can get the service on many devices including Android, Apple devices and Microsoft, including Xbox One. To use it on an Xbox you will ideally need the Xbox kinect, which is a camera for the console itself.
They also have a service very much like phone companies within the UK, where you can pay as you go or buy a subscription for calls and sms text messaging.
Twitch is known as a community-based live streaming website. In a way Twitch is very similar to YouTube with one major difference, live streaming. Although YouTube have now added a live streaming feature onto their platform, Twitch is still number one.
On Twitch you will find many different types of live streams from gaming, podcasts to people who like to live stream their daily life. Users can watch their favorite live streamers play their favorite games and talk about their favorite topics.
In 2018 Ninja, a well known gamer on the platform, continuously broke live streaming records on the platform by playing the hit game Fortnite.
His most known live steam included a live stream game of Fortnite with the famous music artists Drake and Travis Scott. They won a few games and Ninja reportedly gained over 90,000 new subscribers on the platform almost overnight. Something that was unheard off before then.
Blogger is a free to use blog brought to the world by Pyro Labs in 2003. It was then bought over by Google in 2004 and since then, it has became one of the top free to use blogs on the internet.
Users can post new blog posts on their own individual blog, with images text and videos. They can also share posts to their blog. For free, users can have a maximum of 50 blogs on their page.
To make a blog post on the platform, it is very easy and simple. The platform uses a word document/google sheets like layout to creating a new blog post. You can add images, videos and text easily. Editing your text is also very simple with different font types, sizes, bold, italics or and underlining also available.
The platform is great for starting of a small blog. With Google adsense and Plus being built into the platform also, it is ideal for monetising your content right away. Sharing your content is easy with Google Plus. Sharing your content on Google Plus will mean it gets recognised by Google in good time.
Digg is a free to use, social media website. On the site, users can post blog type posts called 'Diggs'. Users of Digg will submit stories to their blog/feed and other users with decide whether they like their post or not by using a 'Digg button'. Digg being a slang word for liking something.
Most popular posts on the platform then get added to the top news section on the site. This helps to amplify users on the platform, which can help users become popular on the site.
Users very own feeds can be customised by following other users and by allowing other users to follow them.
On the platform, categories and topics are used to filter content. Example categories on the site can be things such as technology, cars, digital marketing and much more. Finding categories and topics that are right for you is very easy. There is a search bar to help you find right topics for you.
Since it was launched in late 2004, the site has seen a decline in users, since its redesign in 2010. This is due to many users preferring the older looking site.
Tumblr is another blogging social media option. It is a very popular site that has a significant amount of users. Many users would not think that the social media is a blog.
On the site, users can post their own blogs, re-post other user blogs and share many others.
Users can follow many different topics, which they like. On the site their are hundreds of topics, so finding many that are right for you is very easy, especially as the site has a search bar. The site has a variety of topics.
You can find anything from cameras, bmx, cars to code, artificial intelligence and writers.
Overall the site has a total of over 400 million blogs and over 160 billion posts. That gives an average of around 400 blog posts to every blog.
Every user will get their own dash board that they can customise. They can follow other users blogs and other users can follow them back. Tumblr is a great place to establish a worldwide following and meet new people from other places. This is due to the fact that many Tumblr users don't know their following/followers in public.
Medium is a membership-based blog social media platform. On the site there are multiple different topics, which you can easily search for with a search bar on the site. Top categories are shown on the home page. These include categories for culture, tech and design.
Even if you don't have a medium membership, anyone has access to the many different blogs on the site. You can find many articles that could peak your interest. There is a popular section, which shows many very popular articles on the site over the years.
Overall the site has tens of millions of readers, which is very beneficial to the site being free to read blogs. Every year there are millions of posts uploaded to the site, with some of the most popular categories/'tags' being politics and technology.
Social Media Platforms From the Past
Over the years many top social media sites have eventually faded from use. With the rise of other platforms it is only inevitable that other platforms suffer. So, what are some of those platforms we used to know and love?
Bebo
Bebo was at one stage the most popular social media destination in the UK and Ireland, overtaking MySpace for the amount of users. The platform was founded in 2005 in San Francisco, California. The first stage to the website, was achieving the rights to the name of 'Bebo' and to its acronym of 'blog early, blog often'.
Gaining millions of users throughout the world, AOL saw its potential and bought it for over 850 million dollars. This is one of the biggest social media takeovers ever in 2008.
The takeover was a flop and was eventually sold on in 2010. In 2011 the site re-branded and in 2012 people thought it was gone for good when the site crashed for a day and a half when trying to roll out new features.
The year 2013 meant an end for the site after filling for bankruptcy. Since 2014 the domain has been reused. The first reuse of the domain was by its original founder trying to re-found the site in 2014 alongside with a messaging app. It flopped.
Nowadays the Bebo domain is used to offer multiple features for Twitch. A streaming network for everyone. Many gamers use this network to live stream their content.
Vine
Vine became the most used video sharing app in he early 2010s after it was founded and released in 2012/13. It was developed in New York by three friends and was then acquired by Twitter in 2013. The app blew up due to the features it had only to be then discontinued in 2016 by Twitter. Making Vine a very short-lived platform.
Users had access to the app on multiple different devices. All Android and Apple users had access to the app as well as Microsoft users online and on Xbox.
Twitter also released spin off apps including Vine Kids and Vine Camera. Many features were also introduced to the app throughout the years including a new loop count feature in 2014, Vine Music in 2015 and in 2016 before it shut down announced they were experimenting with longer video clips.
One of the main reasons the app ended up failing, was its competitors. It was competing with the likes of YouTube and Instagram, two of the other most used video platforms. Still to this day! Nowadays users of vine can access their profile and their videos. The only problem is that they can't download them directly, but can share them to Twitter. You also can't upload to the site, ever since it was announced that the app was being discontinued.
MySpace is another social media that has died off. The difference between this platform and others who have died, is that MySpace still exists online. The only problem is that it is not used as much as it used to be and many users have transitioned to other platforms.
Since 2003 when MySpace was founded it had became one of the most popular social medias and has since had a drastic decline of users and visitors per month since its peak. It is well known that MySpace started to decline due to the rise of Facebook and Twitter, as they had many new great features, which MySpace did not.
Nowadays MySpace still has some attraction: one of the most regarded features is MySpace music, which was known for finding many unknown artists who now are well known. Lily Allen, Arctic Monkeys and many other artists have been found through MySpace.
YikYak
Not many people have heard of YikYak, especially within the UK. So, what is this platform? Well, this platform was an anonymous messaging social media option and is very similar apps such as ask.fm, Anomo and many others. During the past years there has been a rise of these social media apps.
YikYak was launched in 2013 by two founders who graduated University in South Carolina. A year after it was launched it was ranked within the top ten downloaded social media apps within the US.
Very similar to other anonymous apps, YikYak faced a bombardment of criticism from governments, newspapers, schools and parents as it opened up a new way to cyber-bullying. Attempts to change the app to reduce cyber-bullying didn't work the way they planned which can be considered part of the reason for its decline.
Over a year ago in 2017, the app announced it was shutting down and a month later the app ceased to work.
Hi5
Hi5 is another social media platform that still exists but has had a drastic downfall, very much like its main competitor MySpace. The platform was founded in 2003 and it became one of the top social media choices in the world.
It is believed to be one of the first platforms to implement games within their platforms, adding over 200 games in 2009. Other features of the platform are very similar to the 'traditional' social media favourites like Facebook and Twitter. You can add friends post photos and status updates as well as join groups.
These days you can still access your profile on Hi5 as it still operates fully as a social media platform. It is now owned by IF(we), a San Francisco based technology company.
Summary: With Social Media, the Only Certainty is Change!
A look at the social media platforms we've talked about here gives us a reminder of just how quickly the social media climate can, and will, change!
With other platforms looking more and more attractive to Facebook users, with LinkedIn arguably feeling increasingly stale and with the dominance of voice search around the corner we can only be sure of one thing: there'll be more platforms in our 'out of use' list. And soon!
Other Great Social Media Articles… Social Media Guide: Complete Essentials | What is Social Media | What is Social Media Strategy | Social Media Monitoring Tools | Learn Social Media | Social Media Search | Why use Social Media | Social Media Audit